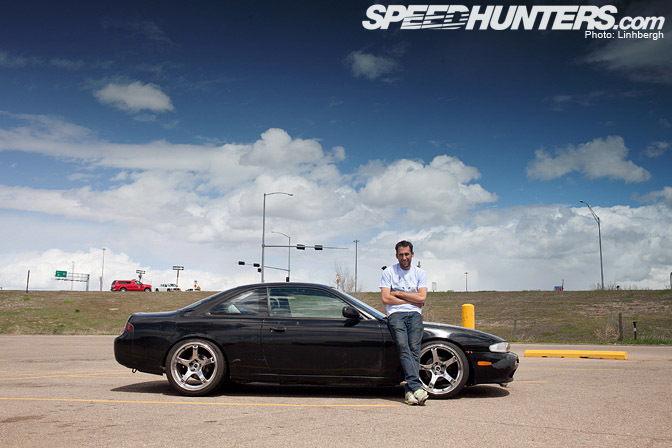 One of the greatest things, as a kid growing up, was the opportunity when I was let loose out into the neighborhood. With a BMX bike in hand, I would, for hours, roam the neighborhood streets, marketplaces and schools. And in those few hours, I was an explorer and adventure seeker by trade. Just like Christopher Columbus in 1492, I too was looking for my own route to paradise.
During those countless neighborhood exploring excursions, there would never be a moment where I never wanted quit and go home. There were times when I would arrive late back to the doorstep of my childhood home only to be greeted by angry parents who only wanted to ring out why I was so late. A few butt slaps later, I would be eating my dinner but my mind would still be out roaming the streets. Exploring the neighborhood never lost its romantic notion. Ever.
Years later, I've stretched out, got long and gained a few wrinkles, but the passion and desire to explore never faded. The BMX bike has since been replaced by the automobile, the area of exploration has grown from my childhood neighborhood to the rest of North America, and aimless roaming is now the road trip.
The classic, all American, road trip is not a new notion for me as I've taken a BMW M3 convertible up the coast of California and also drove from California to the salty dry lakebed of Bonneville in an BMW X5M. Which leads me to this past weekend.
Long story short, digital filmmaker, nutella hater, peanut butter connoisseur, Ke$ha supporter, Speedhunters filmmaker and director of Shift 2 cinematics', Will Roegge, asked me to co-pilot his Nissan S14 from his parent's house in Cleveland, Ohio to his place in Los Angeles, California.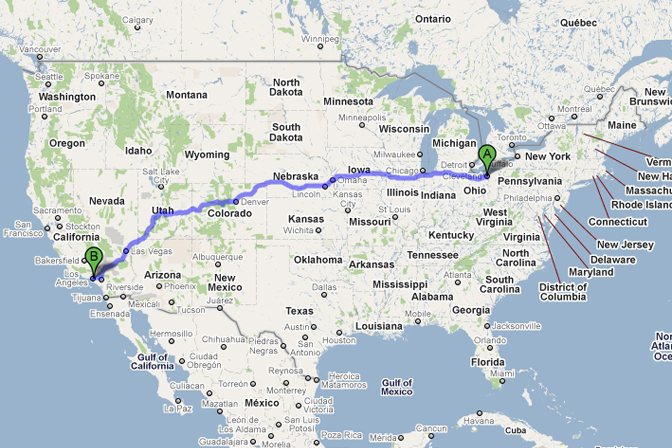 (Image from Google Maps)
The trip was simple enough. We would fly to Ohio then drive west. 2333.6 miles.
And since this is a story about Will, his S14, and two-thirds of America, I thought it would great to have him also share his thoughts about the trip.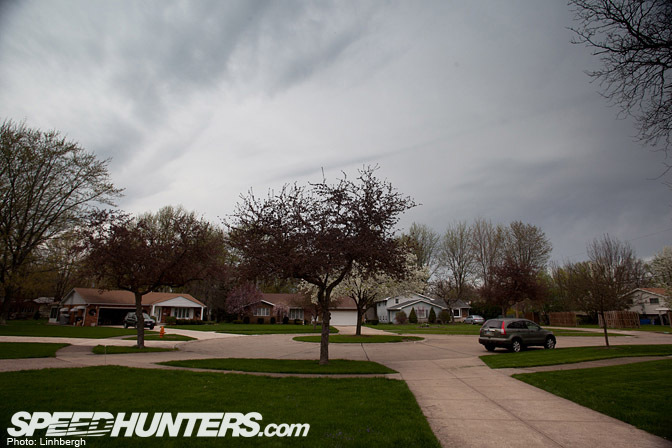 Linhbergh: I've had the privilege of knowing will for three years now and in those years I've heard countless stories from him about his hometown of Cleveland. When I arrived to his parents' place, I felt like a little kid who woke up and to found himself actually living in a storybook world. Cleveland may not be Neverland, but it sure had its own redeeming qualities and small town quirks.
Will Roegge: Growing up on a cal-de-sac is pretty much a fairy tale. Especially when you need to test your KA-t setup after installation. After a few years of driving my S14 on a stock KA24de, I decided to go KA-t, instead of opting for a transplanted power plant.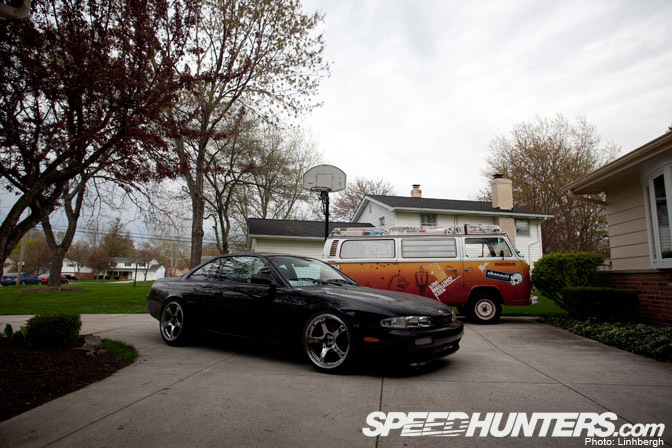 LN: Redeeming quality #1? It was home to the Keep Drifting Fun VW bus.
WR: The VW bus is in it's own state of upgrades too. It recently got Weber carbs and a new motor thanks to the guys at Further Performance in Minneapolis. Next, an adjustable front beam, rear boomerangs, and shorter struts all around to lower out it's constant wheelie stance.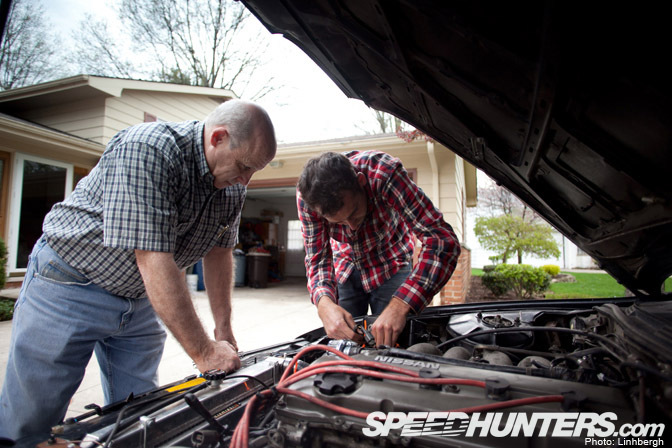 LN: Who's the man on the left? That's Roegge senior himself, Bill Roegge. The turbo setup that Will installed over the course of the winter wasn't running 100%. It ran but running well was another story. Knowing that, Will and his dad poured over a bunch of last minute checks before we hit the road. Roegge Senior had his doubts about the road trip, as did I.
But until the car was parked on Will's driveway in Los Angeles, I kept those thoughts to myself as I didn't want to jinx anything.
WR: The day before the road trip, my dad called me saying the s14 had died while he was driving it back from the gas station. It has been my goal to get the Nissan back to California as soon as possible – so hearing that it was not running properly was a big setback.
Everyone voiced their concerns except Linhbergh and I – which deep down I knew we both were not sure how the trip would turn out.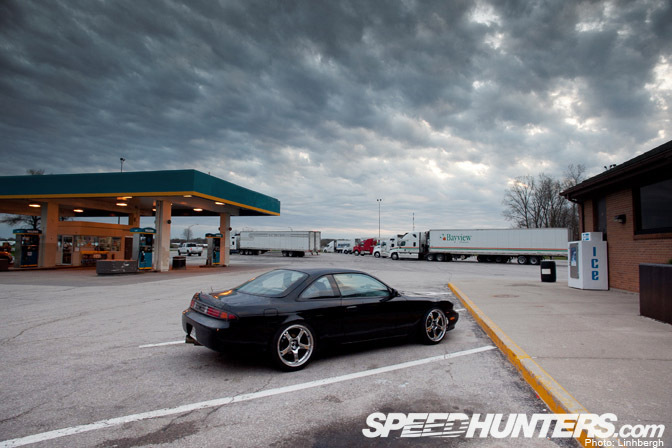 LN: We left Cleveland and started making our way west. Seeing how the both of us have not had a decent nights rest in at least a week, we thought we'd make a stop to filmmaker, Joshua Herron's, apartment in Chicago, Illinois.
WR: Personally, I love how obnoxious these MB Drifter wheels are on my 14. Chrome and black is a combination I've really grown to enjoy. Plus 18 x 9.5 +15 all around makes this simple compared to the staggered setup I had previously with Enkei RPF1s.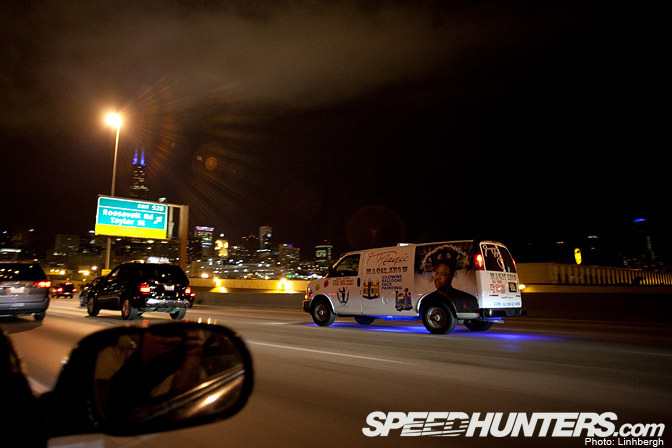 LN: As we rolled into Chicago, we spotted this van with an underglow kit, I thought I've seen it all at until this point.
WR: Chicago makes me think of Kanye West, deep dish pizza, AMS, Risky Devil, and Portillos. Hola amigos.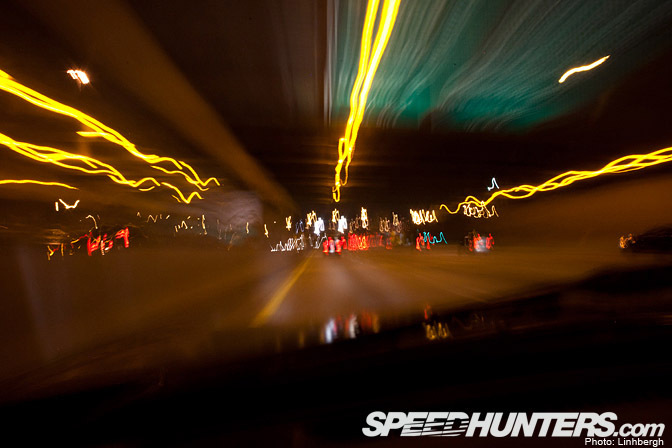 LN: Being rather sleep deprived, delirium settled into the both of us as we navigated the not-so-smooth highways, byways and city streets of Chicago.
WR: Joshua "Hobo" Herron had recently moved from Las Vegas to Chicago and invited us to stay with him at Hobo-mansion – we gladly accepted his offer.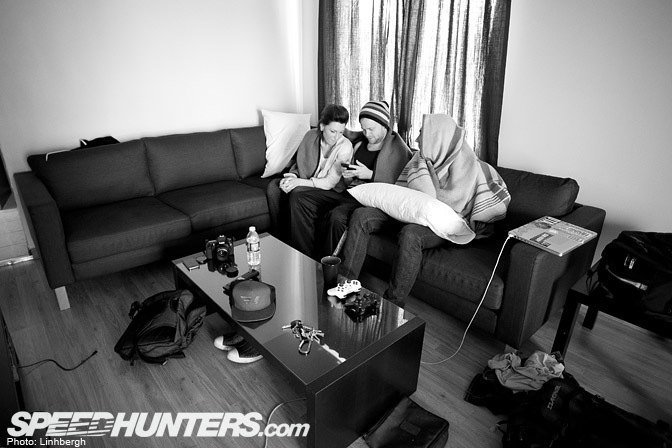 LN: Will got one end of the L-shaped couch and I got the other. You can say it was cute. I will say that it was an amazing sleep. Who knew Ikea couches made for such a good night's rest?
WR: Laptop, blanket, couch – all the necessities.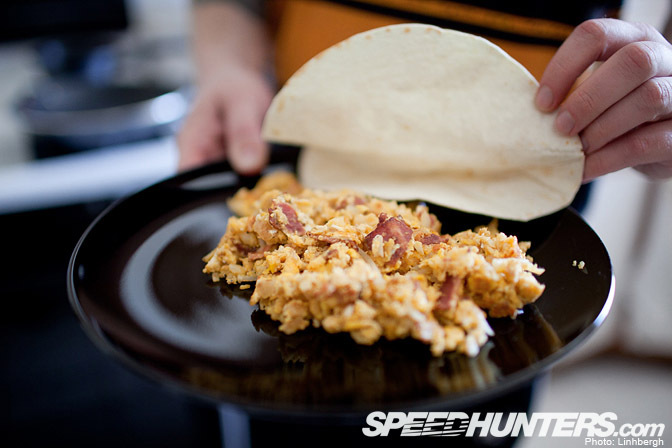 WR: Hobo made us breakfast – I never saw this one coming. Especially after all the peanut butter and cereal I've eaten with him on Keep Drifting Fun. Domestic skills!?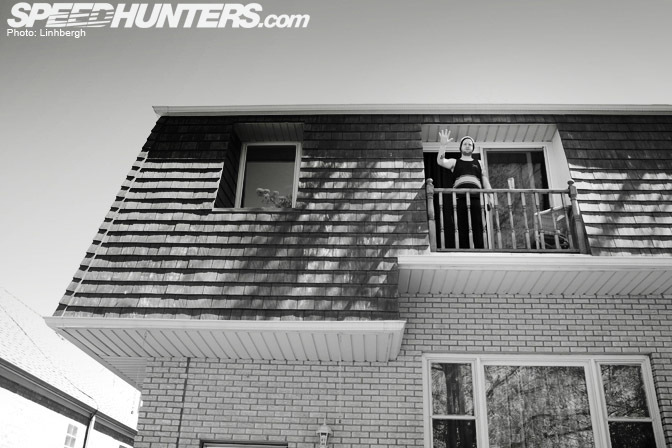 LN: Even though we were only 5 hours into our westward journey, visiting Josh in Chicago felt like it was our destination. In the brief amount of time we were there, it felt like home. It's strange to think that Formula D has help create such a close bond between the members of the media. Even though so many of us media guys live in different areas of the United States, it feels as though there's been no time, or miles between us whenever we get the chance to see each other. It's become quite a media brotherhood.
WR: Thanks Josh for your hospitality.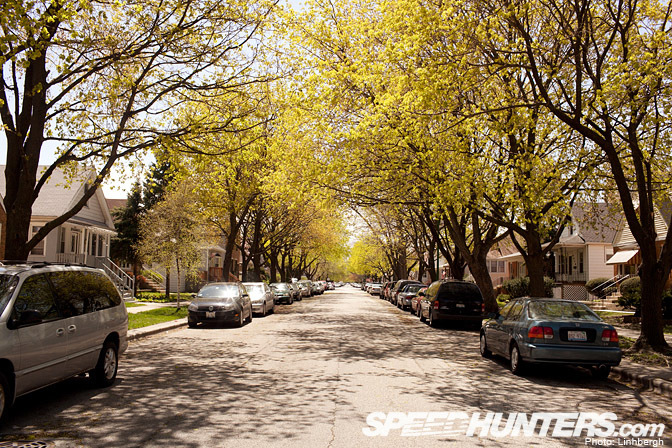 LN: When I think of Chicago, I think of mean urban city streets. Not a tranquil, and beautiful neighborhood street like this.
WR: Back on the road and a bit concerned that the majority of our trip was still ahead of us.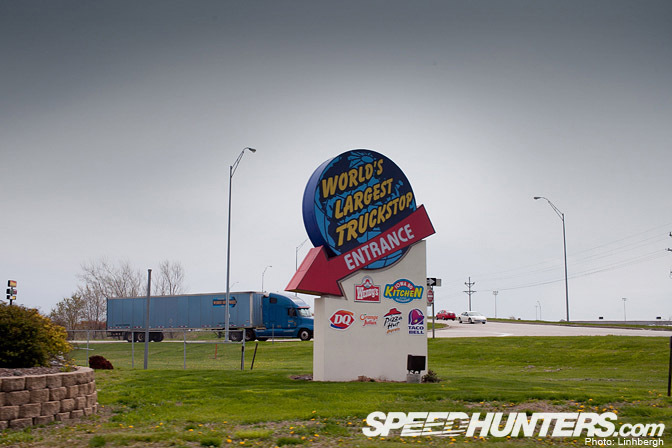 WR: Truck stops have everything you need while on a road trip. The World's Largest truck stop in Iowa off of I-80 is no exception – in true American fashion the bigger the better.
LN: We actually planned a gas pit stop much further down the highway, but when the sign came up for the World's Largest Truck stop, which I've never been to, but will has, we knew we had to stop.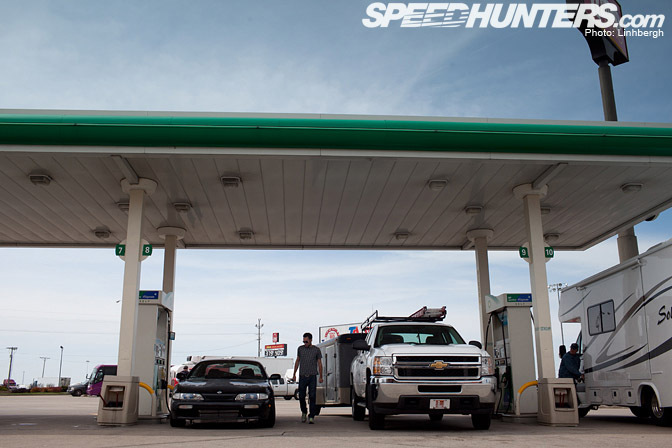 WR: This picture is a good reference for height of vehicles. S14, Chevrolet truck, RV.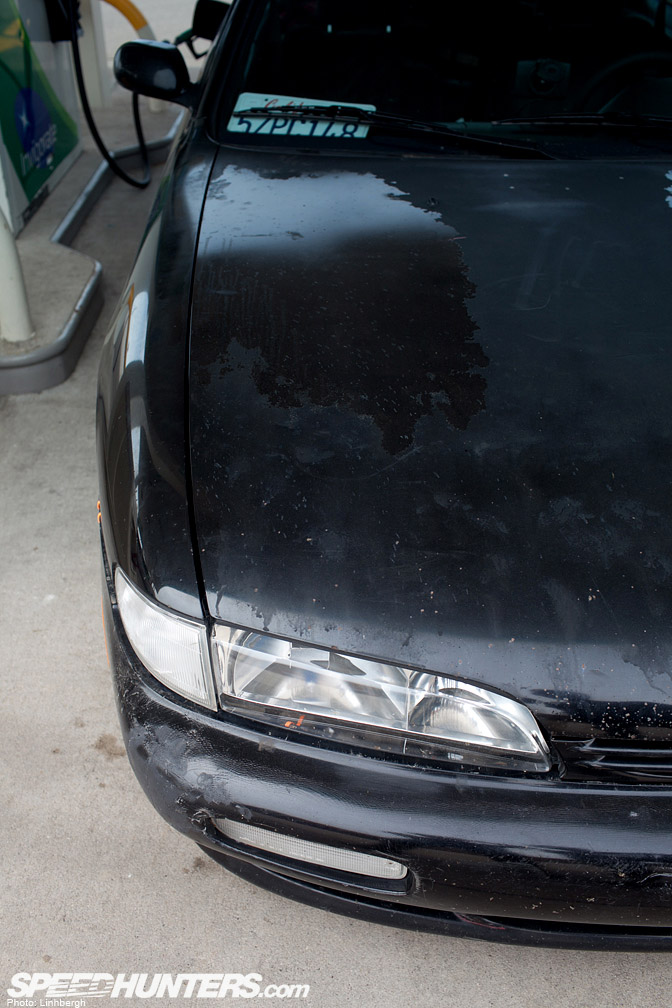 LN: This is what a real daily driven, non-garage queen, project car looks like. Nothing pretentious, glamorous or romantic.
WR: I'm excited to repaint my 240, the sun has not been kind to it's exterior.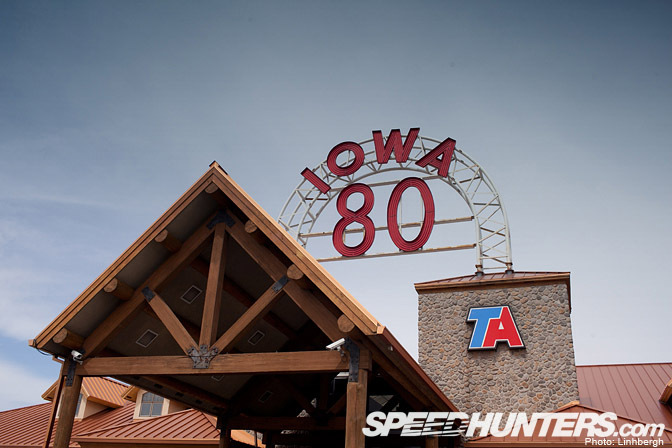 LN: Seeing a sign and wooden entrance like that, I knew I was about to enter into something amazing.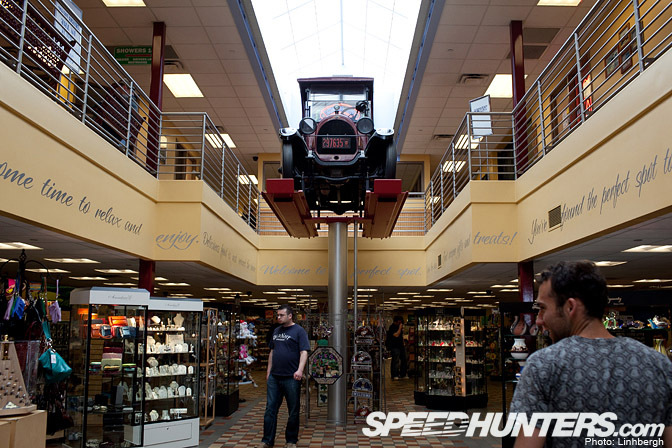 LN: As you enter the truck stop, you're greeted with this view. Pure Americana.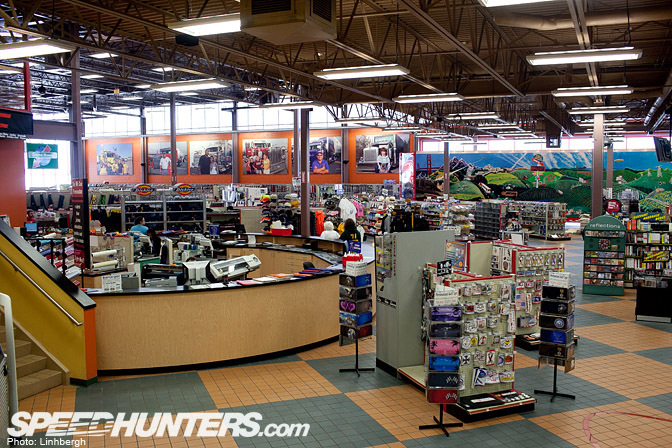 This is the main shopping area. If you can think of anything uber-American, its here. You can also find anything you want for a semi-truck.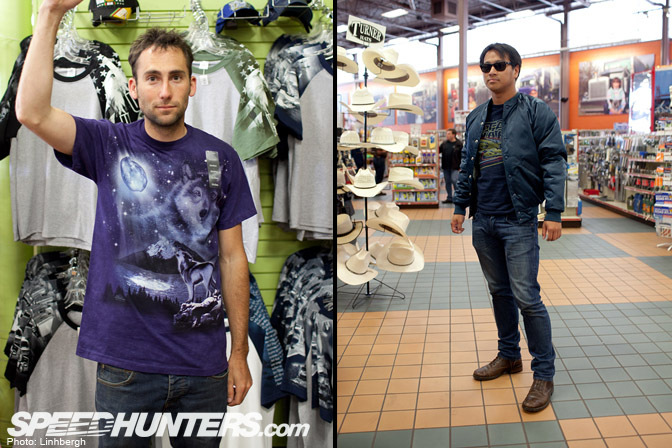 WR: Trucker sartorialist.
LN: Will and I spent quite a bit of time perusing the apparel section. It sucks uber-Americana t-shirts don't come in small….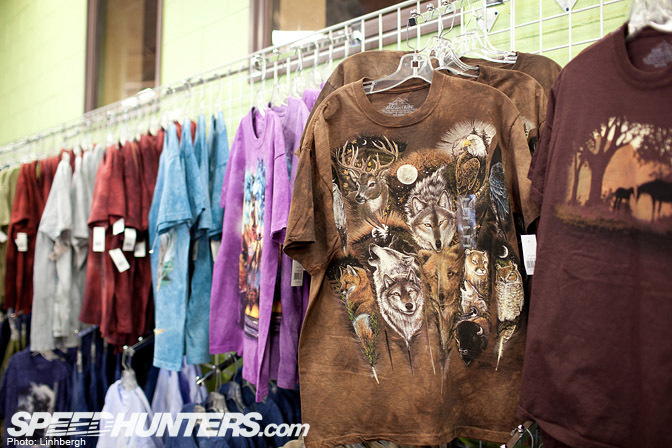 WR: Nothing is more American than XXXL tie dyed wildlife shirts.
LN: I'm still rather sad that I was not able to purchase one of these amazing shirts!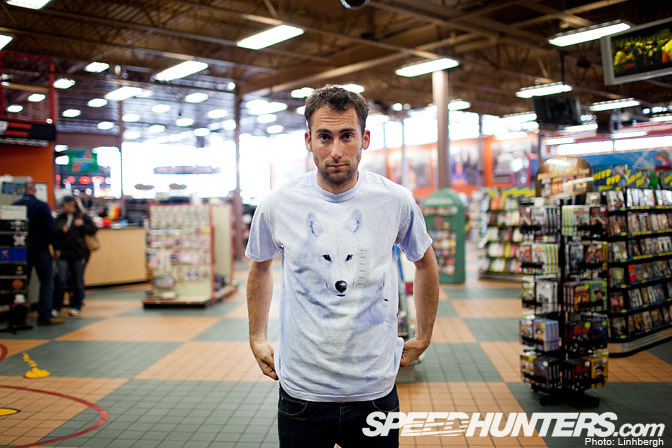 WR: Moon dog of my soul. I really like wolves, so much that I bought this shirt and wear it regularly.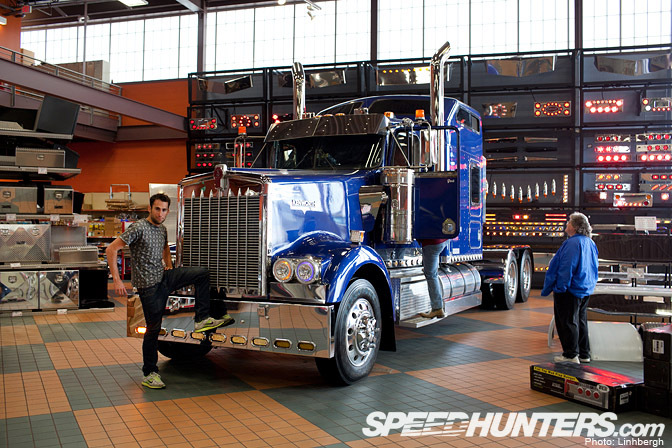 LN: A whole semi-truck in the world's largest truck stop shouldn't be a surprise, but I'd be lying if I said I wasn't blown away.
WR: Optimus Prime?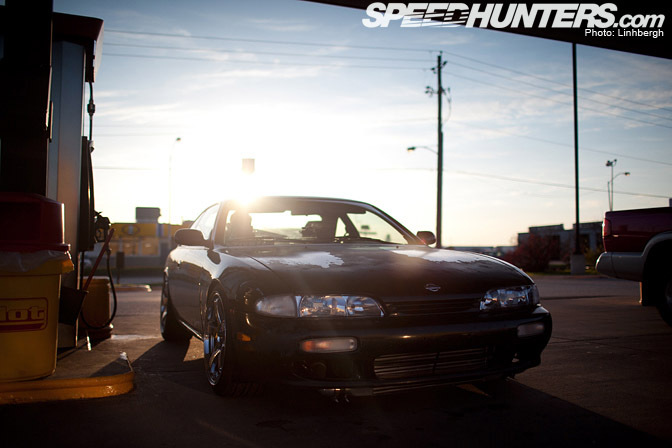 WR: On the next fill-up Linhbergh and I switched off driving responsibly.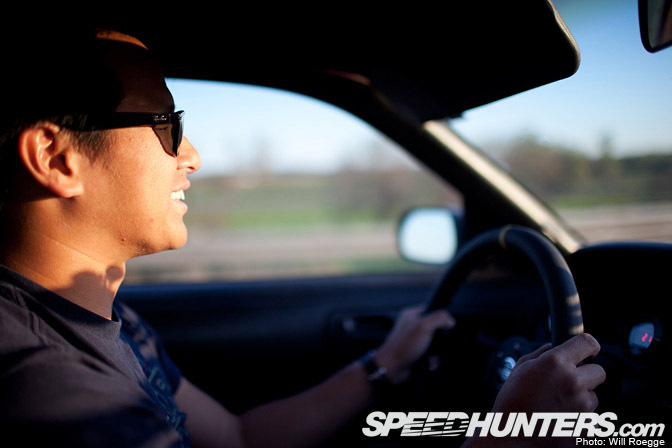 LN: Driving another person's project car is a strange experience. Getting into it, you know that the car was modified and tailored for whomever worked on it. I felt exactly what when I took the helm of Will's S14.
The turbo, solid motor mounts and straight through exhaust made for a rather ear splitting experience. Whenever we'd stop to top off on gas, my ears would continuously ring for a good five to ten minutes. Driving a fully modified car like this must be about 16% of what its like to drive a full on race car in an endurance race.
WR: It was fun to watch him behind the wheel of my car. I love driving, so sharing that experience with someone else is not something I do very often. It was interesting to watch Linhbergh become more comfortable with the car and it's behavior.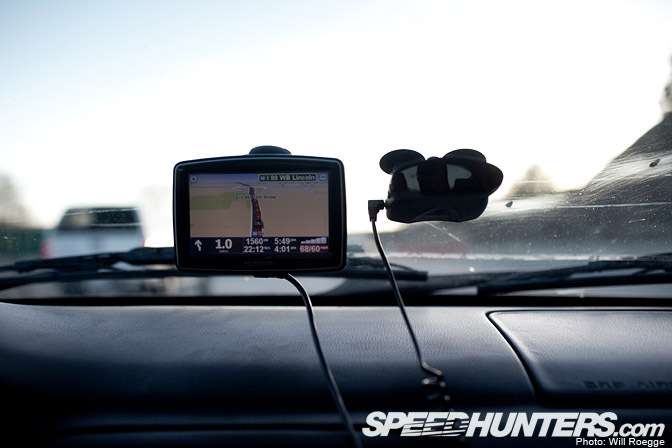 LN: The year 2011 roadtrip must haves: a GPS and a radar detector.
WR: 22 hours till Los Angeles.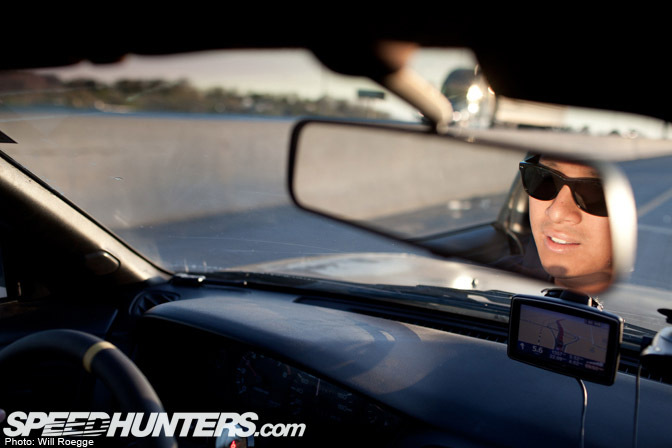 WR: Little did we know that after the sun went down we would be face with a series of mechanical problems.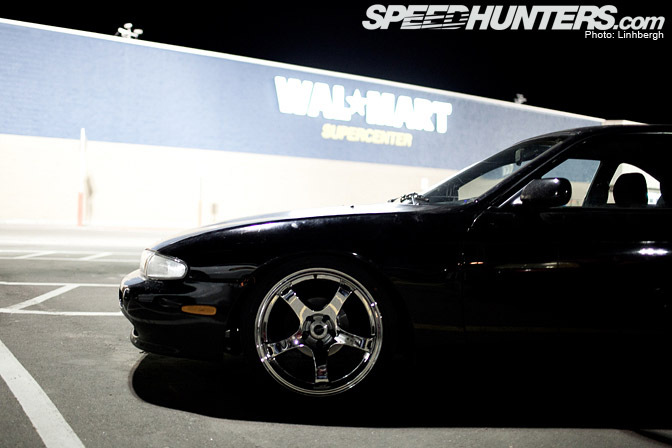 WR: While on the highway, we noticed an increase in exhaust noise. We pulled over after boost dropped off and the A/F gauge dropped into ultra lean readings. To my surprise, the exhaust manifold and turbo had separated because the four nuts holding the two together had backed off. The studs kept the turbo in place, but there was a couple inch gap between the two. The solid motor mounts' vibration had slowly vibrated them all loose.
LN: Imagine driving along with the drone of the engine hovering around the same RPM for a few hours instantly change to a booming noise. Seeing how I was behind the wheel when it happened, I thought I did something wrong.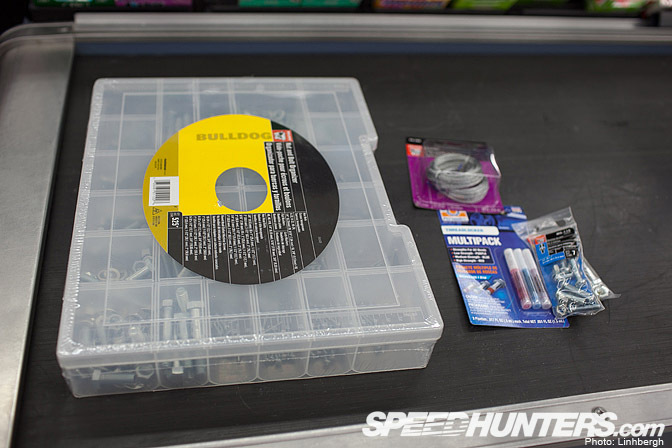 WR: Wal-Mart was still open so we searched for metric nuts to fix the problem. Metric hardware is hard to find at 11pm on a Sunday night in Nebraska. In a pinch, I picked up an SAE hardware set, lock tight, and picture hanging wire – as a last ditch holding solution.
LN: What isn't pictured was the two gallons of water that was purchased. We poured the water over the manifold and turbo to cool it down as quickly as possible so we can actually work on it.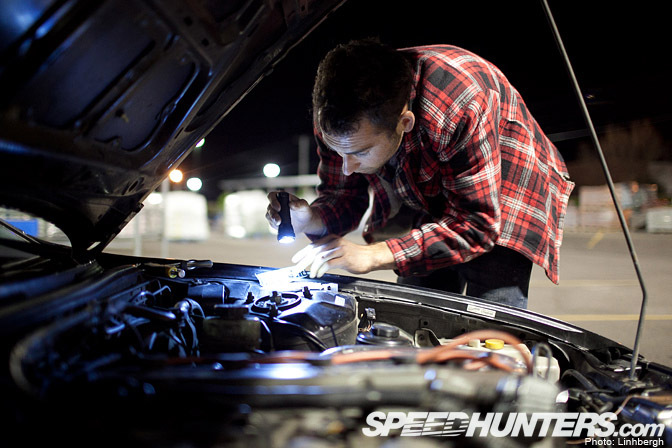 WR: A flash light is a must for any good tool kit.
LN: As well as a pocket knife.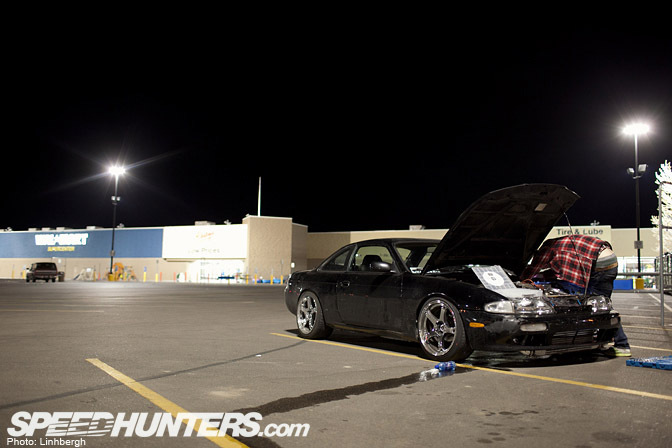 WR: None of the standard hardware worked out and I didn't feel comfortable with a temporary fix lasting the rest of the trip. So we decided to call it a night and fix the setup in the morning.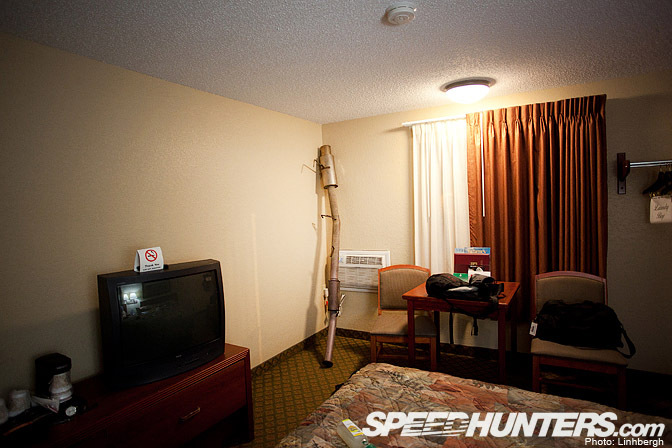 WR: Then things got more interesting, the vibration had also backed off the nuts on the elbow to down pipe flange. A friendly police officer pulled us over and informed us that we were shooting 25 foot sparks from underneath the car. How we didn't hear or see that – I attribute to the open headers and solid motor mounts.
LN: Not too long after we pulled out of the Walmart parking lot, I noticed a dragging sound coming from the car. I thought we were dragging a plastic shopping bag or something close to that. When will muttered the words "we're getting rolled" my head was completely out the window.
Imagine being a cop and seeing a dumped S14 throwing out 25 foot sparks with someone hanging their whole head out the window….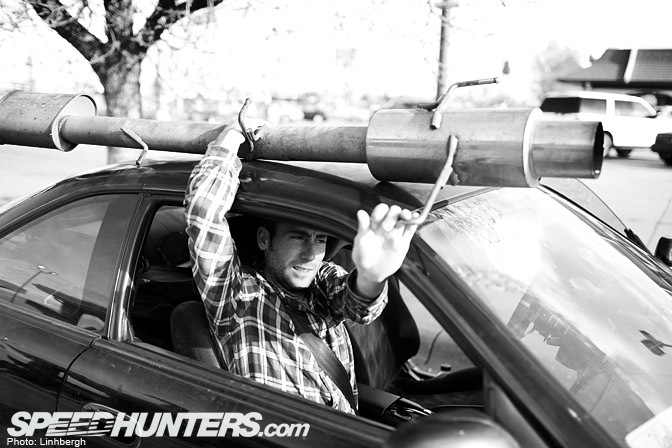 WR: Early the next day, we prepared for the big reassembly. I held the cat back on the roof while Linhbergh piloted the car to the auto parts store.
LN: The drive to the hardware store must've been the scariest 45 seconds in my life as we saw a few cops roll by before we pulled out of our hotel.
"WHATEVER YOU'RE THINKING, IT'S NOT WHAT YOU THINK IT IS, OFFICER."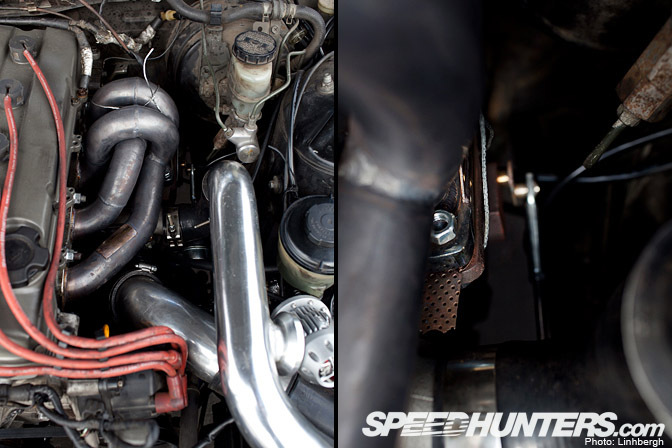 WR: Note the top side nut – which was one of the standard nuts we attached at Wal Mart to rig the turbo in place temporarily. Along with the wire around the exhaust manifold and hooked around the bottom side of the turbo as a leash.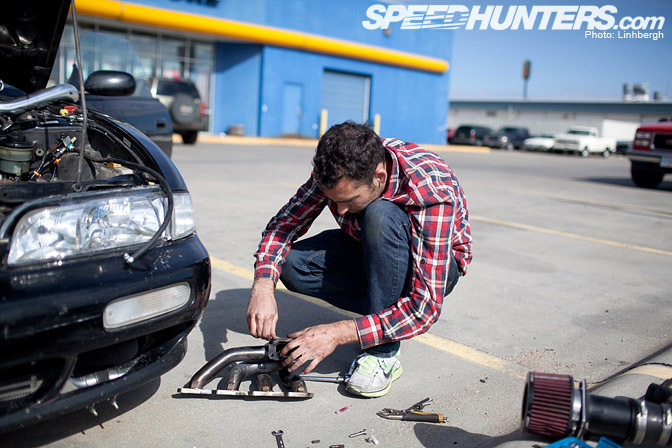 WR: We each took parts of the job: I detached vacuum lines and removed the exhaust manifold while Linhbergh detached the hot pipe, intake pipe, and prepped the new hardware with lock tight.
LN: Even though Will was, understandably, not in the best of moods, I somehow enjoyed the wrenching that we did. It's been more than two years since I worked on a car like that. I tried my best to keep Will's spirits up during the whole process.
I find flatulation usually works very well to lighten up moods. Don't quote me on that….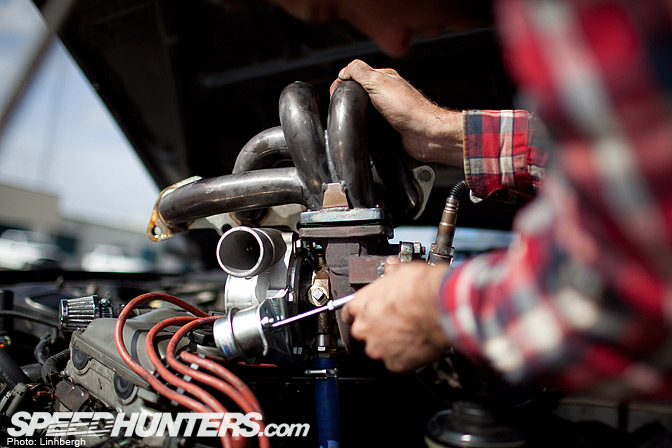 WR: Then it was time to re-attach the turbo.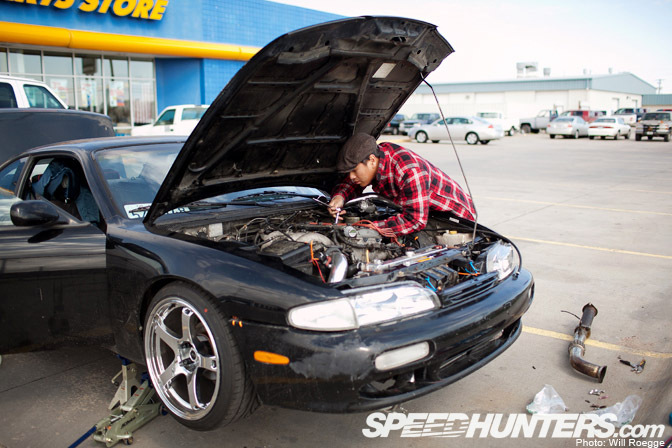 WR: Linhbergh took over on re-attaching the manifold and turbo to the block while I moved underneath to attach the elbow to the down pipe.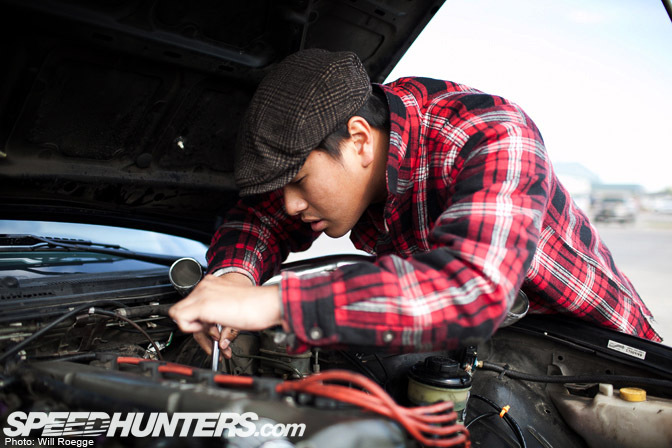 WR: Thanks for swivel socket adapters when you are working around turbo manifolds.
LN: I was unintentioanlly being a fashion faux pas with my insane mix of patterns. I believe Rod would disapprove of such a pattern mixture.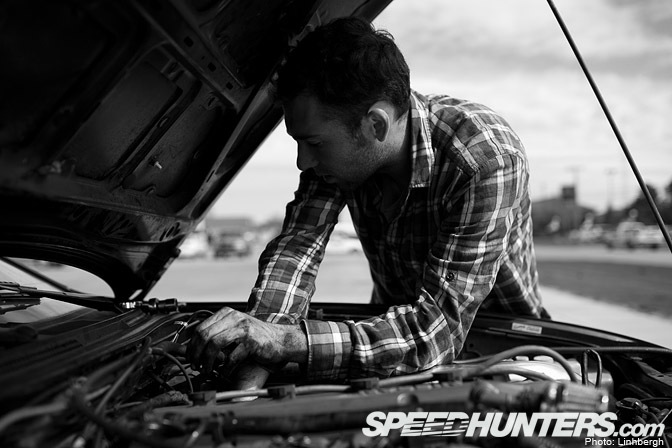 WR: Re-attaching the wastegate vacuum lines to the boost controller solenoid.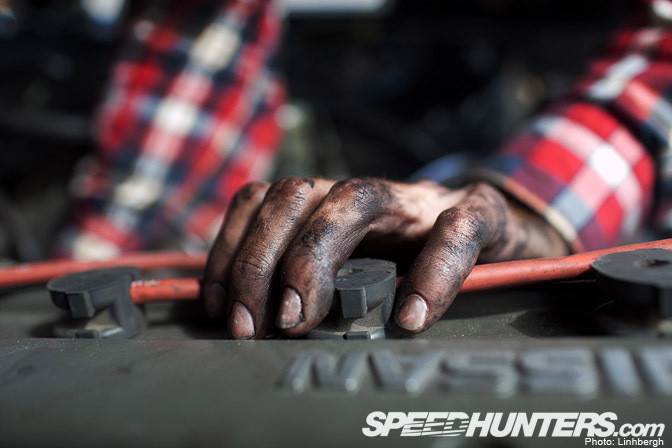 LN: In the very few years I've spent covering various motorsports, slowly come to the realization that a person's hands speak much louder than their actual facial expressions. Will's dirty hands speak volumes about his determination to get his car up and running again.
WR: I like this photo. I like when my hands speak for themselves.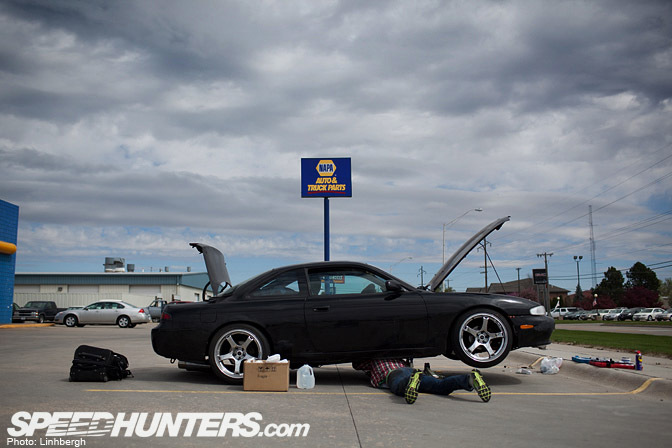 WR: Tightening down the cat back to test pipe – it looks like the car is doing a wheelie because the jack stands are obscured.
LN: Plaid with highlighter green Nike's? WWRCD (What would Rod Chong do)?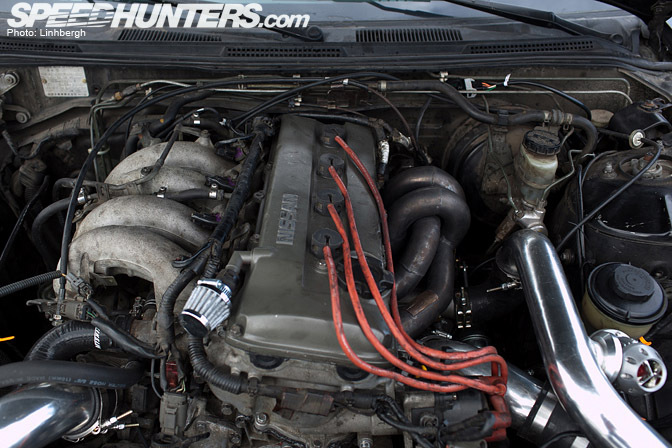 WR: Much better, oh well for having a clean valve cover.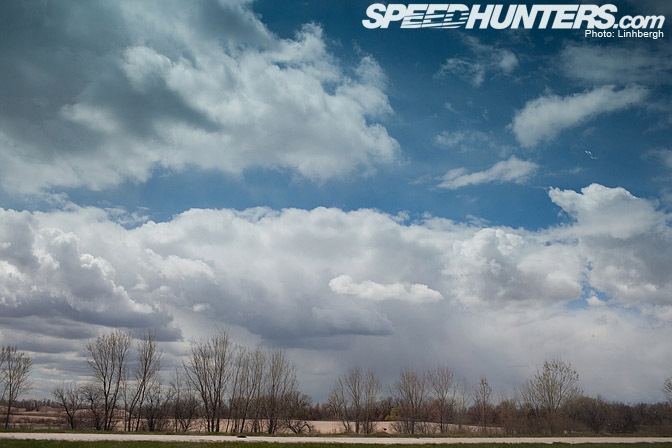 WR: Nebraska countryside.
LN: I don't think there's ever a time when I'm not cloudhunting….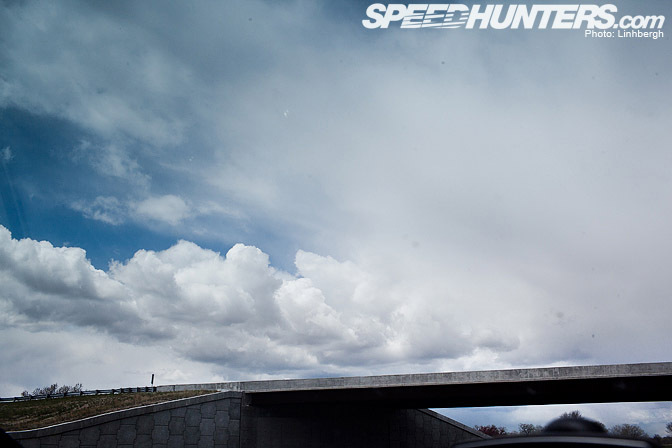 WR: The 240 ran great, max boost was set to 7psi and we kept the acceleration mellow.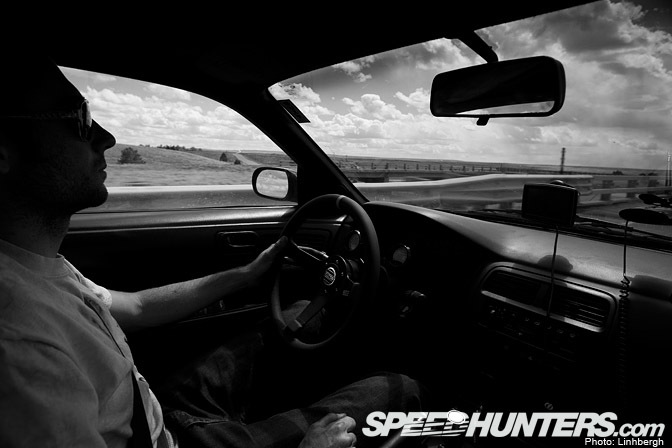 LN: When we buttoned the car up, it actually ran better than when we left Ohio. Will was in worried-but-not-trying-to-show-it sort of mood. I kept the flatulence to a minimum at this point.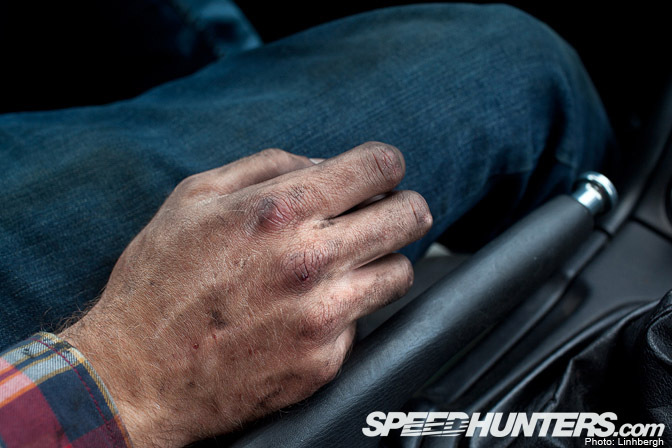 LN: Though Will was still worried about the car breaking again, he seemed much more calm and much less brooding. Much Ke$ha, Britney Spears, and Katy Perry listening was had at this point.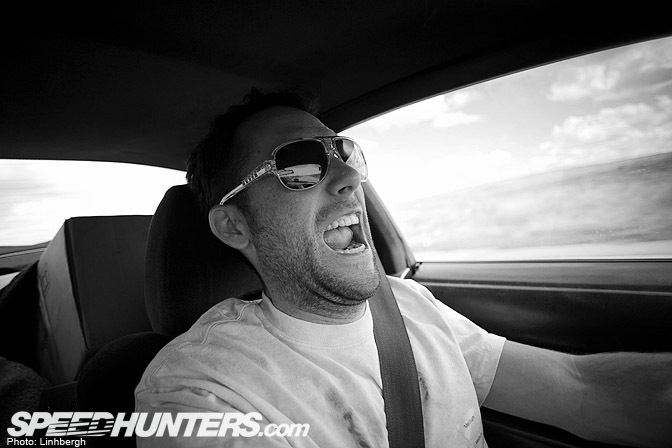 WR: I like cheap sunglasses. This pair is from Justin Shreeve and I's drive from Seattle to Los Angeles.
LN: I also introduced Will to Stephen Colbert's cover of Rebecca Black's "Friday". He didn't enjoy it as much as I did.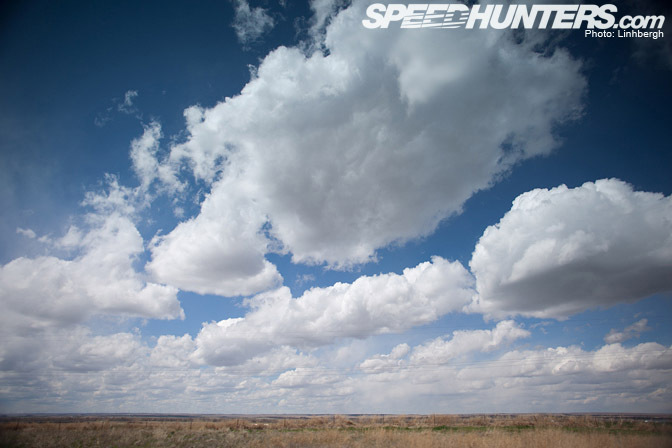 WR: Entering Colorado, quite possibly the most picturesque state in the US. Linhbergh and I both love shooting Pike's Peak and Colorado has a special place in our memories.
LN: I've traveled a good portion of the United States by now and outside of California, Colorado is my favorite state in the union. It's natural beauty is unrivaled, the people are more than wonderful and the air is supremely crisp and clean.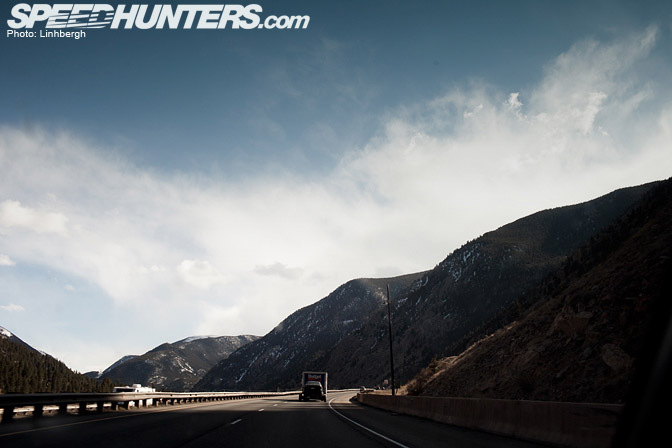 LN: As we headed up the Colorado Rocky's the scenery became more and more beautiful.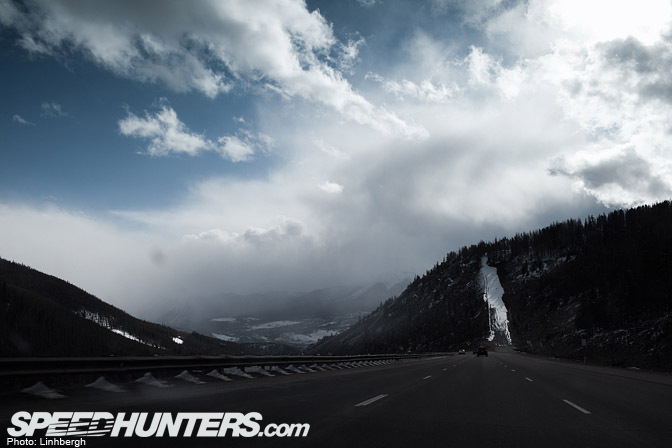 Absolutely breathtaking.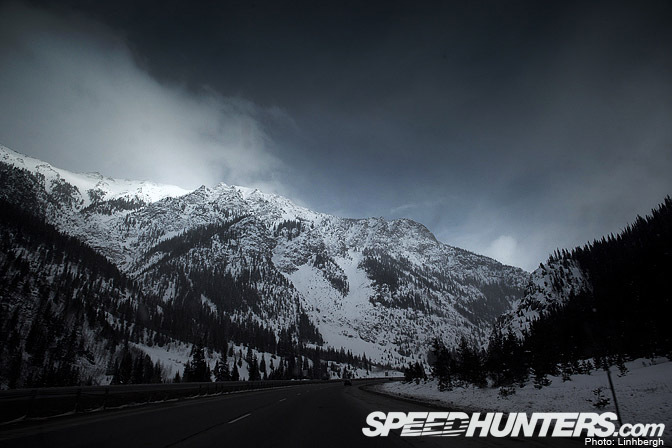 Where else can you witness snow capped mountains in late spring?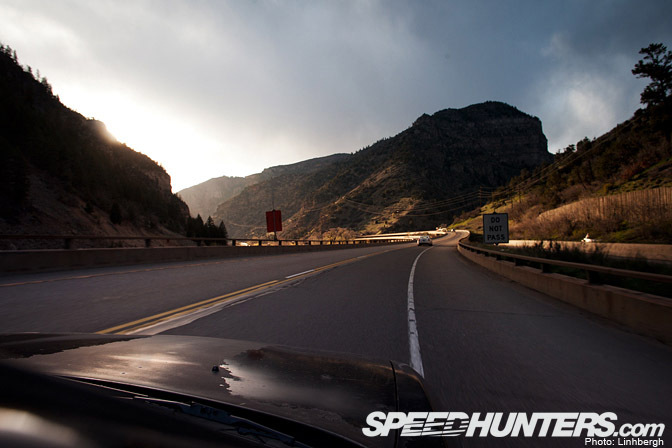 Even the drive down from the Rocky's and into Utah was beautiful. When the sun set completely, the roads become pitch dark and trying to shoot basically became impossible.
LN: We made it across the state of Utah and Arizona before we stopped at a border city in Nevada for gas. Notice the casinos in the back –definitely in Nevada.
WR: Driver change, I was exhausted having driven from the middle of Nebraska to Nevada – so Linhbergh took over while I attempted to sleep.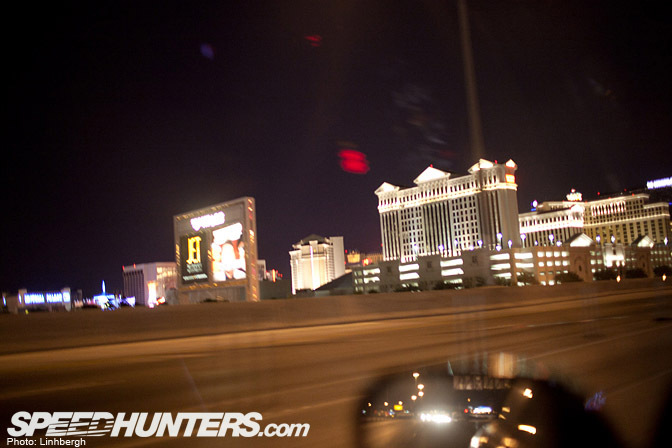 LN: By the time we reached Las Vegas, exhaustion completely took over Will. He was knocked out cold in the passenger seat having some insane dreams and I held the ship's helm in a sleepy delirium.
There was a point where both Will and I were unable to go any further so I pulled off into a travel center for a quick 20 minute power nap. We both wanted to make it to Los Angeles before traffic it.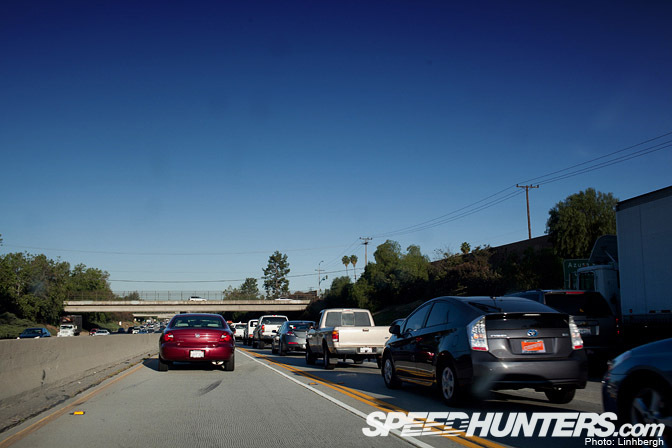 Our efforts to rush and beat the infamous LA traffic proved to be futile.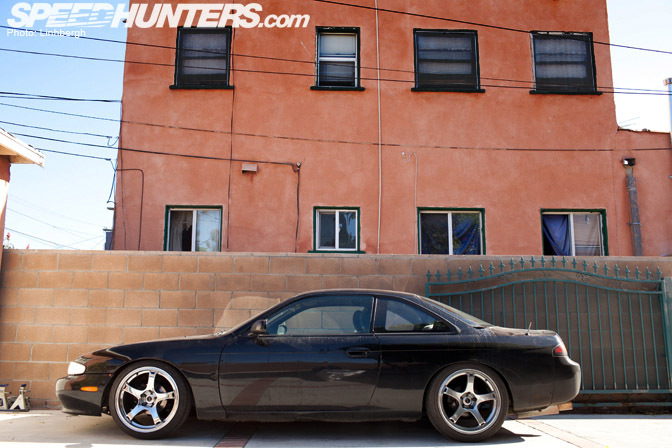 LN: After so many hours on the road, we finally pulled into the Will's driveway. We both breathed a sign of relief when the engine turned off for the last time. The car made it. We made it.
WR: Home sweet home. My Nissan is back where it came from – Los Angeles, California.
Thanks to Linhbergh for trusting me and road tripping with me from Cleveland to Los Angeles. Also to Hertrech and Enjuku Racing for helping me plan out my KA-t setup. I highly recommend Enjuku racing to anyone looking for excellent customer service and good prices! Here's the hot sheet:
LN: Looking back, it was strange to think that neither Will or I ever expressed any pessimism throughout the trip. We never even exuded any sort of negative vibe or energy. We didn't want to jinx the journey in any way. Deep down, we knew that the car had a high probability that it might not make it to California. But for some unspoken, unknown reason, we were vocally optimistic. I think that the optimism was so strong between the us that we actually believed that the car could drive the two-thousand miles west. Even when we were wrenching away in front of a Walmart in the dead of the night, in the middle-of-nowhere Nebraska, we still believed it.
Growing up, I remember teachers always mentioning that when you believe in yourself, things actually can happen. And you know what? It did.
The untuned and turbocharged KA24, with its solid motor mounts and straight through exhaust drove the 2333.6 miles across the country to the west coast. I still can't believe it even as I sit here to write about it.
We may now be in the year 2011, but the allure and romance of a classic American road trip never lost its luster. When you start a road trip, you go into it with romantic notions. When you finish it up you walk away with tall-tale stories from the trip and you'll always look back upon that journey with a warm heart.
We live in a society where you can experience the world with the click of a mouse. But the actual experience gained from actually seeing the world is a whole different story. Online, you're reading about the worldly experience of others, but out on the road, you're a living breathing part of your own story.
-Linhbergh
Speedhunters Car life features
Will's 1995 Nissan 240sx spec list:
2.4 KADE-t
ARP main studs
Cometic head gasket
Deatschwerks 550cc injectors
Walboro 255 fuel pump
Magnecor kv85 spark plug wires
Circuit Sports engine mounts
ISIS RS 3871 turbo
ISIS T2 bottom mount manifold
ISIS turbo elbow
ISIS FMIC 
HKS SSQV BOV
Circuit Sports flex downpipe
DME test pipe
APEXi N1 catback exhaust
AEM Tru Boost
AEM UEGO
Z32 MAF
RS Enthalpy ROM Tune
18 x 9.5 +15 MB Drifter wheels
Tanabe Sustec Coilovers
NRG short hub & quick release
Sparco 345 wheel
Short throw shifter