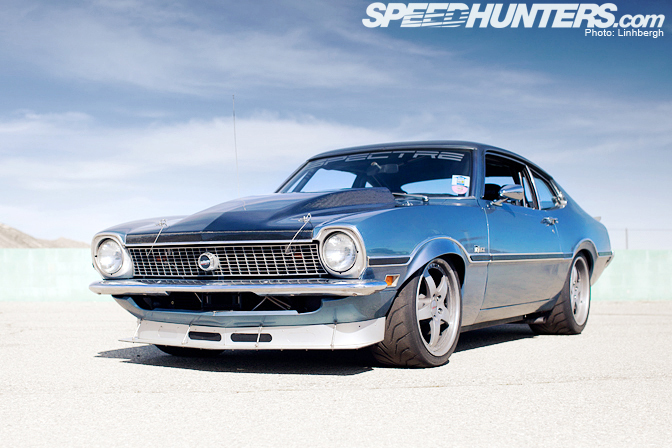 If there's one thing to be said about the internet, it is the fact that it has made the world, no, the universe a smaller place –a much, much smaller place. With the simple click of a mouse, you can be instantly teleported to China, England, New Zealand, Papua New Guinea or to our neighboring star system, Alpha Centauri. When talking about the automotive world, that too has shrunk because of the binary web of input and outputs. It's brought together enthusiasts from all walks of the vast automotive umbrella and exposed them to disciplines which they would normally not frequented delve in. Road racers become exposed to drag racing, drag racers become exposed to drifting, drifters become exposed to the hot rod and rat rod scenes, hot rodders start to take notes from the import show scene and the list goes on. Each day, we're witnessing this crossover influence happen over and over throughout the digital universe.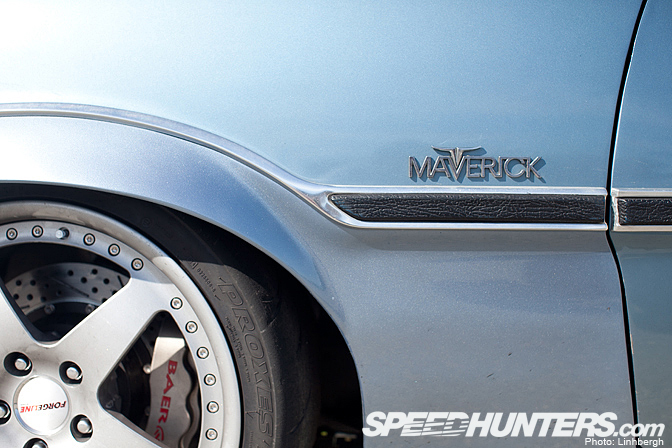 This 1970 Ford Maverick, which was designed build by Lance Peltier for Spectre Performance, is a shining example of this crossover of automotive worlds.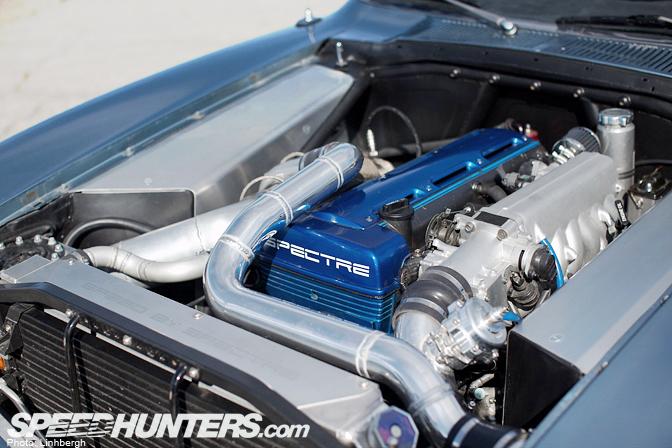 Many, many moons ago, crossover engine swaps of any kind were a taboo. But today we see hybrid swaps becoming more and more accepted. The original, American made, Ford Maverick motor was ripped out and replaced with a Japanese built 2JZ-GTE inline six from a 1995 Toyota Aristo. Some may look at this car, its engine choice and think of it as utter blasphemy to anything and everything Detroit muscle represented.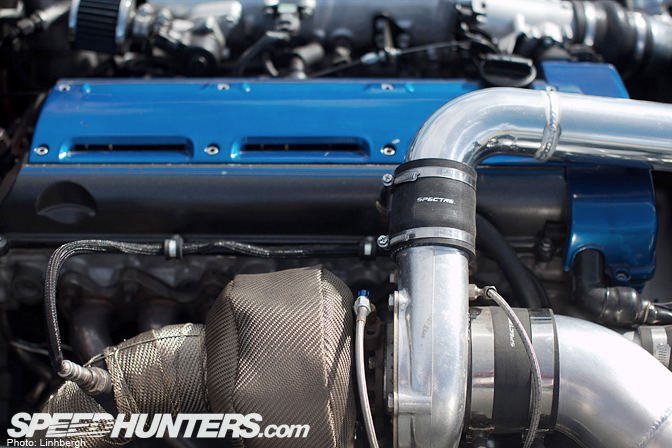 Lance decided that the original turbocharger wasn't producing the power he wanted. So a Drift Effects 67MM Turbocharger, with Toyota 550CC injectors was installed. A custom made liquid-to-air intercooler, heat exchanger, pump and tank from Performance
Fabrication was also added to the turbo setup. Performance
Fabrication also crafted a 3″ oval exhaust system.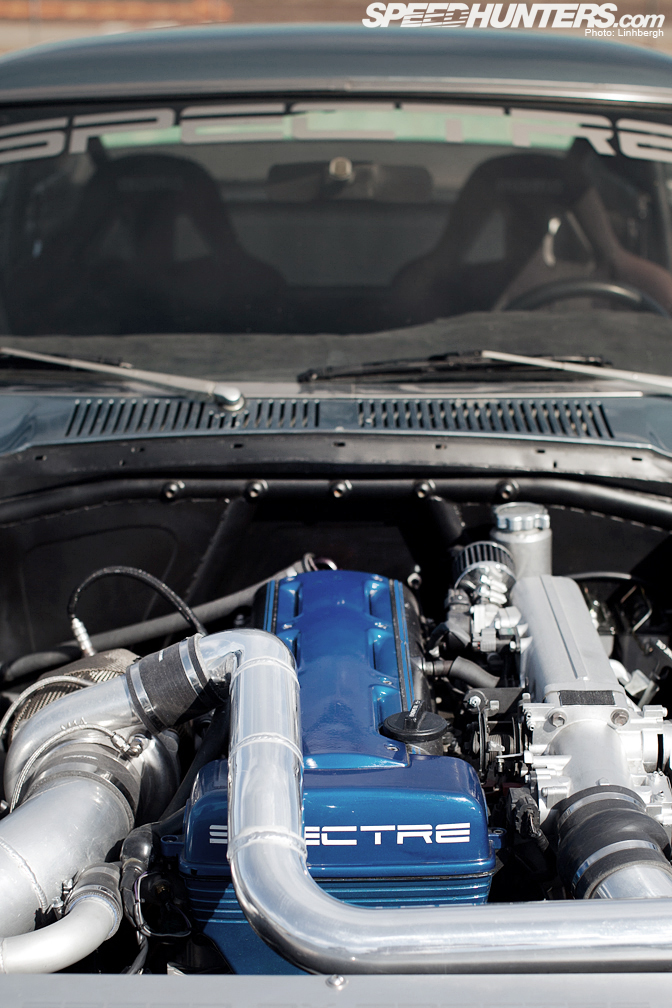 On the drive train side of things, Lance employed a Toyota R-154 5-speed coupled with a Toyota 1JZ bell housing and a six puck ACT Extreme pressure plate. The rear end was beefed up with a Ford 9″ rear-end from Performance
Fabrication.
A while back, we posted a video, on our Facebook page, of this car hauling all sorts of rear end down the main straight of the Streets of Willow race track at Willow Springs. Check it out here. Hearing the signature sound of a turbocharged 2JZ coming from a Ford Maverick is something to truly behold.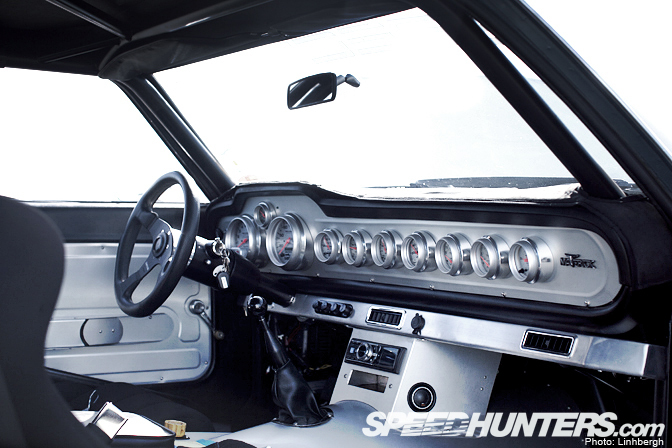 Not only did the engine see a total make-over but so did the interior. The major interior change was the custom aluminum work all over, including the dashboard, from Performance Fabrication which houses a set of Autometer Ultra Lite II gauges. Performance Fabrication also made the roll cage. The original steering wheel and seats were ripped out in favor of a Momo "Competition" steering wheel and a Momo Street Racer GT bucket with seat belts from Crow.
If you think this thing is all performance based with no creature comforts, you'd be wrong. You'd be surprised to hear that this car actually has air conditioning and a AM/FM radio with iPod link! How's that for modernizing?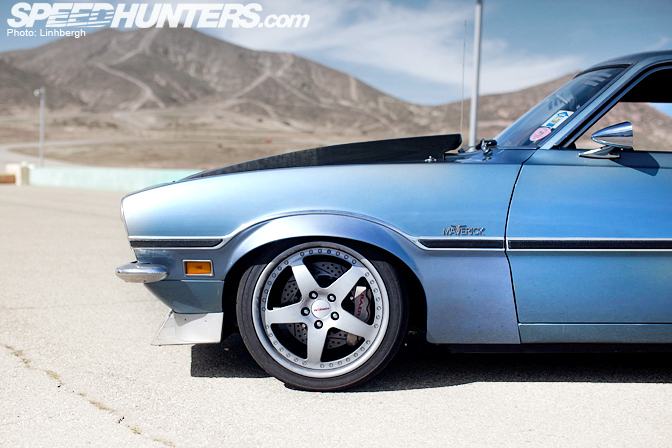 The recent trend in the muscle car world seems to be making these old brutes handle a corner better than they normally would have. Lance and his team gutted the suspension and added a Rod and Custom Motorsports Mustang II front end, with tubular A arms, and QA1 double adjustable coil overs.
Far from being any sort of flush, the car fills up the wheel wells the best it can with a set of Forgeline SO3 18×11″ in the front…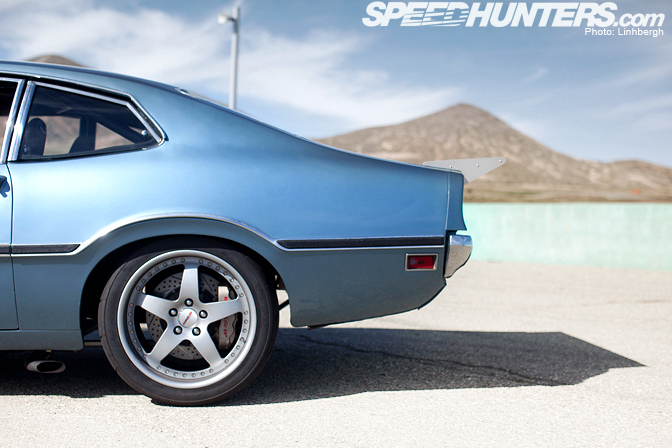 …and 18×12.5″ in the rear.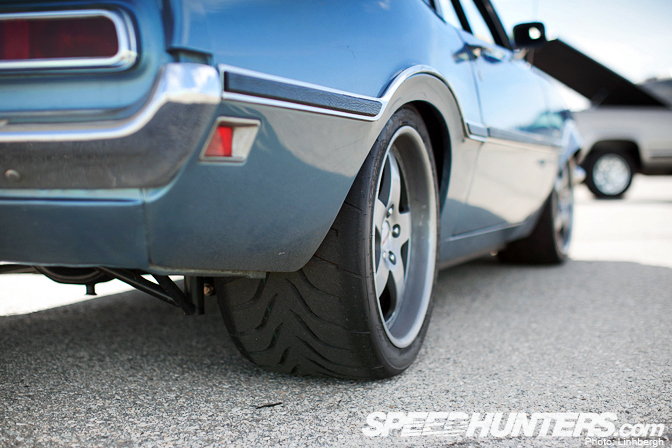 A set of Toyo Proxes R88 was the choice set of tires for the car. It rocks a massive 295/30/18 tire in the front…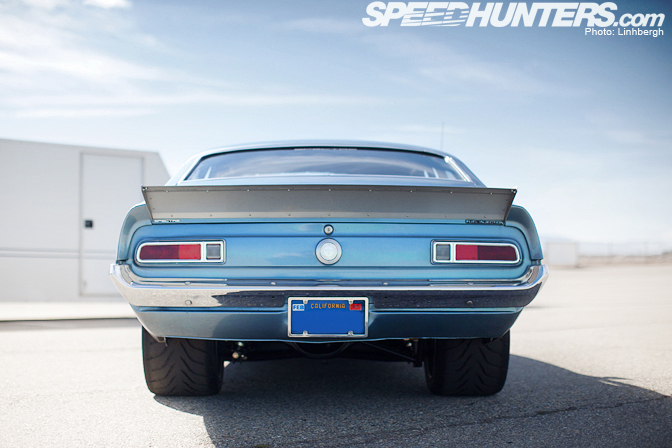 … and an even more massive 335/30/18 int the rear. Check out that ominous stance!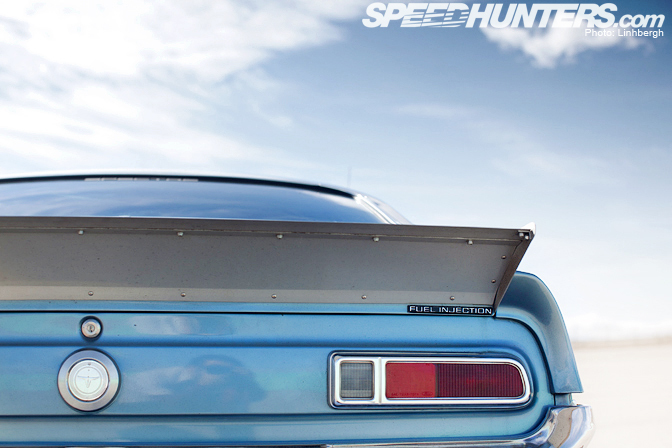 On the exterior side of things, a custom made aluminum splitter sits in the front and a custom Big Wig Race Cars aluminum rear spoiler sits in the back.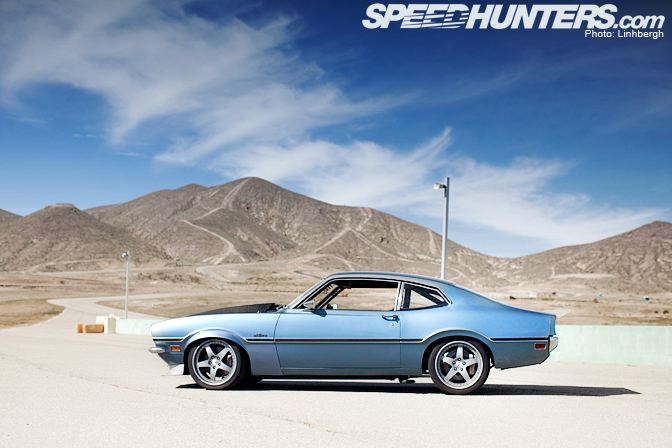 The internet has brought every single person on the planet a bit closer to each other. Each one of our culture now intertwine within the very fabric of the web. And with all that exposure to so many different things, it's hard not to notice that certain new ideas, subjects, and thought processes are making changes to your everyday thought. A Japanese motor in an American car? Not blasphemous, but rather, it's amazing.
At the end of the day, it never really matters what brand of motor is under the hood of a car, but instead what matters is how a car like this makes you feel. When you look at a car like this, find out what sort of motor is in it, hear it expel satanic demons, down the main straight of a racetrack, and makes you scream like kid getting a brand new video game system on Christmas morning, you know instantly that this car is doing something right.
-Linhbergh
Complete spec list:
1970 Ford Maverick by Lance 
Engine:
- 1995 Toyota 2JZ-GT
– Drift Effects 67MM Turbocharger
– custom Performance 
Fabrication liquid to air intercooler, heat exchanger,pump and tank.
– custom 3″ oval exhaust system by Performance
Fabrication
– ron davis custom aluminum radiator and fans
– Aeromotive A1000 fuel pump
– Aeromotive A1000-6 regulator
– Toyota 550CC Injectors
– XRP ull braided hoses and fittings
– 15 GALLON aluminum fuel cell
Transmission:
- Toyota R-154 5-speed
– Toyota 1JZ bell housing
– ACT Extreme PP with 6 puck disk
– Wilwood clutch master cylinder
– Toyota 7M-GTE slave cylinder
Suspension:
- Performance 
Fabrication 9″ Ford rear-end
– 31 spline Mark Williams axles
– Nodual Iron 3rd member
– 3.89:1 positraction
– 1350 pinion yoke
– Rod and Custom Motorsports Mustang II front end
– QA1 double adjustable coil overs on
Performance Fabrication adjustable mounts front and rear
– Performance
Fabrication custom 3 link/4 link rear suspension
– Baer track plus 13″ brakes front and rear
– Wilwood brake/clutch pedal assy
Exterior:
- Maverickman Carbon Fiber hood
– Custom aluminum air splitter
– Big Wig Race Cars custom aluminum rear spoiler
– Forgeline SO3 18X11f and 18X12.5r
– Toyo Proxes R88 295/30/18f and 335/30/18r
Interior:
- Momo "Competition" steering wheel
– Performance Fabrication custom aluminum dashboard
– Autometer Ultra Lite II gauges
– Momo Street Racer GT seats
– Performance Fabrication custom roll cage and frame work by
– Performance Fabrication custom aluminum interior
– Crow seat belts
– Vintage air air conditioning
– Alpine AM/FM with iPod link