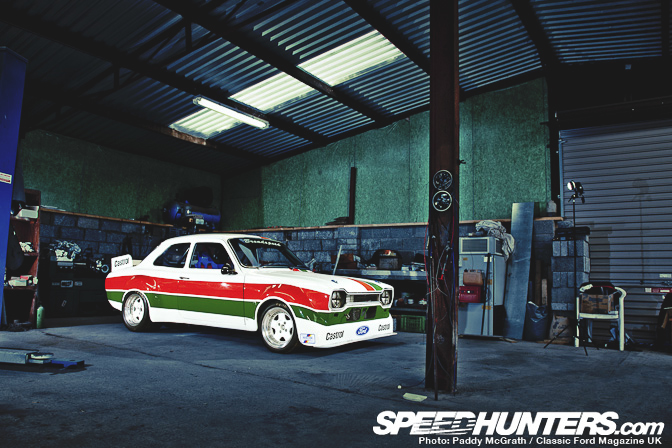 This car is one that I honestly thought I'd never have the opportunity to photograph. Being a Ford kinda guy at heart, I was more than aware of what this car and just how rare it is. It's so much more than just any old Ford Escort.
The first time I ever seen this car, it was nothing more than a bare shell just after being painted. At the time, I was unaware of just exactly what it was and forgot about it until I seen it together a couple of years later. From day one, long before I was working with Speedhunters, I was trying to bring this car to the world's attention. Well, the Ford world at least.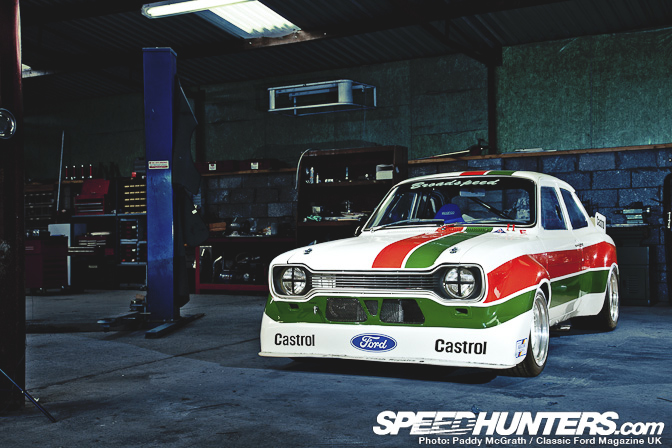 It was at Ford Fair last year that I bumped into all round hero, Bryn Musselwhite who introduced me to a long time friend of his, Simon Woolley. Simon just happened – and remains – to be the editor of Classic Ford magazine. We weren't long into the conversation before I was pretty much begging Simon to allow us to shoot this car. A car which has inspired so many replicas, but this ladies and gentlemen, is no replica.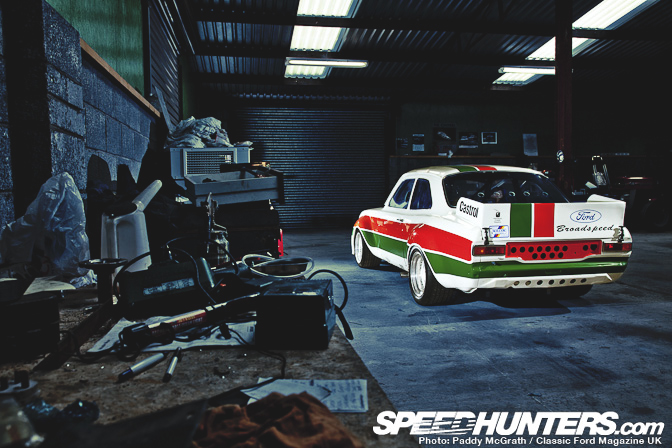 Broadspeed is a name synonymous with Ford's circuit racing history, much like that of Zakspeed. So to stumble upon one of only two surviving examples (as far as we're aware) of one of the finest Escort circuit racers known was a pretty mean feat. I'll let you pick up the mag to read the full story about how this all came about.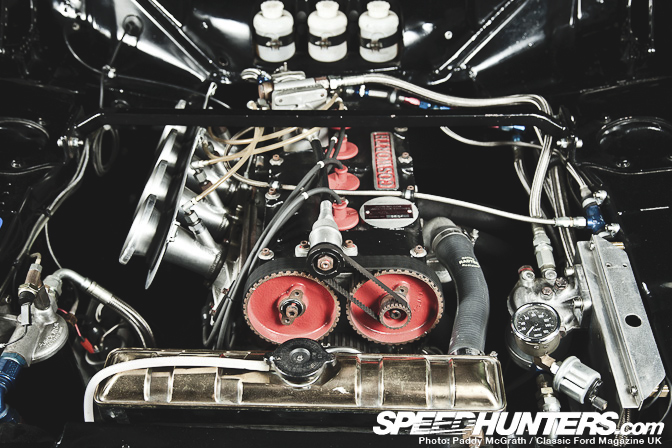 The car is powered by a Ford Cosworth BDG engine, 1993cc in capacity.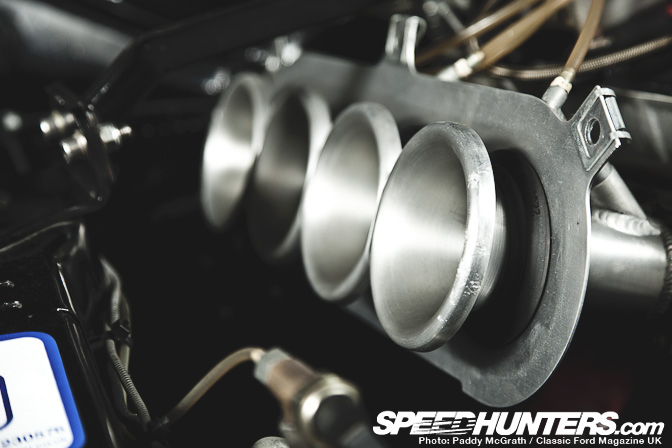 The engine uses a big valve and smaller plug BDX head.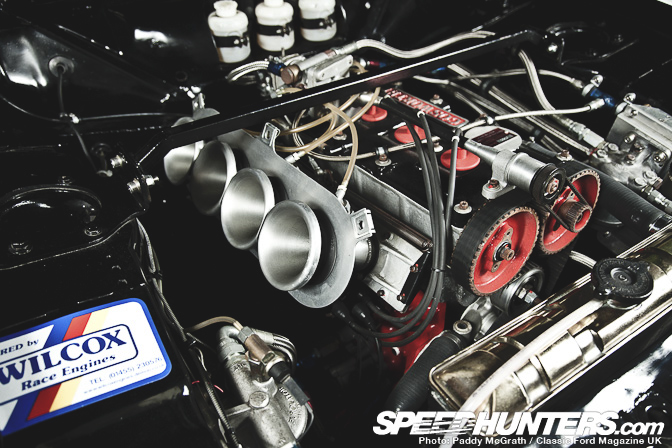 F1 inlet and BD4 exhaust cams along with a Lucas mechanical slide injection system.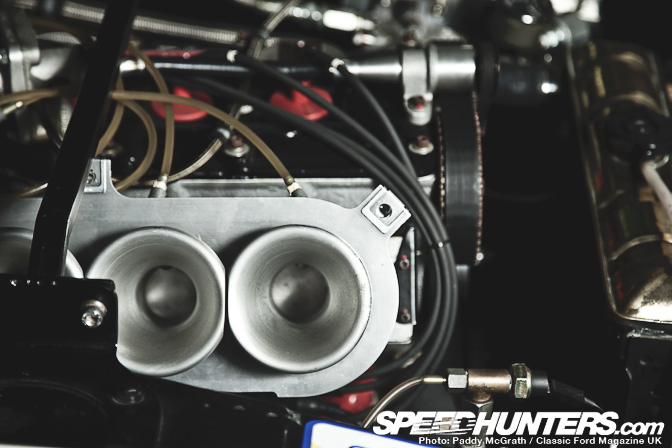 I love the view down into the throttle bodies. All this is good for around 271BHP …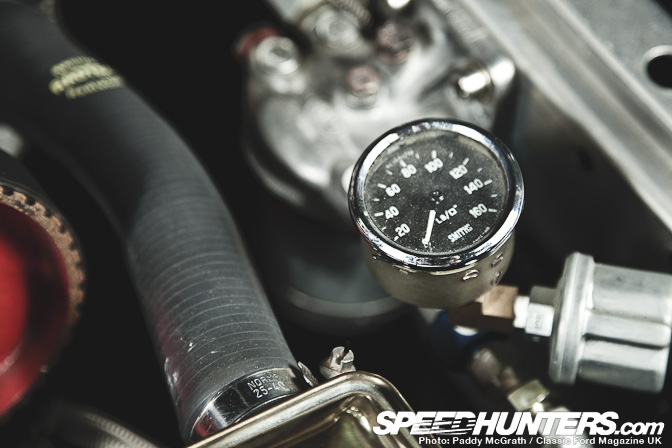 The fuel system is rated for 100-140PSI with an 80-90 PSI dry sump.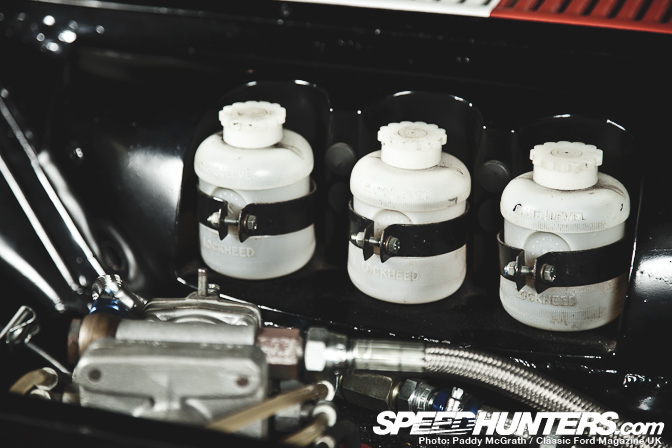 Check out how the fluid reservoirs have been recessed in the bulkhead.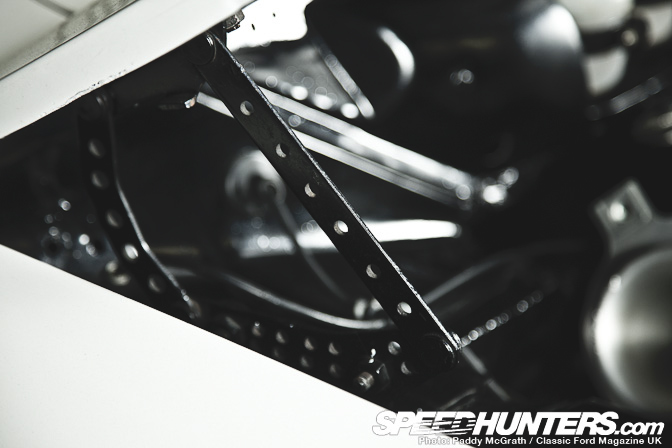 Like today, weight saving was top priority. I don't think any where was safe from being drilled out in an effort to save every gram.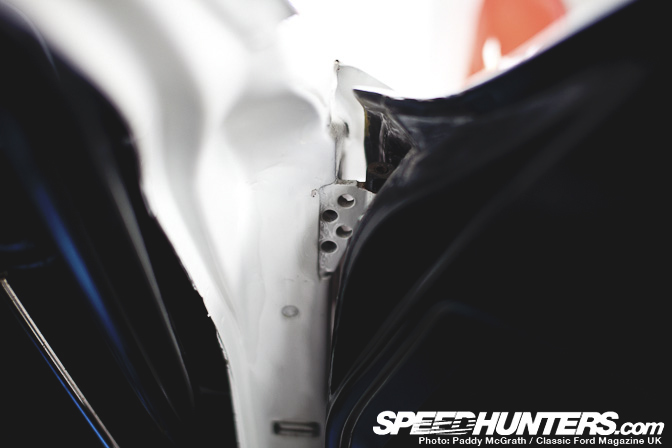 Lightened door hinges !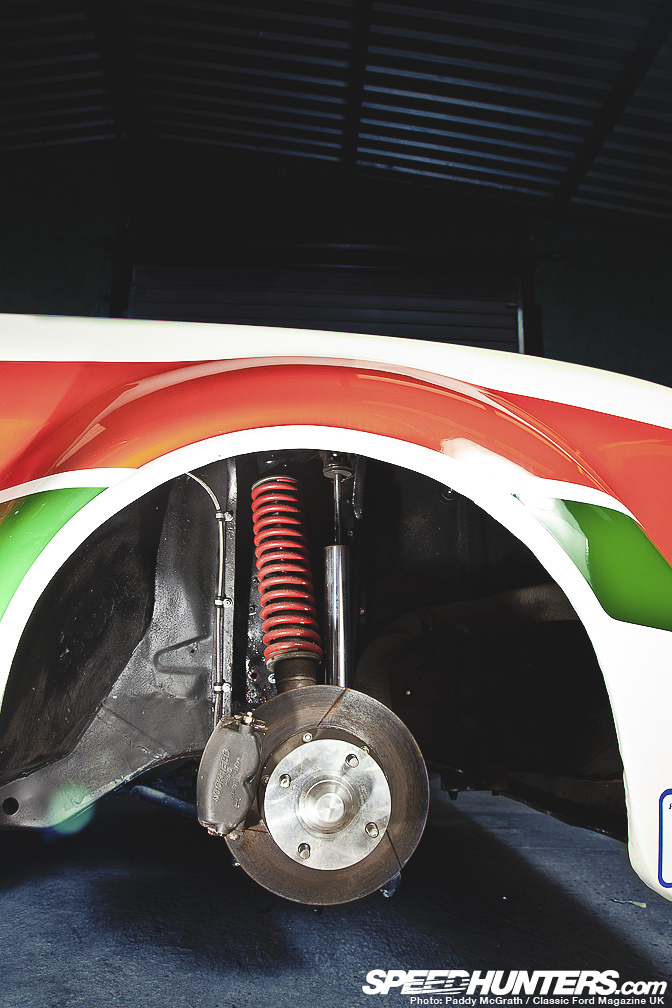 The front suspension features Broadspeed wishbones, Broadspeed strut and upside down Bilstein shock absorbers side by side. The brakes are Group 4 Escort forest specification with vented discs, four pot calipers and braided lines (rubber lines originally)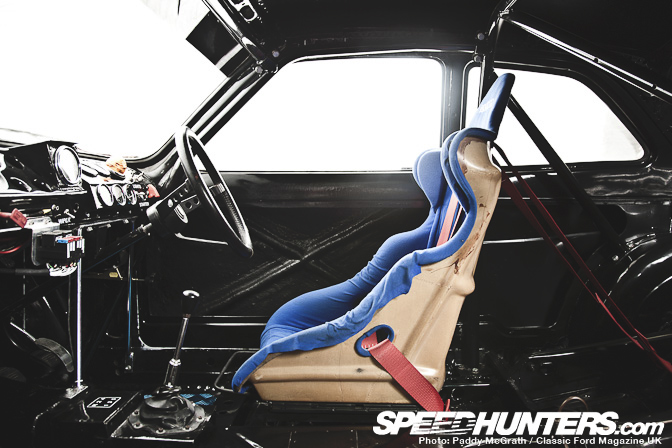 The interior is pretty much what you'd expect for a stripped out racer. It's pretty amazing how much rollcages have come on since back then.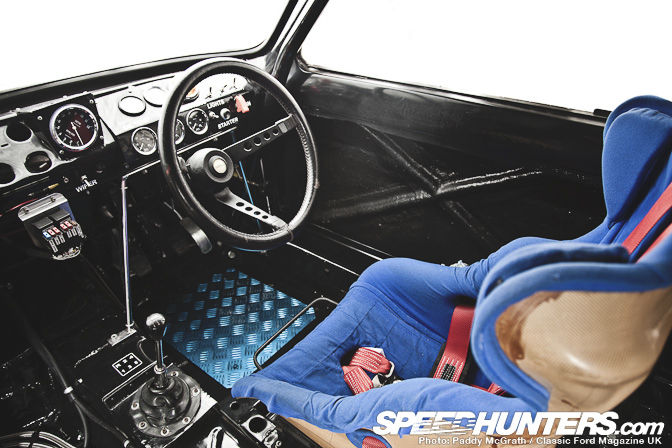 As the car is used today, a couple of modern touches have been added ….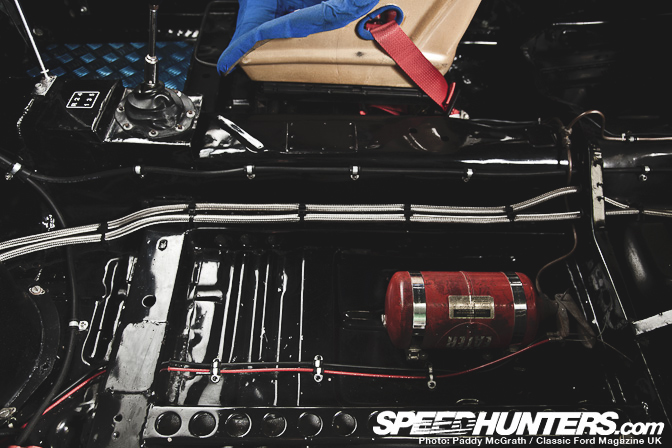 … such as a Lifeline plumbed in fire extinguisher system.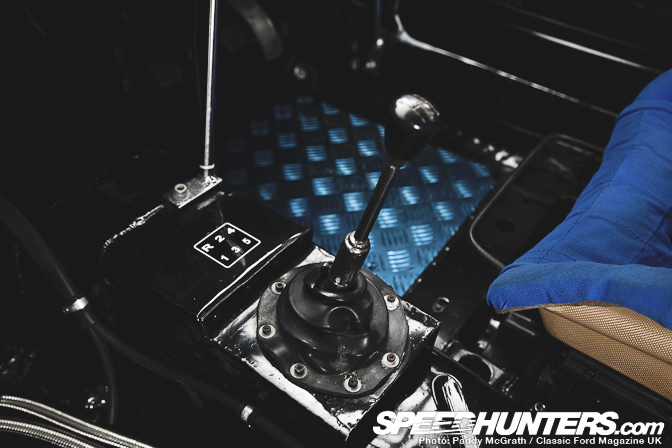 The gearbox is a Jack Knight straight cut five speed 'box with an AP racing clutch. The gears are so incredibly close together, not to mention the dog leg layout.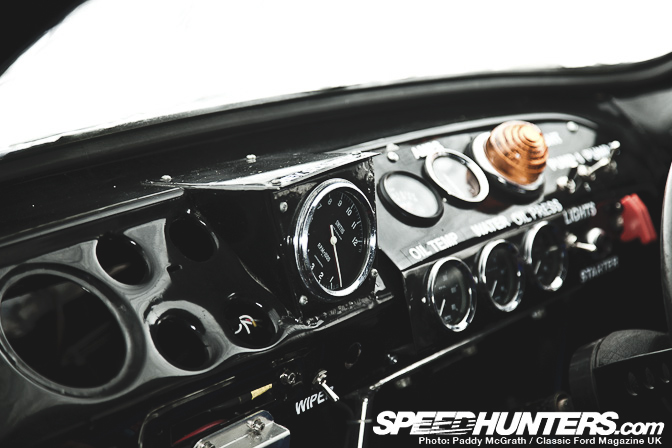 A 12,000RPM rev counter rotated slightly clockwise sits in the middle of the dash. I think someone asked before on a previous post why some drivers rotate the rev counters and I believe the answer is to have the 'meat' of the rev range easily visible when the driver has a quick glance.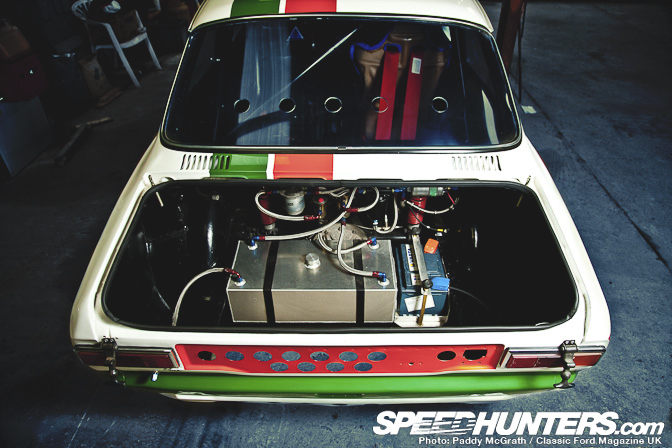 The fuel system and battery can be found in the rear, the former uses all Aeroquip fittings.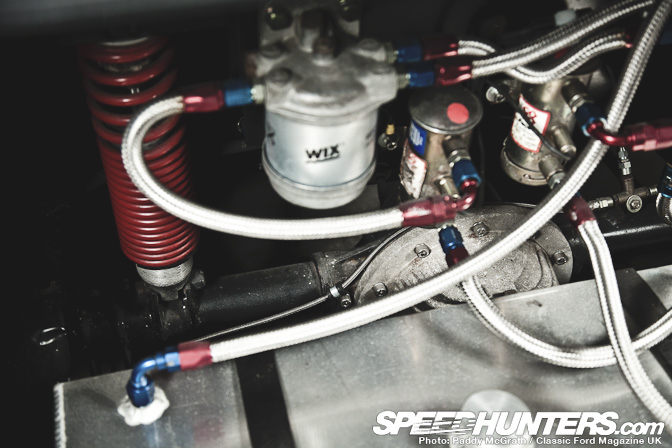 Taking a closer look at how the four link rear axle with inboard coilovers is setup.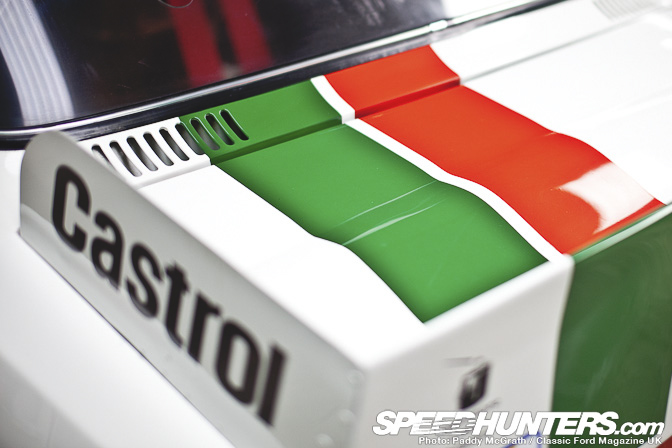 The hump in the boot lid is for aerodynamics. From what I understand (very little I hear you say) because the boot floor has been cut away, air that is pulled into the boot area whilst the car is moving is pulled around in the hump, creating a vortex which pulls the rear of the car down.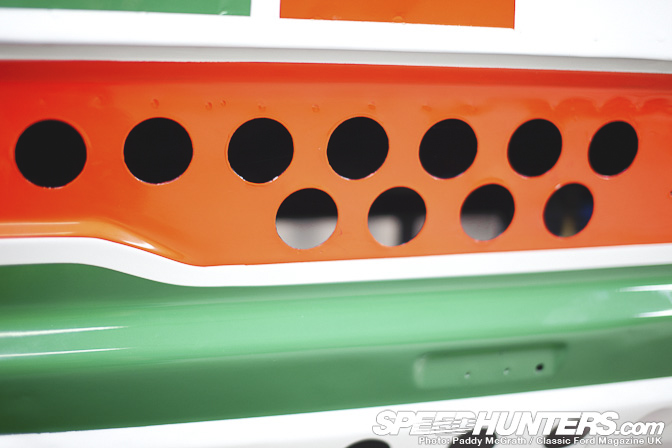 These holes in the rear also allowed the trapped air to escape with the added benefit of saving weight.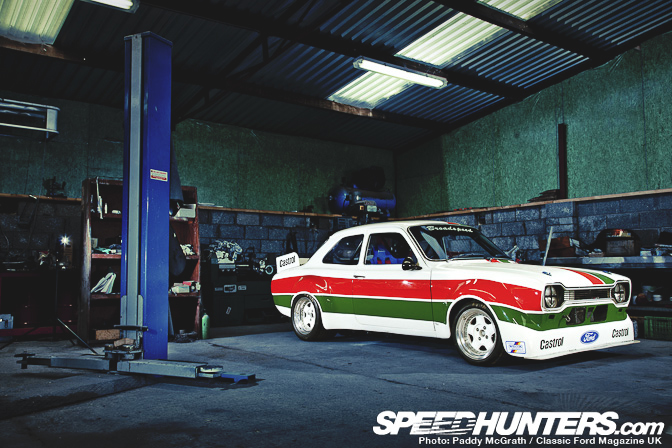 Finally, the shell itself. The car is a 1969/1970 shell converted by Broadspeed to British Touring Car / Super Saloon specification. Another detail, you can just about make out the brake ducts under the front headlights. The wheels (which aren't the originals) are Image items, measuring 10×15 up front and 12×15 out back.
I just want to keep talking and talking about this car and I'm sure those of you more mechanically minded than me will find more things to appreciate.
If you're looking for more information on this car, check out issue #170 of Classic Ford magazine.
–
Paddy McGrath