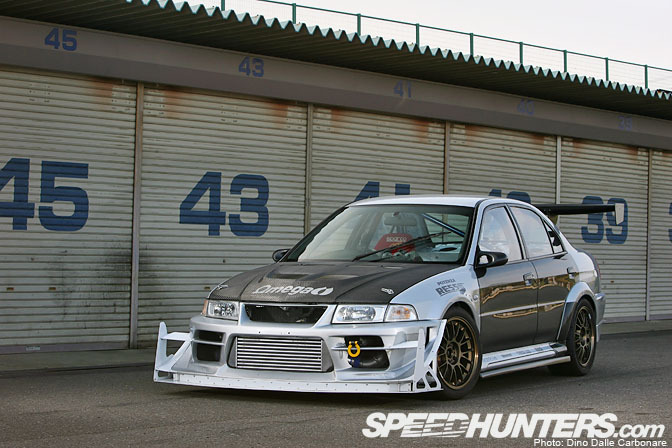 The fascination with time attack is something that has really captivated Japanese tuners over the years. The urge to push modified road cars to their limits for that all-important lap time is something that has helped create some of the most impressive vehicles we have ever seen. But to me it's the end user that impresses the most; and enthusiasts in Japan really don't do things half way. I guess if you are going to do something, you might as well do it well.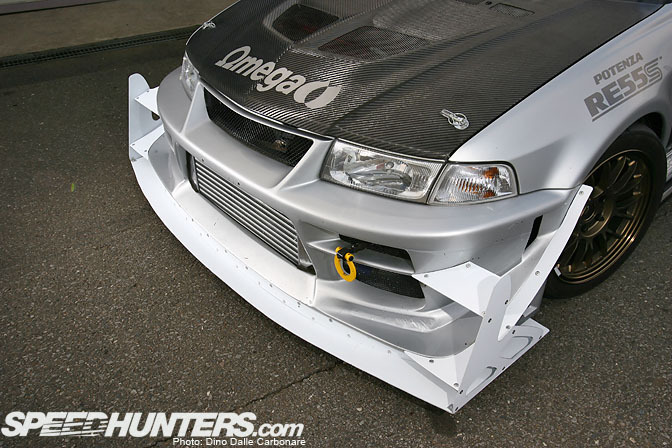 This Lancer Evolution VI to me represents a perfect example of just how far people are willing to go when searching for that magical time.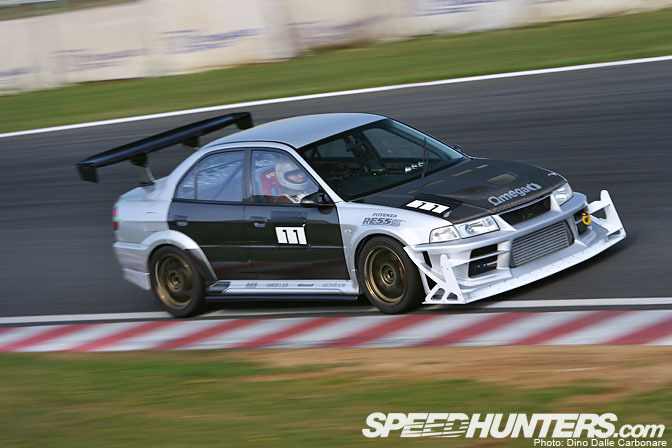 It looks wild when in action…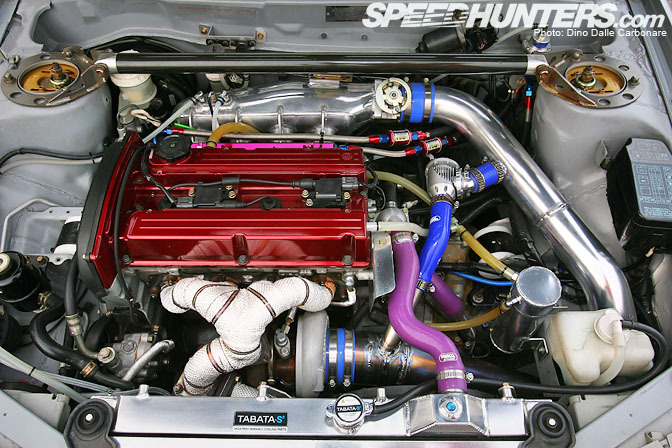 …and once you take a look under its hood you begin to understand why it needs copious use of downforce-enhancing wings and canards. With its 620 HP it would probably take off! But seriously, this is one of the most impressive 4G63 builds I have come across, put together by Hisada-san of Bozz Speed, a famed and respected Evo and Impreza tuner in the outskirts of Tokyo. I met Hisada back in 2003 when I first shot his street going GDB. I remember he took me out for a quick ride and it was probably the first time I had felt the savage acceleration of a highly tuned EJ, not to mention the silly amounts of traction the AWD driveline provided. The motor in this Evo has been put through a complete rebuild where it gained a capacity boosting bottom end (now just under 2.2 L) comprised of a JUN balanced crankshaft with longer stroke, JUN H-section connecting rods and 85.5 mm Cosworth pistons. Hisada had the head completely reworked by NAPREC who polished, ported and fitted it with 280º HKS high-lift cams.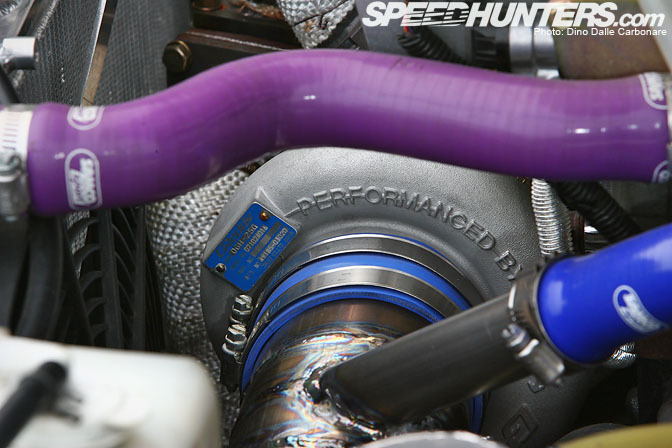 The upgrades were necessary to prepare it for the savage 2 bars of boost the Trust TD06SH-25G turbo charger would supply. Above you just about see the custom intake pipe that connects the compressor to the HKS sponge filter nestled low, behind one of the bumper's intakes.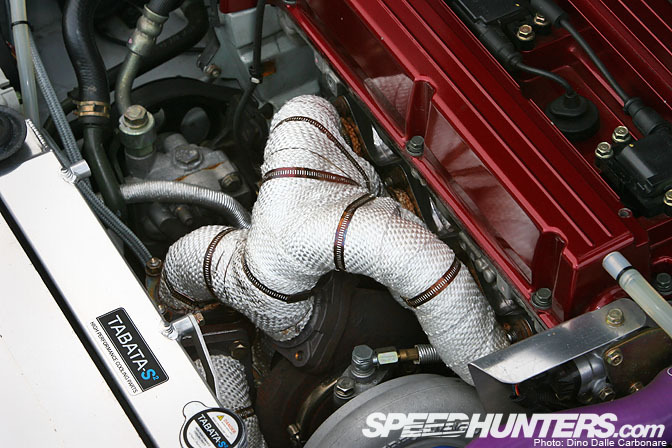 The externally gated blower is fitted onto a Trust manifold which has been heat wrapped to help keep engine bay temperatures a little lower.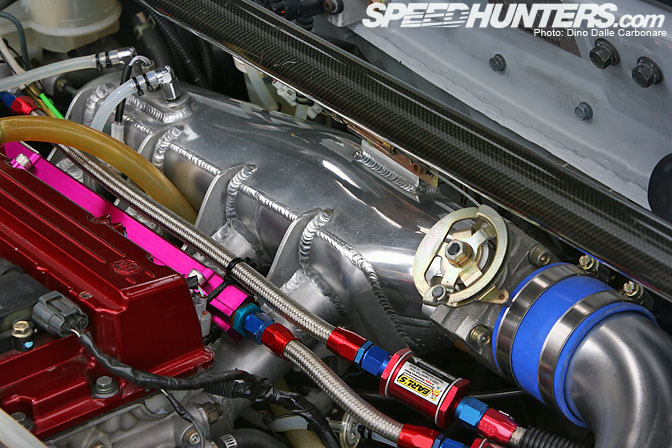 Once compressed the air is cooled via the HPI race-spec intercooler before being passed onto the Sard intake plenum via the Nissan Pulsar 80 mm throttle. Four 1000 cc/min injectors are kept topped up by the two Power Enterprise fuel pumps in the trunk.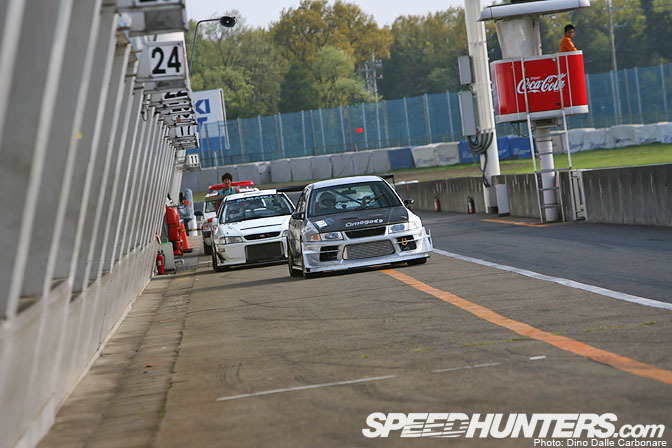 I met up with Hisada at Tsukuba to see the first shakedown of the car. For this initial session boost was kept low and progressively raised as the mechanics kept a close eye on all engine parameters.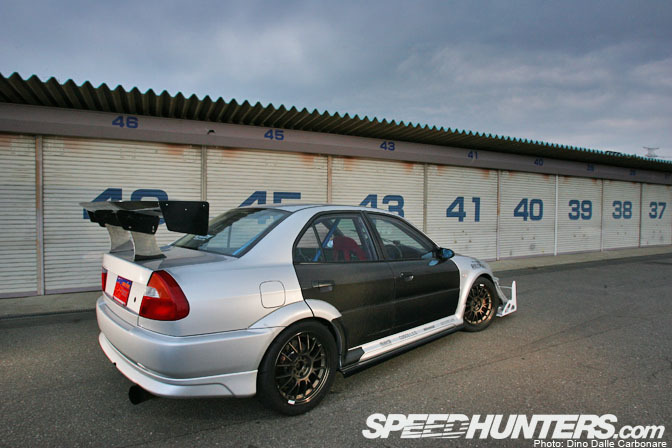 You can't help but love the rawness of this car. Everything that has been changed has been done for in the quest of performance, not looks. That's why the Bozz Speed carbon doors and…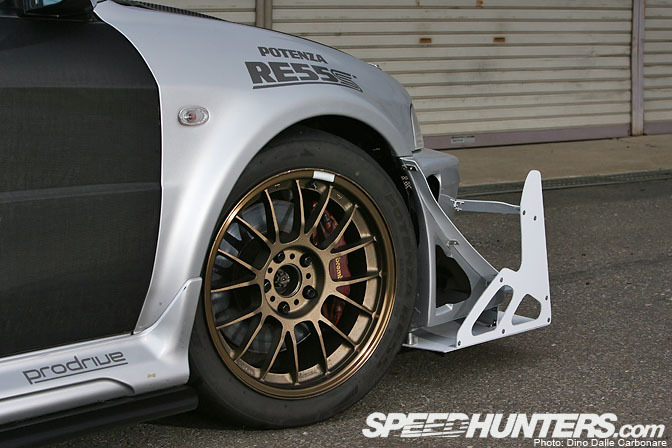 …the front-downforce-enhancing custom canard plates have been left unpainted. Race spec Quantum T3-CR dampers are mated to Nova springs, 16 kg/mm front and 14 kg/mm rear.  Hisada also fitted Bozz Speed lower arm bushes to tighten up the handling as well as thicker Cusco stabilizers, front and rear. With a lot of weight having been stripped from the car it was decided that the stock Brembo brakes would suffice for the time being, their performance boosted by a set of Winmax Zelos track-spec pads, CF5 up front CF4 rear. Wheels are now discontinued Rays Engineering Volk Racing SE37K, a favorite lightweight wheel of mine which was available before the RE30s were released. For better turn in and front end bite the fronts are slightly wider at 9.5Jx17" compared to the 8.5Jx17" rears. Tires are Bridgestone Potenza RE55S 255/40R17 all round.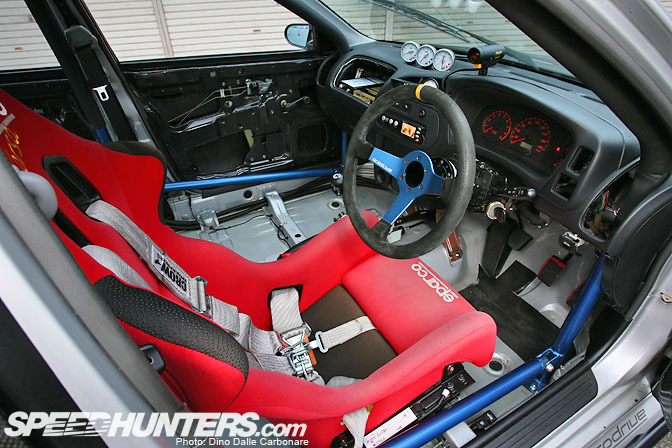 A Cusco roll cage stiffens the chassis and keeps the driver safe in case of an accident. Seating is only for one, in the form of a tight Sparco bucket seat.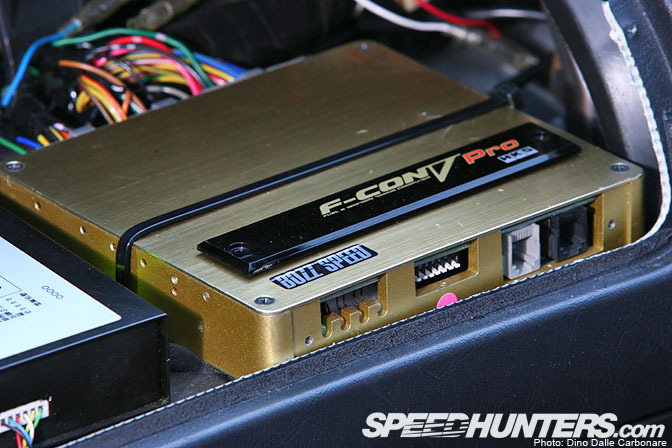 Engine management is handled by the HKS F-Con V Pro neatly fitted inside the compartment usually reserved for the passenger-side airbag.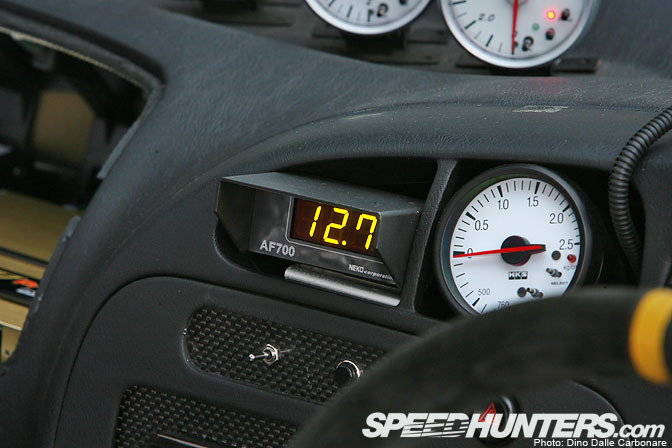 All the top tuners in Japan use the Neko Corporation AF-700 A/F meter, offering an accurate reading from the lambda sensor. Next to it is the HKS boost gauge that reads to 2.5 bar!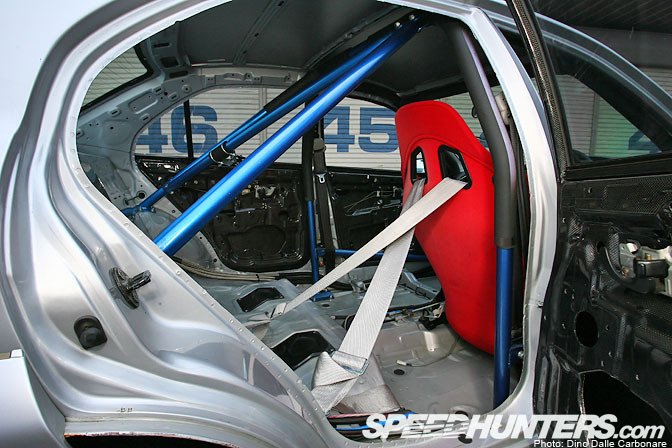 Literally everything has been ripped out of the interior.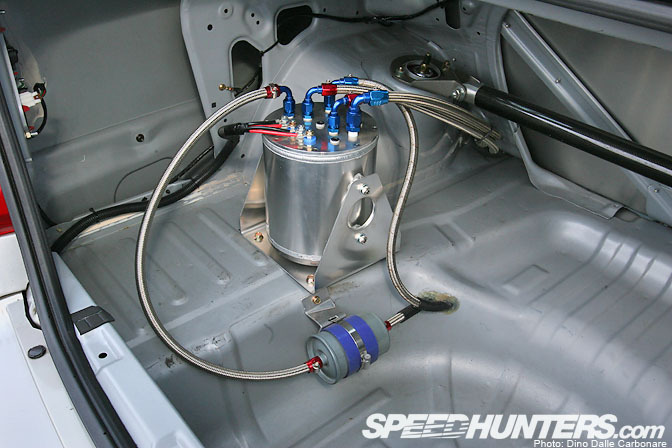 A quick peek in the trunk reveals the Sard collector tank and Cusco carbon strut brace.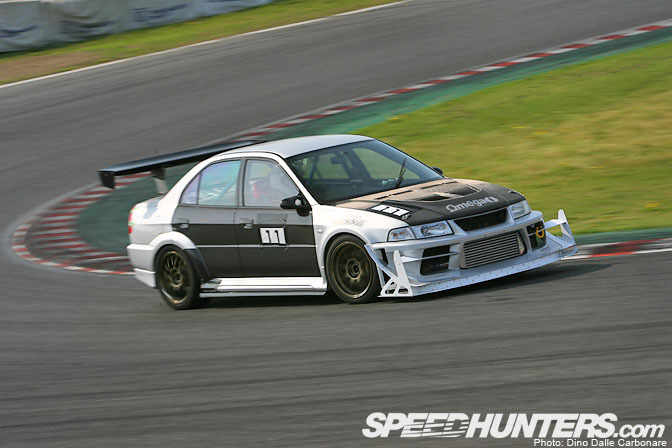 The Bozz Speed canard plates have been fitted onto the M-Technique front bumper to try and generate as much front downforce as possible…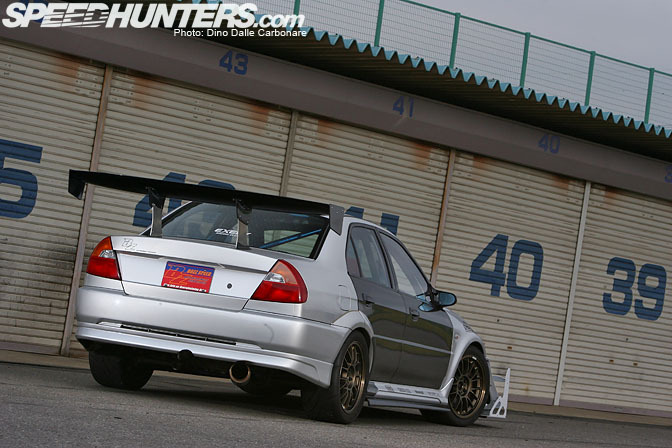 …to counter balance the massive effect of the rear Esprit carbon GT-wing.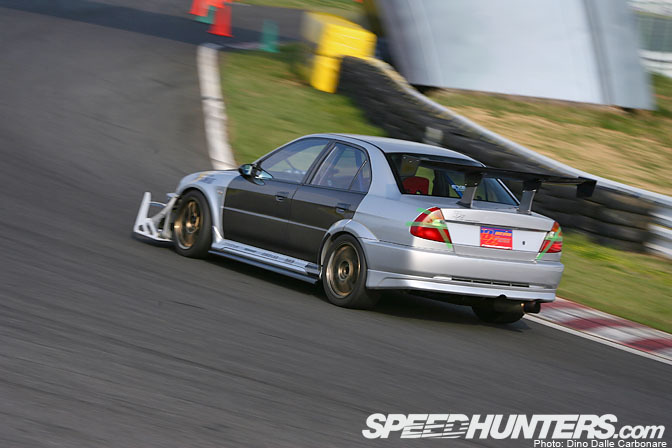 Even during this first test on track the Evo was nudging the 1-minute flat barrier at Tsukuba, hinting at the potential the car possesses. I'm not quite sure if it has seen the track again after this first outing but if I had to take a wild guess I'd say it would easily get into the 57-seconds. Now that is a quick track day tool!
-Dino Dalle Carbonare