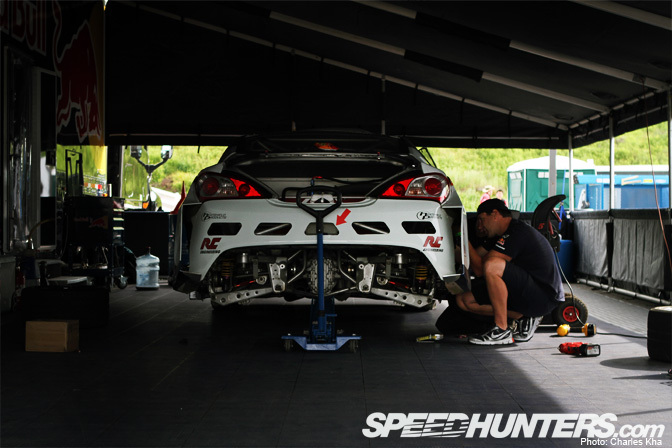 While all eyes tend to be on Race Day, I find the practice sessions to be just as entertaining. Out of the spotlight, and with no crowds to around, there's another race going on. For the drivers it's a race to learn the track, and for the teams it's a race to dial the cars in. Early today (actually yesterday as it's 2:55am as I'm writing this!), Formula DRIFT took over Road Atlanta in Georgia for Round 2. Larry and I were there to give you an insight into what went on behind closed curtains.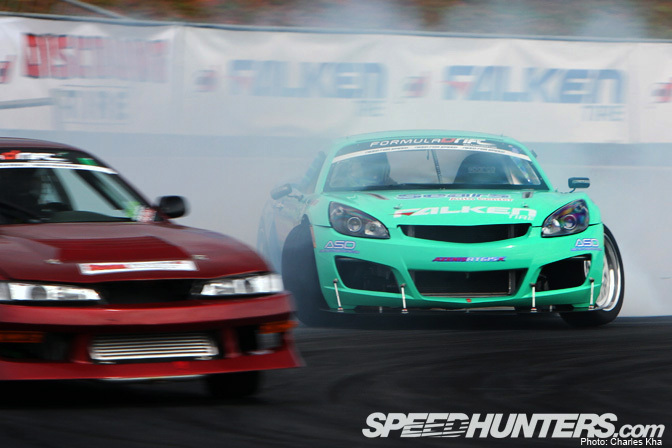 Road Atlanta is the polar opposite to Long Beach…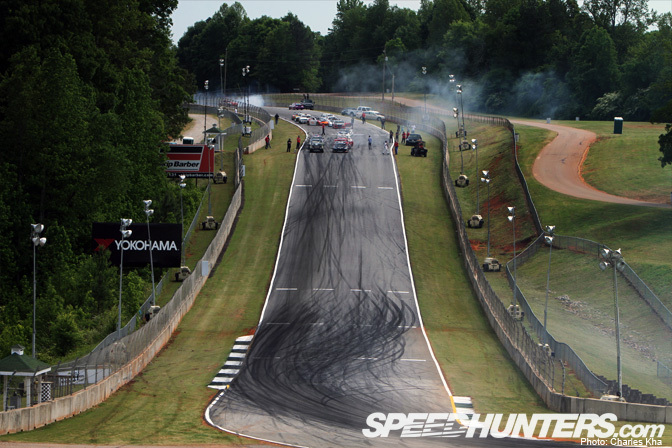 …While Long Beach was a closed street course, Road Atlanta is a dedicated track with a lot of elevation. Here you can see the steep downhill straight. It's certainly a trick layout…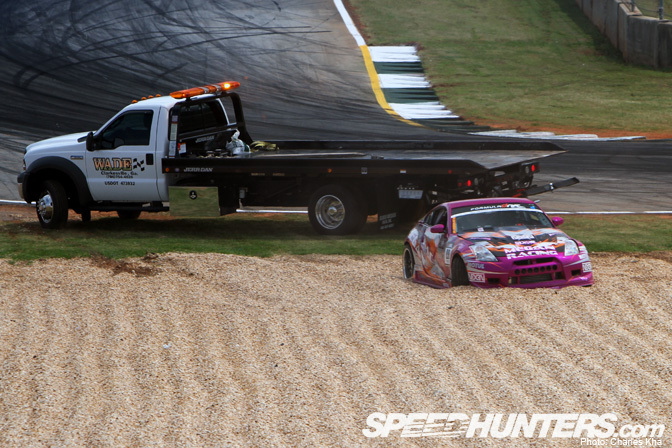 …And a lot of the drivers needed some time to adapt to it (that's what practice is for right?); here Alex Pfeiffer made a trip into the kitty litter.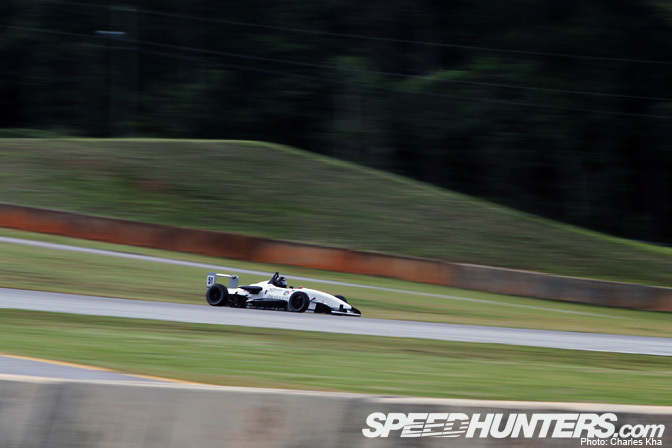 Being a more informal day, Thursday's practice sessions were split between Pro/Am, FD and F2000.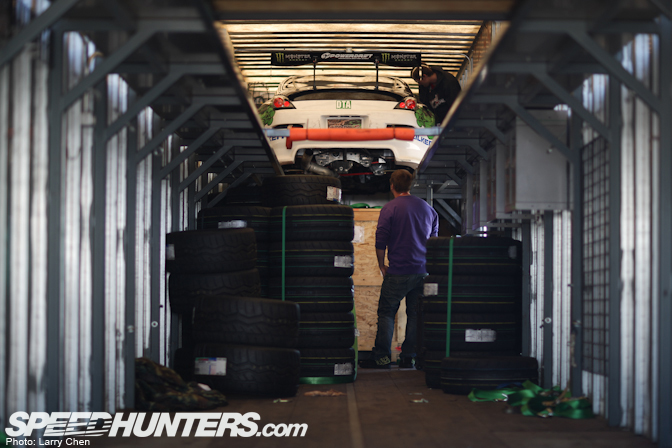 The majority of teams arrived early in the morning to unload their cars and set up their pit areas.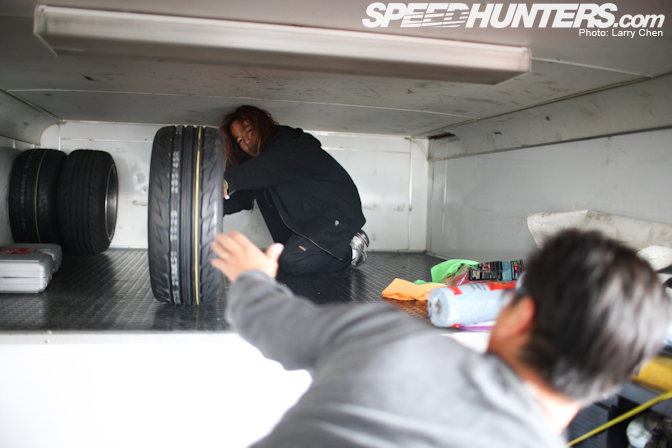 Taka Aono wheeling out his spare rubber.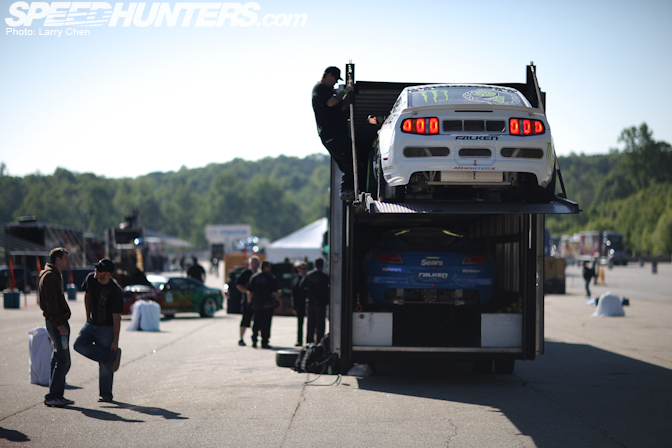 The reigning champ being unloaded from the Falken trailer…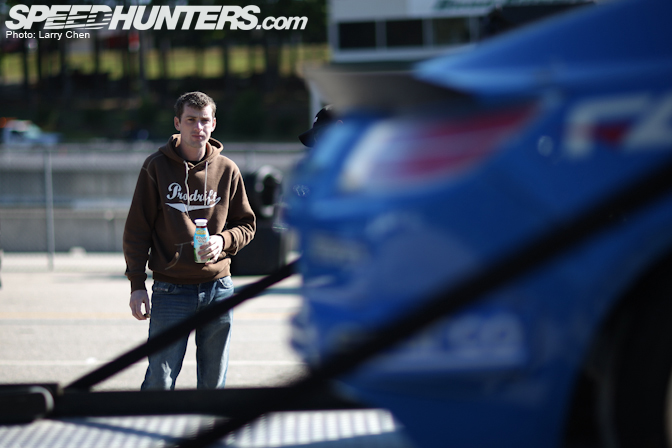 …Which was then followed by D-Mac's Saturn.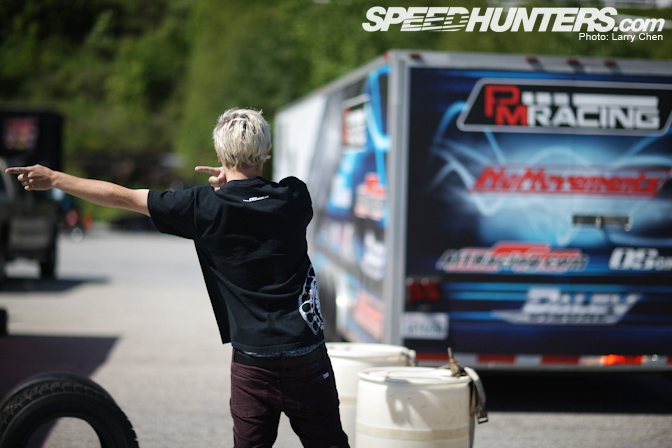 Young gun Patrick Mordaunt directing his trailer into position.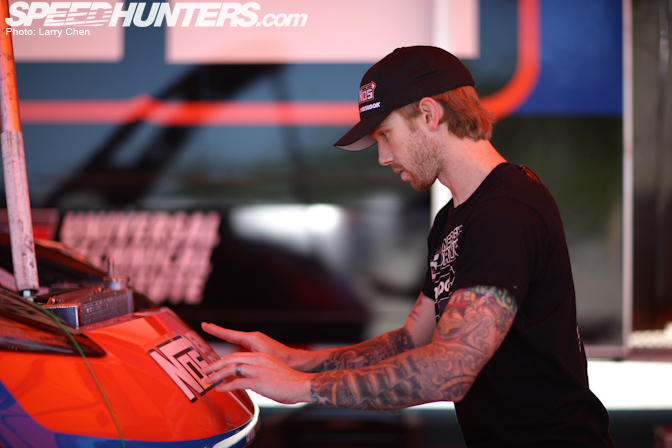 Perhaps Chris Forsberg is apologising to his 370Z for all those brutal clutch kicks and e-brake yanks.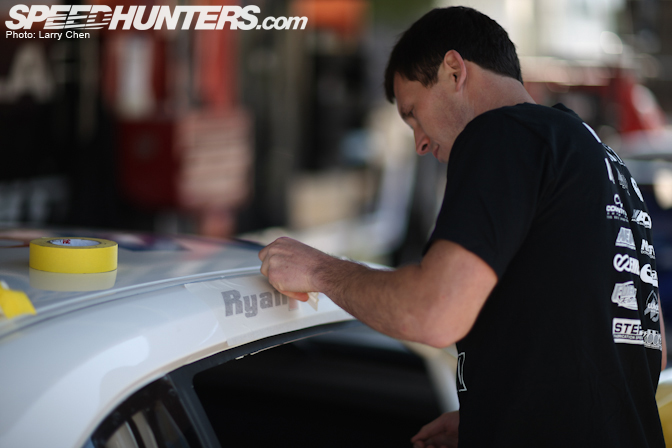 Some new decals were being applied…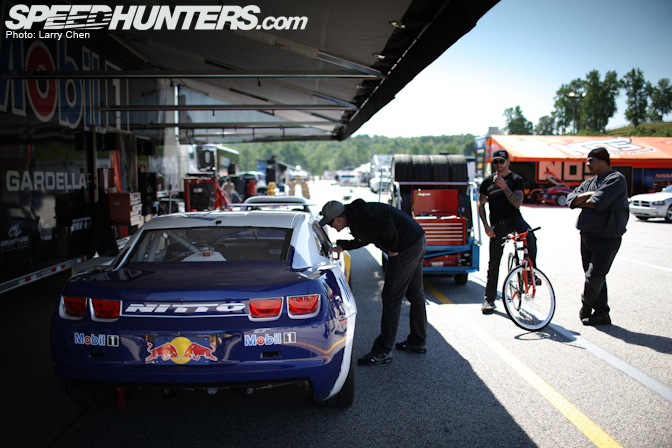 …To Ryan Tuerck's brand spanking new ride. Here Vaughn Gittin JR checks out the Camaro.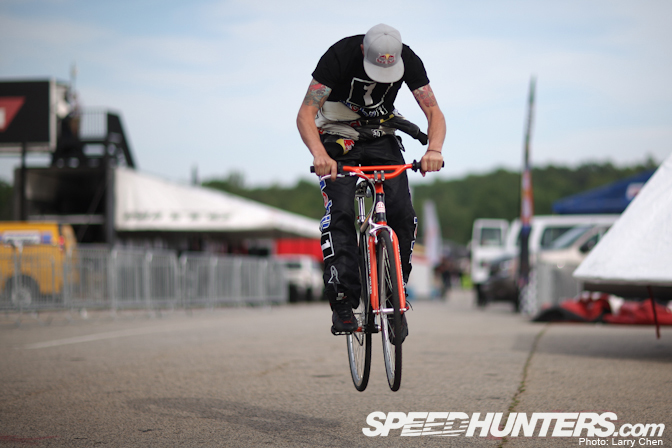 While Ryan was testing out a different mode of transport.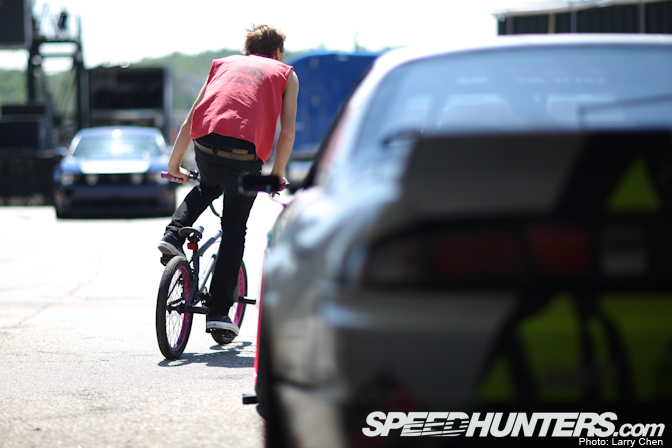 Road Atlanta's layout has the pits separated from the drift course, so getting around can be tricky. Matt Powers uses a BMX to scoot around the pits.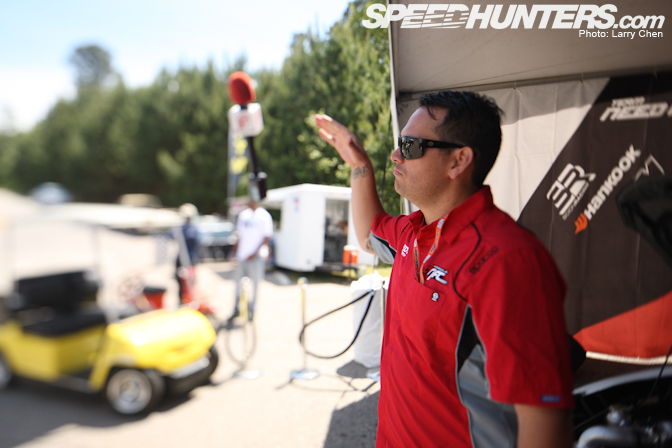 Jarod, the voice of FD.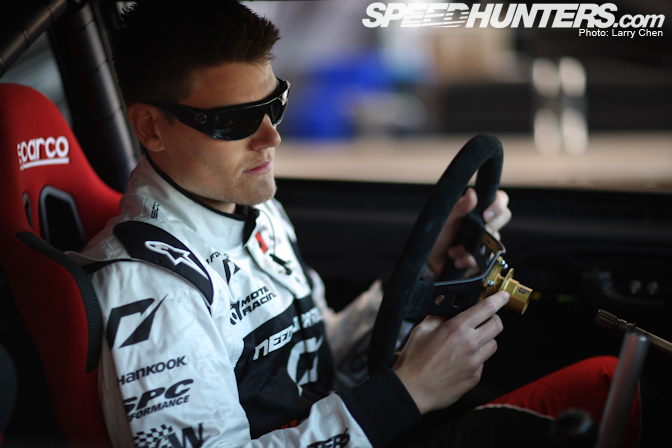 In between rounds, Fredric Aasbo has racked up a few testing miles as the team fine tune the setup to his liking.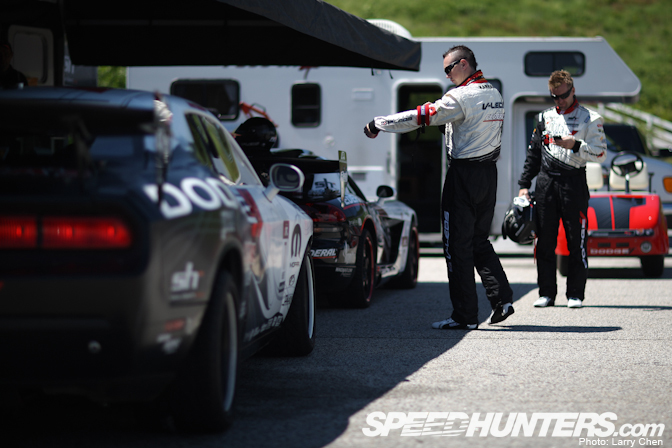 Dean Kearney suiting up for practice.
Here's what the course layout looks like.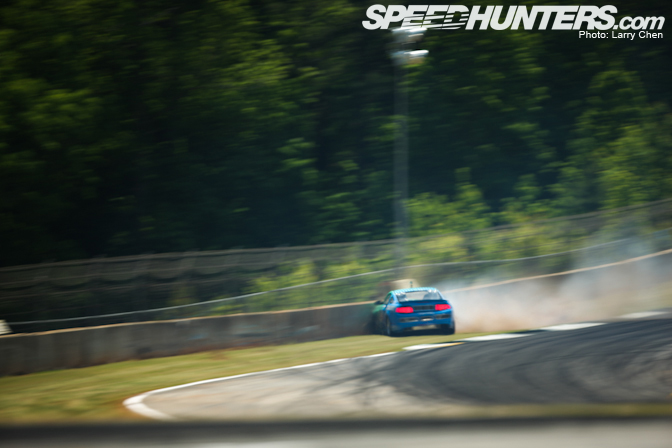 During practice, things went wrong for Justin Pawlak, winner of the last round at Long Beach.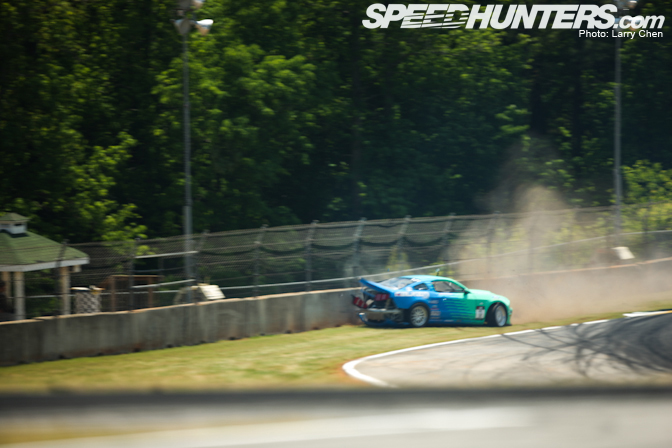 JTP's Mustang went off after initiating for Turn 1, clouting both ends against the concrete wall.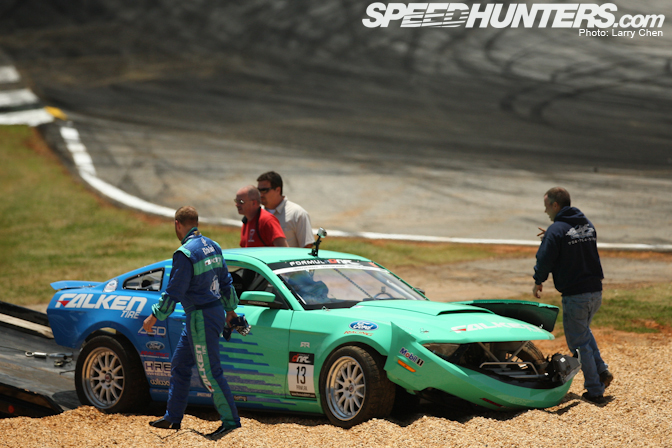 Onlookers breathed a sigh of relief with Justin walking away from the accident.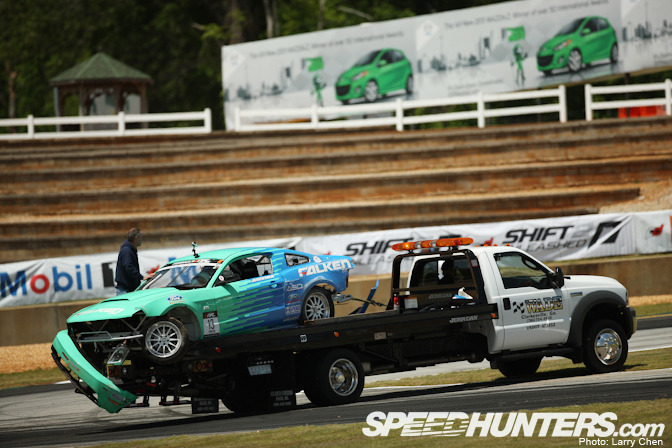 There was substantial damage to the Mustang, and obviously JTP wasn't able to participate in the rest of Thursday's practice sessions.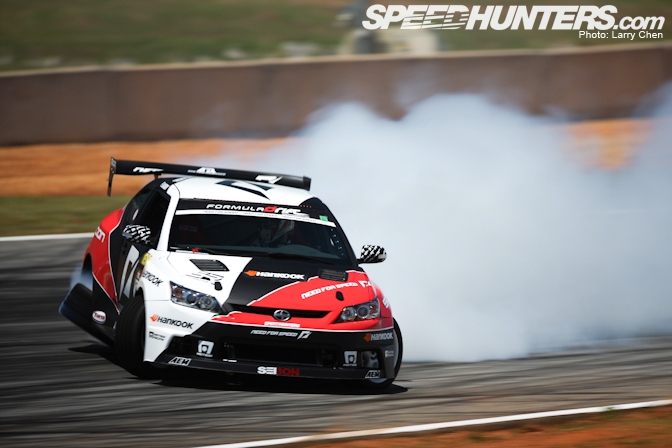 Fredric Aasbo suffered a broken control arm, which failed under load. If you look carefully you can see Fredric looking over, knowing immediately that something was wrong.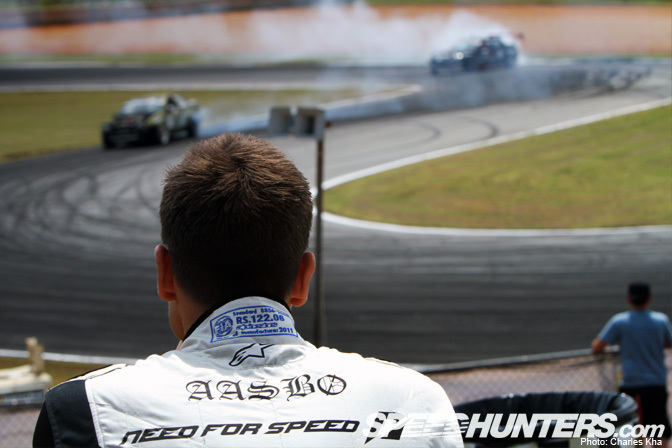 The control arm failure meant Fredric sat out a portion of the second practice session while the Papadakis Racing team repaired the Scion tC.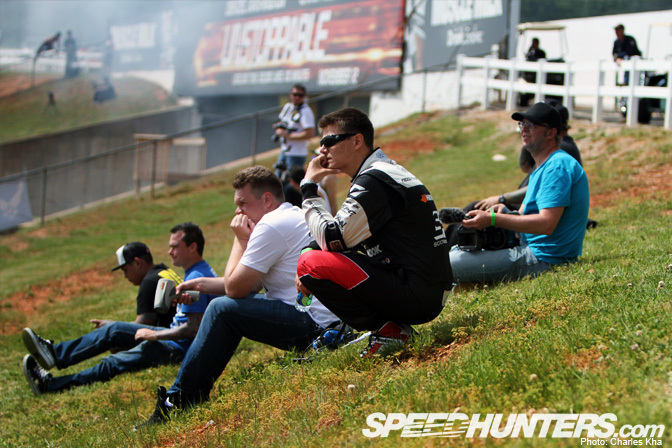 Fredric used the down time to play the role of observer, studying the other drivers.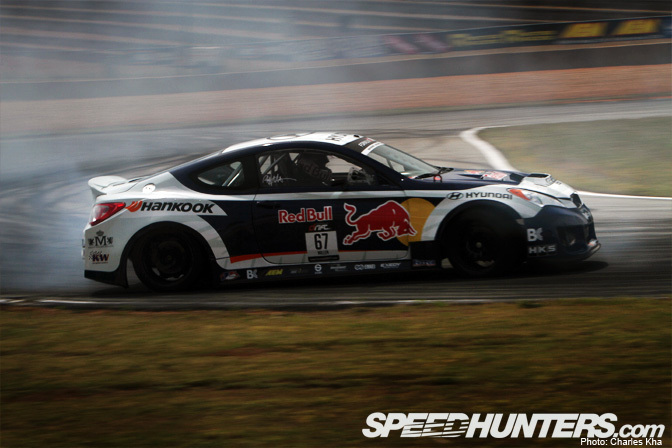 Rhys Millen's Hyundai Genesis looked strong in all of his runs.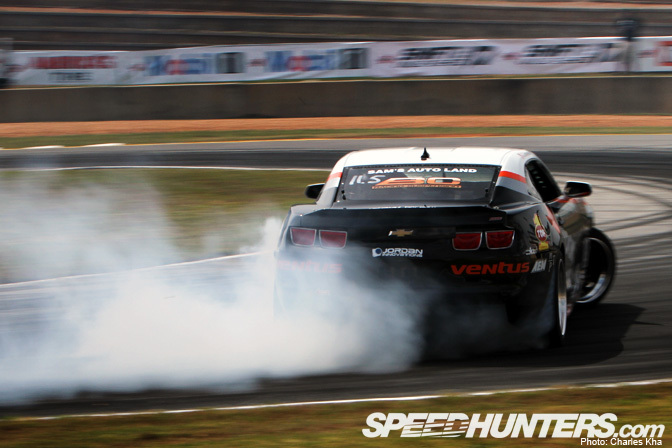 Conrad Grunewald will be looking to repeat his Long Beach qualifying form, where he took the top qualifier spot.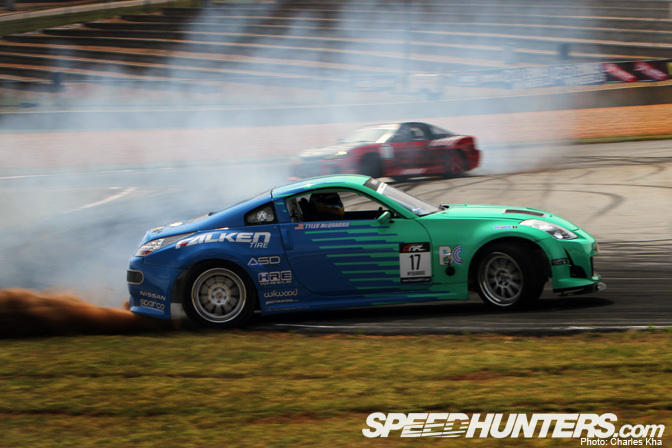 One corner that a lot of the drivers seemed to struggle with was Turn 4, the slow left-hander that loops around.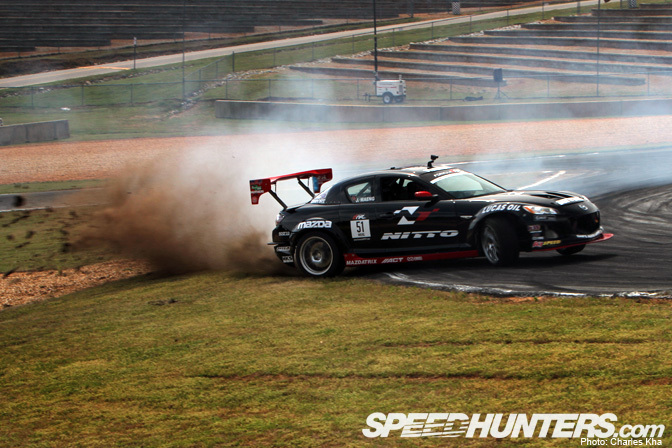 Quite a few drivers were dropping a rim into the dirt, while others were over rotating.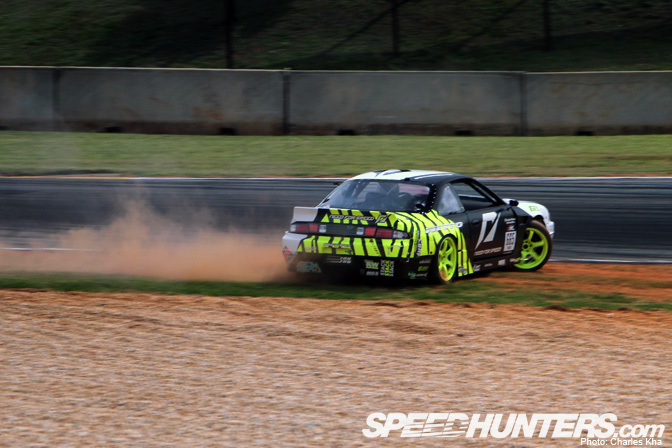 Matt Powers, who finished second in Long Beach, pushed a little too hard going into Turn 1…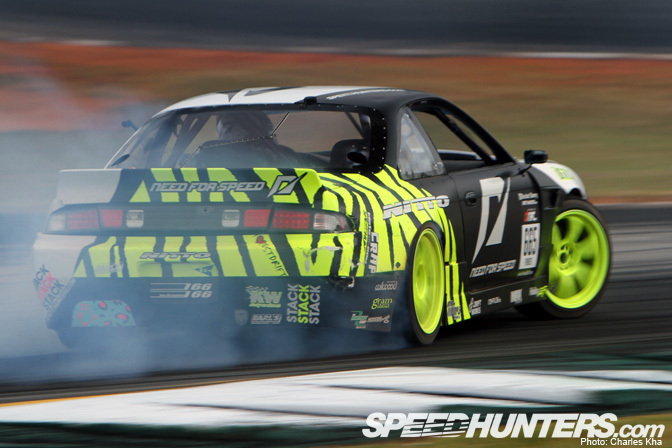 …But he also nailed some potent runs. I'm looking forward to seeing Team Need for Speed in qualifying!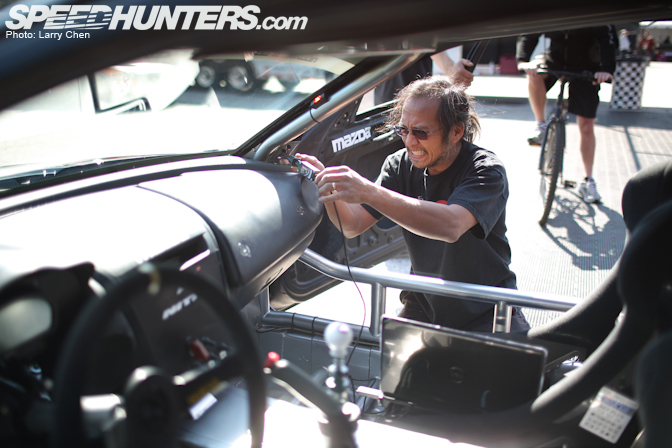 Joon Maeng's RX-8 was being wired up to allow for remote tuning over the internet.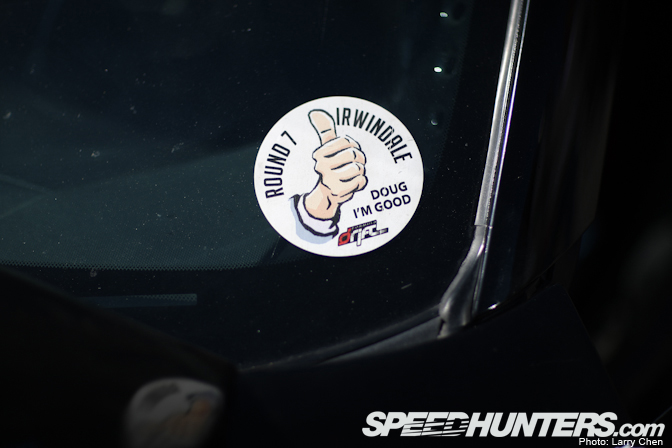 Can anyone guess whose car this is?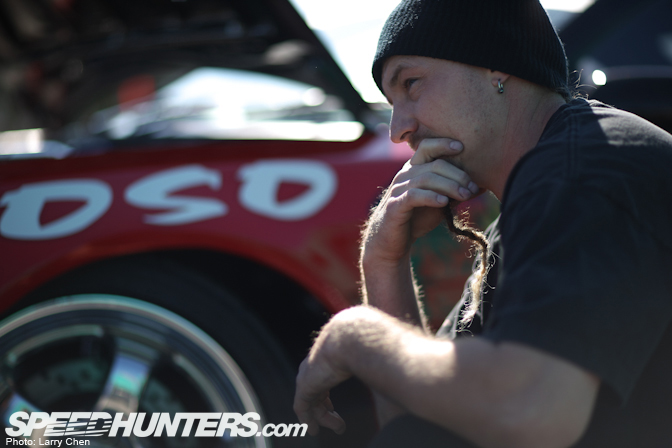 Ross Petty, driver of the BOSO S15, was deep in thought.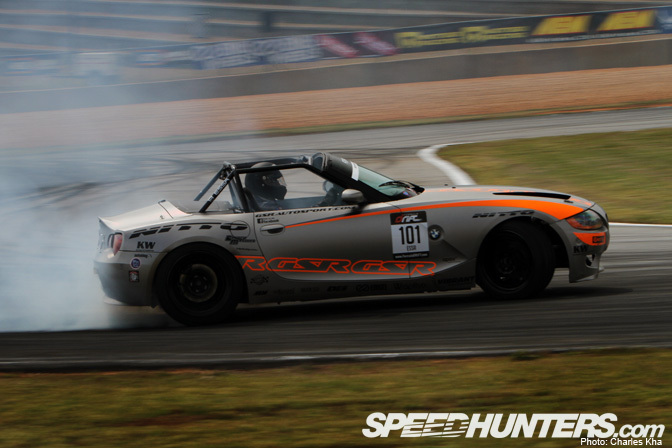 There's something about Michael Essa's Z4 that makes it so damn photogenic!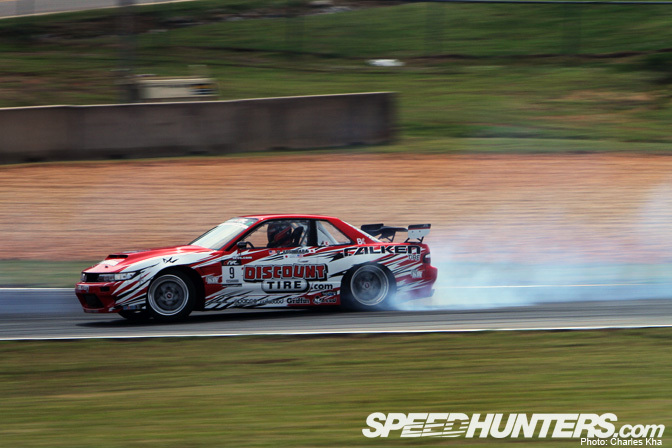 Once again, Dai Yoshihara looked strong in the Discount Tire / Falken S13.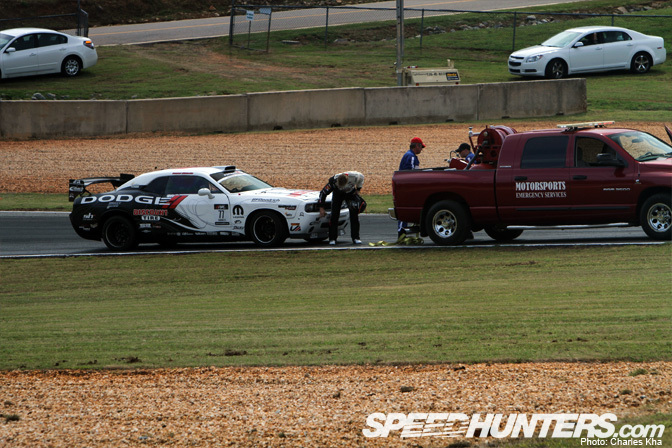 The safety crew were certainly kept busy towing stricken cars off the course.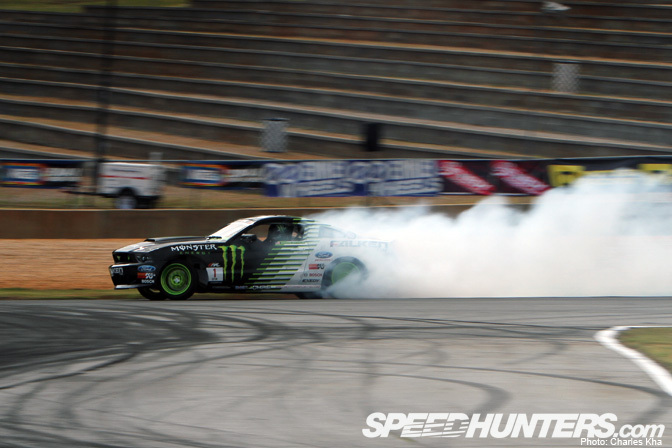 Vaughn Gittin JR looked like a man on a mission, no doubt keen to make up for his Long Beach DNQ.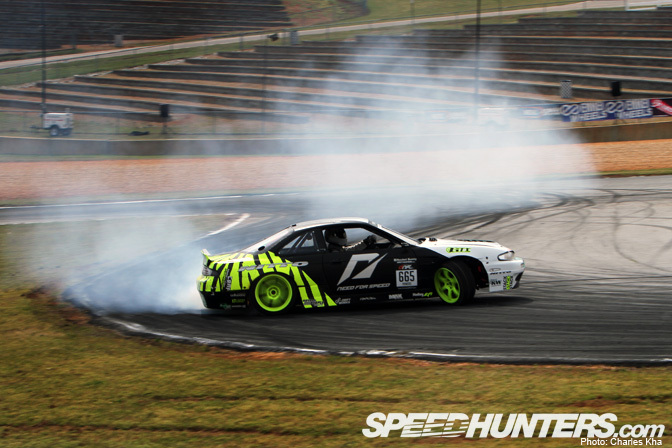 That's a lot of lock!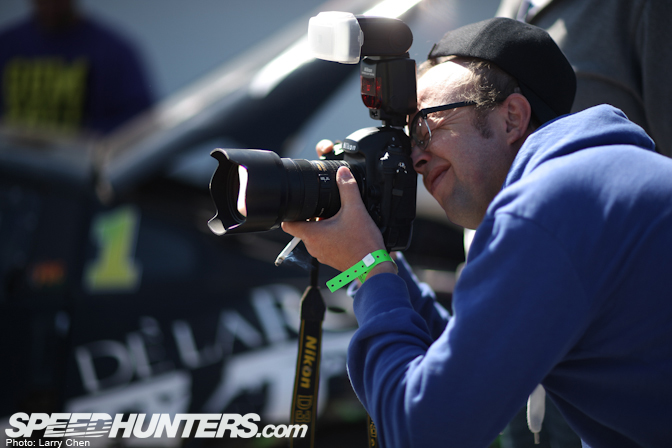 True multi-tasking!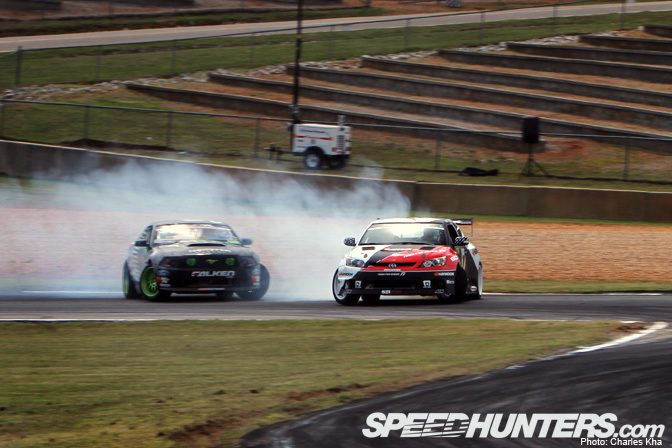 It didn't take the Papadakis Racing crew very long to get the TNFS Scion tC back on track. Here Fredric battles against Vaughn.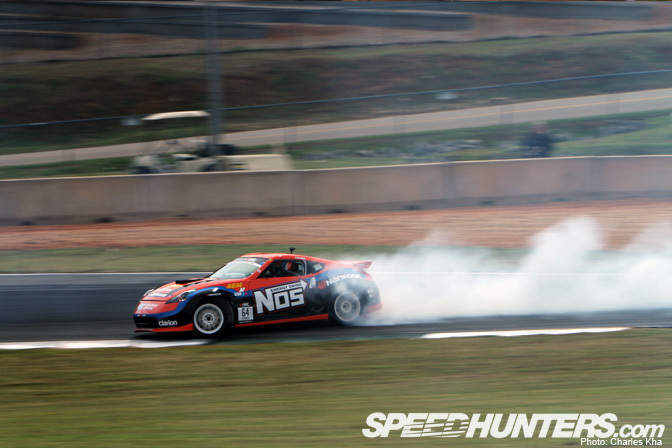 I've been quite impressed with Chris Forsberg's form so far. He had a strong showing at Long Beach, and was again in the groove at Road Atlanta.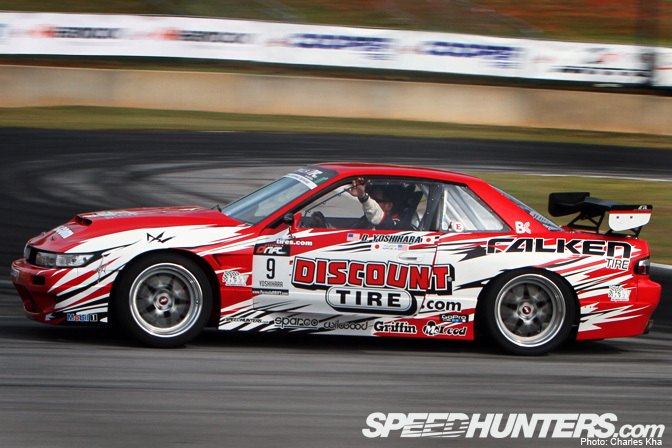 Once practice had finished, it was time for the cars to head back to the pits…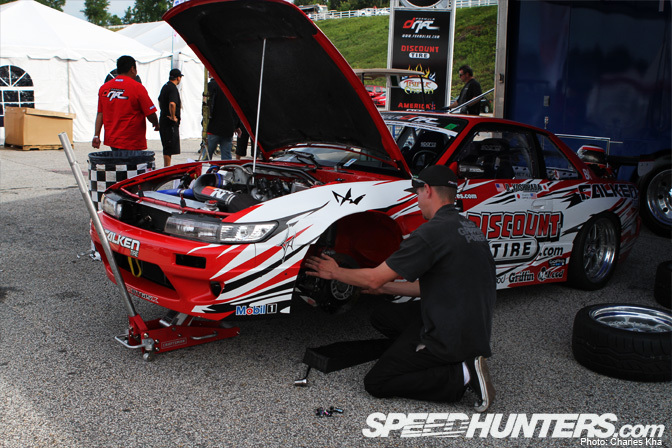 …Which meant the crews sprung into action to tweak, repair and tune the cars for tomorrow's qualifying.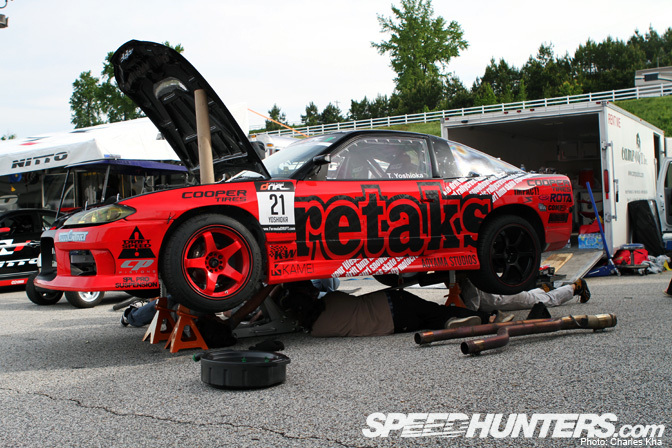 Some teams had more work to do than others.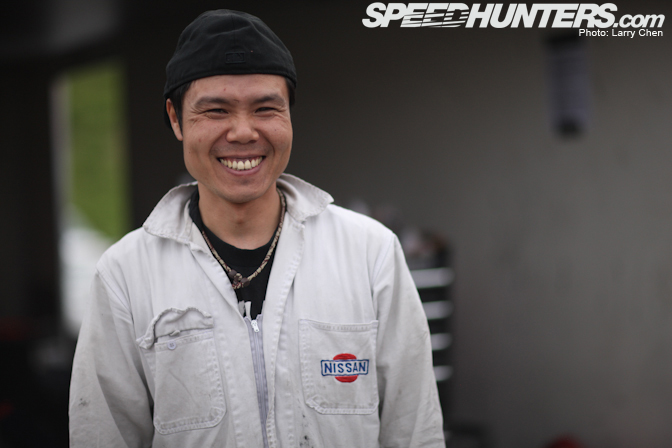 I bet many Hachi fans aren't used to seeing Yoshioka driving a Nissan.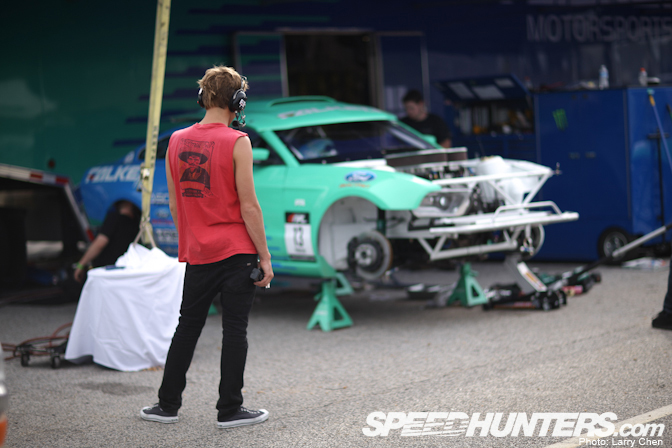 Matt Powers, who finished second to Justin Pawlak at Long Beach, looks on as JTP's team repair the car.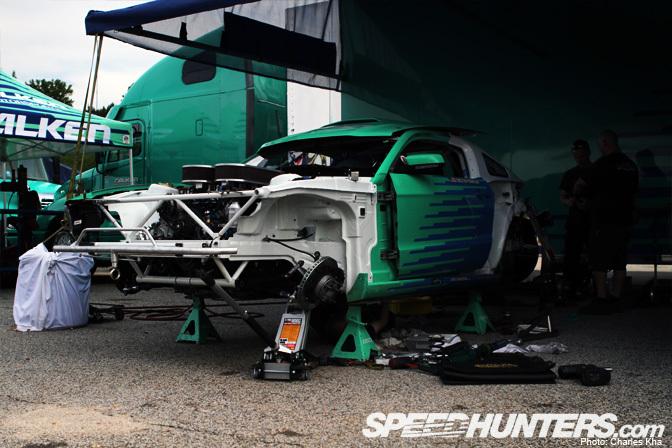 Following the crash, the team had stripped down the Mustang.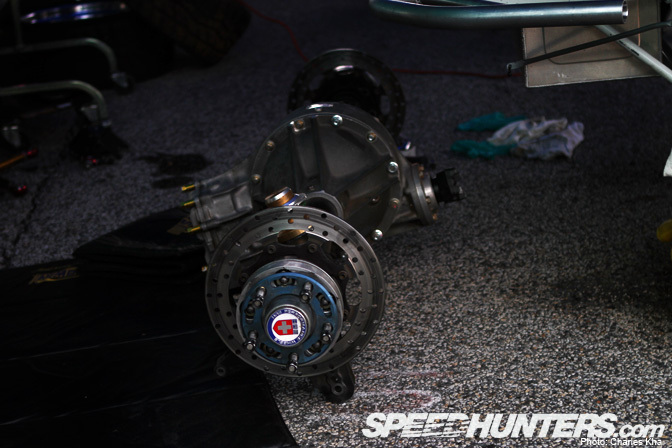 The rear axle was removed for inspection.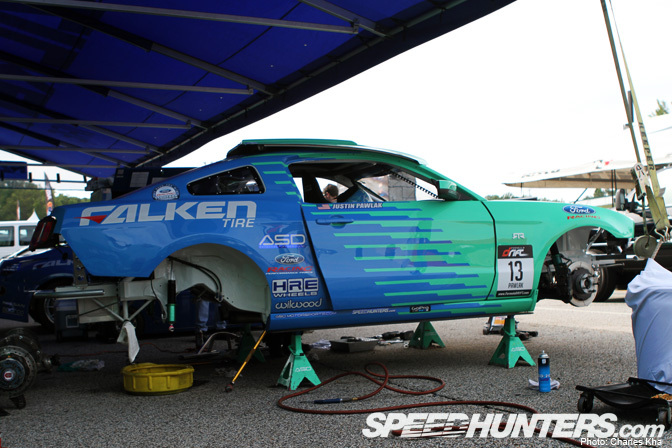 No doubt the team have a long night ahead of them, and fingers crossed we'll see JTP out again to defend his Long Beach victory.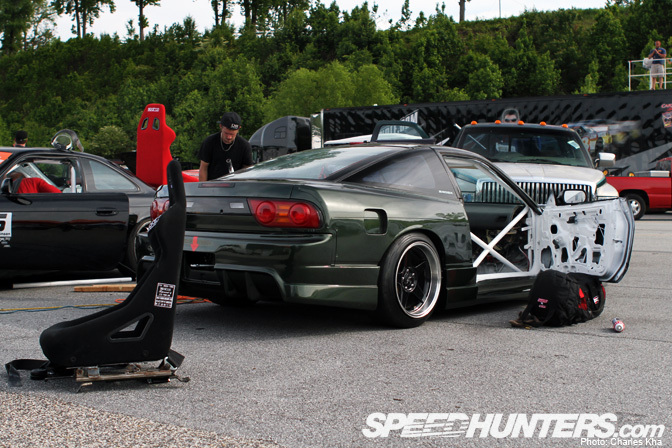 Many of the privateers were busy working on their cars in preparation for tomorrow's Pro/Am qualifying.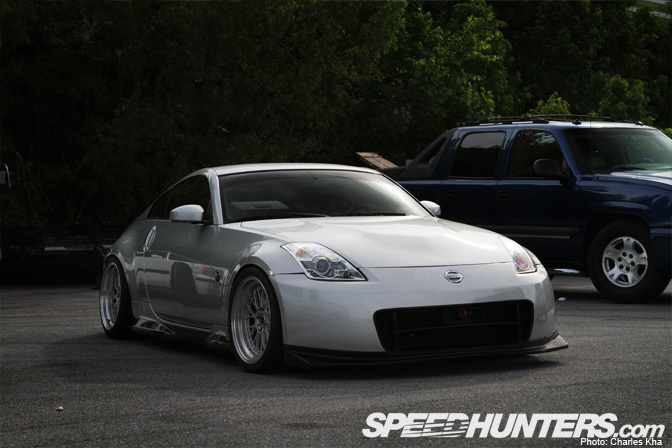 I spotted this neat Z33 in the pits, sporting a Nismo front bar and Ings rear.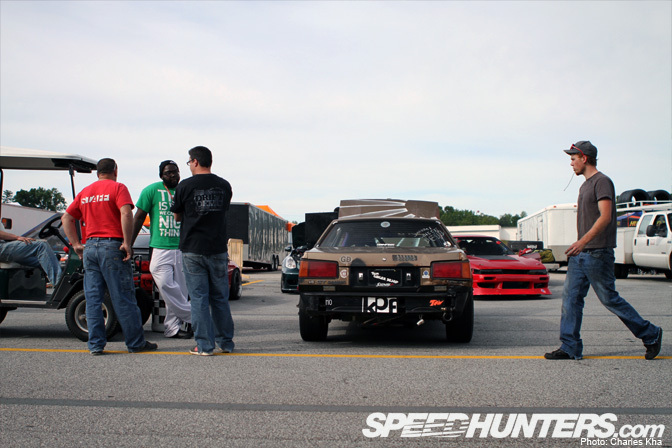 A Celica drift car? Cool!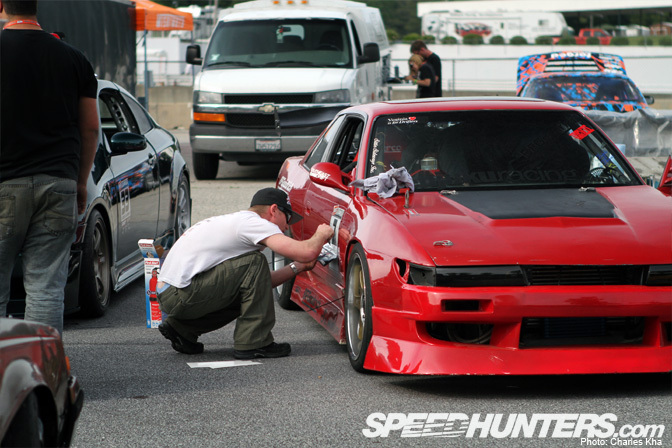 Putting race numbers on must be a truly rewarding moment!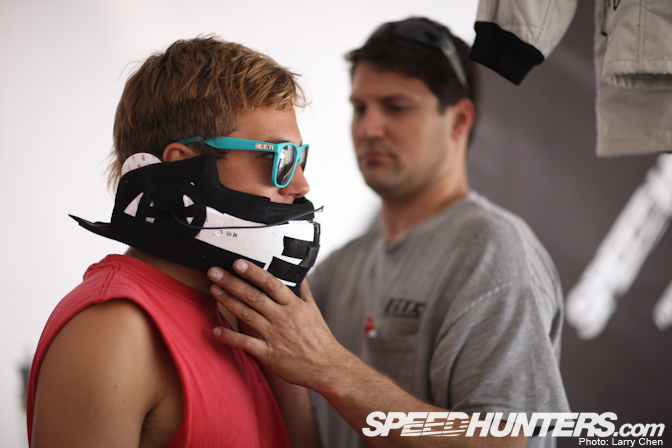 Matt Powers trial fitting his new in-helmet radio comms.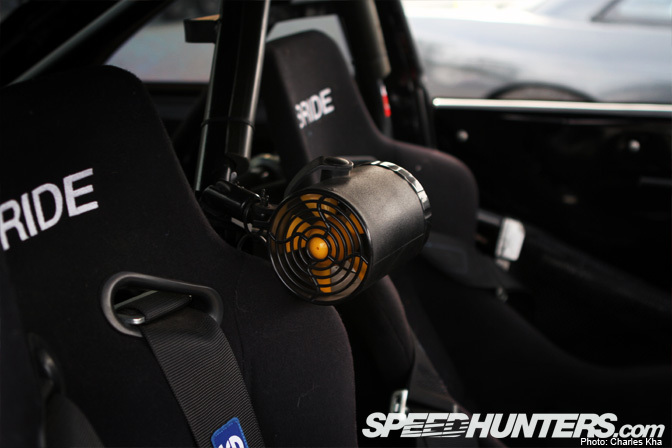 This little fan is perfect for clearing the smoke from the cockpit!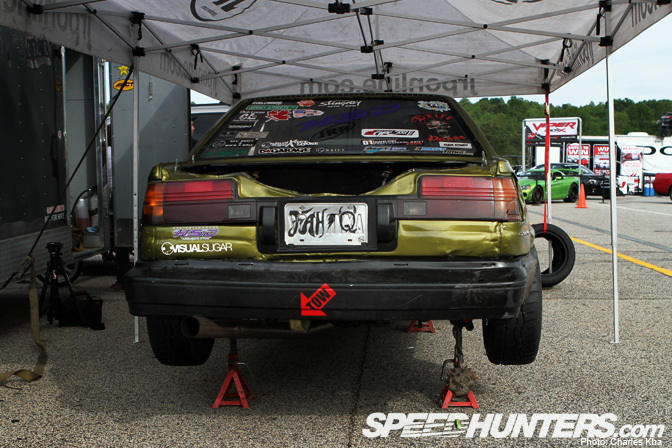 Pat Cyr's '86 was sporting a few battle scars.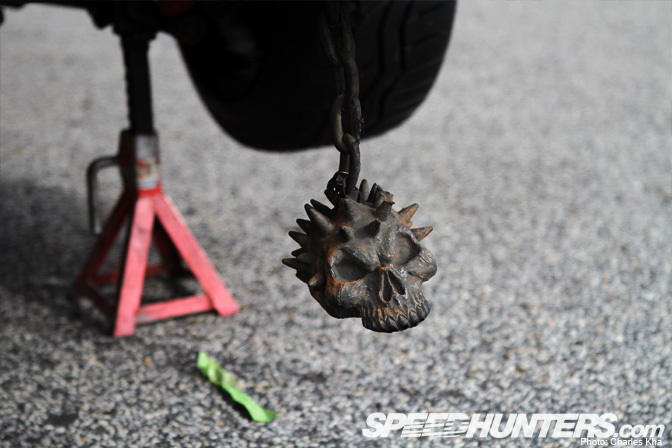 Good luck charm perhaps?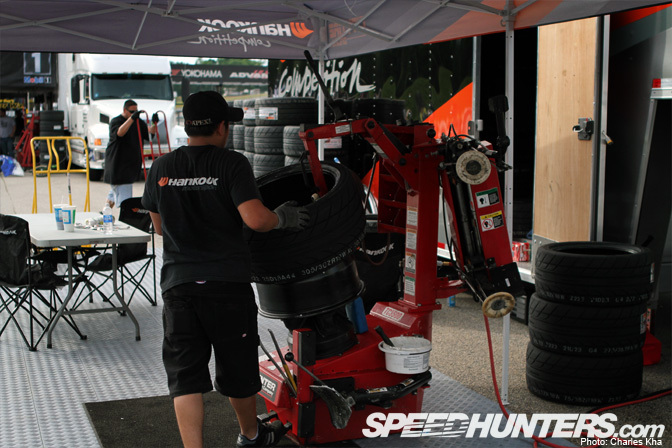 The tyre crews were kept busy, switching rubber in preparation for their sacrifice to the drift gods tomorrow.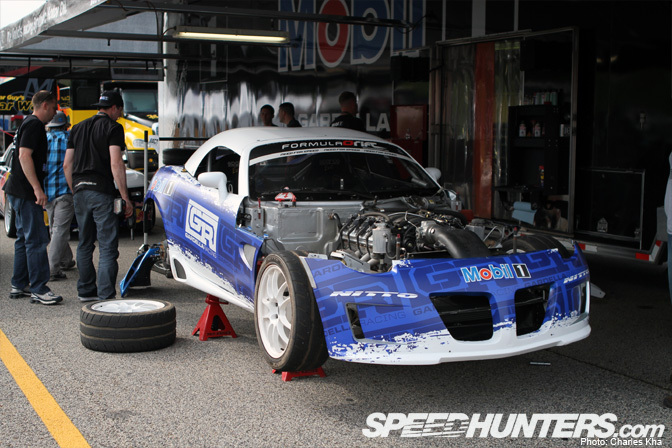 Gardella Racing have another car in their team, with Eric O'Sullivan given the drive.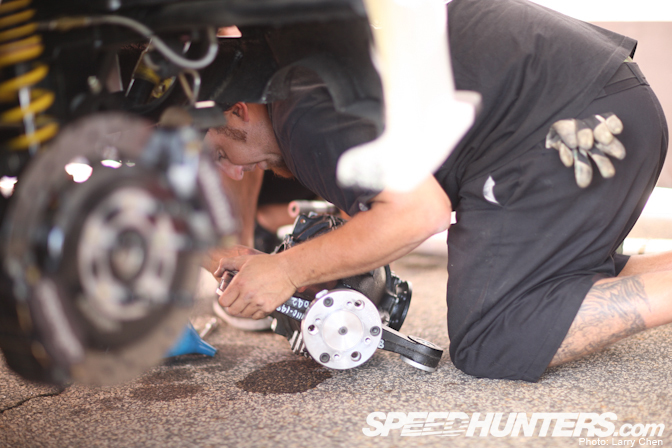 In the TNFS pits, Aasbo's Scion had its diff swapped out.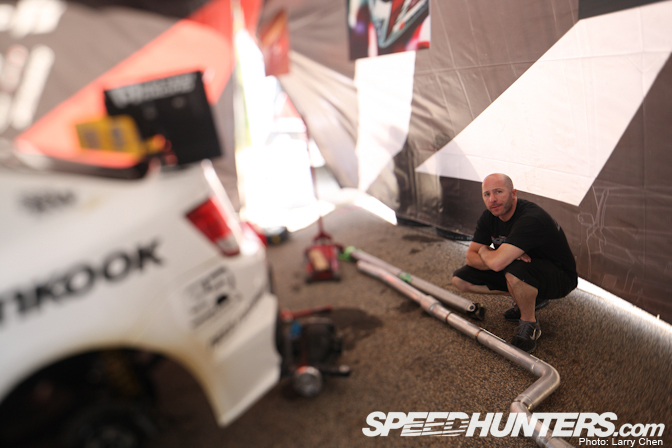 One of the calmest people in the FD community is Stephan Papadakis. No matter how much work needs to get done in however little time, nothing seems to faze him.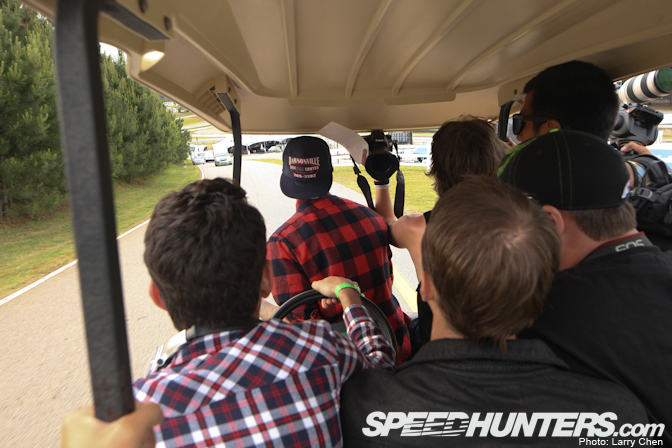 Anyway, that's enough rambling from me. I think I better catch some sleep, as tomorrow starts bright and early. I'll leave you with a shot of our golf cart crammed full of photographers!
Stay tuned to Speedhunters for more action over the weekend. And for those of you planning to head to Road Atlanta, don't forget to pop by the Team Need for Speed / Speedhunters booth to grab your stickers! 
- Charles Kha
Photos by Larry Chen and Charles Kha