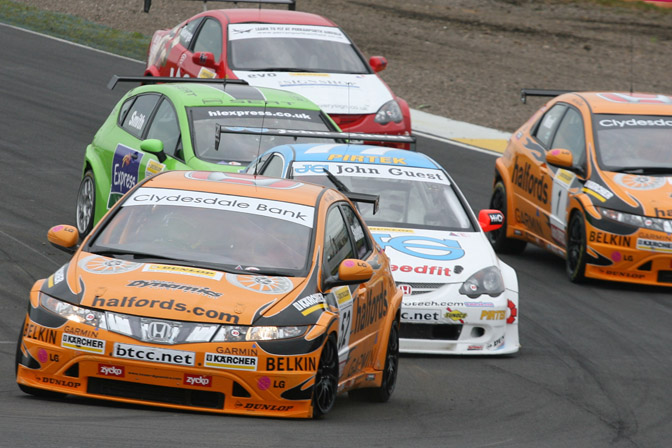 Honda UK have been present in the British Touring Car Championship for many years, so as a follow up to our Honda Retrospectives, let's take a look at Honda and the BTCC.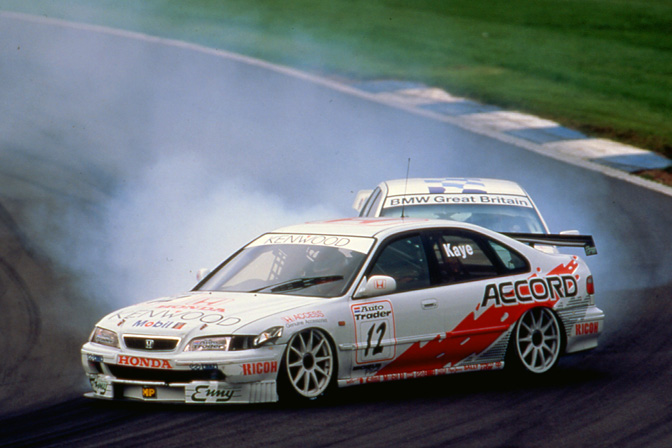 Honda first entered a team in 1995 when they partnered with MSD to develop a British Touring Car just as the SuperTouring era was taking off, with James Kaye and David Leslie behind the wheel.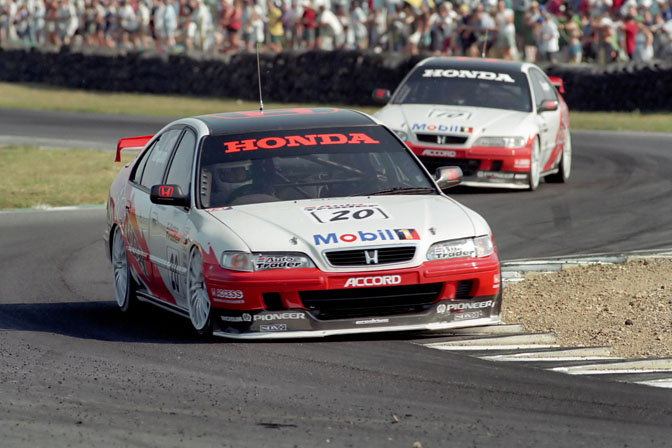 In 1997, Prodrive built a new car for Honda. Gabriele Tarquini and James Thompson were the drivers. In three years, Honda had Kenwood, Clarion and Pioneer as sponsors!
The older chassis' were handed down to privateers with Rob Gravett taking the BTCC independents Trophy. A number of privateer entries had competed in previous years including Ray Armes in his Honda Civic.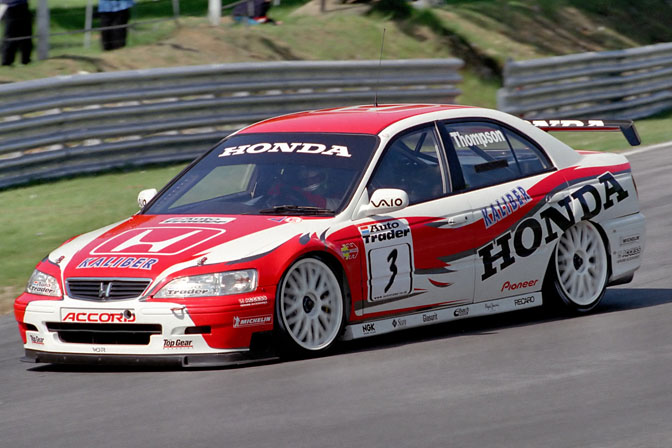 1999 saw the debut of the next generation of the European Accord. Developed by West Surrey Racing (WSR), these cars, along with JAS Motorsport machines in Europe helped Honda move up the grid. The team finished 2nd in the championship.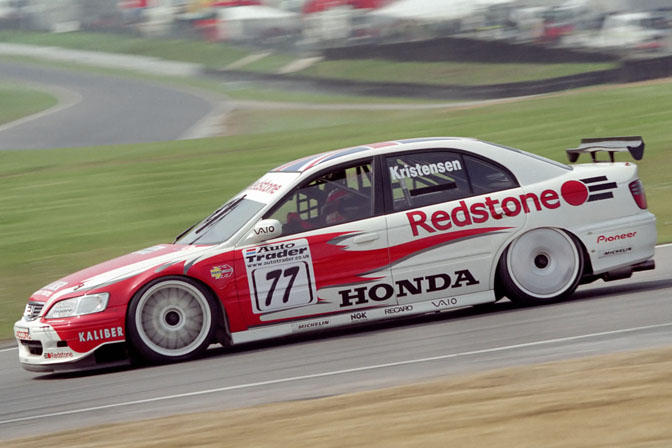 2000 was the last to be run under Super Touring regulations and despite WSR and Honda's best efforts, they finished 2nd in the Manufacturers' Championship and 3rd in the Teams' Championship. A certain Tom Kristensen joined Tarquini and Thompson in the team.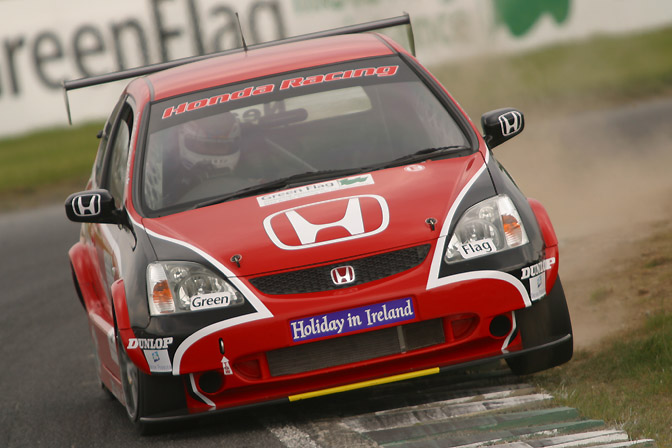 With new regulations, Honda took a year out and partnered with Arena International to create the Honda Civic Type R 'BTC' racer. This was a very well engineered car with Andy Priaulx taking a win in its debut season.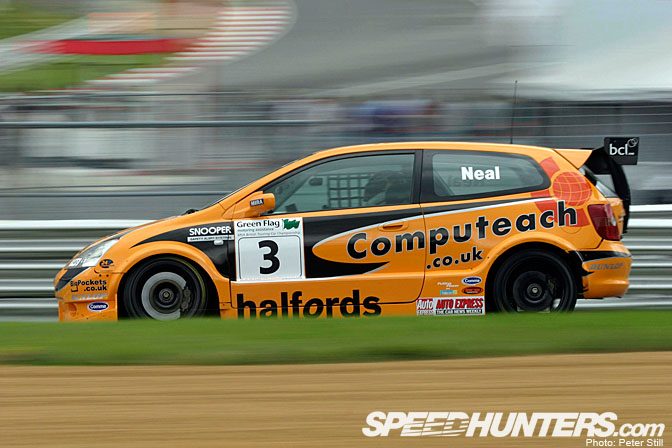 Arena continued to develop the Civic over the next few years, with the older chassis going to Team Dynamics. Both teams were relatively successful taking wins.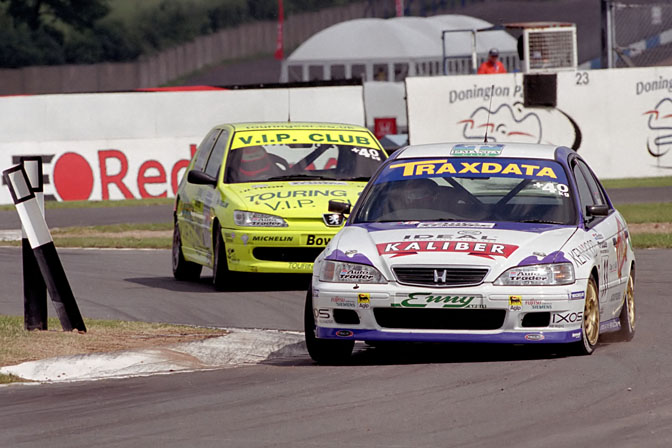 During this era, the BTCC also had a Production Spec Class with a number of teams running older Honda Accords and DC2 Integras. This is the Barwell Motorsport Accord, driven here by Mark Lemmer.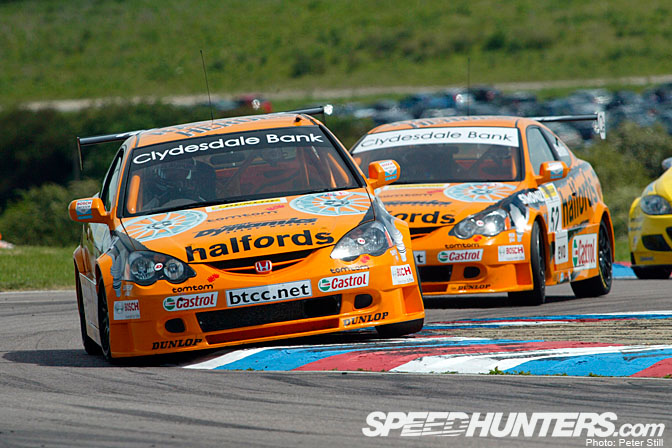 Fast forward to 2005 and the latest generation Honda Integra made its debut. This car was developed from the Arena Built Civic by Team Dynamics and proved much more aerodynamic than the Civic which was nicknamed the 'bread van'.
Rival teams were far from impressed as this car was not available in the UK.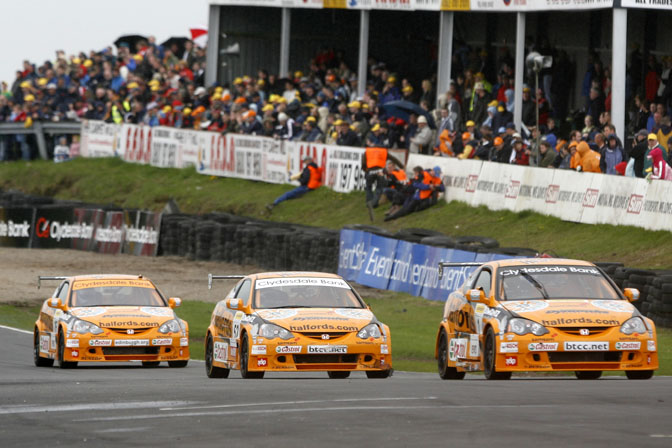 The DC5s were very well engineered and pushed the boundaries. Matt Neal won the 2005 and 2006  BTCC Championship, despite being an Independent Entry.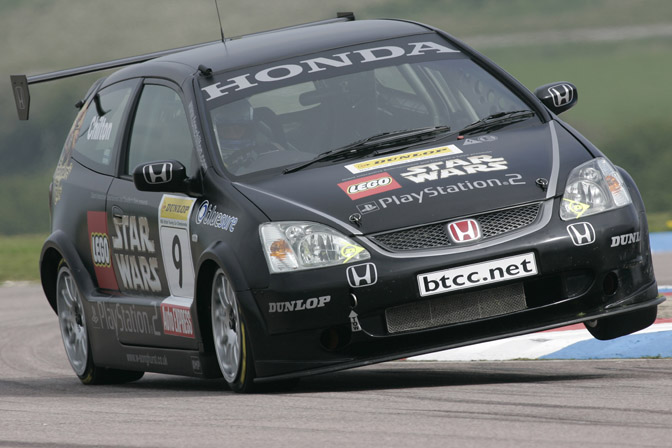 The Arena International Civic was still competive in the hands of Tom Chilton, taking four wins in the 2005 season…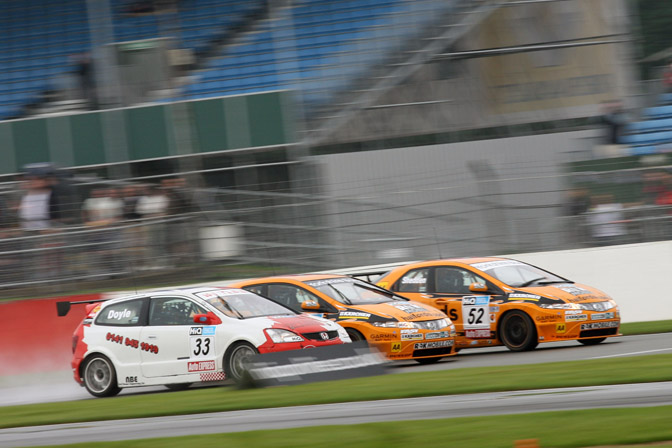 …And continued to be used for many years before being handed down to privateers.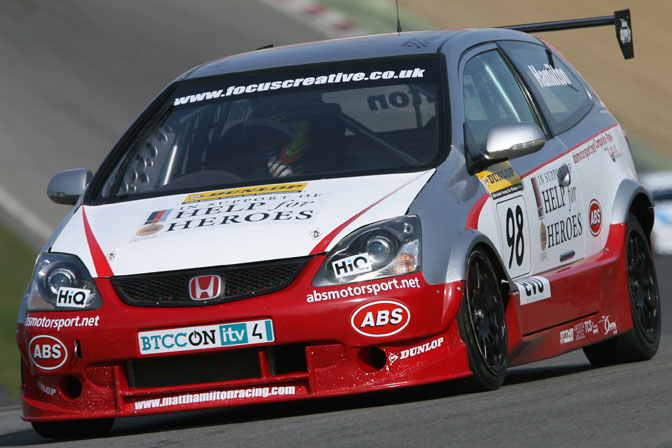 Its last outing was with Matt Hamilton last year.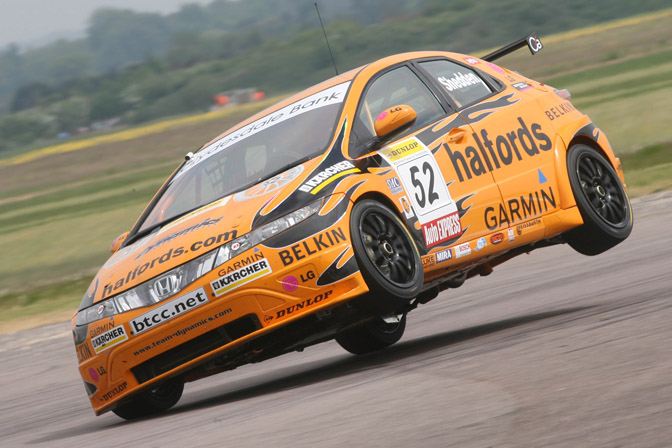 Team Dynamics developed an all-new Civic for 2007, using the European Type S as a basis.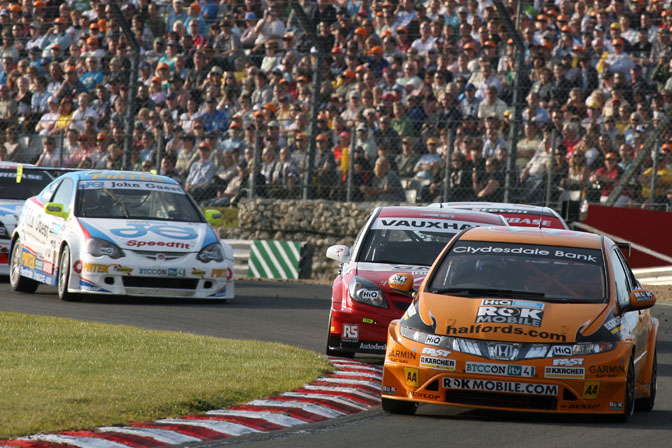 The car took a while to be truly competitive but did win on its first race weekend.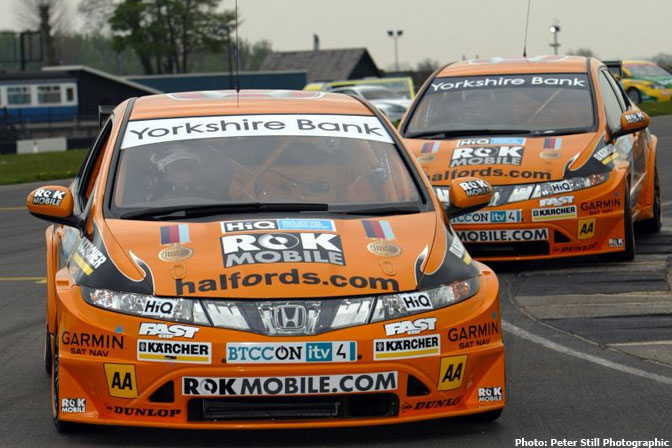 You can read more about the first version of this car in one of our earliest posts.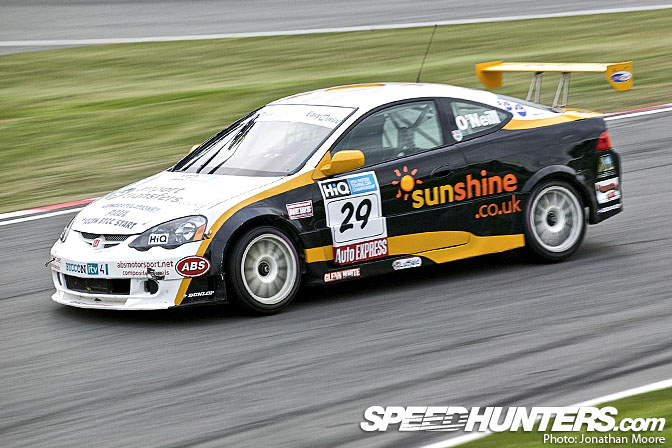 As before, the older Integras were sold to privateers with some success. In recent years, Paul O'Neill has been very impressive in the Integra.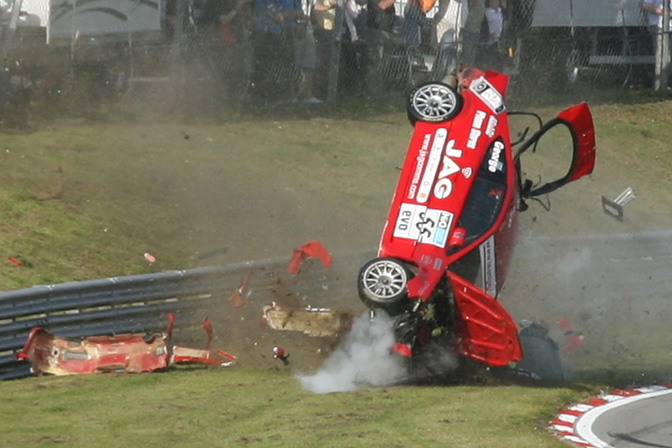 Meanwhile, John George was checking how it flies.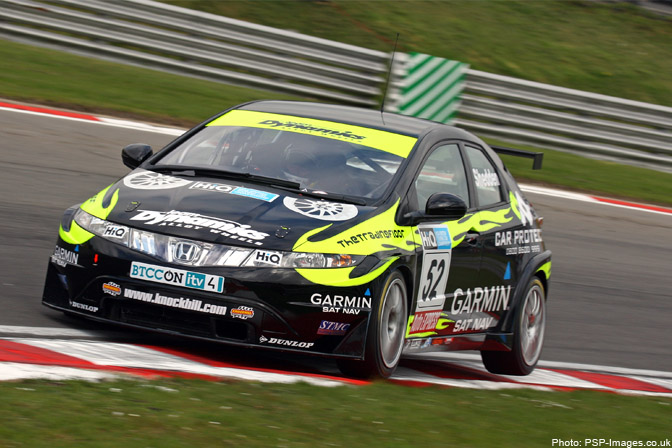 The TD Civics had many different looks over the years. With little sponsorship, these black cars appeared in 2009.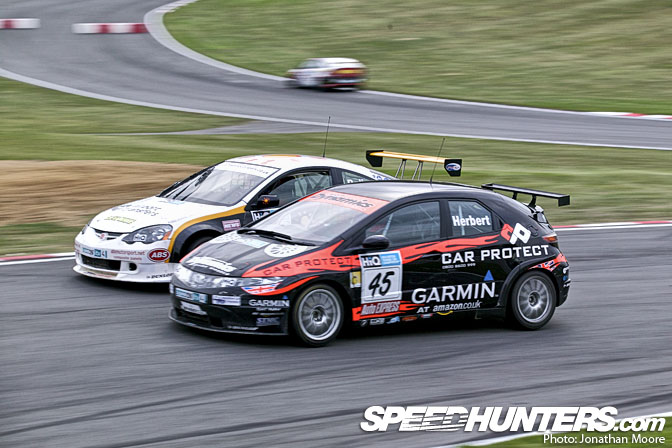 Honda brought in Johnny Herbert for some PR, but with little Front Wheel Drive experience, the Grand Prix winner struggled.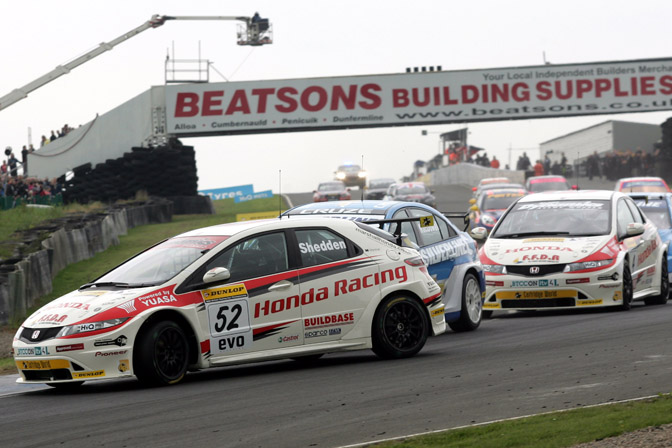 After a lackluster 09, Honda UK increased their involvement in 2010 with Team Dynamics finally becoming a works team. The iconic Honda white and red returned.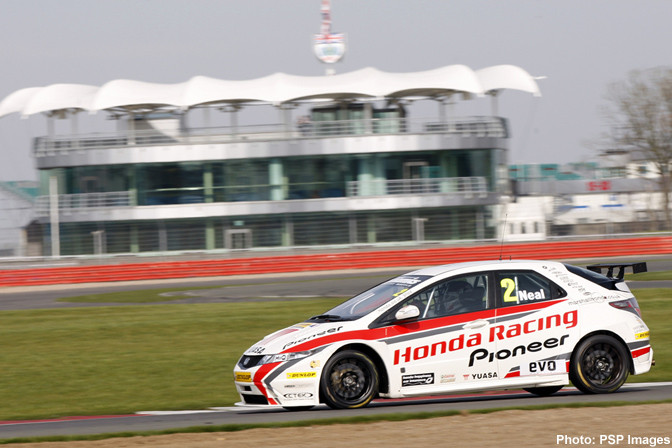 Today, Team Dynamics continues to use the Civic which now runs the new NGTC class engine, a turbocharged 1.6 litre unit.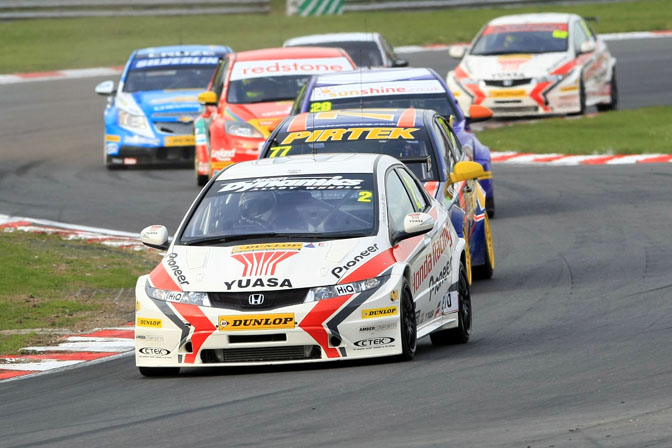 Matt Neal is currently 2nd in the championship, having won two of the six rounds. Team mate Gordon Shedden has also taken a podium. Rounds 7-9 take place this weekend at Thruxton.
- Andy Blackmore
Photos: BTCC.net, PSP Images/Peter Still Photography, Jonathan Moore