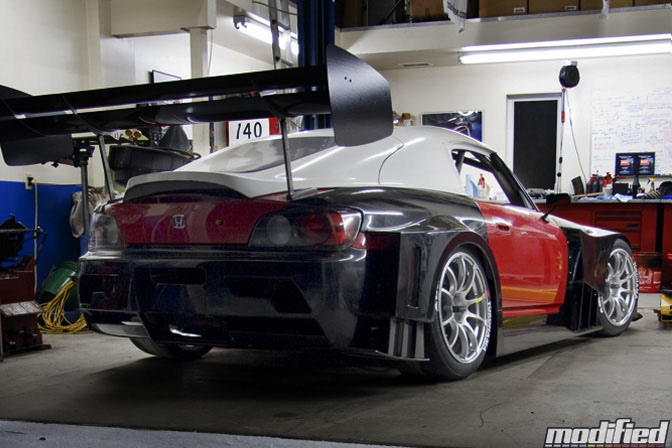 It's no secret that if you lived in North America and were into the import car scene circa the 1990's and 2000's then you more than likely owned (or still own) a Honda. That's why more Hondas graced the pages of tuner magazines than any other car back then. Even though we have diversified our tastes and our scene has grown to include other manufacturers, the core is still held together by Hondas.
So why not have a look at some of our Honda project cars, past and present, that have been at the core of our builds at Modified Mag.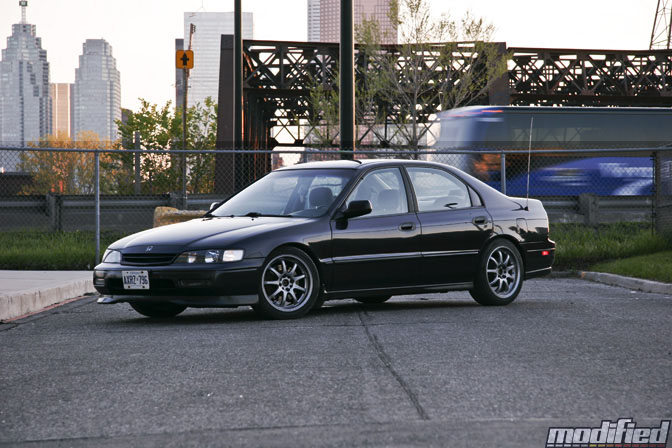 My very first Honda project car that I built (not owned) for Modified was a 1994 Honda Accord LX. I've always been a sucker for 4-doors and couldn't help but want to build a capable Accord while everyone was building Civics.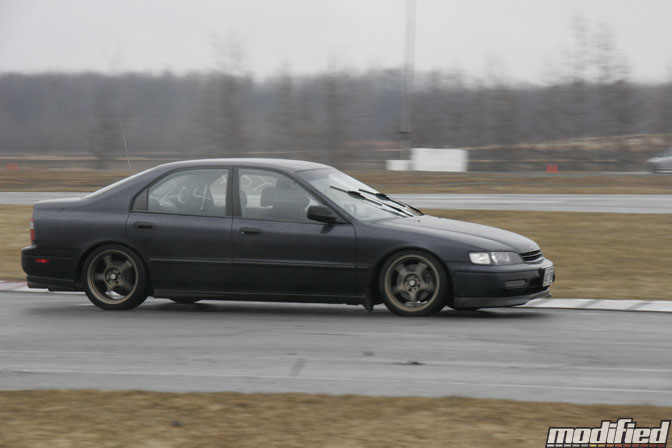 I swapped an H22A engine into it, added some suspension and bigger brakes and went to the track. To my surprise it was a pretty capable car often beating up on Type-R's and built Civics.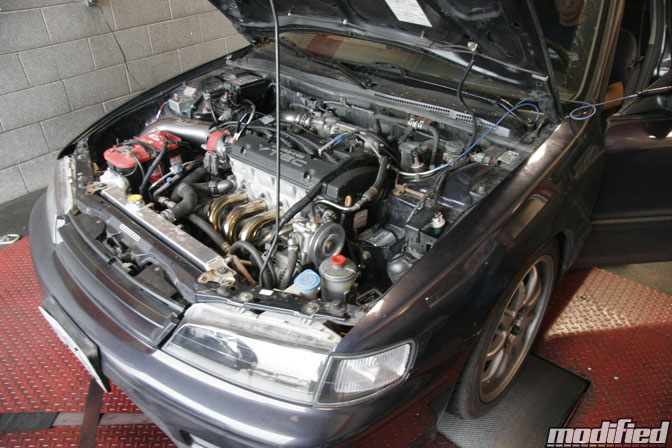 After melting a piston, I built a new H22A motor for the Accord but began to see the shortcoming's in its power delivery. If I wanted more power with reliability, I needed to make the jump to a K-series engine, which at the time was becoming the go-to swap.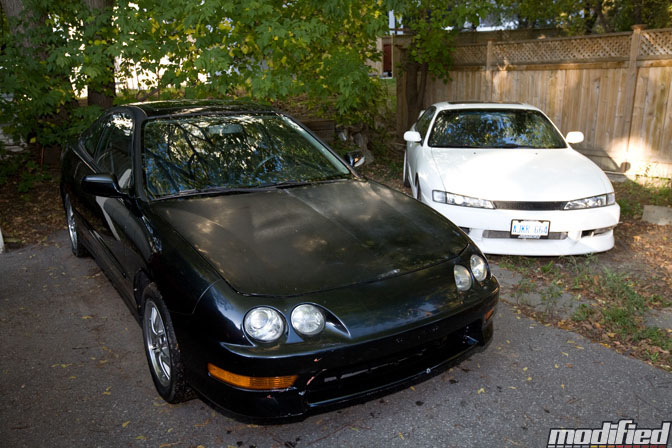 As much as I wanted to keep the Accord and go with a K-swap in it, there was too much holding it back so I made the jump to a much better platform, a 1999 Acura integra GS-R.
I bought the car, sight unseen an online auction for just over $2000.00 and when the car arrived it wasn't in that great a shape, it had scratches everywhere, faded paint, and the original GS-R motor was replaced with an LS powerplant. Needless to say, I've yet to purchase a car off auction again.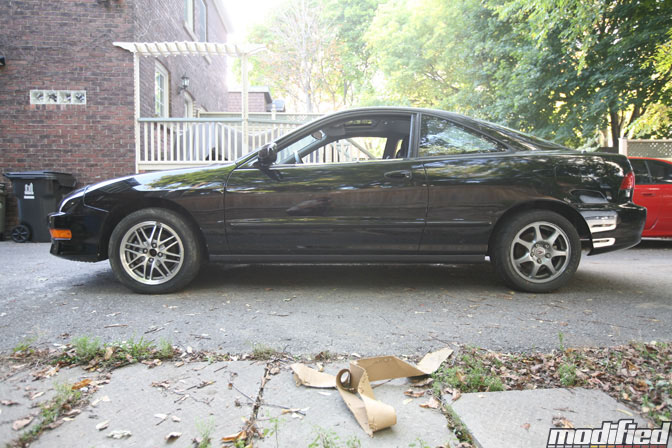 Regardless of the condition, I had a straight chassis that I could build upon. On went a JDM Type-R 5-lug swap and KW Coilovers as some of the first modifications.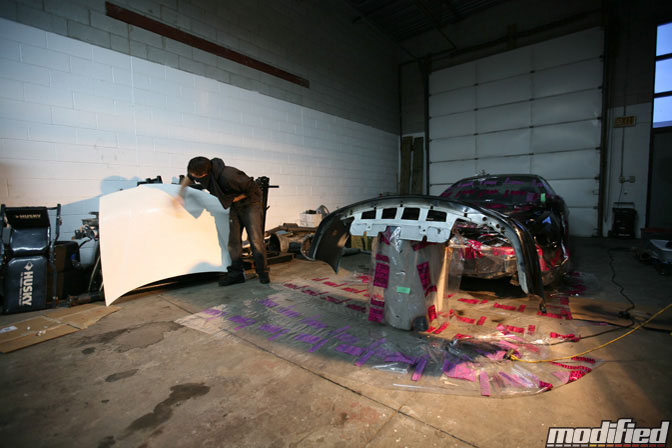 I really couldn't stand the bug eye look of the Integra so after sourcing a JDM front end, I took it upon myself to install and paint match it, rattle can style, to the rest of the car.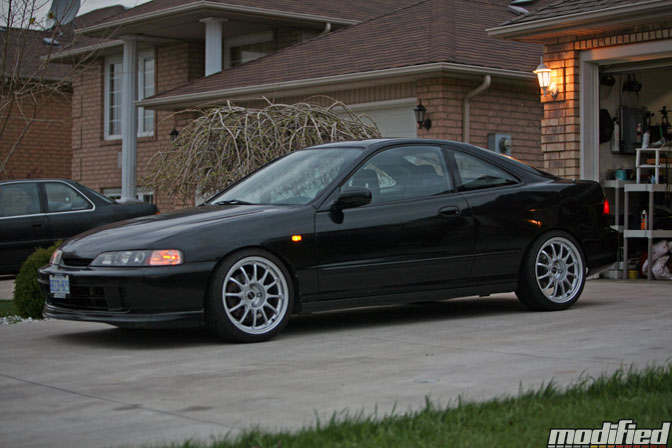 Then on went some aggressive fitting (17×8.5 +32) SSR Type-F wheels and all of a sudden the Integra was starting to look much better.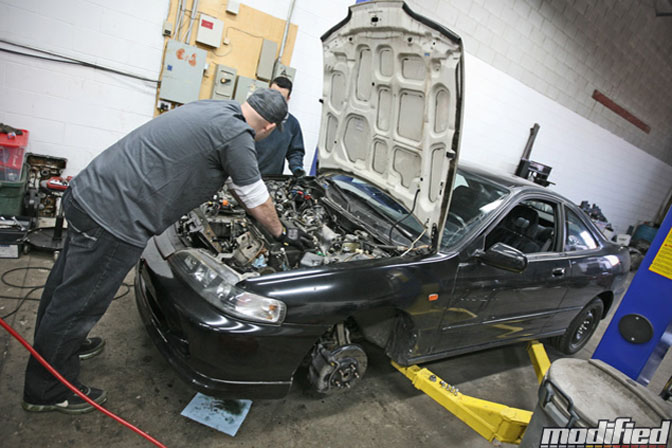 During the cold winter months in Toronto, Canada, I decided that, with the help of some friends we would finally do the K-swap.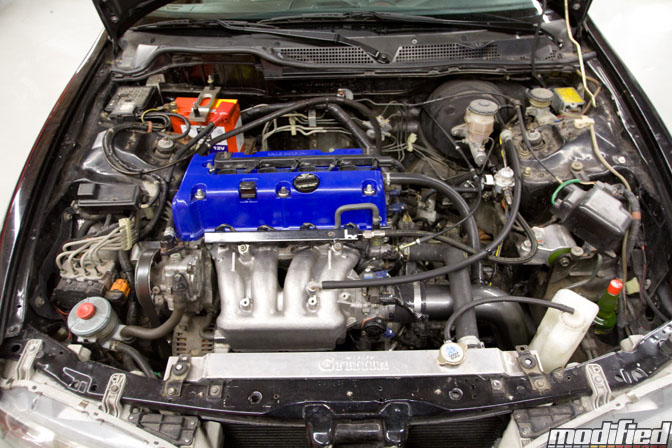 Three long days later, I had a running K20A and boy, was I happy to have done the swap. The K-series is such a great power plant to build off of and can produce great NA power that few engines can come close to.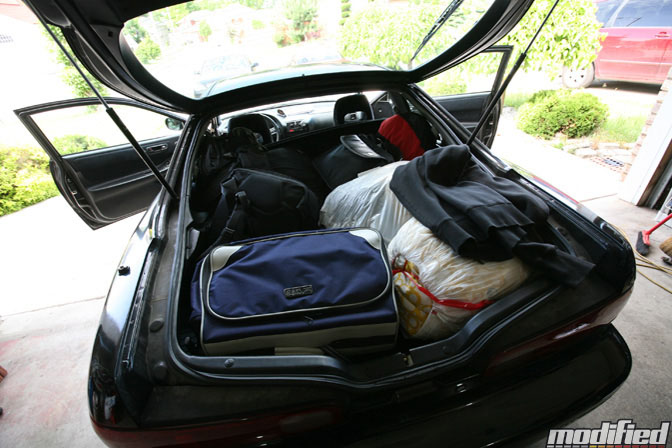 Shortly after, it came time for me to move to California so I packed the Integra up and with my brother riding shotgun set out on a 3000-mile road trip.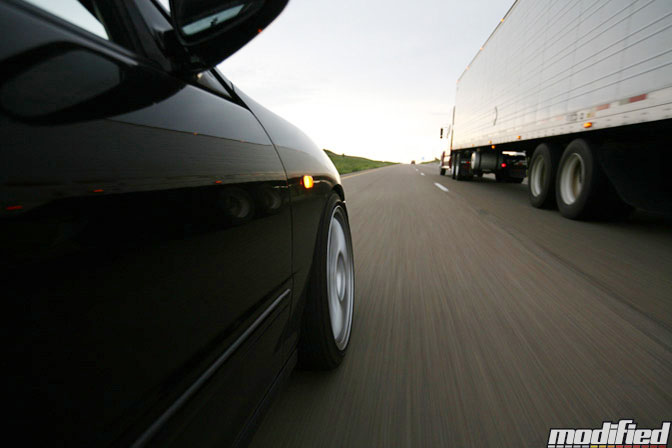 Fitting a +32 offset wheel up front meant I had to run -3.5 degrees of camber. Not ideal for a road trip and the poor Dunlop Star Spec tires payed the price wearing the inside tread rather quickly. They were practically junk when I arrived in LA.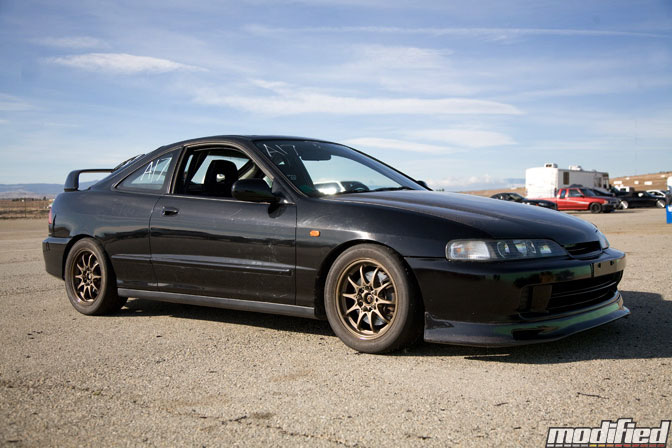 Since then Project DC2 has seen many new parts make their way onto it's chassis. The goal has been to lighten it as much as possible but without taking the streetability out of it.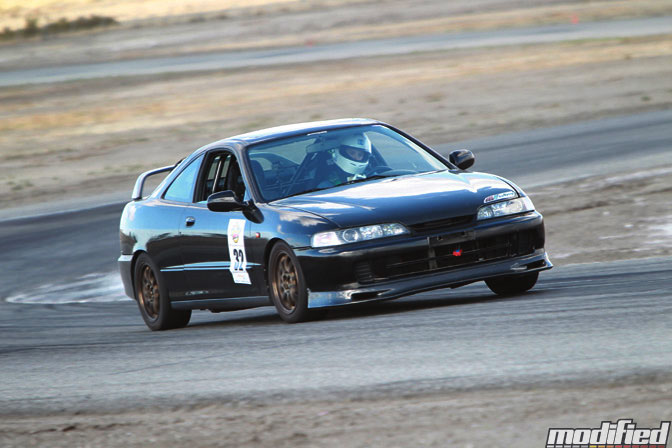 It is mainly used as my track car now and to this day still retains it's rattle can front end paint job and beat up exterior. It's definitely one of the least pretty looking cars at the track but its probably one of the funnest to drive.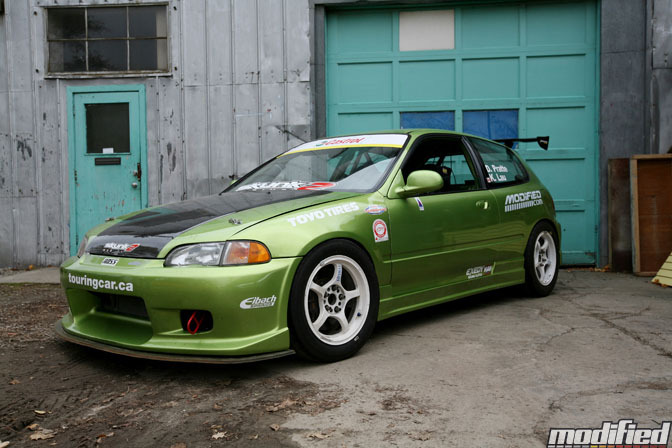 Enough of my car though, Dave Pratte who's been working for Modified almost as long as I have, has owned plenty of Hondas but by far his most involved project has to be his EG Civic race car that also has a K-swap under the hood.
This Civic has actually been 10 years in the making, having been originally picked up for Autocross and Time Attack duty on the local level (having gone through several D-series and B-series engine builds along the way), but evolved into a full blown race car that picked up six race wins in the Canadian Touring Car Championship during it's first season of road racing action. Visible mods include a C-West body kit, J's Racing rear wing, el cheapo carbon hood, lexan side and rear windows, and SSR Competition wheels wrapped in Toyo R888 rubber.  Beneath the "look at me!" Lime Green Metallic paint (a factory NSX color option in Japan) there's some pretty baller hardware including Moton triple-adjustable shocks with Eibach ERS springs (900 lb/in front and 1100 lb/in rear), ASR 32mm hollow rear swaybar and subframe brace, a fully built K20 gearbox with JDM 4th, 5th, and 6th gears, 4.7 final drive and a Kaaz LSD, Exedy Hyper Single clutch kit, and Axle System Stage 4 driveshafts.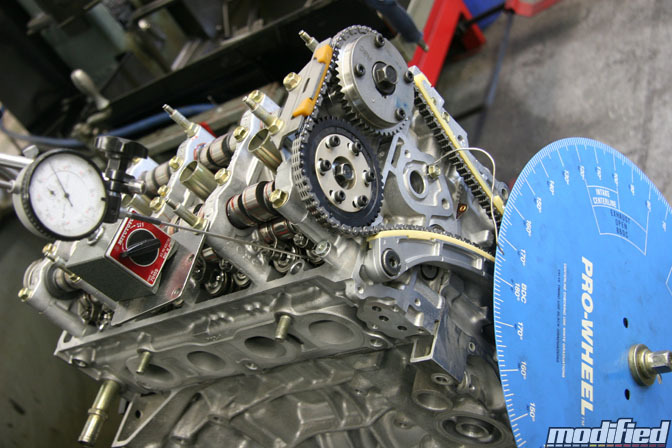 One of the first tech stories we did on Dave's EG in Modified was a full K24 engine build featuring Ross pistons, Blueprint rods, Skunk2 cams and valvetrain, and some head porting by Gord Bush Performance.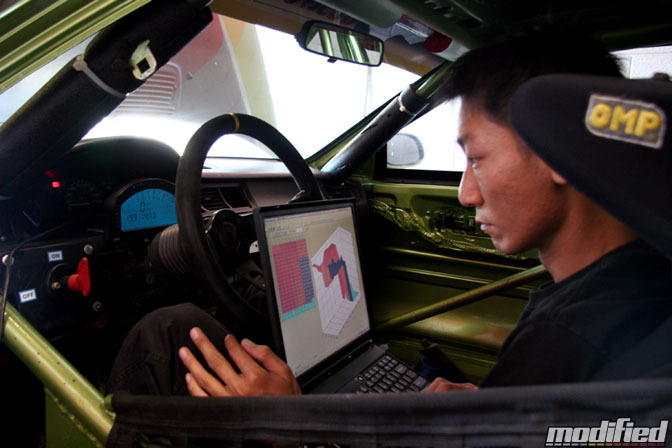 Tuned by our good friend Kenneth "Turtle" Lau from Project Motoring, our K24 pumped 280whp on the dyno, but blew up pretty quickly. Turned out the block we used had a line bore issue we were unaware of until tearing the engine down and examining it more closely after the failure. Live and learn.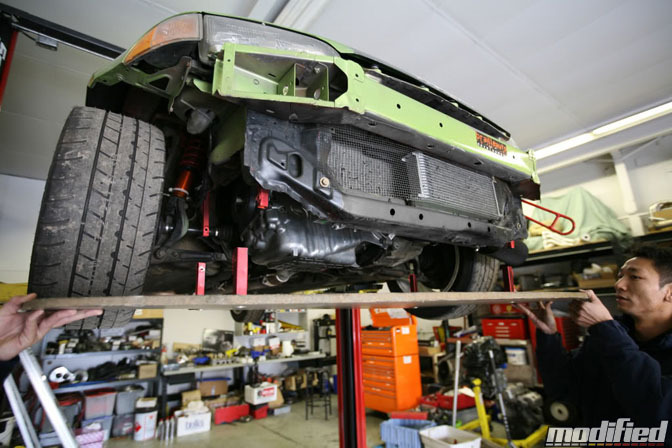 One of the most popular tech stories we've ever done in Modified was the custom carbon/Kevlar front splitter Andrew of Auto Analyser helped us build. The welded in chassis mounts and quick release push pins made for a extremely strong (and therefore effective) design.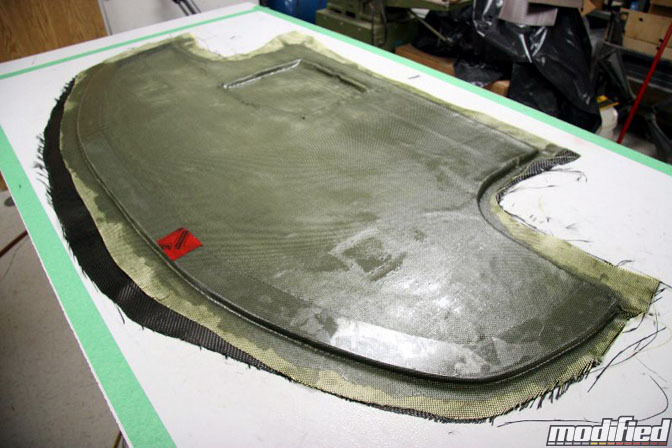 The high density foam core wrapped by an inner layer of carbon fiber and an outer layer of Kevlar made for a durable and lightweight (7 lbs) piece.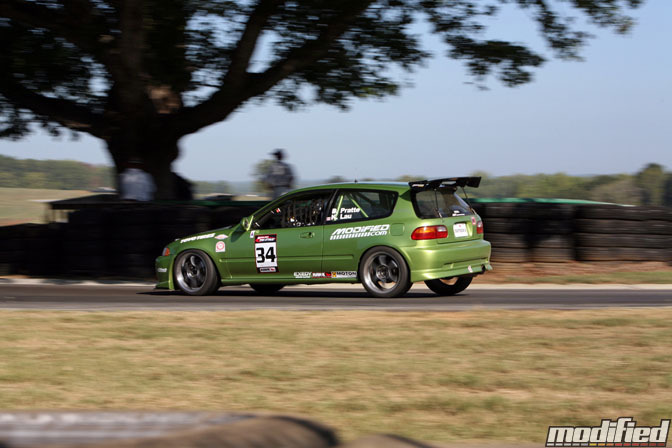 One of our favorite annual trips used to be heading to VIR to compete in the now defunct GT Live Time Attack with our trusty old EG. VIR is a truly world-class track, it's signature Oak Tree corner making for a unique photo op.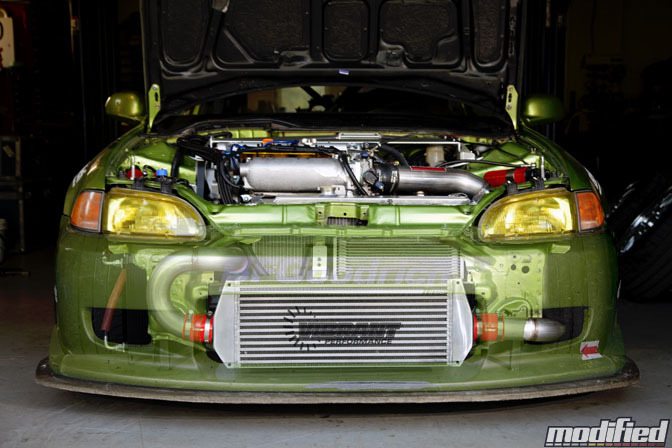 Most recently, we installed a Kraftwerks supercharger kit (based on a Rotrex C38 blower) and a Vibrant Performance front mount intercooler setup custom fabricated for us by Sasha and his team at SG-Motorsport.com and tuned on a K-Pro ECU. It managed to squeeze a rock solid 412whp out of a stock K24 block with Skunk2 Stage 3 cams and valvetrain. Not too shabby!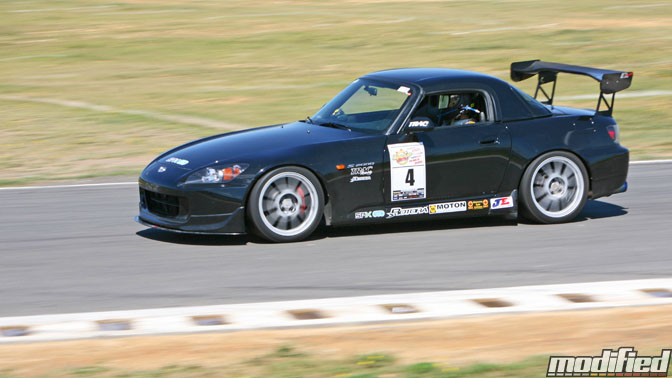 Probably our most involved and hardcore race build to date has been regular Modified contributor Andrew Wojteczko. He started off with a black 2005 S2000 that included Moton Clubsport dampers, K&N intake, Hondata Kpro with SG-Motorsport tune and a Buddy Club header with a Fujitsobo Ti cat back. Inside there was a Hard-Dog 4 point roll bar with OMP grip seats and 6 point belts. It was a great balance between daily drivability and on track performance.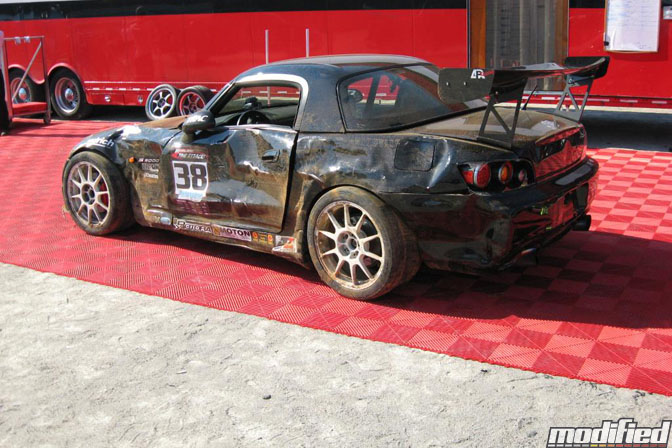 At an event at VIR Raceway Andrew struck oil during his final time attack session after the DentSport 240SX expired a motor on track.  The car and driver suffered a very hard crash into the turn 4 tire wall that unfortunately marked the end of our S2000 project.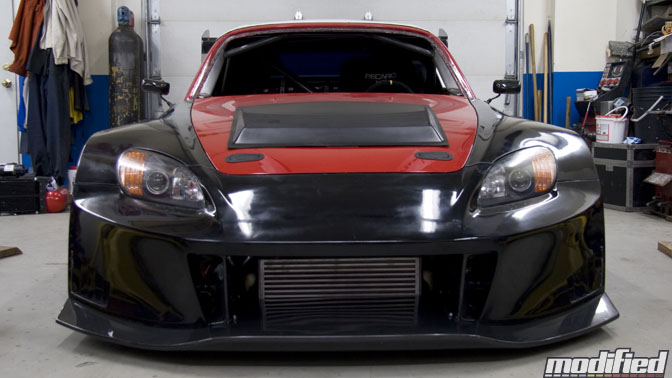 Despite having 6-point belts and a HANS in the VIR crash it still hurt quite a bit. This prompted the next S2000 build to be a full out race car on a theft recovery AP1 chassis complete with Recaro Pro Racer SPA HANS head support seat, Safecraft 6 point belts and right side net, Lifeline fire system and all the other safety stuff that really should be in a track/race car.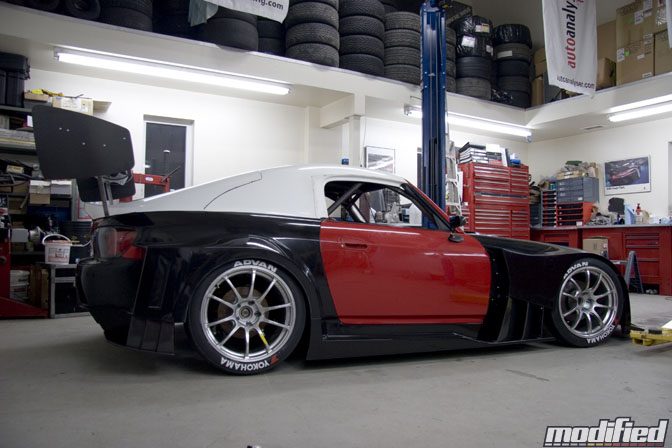 With this project we aren't sparing anything in the quest to go as fast as we can with safety in mind. A J's Racing GT aero package with DJ racecars dual element rear wing and GT Motoring carbon trunk has been fitted to the S2000, while extensive suspension analysis by Auto Analyser Performance, Moton triple adjustable dampers, Advan rims and A005 racing slicks, MoTeC ADL dash and M800 ECU, Tilton triple floor mount pedals, PFC calipers/Project Mu pads and much much more are being installed on the car.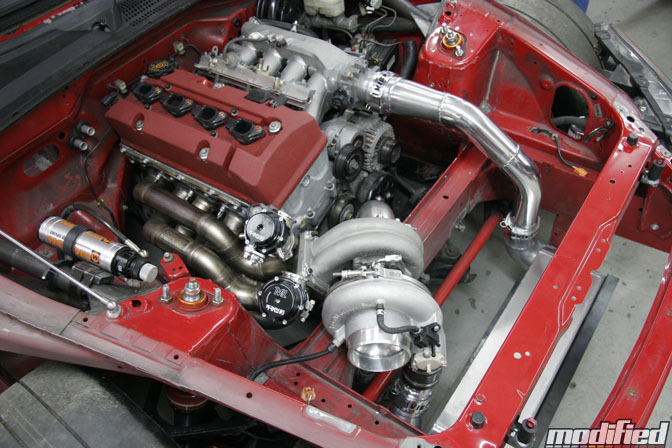 We're after big power matched with excellent reliability. Though this is a challenging goal, we've put together the right ingredients including a Fully built Gord Bush Performance engine with Carrillo rods, ARE/Auto Analyser Performance Dry Sump, lightened and balanced crank, Supertech valves and beehive springs, ARP head and manifold studs and 3mm head gasket. Full-Race manifold with Borg Warner EFR turbo and twin water cooled Tial MV-S wastegates. All mated up to a Competition Clutch twin disk setup with hydraulic release bearing, Driveshaft shop prop shaft and Puddy Mod Stage 5 rear end.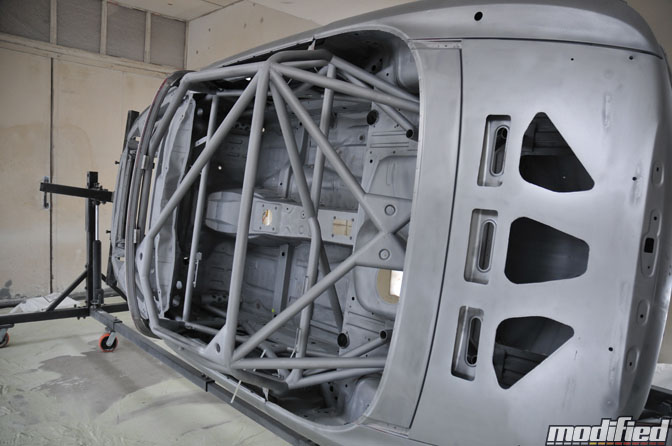 We are taking the necessary steps to make sure our S2000 racecar project is done right. The chassis is currently being fully media-blasted then stitch/seam welded, lightened and ready for powder paint. By removing all paint and deadener the chassis is as light as possible and the clean surface helps improve weldability. We can't wait to get the Advan black/red livery on and shakedown this monster, which will all be available to read about in a future issue of Modified Mag.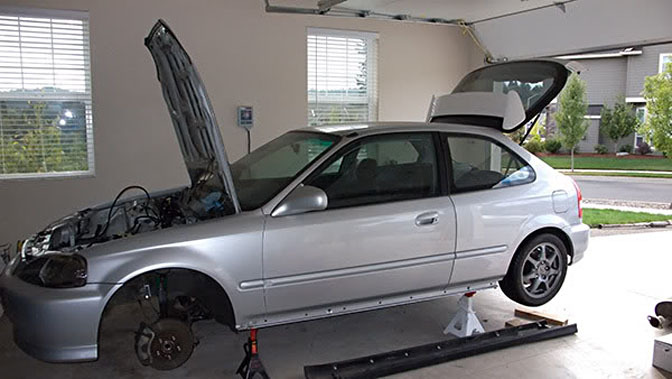 Our latest Honda project car to join the fleet is Associate Editor Nate Hassler's 1998 Honda Civic that has owned for about 6 years. I'll let Nate explain more about his pride and joy. "We have been through a lot together. I originally bought the car from a gentleman who had a good amount of the parts stockpiled, but the car was not in running condition. Over the course of about 4 months, we put it together in his garage and I drove it home just in time for summer."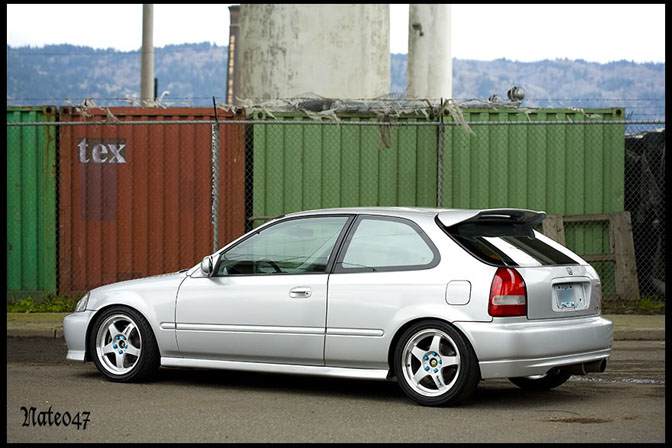 "Having owned a '00 Civic Si previously, which was stolen and completely stripped (as is all too often the case) I knew I was pushing my luck daily driving a car like this. But I didn't care — I loved (and still do love) my Honda, so I began adding small bits to the exterior of the car. Subtle and JDM was my modus operandi."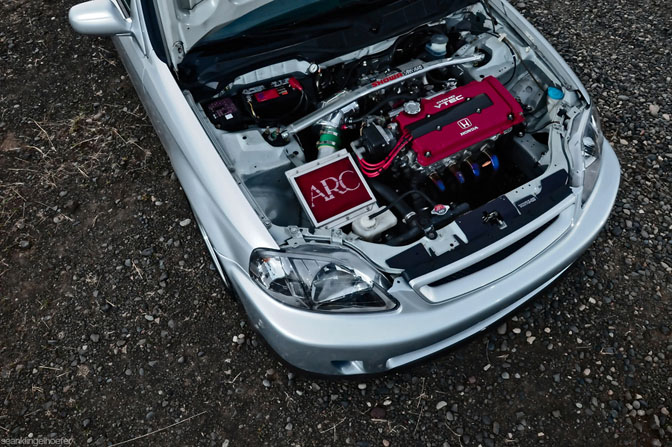 "All this time, the motor in my car was pretty much a hunk 'o junk. I had been running on a free B16A swap, and it was worth every penny. Eventually the motor blew a few rings, so I took that opportunity to upgrade to a mildly built LS/VTEC "Frankenstein" motor. With 11.5/1 pistons, rods, and a ported head with CTR cams, the new motor made 183 whp."
"At this point, I knew the car needed to live it's life in a garage. Sad, but true! Once upon a time, it served as my daily driver around the city streets of Portland Oregon. But even in the lovely and seemingly quiet Northwest, Honda thieves lurk in the alleyways, just waiting for a car like mine to pop up in the wrong place at the wrong time. Incidentally, at this point in time, I also had a stroke of bad luck and kinda-sorta wrecked the car. Not too bad, but it really bummed me out. The car sat in my garage for over a year until I moved to LA and began working at Modified."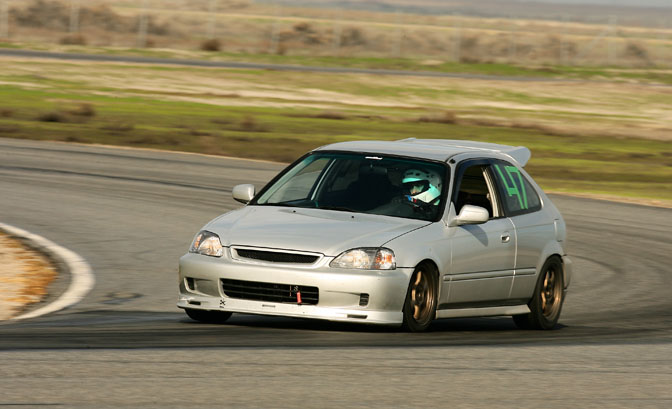 "The new job gave me the motivation and means to begin working on the car again,
and I couldn't be happier. With a few track days under my belt, and a long laundry list of stuff to do on my Civic, I'll surely be busy enough. The car is no longer a daily driver, but that's okay because it's really much more fun on track. Plus it's a real pain in the you-know-what to drive a car this loud and uncomfortable on the streets, especially with CHP Officers breathing down my neck."
If you'd like more information on our project cars or to follow along on the progress you simply need to pick up the latest issue of Modified, where you're bound to find one of these Honda's being built.
-Peter Tarach