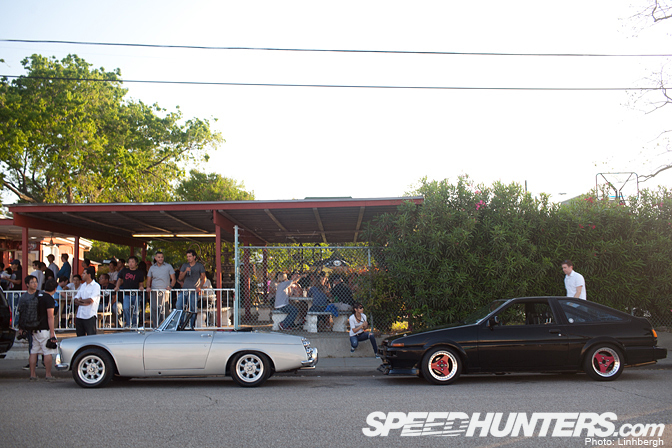 At the very top of the month of April, I spent quite a bit of time, seventeen days to be exact, in the state of Texas. The highlight of the trip was a nostalgic JDM meet that was put on and organized by the guys from Mayday Garage, an automotive blog which primarily focuses on the city of Houston's car and tuning scene.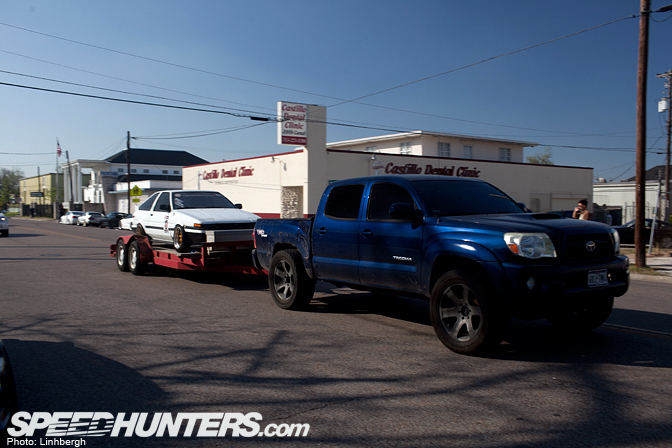 Different from the usual meets in parking lots, the Mayday Garage meet was a street meet. Cars were parked on the side of a street or parked up on pre-organized business parking spots.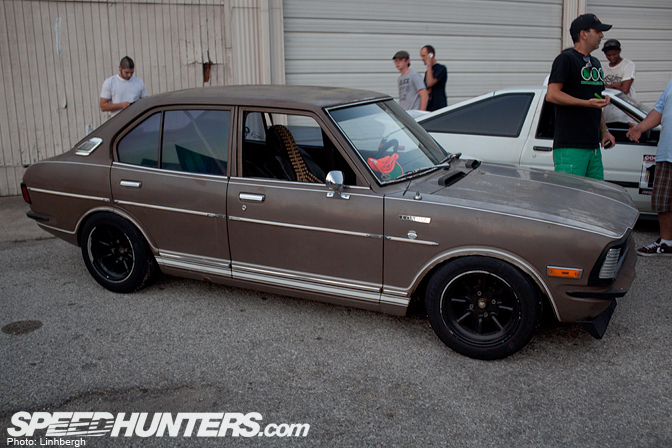 The nostalgic car turn out was a small, but the quality was quite good.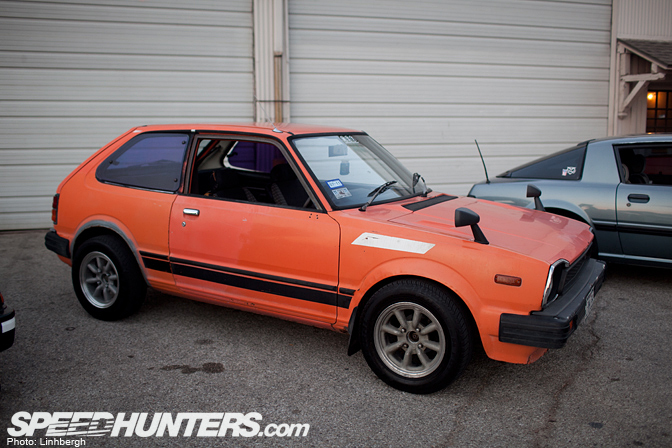 Take this old Honda Civic for example…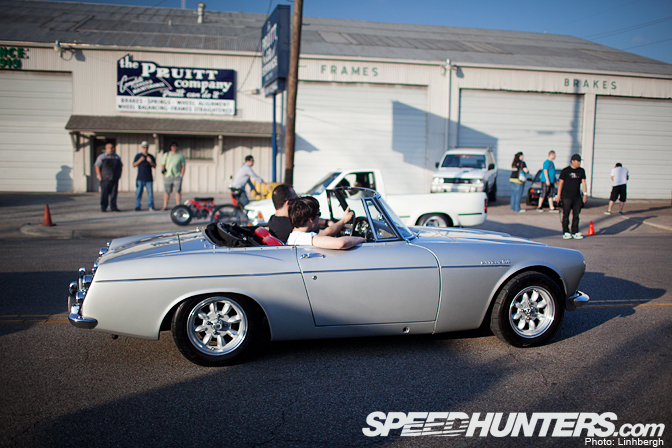 …or this Datsun Roadster. I was very impressed with just how clean it was.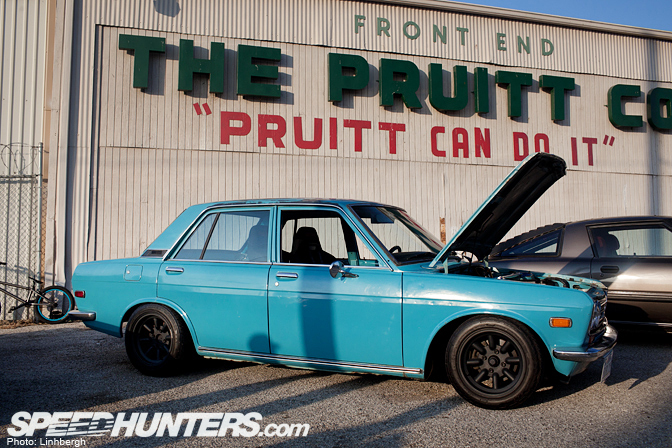 This Datsun 510 was one of the first nostalgic cars to show up. The owner quickly parked and popped open his hood.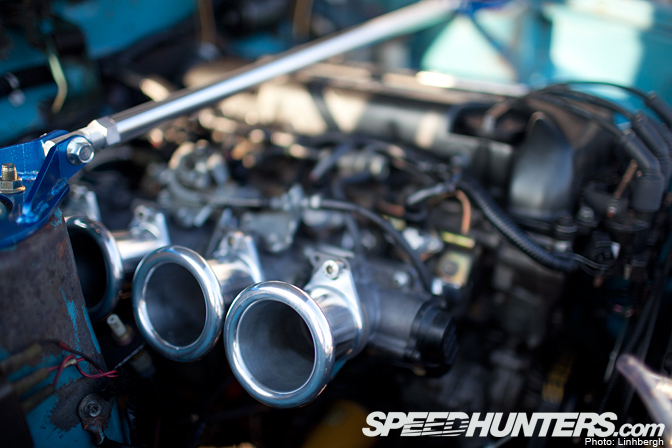 Inside the 510's engine bay sat a naturally aspirated SR20!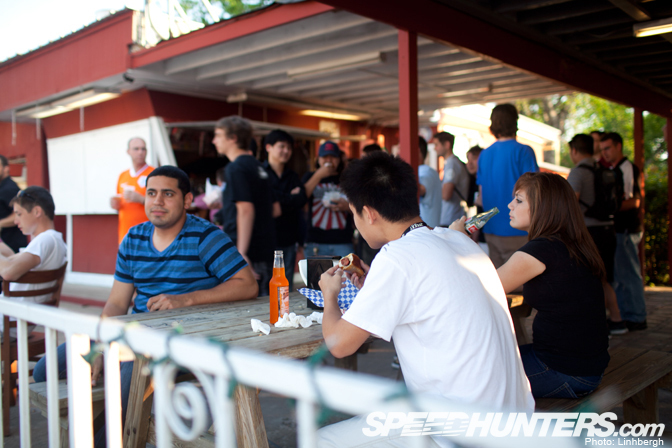 The meet was held on a hole-in-the-wall yet also a popular eating destination, the Moon Tower Inn. An gourmet hot dog stand.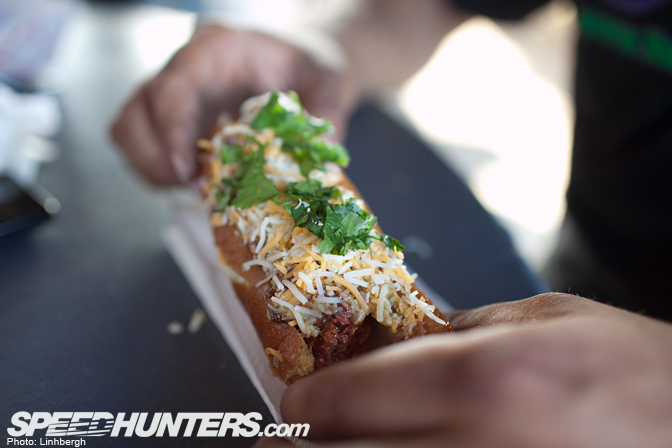 Yes, I know, gourmet and hot dog are two words that don't belong to each other at all, but trust me, these hot dogs are quite different from the street corner norm.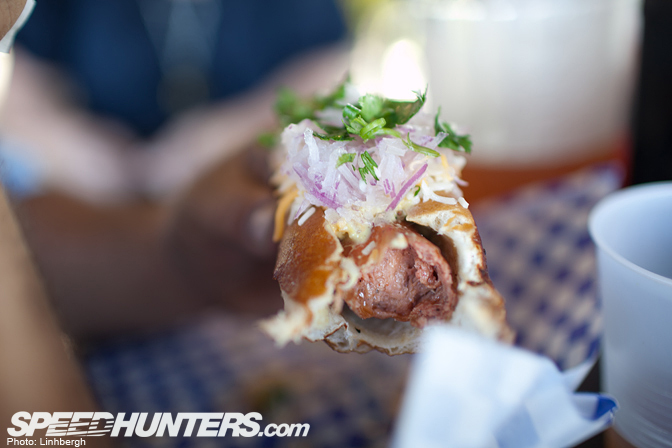 The Moon Tower Inn specializes in hot dogs that are made up of meat from wild game, like in this case, Buffalo.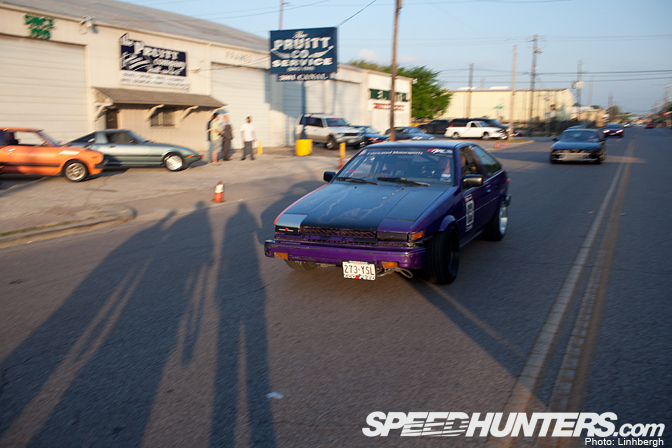 Nothing is cooler than seeing a competition drift car roll down a public street.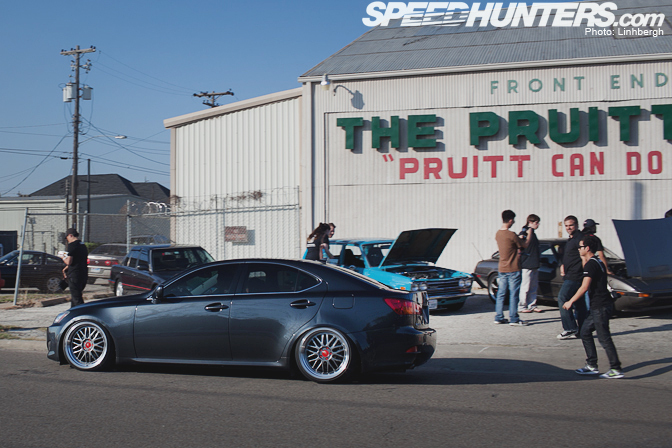 This ridiculously low Lexus IS stayed for just a moment at the meet, but in its brief time there, it broke countless necks –including mine. The BBS LMs take the car's aesthetics to the next level!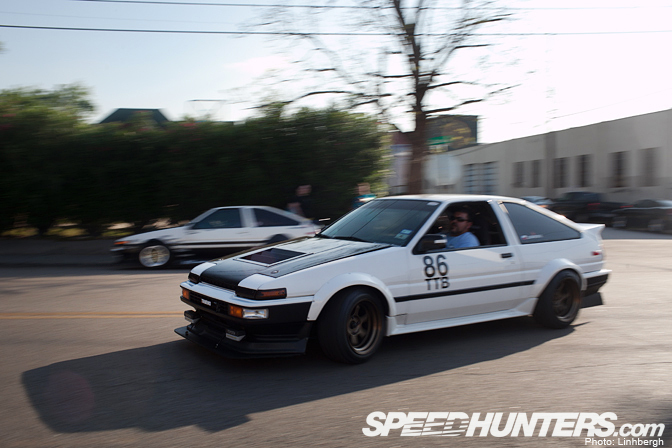 This Corolla was another surprise of the meet. It was not powered by the usual 16 valve or 20 valve, but rather a 1UZ V8! A full feature of this car will be coming soon.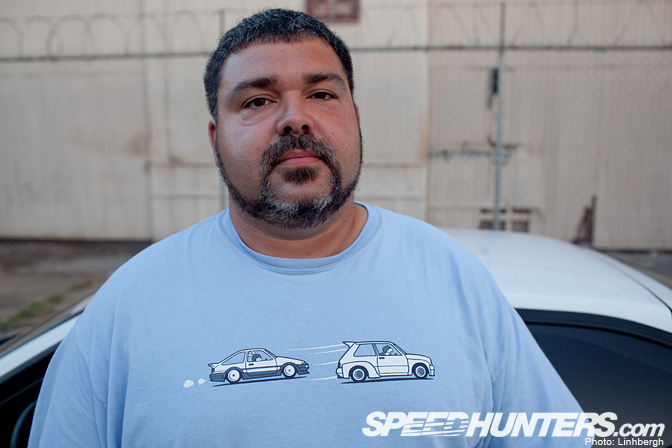 This is the owner and builder of the Corolla, Joshua Garcia. His t-shirt is amazing.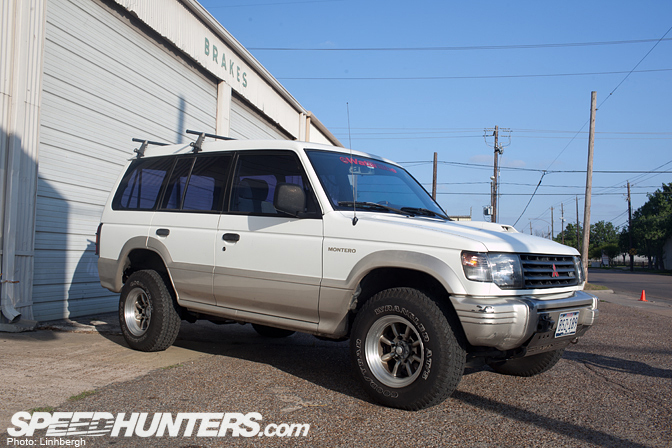 A Mitsubishi Montero rolling on a set of Watanabes. Now that's something you don't see everyday!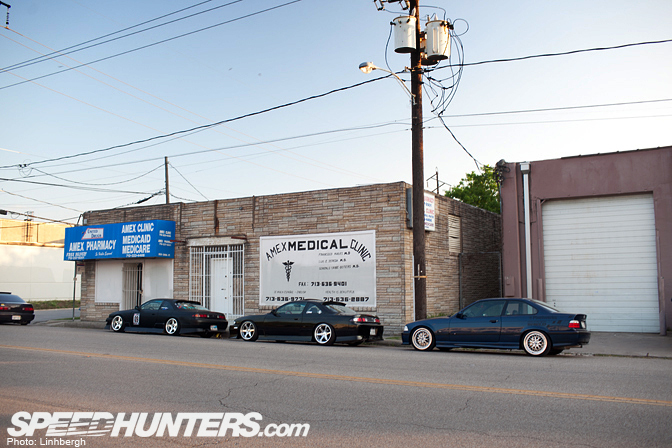 Not too far down from the Moon Tower Inn were these guys who decided to have a small RWD meet within the meet.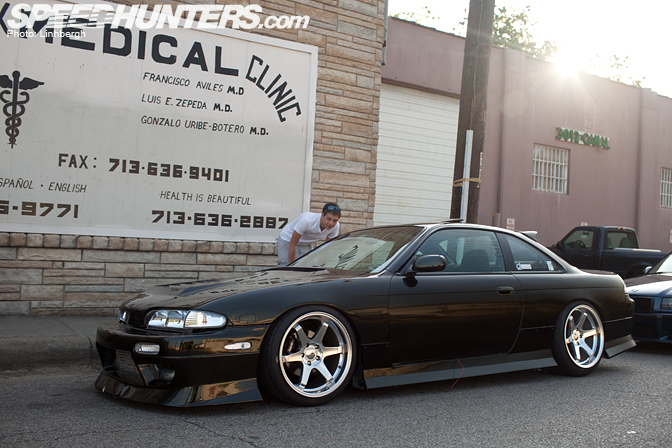 This S14 caught my attention the most because of its clean exterior styling…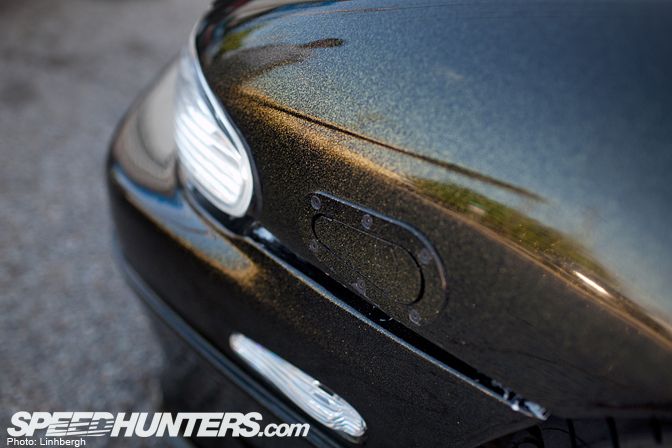 …and metallic sparkle paint.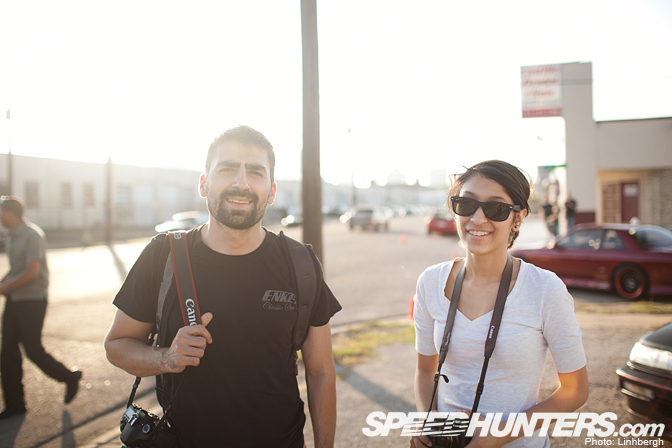 I was surprised to see Alex Nunez, Marketing director of Enkei wheels…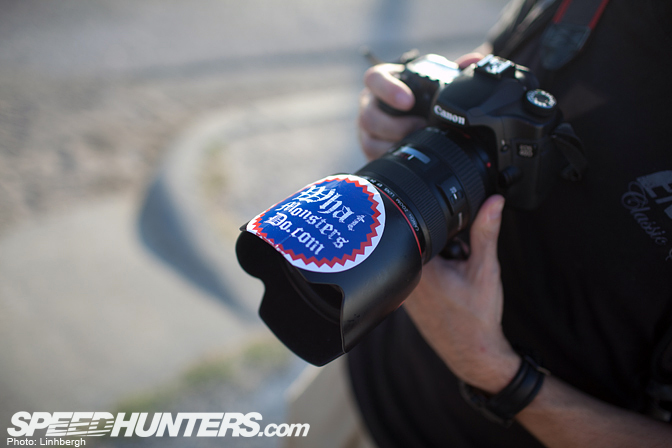 …and editor of the blog, What Monsters Do, at the meet. It was amazing to see that even companies like Enkei appreciate the grassroots/street culture.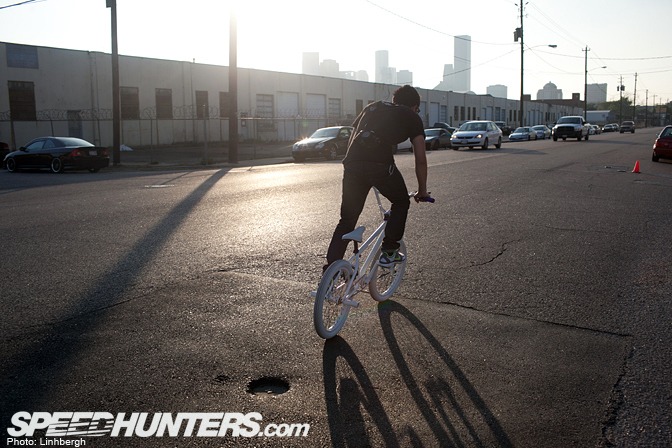 One of the Mayday guys, Mikey, commandeered fellow Mayday photographer's, David Do, all white BMX bike so he can move about the meet with ease.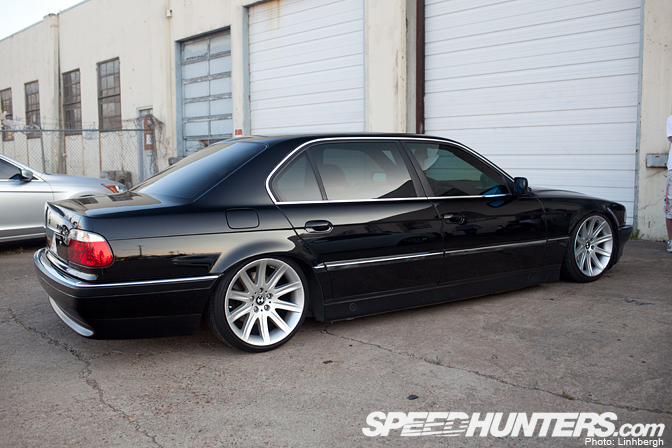 This slammed 7 series BMW takes classiness to another level.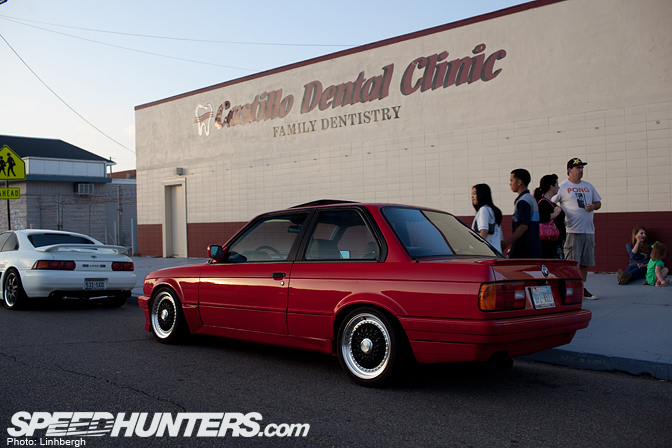 Though that 7 series wasn't the only BMW at the meet, there was this E30…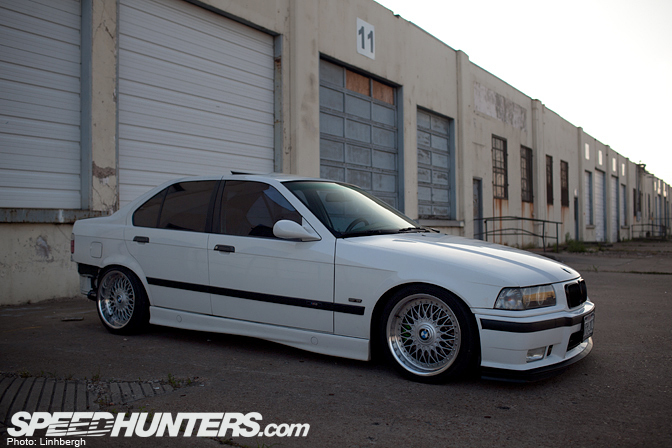 …as well as this E36.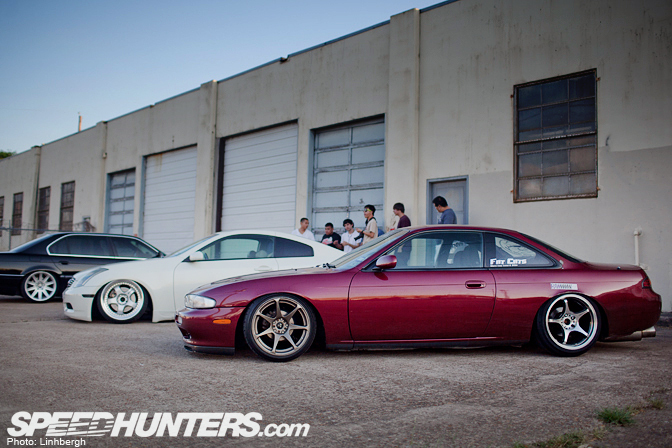 These two cars takes lowness to quite an extreme.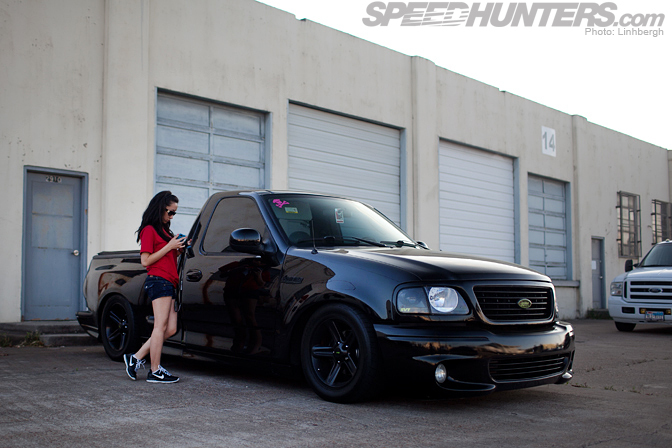 Of course, there wasn't just cars there….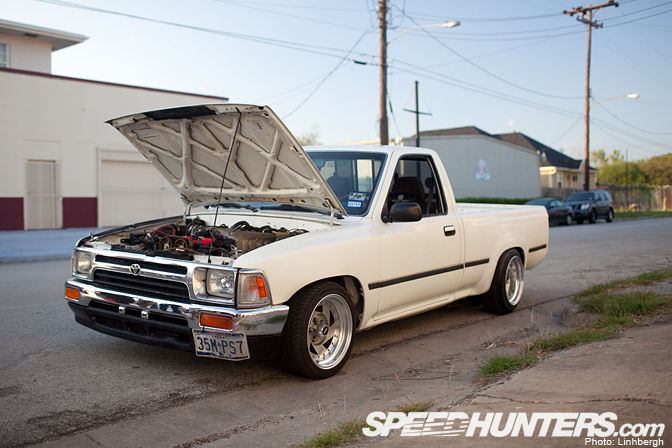 …like this straight-six powered Toyota tuck.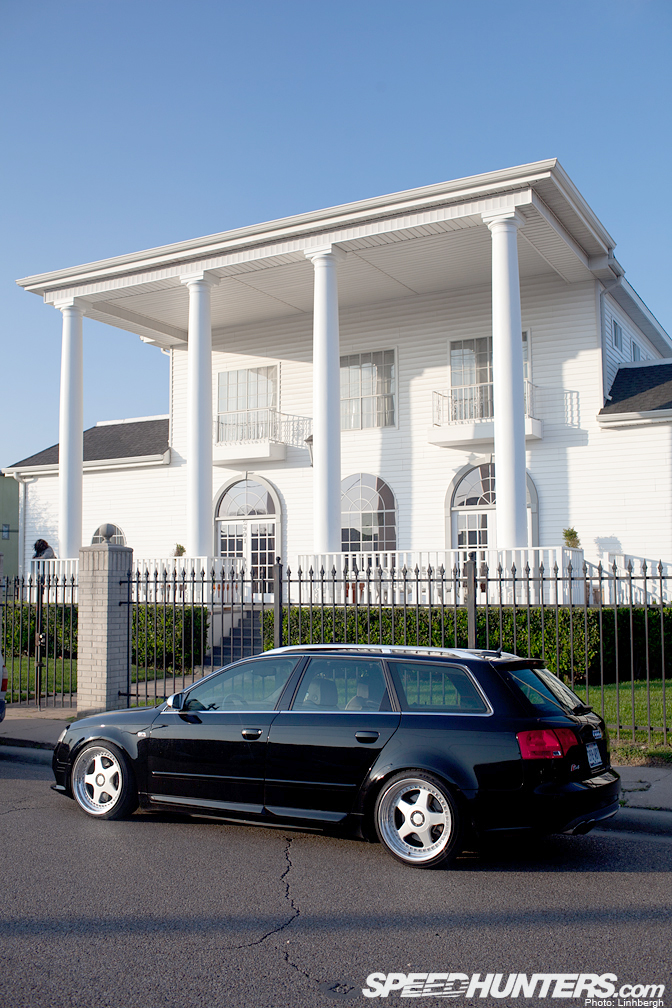 I'm a sucker for wagons, especially an Audi S4 wagon that's as good looking as this one.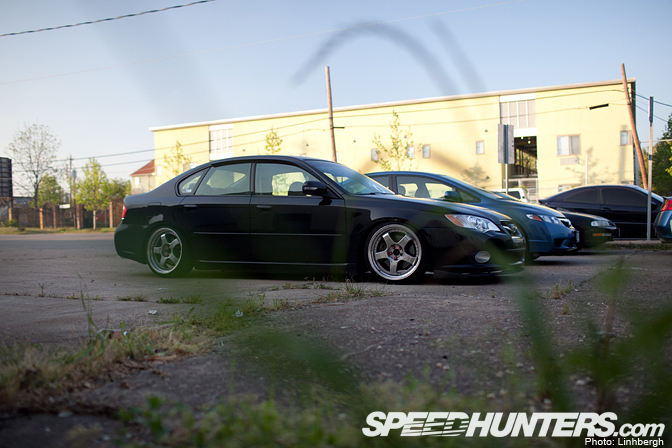 How can you not like a properly low Subaru Legacy? Such classiness.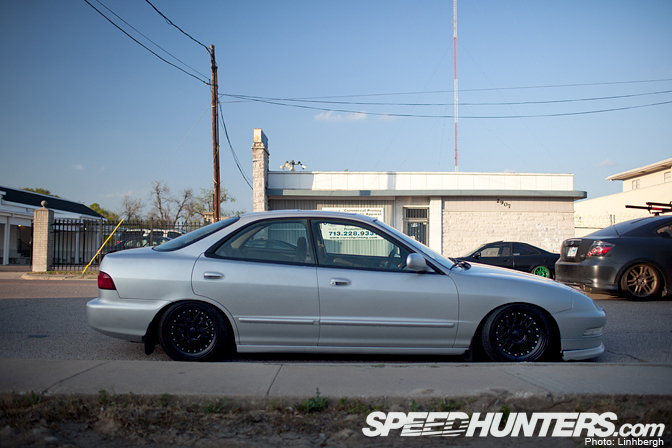 A nice and clean DC2 Integra.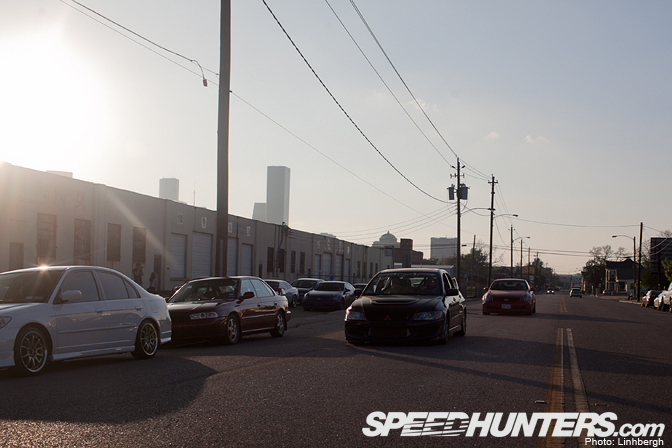 The meet was planned to happen between the times of 5pm and 8pm…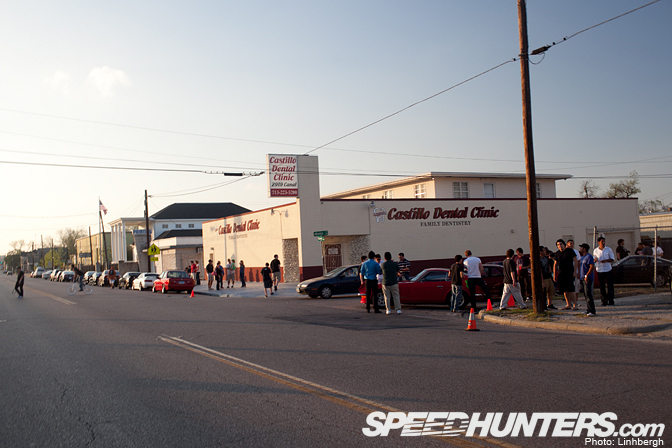 …but cars kept rolling in all evening long.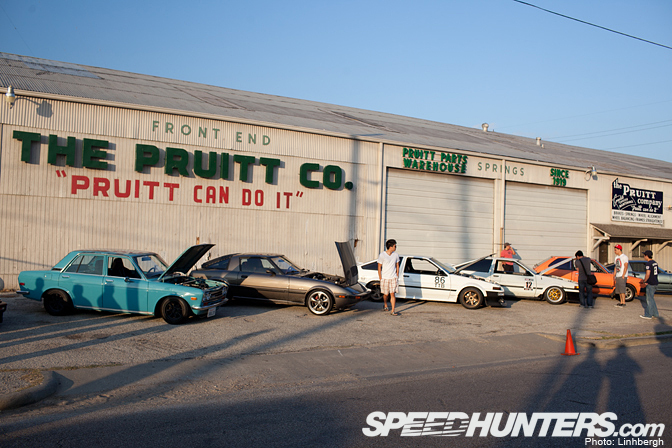 In the late afternoon, the crowd was fairly small…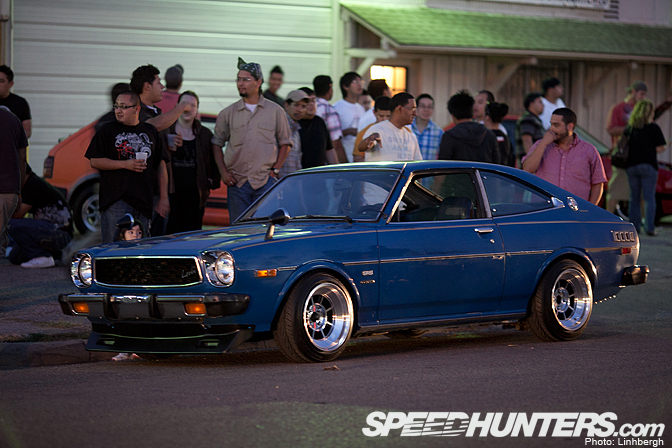 …but as the evening went on, the crowds grew to some impressive numbers.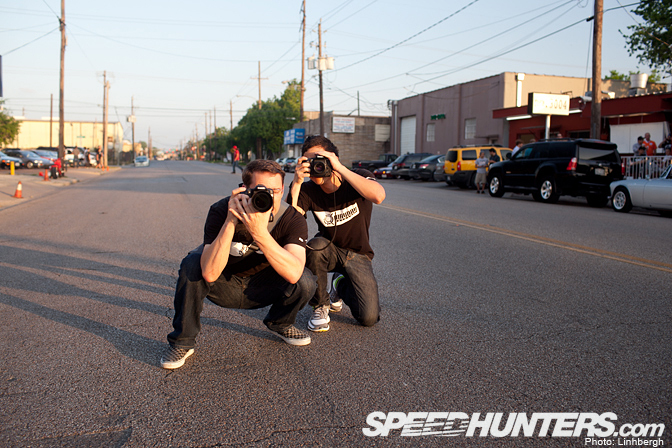 Everywhere I looked, there was a Mayday Garage photographer. These guys have honed their photographic sniping skills to a whole knew level.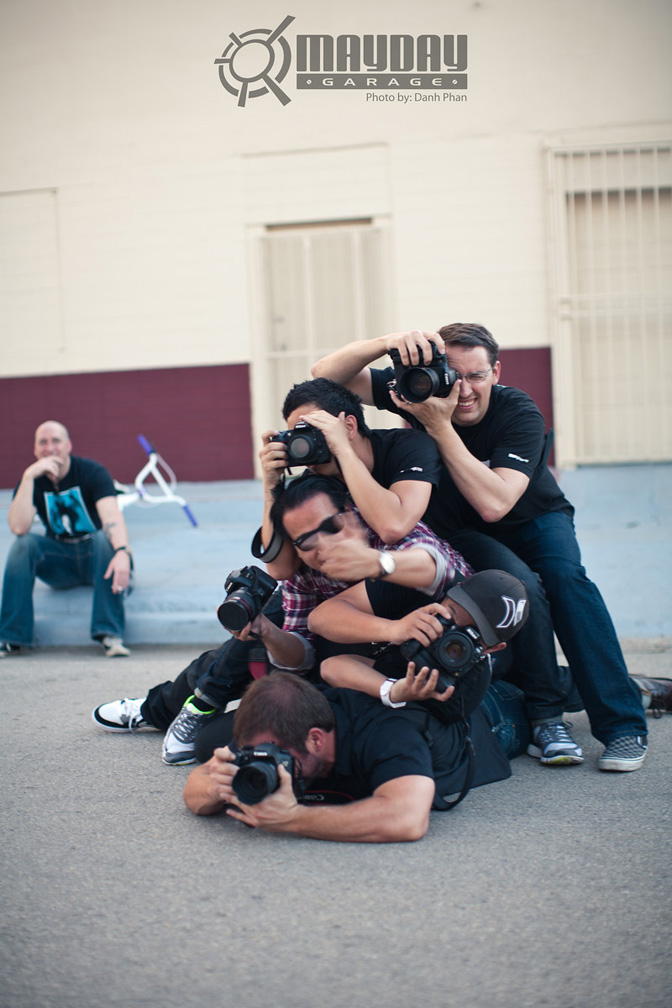 There were so many photographers in fact that we were all fighting for positions to shoot.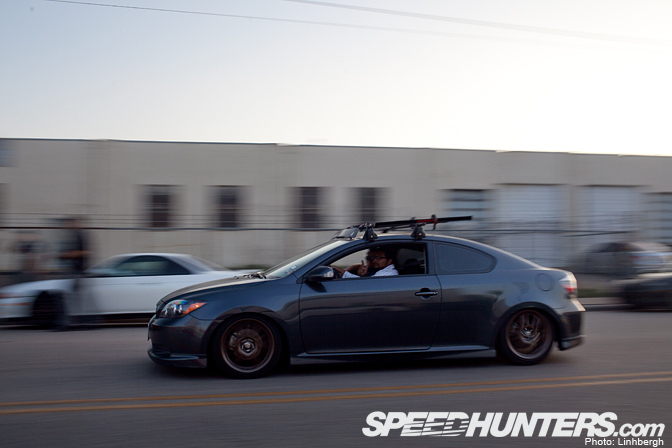 What's a car meet these days without a bit of Scion representation?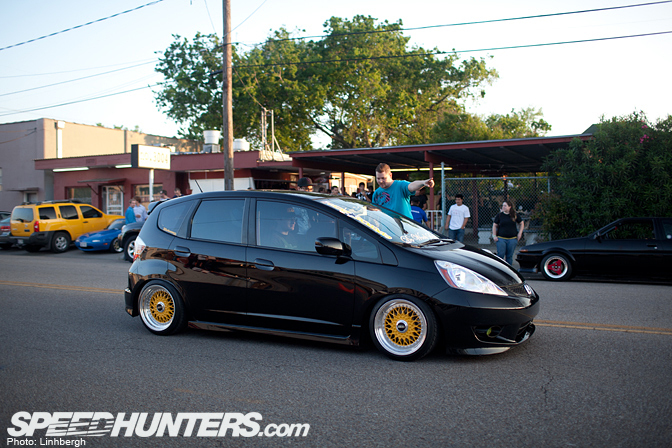 It was neat to see this Honda Fit, which attended Import Reactor, roll up to the meet.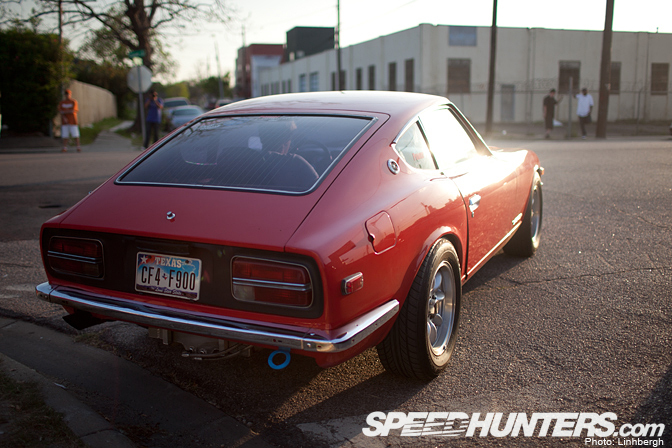 This 240z also attended Import Reactor.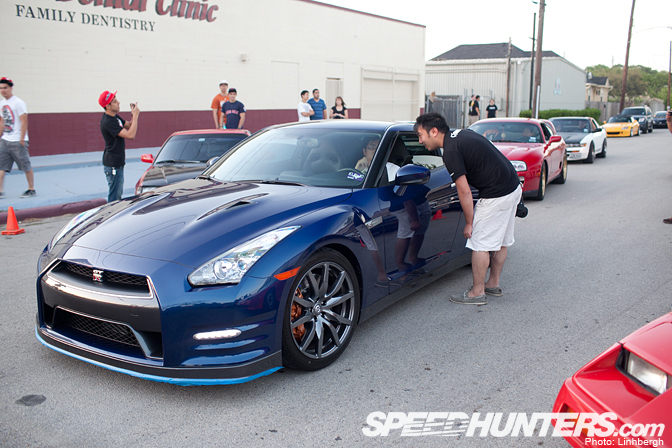 This brand new 2012 model year Nissan GTR also surprised the meet attendees…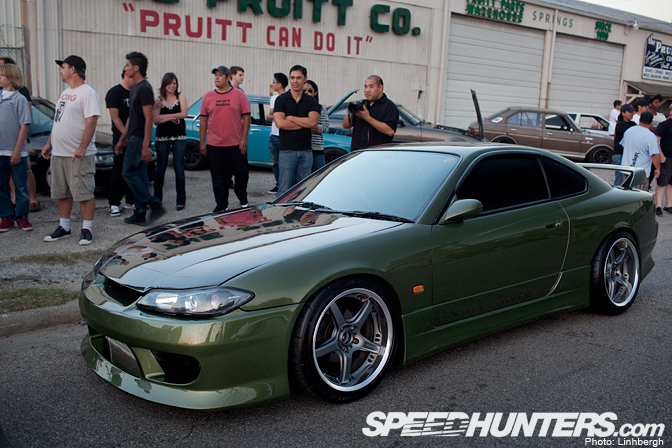 …as did this Nissan Silvia S15.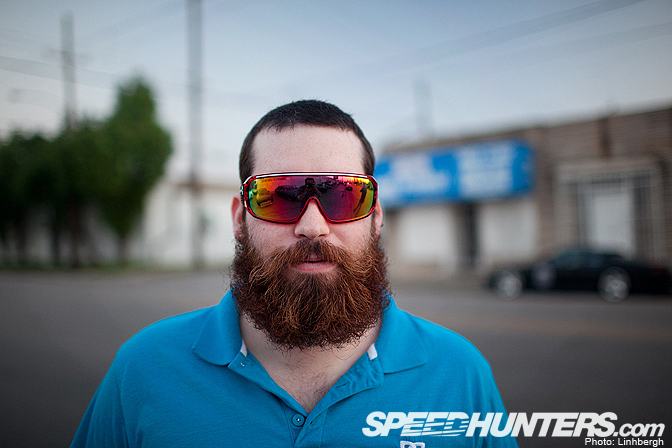 Beardhunting.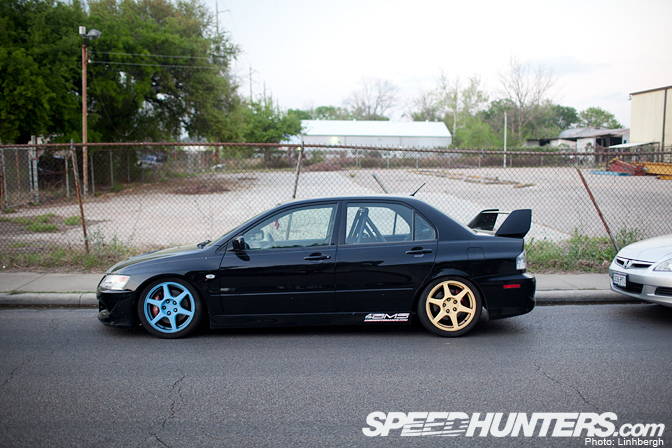 Mismatched colored wheels is something I'd expect to see on a grassroots drift car, but on an Evo? That's definitely something different.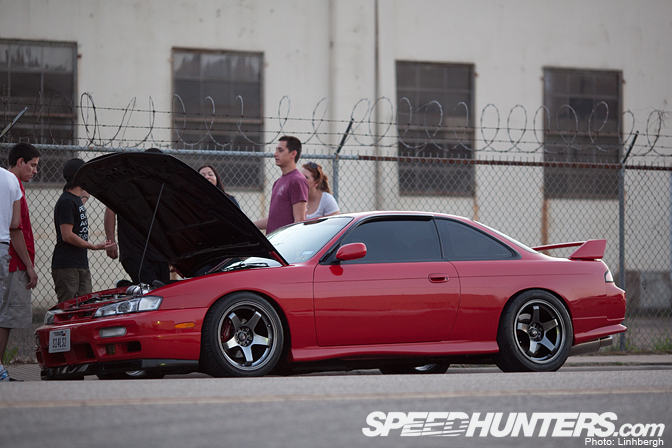 One of my favorite cars at the meet, an LSx powered S14. Check out the meat on the rear tire! That's tire flush, folks.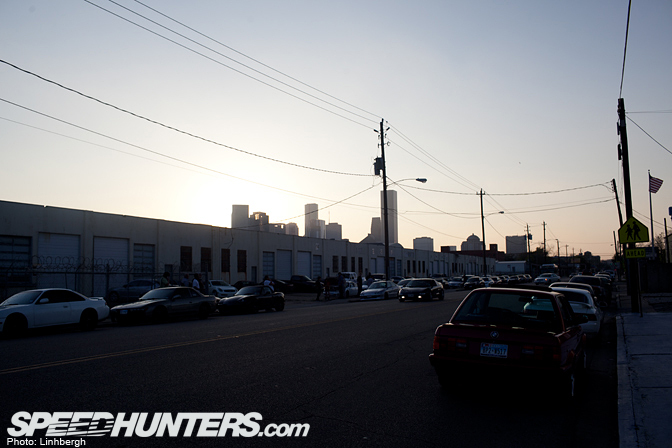 When we all watch or attend professional race events, no matter what discipline it is, concours or car shows, we tend to forget where it all started from: the streets. It was in the streets that almost every form of automotive event was born. Drifting started off in the mountain passes of Japan. NASCAR started from booze dealers, who modified their cars to leave pursuing policemen in the dust. Drag racing came into fruition when the street light signal was born. And car shows, like the Pebble Beach Concours, or Nisei show off, was seeded from the growing street meet scene.
The Mayday Garage Nostalgic JDM event broke the tried-and-true parking lot meet structure and took it back to the streets. It was something else to hear tuned cars blast down the street, or feel the level of energy every person exuded as they saw cool car after cool car pass by. It was Fast and Furious type of scene, but in a good way.
The street scene is very much alive, and thanks to guys like Mayday Garage, we get to see and experience it.
-Linhbergh
Speedhunters Houston 2011 Features