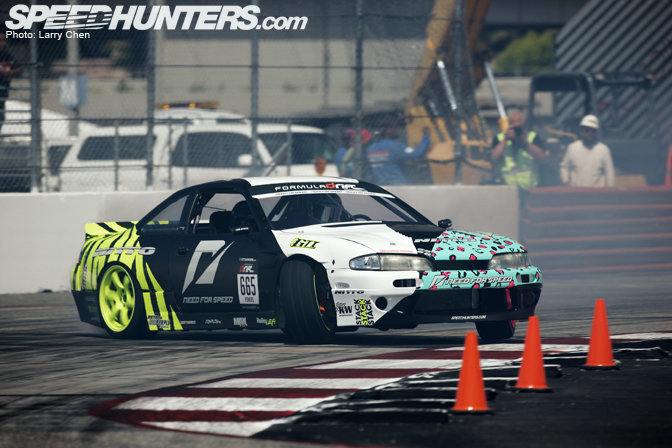 The action in Long Beach started a few days early. It was media day. A day for various media dignitaries be able to get up close and spend time with the cars, drivers, and maybe get a ride along or two. It was also time for the drivers get aquainted with their new or updated cars on the Long Beach circuit.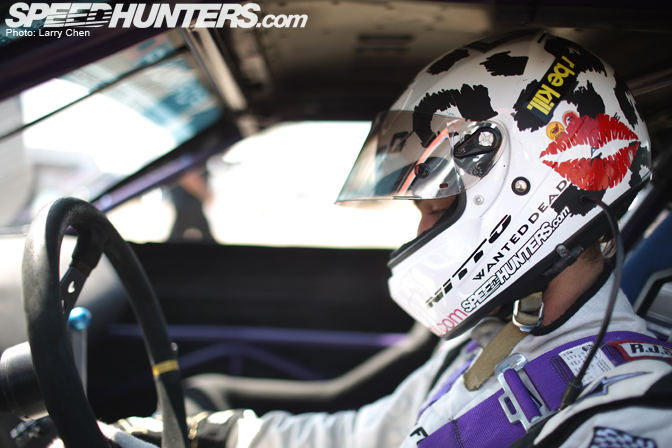 It's a new season for Team Need for Speed driver, Matt Powers. His S14 has a new LS7 powerplant, a new cheetah and zebra livery, a new Rocket Bunny body kit but the same driver behind the wheel.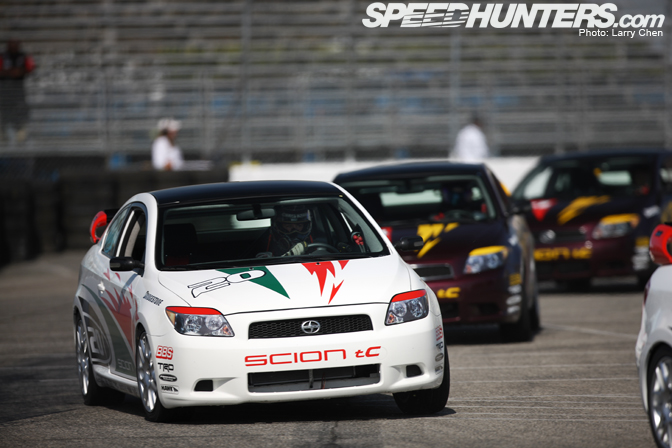 The Toyota Pro/Celebrity drivers were also out practicing while taking turns with Formula D for track time.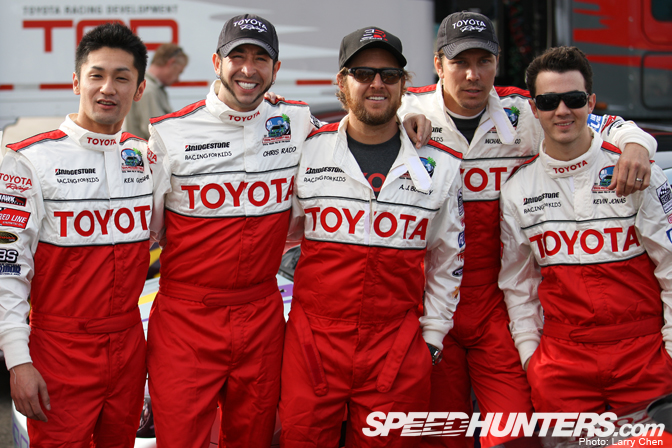 Drivers, Ken Gushi and Chris Rado pose with a few of their celebrity compatriots. Rado looks especially happy as he's in a photo with Jonas Brothers boy-band cutie, Kevin Jonas.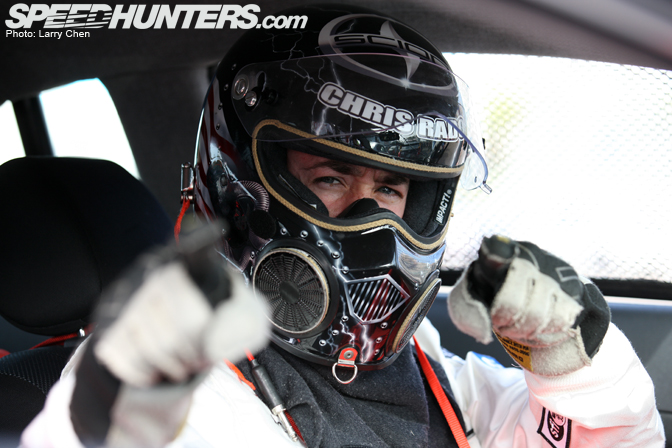 Chris Rado was pretty pumped to get out on track in his Scion tC…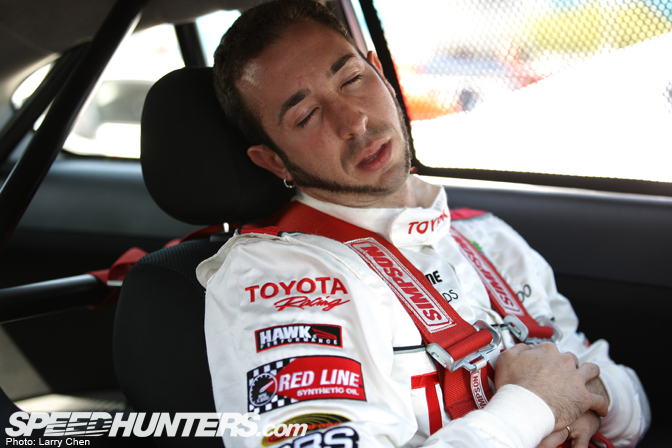 …but immediately fell asleep realizing that the Celebriy/Pro cars have less than 1/10th the horse power of his Team Need for Speed Time Attack tC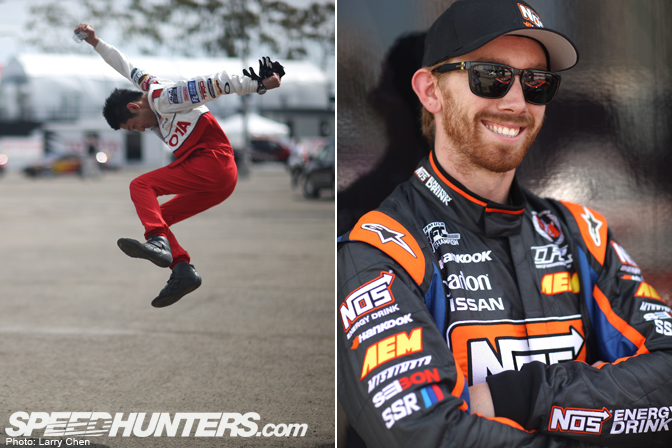 As the Celebrities were out on track practicing, Ken Gushi thought he'd take the time practice his mid-air hang time in preperation for Larry and his signature jump shots.
Chris Forsberg on the other hand, did not need any practice as he's got his super-star smile look down pat.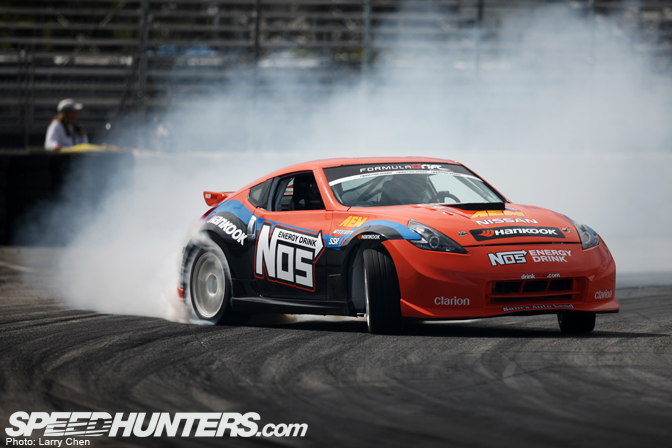 Here's Chris Forsberg's new smoke machine for the 2011 season: a Nissan 370z.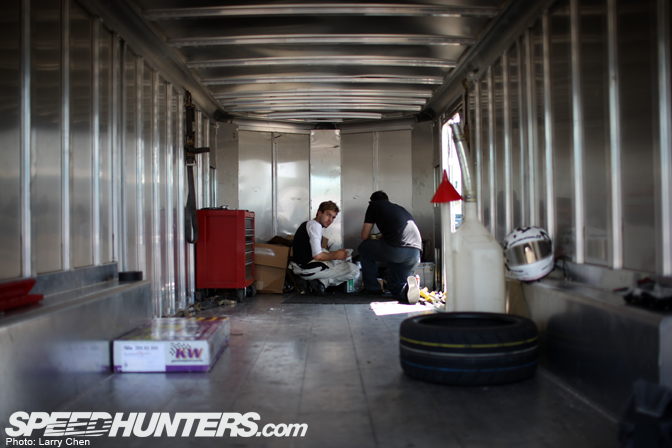 Back in the pits, Larry caught Matt in his trailer conferring with his crew chief, Costa Gialamas.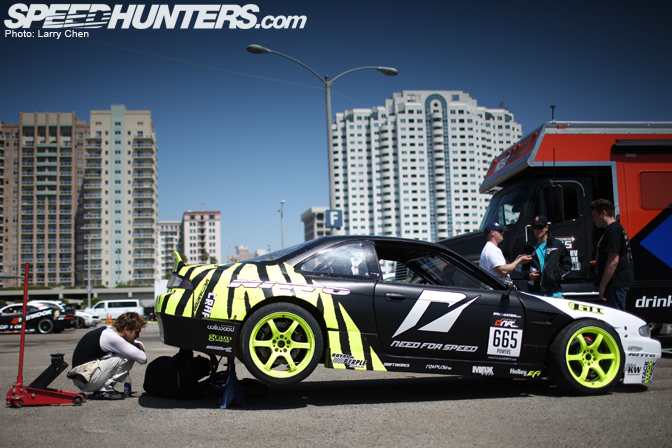 In 2010, Matt relentlessly worked and repaired on his car all season long. Now it's a new season and here's a glimpse of 2011 Matt trying his best at being just a driver as Costas worked on the diff.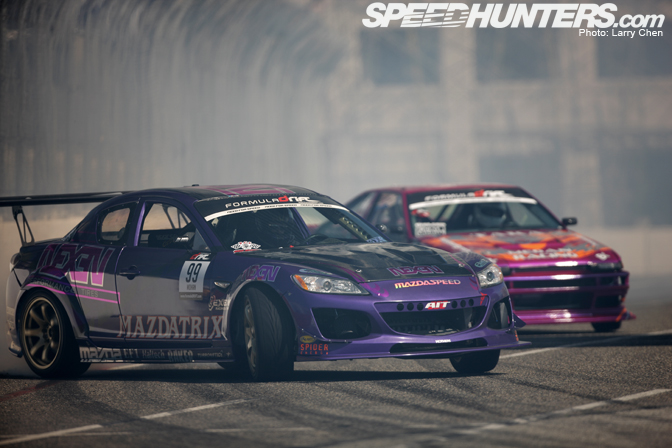 Even though it's the start of a new season, there were familiar faces and cars all around. Kyle Mohan is still in his purple Nexen Tire RX-8 and Taka Aono continues his career with Megan Racing…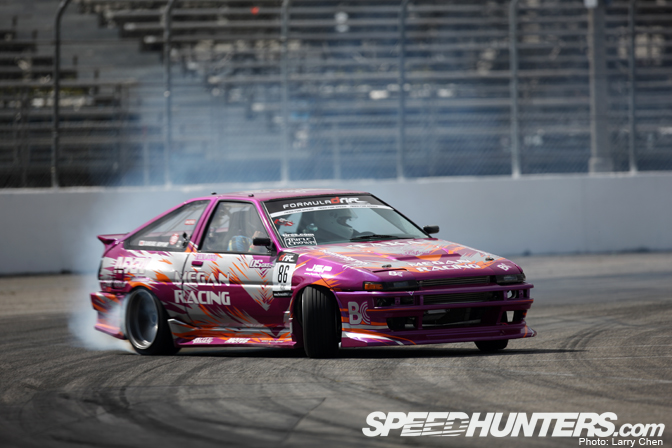 …but with much flashier livery than last year's.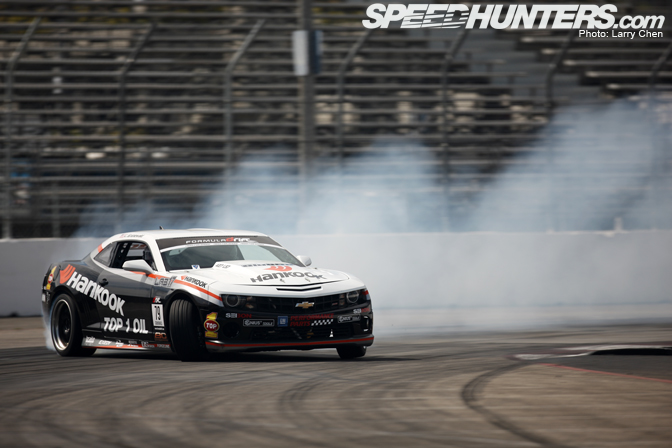 Speaking of refreshed liveries, Conrad Grunewald's Camaro sports an updated Hankook livery for the season.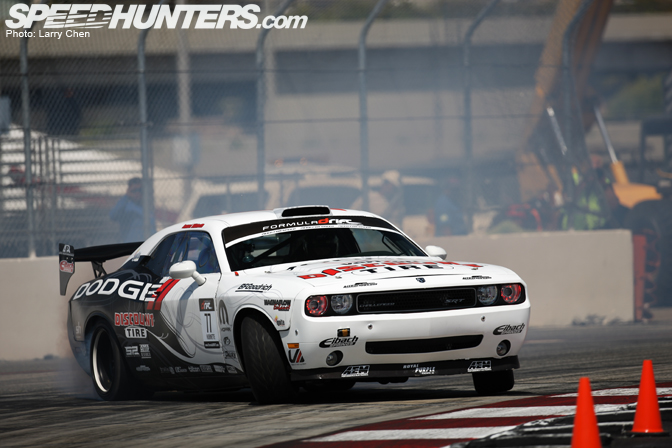 Sam Hubinette also updated the livery of his Dodge Challenger to a more black and white scheme. I do have to say that it looks much better than the red/black scheme of the previous year's.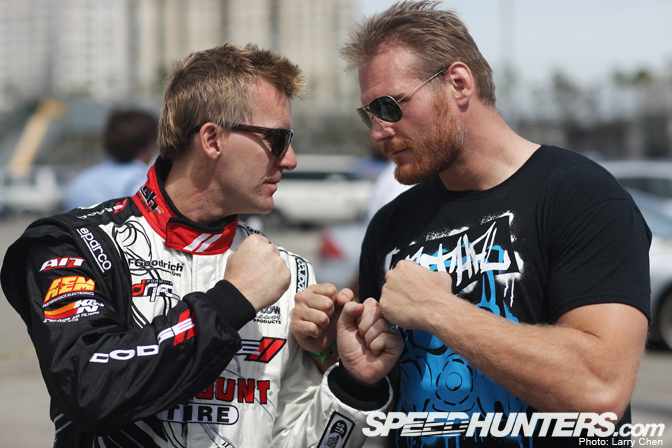 In the pits, Sam thought he had what it takes to take on a professional fighter.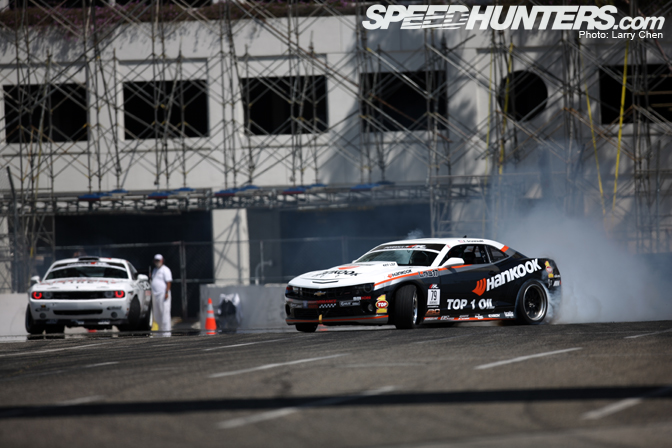 There's definitely a whole lot of V8 going on this year.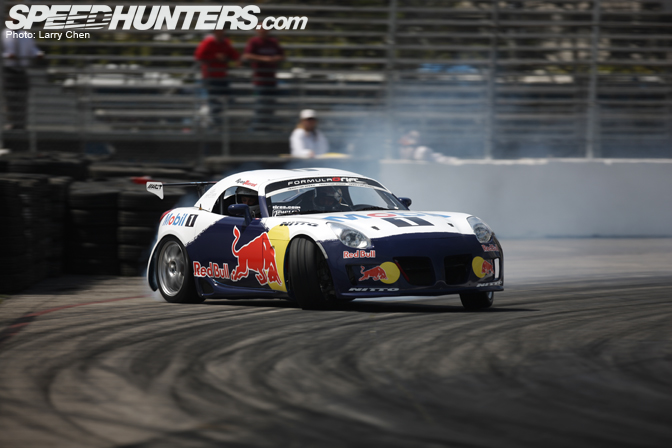 Ryan Tuerck's Soltice also saw an updated livery as it is now rocking Red Bull quite prominantly as well as Mobil 1.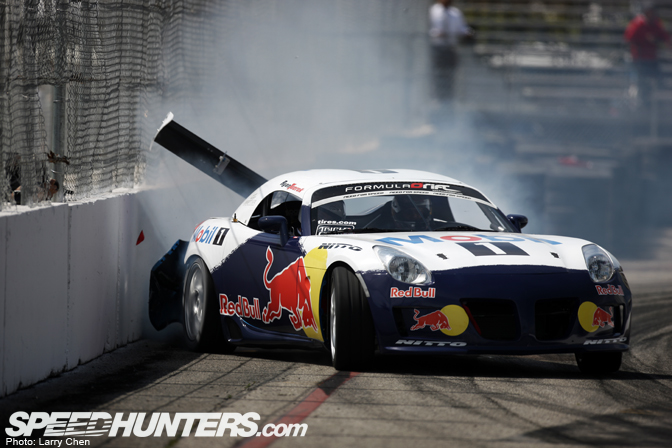 During one of the practice sessions, Ryan thought he'd update the livery a bit more by using a wall as a paint brush.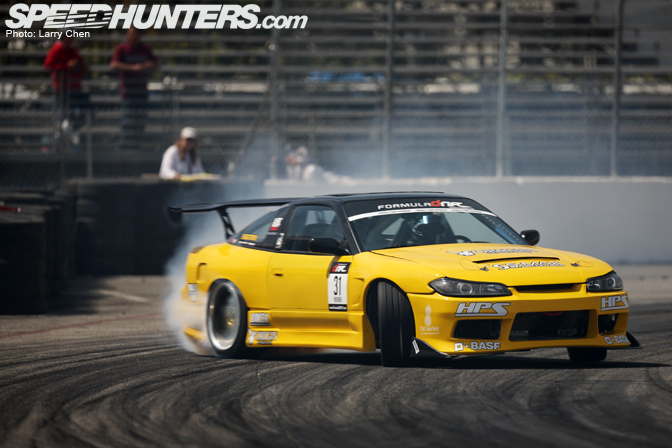 Robbie Nishida is in a new, yet old, car this year. He will be driving in Michihiro Takatori's old S13.5.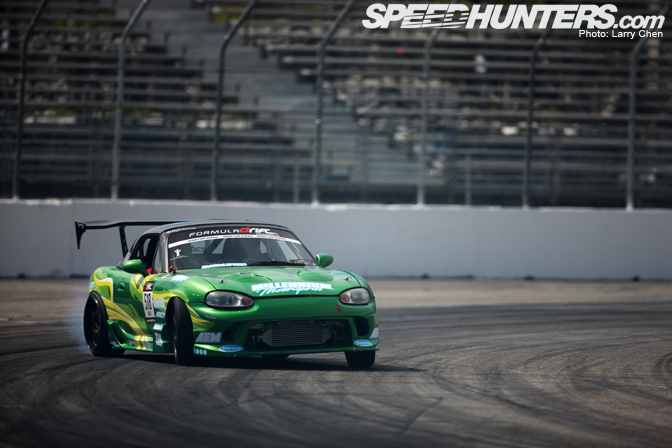 Everyone's favorite little roadster and everyone's favorite pumping-iron driver, Jeff Abbott, has gotten a refreshed look for the 2011 season: new livery, a giant GT wing. Larry and I both agree that the Miata looks even better than last year.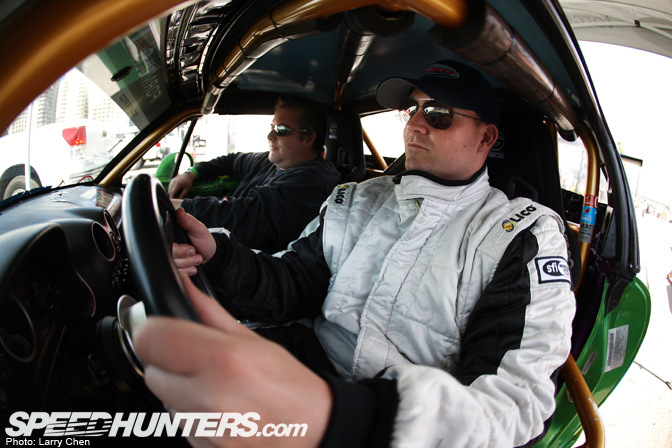 It was rather fun to see such grown men fit into such a small car.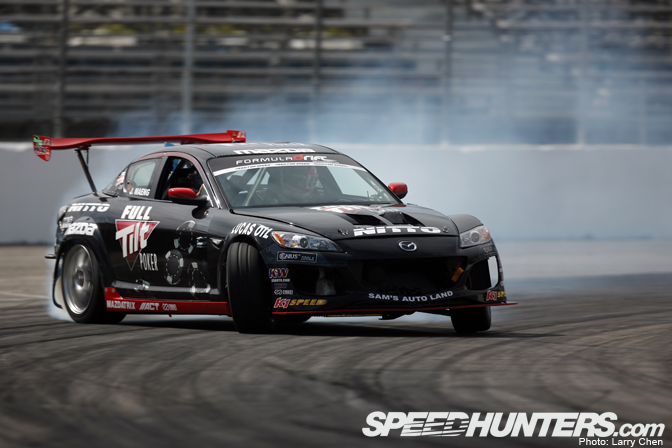 Joon Maeng was also out in his RX-8 which was sporting a new GT wing. The addition of the red accents help the car pop out so much more than last year's.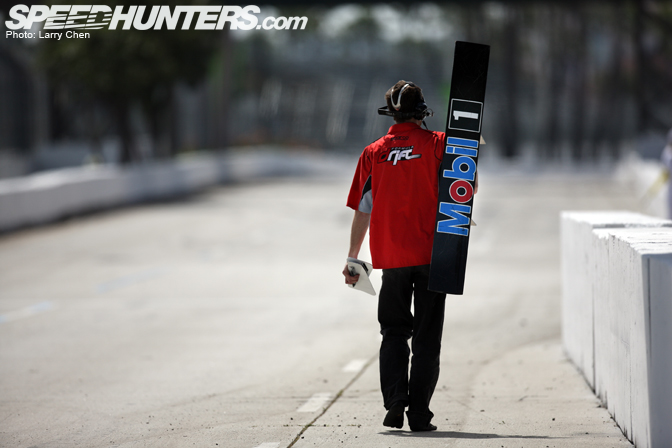 The Formula D season starts in just three days, are you ready?
-Linhbergh