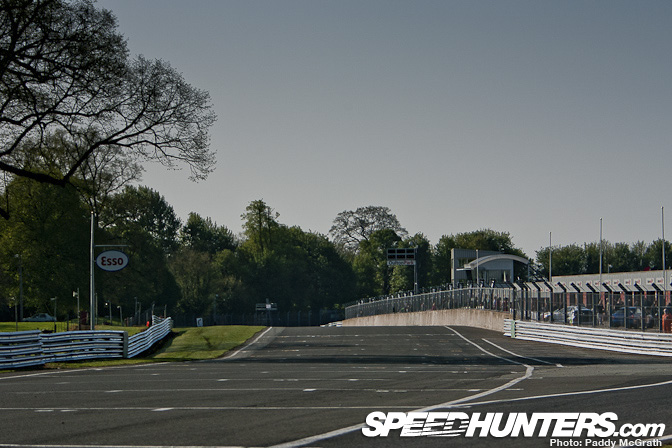 The first round of the UK Time Attack Series heralds the dawn of yet another season for this Speedhunter. The same event back in 2010 was my first assignment as a full time contributor to this site so I can hardly believe that twelve months have already past and what a twelve months they have been. 
For 2011 I'm going to slightly change how I cover these events. Rather than give an in-depth race report with lap times and split differences, I'm going to try and create a more digestible and accessible report. This is all in an attempt to help you familiarise you with the drivers and cars of this and other fantastic series'.  For part one of this particular event, I'm going to examine the club classes and take a look at the Pro and Club Pro in the next post.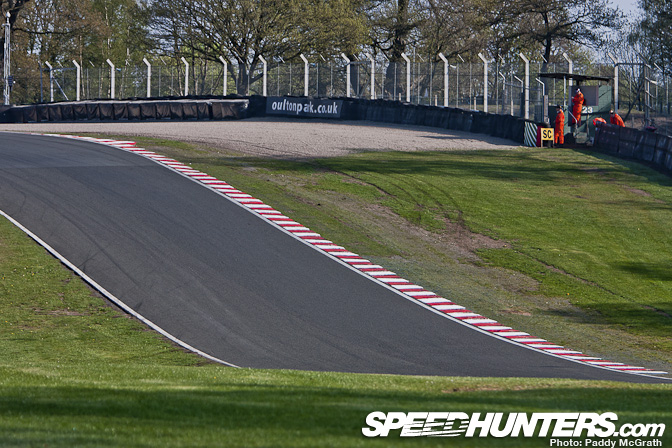 Like 2010, the season opener for Time Attack Series was held at Oulton Park in the United Kingdom, running as part of the Modified Live series of events.
Oulton Park is a track which on paper looks easy enough but the reality is quite different.  An undulating course, often with blind apexes and unsighted corner exits, along with exceptionally fast sections leading into tight chicanes, the track is a complete workout for both man and machine.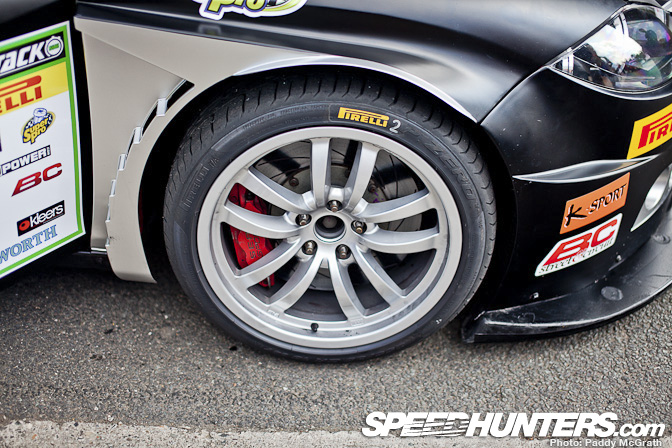 New to Time Attack Series in 2011 is the introduction of Pirelli as the series sponsor and provider of the control tyre for the championship.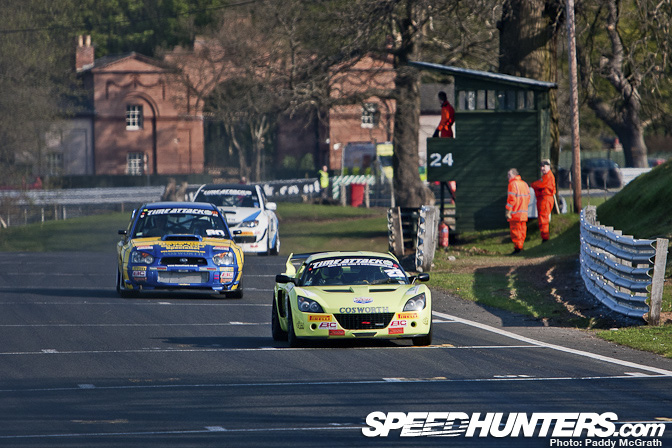 Like previous years, the event is split into four different sessions of warm up, practice, qualifying and finals with the Club classes taking to the track in the first in the morning.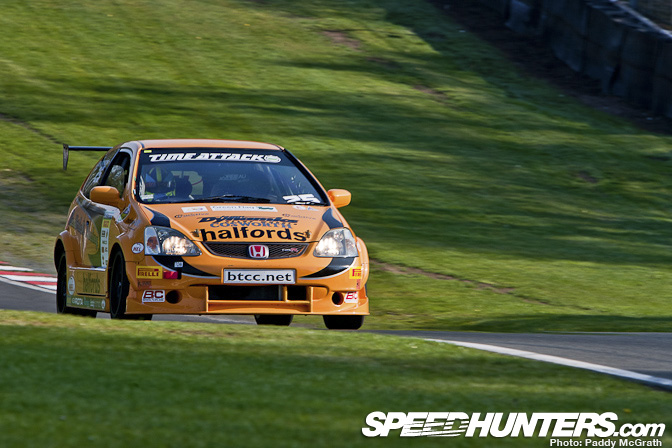 Setting up camp at Deer Leap on the start / finish straight allowed for a great view of the cars as they appeared over the 'leap' itself…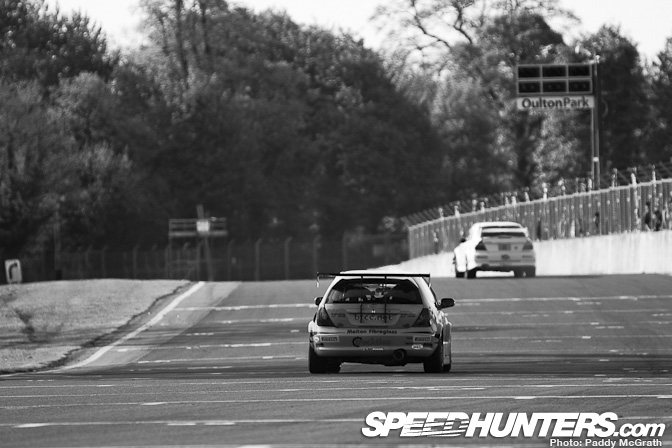 … before vanishing out of sight at the Old Hall corner.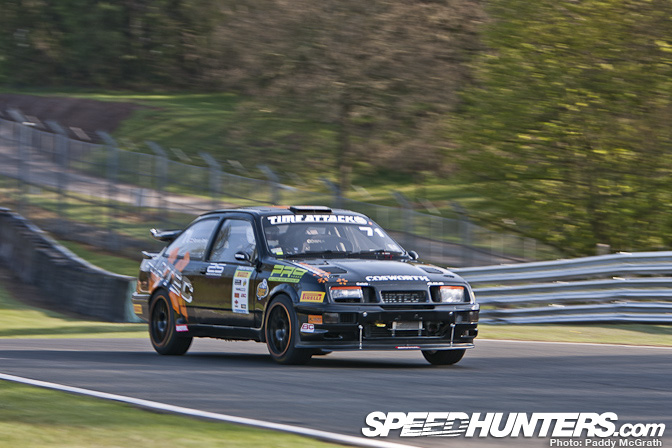 The ever so slight but yet distinct rise in engine revs as the cars accelerated over the crest was one of those guilty pleasures that any petrol head would appreciate.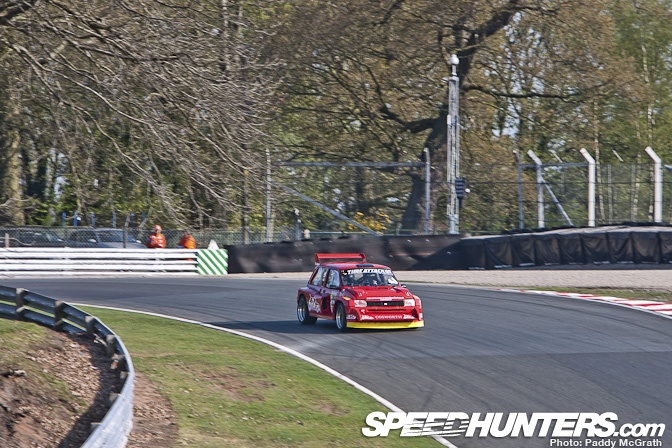 Not to be out done, Lodge Corner offered a symphony of downshifts, throttle blips and varied tones of engine over run as the cars braked hard before turning in and accelerating down hill.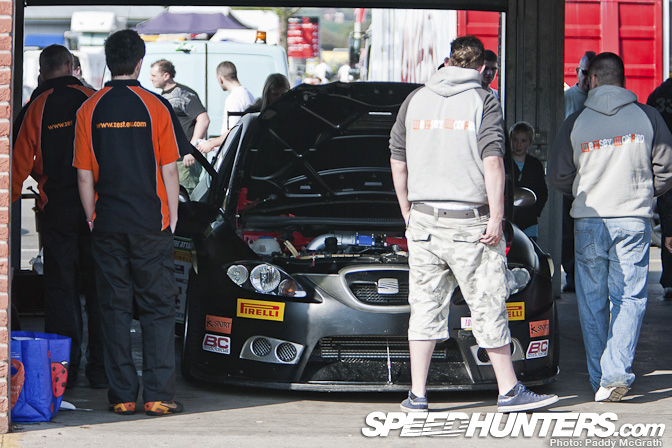 With the warm up session over, it was time to head back to the pits and survey the activity before the morning qualifying session started. I do believe that to be an ex-Works Seat touring car that has joined the ranks? I shall investigate this further …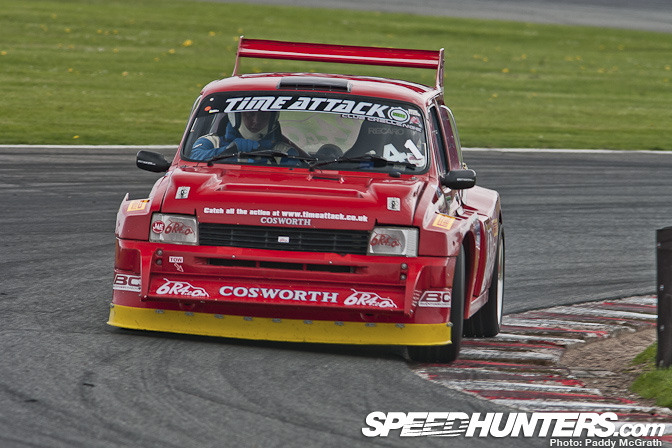 Let me introduce to you some of the Club class competitors who competed in the opening round. The MG Metro 6R4 of Mark Pollard was a bit of a fan favourite with you last year. I wonder how the car and driver will fair against more modern machinery ?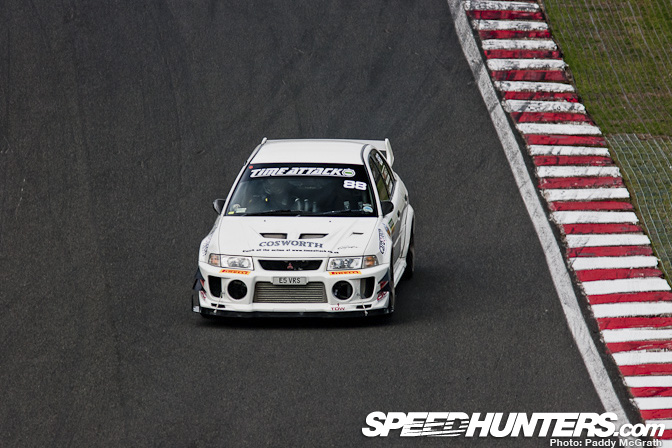 Just one of those competing against Pollard's 6R4 would be Andrew Barbour in his Lancer Evolution V RS.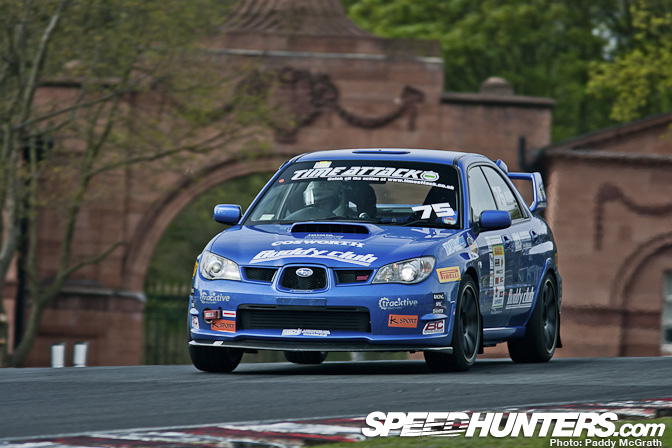 The Impreza Spec C of Lee Bullen was another of the modern four wheel drive machines that would be battling it out in the four wheel drive and forced induction sub-category of the Club Class.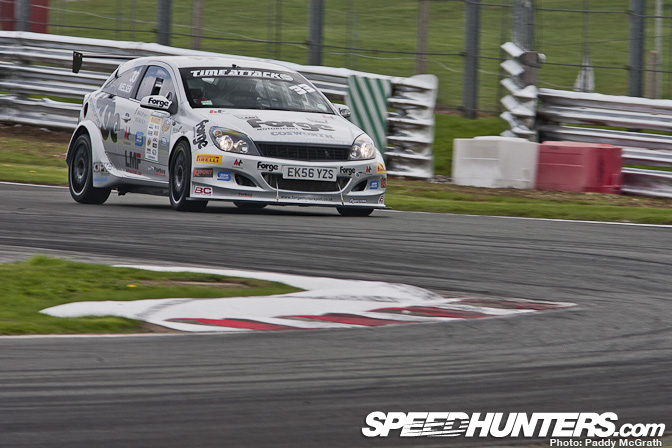 Some of you may remember Bo Nielsen's Astra VXR from last year. Bo has returned again for 2011 but with a much more aggressive aero package and I'm sure a few fresh modifications and improvements elsewhere.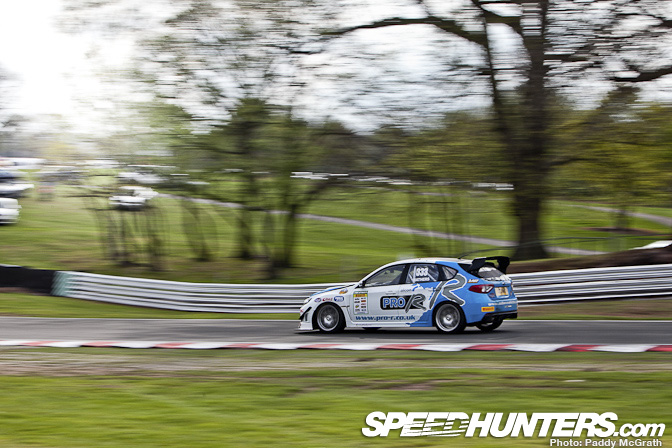 A new car to the grid for 2011 was Jon Mather's Pro R backed Impreza STi. I'm personally so glad to see one of these cars competing as they are such an underrated looking car.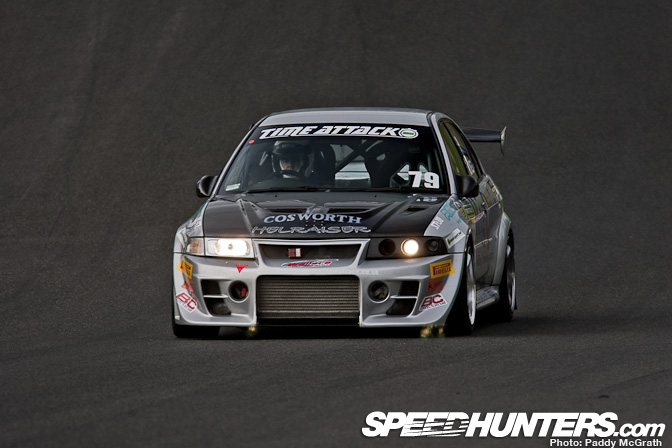 The number #79 Lancer Evolution VI of Eric Holmes was on full tilt all afternoon providing some spectacular on the limit laps.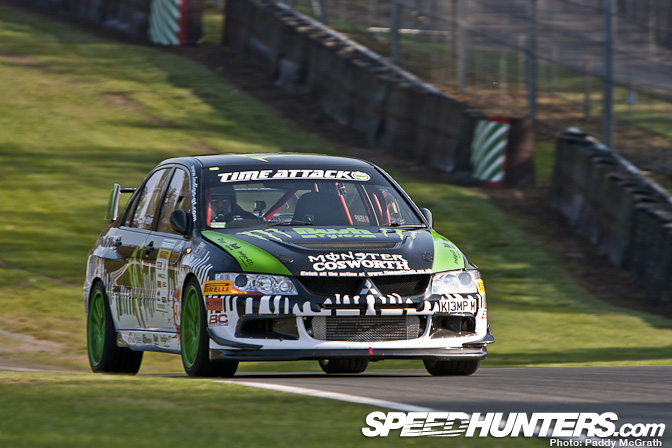 Marc Kemp's Monster Energy sponsored Lancer Evolution VIII was going strong until he ran into problems during qualifying.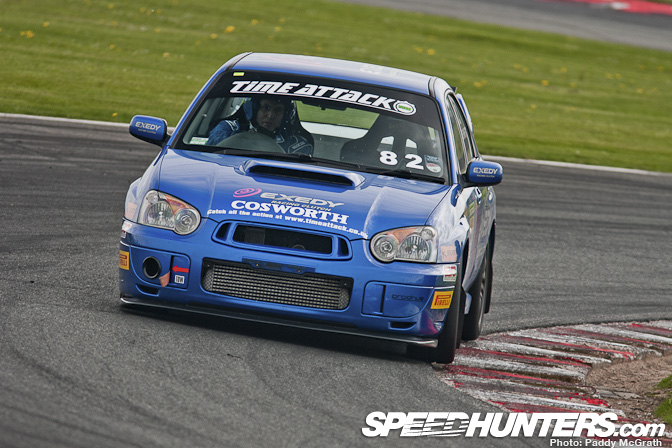 Another Impreza, this time in the hands of Chris Bennett. Also, is that a tax disc in the window !?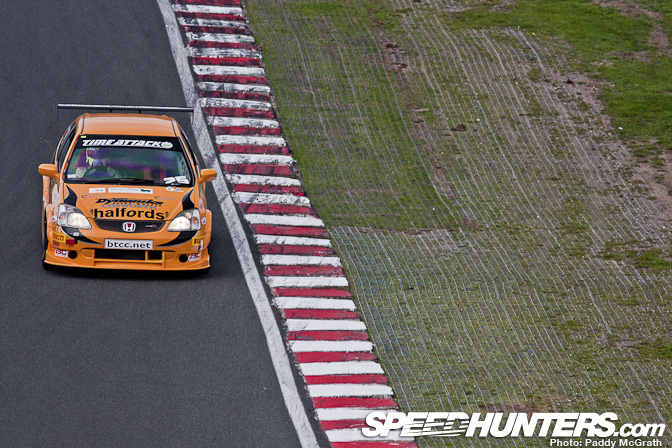 The former BTCC EP3 Civic in the capable hands of Charlie Butler-Henderson for another season.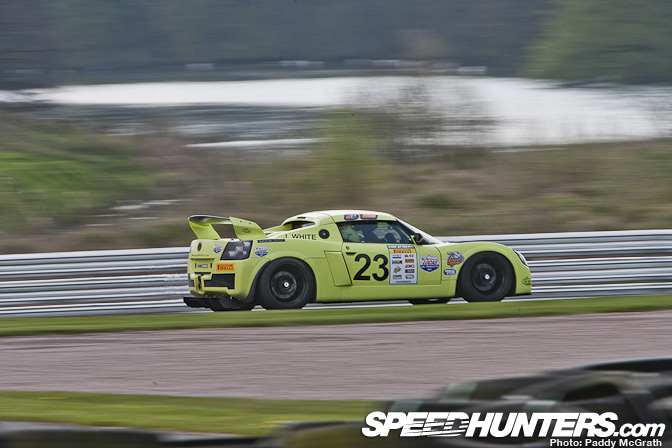 Moving out towards Lakeside (actually setting up on the outside of Cascades) allowed for a great view of the cars as they vanished out into the countryside. Pictured above is Jimmy White in his Vauxhall VX220.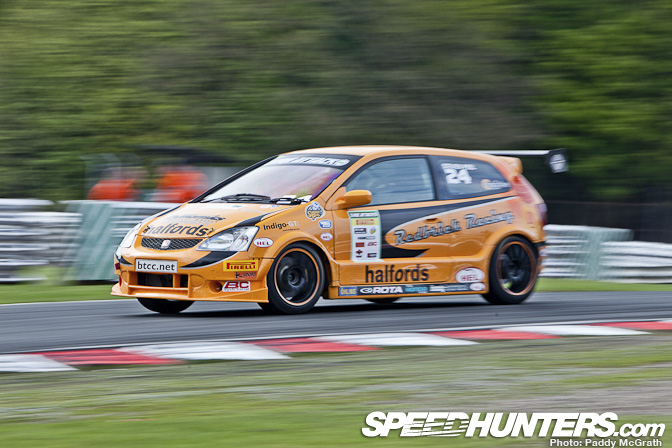 Another former BTCC Civic EP3, this one in the hands of Steve Peel. Both of the former BTCC Civics are now being run by Redbrick Racing.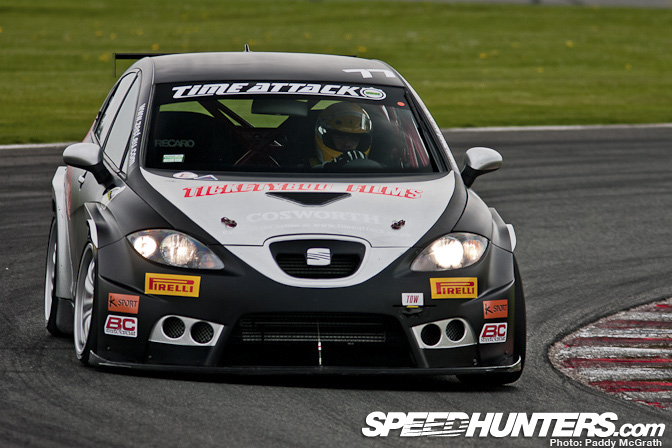 It was Gerry Atkinson piloting the Seat Leon Supercopa. Although left hand drive and sharing similar looks with it's touring car brethren, the Supercopa is petrol powered and normally aspirated. I'll do some more digging once I get back on dry land.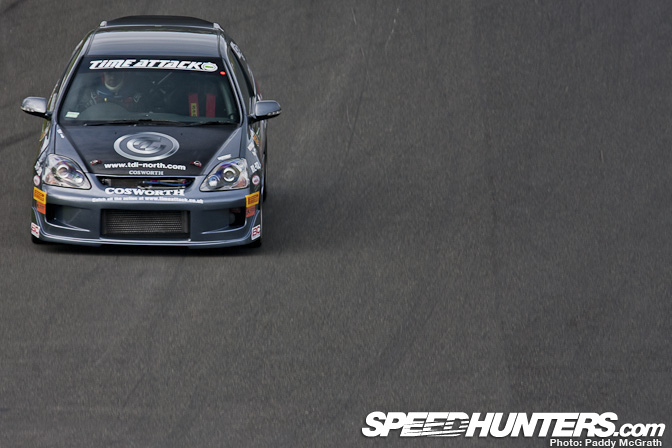 I've no idea how it handled but the turbocharged EP3 Civic of David Thorpe was violently quick on the straights.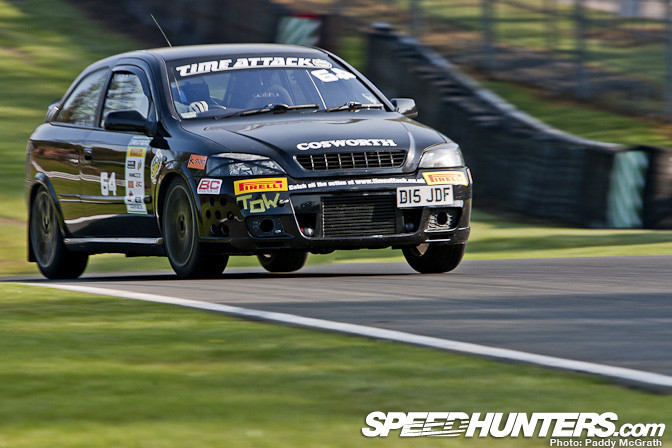 Another car which fell under the category of 'not slow' on the straight at least was Jonathan Fletcher's turbocharged Vauxhall Astra GSI.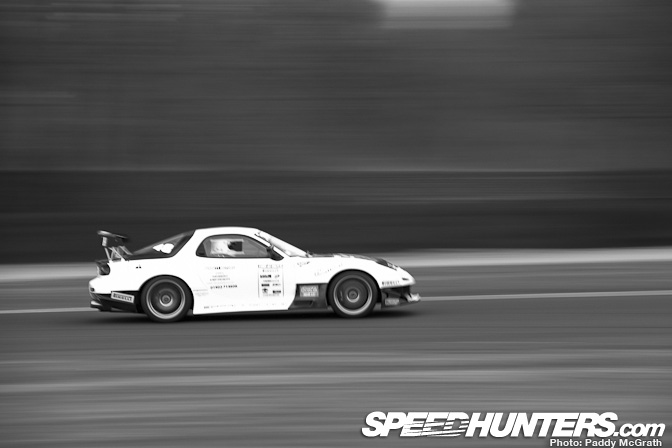 Returning from 2010 was Umar Masood and his FD RX7…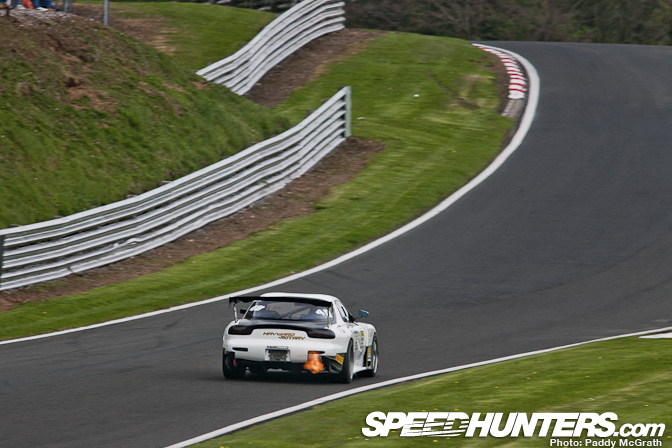 … or should I say his flame throwing FD RX7.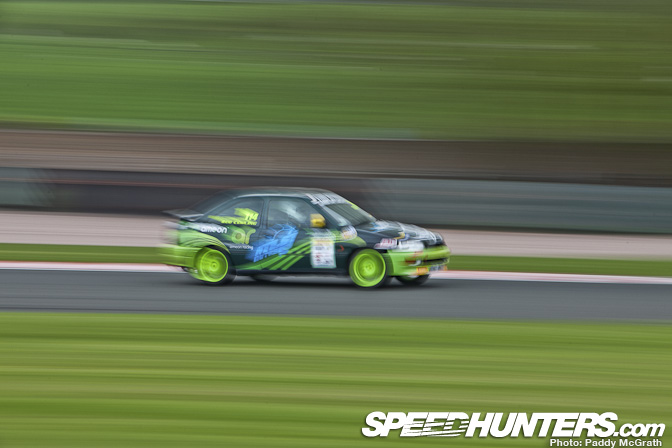 Rob Cowling's Lancer Evolution wasn't ready for the first round so he went and bought this Ford Escort for £600.  He also made good practice for some 1/5th of a second pans.
Antonio Giovinazzo was improving al day long in this 155 Alfa Romeo.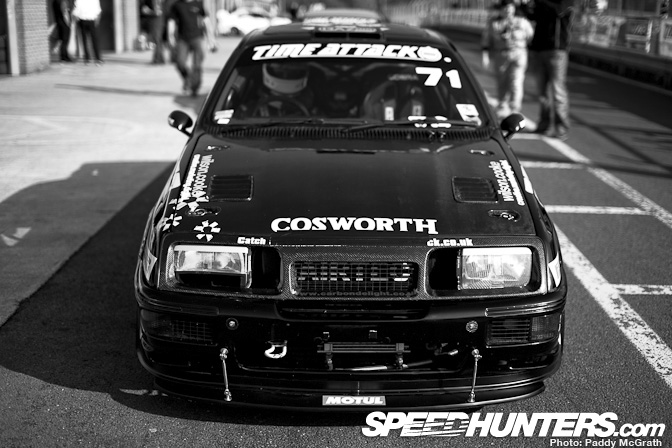 Ronnie Amis's day was plagued with gremlins but he struggled on regardless. 
Now onto the Club class results. I'm going to list the overall top four finishers in reverse order according to the circuit's timing sheets and then list where they finished in their respective sub-category. I'll include a link at the bottom for the timing sheets so you can take a closer look at the timings should you wish. In fourth place overall …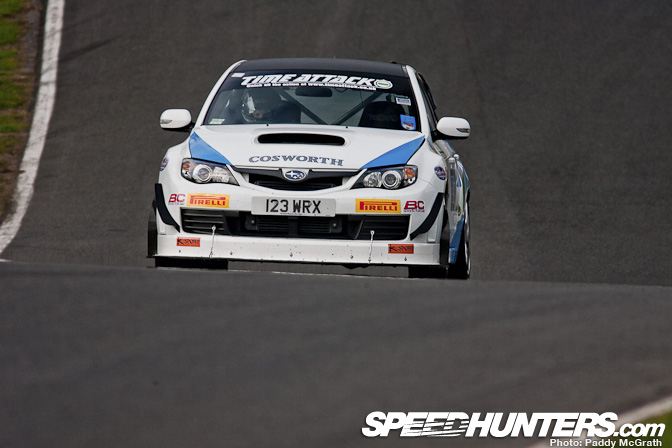 … Jon Mathers and his Impreza STi. Jon would also take third in class 4FI (4WD Forced Induction)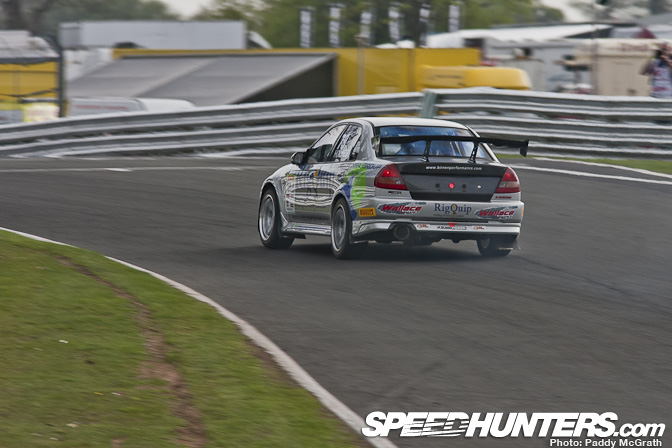 Third overall and second in 4FI was Eric Holmes in the Lancer Evolution VI.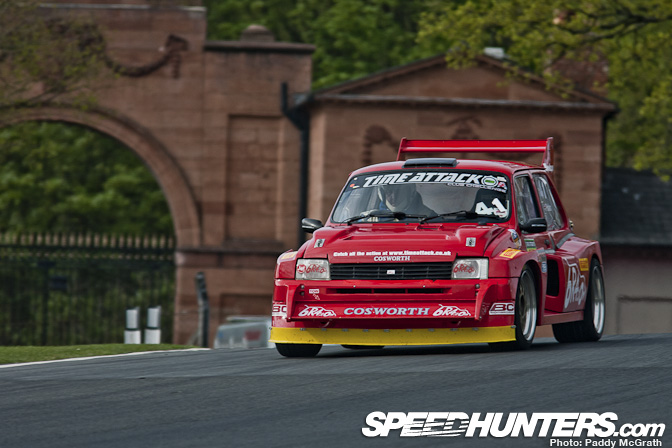 Despite qualifying first, Mark Pollard could not hold off the eventual winner. Second place overall in Club was his reward and first in his class 4NA.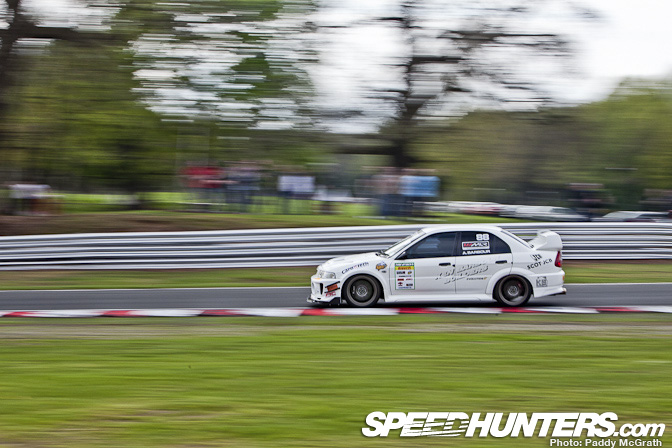 Taking the round one win in Club class and in 4FI, Andrew Barbour had the perfect start to the season. Improving his qualifying time by seven tenths was enough for him to take the win.
That concludes our coverage of the Club classes of Time Attack Series at Oulton Park, next up is the Pro & Club Pro classes along with an overview of the Modified Live show itself later in the week.
-
Paddy McGrath
Timing Sheets Courtesy of TSL Timing Solutions