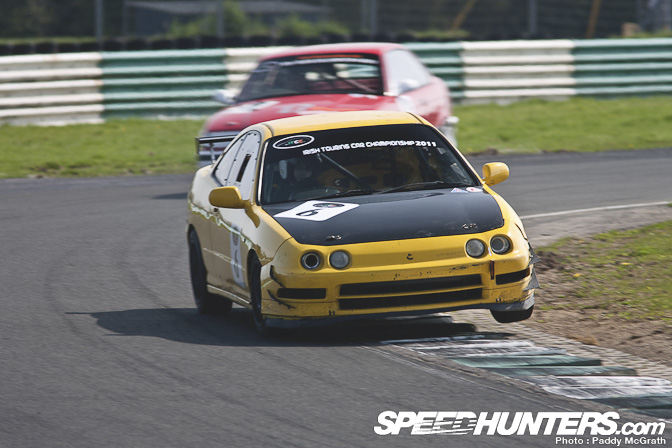 Founded in 2010, the Irish Touring Car Championship has just entered its second year of competition. Founded by veteran racers Philip Burdock, Barry Rabbitt and Brian Sexton, the series was created to help get Irish saloon car racing back on its feet. Since its inception, the series has become hugely popular with those looking to get involved in motor racing on a budget.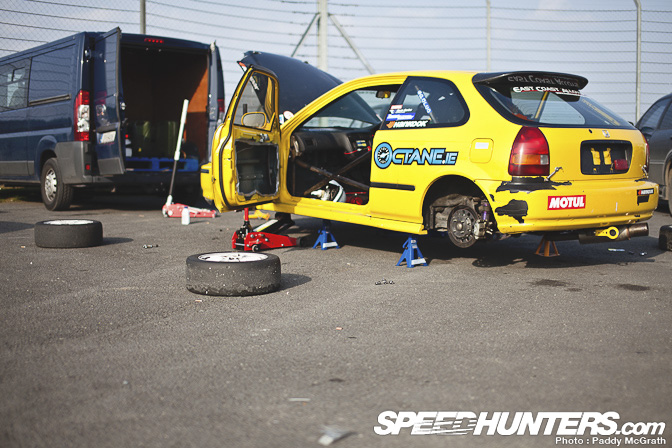 The series is split into two main classes : Touring and Super Touring. Rather than divide the classes by power / weight / engine capacity, the classes are decided by driver skill level. This is enforced by a minimum lap time which if you exceed it by a certain margin, you can be either bumped up to the next class or penalised.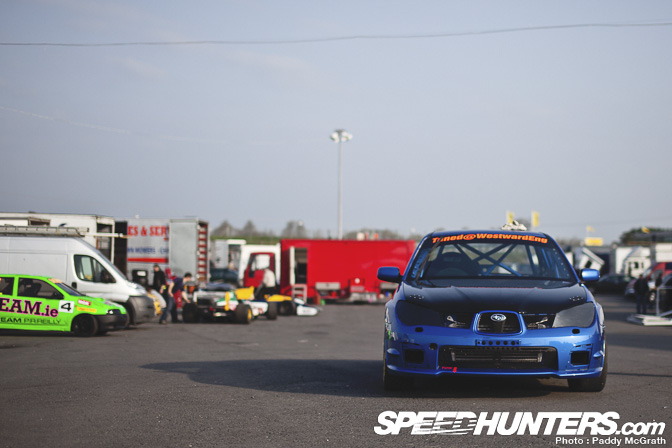 The regulations are pretty open with the main points being two wheel drive only and a maximum tyre width depending on the weight of your vehicle. For example, that is a competition ready rear wheel drive Impreza pictured above.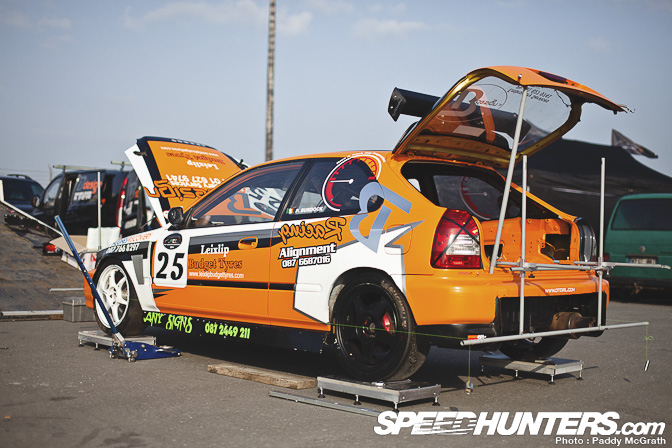 The series is obviously still quite young but even though it is only in its second season, everyone is taking things very, very seriously.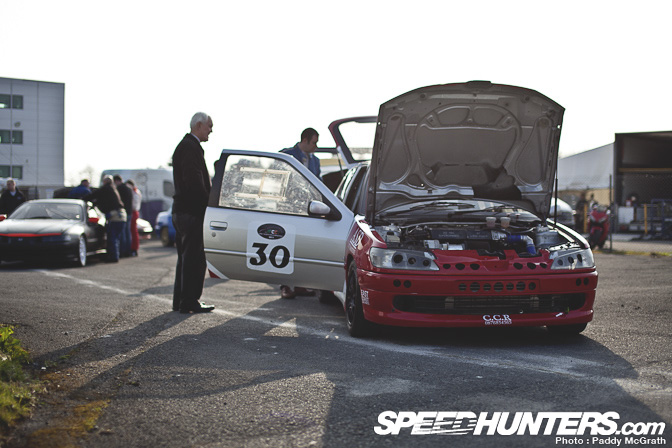 The amount of different marques competing is something else. You can have everything from Peugeots to Hondas, Subarus to Nissans, Minis to BMWs and Fords to Volkswagens battling it out in each race.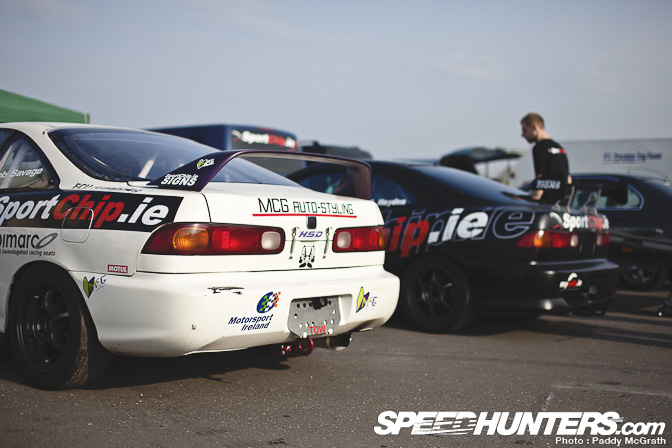 Although it has to be said that the most predominant make present it that of the big H.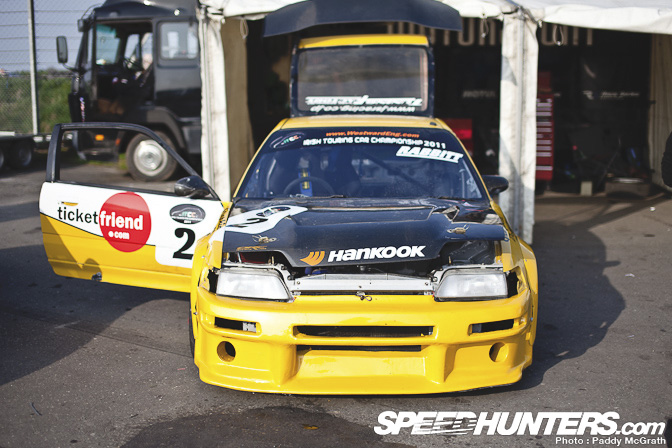 Some of you may recognise this car as the former J's Racing Honda CRX. It's great to see the car is still getting used even its retirement from Japan.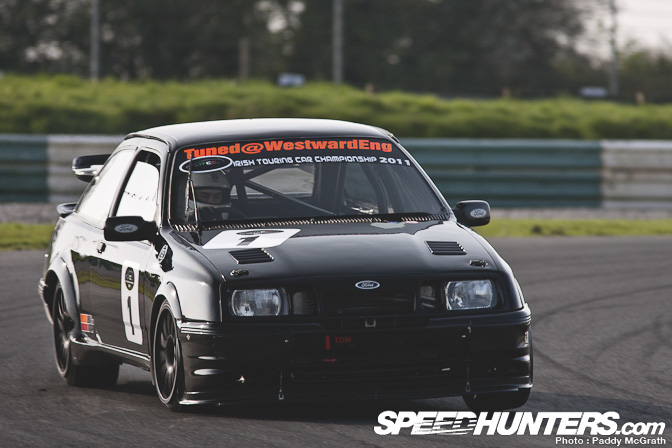 The day is divided up with separate qualifying sessions and two races for either class during the same day. Rocking the prestigious number one for 2011 is 2010 champion Martin Treacy in his fabulous Westward Engineering prepared Ford Sierra Cosworth RS500.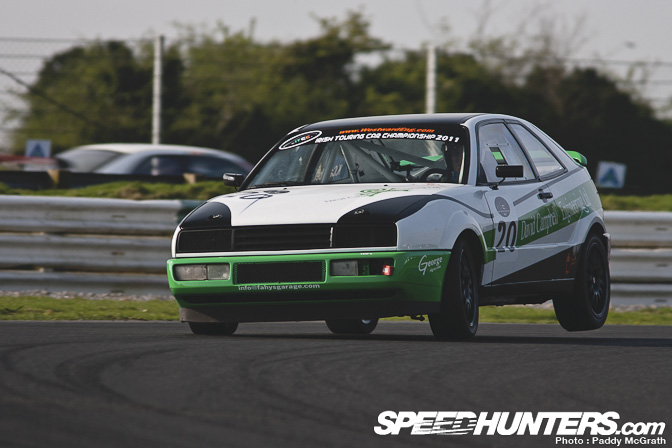 I know some of you guys are big Corrado fans so you might appreciate Keith Campbell's example cocking a wheel entering Mazda corner.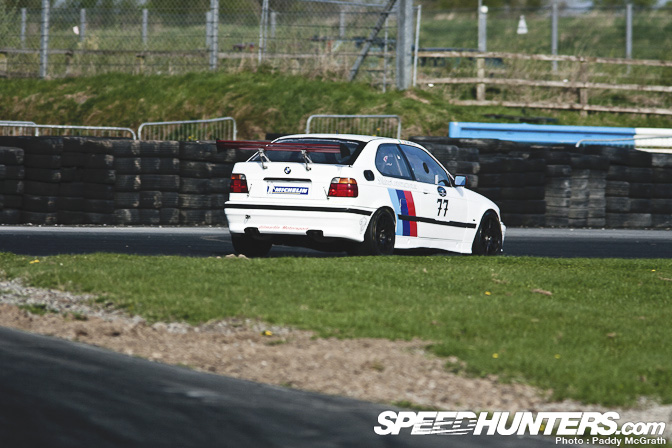 The four exhausts might be a clue to what is hiding underneath the hood of this E36 compact. Engine swaps are allowed in ITCC so this E36 is running an E46 M3 engine.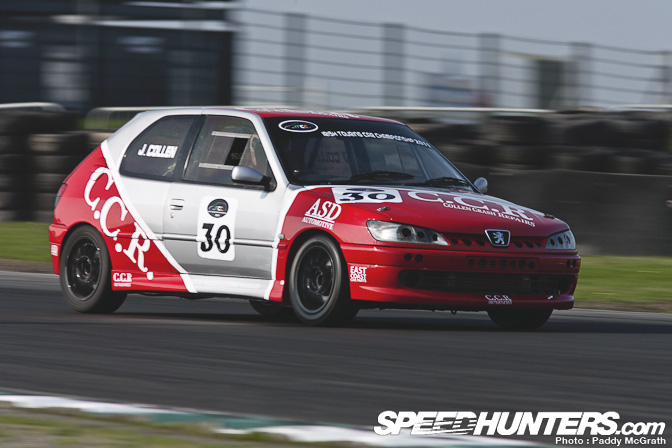 The much over looked Peugeot 306 GTi-6 is a popular car amongst competitors.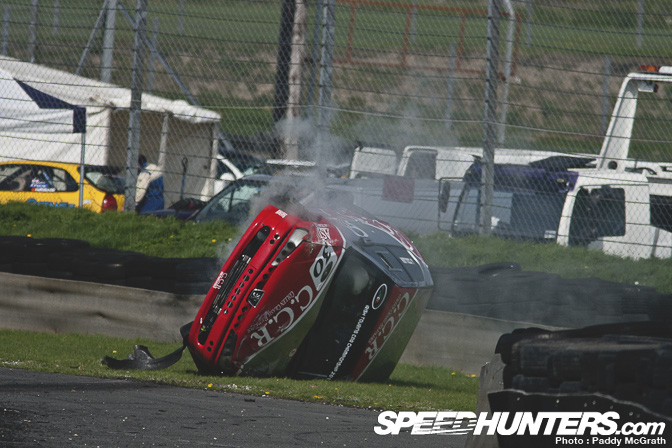 Unfortunately for this car, it retired from race one in the Touring class in a pretty spectacular fashion. By apexing too aggressively / deep, the car clipped the high kerb and was flipped over onto its roof before sliding to a stop on its side. Thankfully the driver was unhurt and I'm sure he'll be back to fight another day.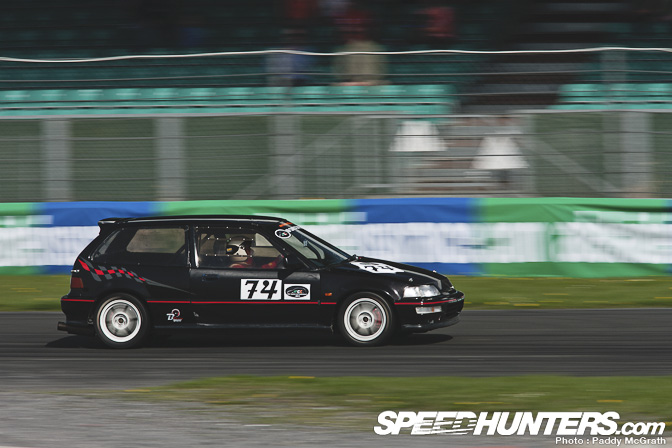 Brian Fitzpatrick captured the 306's tumble on his in-car camera, mounted on-board his rather rapid EF Honda Civic. You can watch the clip here.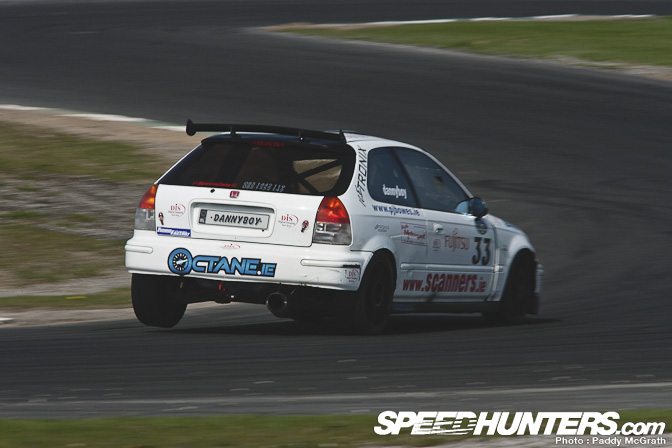 Quite a few of the EK chassis Civic are running 1.8 litre engines from what I can only speculate as being the B18C engine from the DC2 Integra Type R. Quite a potent package for not a lot of money.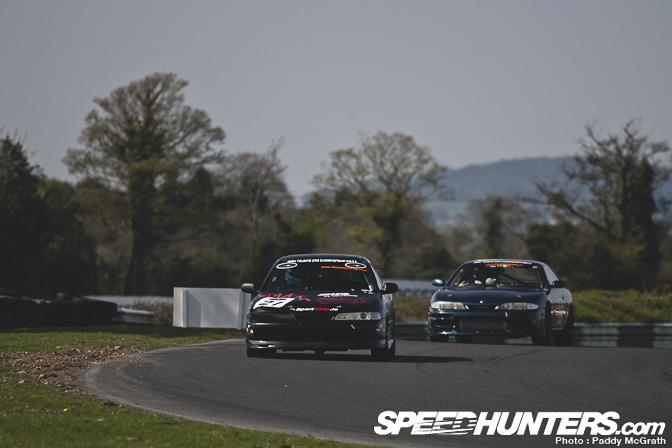 An Integra leads from an S14 Silvia with the Honda taking eventual victory in the first Touring class race.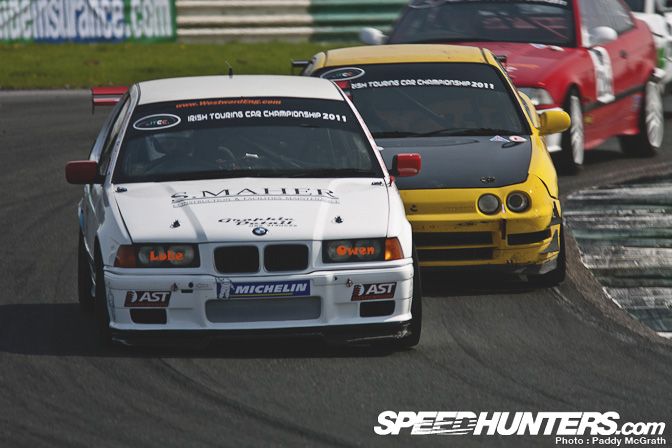 But the real moment of the morning's races came from the Super Touring class.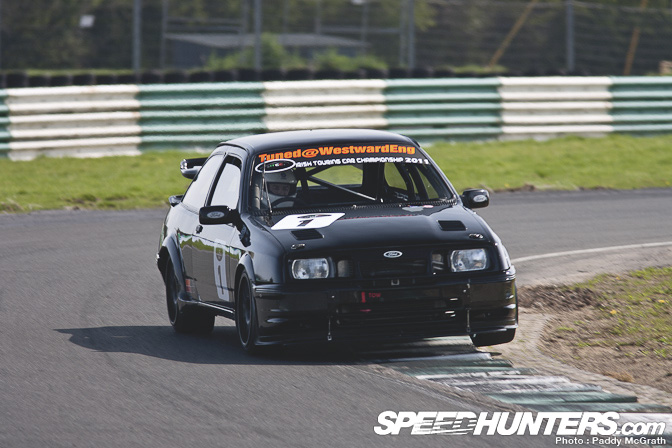 Having qualified second, Treacy fluffed the start of race one and was relegated to the back of the pack. From the moment he first passed my position I knew he was on an all or nothing pace.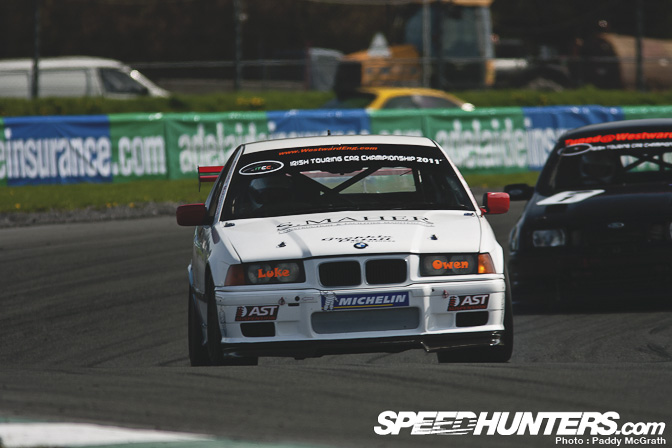 Cutting through the grid he eventually got passed third placed Stephen Maher's E46 M3 engined compact …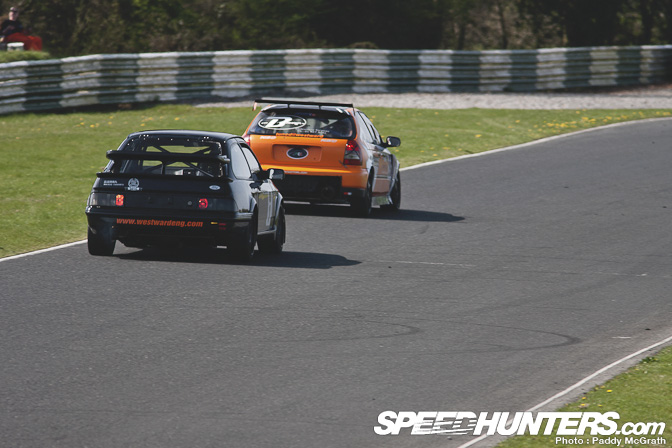 … before moving up to second place by overtaking the K20 powered EK Civic of Philip Burdock.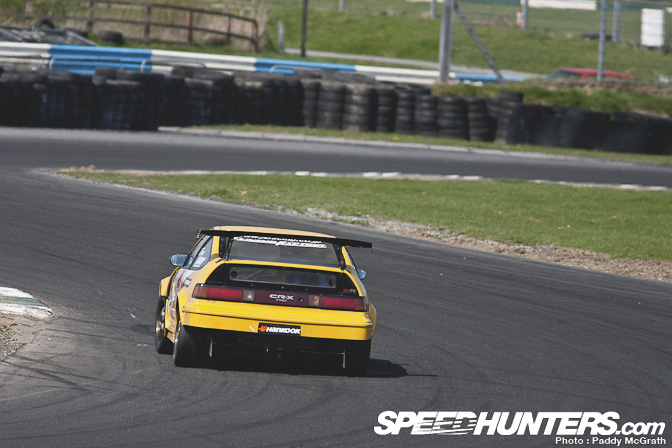 That was as far as the Cosworth would get in race one as the former J's Racing CRX of Barry Rabbitt was long gone into the distance. The afternoon races however would contain even bigger battles, more surprises and another unfortunate off. Check back later for part two of our ITCC opening round coverage.
-
Paddy McGrath