I arrived back into Vancouver a few hours ago and although I'm truly exhausted, I'm still on a high from an exciting weekend in LA. FD Long Beach had it all: unpredictable weather, new cars, intense battles and a full house in the grandstands.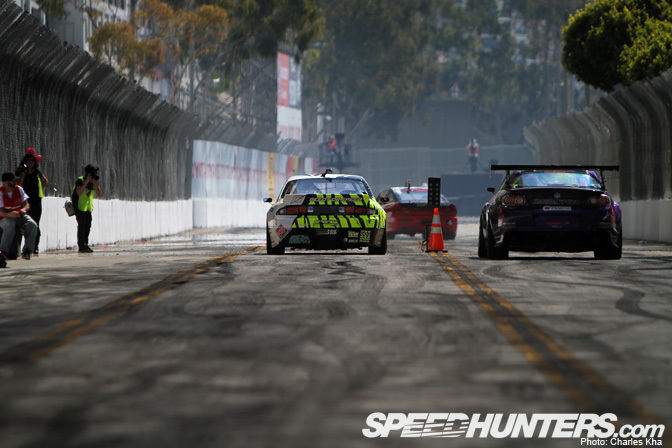 Saturday morning was a chance for the Top 32 drivers to squeeze in some last minute practice…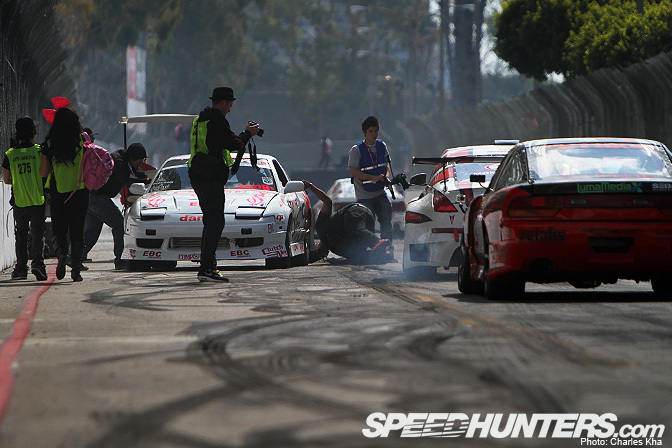 …And to flush out any gremlins that had found their way into the cars during the off-season.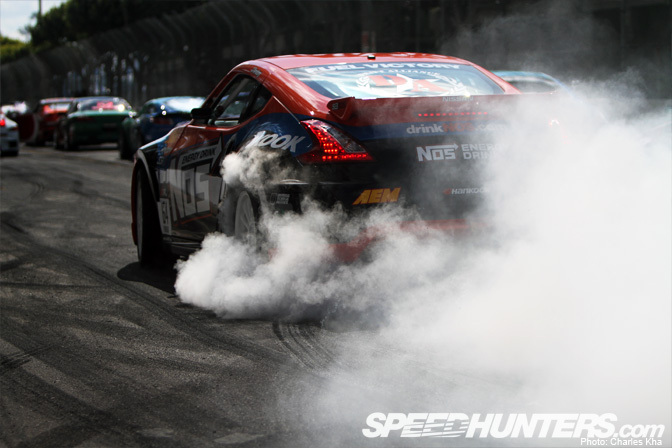 Chris Forsberg getting some temperature into his rear tyres.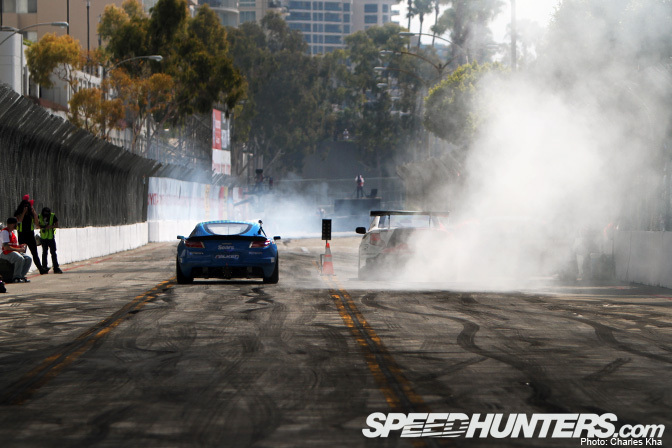 Fredric Aasbo was looking stronger with each run as the team worked to dial in the TNFS Scion tC. Here he is lining up against D-Mac in practice.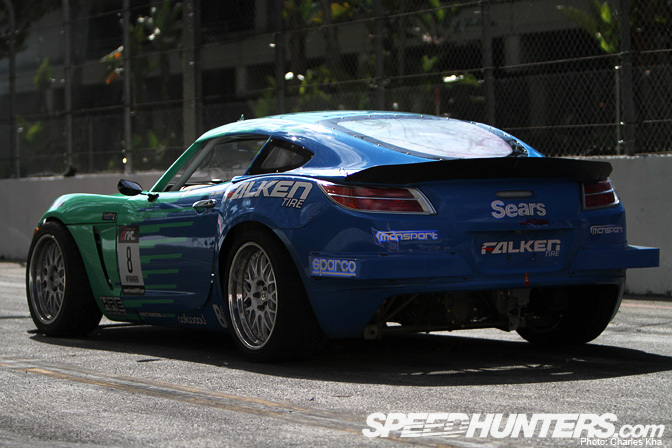 This year Darren McNamara has ditched the open top in favour of a hard top Sky.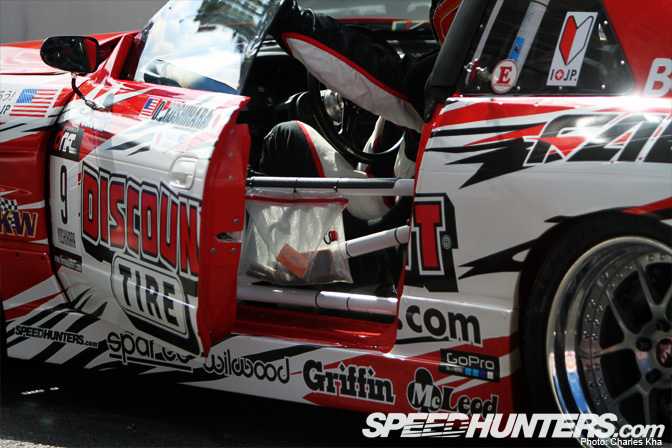 What to do with your personal belongings while drifting? Dai had this net hanging off the 'cage.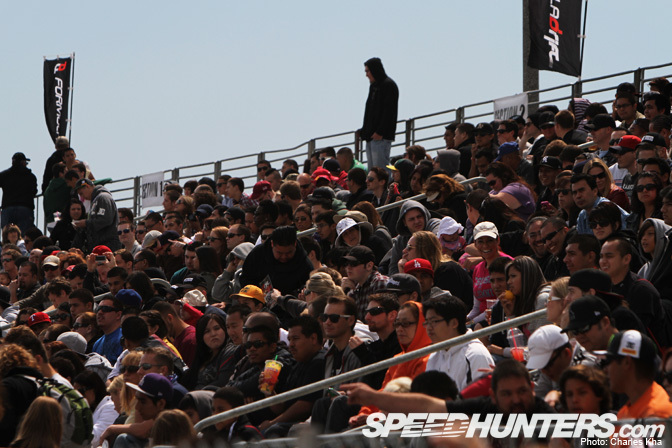 It was literally a sell-out crowd at Long Beach. The rain held off on Saturday, and all of the grandstands were brimming with fans.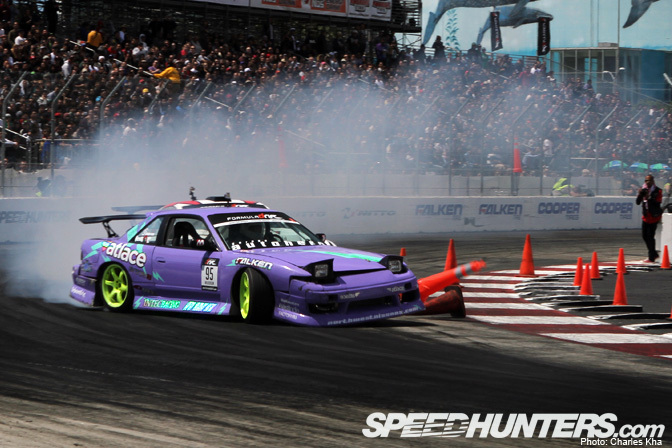 In the Top 32 battles, Walker Wilkerson went toe to toe with FD newcomer Otto Graven, a well-known drifter from South Africa. Walker glanced the Turn 11 clipping point, claiming his front bar…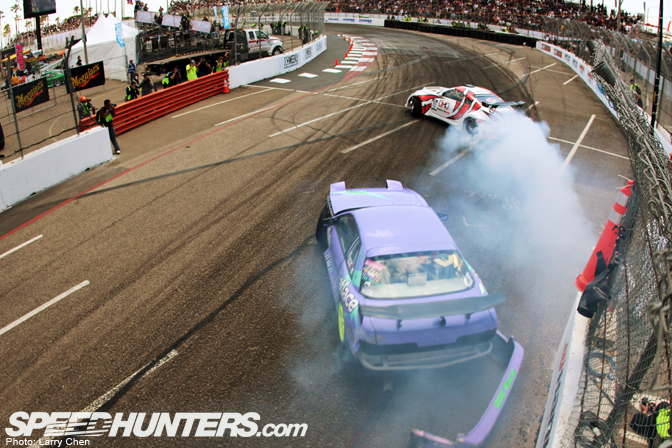 …With his S13's rear bar following suit in the subsequent run. Graven also hit the rear of his Z33 quite heavily on this run, with Wilkerson progressing through to the Top 16.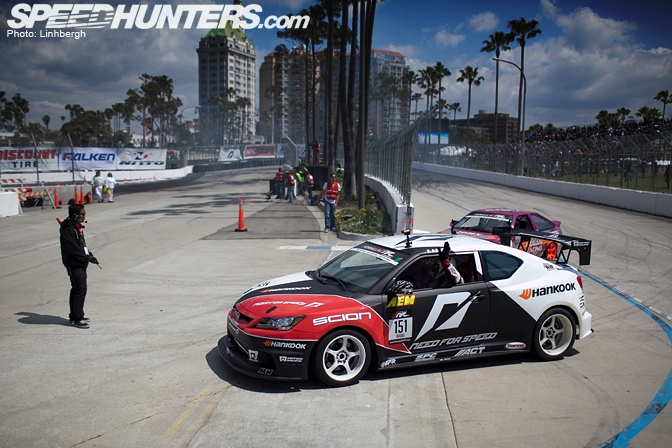 Fredric Aasbo had a close run with hard charging John Russakoff, requiring an OMT rematch before Aasbo was given the win.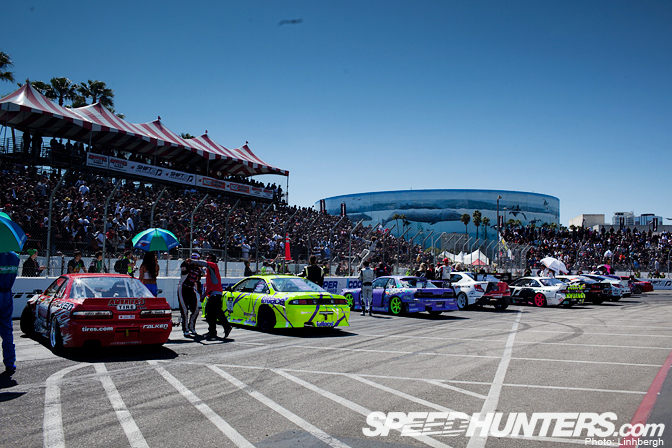 The Top 16 opening ceremony had the crowds flocking to the grandstands. If you squint you can see Matt Powers hanging off the fence.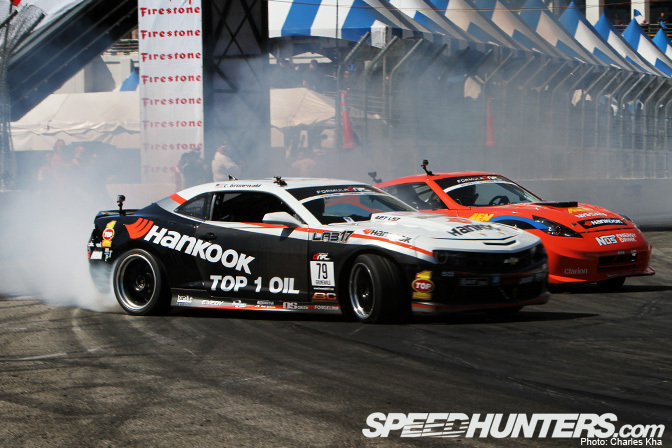 Top qualifier Conrad Grunewald went up against Hankook teammate Chris Forsberg in the first Top 16 battle.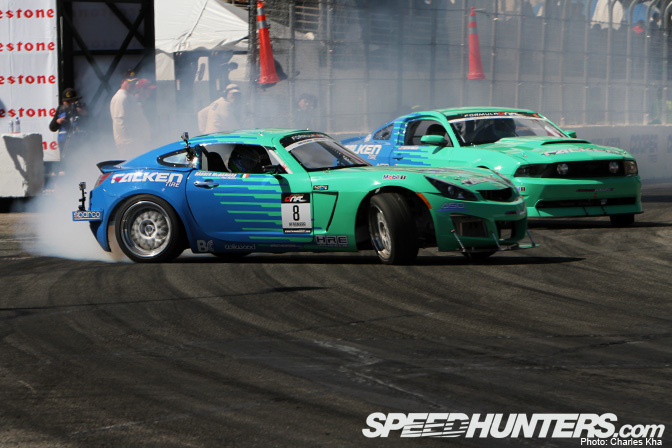 It was a Falken Tire battle when Darren McNamara went up against Justin Pawlak. Darren had some huge angle going into Turn 10…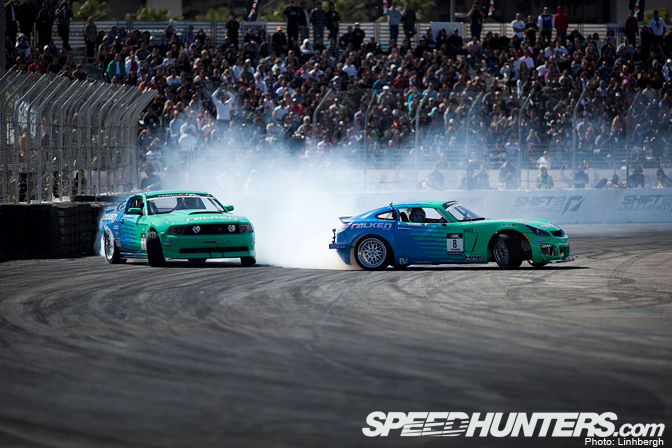 …However he wasn't able to hold onto the slide, with the Saturn spinning out.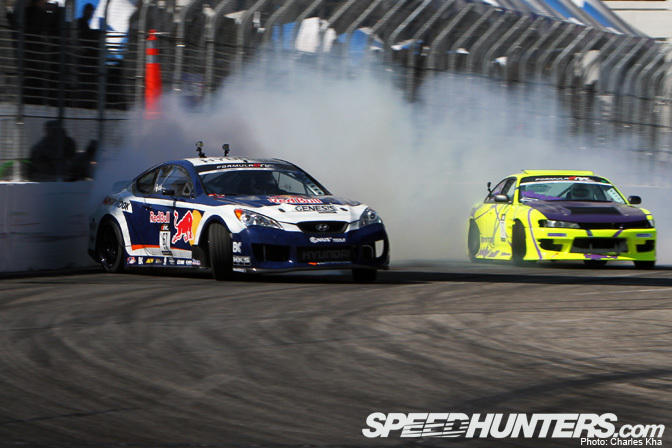 Rhys Millen was inches from the wall in his run against Matt Field.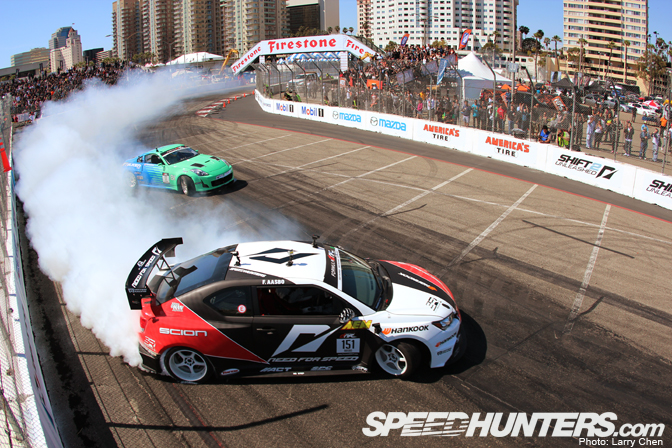 Fredric Aasbo made it through to the Top 8 after fighting off Tyler McQuarrie.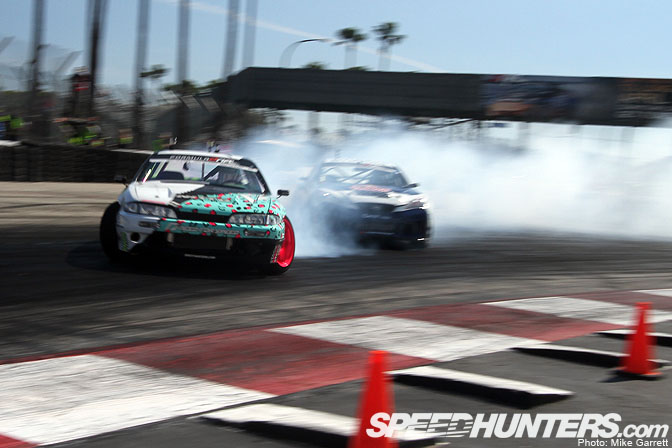 Rhys Millen and Matt Powers had an incredible battle. They were so close to each other they practically could've high-fived while mid-drift. 
Dai Yoshihara continued his scintillating qualifying form with another strong showing during the battles. Here he defeats Ryan Tuerck.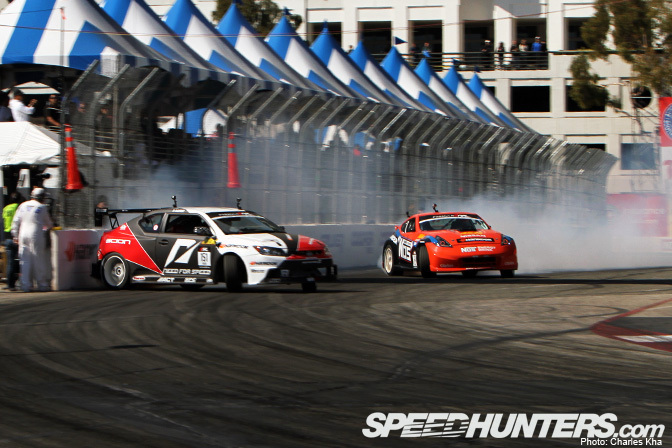 Chris Forsberg and Fredric Aasbo were breathing down each other's neck in their Great 8 battle. Fredric threw down one of the craziest entries into Turn 10, but it caused him to run shallow on the exit.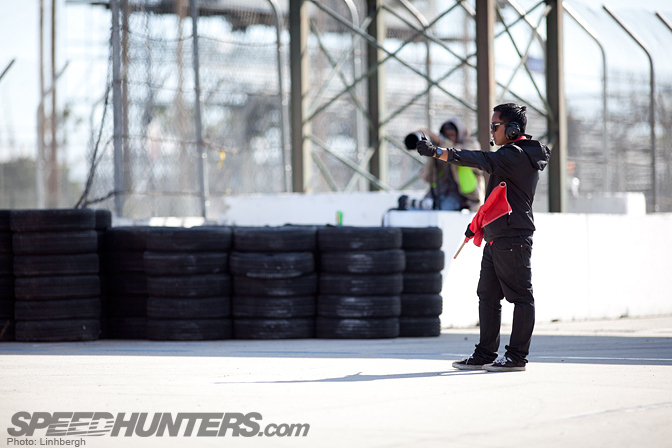 It was a very close fight and there was a nervous wait before the judges gave Forsberg the thumbs up.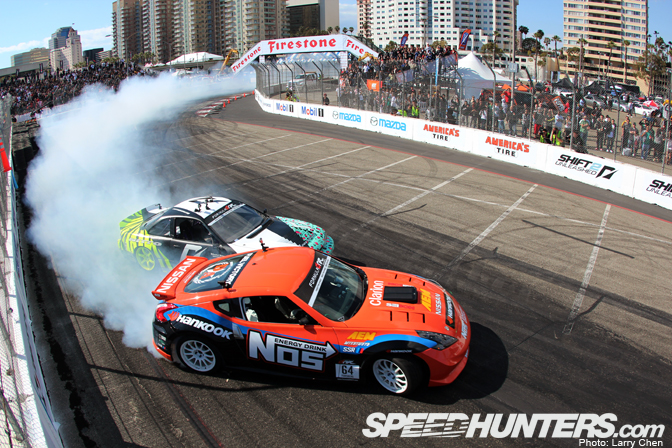 In the Final 4 battle, Matt Powers exacted some revenge for his TNFS teammate. This photo really shows how close Matt was getting…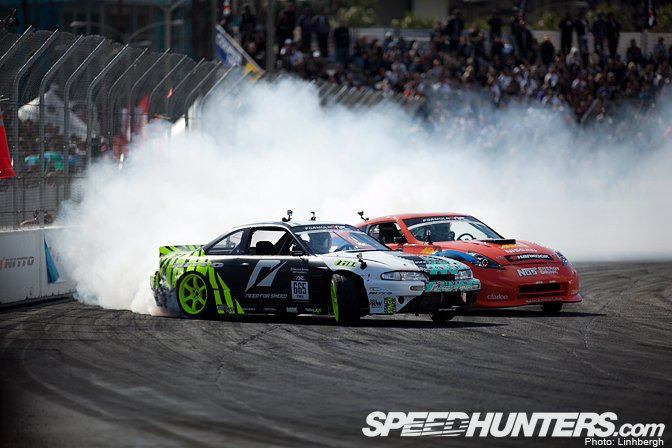 …Forsberg was equally close in his chase run. In the other Final 4 battle, Dai was defeated by JTP.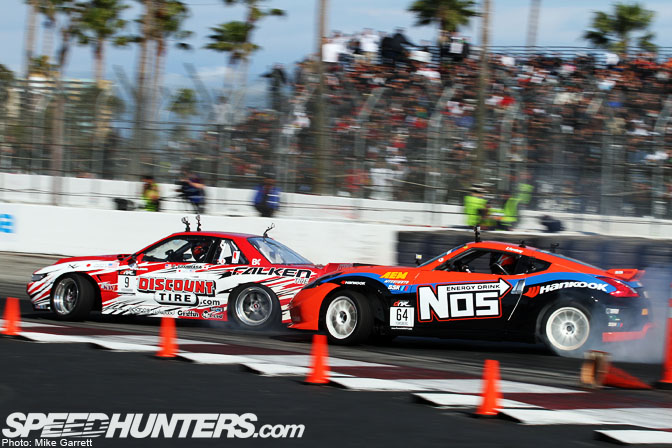 In the finals, the battle for third would be between Dai Yoshihara and Chris Forsberg, with Matt Powers going up against Justin Pawlak for the outright win.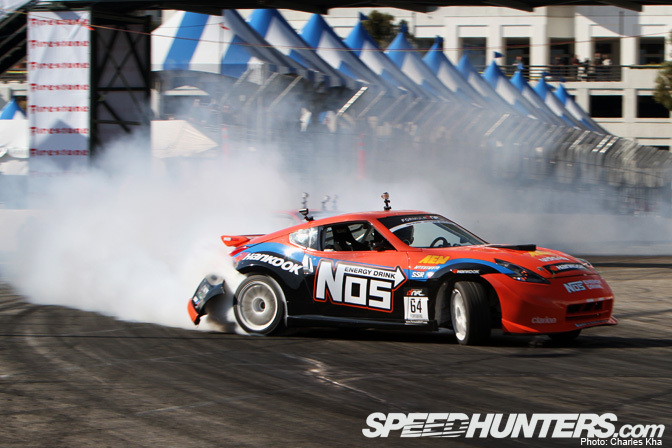 I couldn't see what happened from my vantage point, but Chris' rear bar was hanging off during his lead run.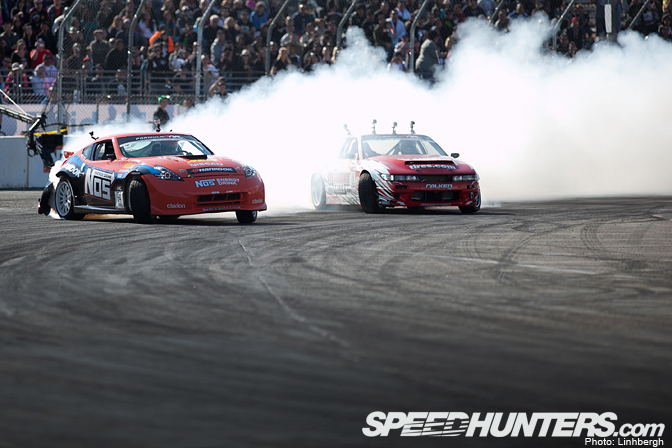 The final podium spot was awarded to Daijiro.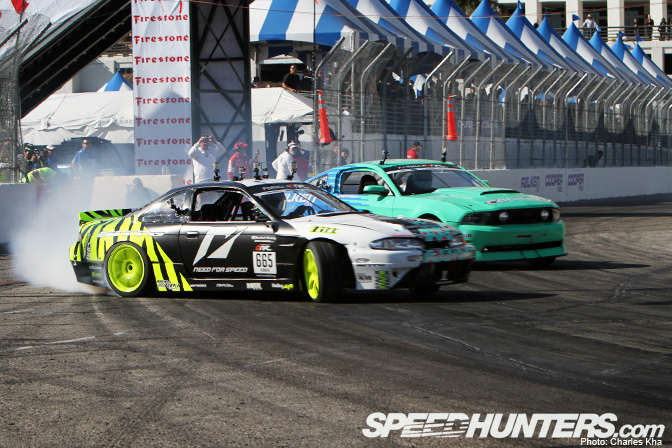 The final two. Both Matt Powers and Justin Pawlak both made significant changes to their cars during the off season and their new engines seemed to have paid dividends.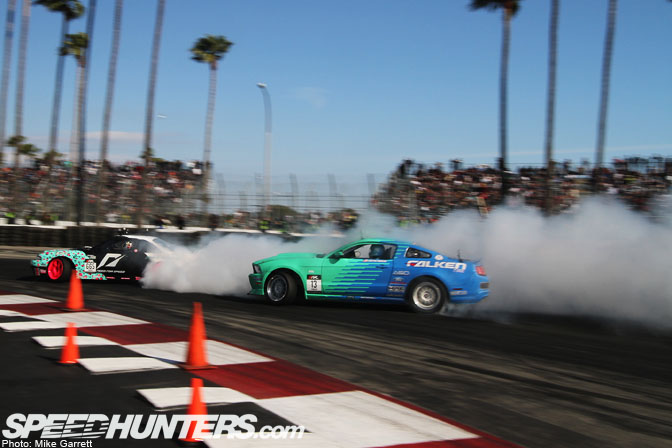 Both drivers made slight errors during the battle, with the judges deciding that JTP did enough to edge out Powers.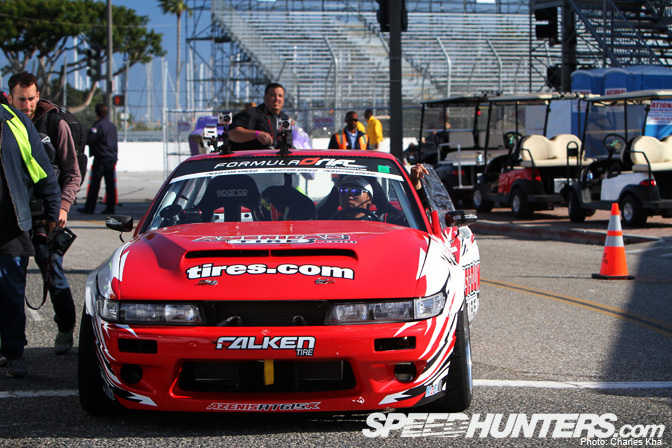 Dai pulling up for the podium celebrations.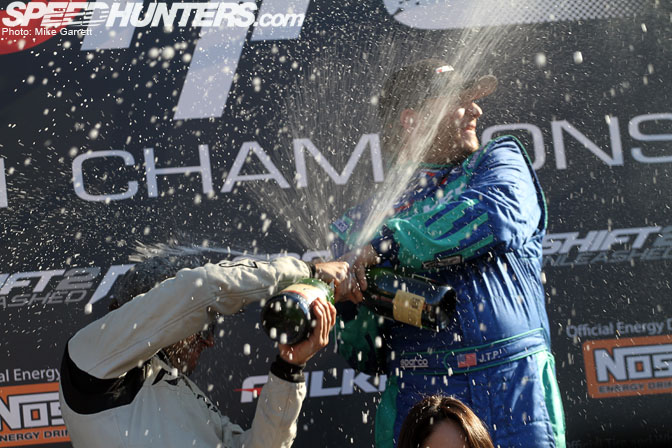 To the victor goes the spoils!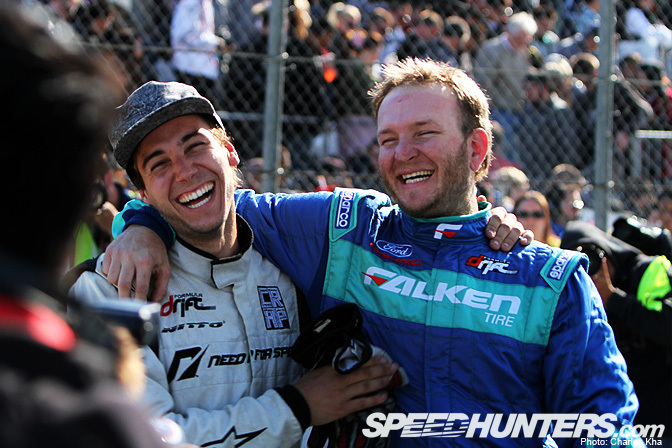 I'm sure most will agree that you couldn't have asked for a better start to the 2011 FD season. In particular, the tyre regulations seems to have levelled the playing field. So after Long Beach, who are you tipping to win this year's crown?
- Charles Kha
Photos by Mike Garrett, Linhbergh Nguyen, Larry Chen and Charles Kha
Formula DRIFT Professional Championship 2011 Point Standings after 1 Round
1. Pawlak, Justin – Falken Tire Ford Mustang 102 Points
2. Powers, Matt – Need for Speed Nissan S14 94 Points
3. Yoshihara, Daijiro – Discount Tire / Falken Tire Nissan S13  88 Points
4. Forsberg, Chris – NOS Energy Drink / Hankook Tire Nissan 370Z  70 Points
5. Mohan, Kyle – Nexen Tire / Mazdatrix Mazda RX-8  69 Points
6. Grunewald, Conrad – Hankook Tire Chevy Camaro  66 Points
7. Millen, Rhys – RMR / Red Bull Hyundai Genesis Coupe  65 Points
8. Tuerck, Ryan – Gardella Racing / Mobil 1 Pontiac Solstice  63 Points
9. Aasbo, Fredric – Need for Speed / Hankook Scion TC  61.50 Points
10. McNamara, Darren – Falken Tire Pontiac Saturn Sky 58 Points
11. McQuarrie, Tyler – Falken Tire Nissan 350Z 57 Points
11. Wilkerson, Walker – Intec Racing Nissan 240 57 Points
13. Field, Matt – Fatlace Nissan 240SX  56 Points
14. Petty, Ross – Garage Boso / Falken Tire Nissan Silvia S15 55 Points
14. Waldin, Matt – Helix Energy Drink Nissan 350Z  55 Points
16. Mertzanis, Dennis – Mertzanis Racing Nissan 240SX  54.50 Points