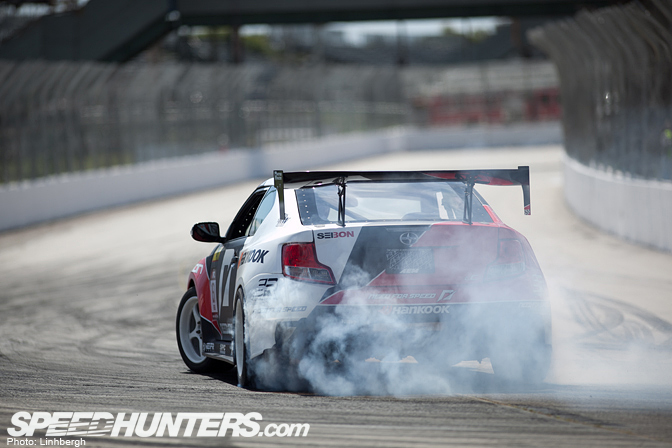 Hello fellow Speedhunters! Last week we debuted the Team Need for Speed Scion tC at the Formula Drift season opener in Long Beach. I had been waiting for this event to come around for five months, and as we approached the first week of April I felt like a kid on Christmas Eve. So much had gone down during the so-called "off season" (I have an incredibly big stack of paperwork following this winter, haha!) and almost everything about this FD season was new to me. I have been given a simply amazing opportunity, and with that I owe even more to everybody that has helped me along the way.
Was I ready to handle it all?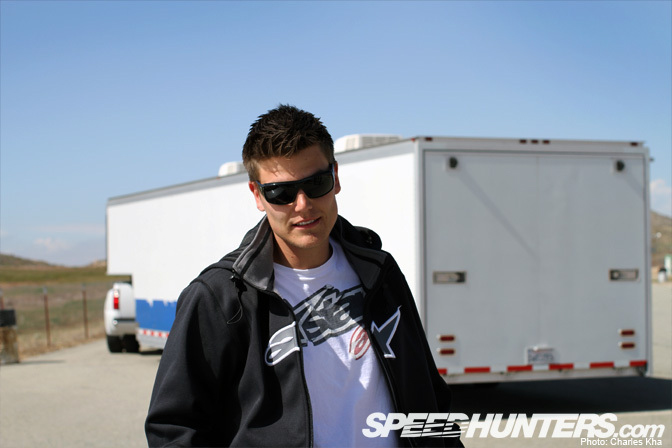 Well, as April came around I had been through numerous discussions with Stephan Papadakis and his crew, giving my input as the tC was transferred from a bare shell to a drift car by the mad scientists in Hawthorne, California. As I finally flew in from Norway to help prepare a couple of weeks before round 1, I was blown away. The effort that was being put in by everybody on board was simply incredible, and it dawned on me yet again how fortunate I am to be a part of such an operation.
I know some of you would have liked for me to drive the Japan Auto Supra in FD this year. I really appreciate your comments and I would like you to know that I will still be doing events with the Team Need for Speed Japan Auto Supra in Europe and possibly elsewhere this season. That said, to me, drifting has never been about cars as such. It has always been about 1) people and 2) driving. I started drifting in a BMW E30 and when Japan Auto took me under their wing a lot of people told me Supra's couldn't drift. In hindsight I am pretty certain they can! All the fun we have had with those Japan Auto Supras has been amazingly inspiring, and to me it proves that exciting things can happen when people believe strongly in something.
I like to take on projects that are a little outside the box as it unites the people involved in an amazing way. The reason why I am so grateful to be working with Scion and ultimately Toyota is their vision – I think they are heading somewhere really exciting.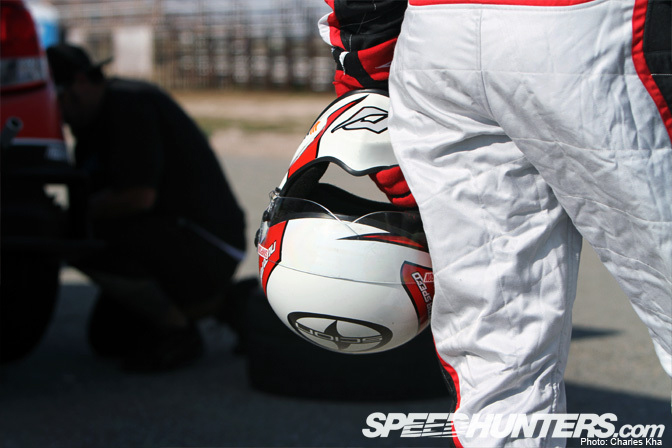 Wednesday, April 6th: We were at the Willow Springs International Raceway an hour north of Los Angeles, and this photo was taken just as we were about to run the tC for the first time. Stephan popped the cherry by jumping in the car to make sure the tune was good. Then, it was my turn. Instant goosebumps right there…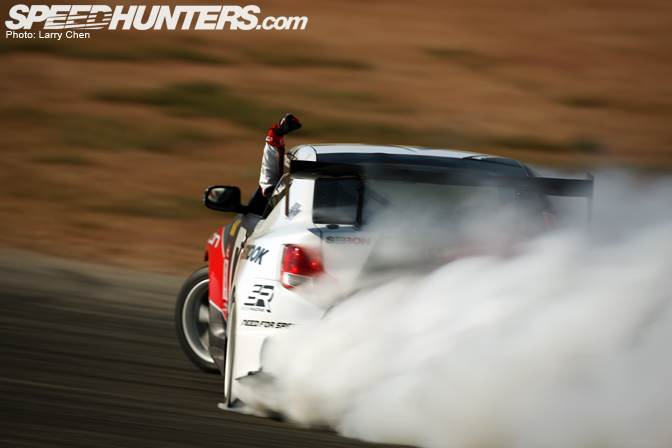 The car ROCKED! It was an amazingly agile car even though it has a fairly long wheelbase. It was actually so nimble that it was on the edge of feeling nervous, but it was easily an 11 out of 10 on the fun scale! The four cylinder turbo proved to have a very broad and flat torque curve making it easy to modulate – just what we had been shooting for.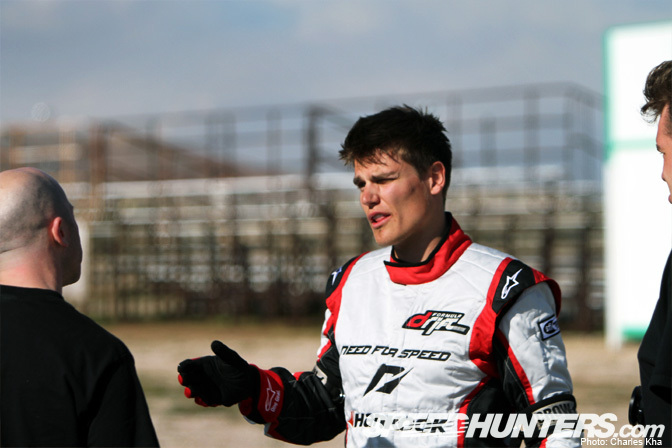 Out of everything that can go wrong when you debut a car like this, nothing really did. I think that pretty much sums up the experience, the drive and the amazing skills of Stephan, Aldo, Shawn and every other contributor to this puzzle. The attention to detail and fabrication work on this car far exceeds anything I've ever seen before.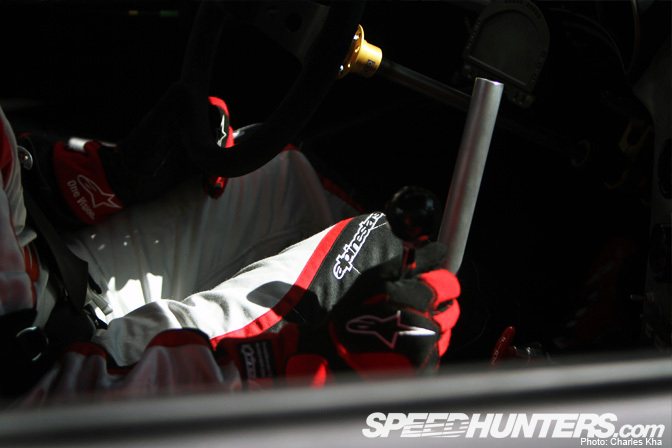 Whereas the Supra was nicknamed Chucky, I think Frankenstein is quite fitting for the tC. He is a midnight creation, after all, built by a gang of mad scientists.
When it was decided that I was coming onboard, Papadakis Racing pulled the US Japan Auto Supra out of storage, brought it to shop and measured up my seat position and distance from the steering wheel, pedals, shifter and handbrake. They put a Supra differential in the car – still retaining the stock tC subframe – and worked on copying the steering geometry and "feel" of the Supra over to the tC.
Almost everything played out very well. I felt at home very quickly, even though it was an an entirely different car, I was now sitting on the left rather than the right, I had a different transmission and the basic suspension design was totally different. The four speed in particular was amazing… I never knew I could fall in love with a transmission! Still, I knew it would take time for me to really get accustomed in my new home, and we did find a pretty critical problem with the steering: it would bind in transitions. We started troubleshooting and looking at options. Crunch time was coming up.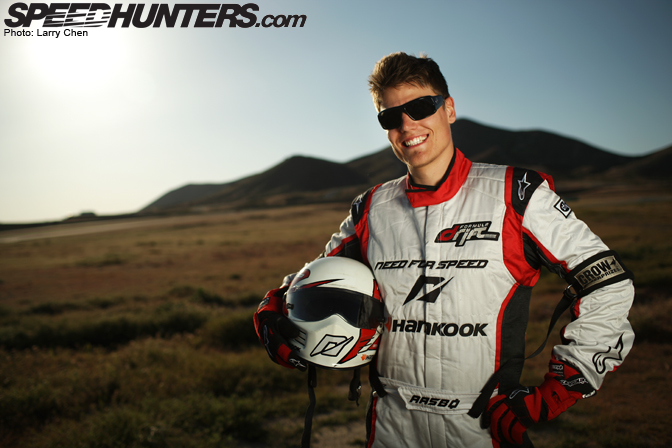 What is kind of funny is that these are the situations that really make it for me. With less than 48 hours until we were supposed to be in Long Beach, with the steepest of learning curves ahead of us, that's when we had a 100% clear focus.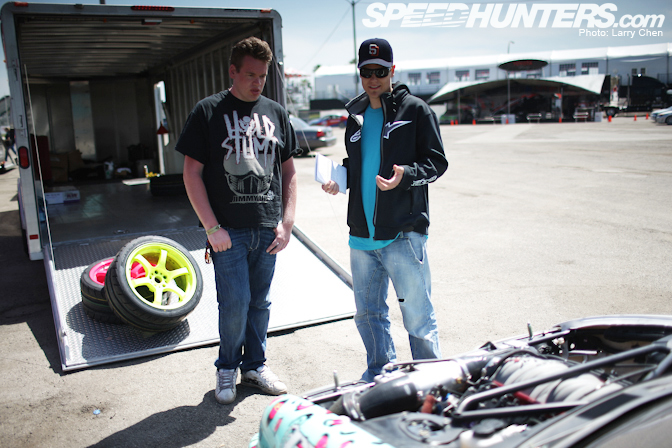 This shot was taken at Tuesday's Media Day in Long Beach, where teams are allowed to test drive the course. Stephan asked Steffen, my spotter, and I to head down to the track to watch the driving while they prepped the car for dyno tune.
Here Steffen and I are in one of our endless chats about motors, powerbands, transmission and car setups. Steffen has pretty much been living with me for the last couple of years and we are equally eager on learning the sport of drifting.
One thing that is truly unique about Steffen is his ideologies and point of view. He believes strongly in throwing or attending a big party "because that's where the big plans are made" and he simply doesn't care if he winds up broke or rich – it's all about experiences for him. He pinpoints things that no one else dares to say. He pretty much goes all-in when it comes to what he likes, and frankly doesn't care about the rest. He's a man like they no longer come in a world of compromises. Kind of like Matt, who is also, in the words of his friend CJ, a "statue of self discipline".
Bold, but true!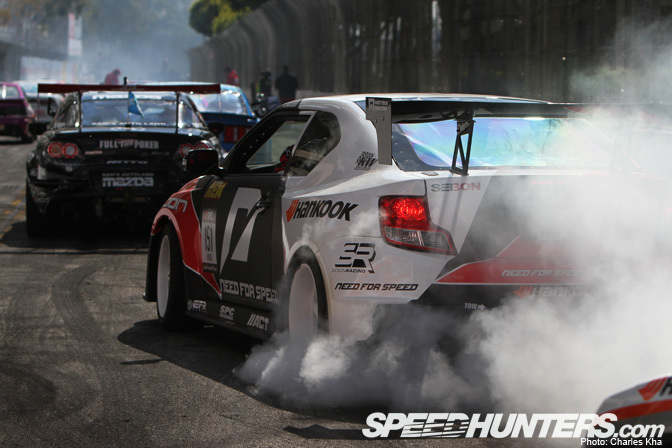 And then – it all came down to what it was all about.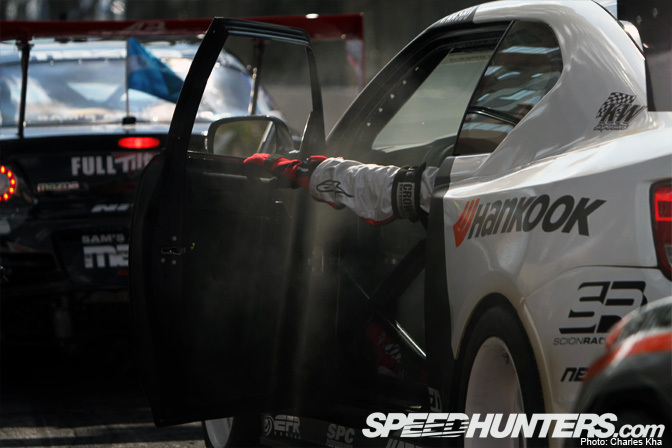 The 2011 Formula Drift Championship season opener on the Streets of Long Beach in Southern California.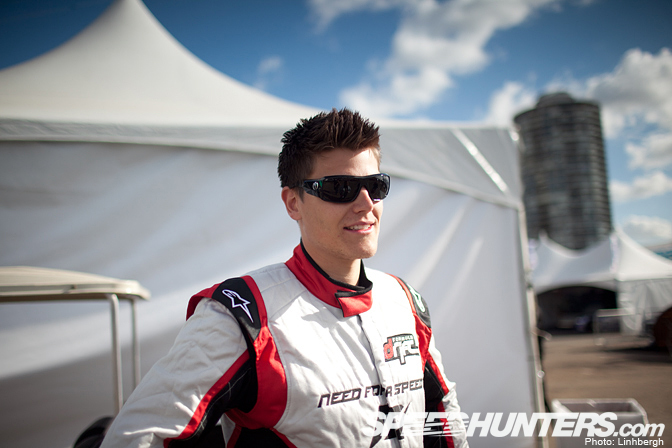 And this noob was given a certain Tanner Foust's seat in the world's first Scion tC race car. He was set to throw this car sideways next to concrete walls – rain or shine, as Friday's morning practice on a wet track clearly reminded everyone present at the track.
I can assure you it is a pretty unique feeling to have the faith of an unknown number of people, sponsors, friends, car builders and team members doing what you love. Over 20 people have been directly involved in the fabrication and build of this car, and on top of that comes the hundreds of people involved via sponsors, suppliers and other connections. It is definitely a BIG responsibility to be the one that throws it around like a rag doll.
That said, I am very certain I am the one putting myself under the most pressure.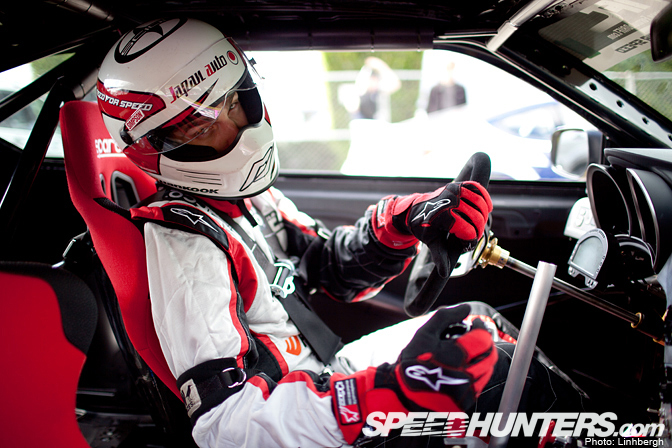 As I was set to tackle the track for my first runs, Linhbergh came sneaking around the grid like a Paparazzi. It was one of my first runs ever in the car, and I was having goose bumps. I thought "Oh sh*t, do they know what kind of driver they chose to drive this car? I hope they know it's the kind of driver that never leaves the track without at least the rear quarter pushed in…"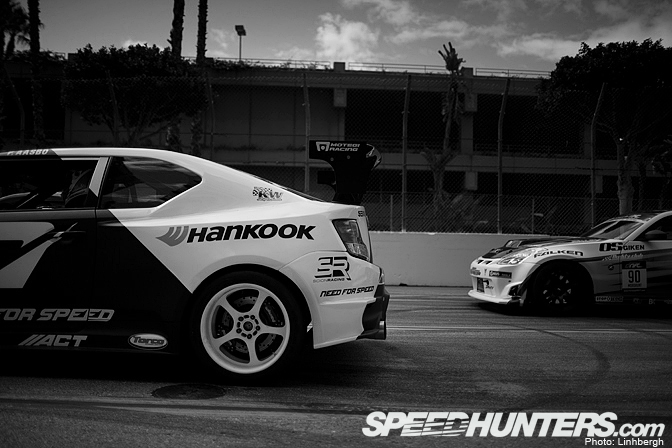 The practice went well. We had sorted the issue with the steering bind, but one side-effect was that the steering had lost a lot of feedback making for some pretty twitchy runs with a lot of corrections. I worked hard to try to calm things down and with the support of my guys in the pits we went at it slowly and one step at a time.
I was a complete noob in this car and I think we entered with what was the least tested car out of the 47 teams competing that weekend.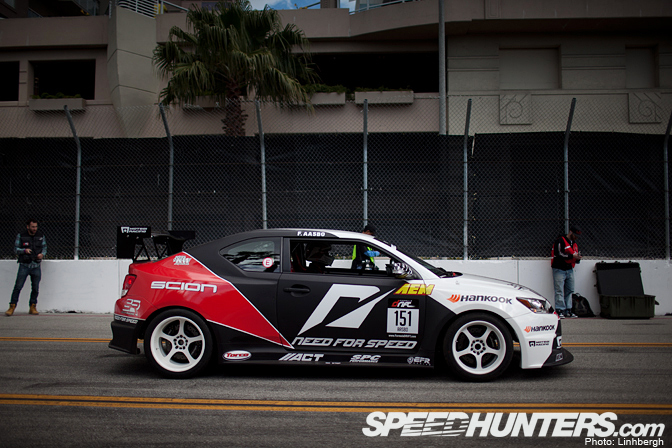 Friday morning turns into day. The City of Long Beach has a lot of things going on during the race weekends, but come qualifying at noon it all feels remarkably quiet. I guess it is a mix of me trying to focus complimented by the feeling of tension that gets to your head no matter how hard you try to keep it out.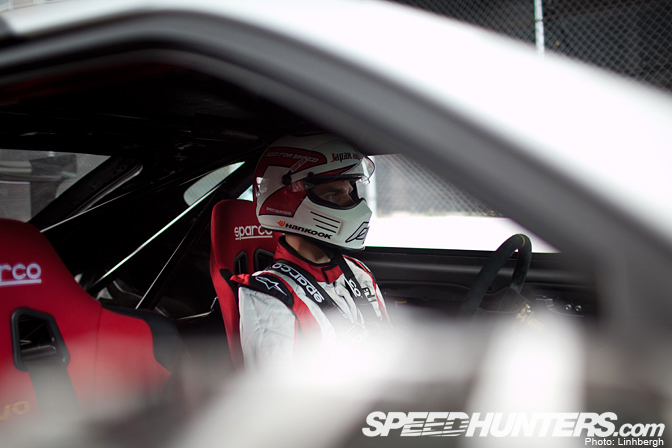 A pair of seagulls flew over the grid. The clouds that sent a few drops of rain down my spine during practice passed by in slow motion. The smoke from the first cars cleared off between the Long Beach Aquarium…
I'll cut the crap. This is the look of a guy that has quite a few expectations laying on his shoulders, and more importantly – a guy that has put a pretty significant amount of pressure on himself.
Off I went for my first qualification run to determine whether I would be a part of the Top 32 finalists.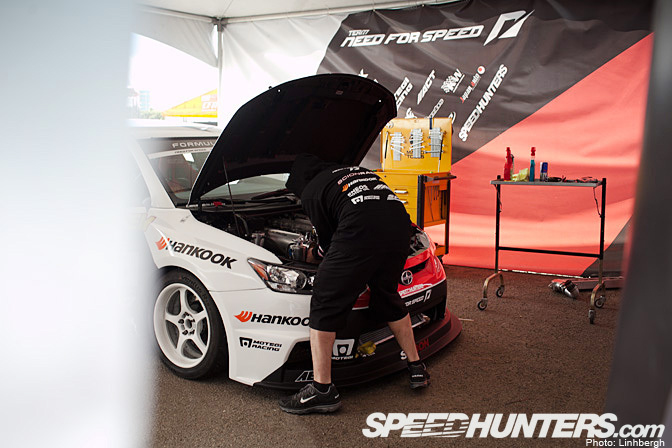 Then, in my first qualification run out of two chances, the TPS connector on the throttle butterfly came loose, ultimately causing the motor to stop in the middle of the run. That's a score of zero.
It is when s*** hits the fan that you see what people are really made of. After I managed to get the car back to the pits, Stephan, Shawn and Aldo quickly traced down the faulty connection and repaired it within minutes. It was easy to tell that Stephan did not like a technical bug like this messing things up for us when it really mattered.
He was really sorry for it to happen, but I told him we are in it together and this is what we learn from. I asked if I could run up to the tower to speak with Steffen and watch some other runs. He said go for it!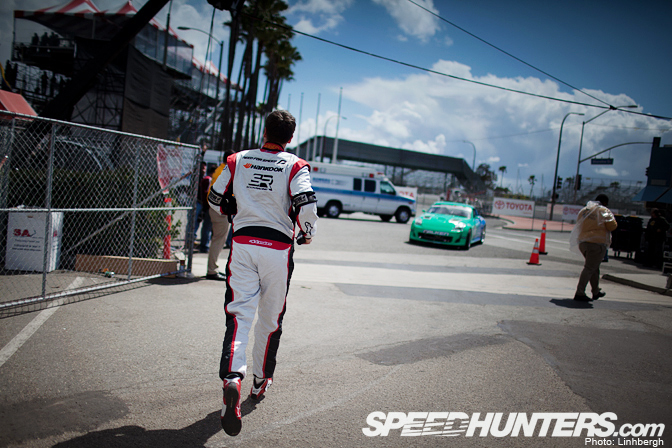 I remember thinking that I could hear Linhbergh and all his gear following close behind. I guess I was right…
I had a few, quick words with Steffen, and then got confirmation from Stephan that the car was good to go for the last – and final – shot at qualifying. I came down from the spotter tower, jumped in the car, got the high fives from the team and rolled over to the grid.
For me, sitting there all lined up with one shot to go at qualifying was pretty much the ultimate test of my ability to perform when it really, REALLY, mattered. As all the lights lit up, and then went out, I let the clutch go.
And took off.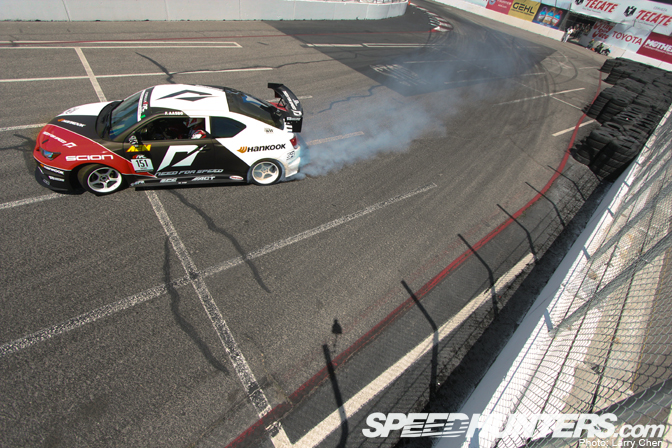 I got through the first turn nice and shallow to keep the speeds up going into the middle section.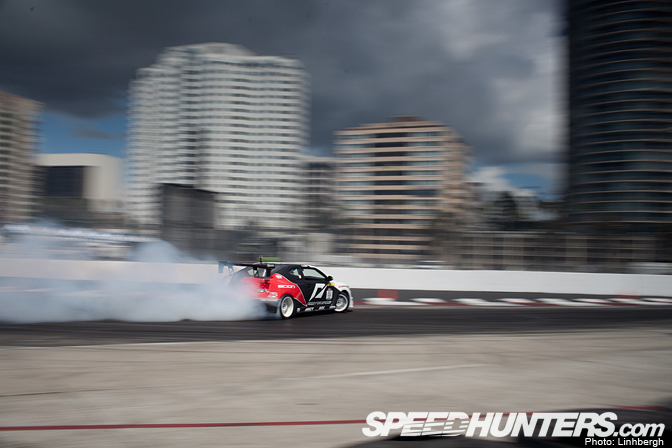 A half-decent flick by the first outer clip and getting out to the second outer clip.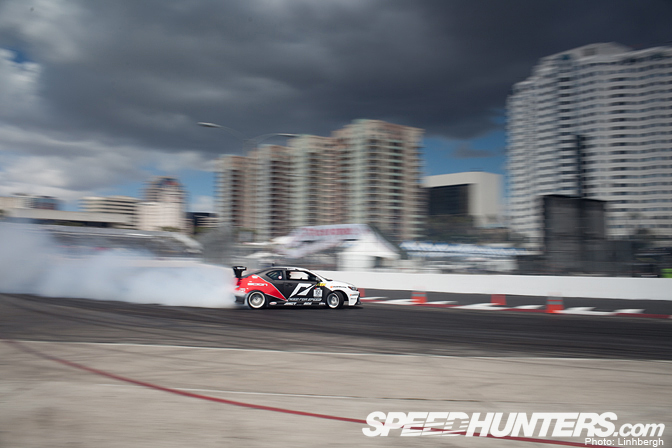 I kept  it pinned ("Hold Stumt!") and approached the first inner clip and the braking zone for the hairpin. At this point I didn't know my score yet.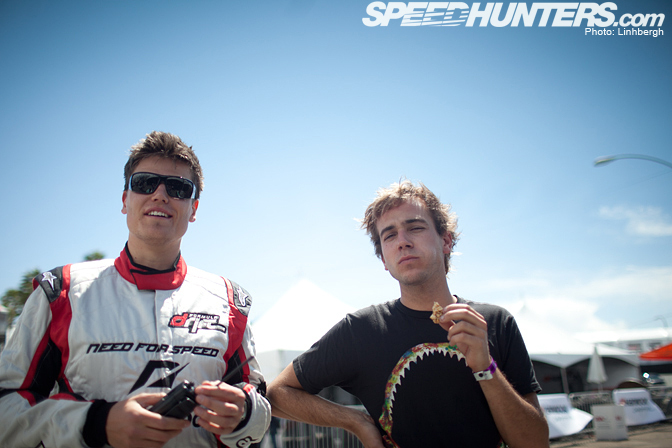 I rolled into the pits, saw Matt and watched the remaining drivers go at it. It took forever to see if we got through…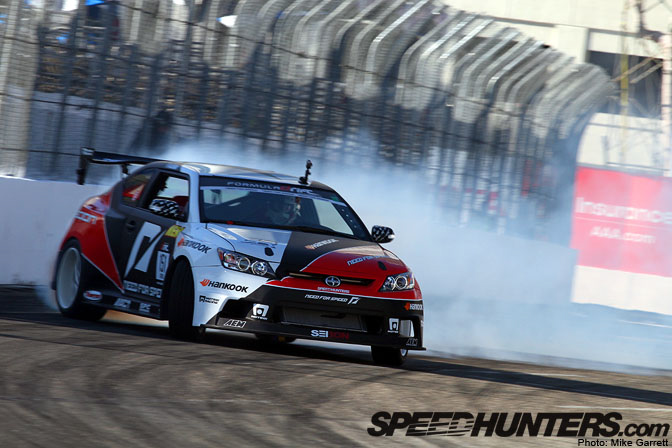 But eventually, I learned that we did. WE WERE THROUGH TO TOP 32! We ended up in the number 24 qualifying position, which is not sensational, but to us it meant the world. Stephan later said that qualifying into the show was a victory to the team, who did enter an entirely new, almost untested build. We were all very happy and started practicing for the twin battles.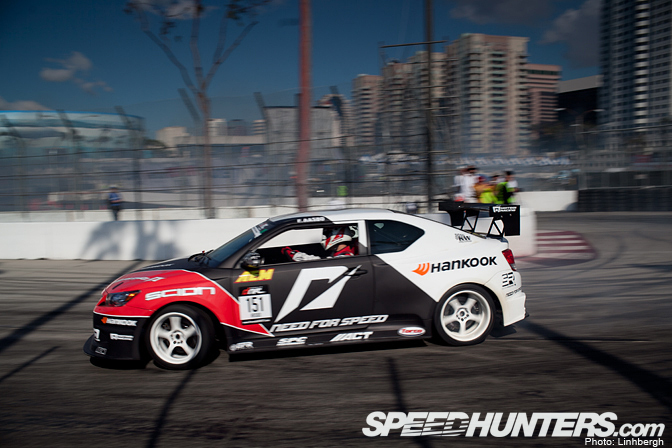 That was when I got to actually learn the car. Having qualified, I now got to test the limits of the car, half spin it, flick it where I wanted it, trying to get a feel for the steering and having some good ole' hooning fun.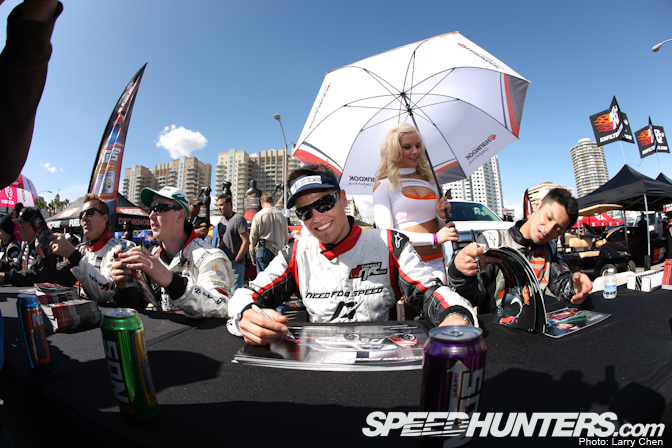 I got to hang out with Hankook's Lisa and fellow Scion Racing driver Ken Gushi, who had a very unfortunate motor breakdown after looking incredibly strong in practice. I knew Ken would be back, as he won the Long Beach Grand Prix celebrity race this weekend! Well done, Gush!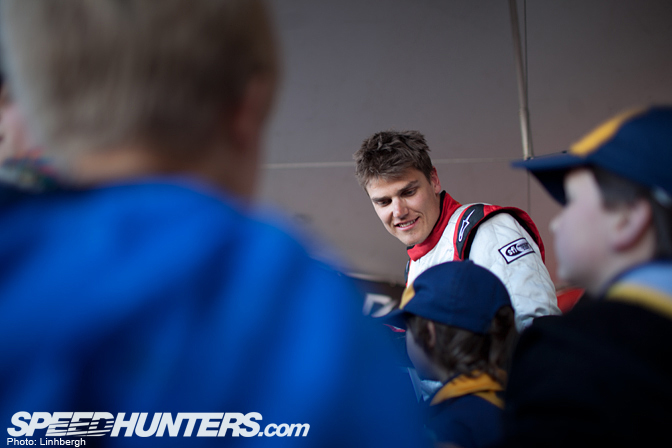 A lot of drift fans came by the Need for Speed Electro Lounge and it's great to be a part of such a circus and try to give back to the fans who ultimately helps us get to do what we love. As DJ Miki was bumping Dubstep and what-not in our pit space, I tried to learn the names of everybody coming by to say hi. It was tough – you all have very funky names out here!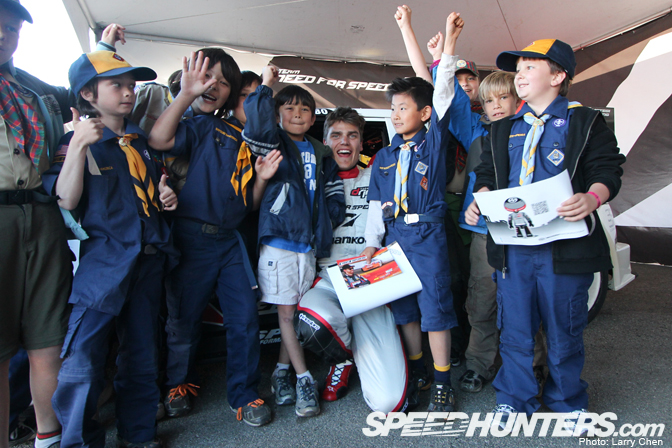 My favorite movie Spy Game has a pretty cool quote regarding boy scouts. Brad Pitt and Robert Redford come out of a war zone alive and say something along the lines of "one helluva day for the boy scouts".
It looked like these boy scouts had a helluva day in downtown LBC too. Great seeing you there guys!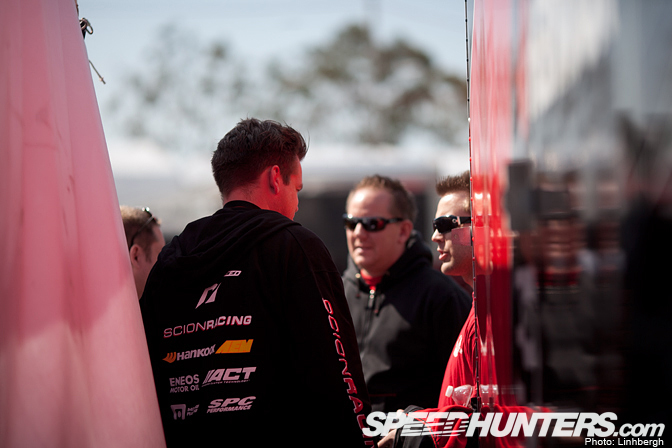 Here's Steffen hanging out with our Swedish friends; Johnny P., Zeta and Anders. We had them stay with us and since we don't have any furniture at all they pretty much slept on my floor with some cardboard for blankets. Good thing our SoCal apartment has carpet! "Thanks for having us borrow the couch" they said and laughed. Haha, anytime!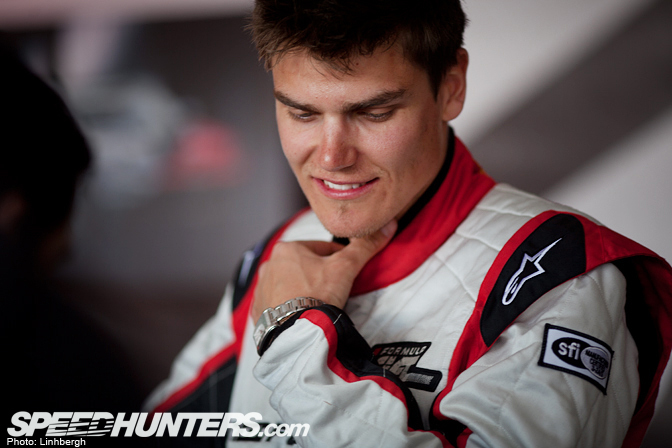 Friday's practice and qualifying had been such a tense experience. We were through to the next day.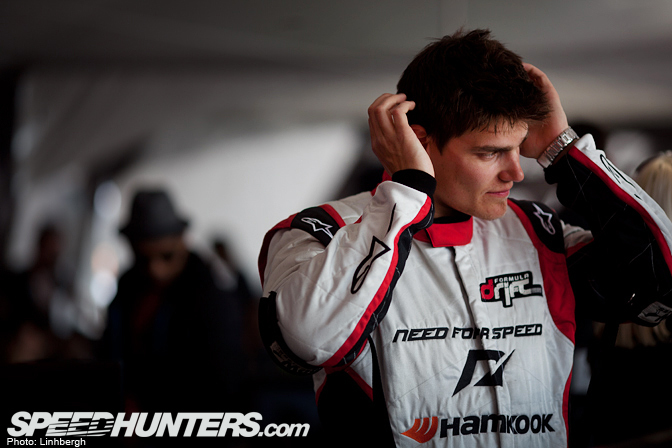 Later that day, Stephan P. looked me in the eyes and smiled. "Great job adapting to the car, Fredric" he said. "For tomorrow, I want you to go out there and think you are driving the Japan Auto Supra. OK?"
Yes! I was so happy!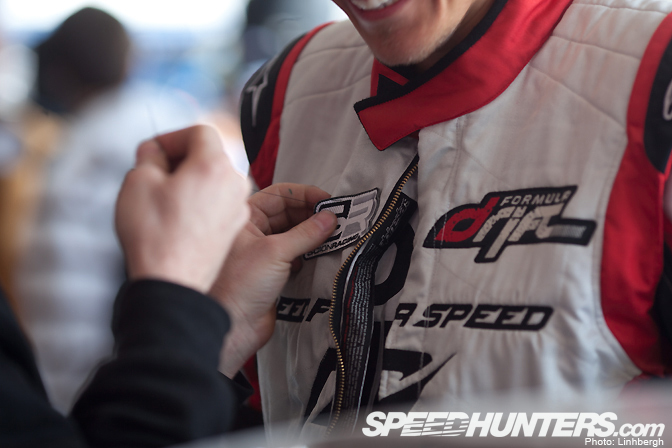 While Shawn and Aldo made sure the car was running good, Steph and NFS Courtney put on a last minute patch for me, and I was giggling with joy as I started to look forward to Saturday's battles.
I slept like a rock that night.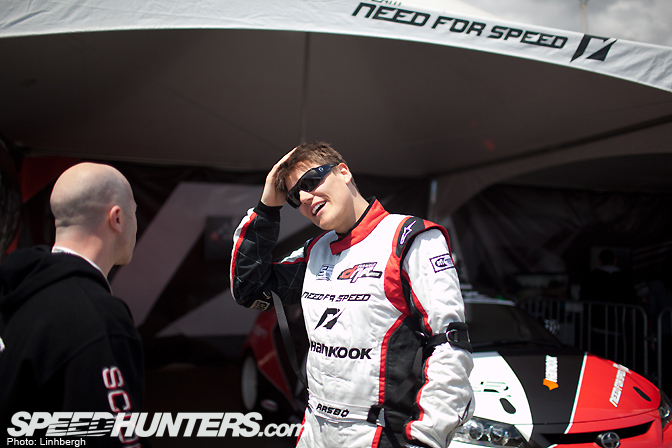 Then Saturday morning came around, and we were back at the track getting ready for the limited practice leading up the Top 32 battles.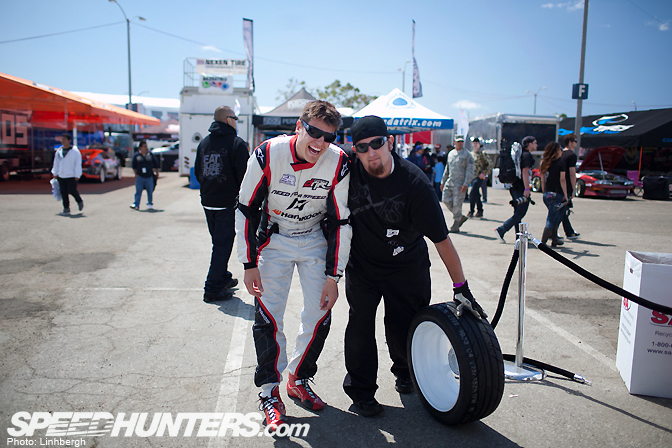 Aldo Villagran – bad ass Dually Driver and tire specialist!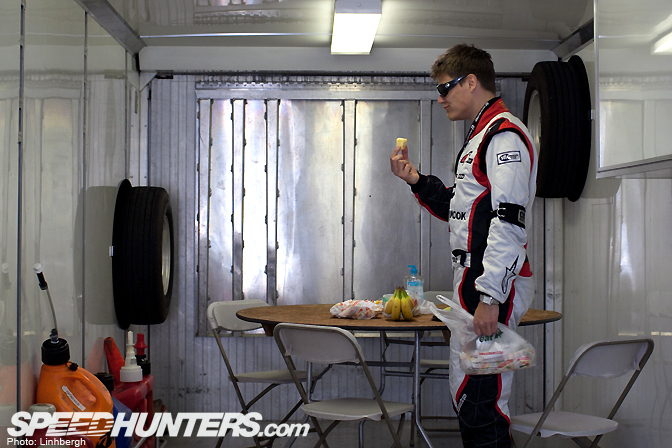 Fredric Aasbo – a sucker for fruit and a die hard banana addict!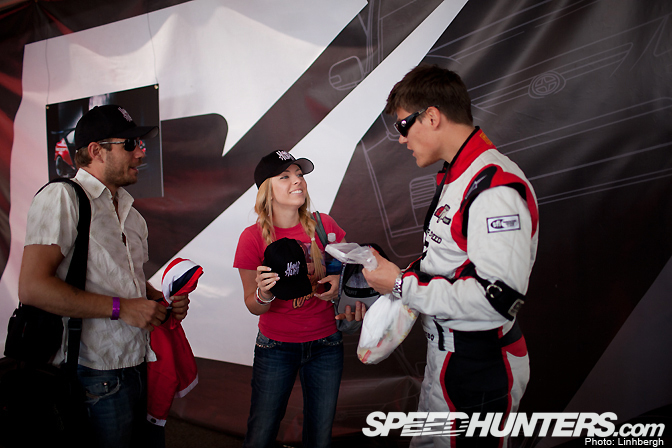 Ronny and Amy – two of the most absolutely nutty and fun characters I know! They brought a Norwegian flag and their custom made Hold Stumt hats… So cool; thank you so much!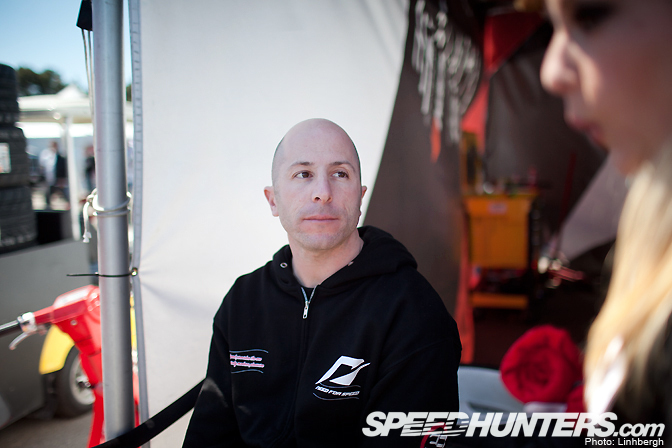 Stephan Papadakis… The Drift Observer.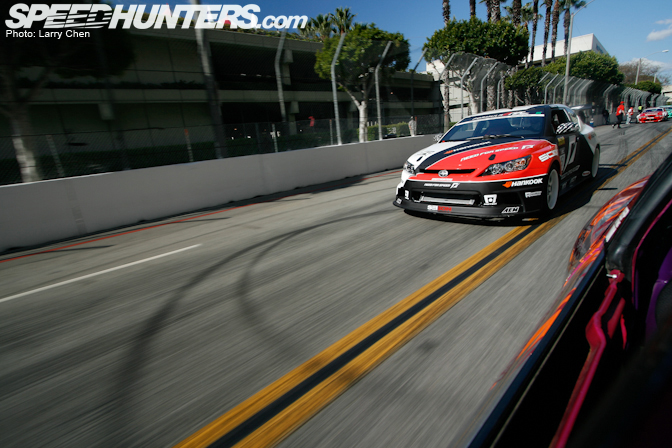 And off we went. We got close to ten runs in during Saturday's practice and I got some much needed seat time in the car. Frankenstein and I were starting to get along better and better.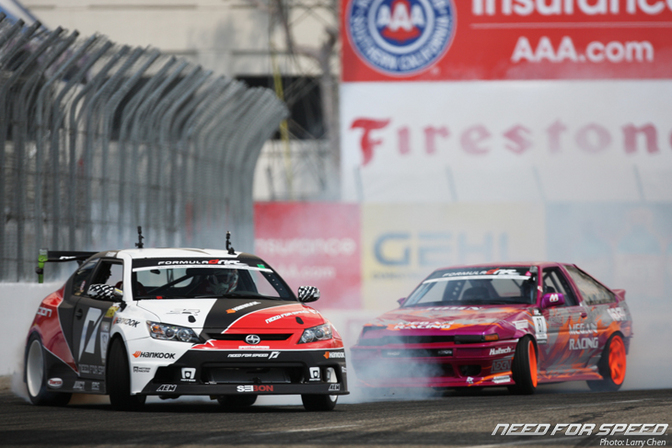 I was sent into battle John Russakoff in Top 32. Russakoff qualified 9th and is a very accomplished and experienced Corolla driver. Many years ago, I used to watch his Irwindale videos in awe.
We both went out there guns blazing and took it to a one more time. Unfortunately John hit the wall in the transition and straightened out. We were through to the Top 16!
Steffen and I were screaming with joy over the radios and I don't think anyone else up in the spotter tower could understand our Norwegian jabber.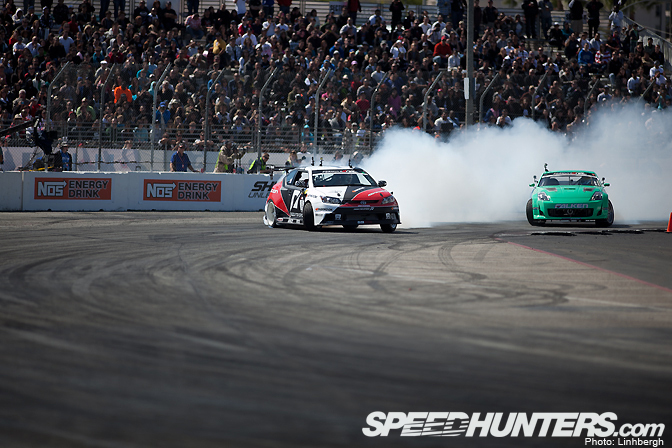 In Top 16, I met Tyler McQuarrie. Being one of the absolute titans of the FD field, Tyler is an incredibly accomplished race car driver and he has very strong support from the Falken and ASD camp. They had reworked the car for this year to a meaner, faster and more agile creation and for us – this meant we had to give it absolutely everything we had. In fact we had to multiply that by ten, and then add some flavor on top.
At the startline, I made a promise to myself. Or more exactly, the angel on my shoulder had me make a promise to myself (or was it the devil on the other shoulder? I am not sure) Fredric, you ain't lifting your foot from the floor during that double outer clip right turn.

And off we went.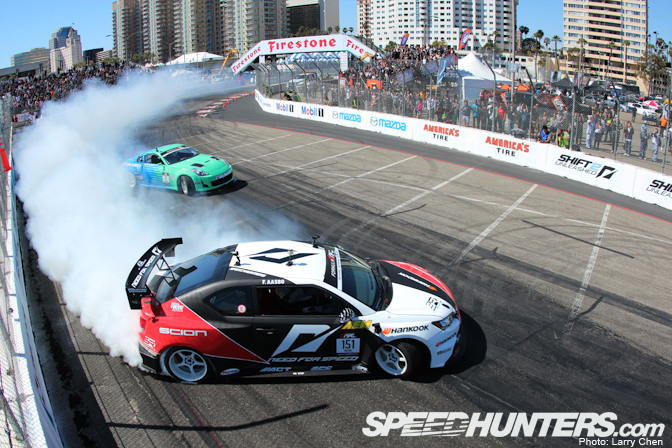 In my lead run, I threw it in quite hard, and held my foot to the floor throughout that right turn. I had decent proximity to the clips, but could have been closer, but I think the judges really liked my throttle input.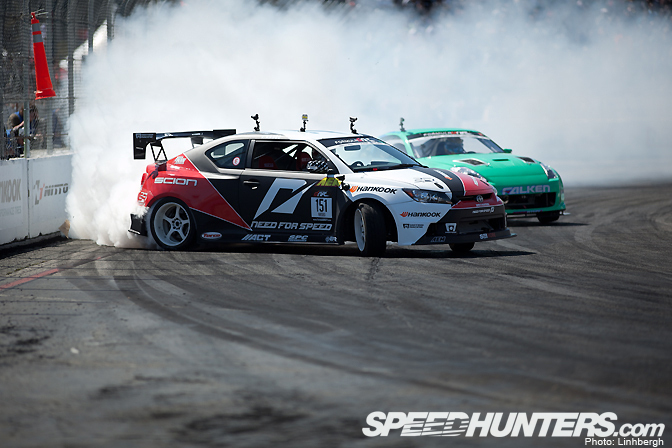 We roared through the course. This is my first year running Hankook Tires and the smoke is incredible. We worked closely with KW Suspensions throughout the weekend and I am amazed that we were able to dial in so much speed for a first outing like this!
And at the finish line, we awaited the scores. It felt like forever.
I got the thumbs up. I think the roof dented outwards as I exploded in joy. Not so much by beating a competitor, but we had proved that the team setup was competitive – right out of the box. There were never any doubts about the car, but it was such a relief to see that a clown of a driver like myself could actually handle the transition. At least this kind of transition…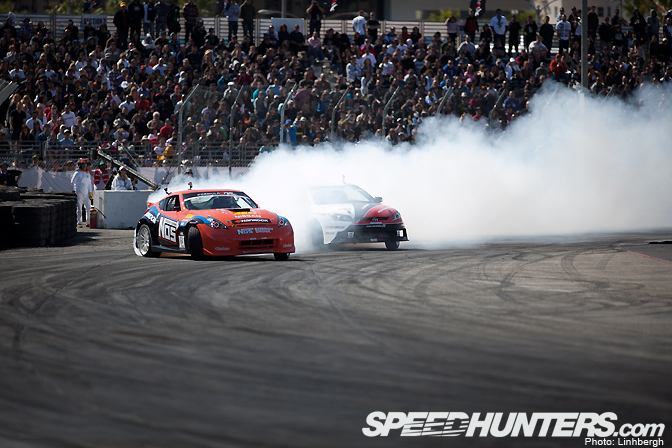 My next tandem battle was with a certain Chris Forsberg – a guy and a team that I have been admiring for many years and we actually managed to edge out Chris last year at our Long Beach debut.
Chris led first, and I was set on being close to him throughout the course. It was hard to see, but I have been working on my aim over the winter and knew that as long as I saw something orange in front of me I should be good.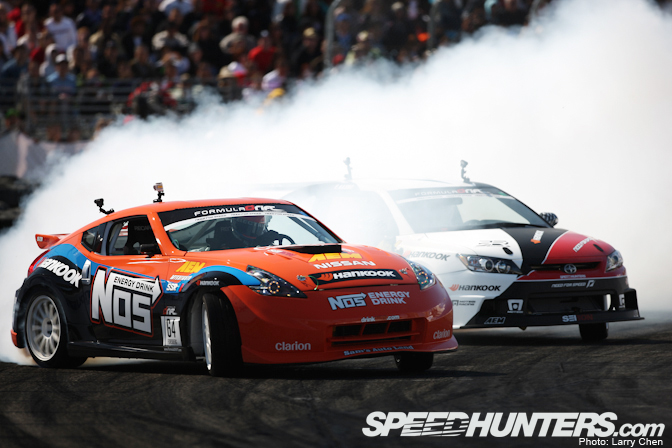 I had good proximity and made sure not to go too far on the inside.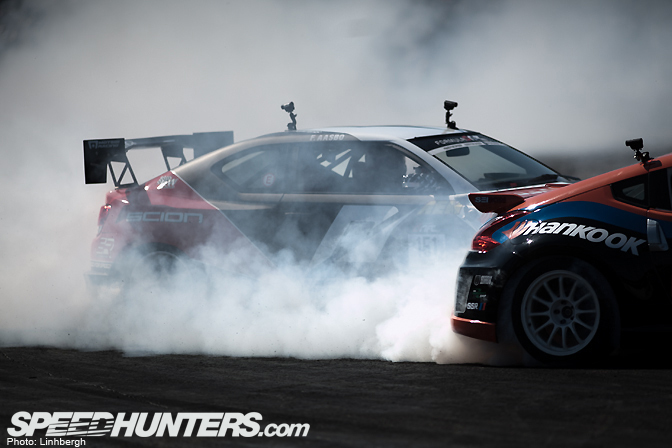 Approaching the hairpin I let go only to sneak in on the inside.
On the radio, Steffen estimated that the scores were either even or a slight advantage to us following the first run. Lining up for my lead run I felt that at this point it was all or nothing.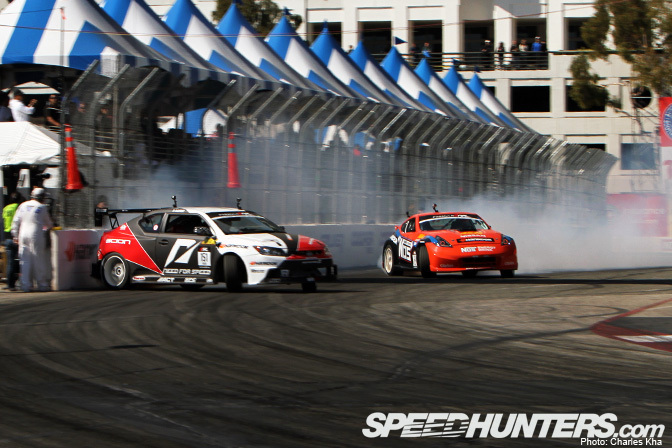 I went in with all I had and was determined to replicate the run I had with Tyler. Unfortunately I transitioned a little too hard by the first outer clip. In all modesty, I think it started off as pretty good and deep angle transition, but it was a little too much and I almost spun out. I let off the throttle when I started rotating to much…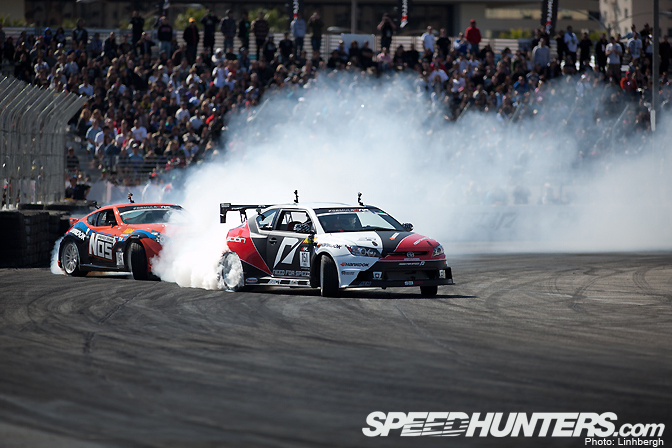 …But as I came back in I had no hopes of getting out to the second outer clip. I shot in to the infield.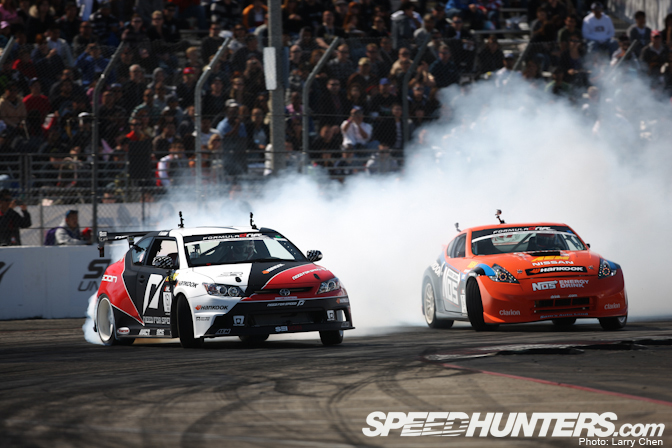 Chris advanced. It was a well deserved win and a big testament to his incredible consistency! A straight out driver mistake by me, but I think it was a halfway good thing in order to learn the limits of the car. One step at a time!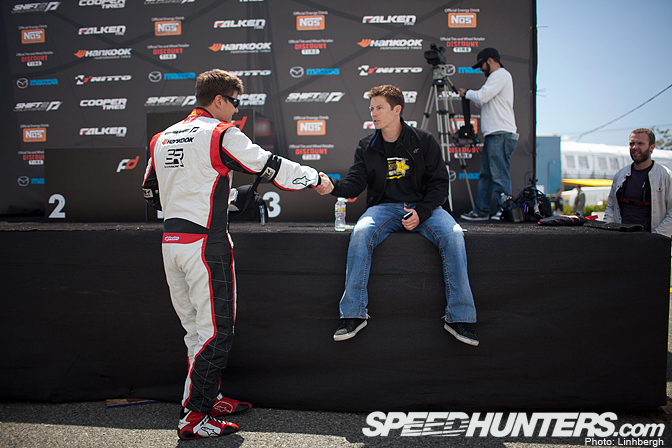 For Team Need for Speed, Scion Racing and Hankook it was a truly great first outing of the car and debut of the new team setup. It was all topped off when I met a certain guy in the pits…
Tanner had come out for support and gave us a couple of hints and tips along the way. Thanks again, Tanner – much appreciated and best of luck to you! I will be cheering you on from the sideline!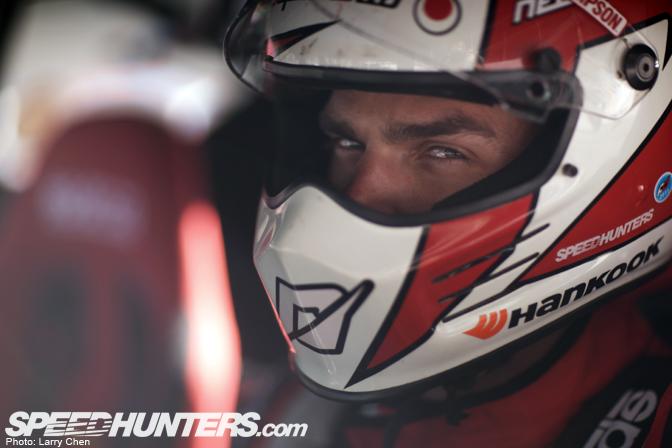 I want to extend a very sincere thank you to all of you that have had belief in me, from sponsors, to friends, to family, to you guys and girls. We have just started off the season, and I promise to give everything I've got as we head East in just over two weeks. See you in Atlanta!
I still can't believe it.
– Fredric