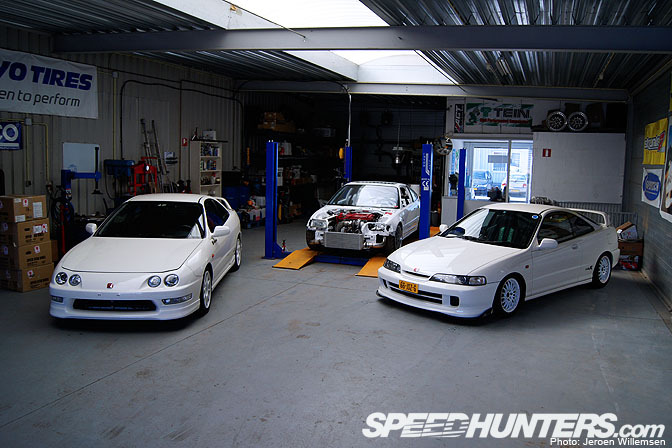 These two cars share a lot of components but are also very different. On the left we have a European version of the Honda Integra and on the right is the JDM version. I saw both of these cars when I visited the Rising Sun Performance shop on Monday. Luckily for me the guys at the shop had cleared out the garage so it gave me the perfect opportunity to roll both the cars inside the garage to shoot them together.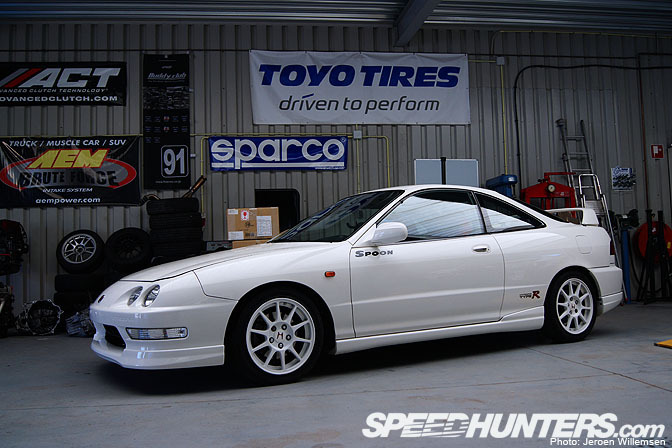 This European 1998 model wears some exterior upgrades that include the sideskirts and the rear valance made by Honda Modulo.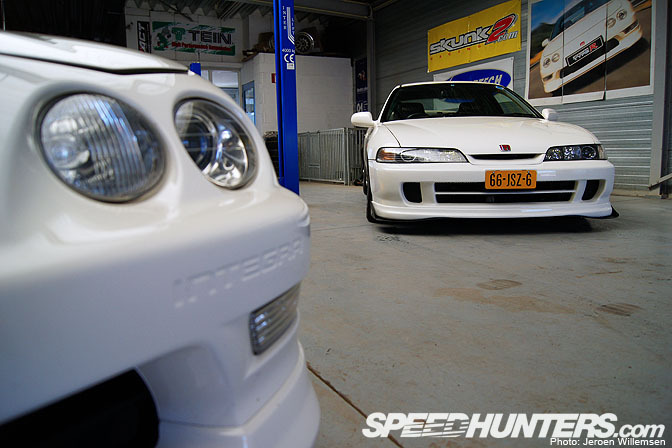 The big difference between both the models is obviously the front end. After checking them both extensively I still couldn't pick a favorite. Both of them have a very strong presence. Could you pick a favorite?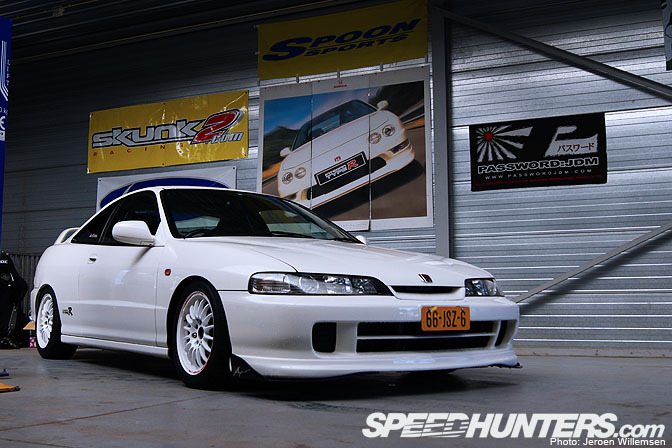 This JDM version got a set of ARC winglets that are placed underneath the front bumper. Both cars already look very good in standard guise. They don't need much to stand out because these cars are very special in their own right.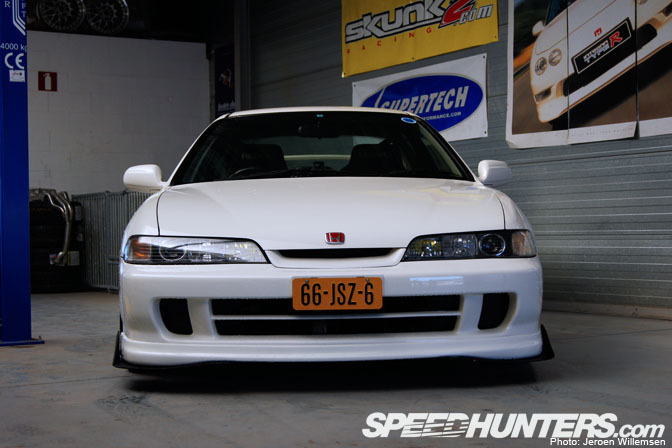 Here is a closer look at the front end of the JDM Integra.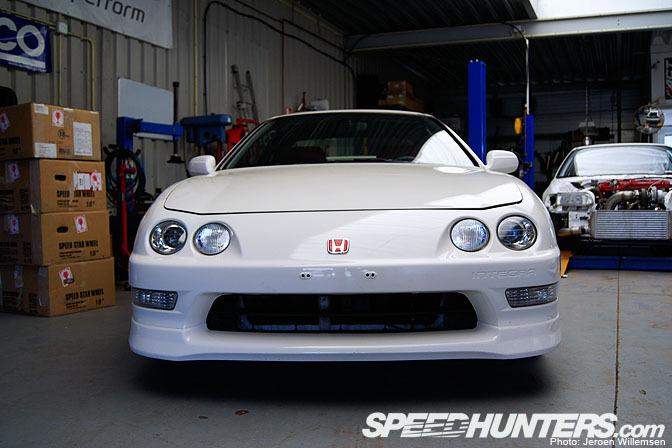 The embossed Integra logo in the front bumper of the European Integra is a pretty cool touch.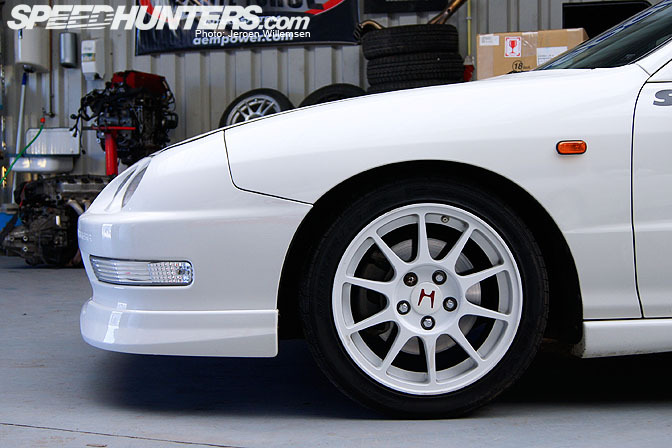 These JDM 16" wheels can be found on the EUDM version. The car has been dropped using Tein lowering springs that brought the car 3cm closer to earth.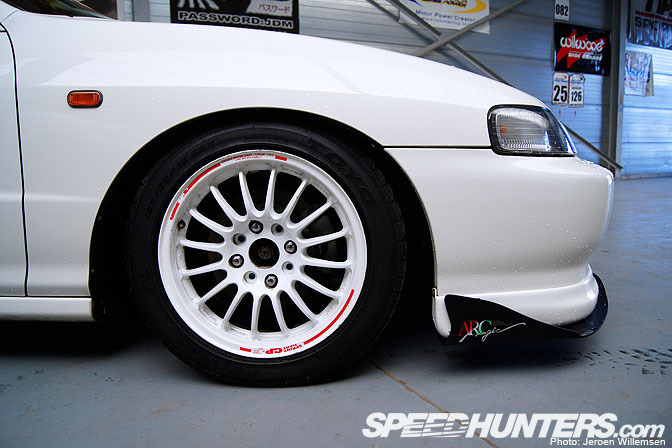 The JDM version got these cool Sprinthart CP-F's in 15" wrapped in Toyo R1 tires. This car is more circuit oriented so it has Project Mu discs and Ferrodo DS2500 pads. The brake fluid runs through Goodridge steel lines.
This car is lowered using Buddyclub Junior spec dampers.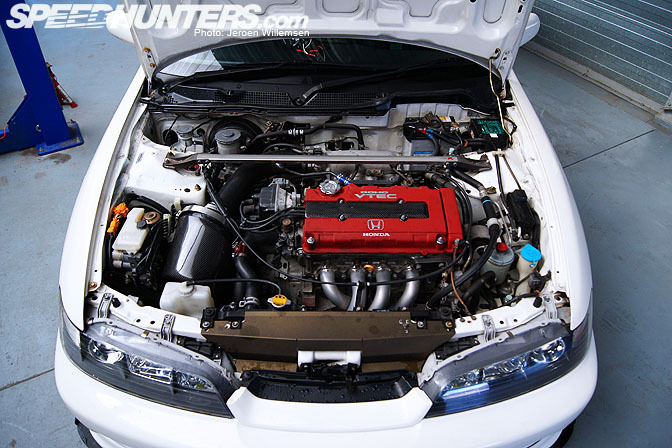 This beating heart is the venerable B18C engine inside the JDM Integra. In stock form it is very potent but the owner enhanced the engine with a SPfab T*DA 4-2-1 header, APE Garage race cat converter and  2.5" catback.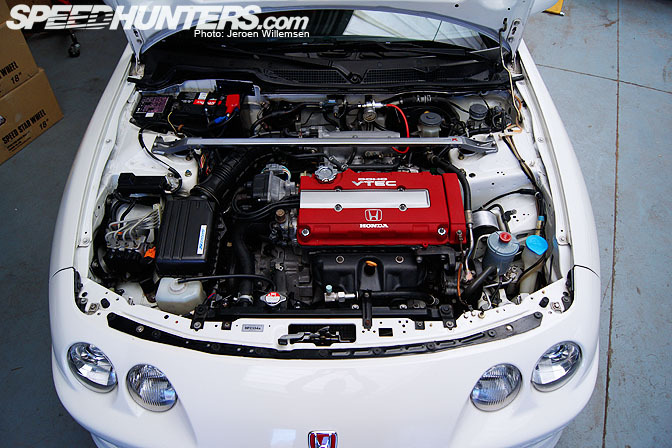 The EUDM B18C engine is pretty stock except for a Spoon air fliter, Spoon N1 B-pipe and N1 muffler.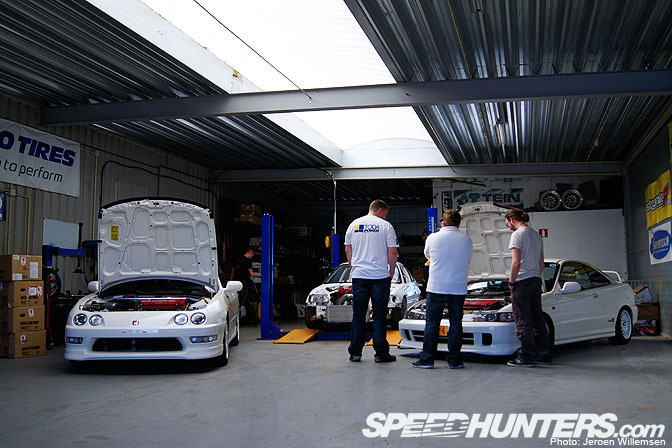 In the end it was a great day and very cool to see both of these cars together. Getting together with enthusiasts and talking about your hobby is what it's all about in our 'scene'. I need to thank the guys at Rising Sun Performance for organizing this small meet with a bunch of cool cars. I'll have some more shots of some of the other cars present on Monday.
-Jeroen Willemsen