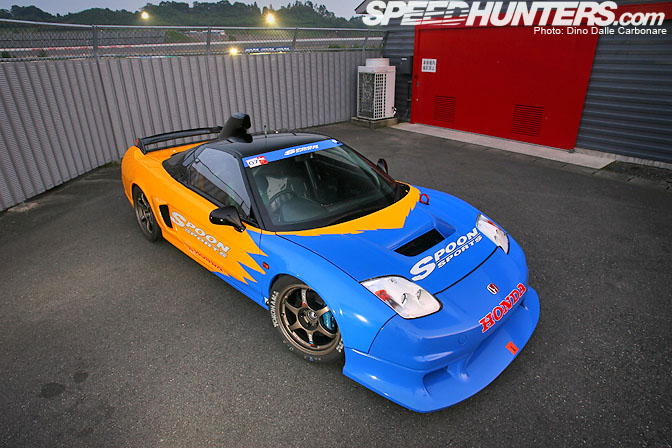 Over the 23 years Spoon Sports has been in business it has firmly established itself as one of the biggest names in Honda circles. With the simple motto that every 1/1000 of a second counts they have created their own tuning philosophy and applied it successfully to both road and race cars. Ichishima-san has always preferred to dedicate himself to the affordable spectrum of Honda production cars, almost ignoring one of Honda's greatest creations, the NSX. So you can imagine how excited everyone got back in 2008 when he came out of nowhere with the car you see here.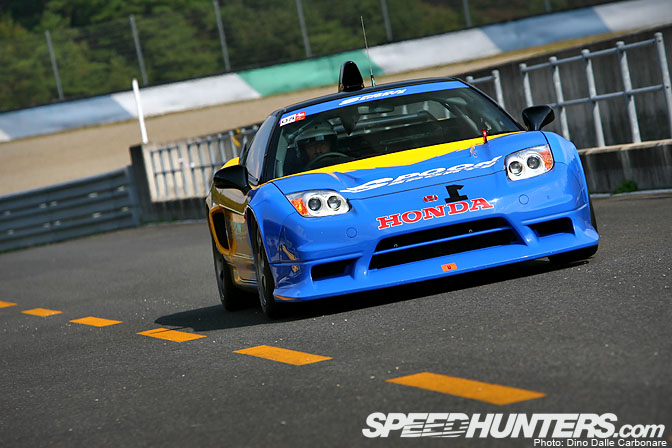 Built to celebrate Spoon's 20 years of race entries, Ichishima decided to go full out and build a special racing version of the NSX-R GT that he would, later on that year, enter in the Macau Grand Prix.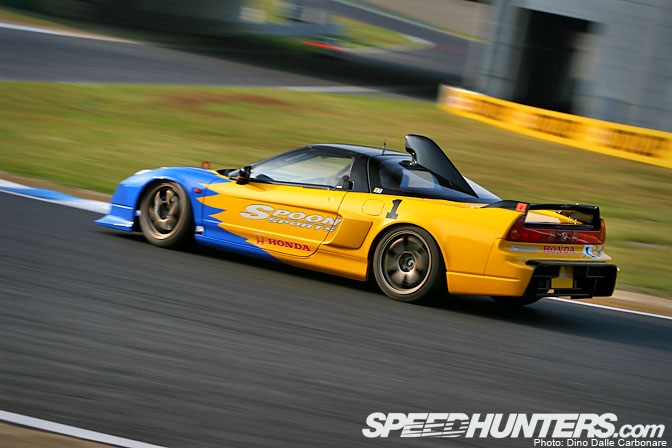 It's not every day you get the chance to take a look at such a rare car, so when Ichishima invited me to Motegi during one of the final test sessions before the car was due to be shipped out, I definitely didn't turn him down.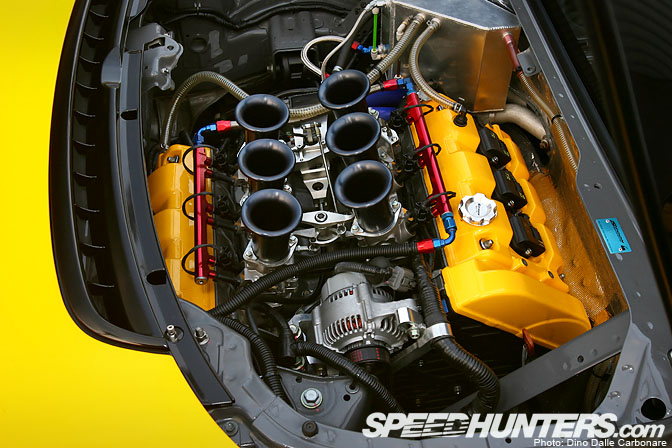 Applying Spoon's knowhow to the C32B can only give incredible results, and this particular build showed the just how extreme Spoon can really go if they want. So boosting power and response of the V6 is a fully balanced one-off stroker kit that lifts capacity to 3.5L. The heads are ported to increase airflow and boost response and fitted along with special Spoon camshafts. Once sealed along with the Spoon metal head gasket an 11.0:1 compression ratio was achieved.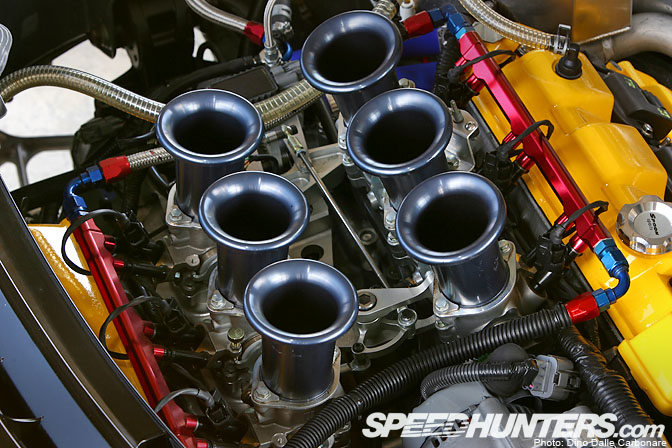 While fully custom race headers and exhaust were created the intake side employes a Toda Racing injection kit made up of a six-throttle conversion and special blue-anodized velocity stacks. Yes the sound is insane! Ichishima says power is around the 400 HP range but seeing the car blast down the Motegi short course I'd guess that was a very conservative estimate.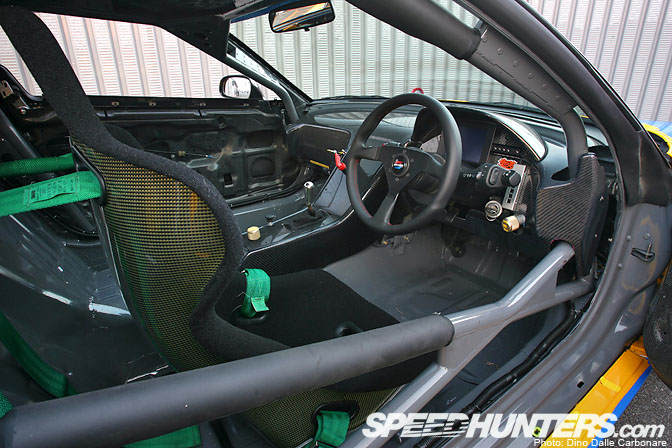 The work that went on behind this build is nothing short of mind-boggling, it is a true race car in every sense of the word. The all-aluminum chassis was further stiffened and fitted with a custom cage before being painted in gray, a special color that Spoon uses on all their race cars. Simplicity rules inside with a Takata race harness equipped lightweight carbon-Kevlar race seat and the same Spoon steering wheel that is sold on the Spoon catalogue.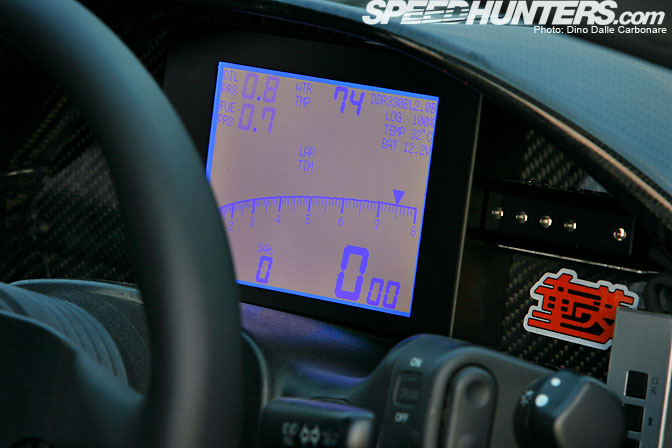 Stock instrumentation is replaced with an LCD race display. If you recognize the orange character you will also be able to figure out who took care of creating the lightweight dry carbon…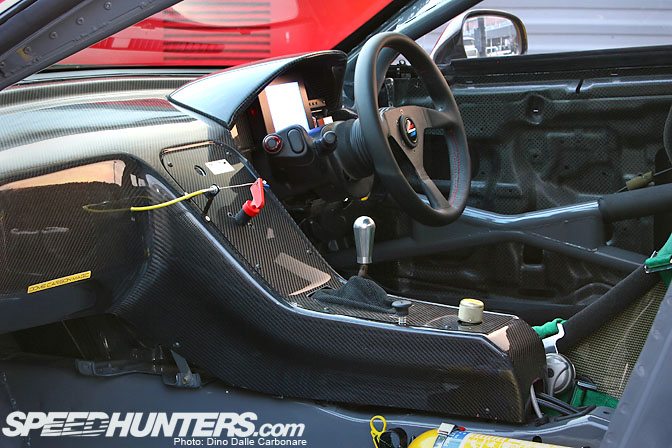 …dashboard and body parts!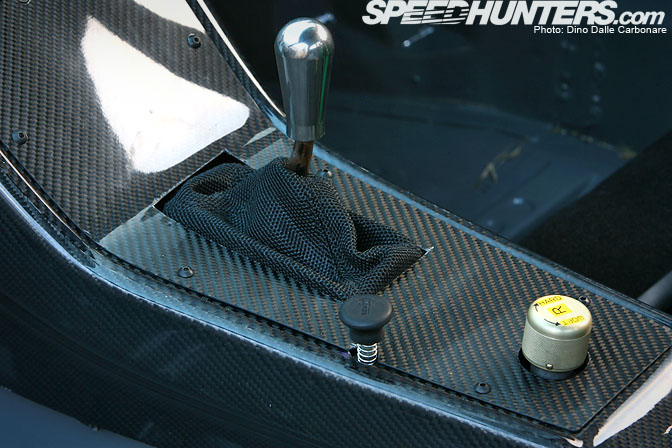 The stock 6-speeder is joined by a ton of Spoon parts like the clutch disc, lightweight flywheel, release bearing, clutch hose, special LSD and a 4.4 final.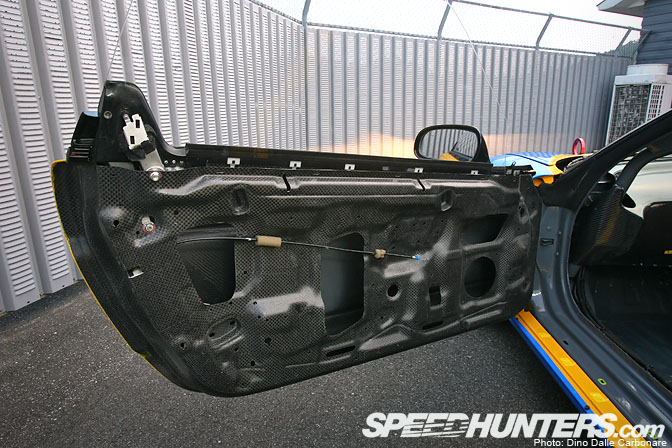 A look at the carbon doors.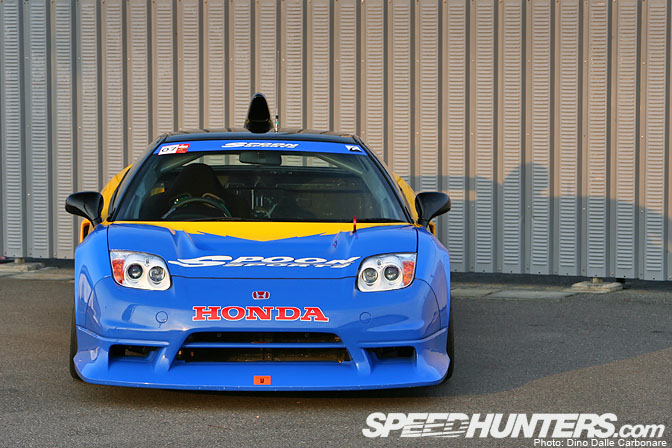 A lot of effort went into shaving weight off (down to 980 kg!) so along with the doors the NSX-R also sports a carbon hood. The "GT" front…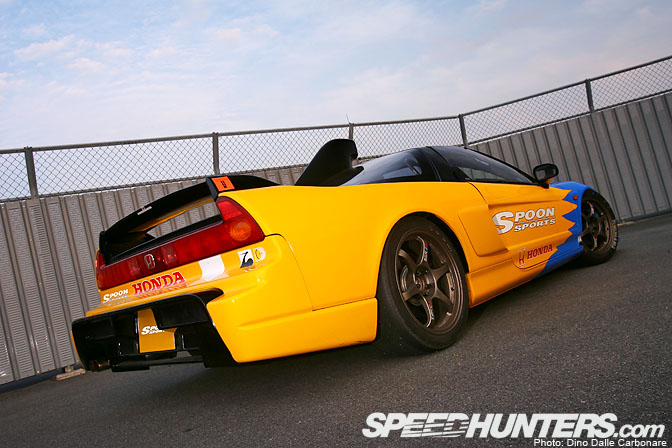 …side and rear treatment help enhance looks, especially with the blue and yellow livery. Oh and that "unicorn" air intake is a must for feeding air to those six hungry throttles!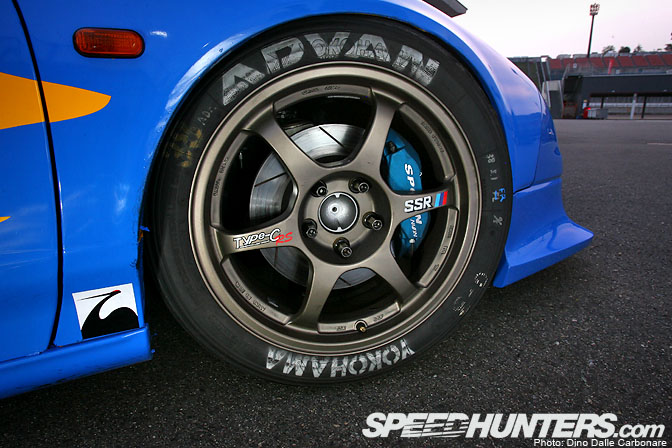 A staggered set up is run with 9.5Jx17" SSR Type-C RS and 240/640R17 Advan slicks at the front, with the rear running 10JX18" rims and 250/660R18 rubber.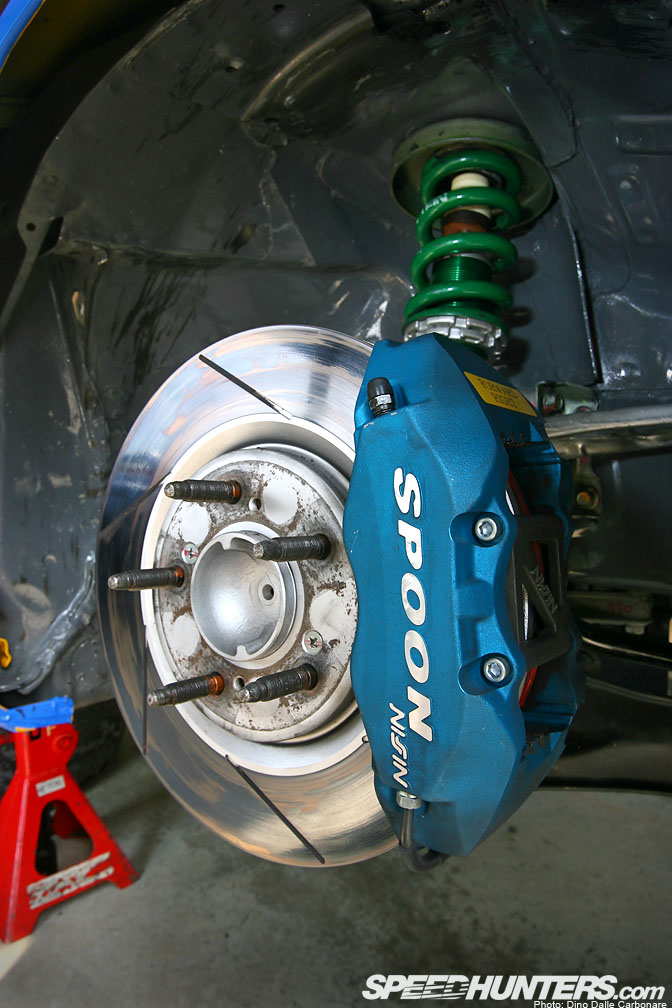 A set of Tein adjustable race dampers are used at each corner while unmistakable Spoon monobloc 4-pot calipers take care of braking.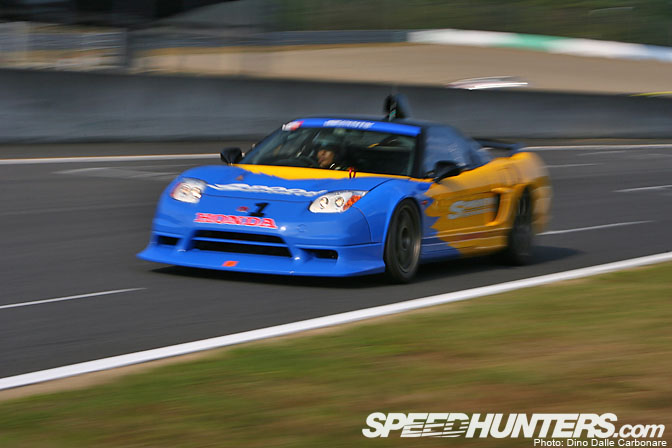 Ichishima had a bit of trouble in Macau on during the qualifying session of the 2008 race, smashing the side of the car against the barriers as the rear end kicked out when exiting the last corner of the street course. The mechanics stayed up all night to fix the car and it was as good as new for race day.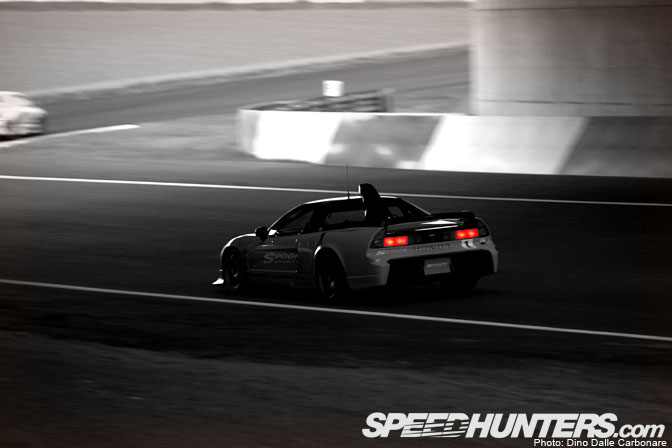 He finished in third in his class and 6th overall, a great success for the team and the car. You can check out this cool film of the race here, and hear that screaming V6 for yourselves! I'm not sure where this car is kept now, but since I have to head over to Spoon Sports in a few days I can see if it's still kept at the shop and maybe get a few pictures. More on Spoon soon!
-Dino Dalle Carbonare