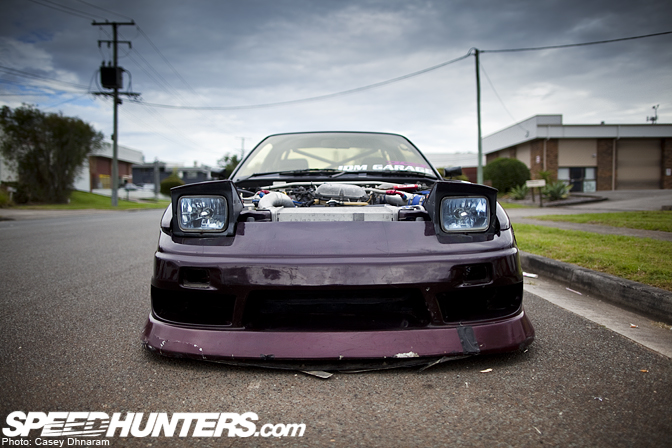 Before I begin I know this car may not have the same impact on you as it does to me. To me something like this is truly amazing; a car that arrives straight across the ocean from Japan, something so authentic I couldn't resist shooting.
When I heard JDM Garage had a container arriving, I popped by to see what goodies were within. They don't often bring complete cars in, so seeing this S13 roll out for a customer was a nice surprise.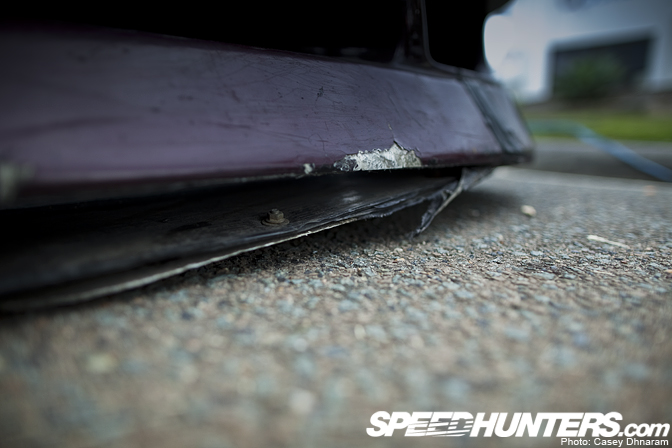 I'm sure many of you will not agree that it's the best looking RPS13 around, as you can see it must have been a true work horse in Japan.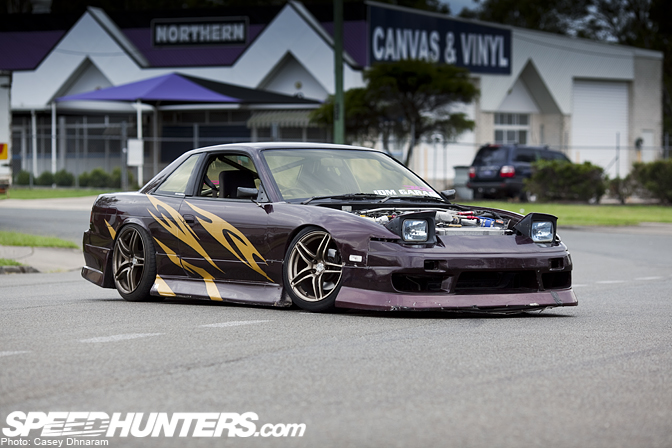 Let's put all the opinions to a side for a few minutes and have a look at the car itself. The 180SX front conversion supports a BN front bumper and side skirts, for the rear a 326 Power bumper has been fitted. A couple of other noticeable things are the yellow tint and GT mirrors.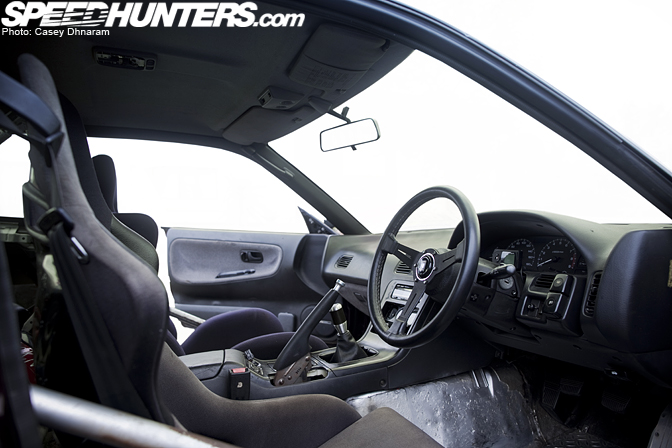 Inside the car you'll notice an essential setup. Replacing the standard seats in order to keep stable whilst drifting is a Eastbear drivers seat and Bride recliner for the passenger. There's a Nardi steering wheel…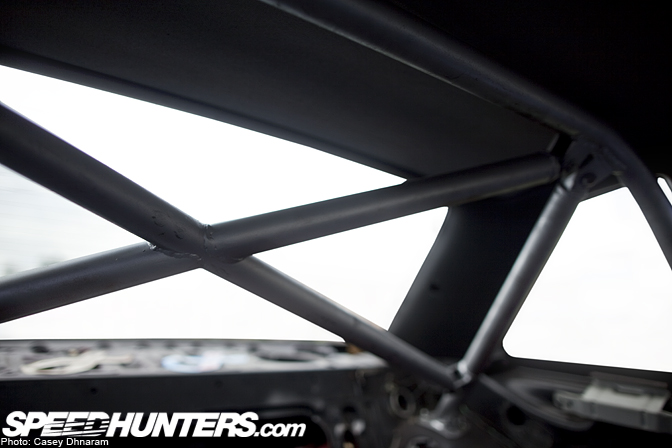 …Along with a 7-point roll cage.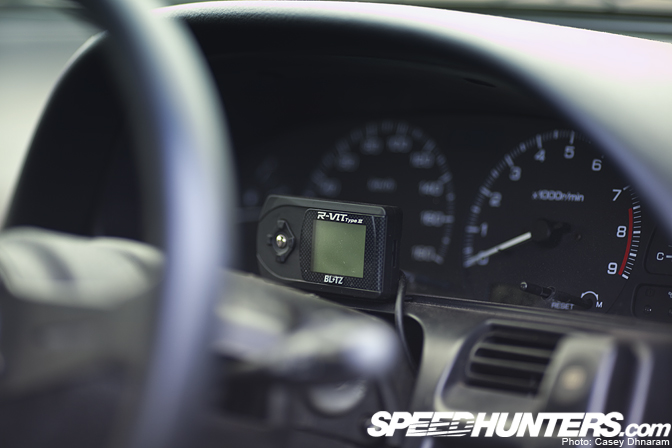 Just in front of the cluster you'll notice a Blitz R-VIT, just to keep an eye on everything.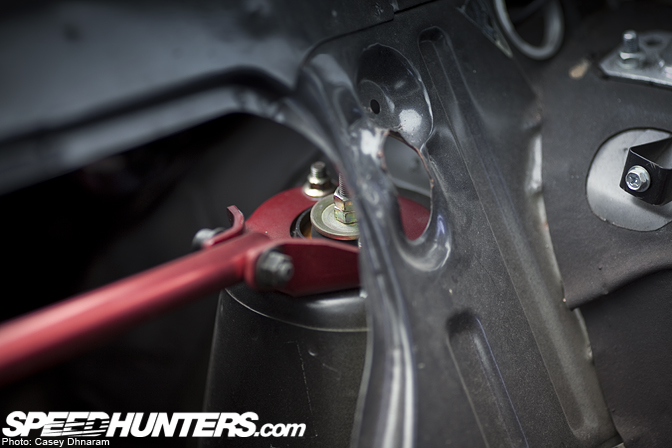 In the trunk I also noticed this strut brace, just to stiffen things up that little more.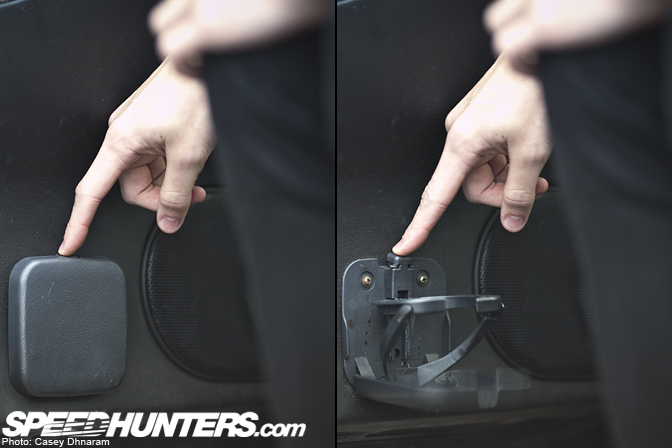 Observing around the front for a few minutes I noticed this little square attachment mounted on the door, little did I know it was a groovy little cup holder that folded out. I love the quirky trinkets you find on some Japanese used cars!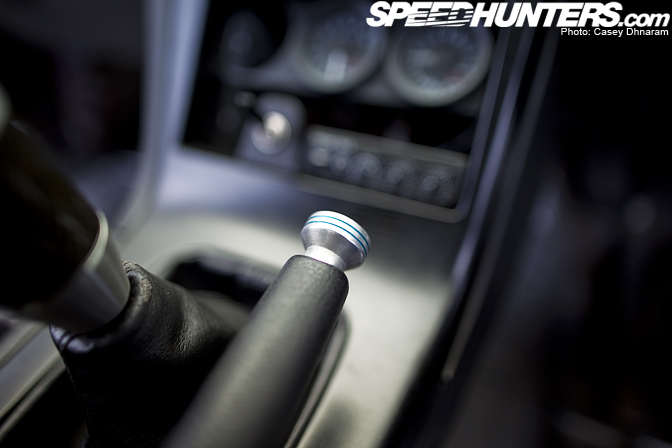 More essentials such as a drift button on the handbrake…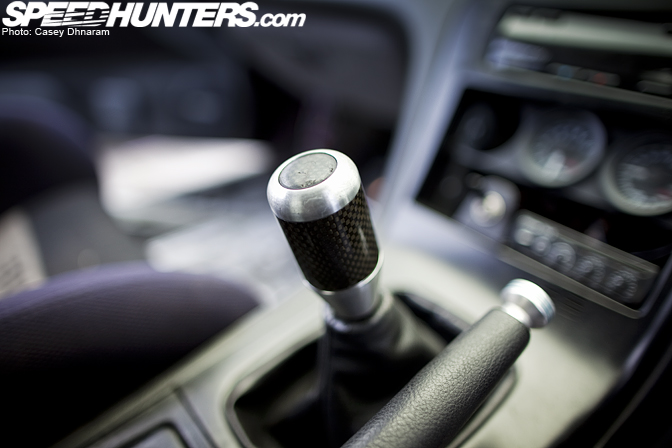 …and of course an aftermarket knob.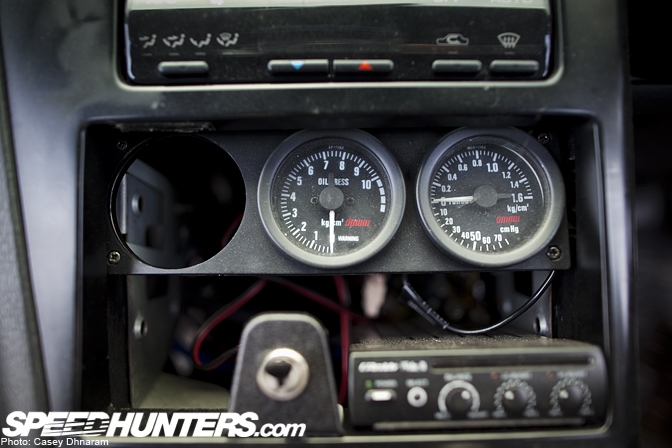 Oil pressure and boost gauge.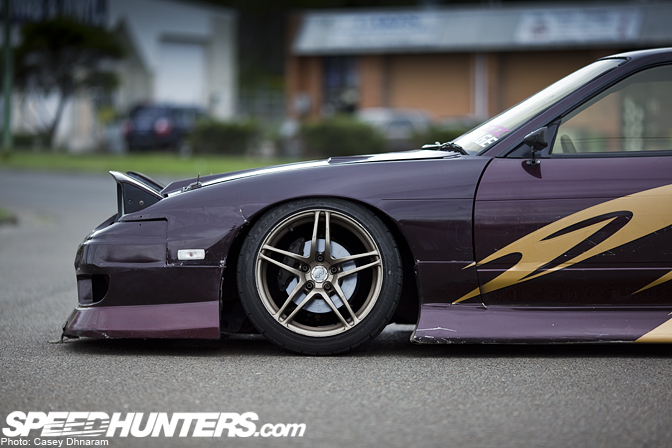 The wheels may look quite familiar to you, up front the RPS13 is running 17×9 +35 AVS Model 5 with a 25mm bolt on spacer wrapped in 235/40 Bridgestone RE11 rubber. Behind the 17″ wheels you'll find S14 brakes.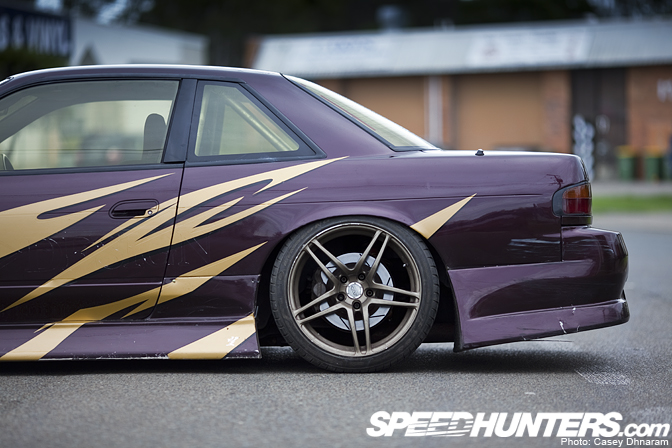 Moving to the rear are the 18×10 +19 with 5mm slip on spacer in a used pair of 235/40s. As for the rear brakes the standard PS13 ones have been upgraded to R33 Skyline ones.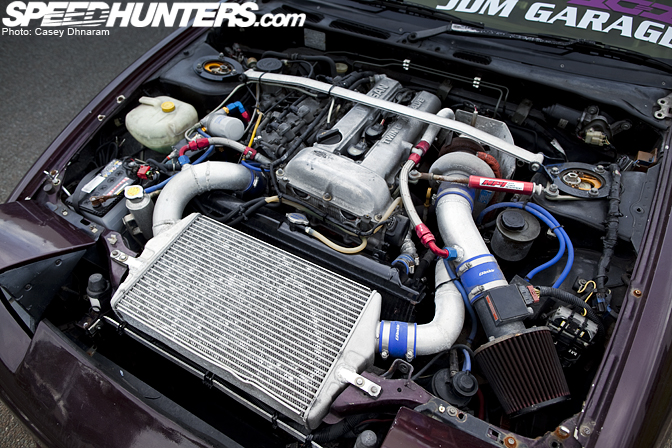 One of the main reasons I adore this car is simply because of the engine setup. Rebuilt PS13 SR20DET with S15 pistons, rods and 1.2mm head gasket.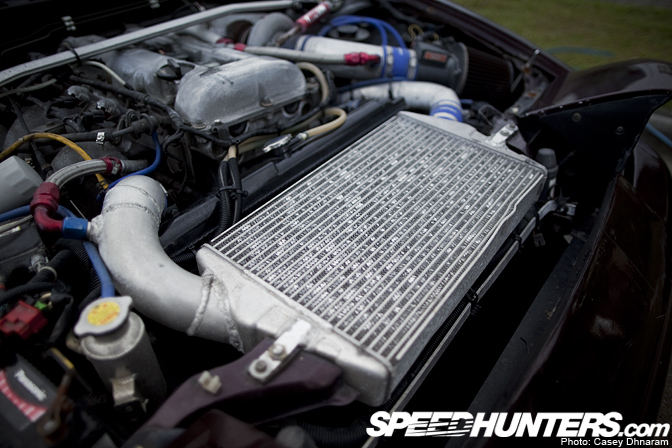 The S13 is running a V-mount setup. Although popular elsewhere in the world, here in Australia it's not as common.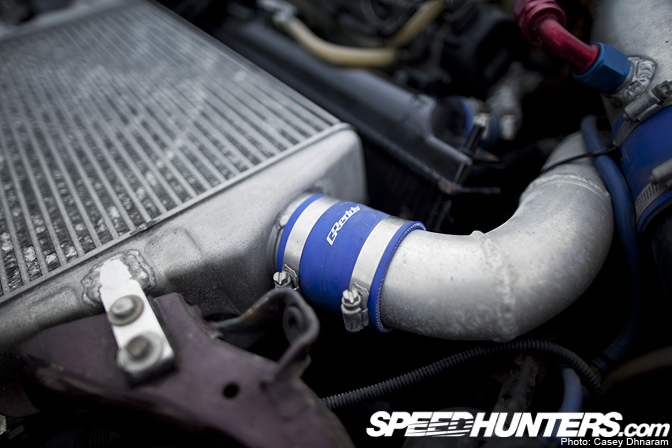 One benefit of a V-mount configuration is how short the piping is.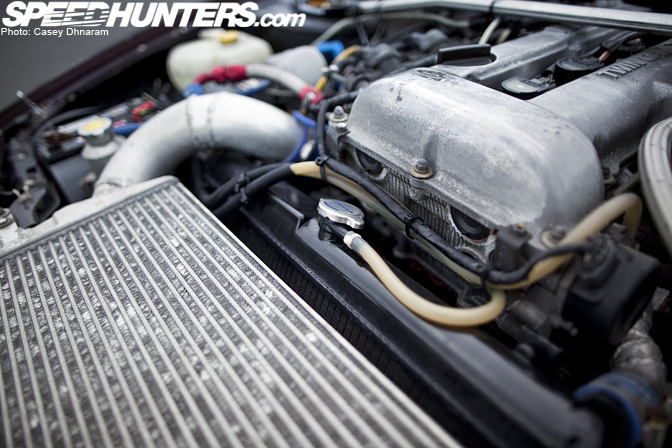 Here you can see the radiator peeking out from behind the intercooler. It's a tight fit, but it seems to do the trick!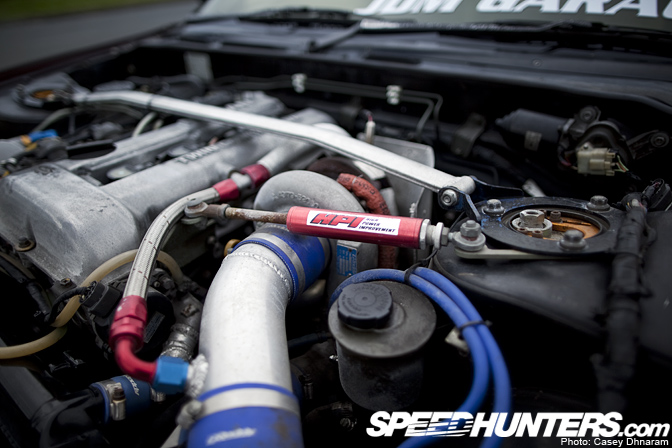 The SR20DET is boosted by a TRUST TD06 20g fitted to a high mount manifold, pushing out a healthy 350rwhp.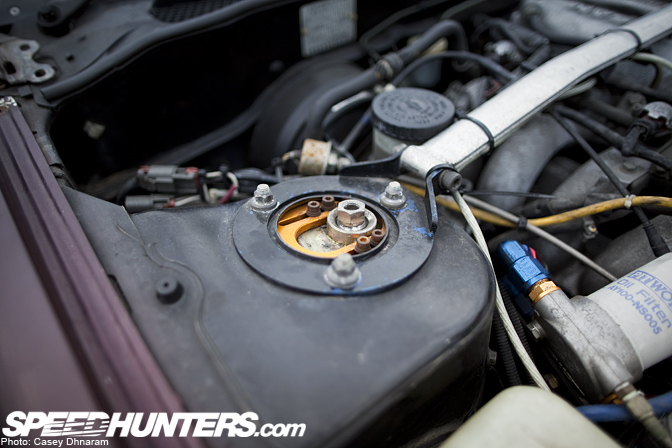 The S13 sports a full set of Kei Office coilovers and Ikeya Formula arms.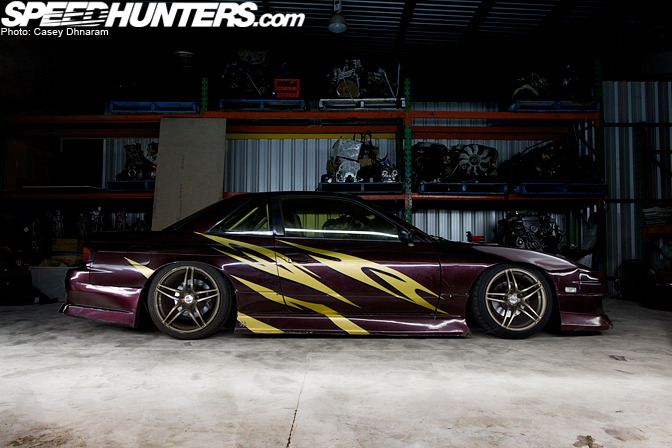 Finally a shot of the car all in one piece in JDM Garage's new workshop.
In conclusion I love cars built in Japan, this being a perfect example so I thought it was a great idea to show you guys something straight off the boat. I really hope this car stays how it is.
Thanks to Daniel Buchna and Erin Sykes from JDM Garage for allowing me to shoot the car and use their shop space!
-Casey Dhnaram
Spec List
Exterior
-180SX front end conversion
-BN Sports front bumper
-BN Sports side skirts
-326 Power rear bumper
-Vented fibreglass bonnet
-GT mirrors
-Yellow tint
-Raybrig lens'
-17×9 + 35 AVS Model 5 (25mm spacers) 235/40 Bridgestone RE11
-18×10 +19 AVS Model 5 (5mm spacers) 235/40 skid tires
Mechanical
-Rebuilt S13 SR20DET
-S15 pistons, standard rods and 1.2mm head gasket
-Tomei poncams
-Tomei rocker stoppers
-550cc injectors
-Z32 afm
-Trust TD06 20g turbo kit
-Trust high mount mani and gate
-Mitsubishi VR4 cooler modified end tanks for V mount setup
-Yoshio Factory 3 core copper radiator
-Trust oil cooler kit
-Mines tuned ECU
-Nismo fuel pump
-Excedy organic clutch
-SR20DET standard gearbox
-Nismo 2 way differential 
Interior
-East Bear driver seat
-Bride recliner passenger seat
-Nardi 350mm classic
-Blitz R VIT LCD gauge
-Omori boost and oil pressure gauges
-7 point roll cage
-Sound deadening removed, carpet removed
-Alloy checker plate floor mats 
Suspension, Brakes & Wheels
-S14 5 stud conversion
-S14 front brakes
-R33 rear brakes
-Kei office coilovers
-Ikeya Formula camber arms
-Ikeya Formula front lower control arms
-Tein tierods
-Alloy cradle bushes