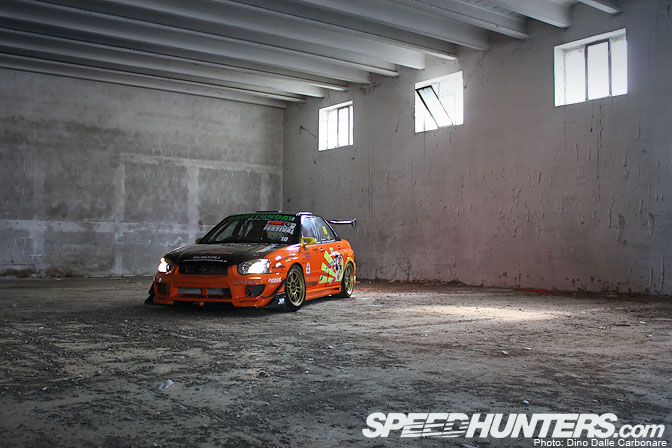 I think Italy and Japan couldn't have a more different car culture. No matter where you are in Japan, you could arm yourself with a camera, head out onto the streets and in a matter of minutes you would see something cool worth shooting, be it an old shakotan classic, a modified sports car or an exotic. In Italy, you really have to search for something cool, as the majority of cars on the roads are a little, how shall I put it, uninspiring.  But once you look in the right places you will be simply amazed, as passion for cars is very much alive and well. Forced by stringent laws and regulations to keep cars almost stock is something that has been hampering enthusiasts in Italy for decades now and it just doesn't make any sense when you see the kind of tuning culture that exists in other countries that are part of the European Union. You aren't even allowed to up the size of your wheels unless it's specified in the car's registration papers that your vehicle has been homologated to run wheels 1 or 2 inches bigger. It's a true pity as the industry, not to mention the economy, could really flourish if tuning was allowed to become more mainstream. So when I was looking for something cool to shoot during my time in Italy last month I had to call in the help of local Speedhunters reader Matteo Vitale who let me know that the drift team he was part of was based a short 30 min drive from my house!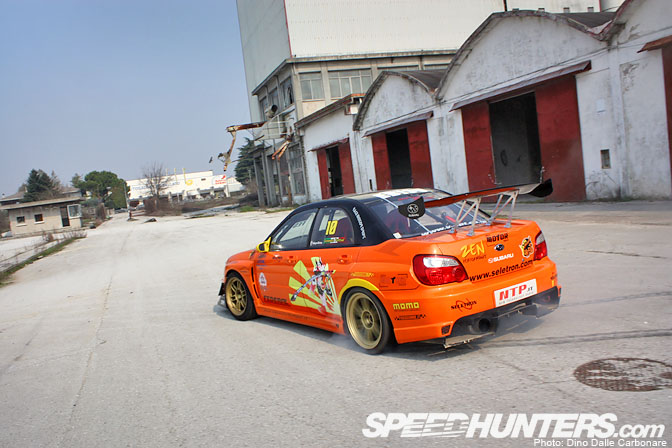 So the day before returning back to Tokyo I met up with the owner and driver of the orange GDB Impreza you see here, Emanuele Festival. The location, an abandoned factory, one of the coolest places I've ever had the pleasure of shooting in! So, armed with my borrowed 450D, I got to work and began to immortalize the Subaru…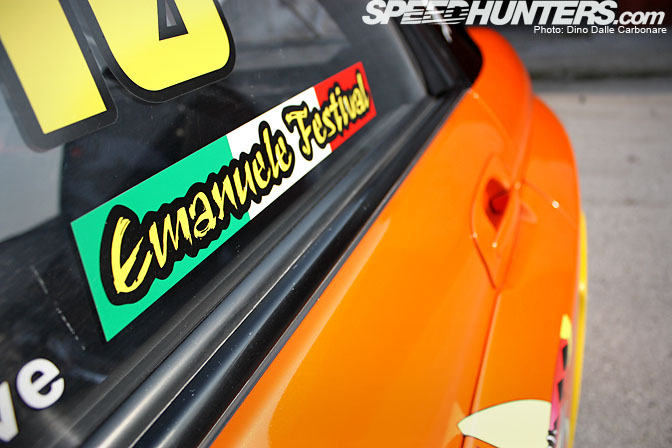 …and chat to Emanuele about his passion for drifting and how his professional career has evolved since he got started back in late 2005. "It all happened by chance," he says, discovering this innovative form of motorsport while heading down to Adria on a cold winter's day to track his RX-8. He found the circuit closed for a private event where the guys from SCDT were out practicing their sideways antics. He was hooked there and then and by February 2006 he had already built a drift-spec BMW 3-series and entered his first Super Drift round finishing second behind Graziano Rossi, the father of a rather well known motorcycle rider that goes by the name of Valentino!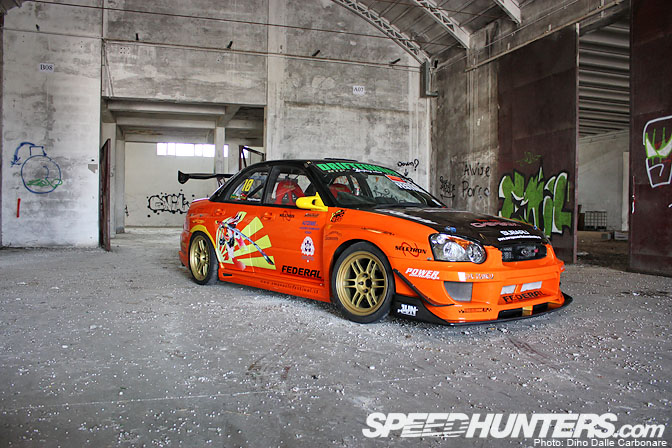 After a triplet of title wins, Emanuele decided to step his game up in 2009 by dropping his BMW for something a little more serious, the ex-Team Orange Impreza that was built in the UK by Zen Performance and used for drift events by Kumakubo during his time in Europe.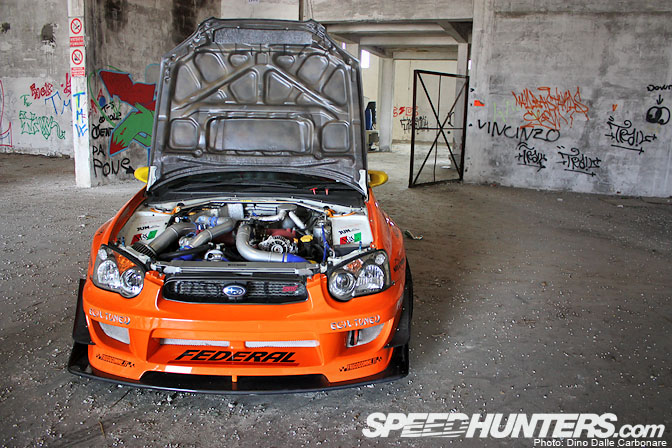 The spec is very similar to the D1 car that has been used in the Japan…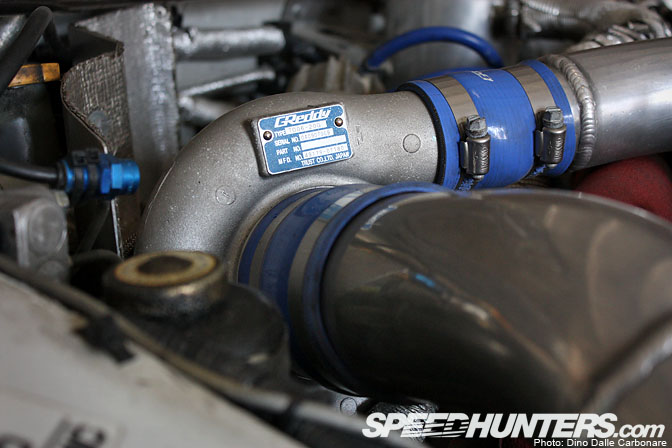 …running a JUN rebuilt EJ and a GReddy TD06-20G turbine for around 420 HP. 850 cc/min Sard injectors are fed by the externally mounted Bosh fuel pump…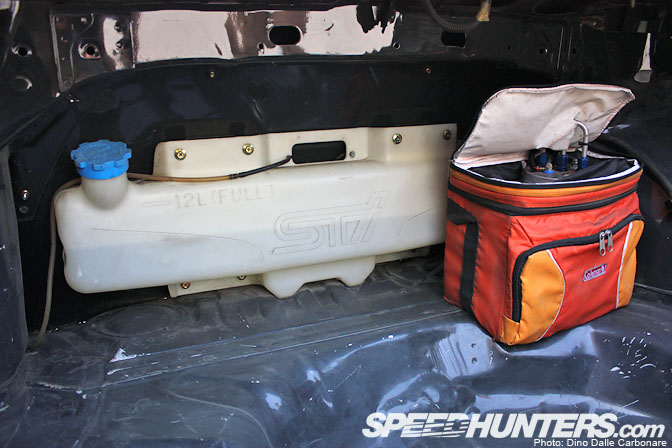 …and collector tank that are neatly enclosed in the color matched cooler bag in the trunk! Here you can also see the 12L water tank for the intercooler spray.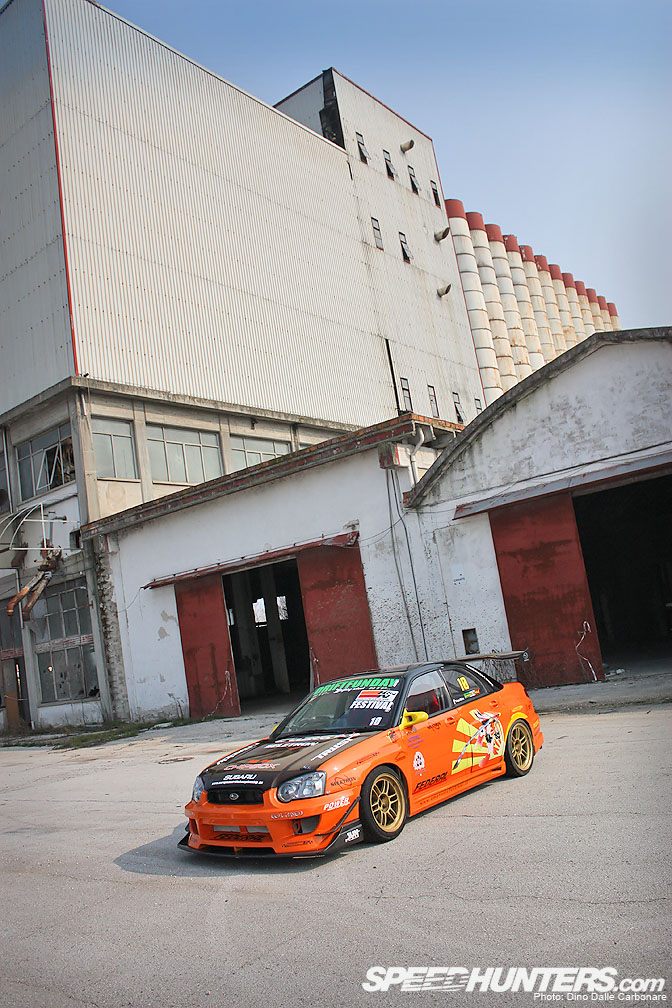 Emanuele has had quite an adjustment going into the Impreza, mainly due to the fact that the car is right hand drive. Aesthetically the car wears the same M-sports widebody treatment as every Team Orange Impreza, personalized with some custom graphics that hint at the Japanese link.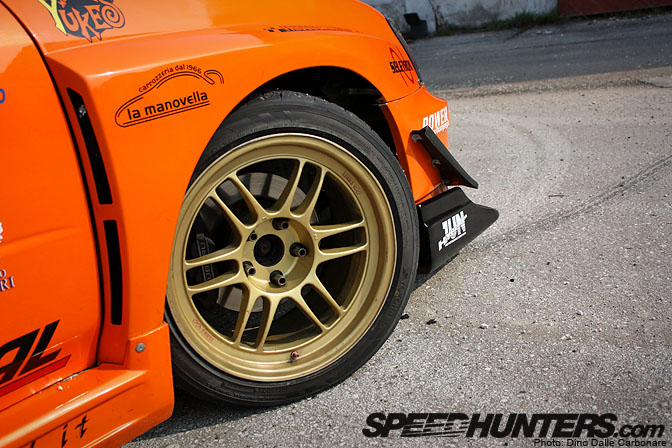 Suspension are upgraded with fully adjustable DG-5 dampers and Cusco arms. The 17-inch Enkei RPF01s are shod in 245 section Advan Neova at the front while the rear usually runs slightly wider Federals.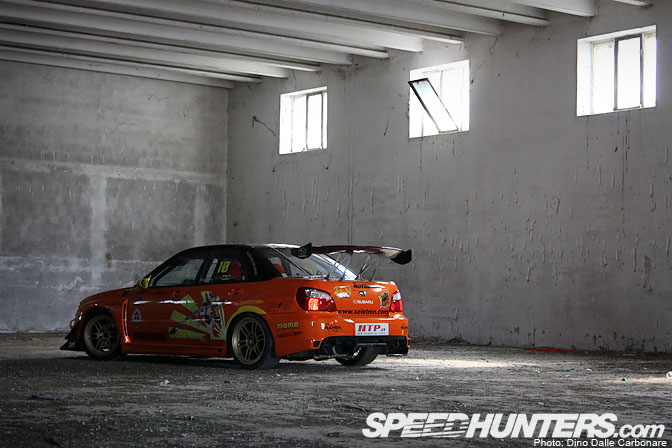 Helping dose power at the rear is a Cusco 1.5way LSD.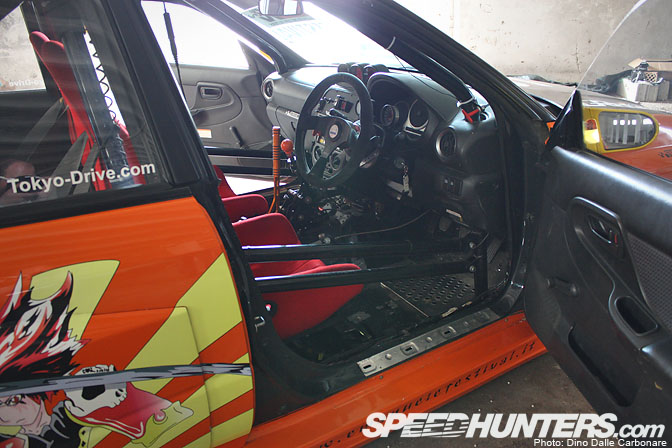 On top having been spot-welded for optimal stiffness a chunky roll cage was also constructed.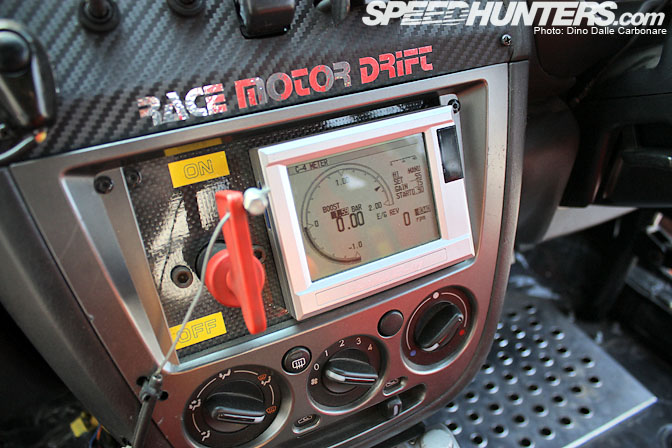 GReddy Profec e-01 boost controller keeps the TD06 pinned at 1.8 bar during competition.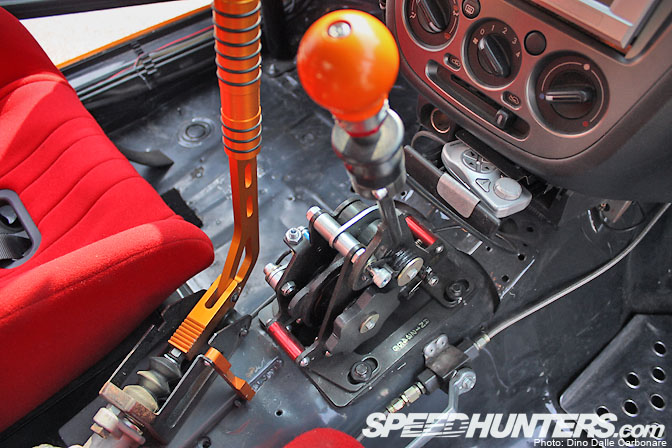 On top of the close ratio Subaru box an Ikeya Formula Sequen Shifter makes sure gears can be grabbed in a split second without the need for a prohibitively expensive sequential gearbox. The orange lever for the hydraulic handbrake is color matched to the Team Orange livery!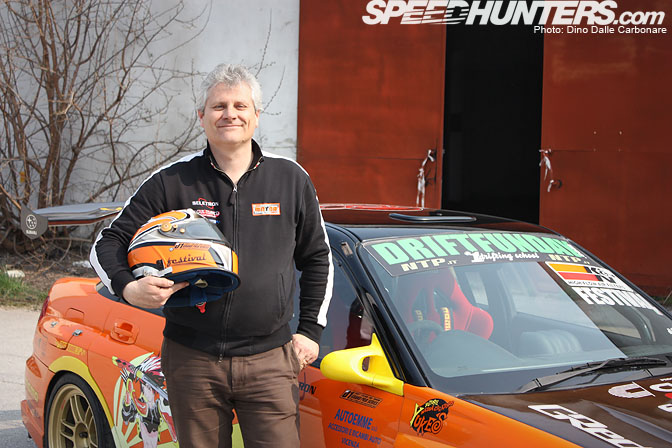 Emanuele posing for a shot.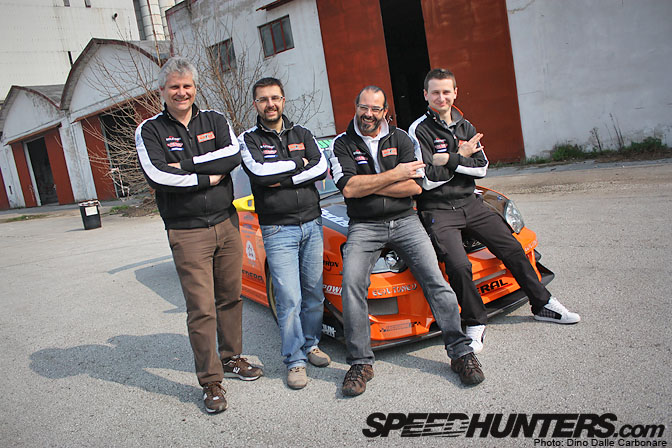 It was great to see the whole team show up for the shoot! From the right Matteo Vitale who handles PR for Team Festival, Antonello Motta the Technical Director and Emanuel Lago of Seletron in charge of engine mapping.
Thanks again for your time guys, we wish you the best of luck for 2011! Grazie!
Emanuele Festival Official Website
-Dino Dalle Carbonare