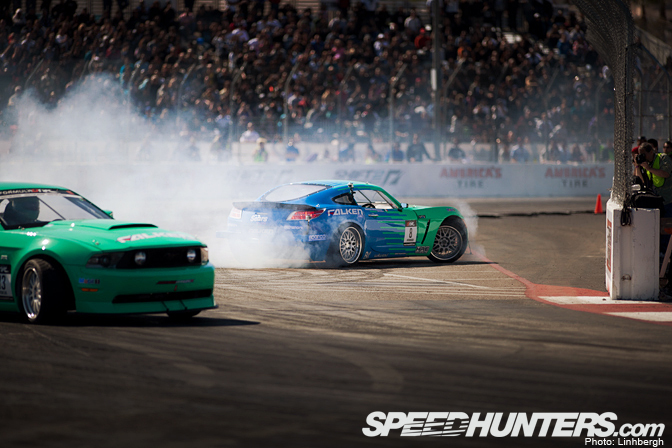 I dreamed about this year's Formula D Long Beach since the close of the 2010 season in October of last year. I didn't dream about how excited I was to go to the event, but rather, I dreamed about how to capture the event photographically. I can recall countless nights, which I've stared up at the ceiling imagining the Long Beach drift circuit. I pictured the paddock, the starting grid, each corner and each photo hole in my mind. I pondered about the actually how of shooting the event, what settings to be shooting at and the always changing lighting conditions.
It's best to think of how I nerded out in the months leading up Long Beach like how a racing driver drives the racetrack in their mind in prior to the actual race –the pre-gaming before the actual game.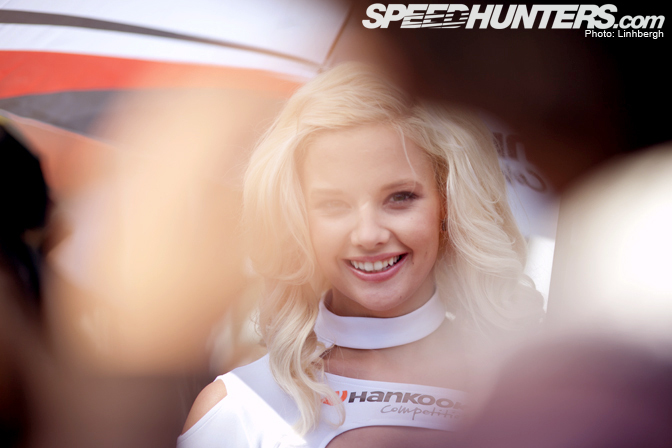 By the time Friday's qualifying day came about, I still had no clue to how I would shoot the event different from years previous. As a Speedhunter, I've grown used to the art of reactionary photography. Basically, you see something cool happening on the spot, you react to it by clicking the shutter button.
In the months leading up to the event, I heard news of photographers arming themselves with the latest and greatest photographic weapons for the Formula D 2011 season. Their weapons caches grew as the Long Beach event drew closer. The one decision I did make about the upcoming FD season was that I'd do the opposite of what the other media guys were doing: I went for a much lighter and more minimalist approach to photography. I removed the battery grip and opted to only use two lenses: one wide and one telephoto (for you photography geeks that would be a 35mm prime and a 135mm prime).
Gear aside; I still had to think about the style of which I'd shoot the event.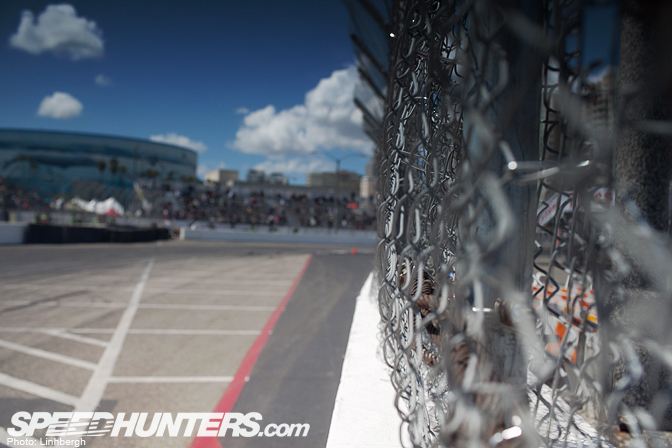 Each event and each track have their own 'feel.' Long Beach has a vibe and energy almost equal to that of the season finale at Irwindale. But instead of the finishing-with-a-bang procedure that is Irwindale, the streets of Long Beach has a first-day-of-school excitement. Everyone had new outfits and toys to share, teams wanted to see how their competition stacked up, and the crowd soaked in all that excitement only to spit it right back out with wild cheers.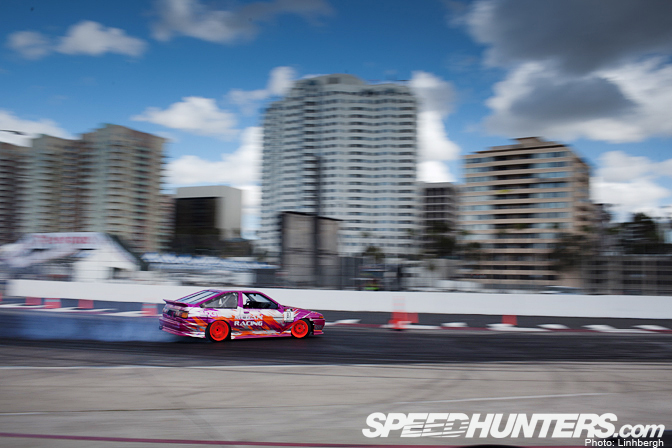 This year would be my third season, which I've been apart of the circus that is Formula Drift.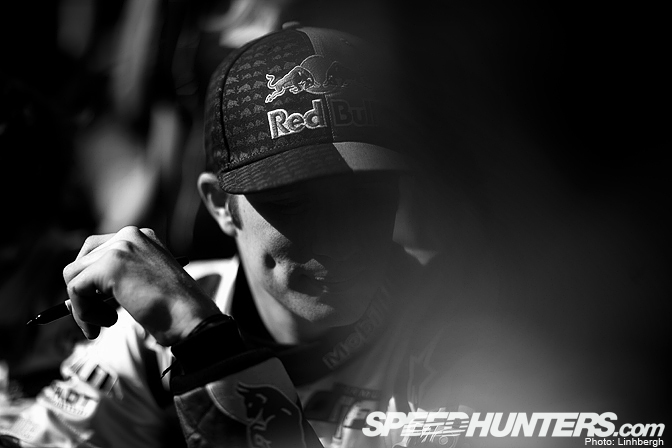 And for my third year, at Long Beach, I thought I'd take the time to focus more on the people that run the circus more so than the machines that are the main part of the show.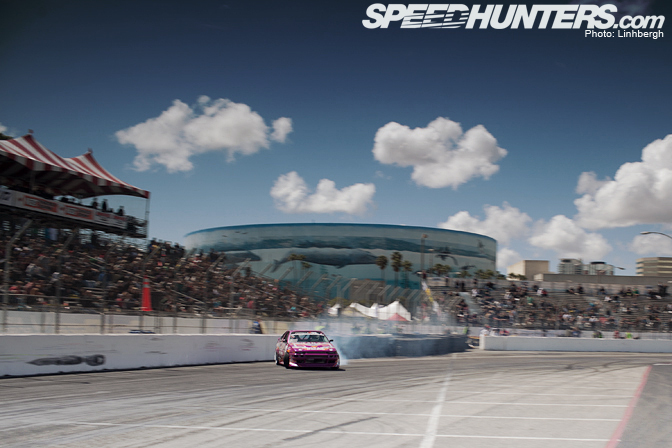 I dipped into temptation and went trackside to squeeze off a few on-track action shots. It was hard to resist the opportunity to stand just a few feet away from these drift machines.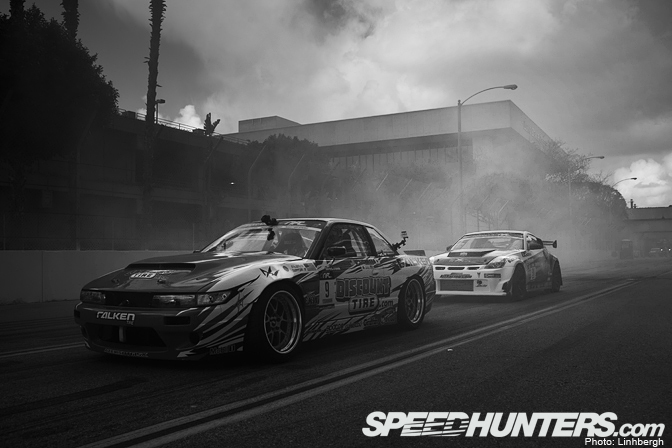 One of the signature attractions of the Long Beach event is the sound of drift cars bouncing off the walls and buildings. There aren't many places where you can legally hear such acoustic spectacles.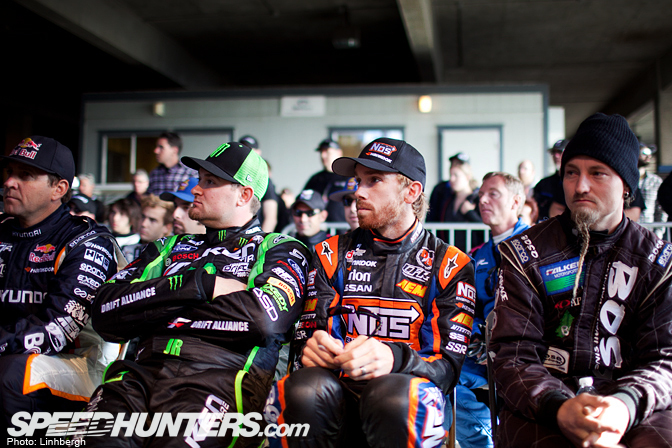 During the drivers meeting Friday morning, I noticed the NOS Energy drink driver, Chris Forsberg, sitting like a timid little kid. It's rare to see such a public figure looking rather vulnerable. I don't blame him. He was starting a new season in a new car.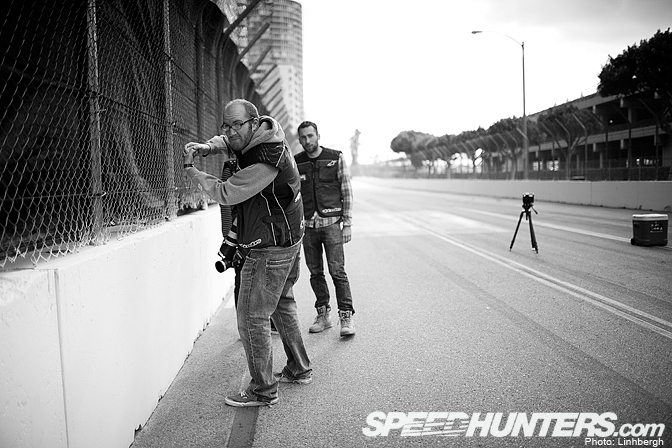 Unless you're in the trenches that is the media pits, its hard to know that being apart of the media is as entertaining as the big show itself! Media goon and speedhunter, Mike Garrett, couldn't help but show off what he calls his "Captain Awesome" stance while filmmaker, Will Roegge, looks on.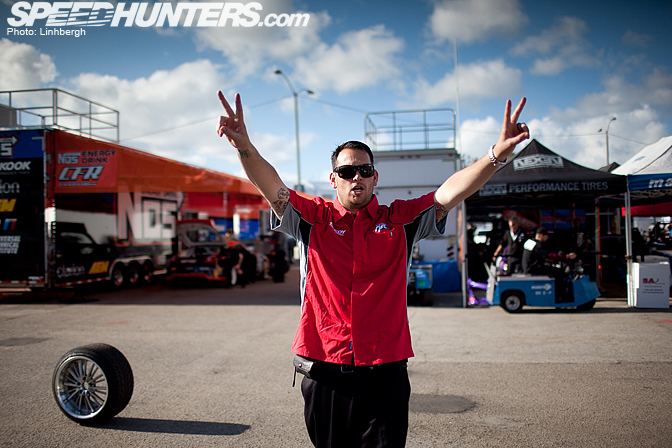 This man, giving the signature Richard Nixon double peace sign, is quite a big cog in the clockwork that is Formula Drift. He's Jarod DeAnda, the MC and DriftStream commentator for all FD events.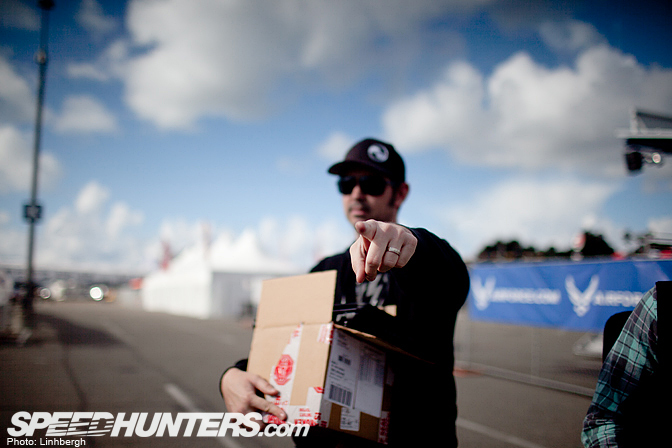 Another FD cog, Blair Stopnik. He's the manager for drivers Chris Forsberg and Ryan Tuerck.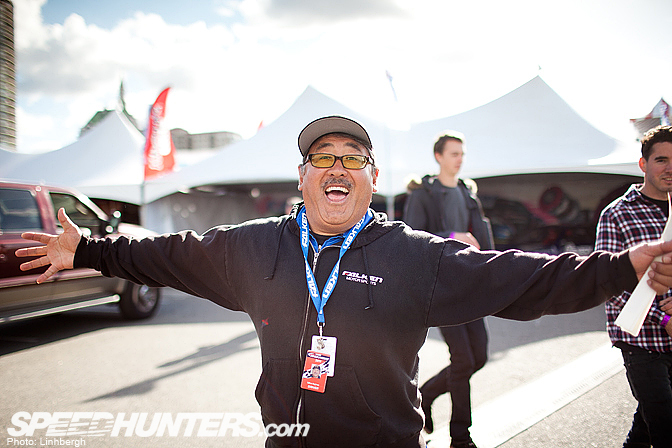 This is MotoIQ's very own Mike Kojima. His technical knowledge of cars and race cars is unrivaled.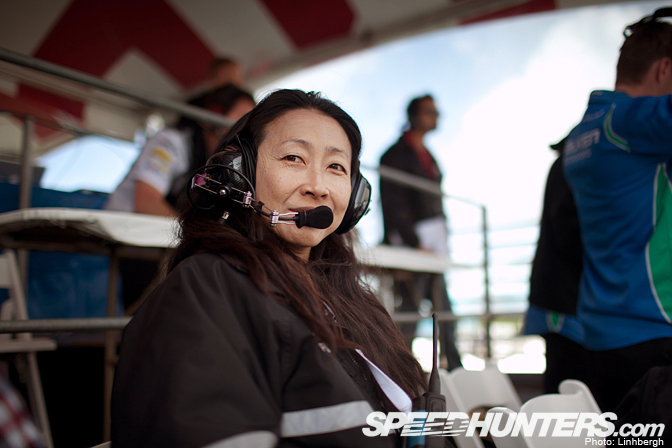 And here's one more unseen FD cog. This is Taka Aono's spotter and wife, Yoshie Shuyama.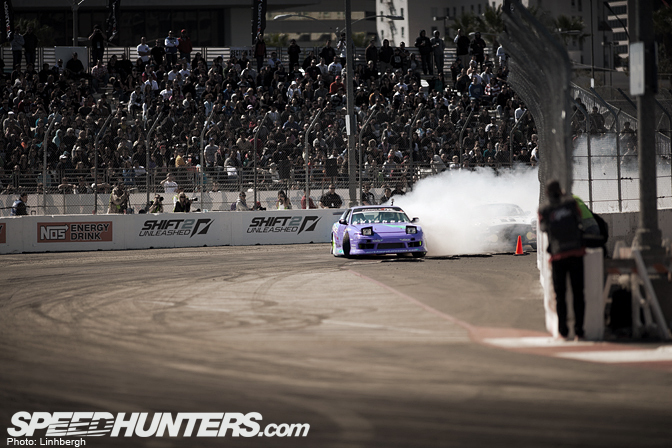 Back on track, there was a lot of excitement going around for this FD rookie and pilot this violet colored S13 coupe, Walker Wilkerson. His performance all weekend was nothing but electric.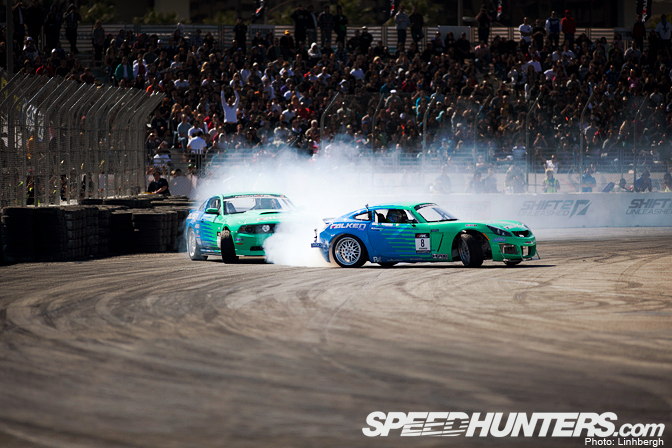 Before each event, a few of us media guys would get together after qualifying to predict who we think would get on the podium. Many of us mentioned that Darren McNamara would win the event outright and if he didn't, he'd at least stand somewhere on the podium. Alas, our predictions were completely off and he was knocked out by his own teammate, Justin Pawlak, who also went on to win the event.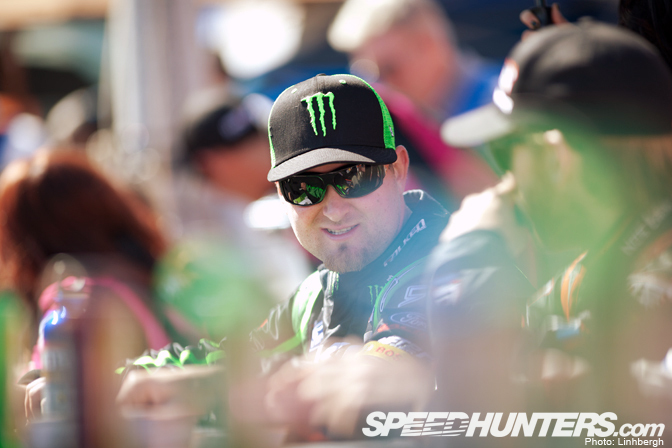 Vaughn Gittin Jr., the 2010 champion, had so much going for him leading up to Long Beach, but as we all know he was not able to qualify for the top 32. I witnessed JR walk around the paddock with his head up high and took his defeat like a champion would. His manager and fiancée, Abigail Baker, said it best on her twitter account:
"What speaks volumes about a person is not how they react to success, but how they react to failure."
I couldn't agree more.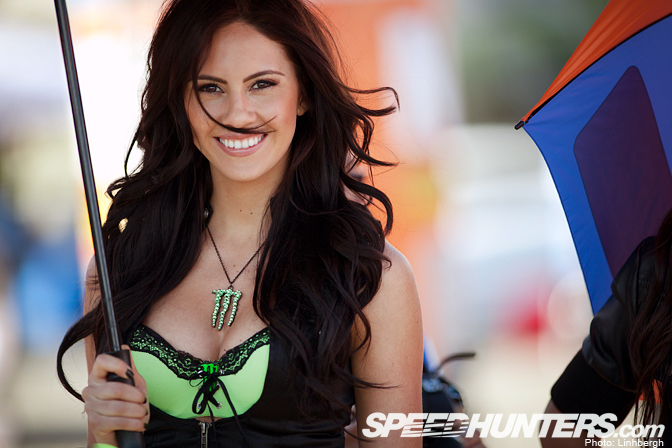 Of course, where there was Vaughn Gittin Jr, there was also his umbrella girl, Ashley Sarto, not too far behind.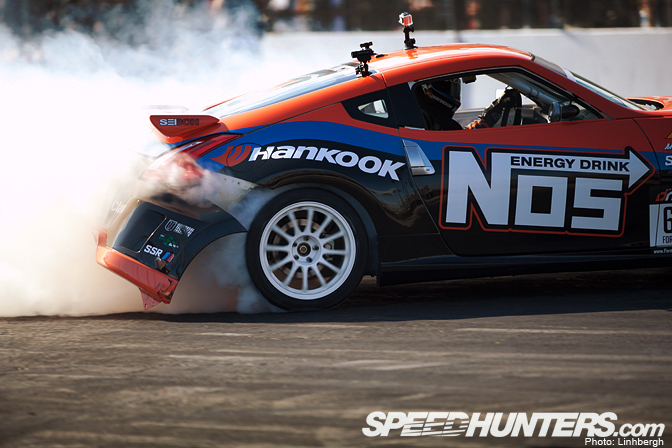 Despite looking so timid looking at Friday's driver's meeting, Chris Forsberg looked very comfortable in his new drift 370Z by Saturday.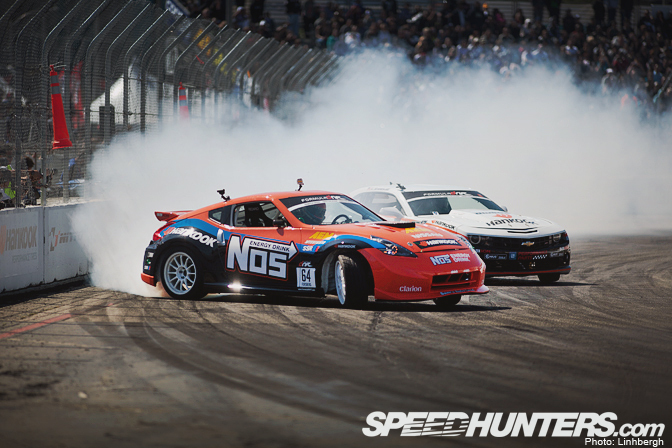 See?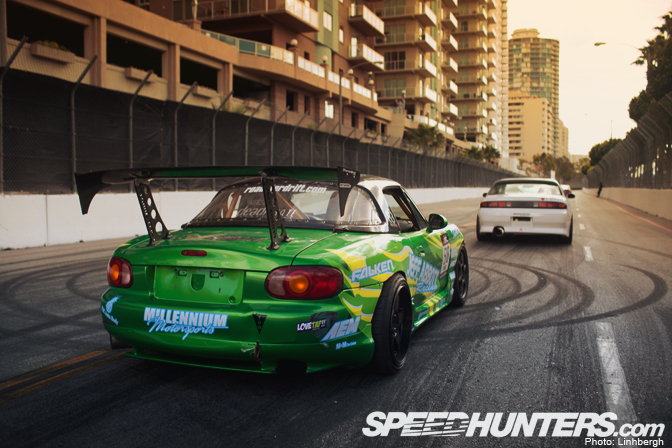 One of my favorite cars of the event, Jeff Abbott's Mazda Miata…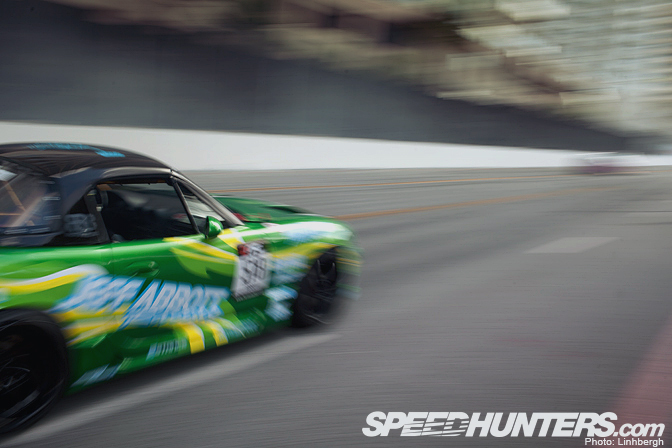 …and he blasts off into hyperspace at 1.8 liters of turbo charged fury!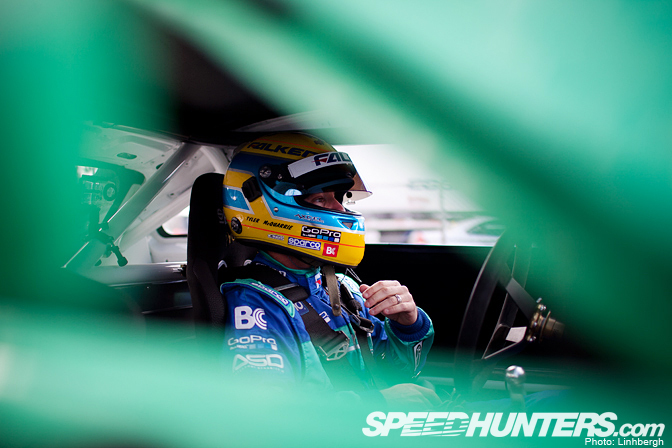 Falken driver, Tyler McQuarrie, getting in the zone at the starting line.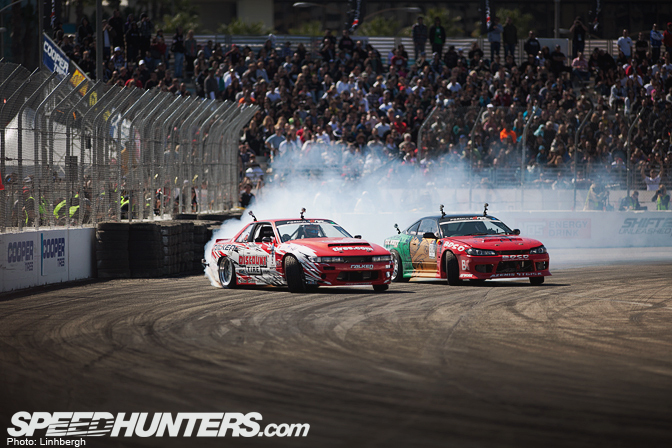 With Ross Petty's S15 now running an LS3 Chevy V8, the Falken drift team is now an all V8 powered team.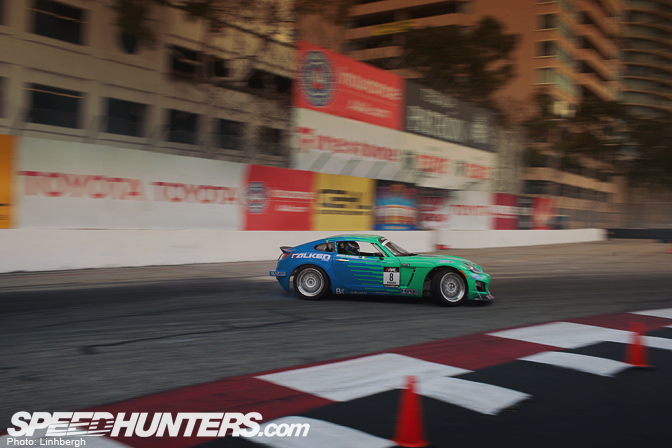 Darren's Saturn Sky fastback is definitely one of my favorite cars of the new season. I have high hopes for the car and the driver this year!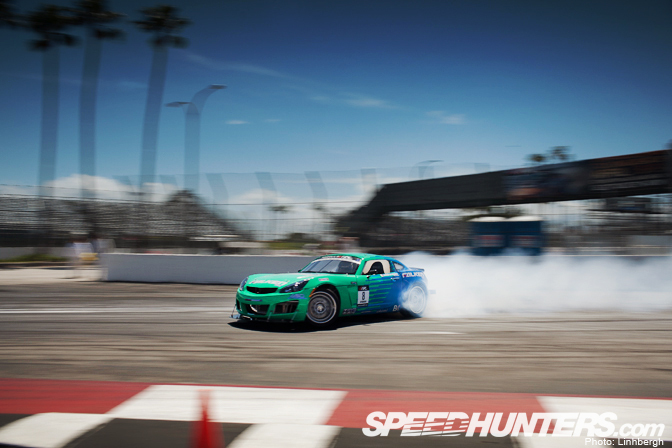 Doesn't it look amazing?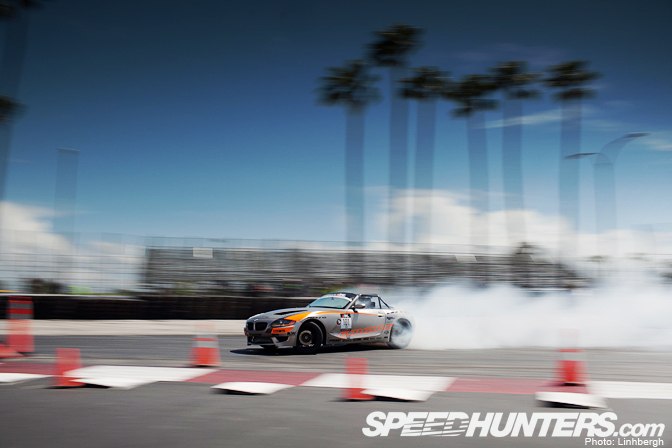 Another car that I was quite excited to see out on track was Mike Essa's new BMW Z4.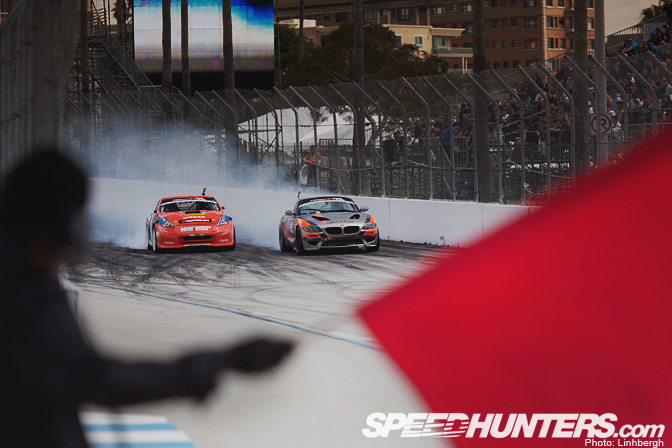 The finish line. A place where many people don't usually get to see at an FD event.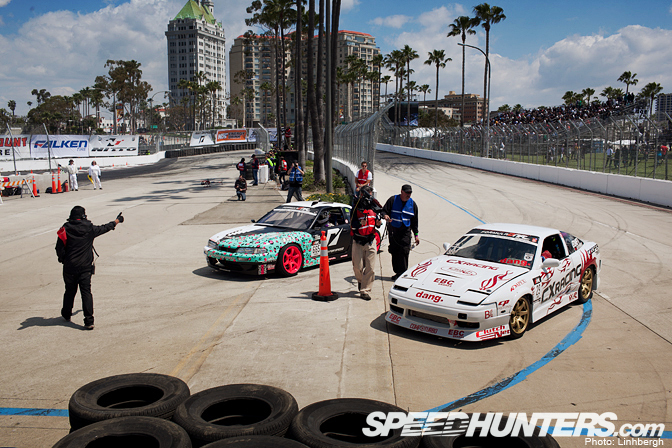 It's the place where the red flag bearer gets the word from the judges to let which driver has won the tandem battle. Careers are either made or lost here.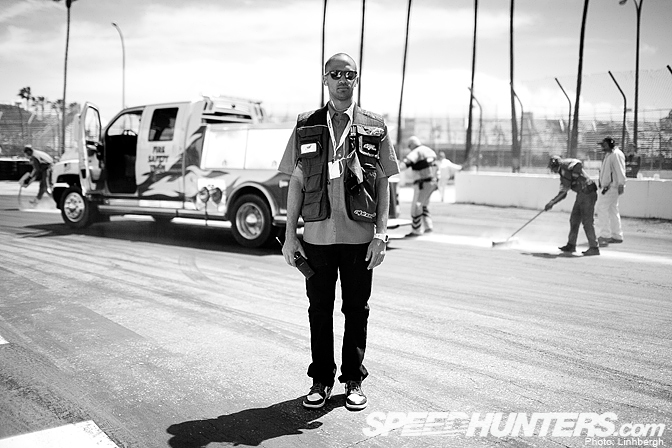 Another cog. This time, it is the official Formula D photographer, Jose Martinez. If you've seen any online ads, print ads, or billboards for Formula D, this man is the man responsible for all the imagery. If you ever see a photographer standing where no other photographer should be allowed, that would most likely be Jose, as he has quite a bit of access many of us other media guys do not have.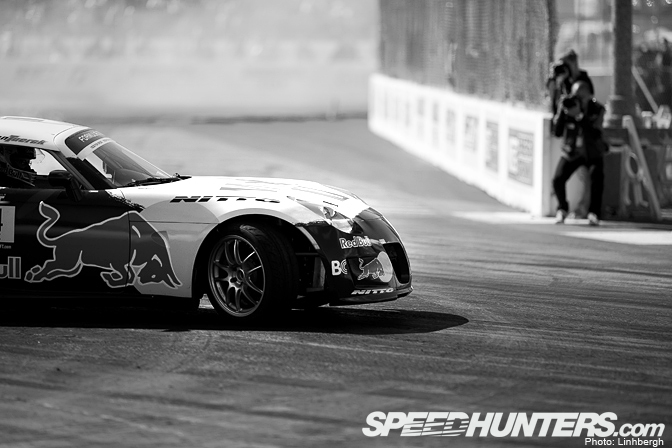 What're the perks of being the official photographer? How about standing dangerously close to the track while cars are sliding?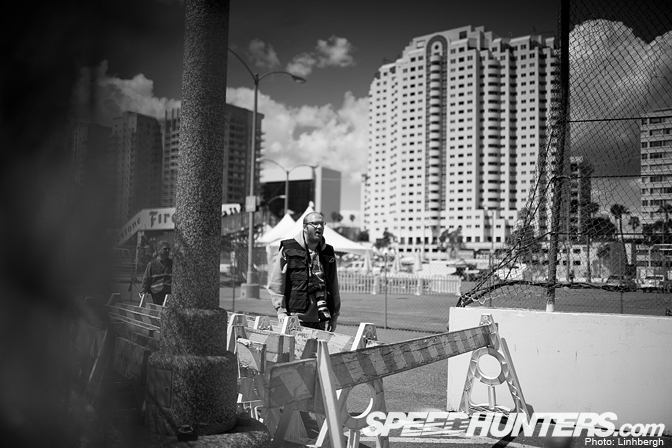 While Jose was standing in amazing spots on track to photograph, speedhunter, Mike Garrett, found himself quite dumbfounded by the discovery of so many barriers around the track.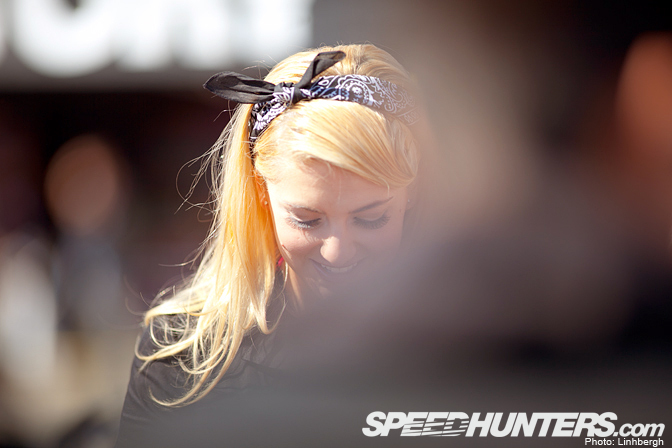 Team Need for Speed girl, Courtney Day, was looking rather proper in her pin-up inspired outfit.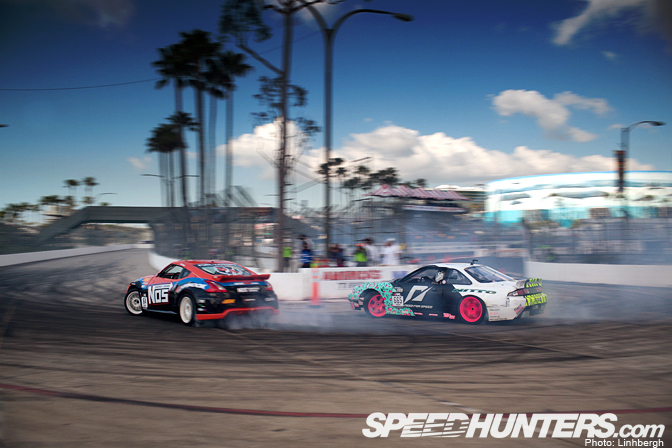 Speaking of Team Need for Speed, Matt's new livery half zebra print and half cheetah print is truly something to behold in motion. The switching between seeing the left side with its pink wheels and the right side with its highlighter green wheels is quite the brain melter when you see it for the first time.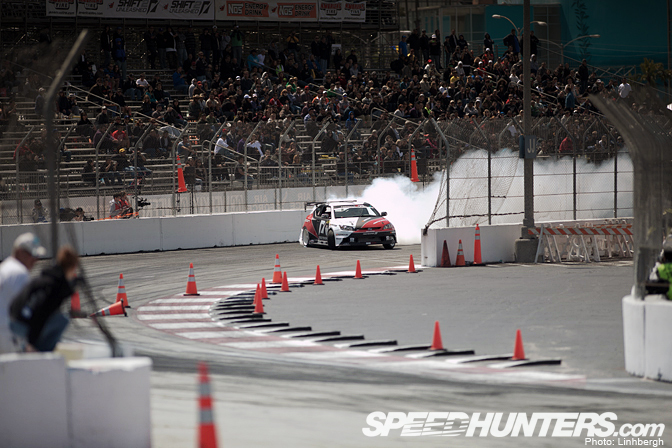 The newest addition to Team Need for Speed, Fredric Aasbo, performed remarkably well for his second day in the car.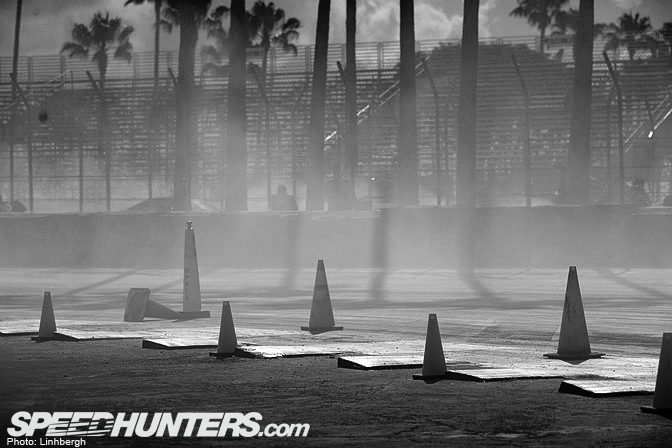 As the evented winded down to the top 4, then to the battle for third place, then to the finals, the tire smoke finally started to settle.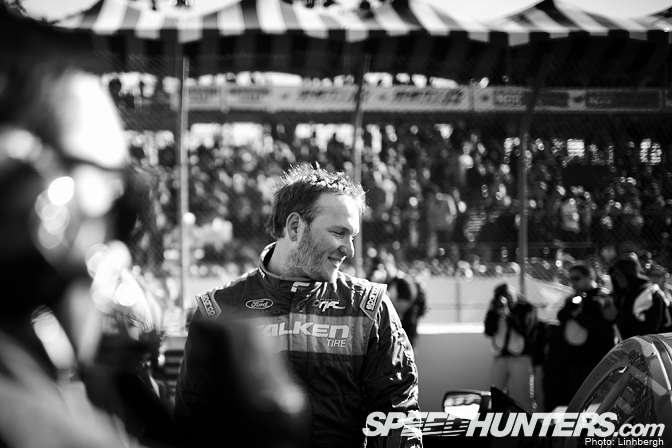 And after struggling for a few years as a driver of Formula D, Justin Pawlak finally got the win he deserved. The energy that released from him when Jarod DeAnda announced that he won was like a bomb. It was such an explosive reaction after so many almost-wins and it was also a giant sigh of relief.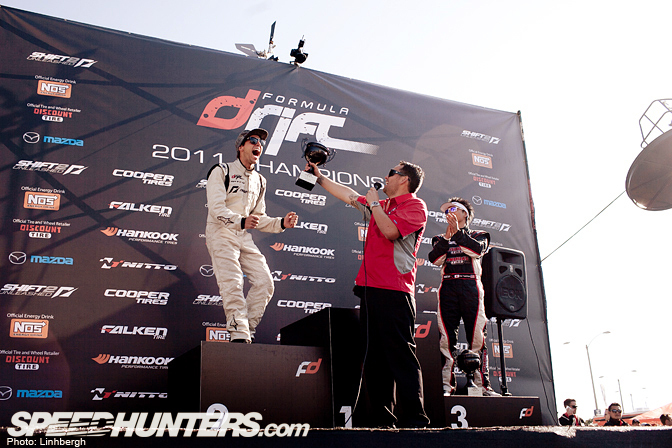 Though, the story that overshadowed Pawlak's first win was Team Need for Speed driver, Matt Powers', podium finish. It was a Cinderella story really. Matt Powers, the ricer of all S14 ricers and the grassroots drift hero who cared only to look cool while being as low as possible, grew up, raised his car, put on some higher offset wheels, threw out his turbo charged KA and threw in a Chevy V8 and drive.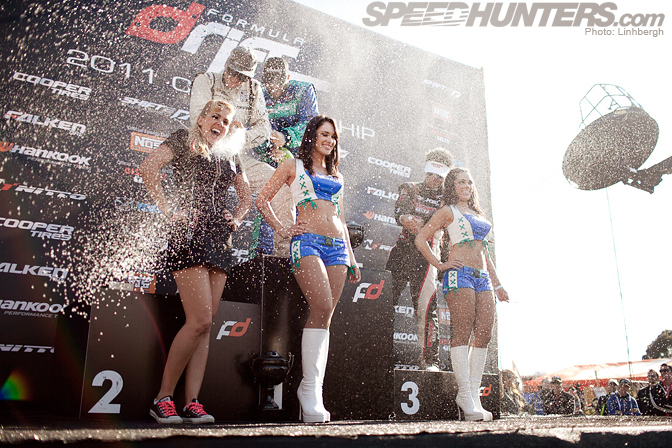 Who would've thought?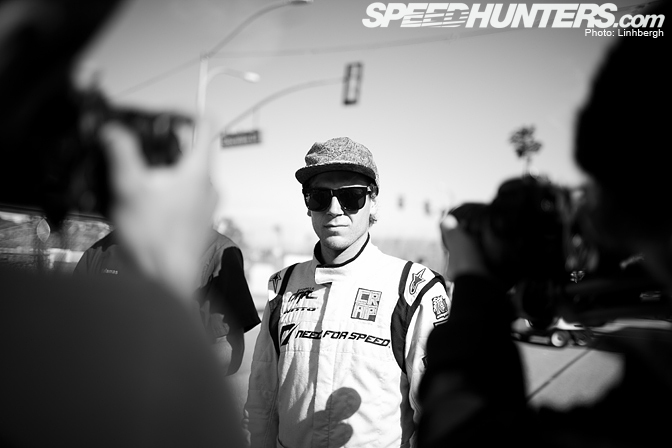 I pondered about how to properly capture the magic that is Formula D Long Beach for months. There were times where I over thought the process. I shopped online for hours looking at all the toys I could order prior to the event. I looked at every option: new cameras, new lenses, new filters, new camera straps, new, and new lights. The list goes on and on. I could've bought thousands of dollars worth of gear, which would end up complicating my life. But I realized that the less I had to think when I'm out on the field, the more I can concentrate on actually shooting.
Up until the event started, I had no idea what my photographic game plan was for the event. I knew Long Beach had a story to tell and all I had to do was to let it tell the story. I just had to be at the event. And with a bit of luck, the photographs, which resulted from my endless shutter clicks, would tell that story properly.
-Linhbergh