We are expecting a massive turnout for Saturday's NFS SHIFT 2 Launch event and car meet at Source Interlink Media in El Segundo. For those loyal Speedhunters readers in SoCal that own high quality cars, we are offering up a select number of "premium" spots alongside Team NFS cars like the RTR-X.
If you would like to claim one of these spots, send a couple photos of your car to SpeedhuntersMike (at) gmail.com. Please include your name and telephone number, and please only submit if you are free and able to come out on Saturday.
We will take a look at the submissions and make our selections before the week is through.
Even if you don't get one of "premium" spots, everyone is still welcome to come out for the open meet of course.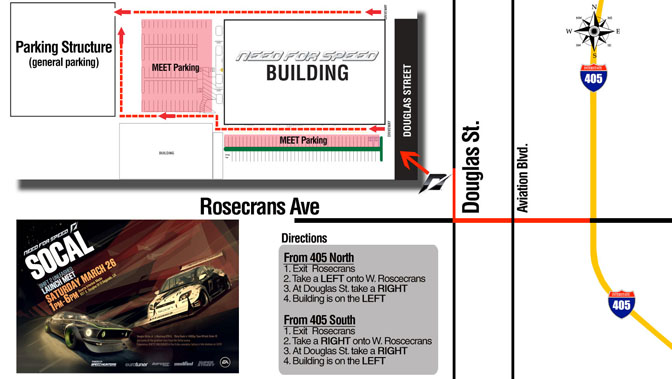 Here is a map and layout of how the parking will be arranged for the meet.
If that wasn't enough, we will also be selecting one of our favorite cars of the event for a full feature. 
It should be a great time! Can't wait to see SoCal's best out there on Saturday!
-Mike Garrett