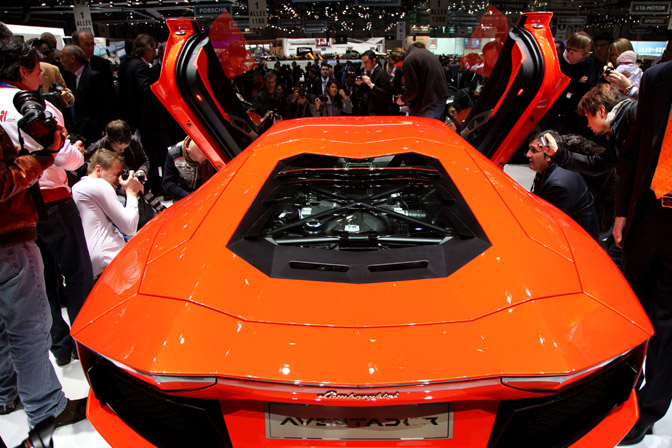 Another break for Skyline Week here on Speedhunters. In our second review of the 2011 Geneva Motor Show, we take a look at some of the pro Production cars launched at the show.
Let's start off with one of the cars of the show, the all new Lamborghini Aventador.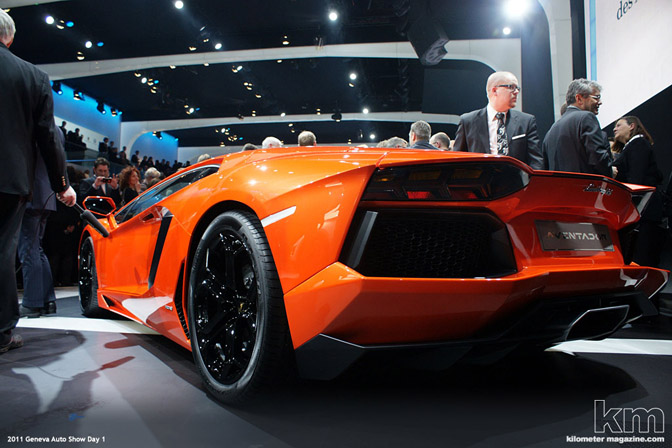 We've already covered the Aventador, but here area a couple more shots of the car from Geneva.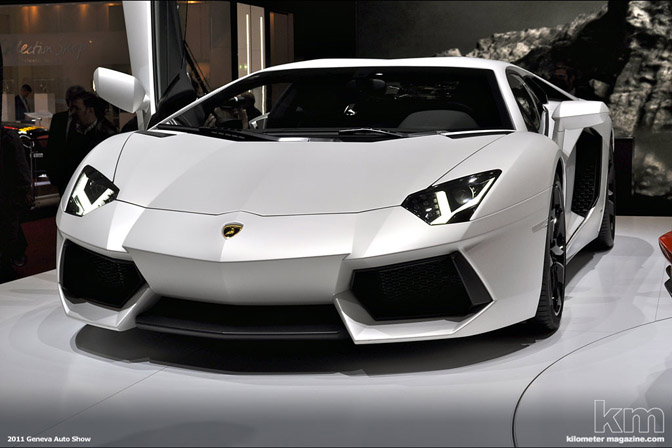 Many manufacturers have caught onto to the trend of Matte and Satin finishes, with Lamborghini being no exception, showing one of three cars in Matte White. Lamborghini were one of the first companies to use Matte on a Production car, the Reventon. The Aventador takes many styling cues from that vehicle.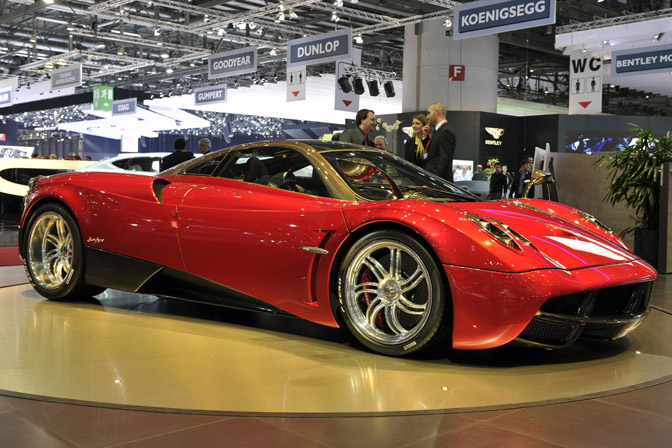 Staying with high-end exotica!
I will be honest and say I was not the biggest fan of the Huayra when it was launched a couple of weeks ago in Metallic Gold.
Paint it in Metallic Red and it does look much better. I'm still having trouble getting past its fish-face and the form on the side, but metallic red with Carbon A-C pillars and lower panels results in quite the transformation.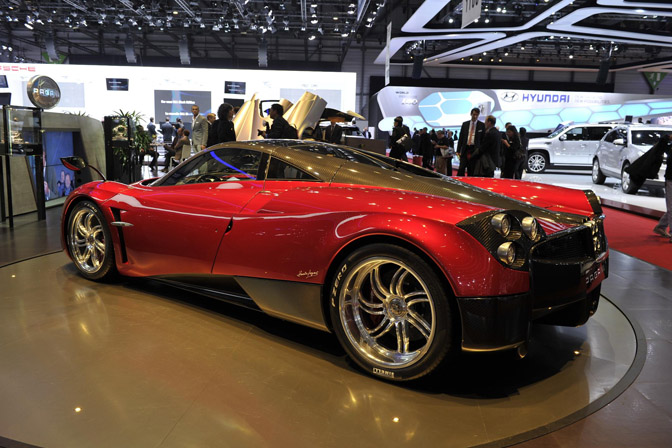 I'll keep the Zonda F in my garage for now….. that would be a 1:43 version by the way.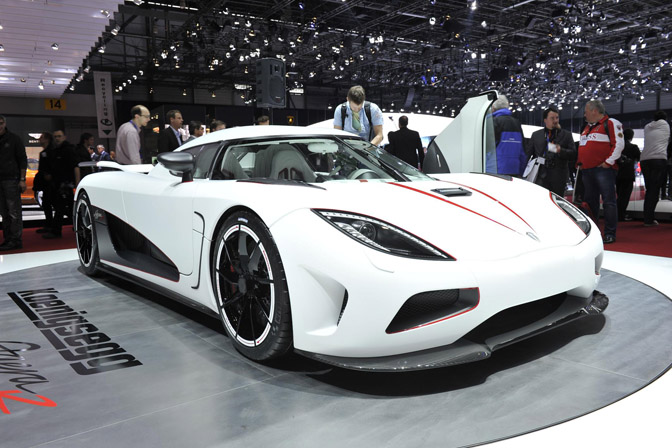 If the normal, run of the mill Koenigsegg Agera wasn't quite extreme enough, maybe you would be interested in this new 'R' Variant.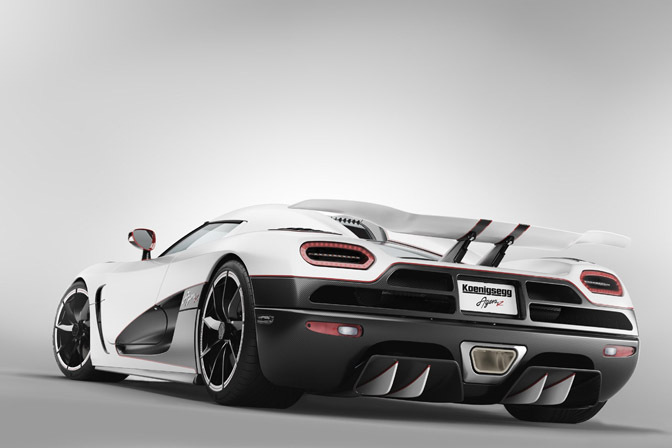 1115hp, 885lb feet of torque with E85 fuel! 0-62 in just 2.9 seconds. Insane!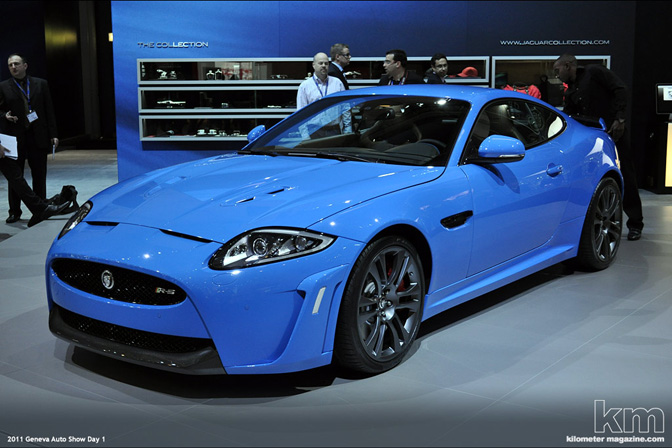 The new XKR-S coupe is an aggressive machine with a new bodykit, hood vents and rear spoiler. Looks quite extreme for Jaguar. Performance as you would expect has been improved. The XKR-S has 550hp with a  0-60 time of 4.2 seconds.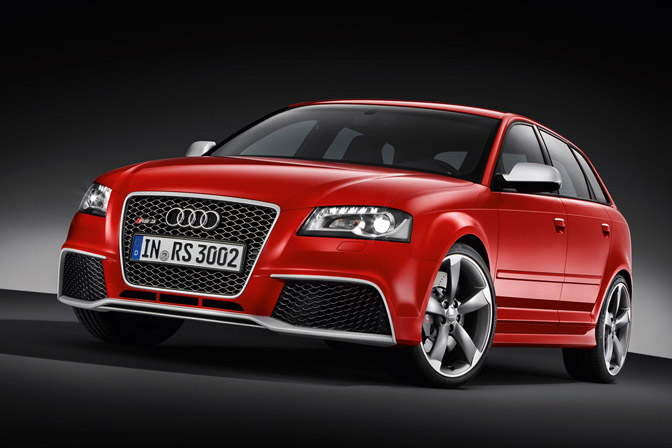 Aside from the cool A3 concept we showed in Part 1, Audi showed their new RS3 Hatchback. This A3 chassis has been in production for years and is a bit long in the tooth, but looks good in RS trim. A little conservative perhaps.
Powered by an in-line 2.5 Litre turbocharged unit running a 17psi boost and produces 340hp via a seven speed S-Tronic gearbox. 0-60 is 4.6 seconds! Unlikely to make it to North America.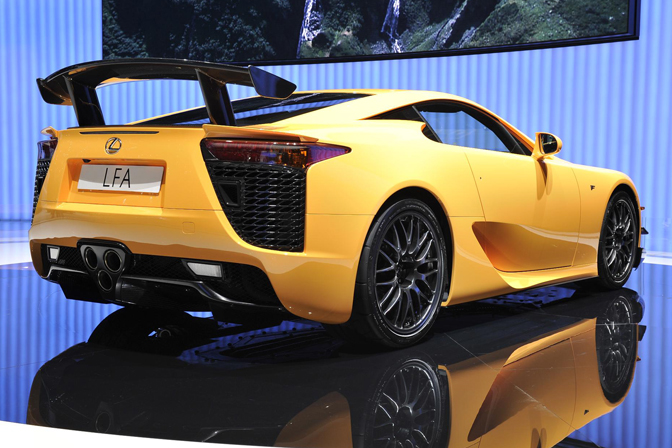 The Nurburgring package finally makes its debut on the LFA. If this supercar wasn't extreme or expensive enough already, you can spend $375,000 for this uprated car with 10 more hp. Revised gearbox, suspension, rear wing and bodywork are some of the other features on this LFA.
Oh yeah, you also get a branded Jacket…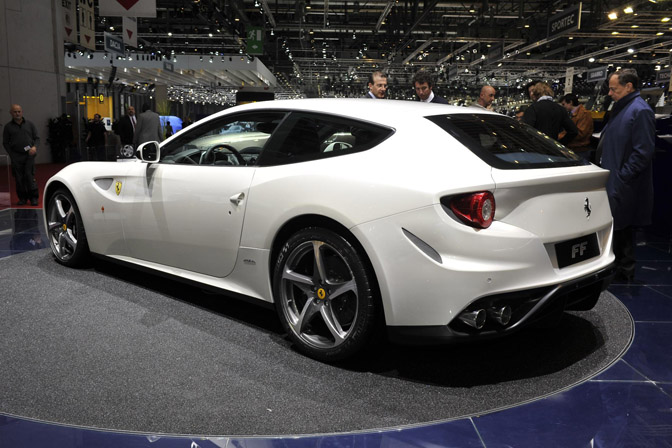 When I was a kid, the talk in the playground, other than 'my dad is bigger than your dad' was what car you'd seen or your family owned. 'My Dad owns a Ferrari Estate' would often be muttered by one annoying kid in my school! Well now he could be telling the truth.
The Ferrari FF is not really an Estate (or station wagon) but a 'Shooting brake' which sort of translate as… it doesn't really have much more room!  This car is a real divider in the design community. Many detest it, including purists, but some, including Car Design News think it's a potential Car of the Show. I'm undecided, but its better than going for an off-roader or large sedan….perhaps.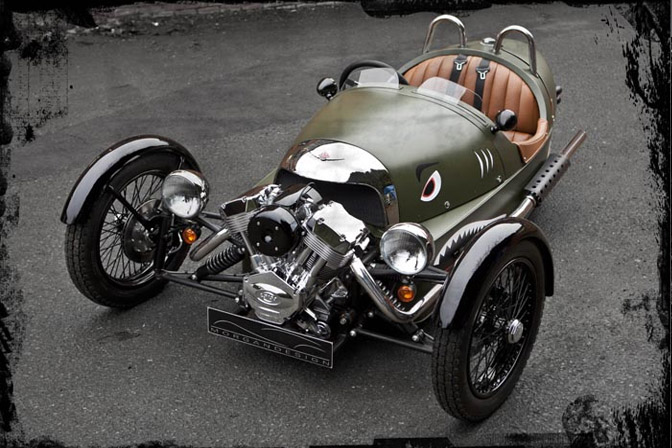 This is simply awesome!
Morgan has a long heritage back in the UK of producing three wheelers. Quirky I know, but hey, its British, we are allowed to be a bit classic and quirky! This new three wheeler is powered by a 115hp V-Twin engine. The design has been brought up to date with a  tubular chassis and twin roll bars.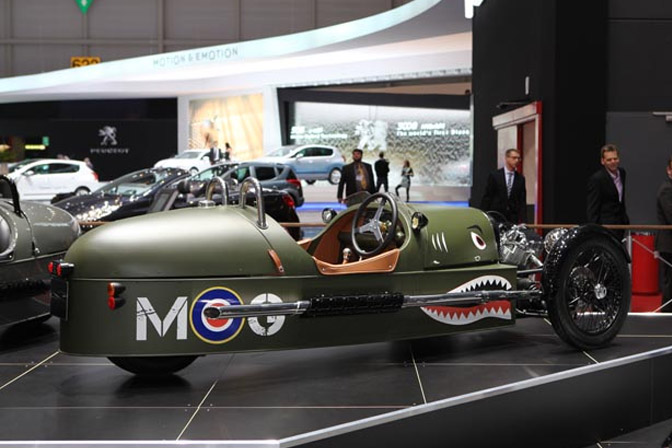 I love the fighter pilot  graphic treatment of the car. Perfect for this vehicle.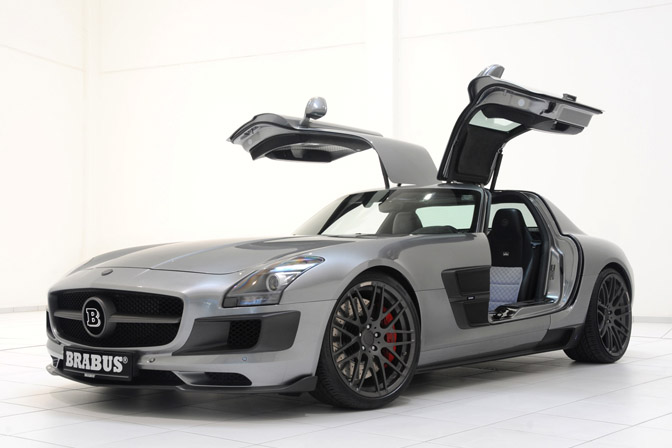 Didn't like the Mansory in Part 1?
Have a look at the Brabus 700 Biturbo. As the implies, the 6.2 Litre V8 now pumps out 700 bhp by changing engine mapping, exhausts and intake and exhaust manifolds. 0-60 is now 3.7 seconds…..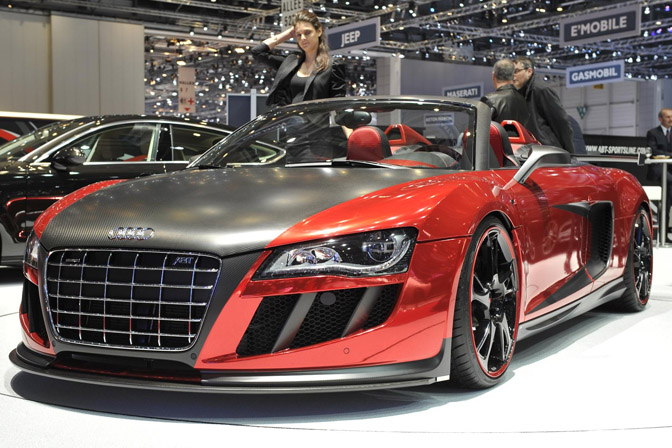 We will round out the roadcars with the latest tuned Audi from ABT Sportsline. This is their R8 GTRS, which is based on the stock R8 5.2 FSI V10 . Abt have found another 90+ hp so the V-10 has over 620 horsepower. The car has also gone on a diet with more carbon parts and bodykit. The show car was finished off in a Chrome Red with contrasting Satin Black elements. It actually works quite well.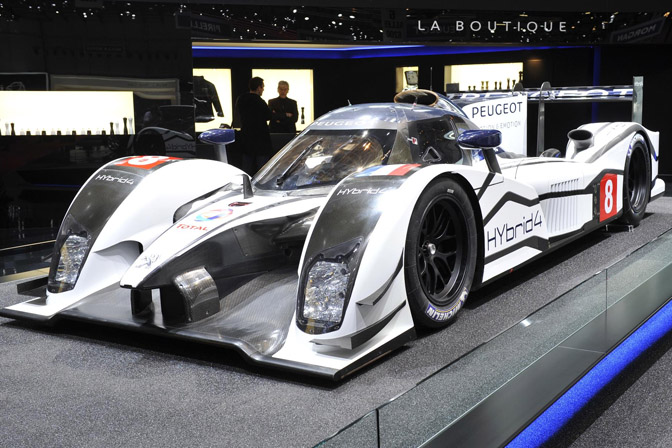 A number of racecars made their debut at the show. The Peugeot 908 Hybrid shows that Peugeot is serious about Hybrid Diesel technology in their racecars. The electric motors uses regenerative braking stored up for a power increase when required. This is just a test vehicle at present, but one day it may see the competition.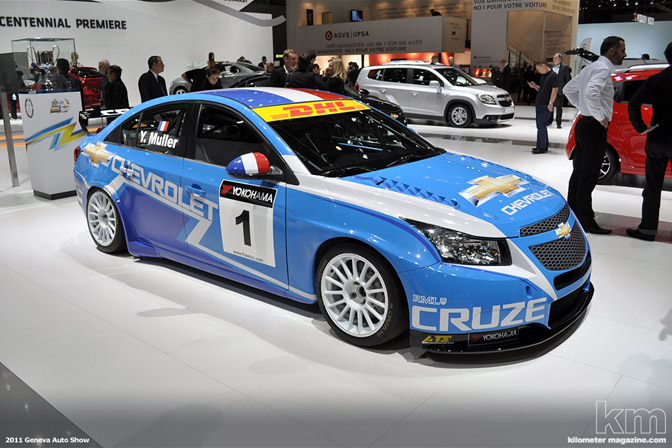 Ford and Chevrolet stands had new Touring Cars on show. Chevrolet had their updated Cruze, now with the 1600cc Turbo engine to meet new FIA WTCC regulations. It's a new car to North America, but it has been a huge success on the race track winning the 2010 World Touring Car Championship and various national tin top Championships, including Britain in 2010.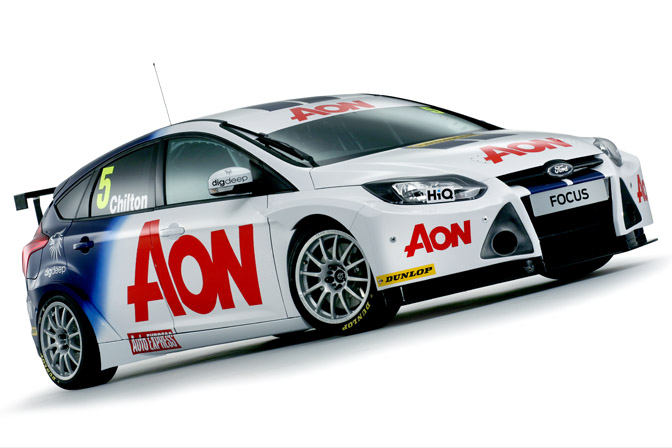 Ford also showed an example of their new 'Global Touring Car Concept'. Developed by Arena International, this new shape Focus will compete in the 2011 British Touring Car Championship.
Hopefully you like it as I had a hand in the livery and assisted in the bodykit with the engineers. The idea, from Ford's perspective is the basic package can be adjusted by teams, with Ford Technical Assistance for various championships around the world. This car has now departed the show and is testing in the UK.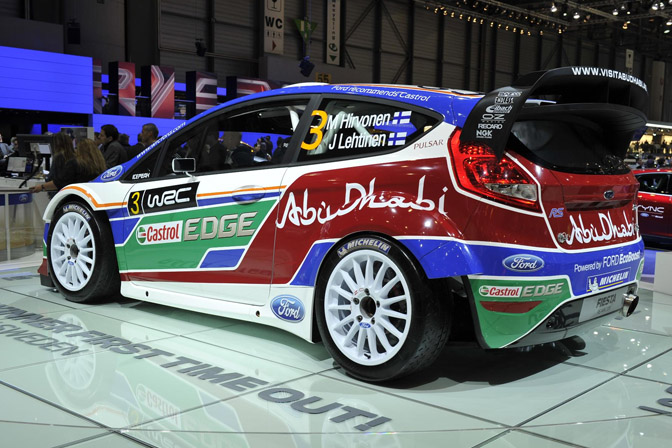 Ford also showed their Fiesta RS WRC which marked its debut with a win on the Swedish Rally, courtsey of Mikko Hirvonen.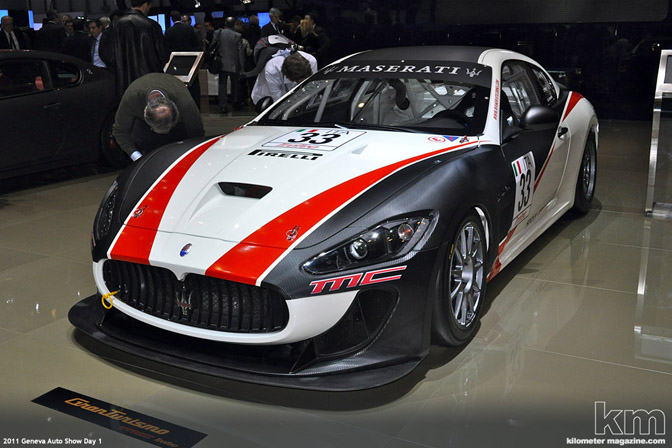 I like the clean livery of this Maserati.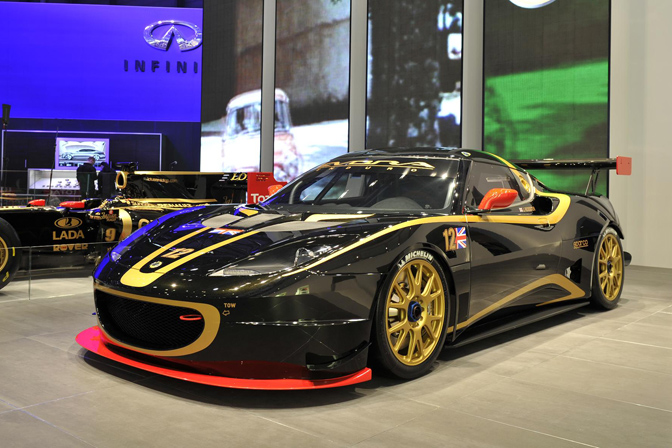 Finally, Lotus had a 'strange' stand. In Paris, they showed five new concepts. Six months later and they are nowhere to be seen, just some current cars. Highlight of the stand for many was their stunning Evora Enduro GT concept racecar, complete with the new 'Group Lotus' livery from the new Lotus Renault GP team. Lotus Motorsport will be competing in a number of events including the Nurburgring 24Hours.
Jet Alliance Racing will also run an Evora in the Intercontinental Le Mans Cup, which we will preview later this month.
This year's Geneva Motor Show gives a promising outlook with an  eclectic range of concepts from small Electric Vehicles all the way up to 1100hp Supercars made their debut.
Thanks to George and Stuart from Kilometer Magazine.com for some of the show floor images. Be sure to check out their website for hundreds of show images.
– Andy Blackmore
KilometerMagazine.com Geneva Motor Show Galleries
Images: Newspress, Kilometer Magazine