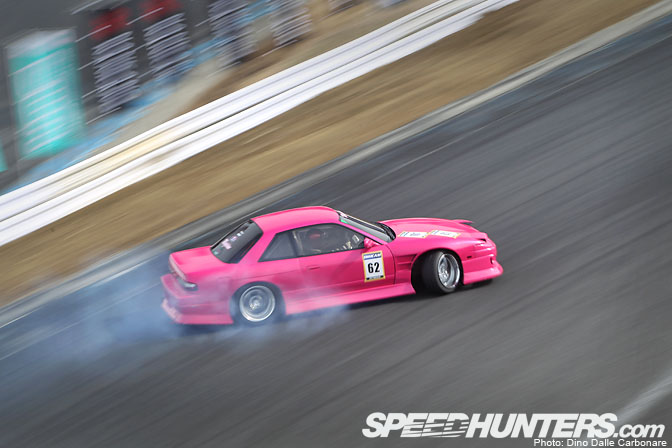 The sweet smell of burned rubber was in the air this past Sunday. After what has seemed like non-stop grip action, drifting is definitely something I was beginning to miss. With our move to try and cover more grassroots events in Japan this year I couldn't possibly miss the kickoff to the MSC drift championship, an amateur level series that combines the friendly atmosphere of any small track event with serious pro-level action.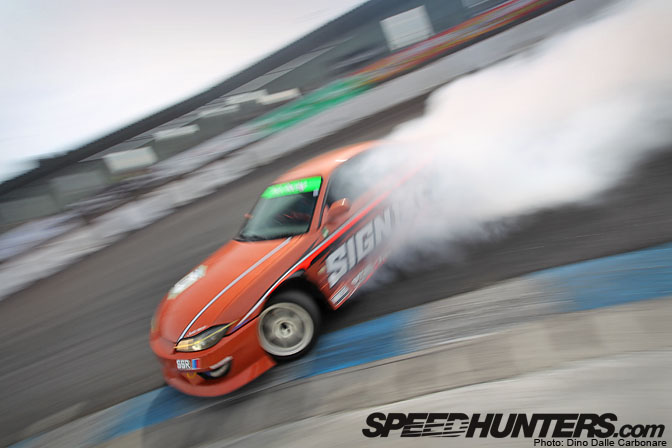 As ever the selection of cars at MSC rounds is mouthwatering…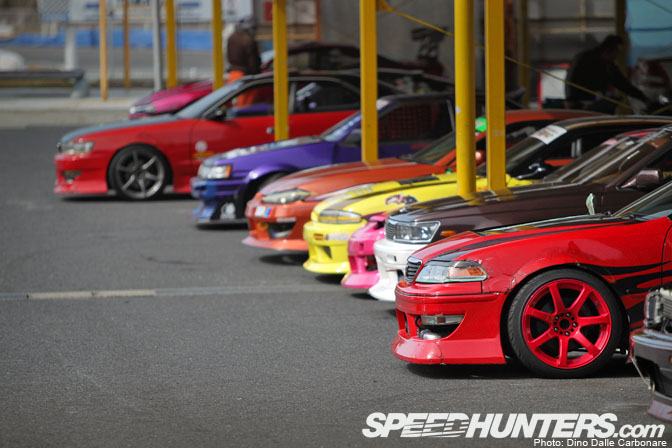 …the small paddock at Mobara packed with some of the coolest drift cars in the Kanto area.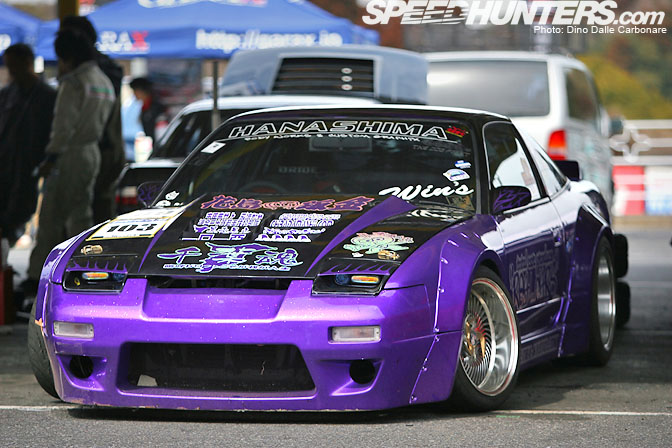 You may recall having seen this Rocket Bunny kitted Hanashima RPS13 in our Tokyo Auto Salon coverage a few months back. I was impressed that it actually gets used properly…and looked amazing out in action.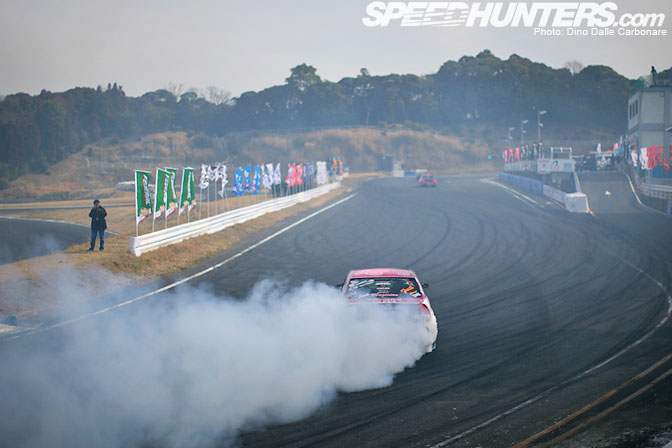 Entrants are divided into three separate groups, beginner, expert and super class depending on their skill level and their performance at previous MSC events. On top of that there is a separate "grip" class that can be entered for those wanting to get the most out of their time out on track…plus it makes it cool seeing drift cars trying to grip!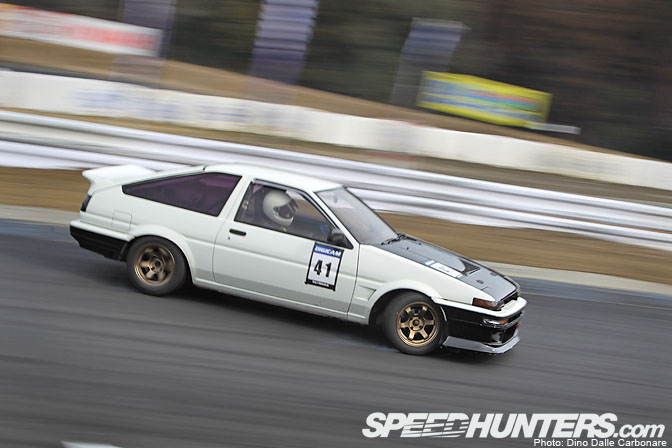 I arrived as the practice sessions began, and for entrants there is always plenty of time to warm up and get familiar with the track layout and conditions on the day.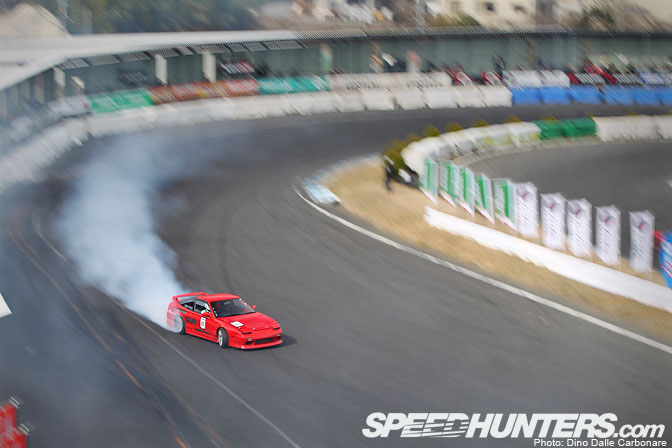 How about that for a smoke trail!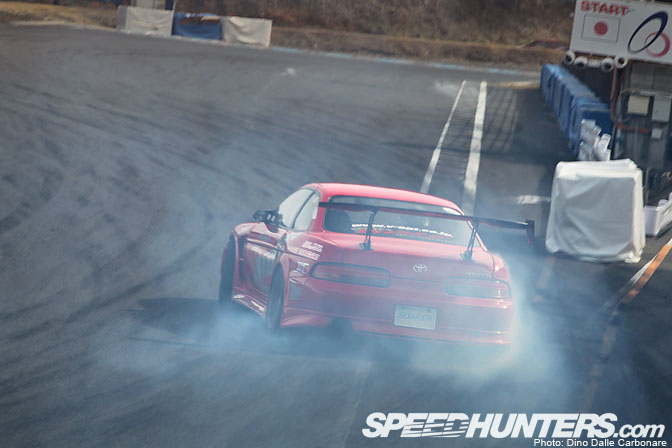 Mobara is a very small circuit but has a very challenging layout for both grip and drift. MSC uses the last corner before the straight to judge drivers, who then power out and get as close as they dare to the sponge barrier placed in front of where the pit-wall guard rail begins.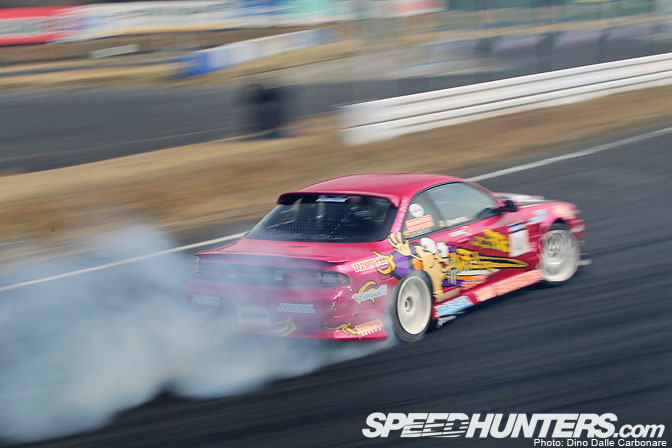 The Garage LFW S14 has gone back to SR20 power, the RB25 deemed to heavy for optimal weight balance.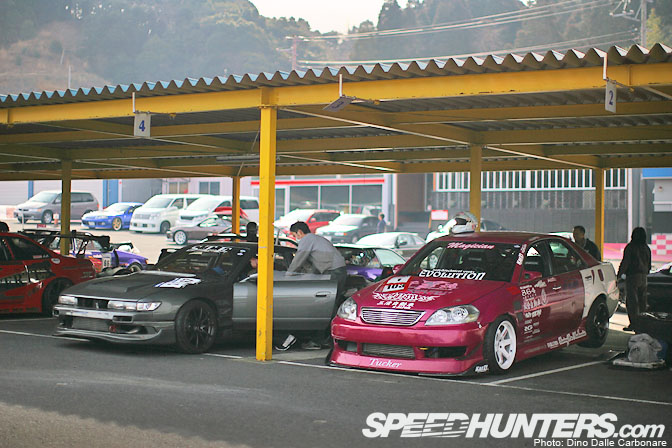 Yuuki Takamiya as ever was present with his pink Team Magician JZX110 and was together with the driver of the cool pink S13 in the opening shot.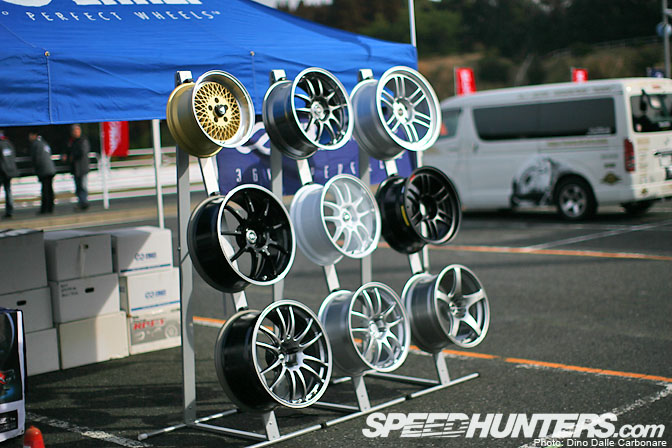 Enkei is one of the official sponsors of MSC and had a nice little display of their latest wheels…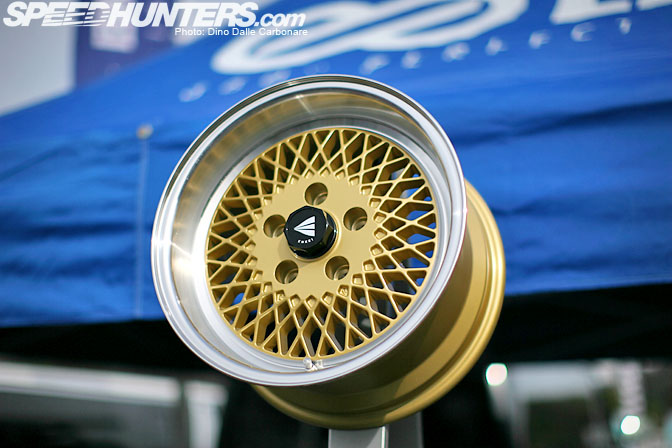 …like the 92 that have recently been relaunched. They are available only in 15-inch sizes and in a choice of either silver, black or this gold finish. Can't wait to see some old-school cars riding on a set of these.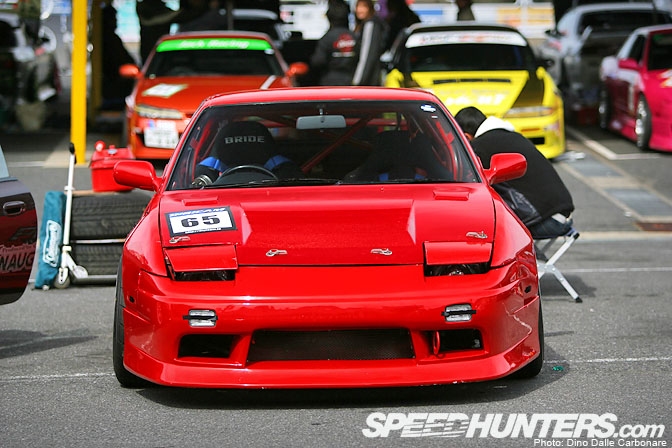 The level of driving at MSC must be improving, as the cars were far too clean for a drift event! But seriously if it weren't for a drift series like this it would be much harder for beginners and people with small budgets to get involved in a drift championship. This is precisely why everyone is now excited about Tsuchiya's and Inada's new "Drift Muscle" championship that will kick off on the 8th of May in Maze Circuit.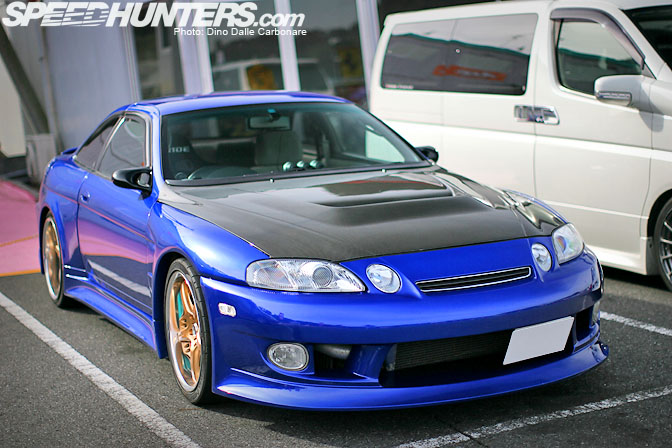 This Soarer belongs to a professor at the NATS technical university in Chiba, the guys that always create those weird concept cars for the Tokyo Auto Salon. He is also one of Orido's pit-crew at D1 events and was at Mobara on Sunday to support a student that entered in the beginner class.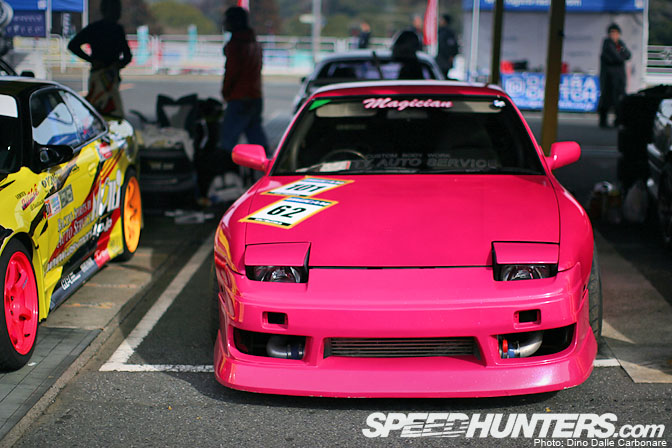 Magical!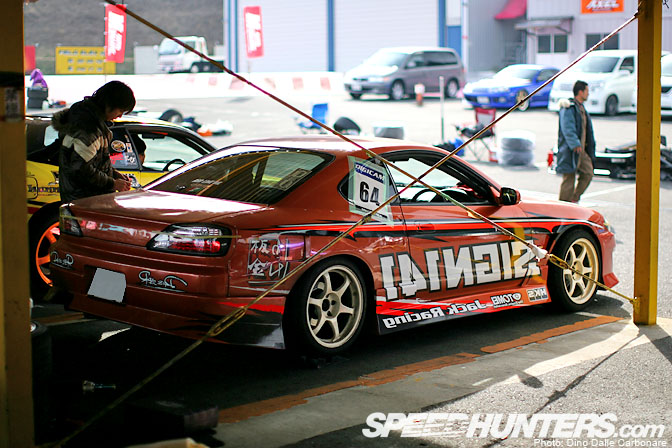 Sign141 S15 looking menacing in the pits.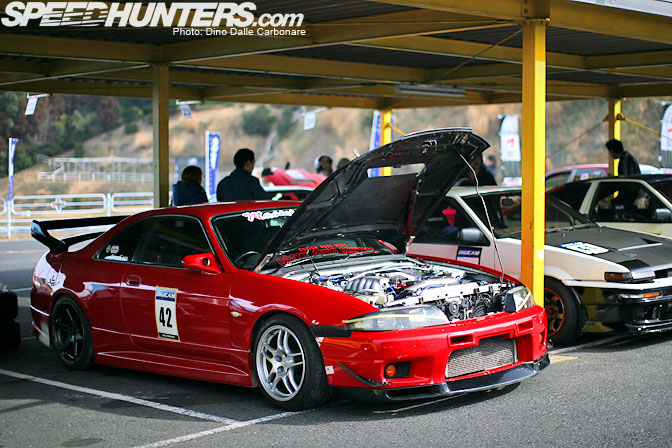 I saw this cool R33 last time I went to an MSC event back in 2009 at Honjo circuit. Still looking very nice!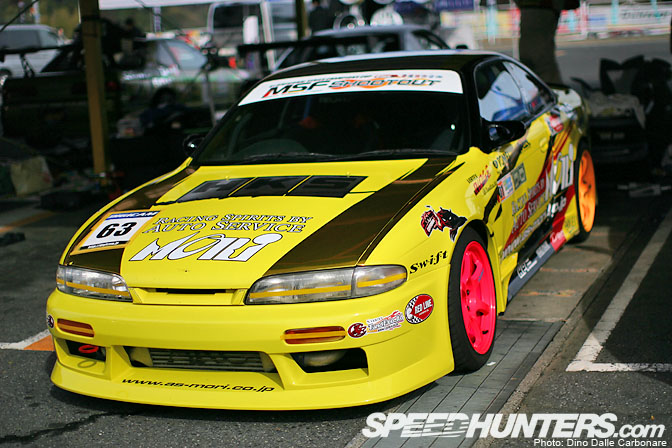 Mori-san from Auto Service Mori was driving his own S14 at the event in the Expert class. At 50 years old he was the oldest drifter present and has only been doing it for three years. He came second in his class! Big congrats to him!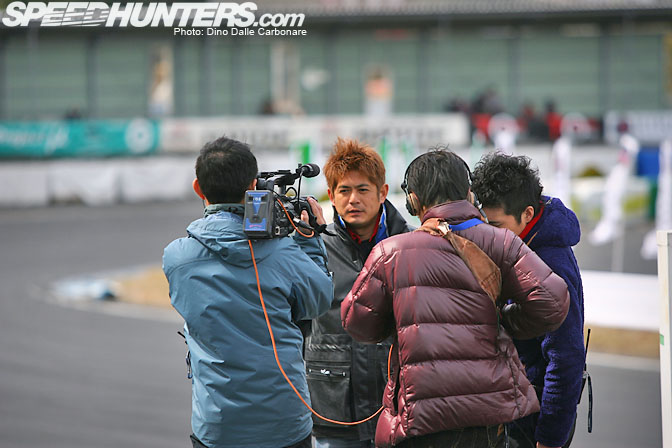 Judges for the day were Manbu Orido and Nobuteru Taniguchi who were there to also offer constructive advice to drivers. The guys from Video Option seem to be everywhere and it seems are covering MSC as well this year.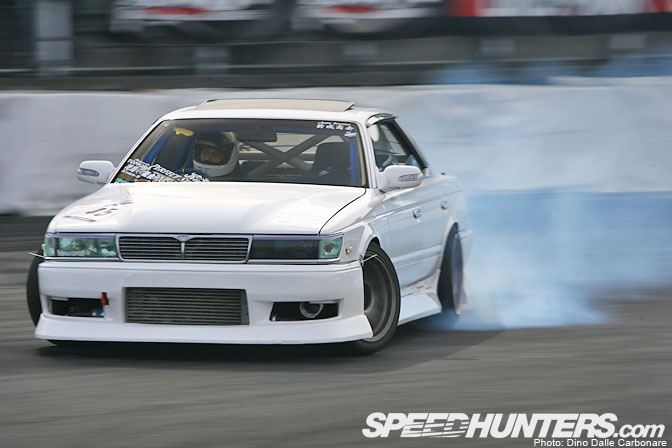 During the morning each driver in each of the three classes was judged separately…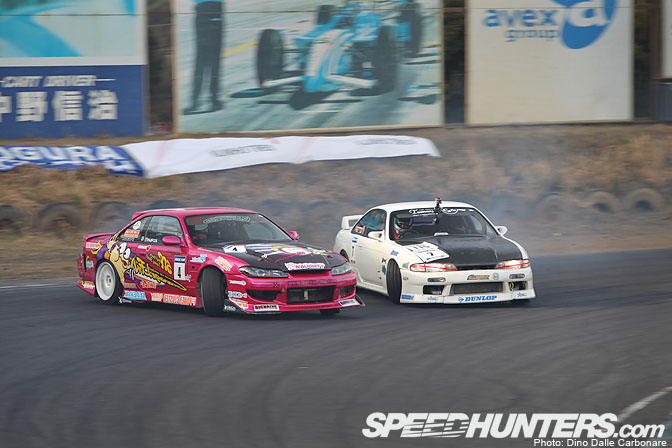 …and then in the afternoon participated in a "chase" round as the organizers called it, a battle much like in D1, something that I had never seen in MSC. Not sure if this started in 2010 but it's very cool to finally see drivers up against each other in MSC!
More sideways goodness to come in Part 2.
-Dino Dalle Carbonare