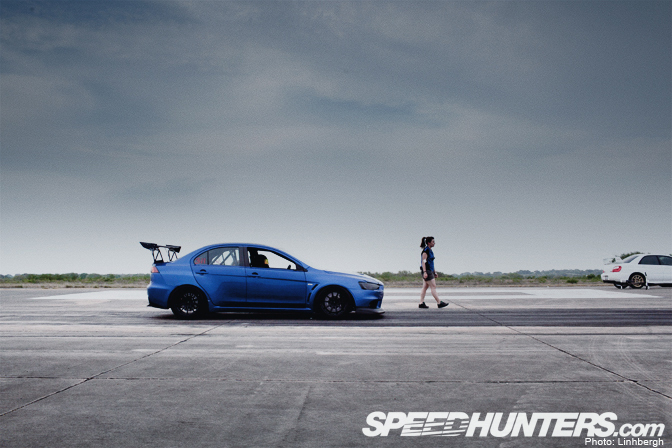 Each year when the coverage of the Texas Mile shows up online, I enjoy it but I never think too much of it. Sure, it was cool to see which cars went the fastest, which ones used the most tape and who flipped, but it's something you have to run to truly appreciate. And it turns out the Texas Mile is the ultimate testbed for a fresh rebuild….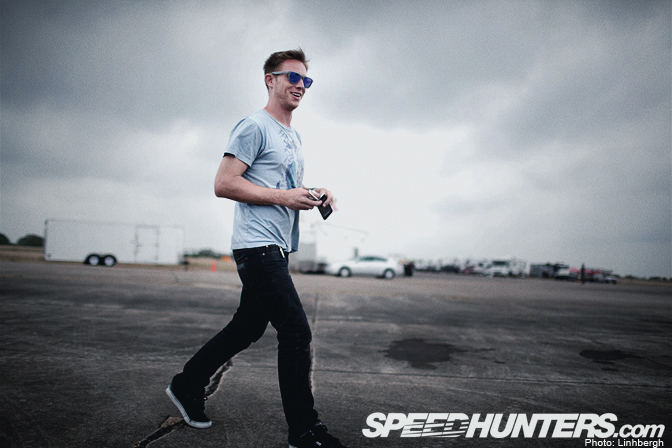 Linhbergh was on point with his camera as we arrive a little late….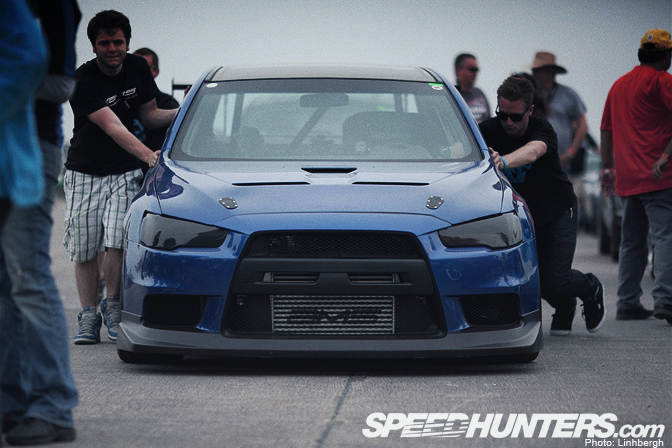 One thing about Texas Mile was that we had to work around was the waiting time between runs. With all the cars there, it's understandable, but when you are trying to keep the moving parts of the car up to temp you have to get creative.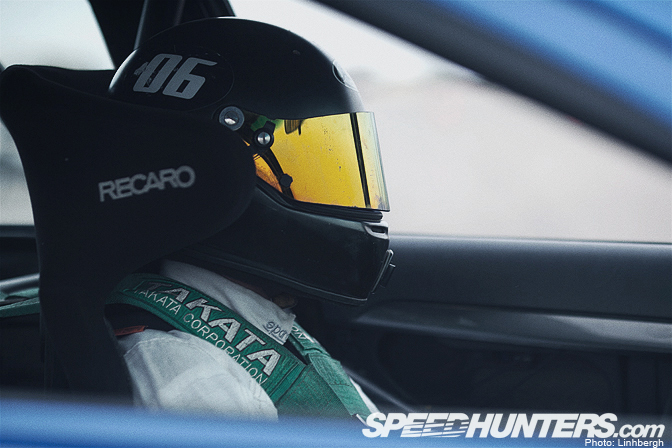 There was a different feeling while looking down the mile. It was pure curiosity. I knew what the car was geared to, but beyond that, I didn't know what to really expect. How would the new AMS engine hold up to prolonged high revs? How would our home made rear diffuser act at 175+? How much fun was it going to be?!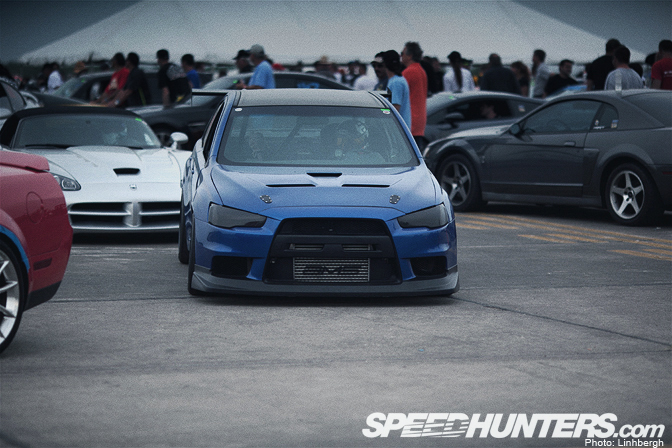 I felt like an outcast at the event. The field was easily 98% American cars, with the occasional European car mixed in. There were two GT-R's and a CRX that I saw, but other than that, it was pretty lonely running a Japanese car. But at the same time, it was a cool feeling. People were really interested in our Time Attack Evo and to see what it would do at the Mile.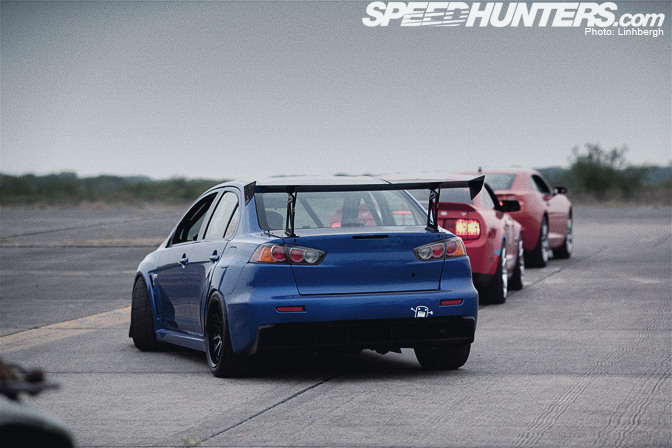 Anticipation for the Mile was starting to build at this point. Only three more cars and then it was our (Kill and I) turn to go wide open for a really really long time, ha!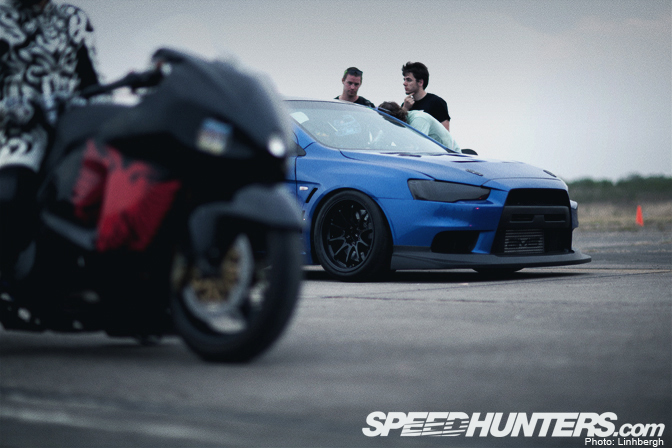 Last minute talk with Jonny. He always knows just what to say. You're just the best Jonny. Joe and Riley made the trip down from Illinois to hang at the Mile and have some time away from home. I didn't know them too well before, but after a few days (and too many beers) at the Mile we can definitely call each other friends. Come at me bro!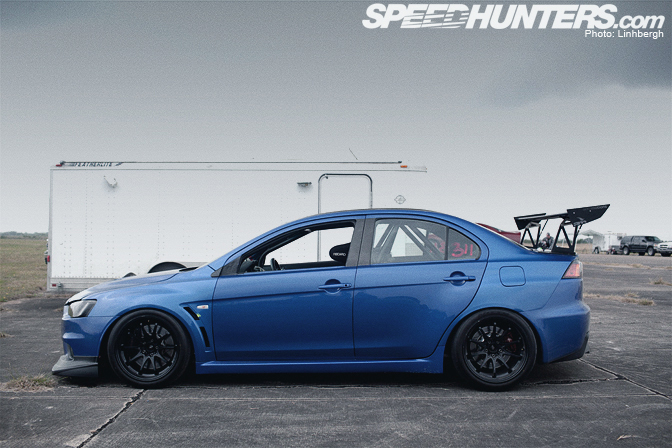 After a pretty disastrous 2010, I was really excited to have a fresh start in 2011. The car too. It received a full on restoration over the winter –paintless dent removal and all. Last year was written off as a development year in my book, and with all we learned it was time to show the world what this car is capable of. Well start to show em, going straight isn't what this car is really built for….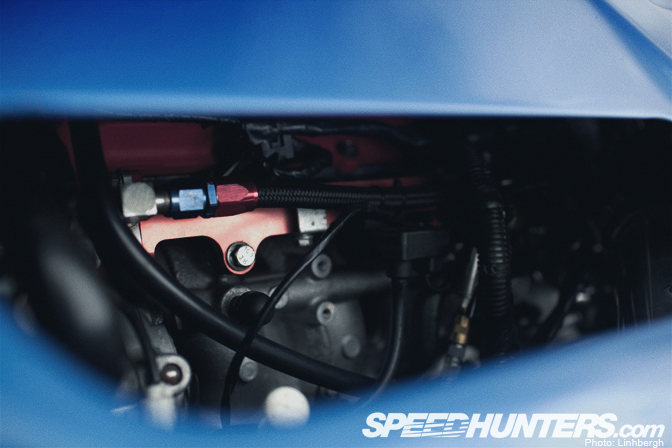 The car received a brand new 2.2L race engine from AMS over the winter. It's something we'd be watching closely the entire weekend at the Mile. We dialed in the setup so much last year that most of the components stayed the same. Some detail changes like a transfer case vent, Injector Dynamics 2000cc injectors, and a lowered rev limit we put in place, but beyond that the car was good to go.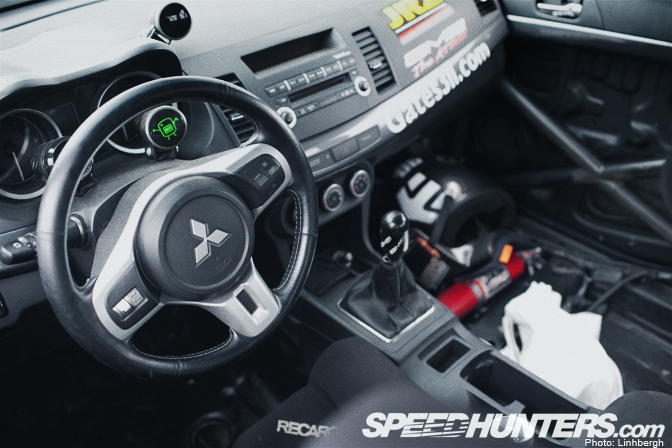 I had huge plans for the car in 2010, but with so many hiccups most of them never came to fruition. That left things like painting the interior and installing a subwoofer, for the off season. The interior of the car looks pretty stock, but really under that plastic is a whole lot of nothing. Even the airbag is gone. Weight is a huge factor in building a race car and it's something I've always focused on. The car weighs around 1,000lbs less than a stock Evo X.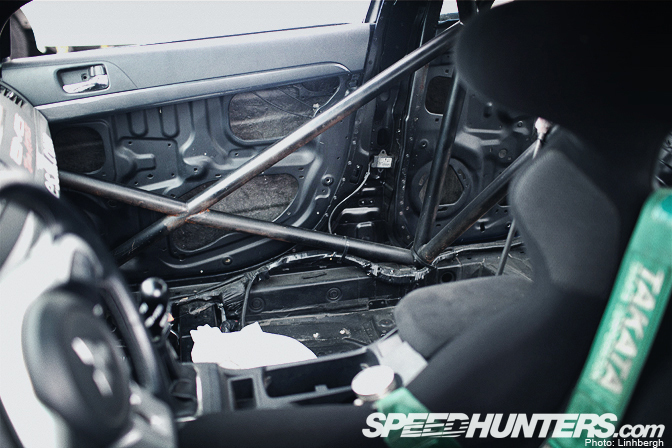 Here you can spot my not so perfect paint job on the interior of the car. I tried.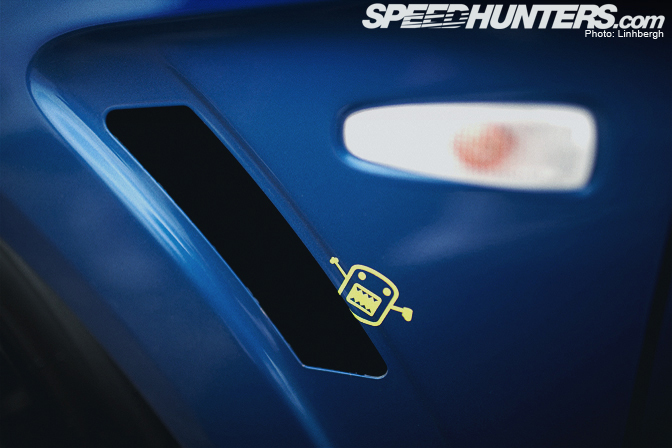 That's Kill. My bud, Leh Keen, sent these to me just in time for the event. He's a big time racer and Kill races with him everytime. He's on all of our cars. I used to run the rare handmade aluminum tape Kill on my rear bumper but that was replaced this winter during the diffuser install. Since I was using the Texas Mile as a testing event, the car was pretty bare but with Kill on the car it made it feel alright.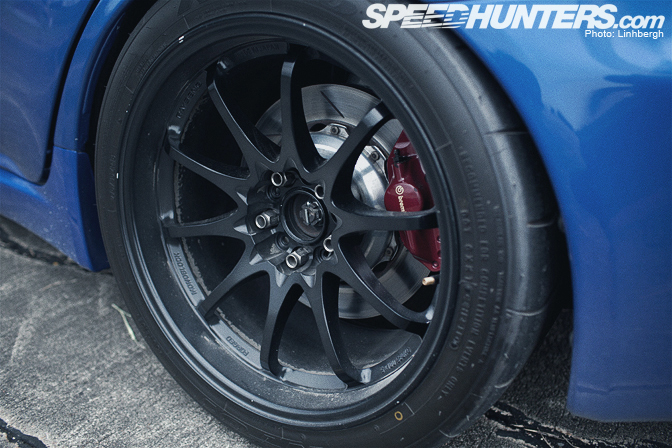 Ahhh the trusty CE28N's. I've had these since '08…these are actually the first set of wheels I bought for the car. No bends or anything even after 12,000 track miles. They're 18×10.5+18 with 275/35/18 Nitto NT01's.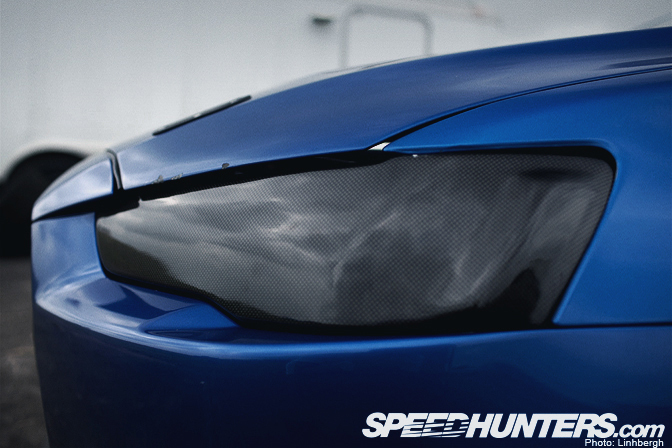 Everyone asks what percent tint I run on my headlights. 15% obviously, hah! But for real, people ask that all the time. They're dry carbon replacements that AMS made for our cars. Replacing the OEM HID's with these saved 16lbs off the front of the car. Nice hood gap, BRO!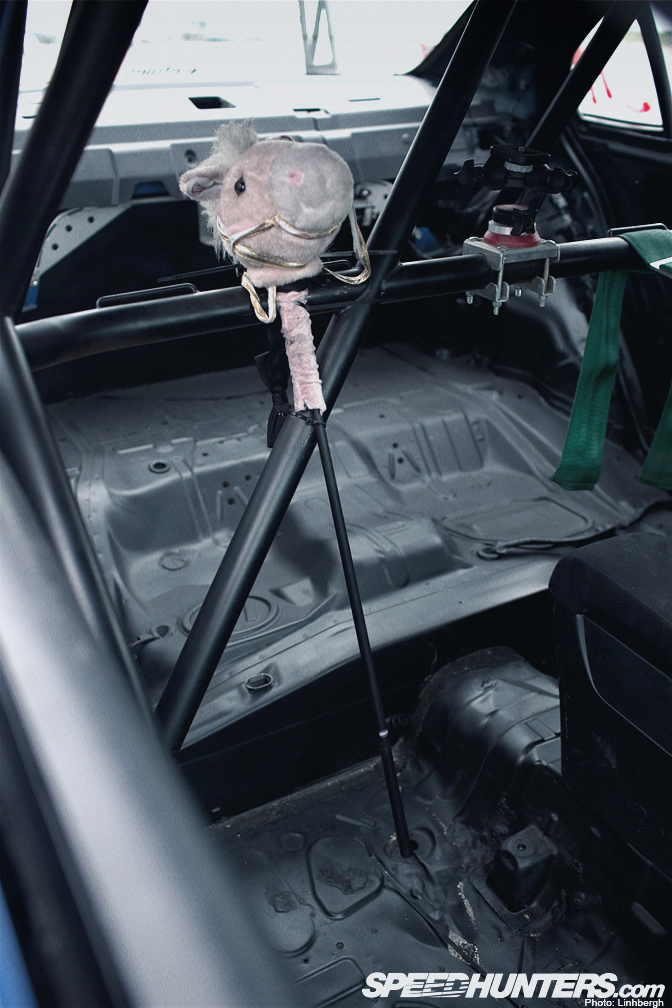 Do you guys know about Mumphrey? He's my passenger. We've been through a lot together. What started out as a joke between some of us at AMS, has become quite the story. He's been kidnapped, dismembered (see the carbon golf shaft? FXMD is guilty), ridden by Jerry Springer and so much more. He's a good sport though.
Here's how it all started: being delirious on a road trip.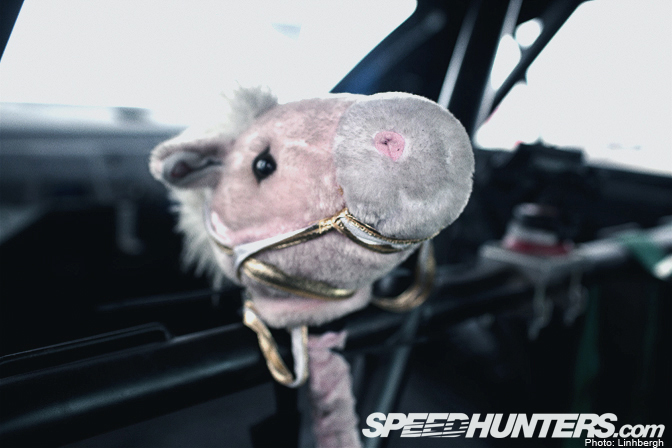 After all the abuse he has started to fall apart, but nothing two zipties around his neck can't fix. And he's dirty, but that's how he likes it we hear.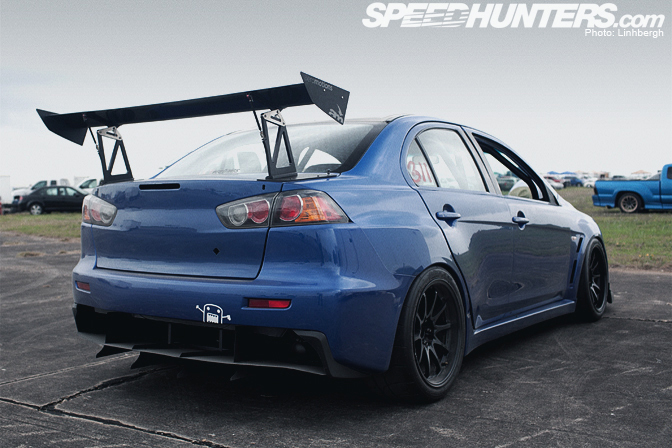 Here's a good shot of the rear diffuser Brian, Hans, and I made back home in our garage. For now it's acting more as an anti-parachute than a true diffuser. But for the Texas Mile it was a nice solution.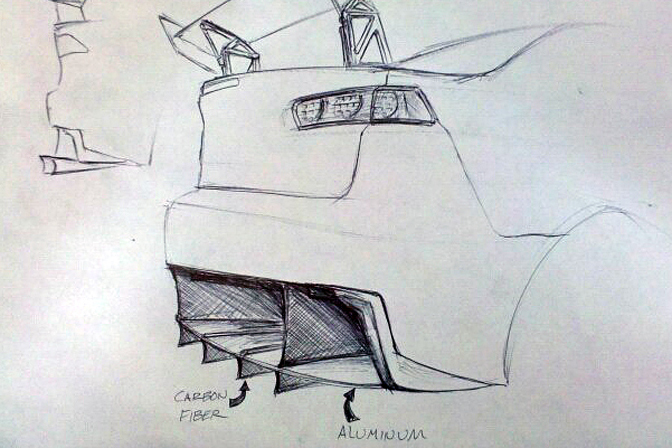 It started as a large sheet of .032 aluminum and after a few days, we turned it into something much nicer. Black paint fixes everything. This was our initial prototype so things aren't perfect but I'm very happy with how it turned out. The biggest test of our build was the 180.0mph runs here at the mile and it passed. The car felt great and the diffuser held up amazing. Now time to make a carbon piece and a flat bottom…
(Diffuser rendering by Hans)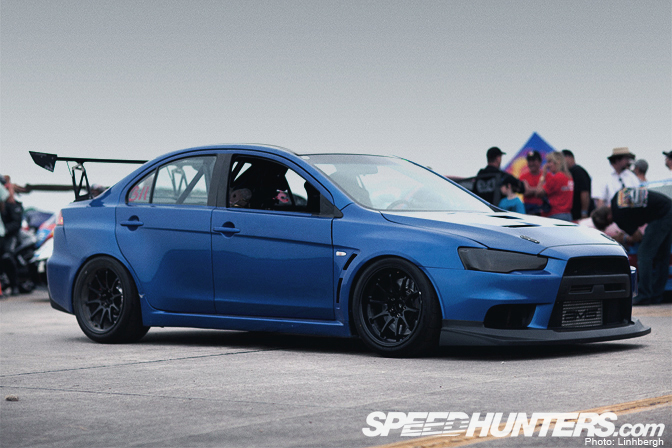 The 2011 season has started off perfectly. We actually finished an event! After last season, I'll gladly take it. We literally ran the car as-is to truly test the car before the first Time Attack event this season. Zero aero adjustments, shock knob turns, tire swaps, rev limit raises, or anything else you could imagine changing for a standing mile competition. Only hitting 180.0mph (at 9,200rpm) might not seem like a big deal considering the competition, but for me it was cool. Plus there is so much more in the car. I cruised from the 1/4 mile marker to the 3/4 marker in 5th just so I didn't have to bounce off the limiter for 3/4 of a mile. Maybe time for new gearing this fall…210+ anyone??
From here it's time to get the car prepped and ready for the Modified Tuner Shootout this weekend. Evolution Motorsports was kind enough to offer me their shop for some fluid flushes and a good once over. All of that went well and I can't wait to show what the car can really do.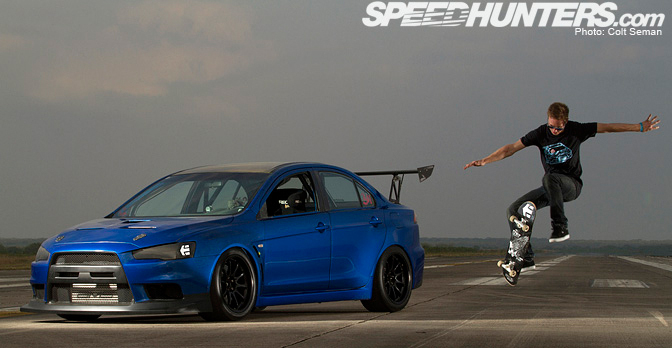 A lot of people ask me why I always have etnies stickers on the car. Well it's becauce I skate. etnies has been a supporter of mine since the inception of my program and we look forward to expanding that. This photo was shot by my Minnesota friend, Colt Seman, from Cinesthetics, during our shoot on the runway. 
We'll also have a film covering my experience from the Texas Mile up in the next day or so. Colt and Jonny run a film production company called Film Matters and we'll be traveling together this season to cover our journey to show what it means to be a one man team in the world of Motorsports. 
Thanks to Speedhunters for the photos and the opportunity to once again blog on their site. Always an honor guys.
Ryan Gates