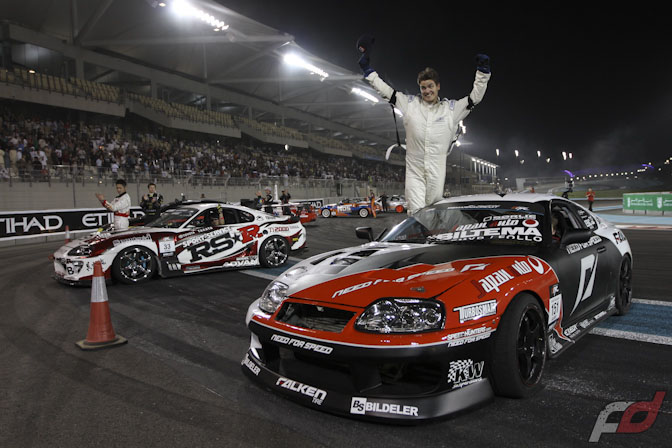 Hello fellow Speedhunters!
Ever since I became a part of Team Need for Speed this winter it feels like I have been living in a state of half fiction and half reality. First of all, I still can't believe the opportunity I have been given with Team Need for Speed, Scion Racing, Papadakis Racing and Japan Auto for 2011. Secondly, I have been living in a travel limbo between California, Norway, Southern Europe, Middle East and even Africa over the last months. I haven't really thought of it before now, but over the course of the last twelve months I have only spent a handful nights in my own bed back in Norway. My old habitat was traded away for quite an interesting year: I have met a whole array of super inspiring people, I have gotten to experience professional drifting from the inside, I have learned a fair bit about how sponsorship and motorsport decisions are being made and I have given my all to try to keep up with the pace of everything around me and prepare for the 2011 season.
But last week, all planning and paper work was put on halt as the Japan Auto guys and I touched down in Abu Dhabi.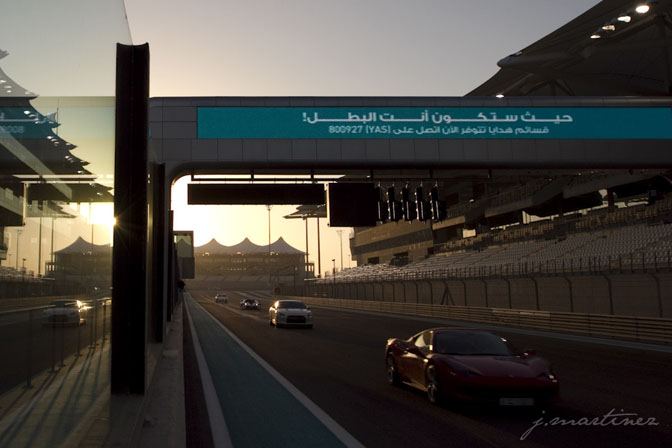 We were invited to compete at the inaugural Formula Drift: Urban Skillz Middle East event, together with eight of the Formula D aces: Tanner Foust, Ryan Tuerck, Dai Yoshihara, Chris Forsberg, fellow Team NFS driver Mad Mike Whiddett, Mike Essa, fellow Scion Racing driver Ken Gushi and Tony Brakohiapa. It was an unbelievably golden opportunity to go up against the best yet again.
Arriving at the track sent shivers down my spine. The Need for Speed Japan Auto Supra was sitting in the number one Formula 1 pit garage at one of the worlds' absolutely craziest race tracks…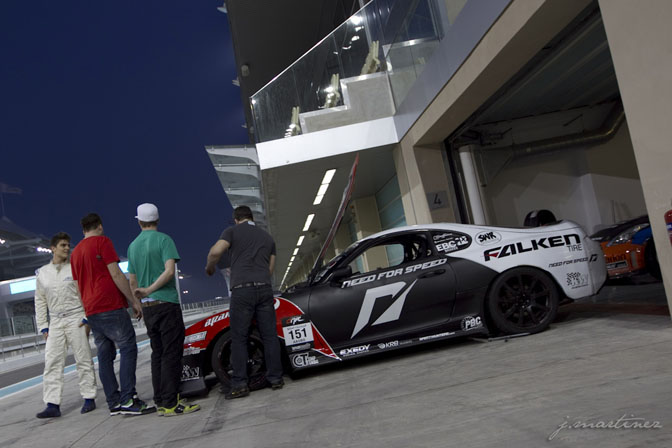 From left: Fredric, spotter and right hand Steffen, mechanic and photographer Joachim and engine tuner and mechanic Christer of PBC Auto. We fulfill each other very well and we certainly have a lot of fun when we're out there together!
Those of you that watch international racing or have followed the Formula Drift buzz this winter might be familiar with the Yas Marina Circuit in Abu Dhabi. Being host to the Formula 1 final round it's a venue as spectacular as it gets: An artificial island hosting what is one of the worlds most extravagant race tracks built around a world class yacht marina, a town of five star hotels and the Ferrari World, a gigantic, space ship-like building housing everything Italy's finest has to offer,  including the world's fastest rollercoaster.
It's a place second to none. And as this extraordinary week of drift competition flew by, my inner voice kept asking me "is this really happening?" over and over again.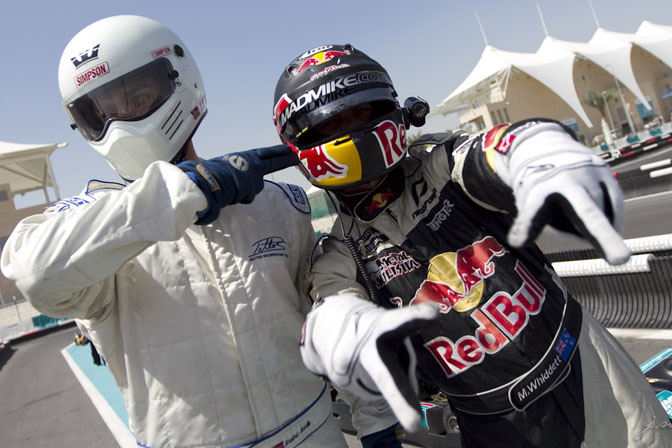 It all kicked off with a go kart showdown between all of the FD drivers and a handful skilled locals. Tanner Foust took the win, with NFS team mate Mad Mike on second and me in third! It was a lot of fun to drive go karts with all of the FD drivers!!
I really enjoy being around the cartoon character that is Mad Mike. Pre-race, you'll have most of us mortal people sitting in the vehicles, fully concentrated with both hands on the wheel. Mad Mike, however, is usually doing an upside-down handstand making some super gangster hand signs with a grin on his face. – Let's crank up the boost, aye!!
I for one simply love the diversity of drifting, and the uniqueness of Mad Mike in particular. I really hope to drive with you again soon, buddy!! We've tried go karts now, so let's do those crazy Kiwi rotary boats you were telling me about!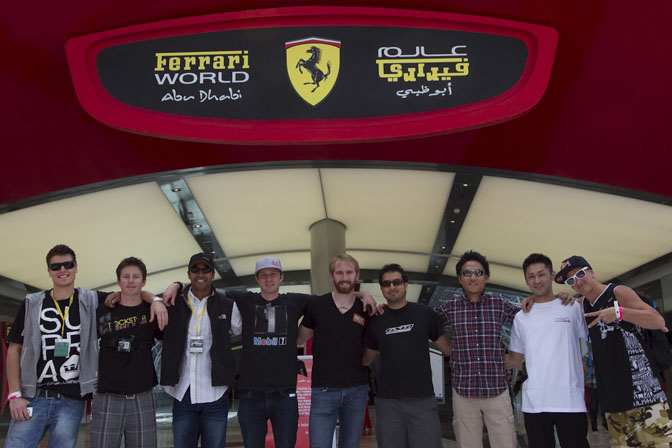 Next up was a trip to the Ferrari World
with all of the drivers. Although the amusement park is the craziest I've ever
seen, what I appreciated the most was hanging out with Tanner Foust and discussing
everything from car builds to "Italian cuisine". As he, the world's most successful drift driver over the last five
years in my opinion, is stepping away from drifting this year and I have been
given his Scion and Papadakis Racing seat it was really good to catch up a bit.
One thing you'll notice about Tanner is that he talks about fun a lot – he is
always looking for that good time in everything he does. To me, that says a lot
about an incredibly accomplished guy that has always stayed true to his
passion!
Just as I was up next for the Formula
Rossa, I was called out of the queue and escorted to the track to shoot an
interview. The PR operations personnel at Yas Marina are extremely professional
and although I didn't get to ride the world's fastest roller coaster this time I
certainly got a lot of insight into the media and PR machinery of F1 caliber.
Impressive, to say the least, and as much as I tried to remain calm and casual
in the shots I couldn't manage to hold back my excitement and joy of being
invited to an event like this.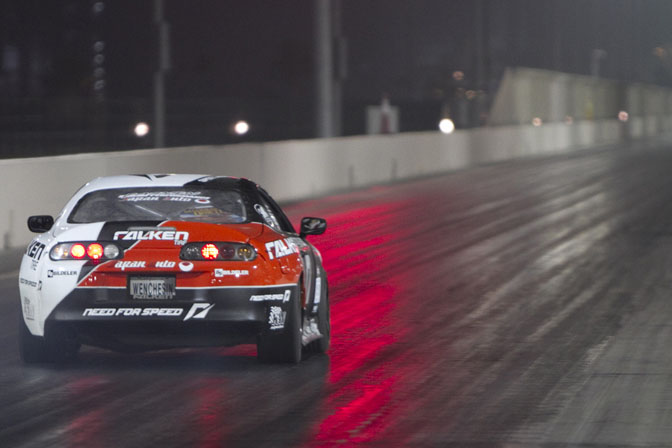 That same night we headed out the Yas Marina drag strip for a bit of test and tune. The American NHRA Top Fuel legend "Hot Rod" Fuller were in charge of the drag strip, and gave us FD drivers the intro to staging and bracket drag racing.
As this was a "Throttle Thursday" style open night, a lot of local drivers and cars showed up, which was a sight of its own. The UAE has a very rich and diversified car culture with an incredible concentration of top end models and supercars. Let me put it this way: One of the local guys couldn't decide between the BMW X5M and the X6M, so he just bought both. Same color, identical wheels and all options… When we asked a couple of the guys about the price of gas, it turned out they hadn't really checked! Contrary to what you might believe, though, every single person we met were – without exception – extremely humble and relaxed, and we were always met with open arms.
The Supra felt good and I had a lot of fun racing the other FD guys down the strip. With the actual event going down the next day, I started developing a gut feeling that we were in for a very special weekend.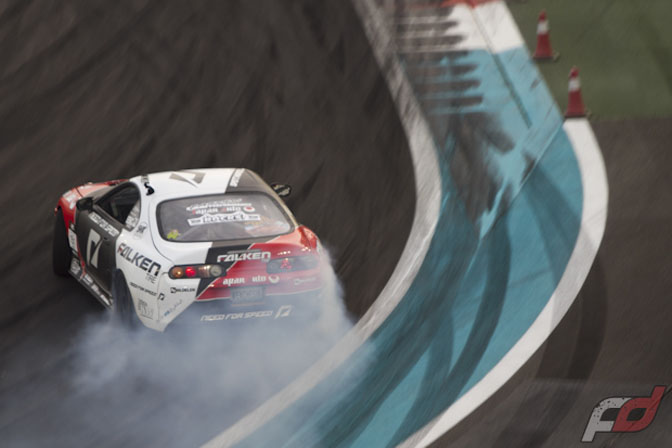 As the competition kicked off and the
grandstands started filling up on Friday, we were doing pretty well. After
re-welding a cracked oil feed bolt, repairing a faulty connection on the
alternator and upping the boost slightly due to the very high grip level of the
beautifully paved course, we were out there laying down some decent practice
runs. I was struggling to chase the other drivers as I was quite fast in the
first section of the course, while slower in the latter section. I straightened
out in a couple of my chase runs, but my lead runs felt pretty good and I was
able to whip it hard through the simply awesome – and challenging – drift
course.
And then, in my first out of the two
qualifying runs, I got the lowest score of the day.
The following minutes had Steffen, my
spotter, and me going back on forth on the radio. He was getting the judges'
feedback on what had to be improved for the next run, and eventually we both
grasped what went so wrong: During practice, I had been so focused on getting
good angle and hard transitions at the two braking zones of the course that I
never got to dial in the line very well. Come qualification, I was far on the
inside of the two outer clipping zones. Line is such an important part of the
judging criteria, and even more so at this track, and I was way off!
I always say there is no kill like an
overkill, but I guess I charged a little too hard. I got a zero.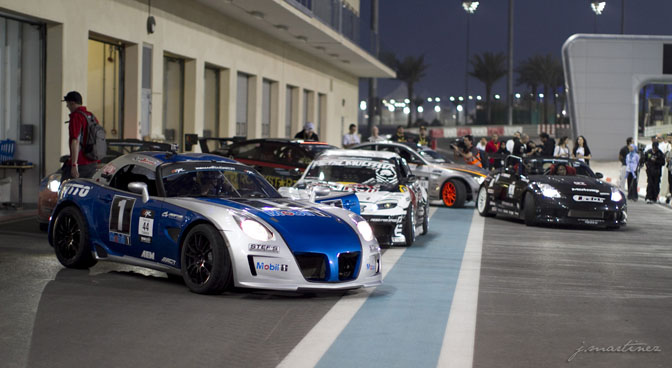 That meant I qualified last out of the pack, and was set take on number one qualifier and superhuman Ryan Tuerck. I have a lot of respect for Tuerck, both as a driver and as a personality. He is the perfect example of absolutely unparalleled skills on the track and a very welcoming, humble guy in the pits!
This was where it all came together for me. I was back at the start, with no advantage this far and with a crew that I think didn't really knew what to believe in. It is very unusual for the lowest qualifier to take out the highest qualifier, so as the drivers introductions were over and the lights dropped on us, I went out there as a wild card that had nothing to lose…
And won.
The odds were as low as they get and the stakes were high, and we friggin' won. WE WERE THROUGH TO TOP 4!! Just thinking about what happened right there gives me instant goosebumps – the battles against Tuerck made the whole event for me. My runs were totally opposite of the practice and qualification runs, and I scraped the final outer clips in both my runs for the first time that day.
I think the key to taking down that first battle was what actually happened between qualification and the competition battles. During the half time break, we were given one ride each with a VIP media person in the car, and we were asked to only give it about 70% as our passengers were not used to sliding cars next to walls. For me, however, this was my last shot to finally find the line so I just had to give it a 110%. Luckily the guy seemed to like it and as I looked into his wide open eyes inside that helmet, he gave me a slight thumbs up. So did Steffen from the spotter tower. – well, he said over the radio. – That's how you do it!!!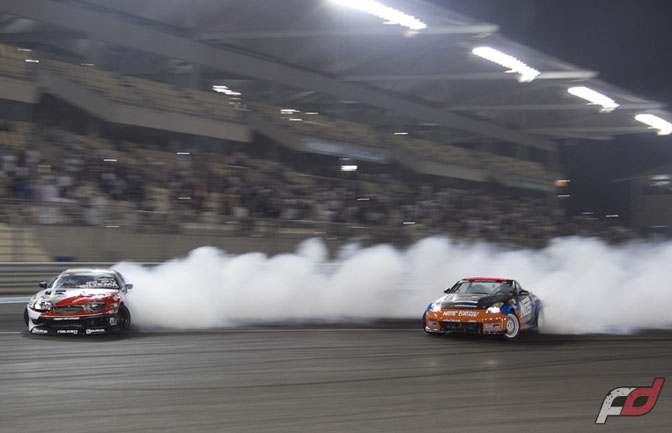 In top four I met team buddy Mad Mike. Brap brap!! We were stoked to head out there again, and I gave it my all! Mike straightened out as he threw a little too much angle down the first outer clip, but his chase runs were otherwise great. I didn't know what to expect from a judging point of view. Those seconds while you await the judges decision up at the grid take forever. And then, eventually, we got the message… We were through to the finals.
I don't think I have still fully realized what it meant to me to actually get to a Formula Drift final! I know it wasn't a FD Championship round, it was something else, and in some ways maybe even more epic. We were an even field battling on proving grounds, and noone knew what would happen next.
I know I caused a little bit of NFS cannibalism right in that semi final and I think a lot of people would have loved to see Mad Mike's RX8 in the finals – my apologies. I'll give Mike the next battle!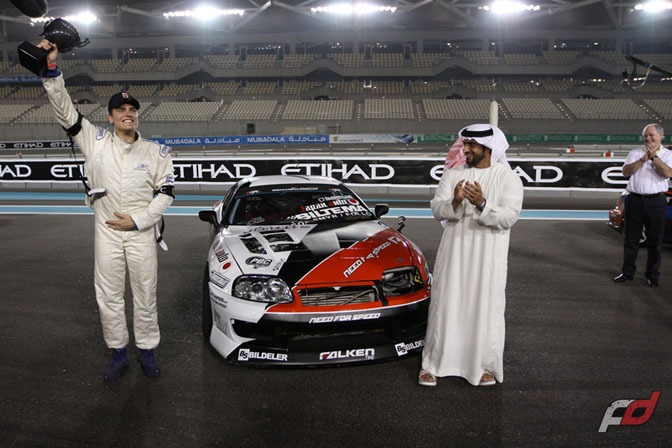 I was up against 2009 Champ Chris "the Force" Forsberg, who was looking super strong on the new Hankooks. He had just taken out Tanner in the semi finals.
For the first time in the competition I did a big mistake in my chase run as I lost a lot of speed in the second, slow-paced right hander. I lost Forsberg in the infield. However, in my lead run exiting the hard brake zone and first outer clip I felt a strange snap in my steering wheel and I thought the steering was binding due to being on maximum lock for the entry. I looked to the side and saw Chris sitting on my front fender – I was grinning of joy! Now this was drifting, a little bit of rubbing is exactly what you need in a final!!
Unfortunately Forsberg broke his axle in the final turn, but at this point I didn't know and I kept the Supra lit all the way down the main straight following the final turn as I knew we had put down a pretty good show for the crowd. I didn't know whether we won or lost, but at this point I no longer had any worries in my life. I was on the sickest race track of the world, manjiing down the long main straight after the battles of my life. It was an eleven out of ten!!
And as I came back to the grid, the judges were unanimous in their decision: Team Need for Speed and Japan Auto won the inaugural Formula Drift: Urban Skillz event at Yas Marina Circuit.
It was the best night of my life.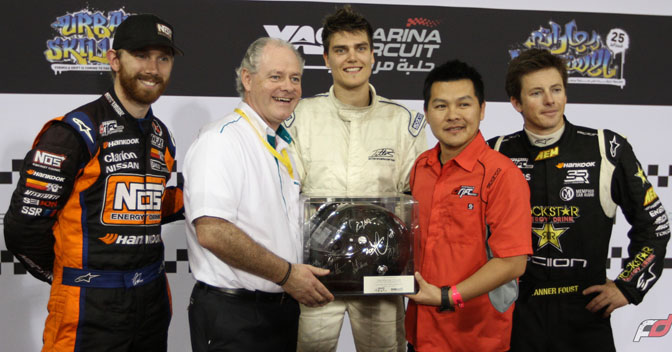 In hindsight, the event itself was very spectacular, and Taro Koki of GT Channel said it reminded him of the inaugural D1GP US at Irwindale in 2003. He saw history repeat itself at the Yas Marina Circuit – the children clapping and cheering when they saw a close encounter with the wall and friends holding each other after an amazing tandem battle. The track officials had never before witnessed such an enthusiastic crowd. Spectators refused to sit down throughout the competition, shouting and screaming of joy. Do you realize what this means?, Taro said. – this means a fostering of a whole new generation of drift fans and drifters in the region. The Driftstream viewer statistics blew up that night, and it was a buzz going around the global drifting community that this had to be repeated sooner than later.
Just thinking back on what happened that February Friday gives me instant goosebumps.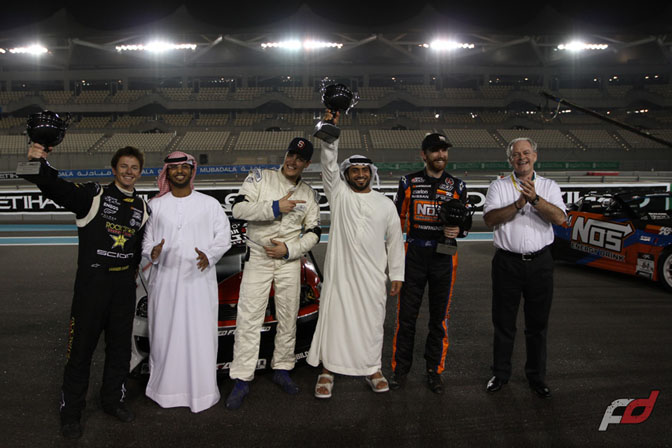 From left: Tanner Foust, 3rd place, Ahmed M. Hilal Al Kaabi, Head of Government Affairs Yas Marina Circuit, Fredric Aasbo, 1st place, Sheikh Abdullah bin Mohammed bin Khalid Al Nahyan, Chris Forsberg, 2nd place, Richard Cregan, Yas Marina Circuit CEO and former head of Toyota Formula 1 and Toyota WRC.
I am currently back in Norway for a short week, and I couldn't feel happier and more fortunate. We have brought that carbon fiber trophy home and finally given it to my mom and dad who have been there for me. I have dragged my friends and sponsors through grit and countless worries after setting out on this drifting journey a couple of years ago. On February 25th 2011 it paid off. Who knows – a result like this might never happen again, but that night in Abu Dhabi had our dream become reality. To all of you that have believed in us through thick and through thin: I just can't thank you enough!!
It could all stop here, as my ultimate dream just came true. But instead, I am headed onto an  entirely new journey, with a whole new Formula Drift team setup, new expectations and an almost entirely blank canvas. I have my fingers crossed for the season and we have our plans ironed out, but nothing can really prepare you for what happens when the Formula Drift circus rolls into town in just under a month.
To me, this is where it all begins.
-Fredric
Photo Credit: Jose Martinez and Formula Drift
P.S. I still can't believe it. WE FRIGGIN' WON, GUYS!!!!!!!