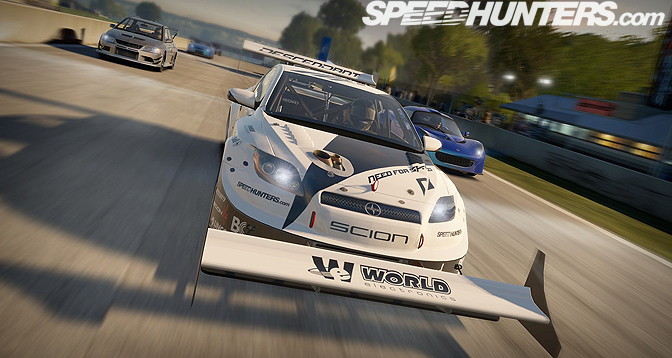 One thing that really interests me is the process of recognizing patterns, especially trends and collective opinions. It's a skill that has allowed me to carve out a bit of a career as a creative director and has served me well over the years.
Now one pattern that I picked up at the end of the Shift1 project was your viewpoint in regards to the physics experience of the game. Shift1 was definitely trying to please both the traditional Need for Speed arcade racers as well as sim racing fans. The feel of the game thus ended somewhere between both of these types of video game racing types.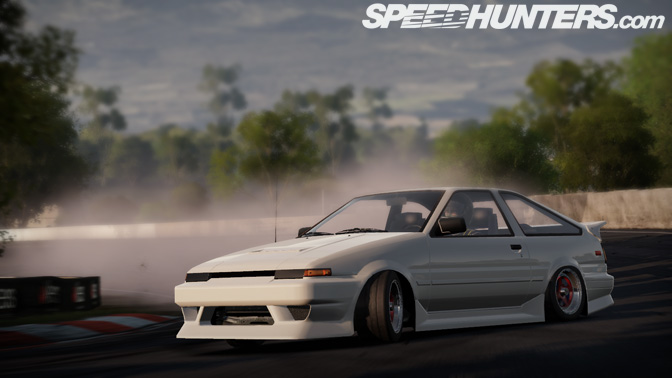 So after I showcased for you the in-game AE86 and the host of wheels available for it, I was quite interested to read your feedback. And it appears that while most of you are excited by what I showcased in the article, you wanted to know more about the physics and our approach for this game.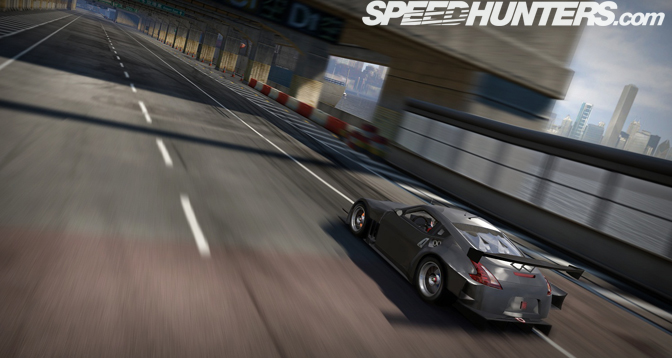 So I'm quite pleased to let you know that Shift2 is quite firmly focused as a sim racer. And not only that I'm feeling quite bullish that we've pushed the genre to the next level.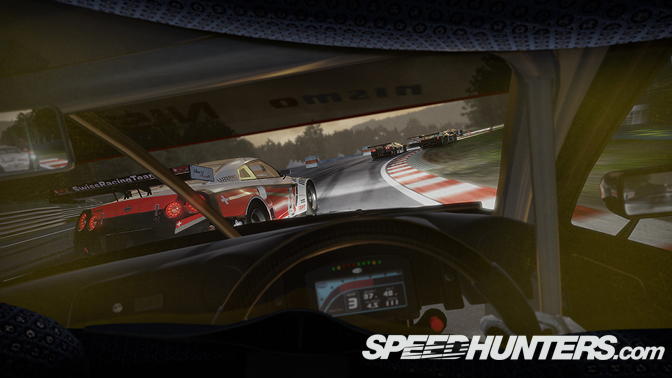 Now the whole focus of the SHIFT2 UNLEASHED experience is quite a lot different than the offerings from Forza and GT. We've pushed ourselves to replicate the first person, human sensory experience of driving powerful race, time attack and drift cars. So we've created a totally new way of racing in a video game: Helmet-cam.
This quite literally puts you in the seat of a race car, whether you've built up your hot hatch in to a full spec silhouette racer or you are piloting an FIA GT1 machine. Every single nuance of the real life experience has been lovingly recreated for you. We figure that driving a powerful car should be more than just a mathematical simulation, it has to be violent and frightening.
Let's face it, motorsports is dangerous and dirty and this is the direction the team chose to take.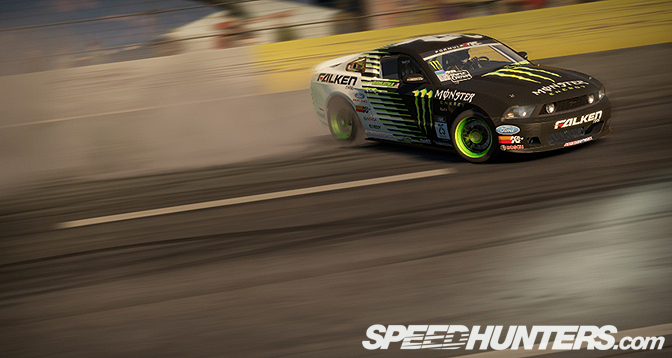 So to make sure we nailed down both the physics and our new helmet-cam feature we turned to the experts. Speedhunters and Need for Speed are involved with the careers of several different racing driver and drifters, so we decided to get them involved with the game production itself.
The Slightly Mad Studios crew are pretty hardcore car nuts and collectively have a lot of experience of taking high powered cars to track day events. But to really take things to a deeper level and get absolute verification of the in-game race experience we hooked them up with a few of our driving crew.
When it comes to advanced technology, the Shift physics system itself is second to none. It takes the actual suspension geometry that we receive from manufacturer CAD data and replicates the suspension components in 3D space. It is not some game producers "idea" of how a car should handle. Not at all, if you are say driving a Porsche 911 in game, then you are driving an actual 3D physics representation of that car based on CAD data. Within this driving experience though, we can layer on driving aids and tweak items like holistic track grip, tire slip angles and car setups. So there's a bit of wiggle room to push the difficulty levels and physics modes in to a few different directions.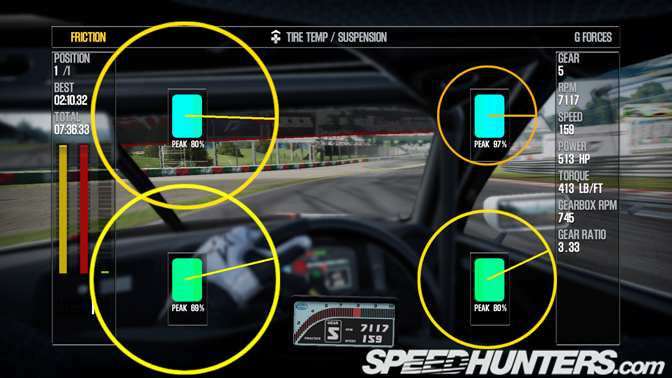 SMS have also added these HUD physics displays to the game, allowing you to see the forces acting on your car in real time. This screen shows tire temp, lateral force and grip direction among other items.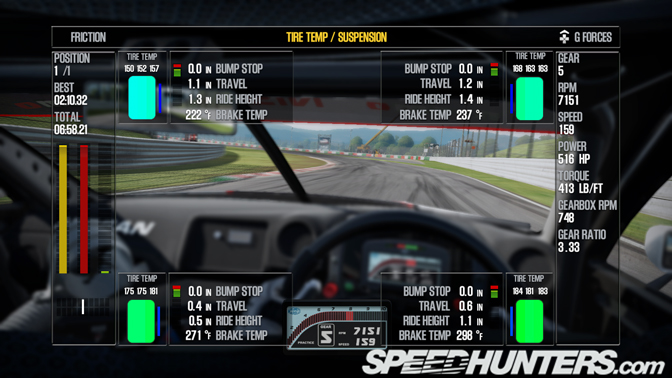 This screen is layers in shock telemetry and allows you to get a visual on what the suspension is doing.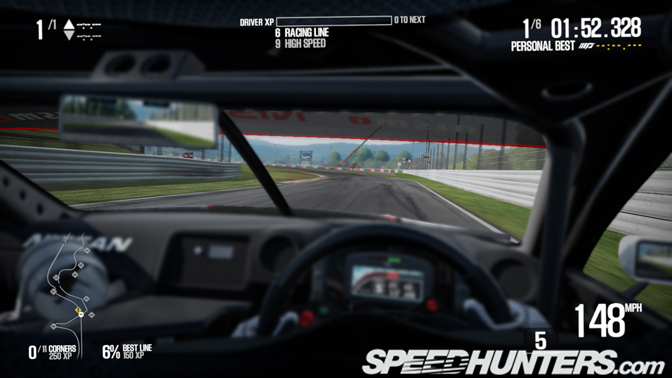 But like I said, our goal with this game was to make it as realistic as possible, but also try and capture the essense of driving powerful cars. I don't think this is something that has really been done too much in the past. I mean seriously, how many of the existing driving engines out there make you feel afraid, as you would be pushing a real race car to the limit?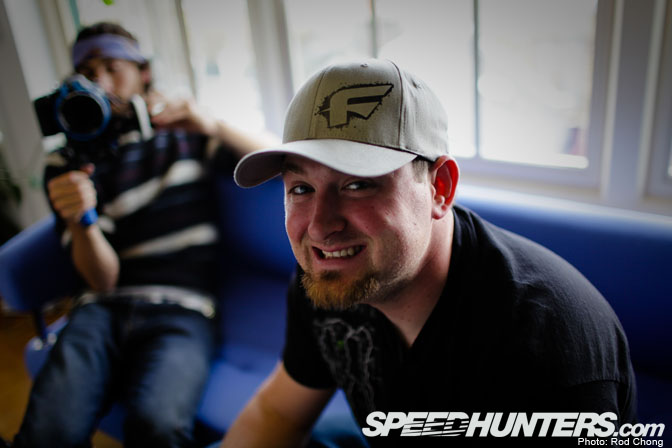 The first driver to get his hands on an early version of SHIFT2 UNLEASHED was Vaughn Gittin JR. Some of you will recall that we flew him to the UK last May to join a Speedhunting trip at Silverstone. What we couldn't say at the time, was that the real purpose of the trip was for him to sit down with the SMS crew to try out a completely re-imagined drift mode. Our focus? To see if we couldn't capture the true essence of drifting. It had to be fun, exciting and with just a touch of hooliganism. So we decided to start from scratch with the drift experience in Shift2 and based the mode around car setup and optional driving aids rather than a different set of physics. I'm quite proud of the result but it did require literally months of work from SMS. They kept at it though until we got the feeling just right.
I took this snap of him and Will Roegge right as he arrived at the SMS studio in London.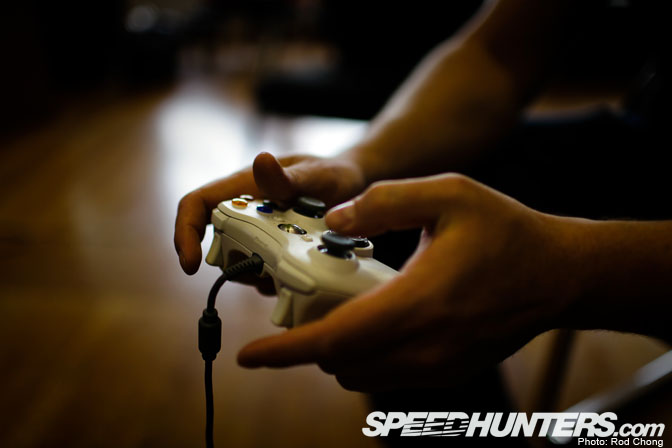 So we wanted to see if JR thought we were on the right track or not. He liked where we were going, but had a lot of suggestions which we then worked to incorporate into the mode. I'll let JR talk more about this in detail in a future article though.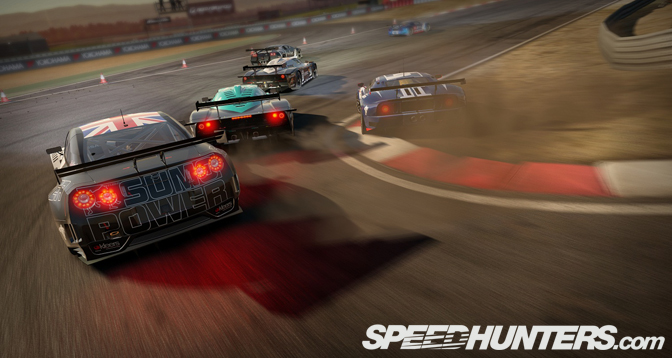 The next driver to test the game was Jamie Campbell Walter, one of the drivers of the Sumo Power GT-Rs. we set up a meeting in London last August for him to try out SHIFT2 UNLEASHED.
As we have the official license for both the FIA GT1 World Championship and GT3 European series, we wanted to make sure that we had nailed down the exact speed and feeling of the GT1 machines. Were the target laptimes correct? The braking distances ok? Did the cars have too much or too little downforce? And more importantly, were we capturing the true feeling of racing one of these cars?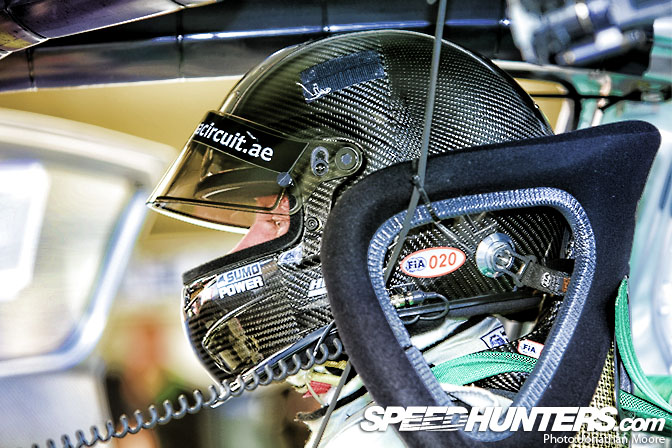 Jamie was very impressed with the overall Shift2 experience, especially helmet-cam, but thought that more downforce was needed. To him, the real life Sumo Power GT-R felt more planted in in Eau Rouge at Spa in real life than in the game. Jamie also wanted to see more aggressive turn in for the car too.
He also pointed out that we needed to raise up the shift knob in the GT-R's cockpit. It wasn't in quite the right position.
He did think we had nailed the braking power though. He found that he was hitting the brakes around Spa in exactly the right points.
So we made the adjustments and had him try the updated physics again the following month… this time we got a big thumbs up.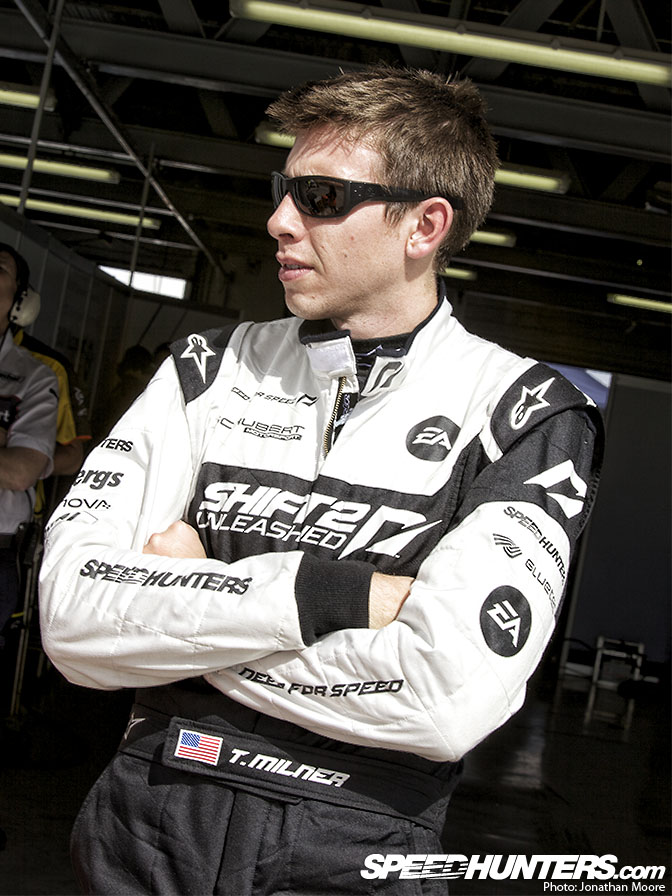 Now there is one guy on our crew of racers who is as hardcore as they come when it comes to sim racing: Tommy Milner. Interestingly, we both got our big start in sim racing back with the old EA game, Sports Car GT and have remained in contact ever since.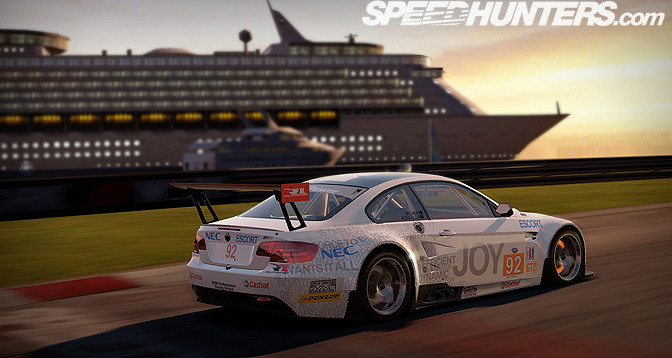 First of all, we had to updated his BMW to the latest 2010 spec. A few calls to our collegues at Rahal Letterman racing netted the actual graphics file for the 2010 car wrap, which we used on the new 3D model.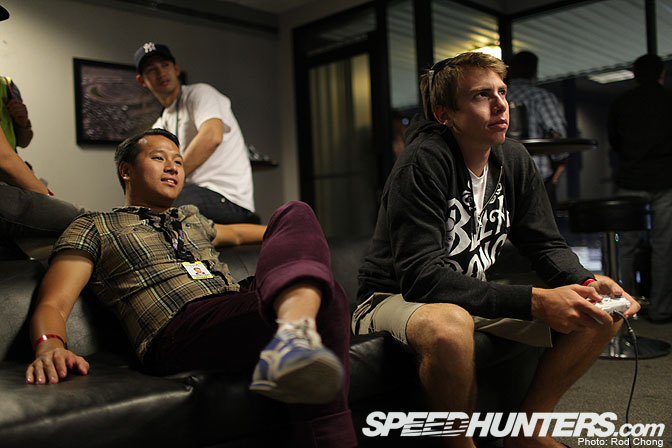 And then we brought him to a private gaming session held at Formula D Irwindale last October.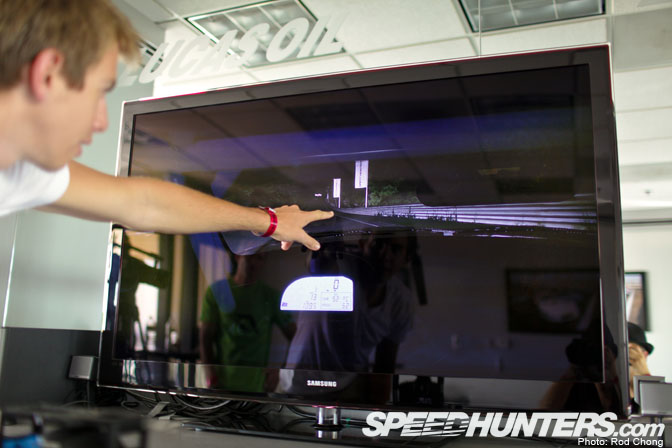 Tommy had a huge amount of feedback for us that day. First of all, he thought we needed to rethink our racing headlights in the new night mode. Longer beams would be needed to get around the Nurburgring Nordeschleife at night. He thought that the trees, guardrails and signs were lighting up in a realistic fashion but the tarmac itself was not lighting up enough. You just couldn't see where you were going enough in the dead of night on the remote tracks.
Secondly he didn't like the shock dampening on the BMW and felt that the set up of the car was way too soft compared to his real GT2 car. He thought it was pitching and rolling too much, which definitely should not be the case for a high end GT racer.
We later discovered that the shock bumpstops of all the high end race cars in SHIFT2 needed some adjustments. It was Tommy that suggested these changes.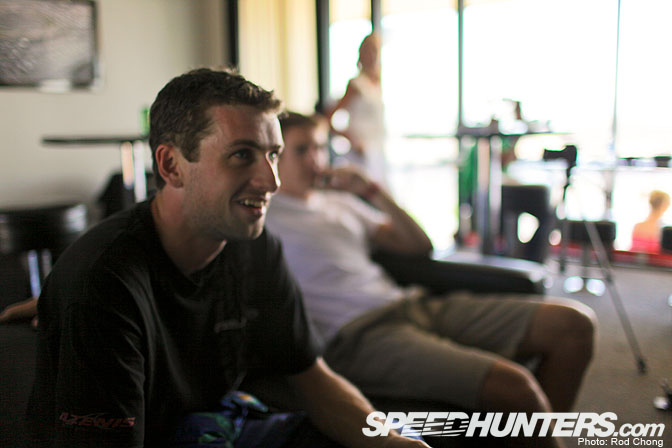 Tommy is a truly amazing in-game racer but Darren McNamara can give him a run for his money.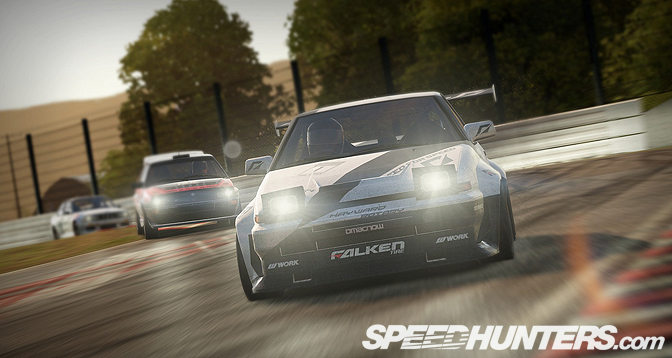 He was pretty excited to try out the in-game version of the D-Mac86 which was completed for Shift2 well in advance of the real car (Dmac86 when is the next blog post BTW?)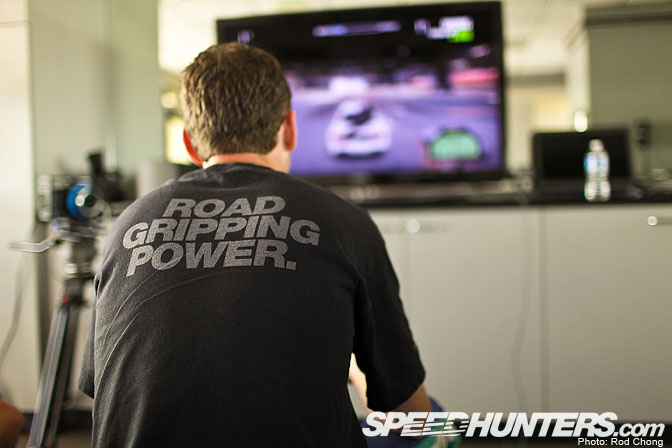 Darren was quite interested to try out the drift mode… he also had some very direct feedback on the amount of lateral grip on the tire model during moments of high speed wheel spin in a long drift, which we also addressed later on with SMS.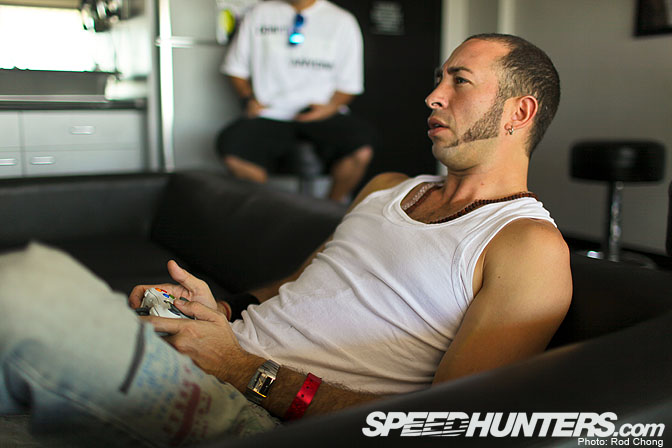 Rado also popped by too…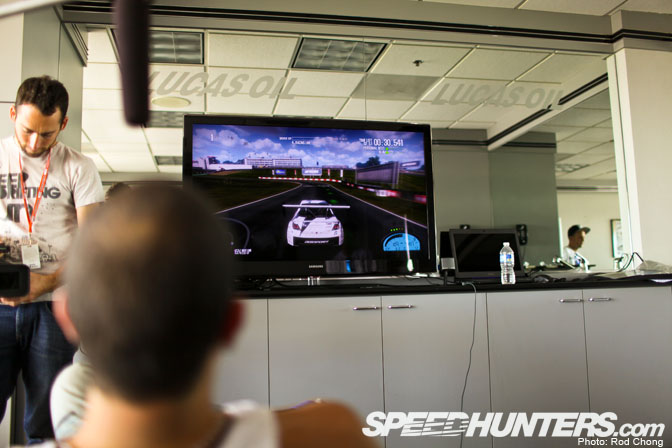 … And was rather blown away by the in-game representation of his AWD Scion. This is one of the wildest, fastest cars in Shift2 and is rather frightening to drive I have to say! Driving this beast of a car around the Nordschleife or Bathurst is extremely frightening :>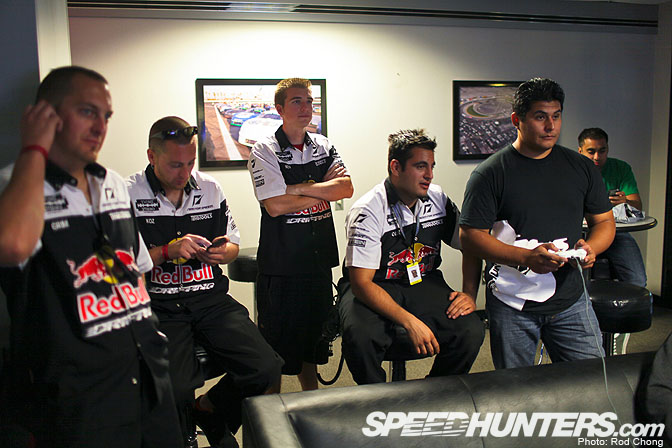 The whole Twins Turbo crew are rather hardcore gamers too… they were itching to have a go.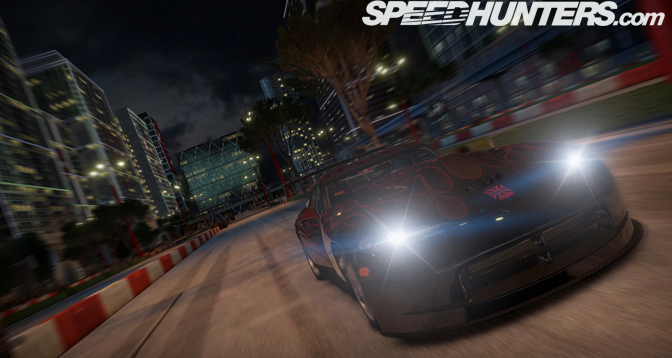 Their Viper was a very late addition to the SHIFT2 UNLEASHED release plan, but we've been working with them for a while now to get this crazy machine set up and going. I'll show you more about this process later on….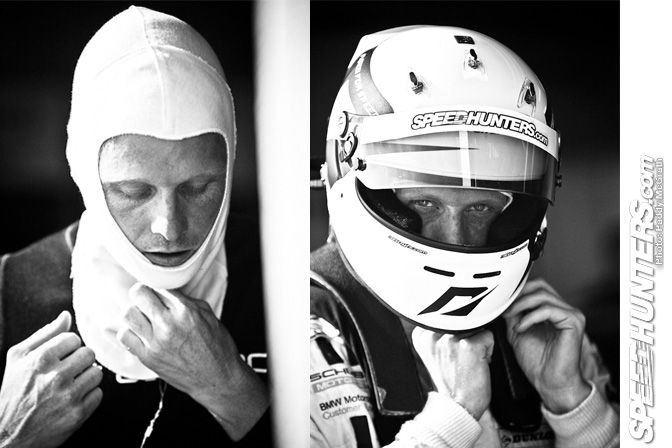 I'd say that of any driver we've had working on SHIFT2 UNLEASHED, the one guy that's had the biggest effect on the game is Edward Sandstrom. He worked out of the EA DICE Studio in Stockholm for around three months this past winter and individually tuned the set up for each of the cars. He wanted to also get a more aggressive turn-in for the high end GT race cars and also focused on making them a bit more lively, to allow you to balance the pitch and angle of the car using throttle input as you exited the corners.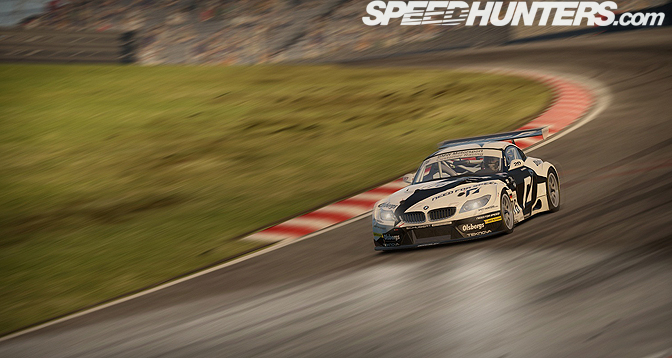 Of course I need to mention Patrick Soderlund who not only spent 2010 racing the Team NFS Schubert BMW Z4 GT3, but oversees the production of all racing titles inside EA. The first title to be released under his leadership was NFS Hot Pursuit, and SHIFT2 UNLEASHED will be his second.
I think Patrick considers SHIFT2 to be a little bit of a special project for him, so he spent quite a bit of time trying out all the physics settings. In particular Patrick was able to use his actual experiences behind the wheel of the real world Z4 GT3 to compare with the in-game counterpart.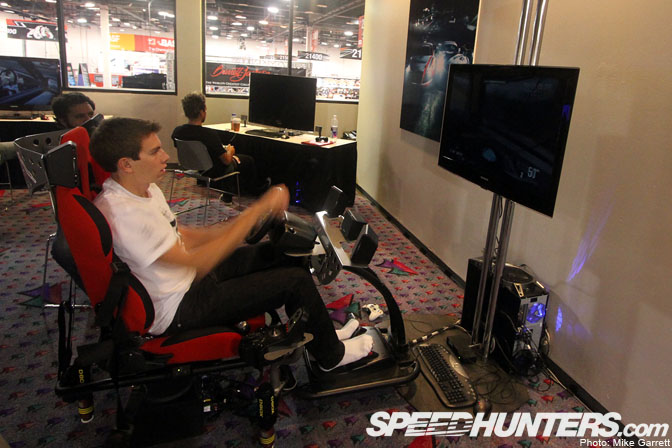 The last big game test we did was was at SEMA in November. We rented out a private suite above the show floor to present the game to a few select journalists and drivers on a crazy D-Box setup.
BTW notice how Tommy prefers to drive in his socks. I guess trainers deaden the feel of the pedals too much.
Tommy is by far the fastest sim racer I've ever witnessed in the flesh. It's quite unreal to see him display his skill as a racing driver on plain view.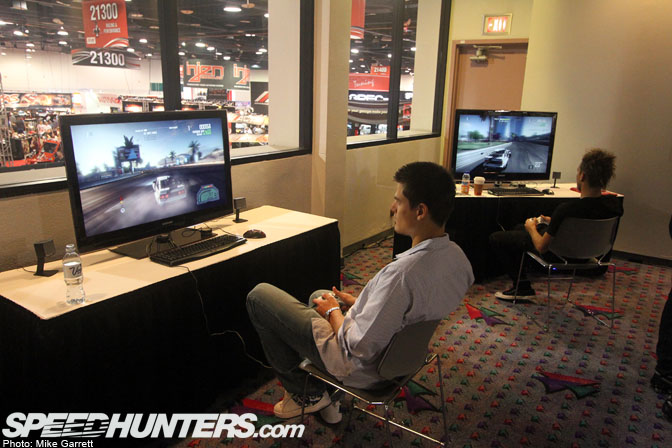 We also let Fredric Aasbo and Matt Powers have a go too. Fredric interestingly had no issues drifting using a game controller AND manual transmission. More testing with these drifters and few of our other guests have netted more changes to the mode. Personally speaking, I think it feels pretty natural now. The cars still feel like there's grip and you can dial in or out a number of aids depending on your level of hardcoreness.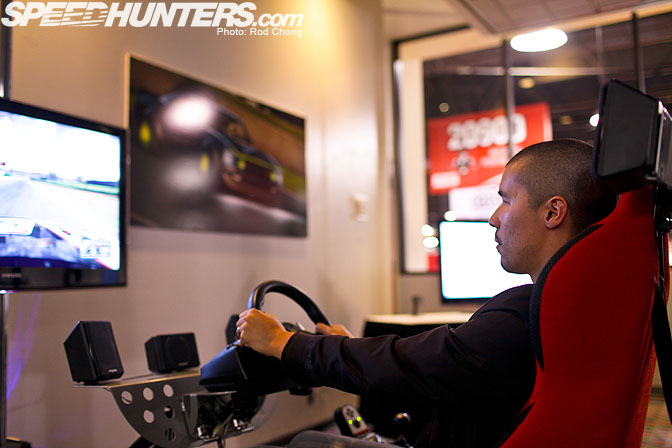 Personally I'm completely addicted to these D-Box chairs. With a full range of motion, vibration actuators, and built in surround sound, this is the ultimate way to experience SHIFT2 UNLEASHED… I quite literally am shaking with adrenaline, every time I use one of these things.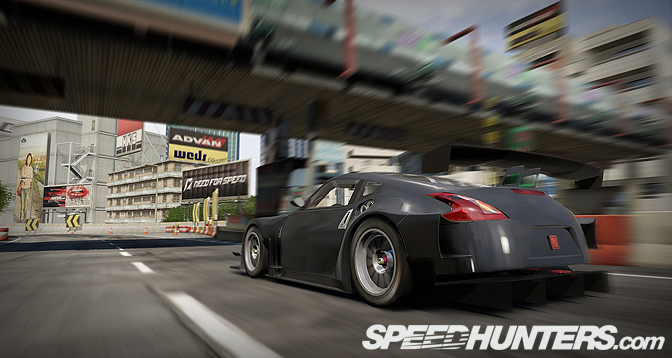 Of course this new focus on deep, immerse realism would not be possible without the superhuman efforts of the Slightly Mad Studios crew. Once they were freed up up to unleash the full power of their physics engine with a purely realism focused game, they really went to town adding the new on-screen telemetry features and a whole new level of car setup detail. If a parameter is adjustable on the real life car, then it's adjustable in game. And if you add aftermarket parts to your car, then more adjustment options open up.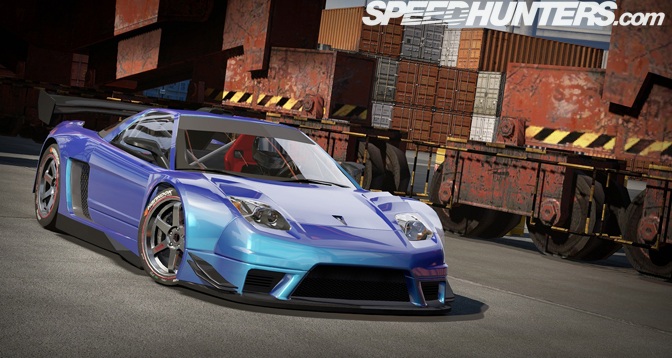 So to answer your questions: YES the driving experience of SHIFT2 UNLEASHED is squarely in the realism space and the physics experience is much improved and evolved.
OK I'm going to show you some more customization options next… How about a showcase of some new BMW and Mazda cars?
:R