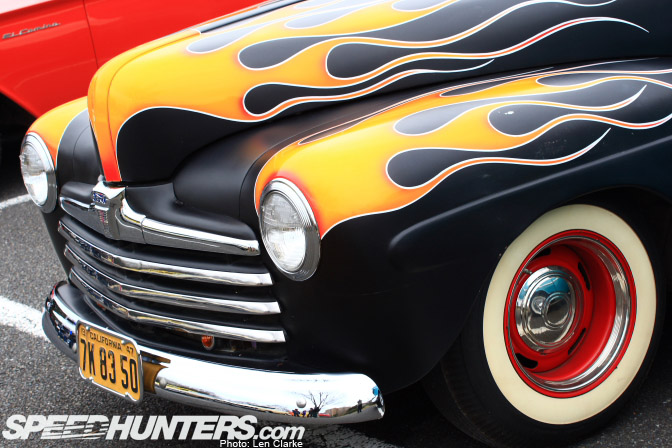 This year's Razzle Dazzle was the 11th running of the steadily growing and very popular event in Yokohama's Honmoku area, conveniently located just a stone's throw from the Mooneyes shop and cafe.  '40 Ford above just superb.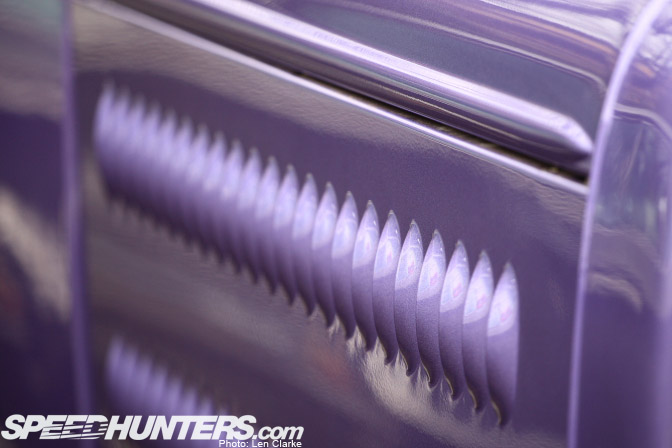 Organized by the Chop Sticks Car Club, what appears to be a fairly casual event that takes place in a public parking lot, the breadth of cars taking part is simply amazing. Above, detail of one of many '32 roadsters that made the trip.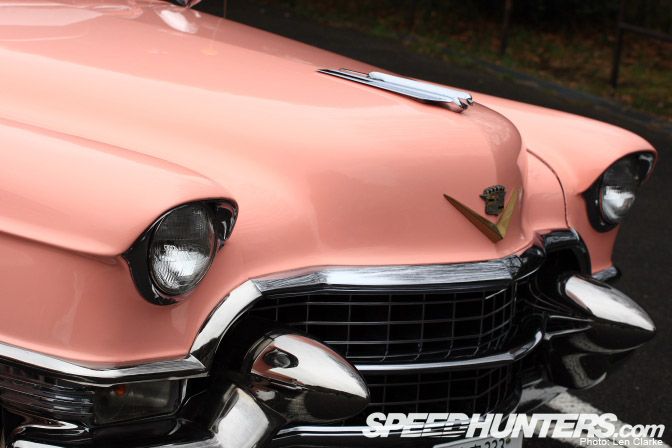 While it is mainly a celebration of American classics like this '55 Cadillac, the array of cars always attracts a few beauties from other countries including Germany and Japan (scroll down for images).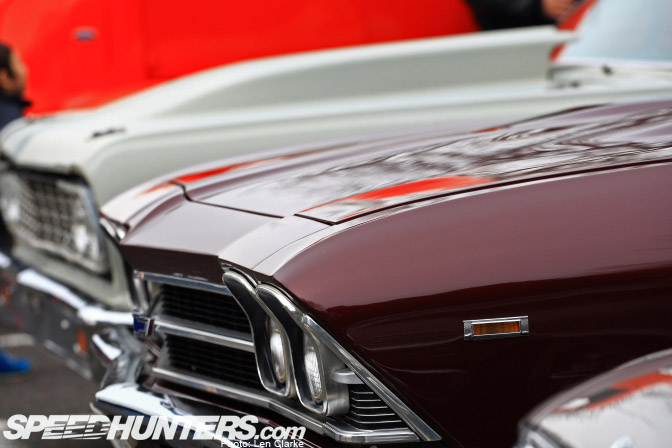 The main focus is of course, Detroit Iron and this Chevelle (one of many Chevelle/Beaumont/Malibu examples on the day) was just one of many iconic designs that the graced the event.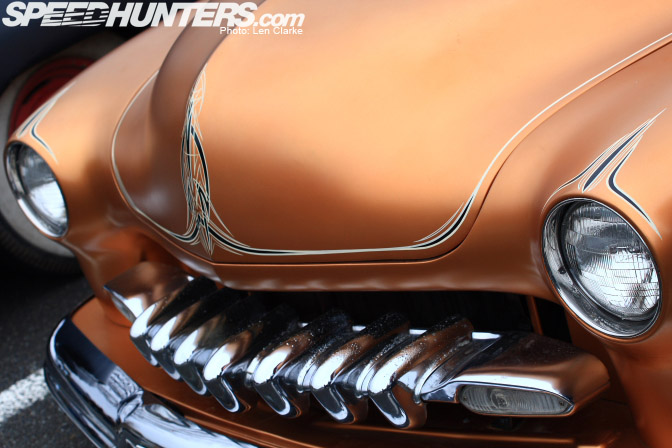 But it wasn't just about the classic designs and lines of the sixties; there was also a wide variety of machines from the '40s and early fifties – some of which you'd hardly see even in a U.S.- based meeting. Typical Japan, amazing!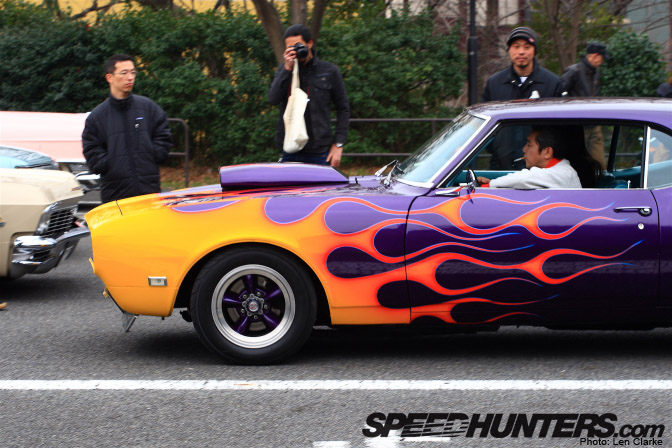 I love this '68 Firebird (back when Pontiac was a brand that meant power) – and the guy smoking is a perfect Japanese touch in my opinion. More images of this machine a little later…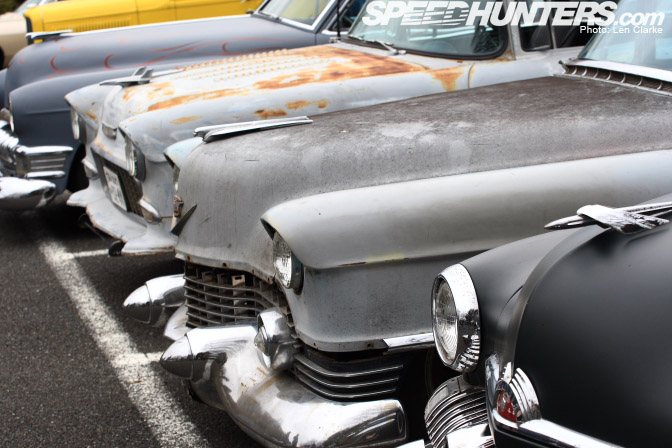 This row of heavy metal had me wondering….are some of these giants actual survivors from the post-occupation era of Japan? Photos of that time show Japanese streets chock-full of American machines alongside Japanese counterparts that borrowed heavily in terms of design. There must be secret stashes – and even scrapyards somewhere with remaining examples….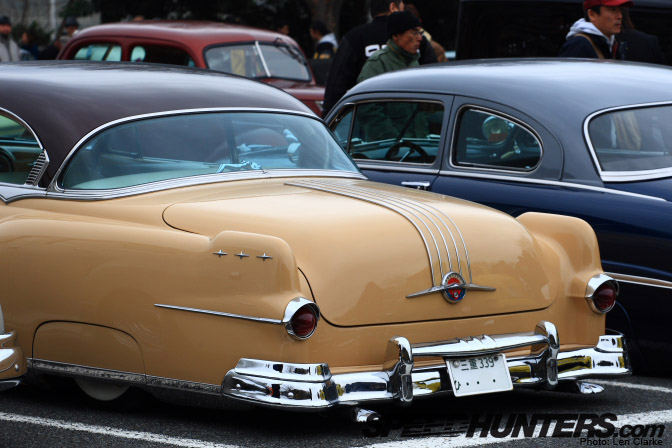 This sled made it all the way from Mie prefecture, that's up in the neighbourhood of Suzuka Circuit, some 300 miles (and nearly $250 in highway tolls) away. dedication, that's what it's all about!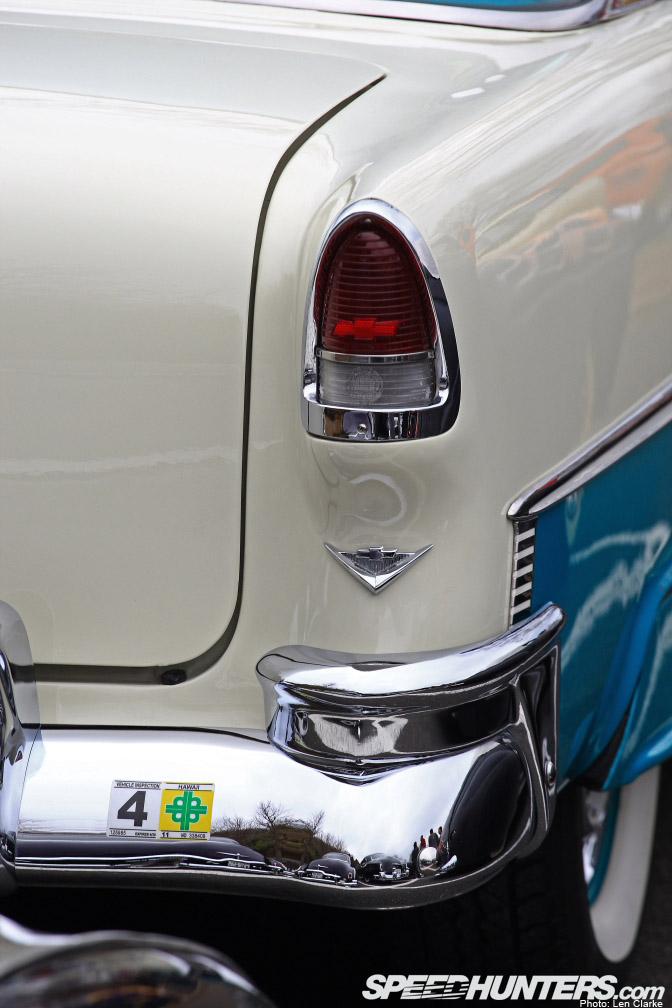 One of my favourite U.S. designs of any era; this '55 Bel Air (any '55-6-7 will do) is gorgeous from whatever angle.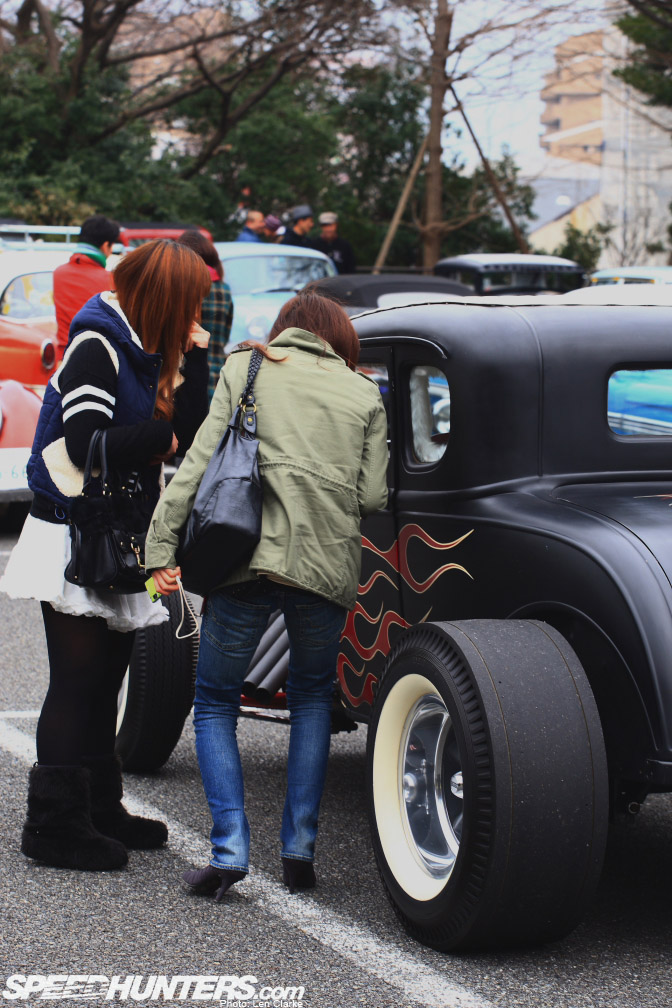 No only are wild customs legal on the streets of Japan, this guy drove to Razzle Dazzle on these vintage slicks! Woah, how was that possible?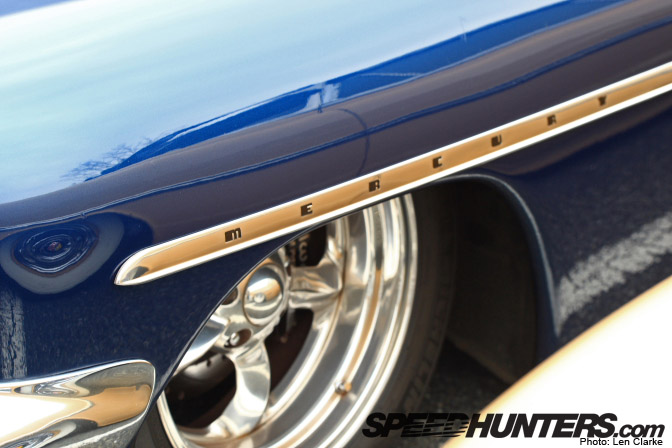 'Crazy about a Mercury' Wasn't that the title of the song? This example from between '49 and '52 set my heart racing, and I liked the reflection of that Pontiac….endless eye-candy.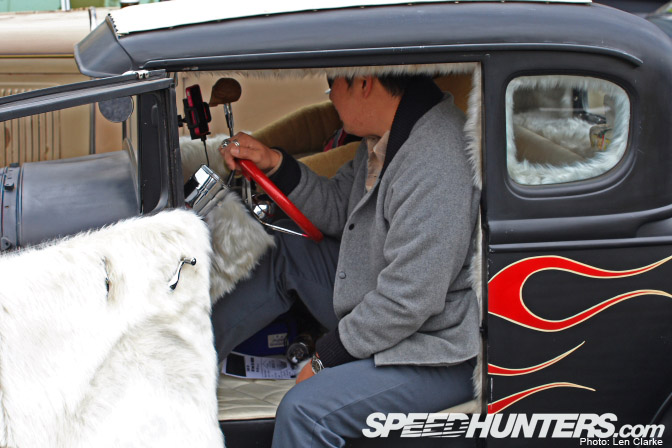 The cabin area of that '32 Model A was even wilder than its slicks – fuzzy dice, eat your heart out!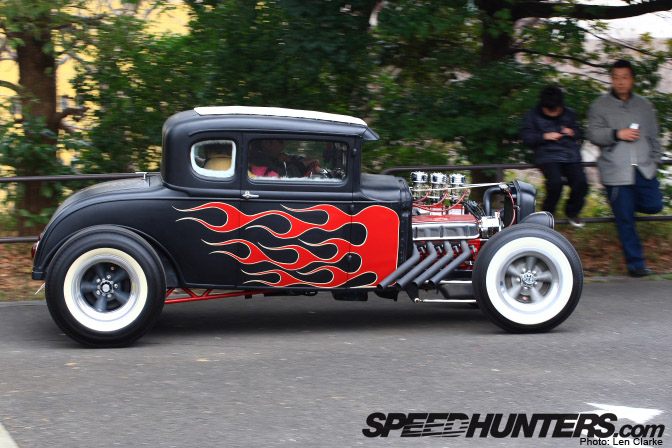 And she runs like the wind. The Japanese do classic hot rods like they do so many other things – brilliantly!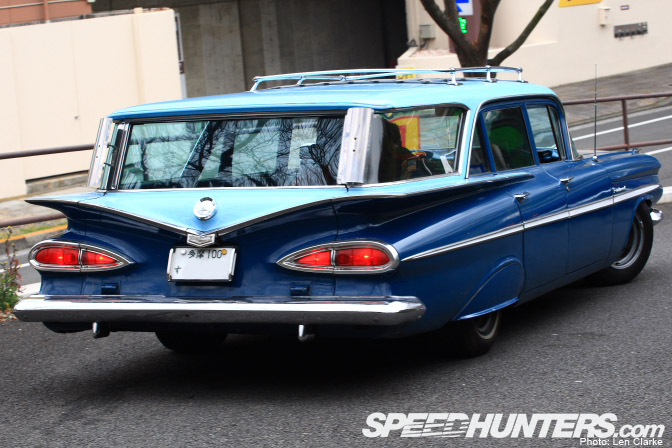 There were lots of Impala variants too. I counted at least half a dozen, but it was this ultra-rare Parkwood that absolutely blew me away. Despite spending my teenage years and beyond in North America, I don't think I'd ever seen one before. Ever.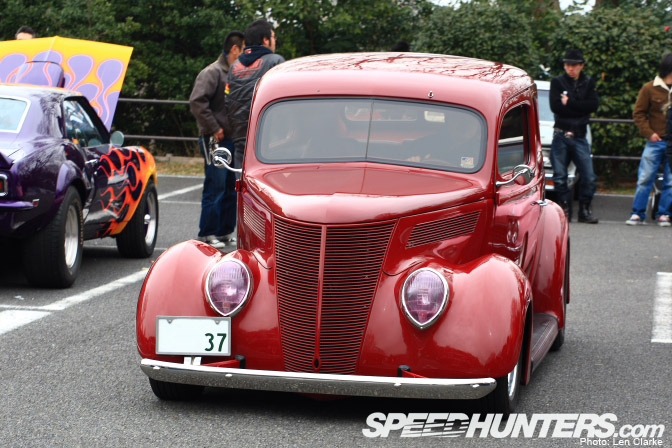 Back to the Ford camp and this '37 coupe – a classic street rod in so many ways,, no least of which was the candy apple red paint!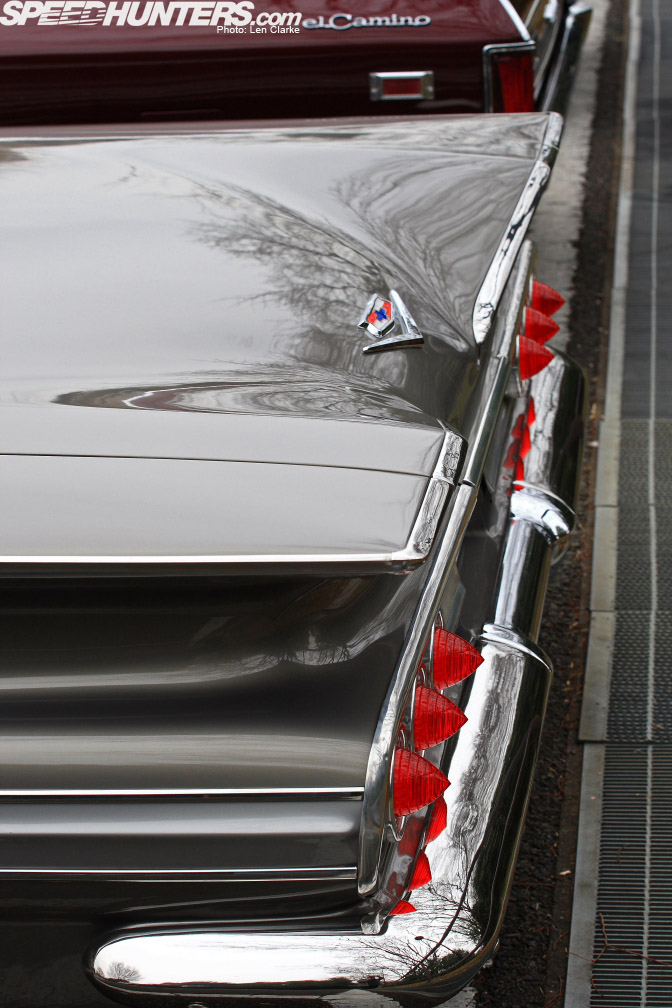 Here's detail of an early Impala ('59 or '60) that just shocked it was so clean.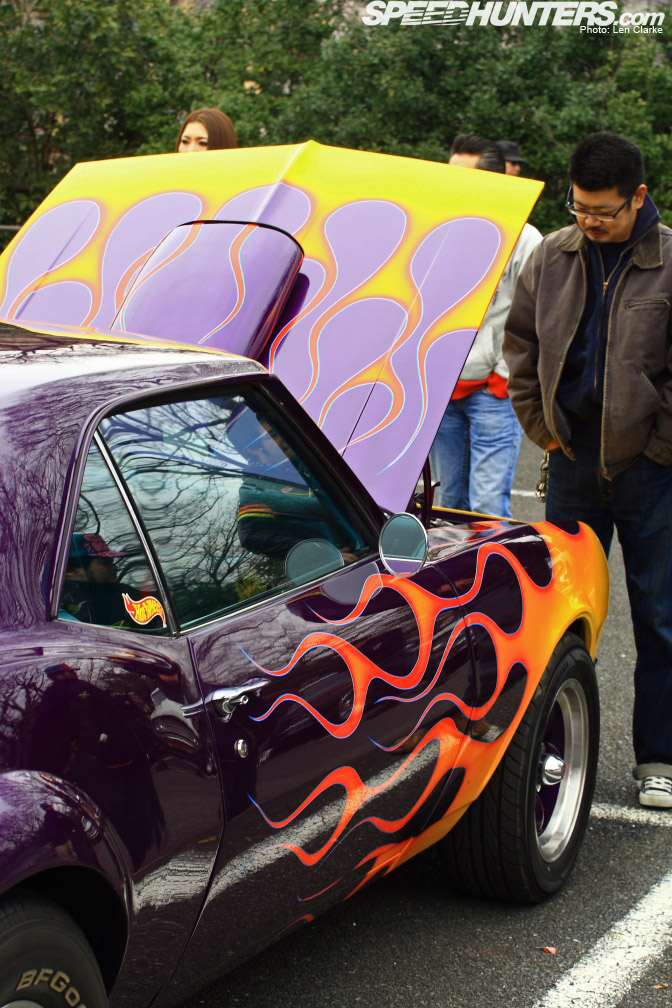 The '68 Firebird again – appropriately attracting a huge amount of attention.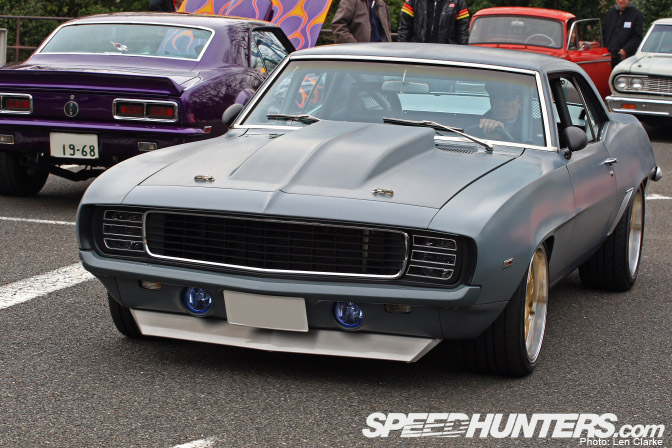 To give you an idea of the variety (and strength) of the cars that showed up, just moments after the previous image, I took a step backward and this '69 Camaro came into view. Proving that it's not just about classic interpretations of rods, as this very modern take on Chevy's pony car shows.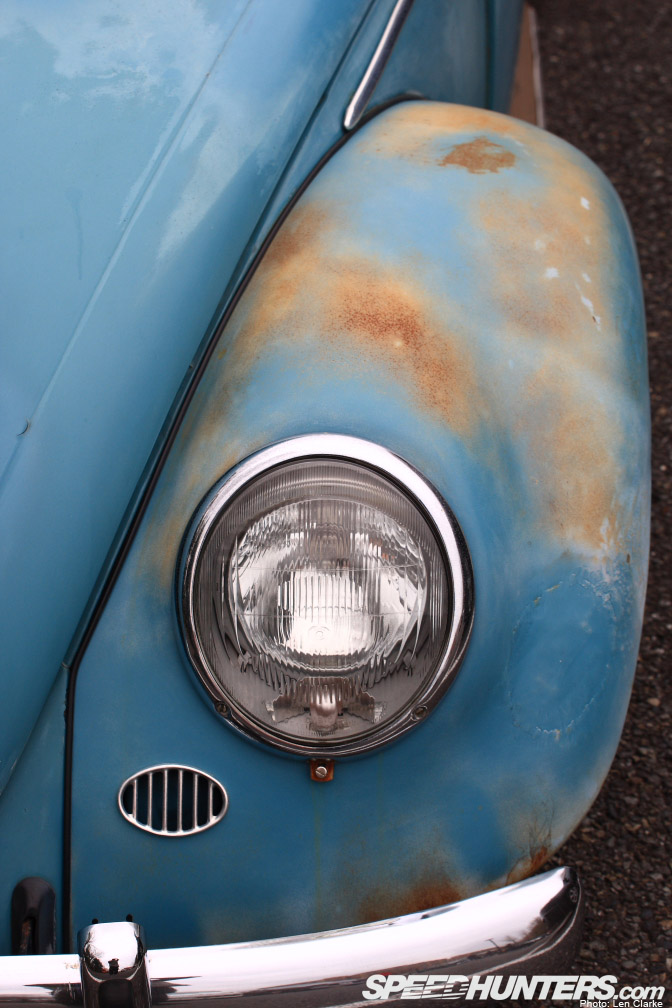 Beautifully weathered early sixties Beetle with evidence of turn signals removed was a nice addition.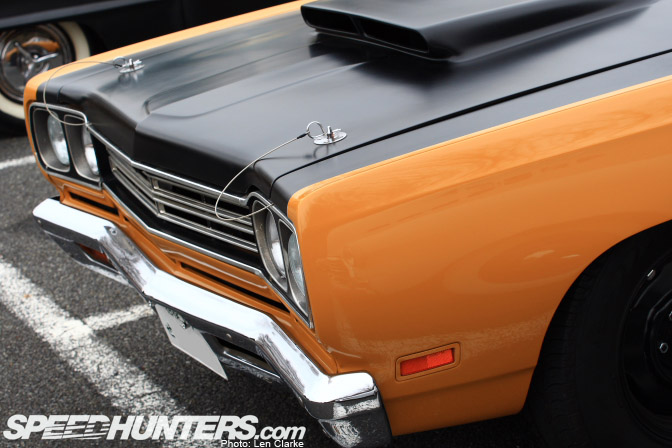 But without a second's hesitation I'm back in the throes of American Muscle, the '69 Road Runner just a flawless example of possibly the single greatest muscle car season ever (OK it's not a GTX, but whatever).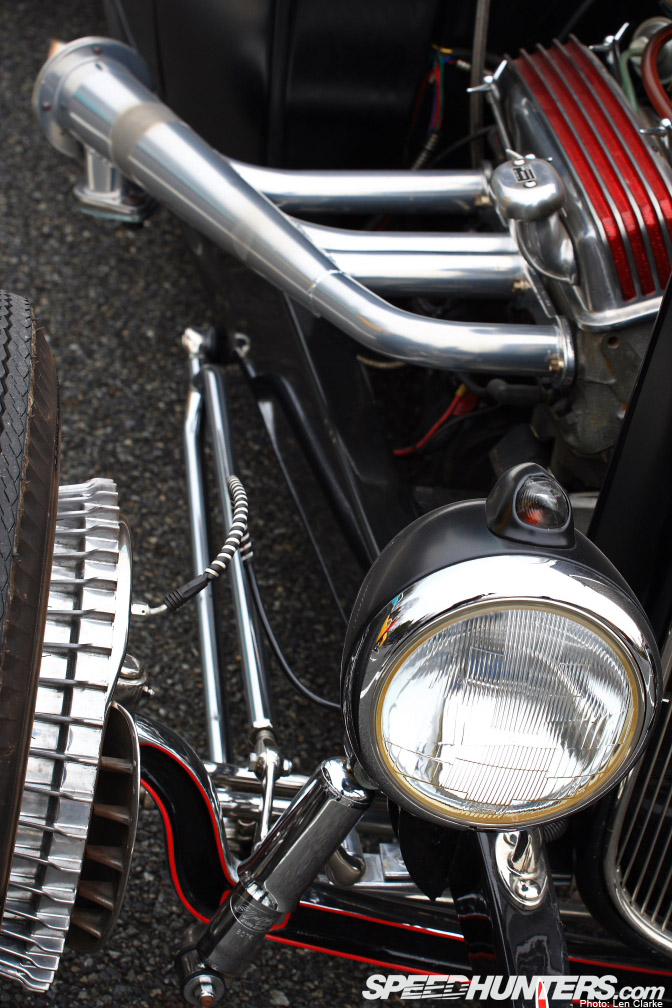 Detail of an expertly executed '32 roadster. Check out those giant chromed drums!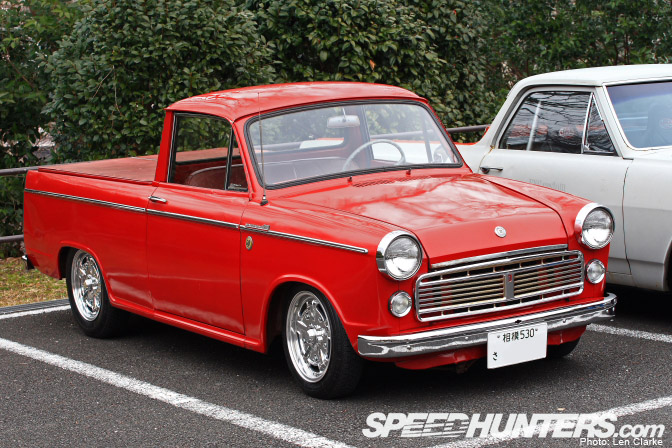 This little fella looked like a junior high school student at the senior prom – but not at all out of place. I love these 320 pickups.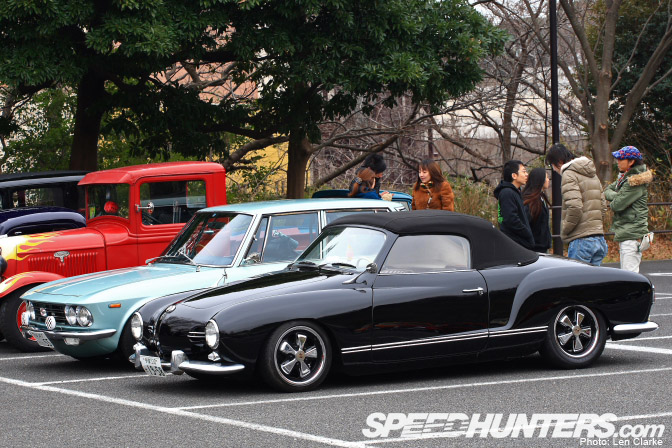 Was this the only other Volkswagen? I think so. These first generation Karmann Ghias are the best of that model, and riding on those Fuchs makes this one even sweeter.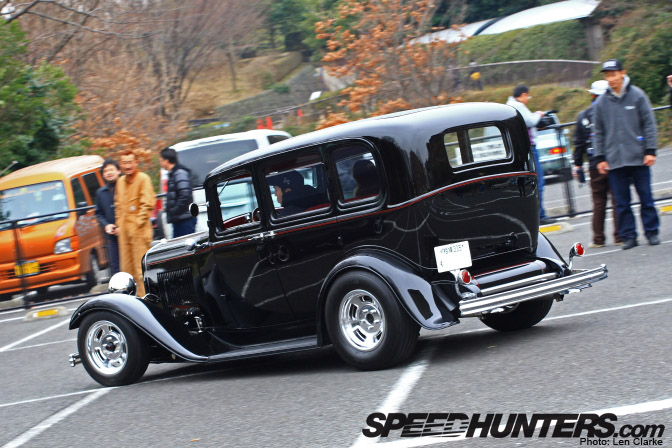 The year 1932 wasn't only about roadsters however, as this proves. The meet is one where cars come, sit a while and then go, so it's a near-constant procession of beautiful things that you'd otherwise almost never see on the streets of Japan – too cool.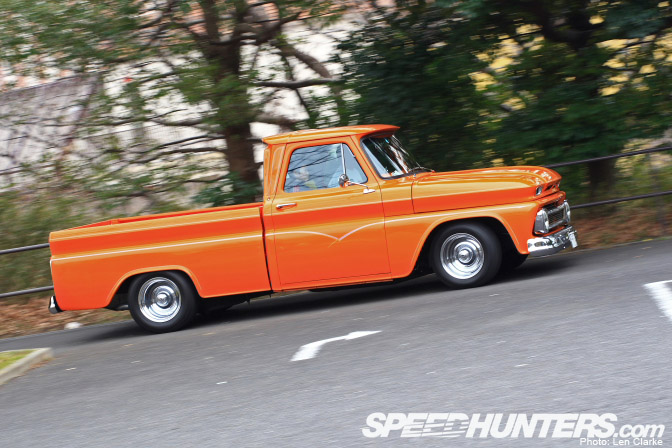 This mid-sixties Chev pickup was another gorgeous model that used to be a dime-a-dozen back in the day. Not anymore though.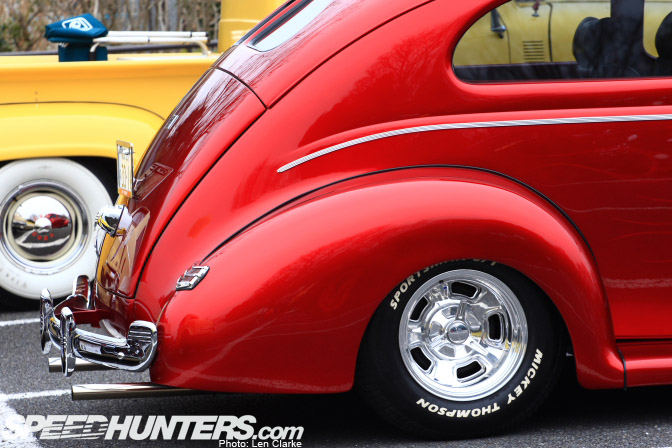 Ford on Ford. I couldn't get over seeing actual Mickey Thompson rubber on this coupe. Ahhh, the memories.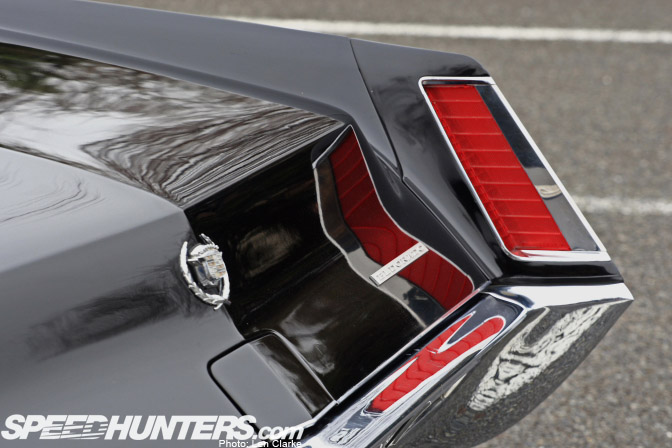 A late arrival, this '68 Eldorado was so clean and unadulterated, you can see why they were so highly prized when new.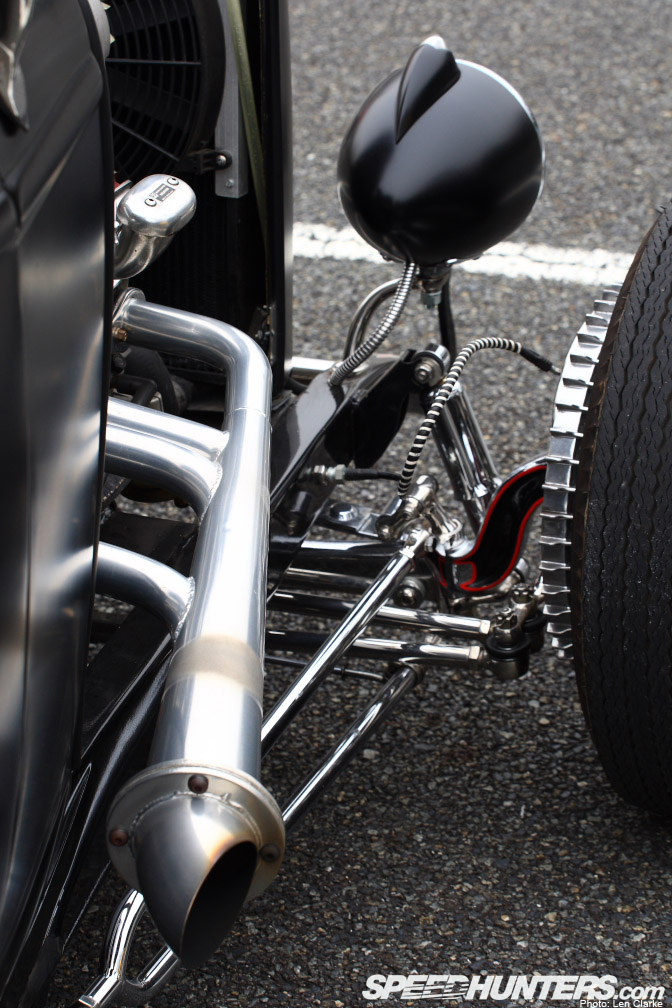 Another view of one of the '32 roadsters. The details are so perfect from any angle, including those hand-fabricated headers. Lovely.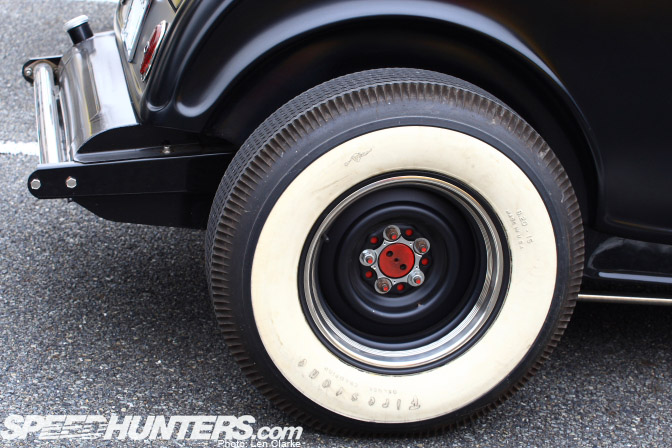 And a detail of the rear – classic rod look with those skinny whitewall Firestones. Just perfect.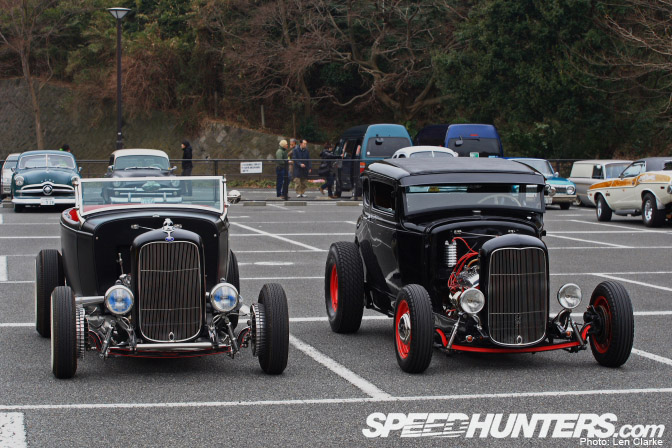 I'll end this post with a pair of these '32s, one a roadster, the other a very nicely chopped example. Certainly one of the most celebrated interpretations of the classic hot rod, check out Part 2 for an incredibly well-done rendition of the car from American Graffiti – plus a whole lot more.
 – Len Clarke