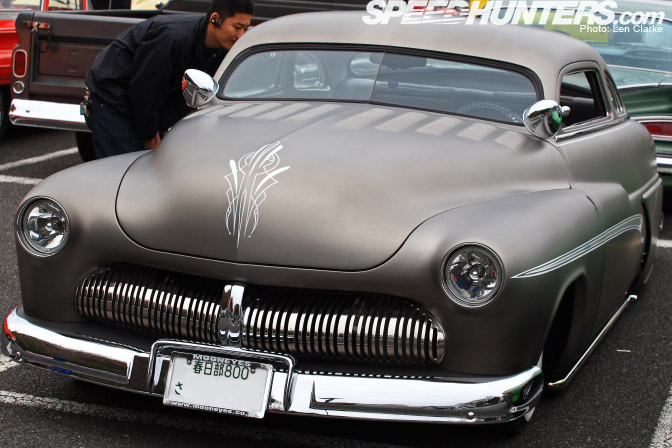 Razzle Dazzle did exactly that, and on so many levels. From lowriders to street rods, chopped and channelled customs to rat rods – you name it, every interpretation of the art was represented.  The car above was the coolest of the old style chop jobs I saw. I'm guessing it's a '49 or thereabouts Ford, but there was little reference on the original vehicle to go on. And check out the flat glass in the windshield!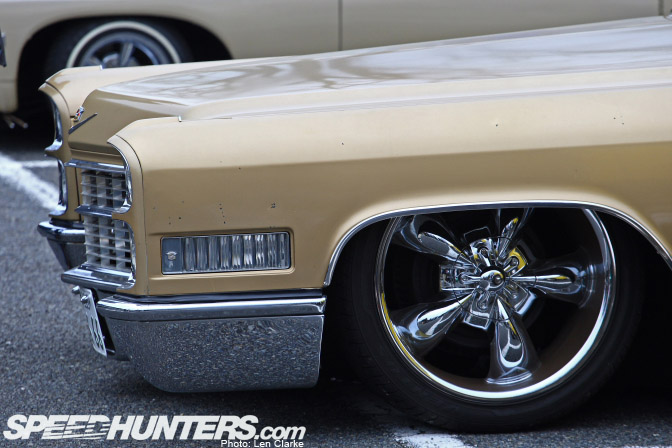 Rather easier to identify was this late sixties Coupe de Ville – in fact, there was an amazing array of Cadillacs at this year's event, probably close to a dozen of the 120 or so cars that came and went throughout the morning.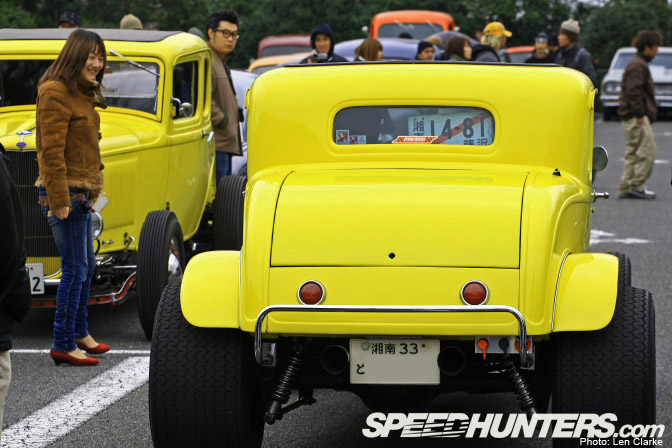 For anyone who's seen one of Hollywood's best-ever looks back at early sixties America, American Graffitti is the movie that defined a generation – and a country on the edge of losing its innocence. The star car from that film was of course identical to the one above, right down to the smallest details.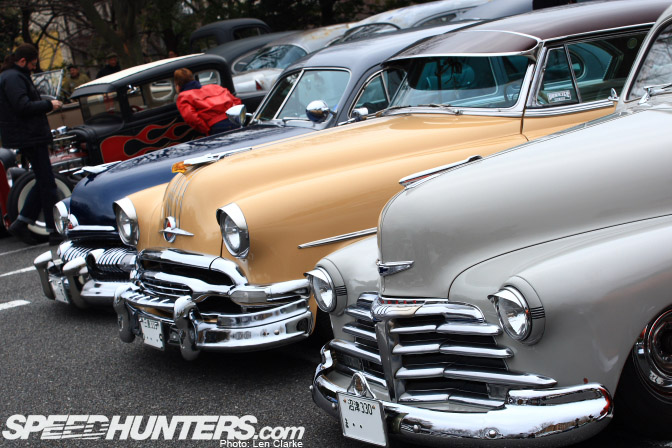 Chevrolet, Pontiac, Mercury – names that meant only on thing back in the day – size, and plenty of it.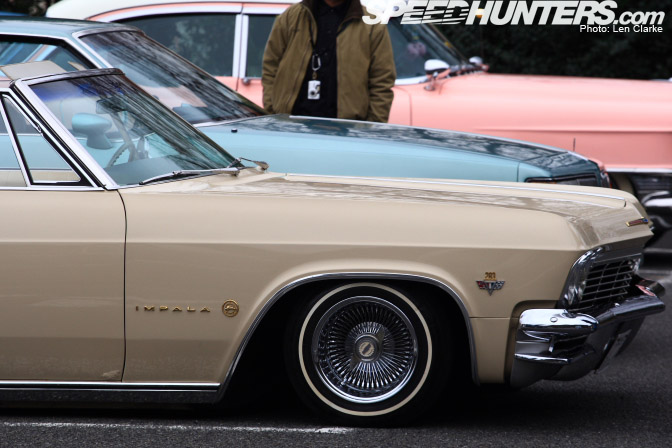 Back to the sixties and this immaculate '65 Impala convertible (ignoring the small rust bubble in the door). All of the cars were so well prepared, it's like an AmeSha (American car) equivalent to the New Year Meeting up in Odaiba for old Japanese classics.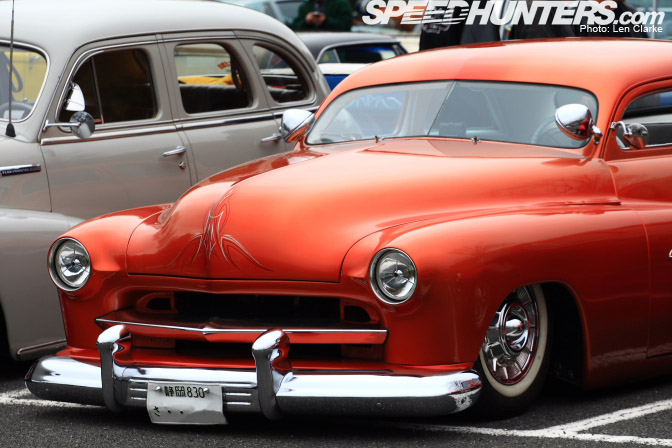 OK, I'm just going to take a stab that this is a '49 Mercury – but hey, I'm hardly old enough to know. Sure looks sweet, though!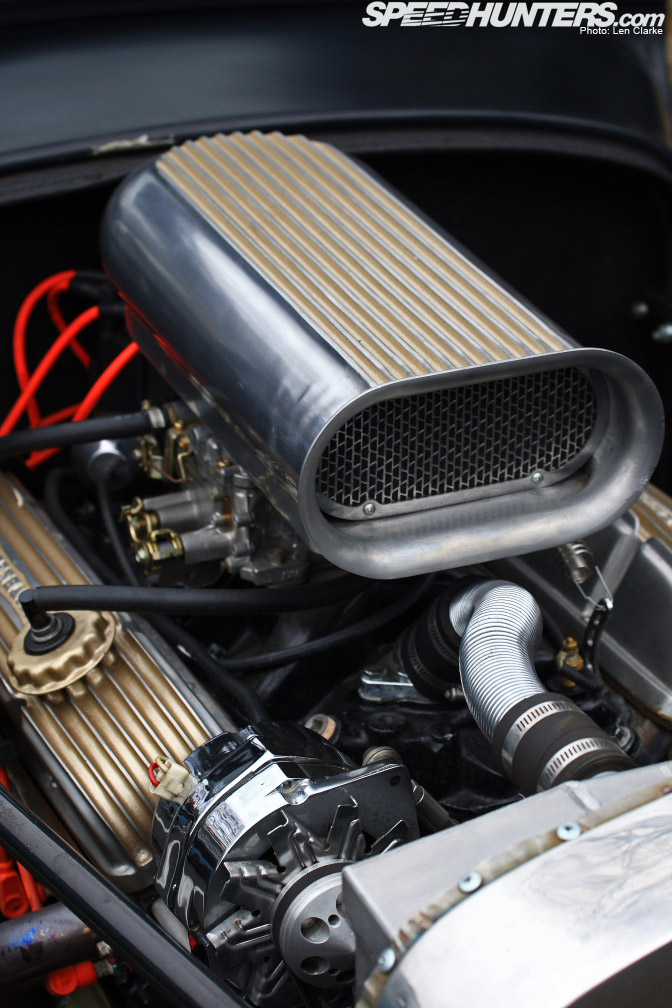 As can be expected at meets of this calibre, it's not just about how cars look, performance plays a cruical part as well. You're looking into the very open engine bay of one of the '30s roadsters that turned up.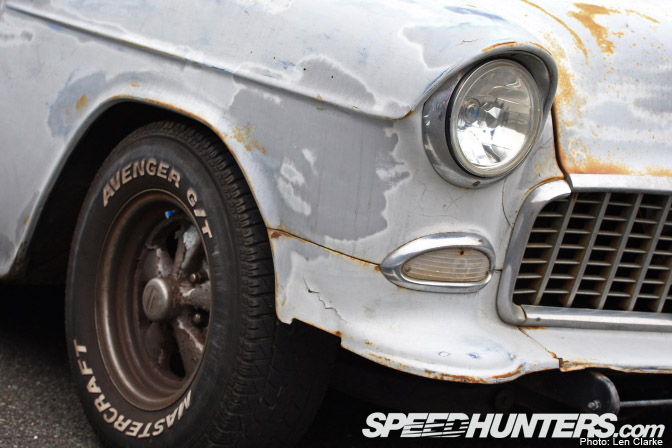 Ol' '55 – Bel Air beauty. I just had to include this weathered example partly because of its American Racing wheels, but also for the tyres…man, how long have those been on the car?!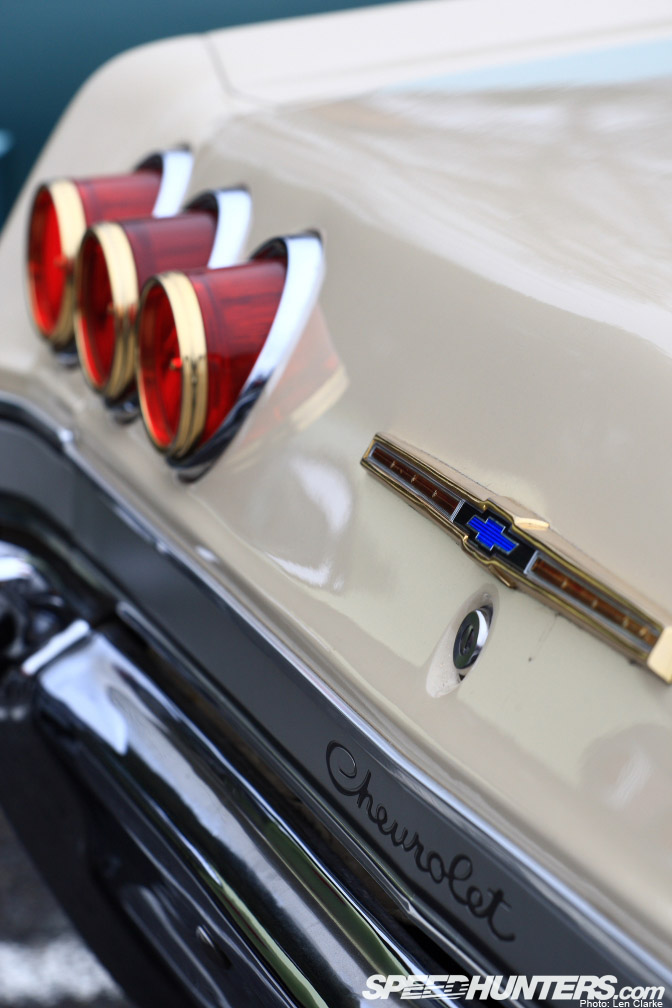 Detail of that beautiful '65 Impala convertible again – I just couldn't get enough of this gorgeous example of what is, in my opinion, one of the best American designs of the '60s.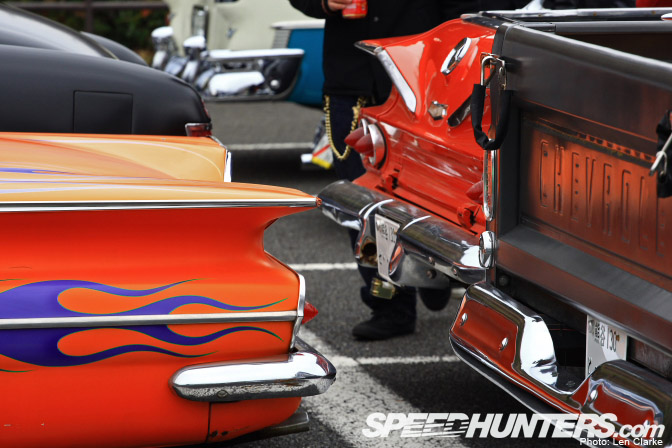 Back to back – giving you some idea of the quality and variety of cars at this year's Razzle Dazzle.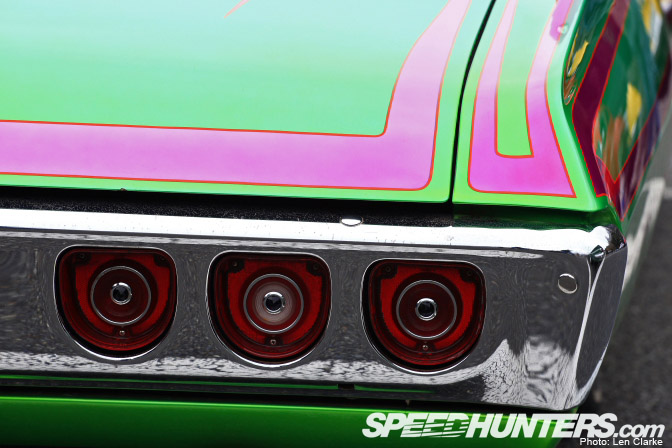 Stuck on Chevy. A later Impala ('68 or so) in east L.A. style with paint reminiscent of what was popular while back.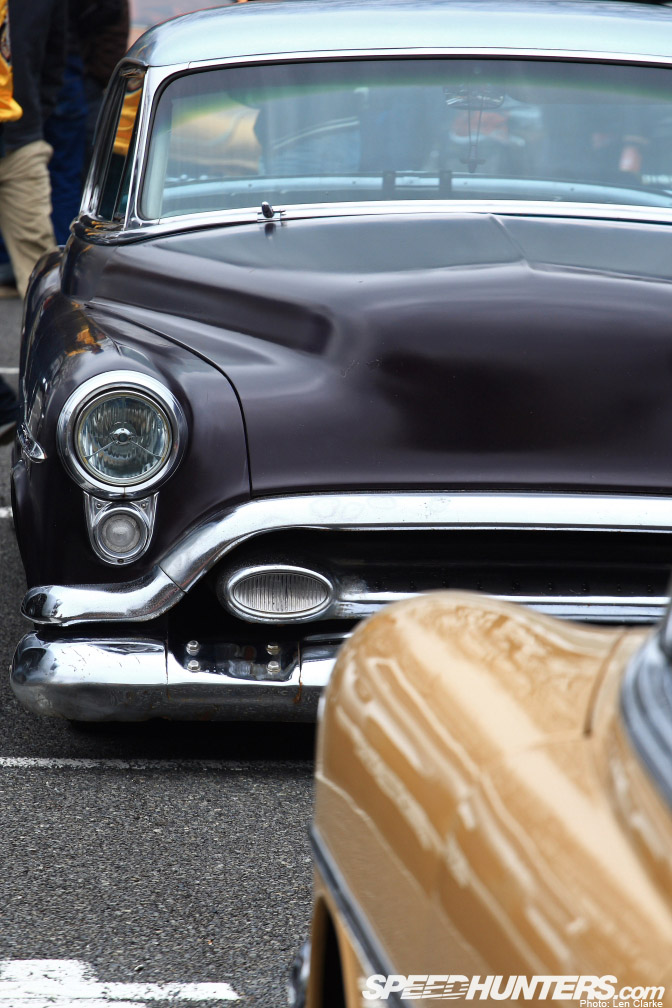 Early Dodge? sled – looking every bit as mean as intended.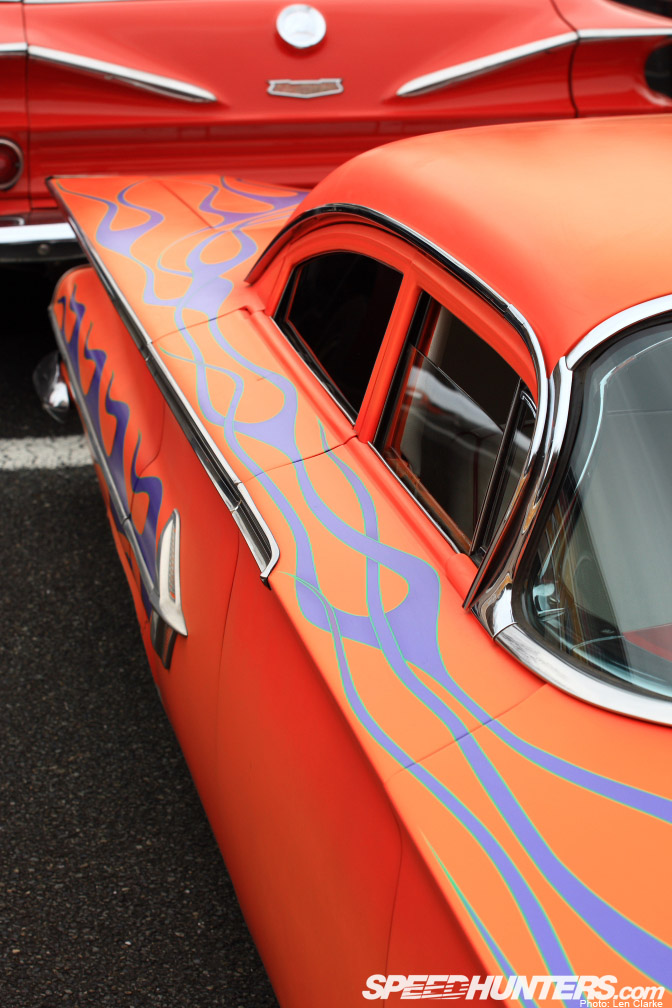 In the background is an Impala pickup (one of no fewer than four that came and went) with the most radically chopped version of the car up front. The guy was literally crouched inside.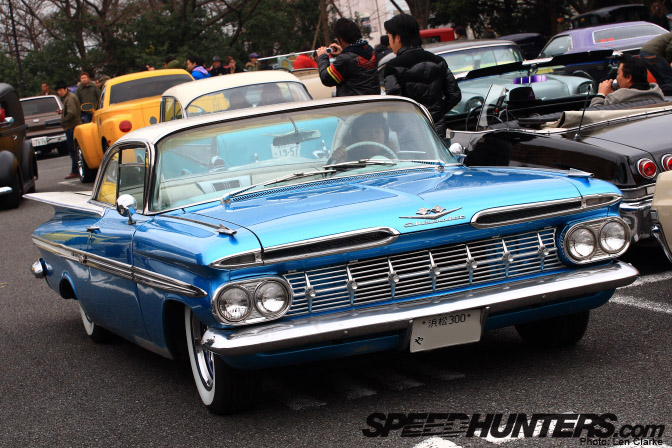 As you can see, I couldn't get enough of that iconic American design (plus the fact that there were just so many of them…) but this '59 Impala on whitewalls was particularly impressive.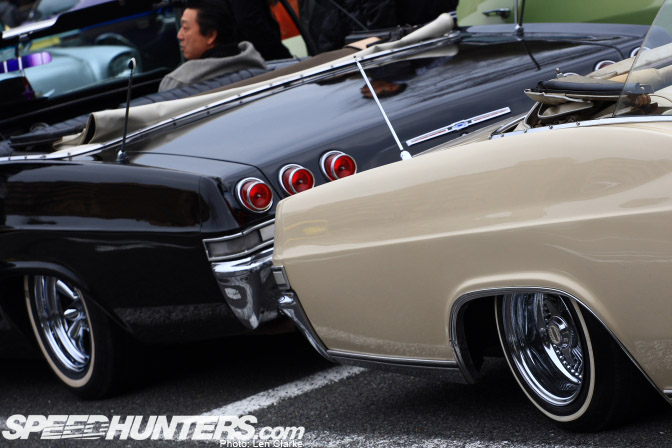 As is was saying…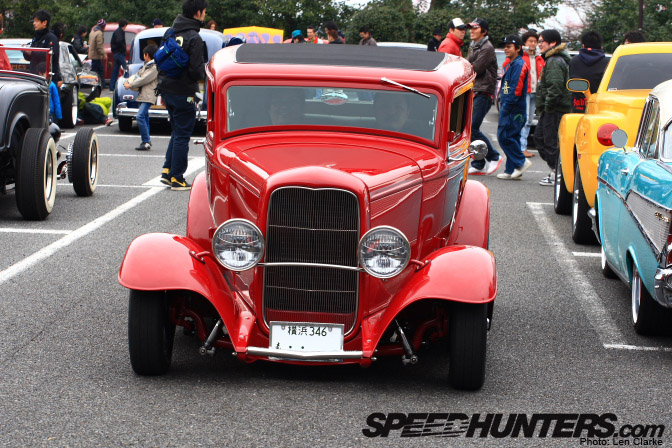 A little bit of Ford action, this early thirties coupe was extremely well done – and the guys inside were having a laugh as they headed in.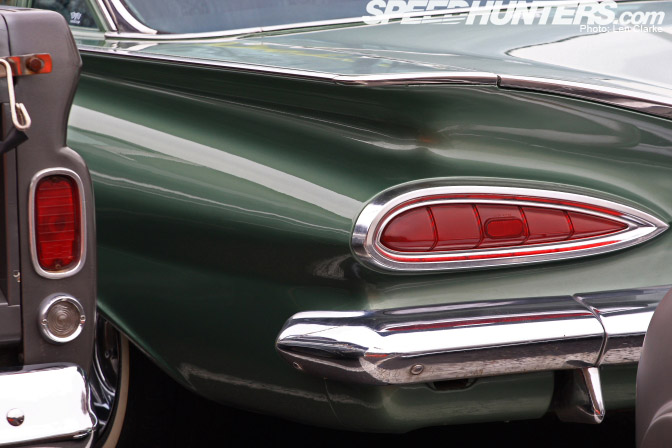 OK last one, I promise (maybe) – just a quick glance at what was coming out of GM's Chevrolet unit in the sixties in terms of car and pickup rear light treatments.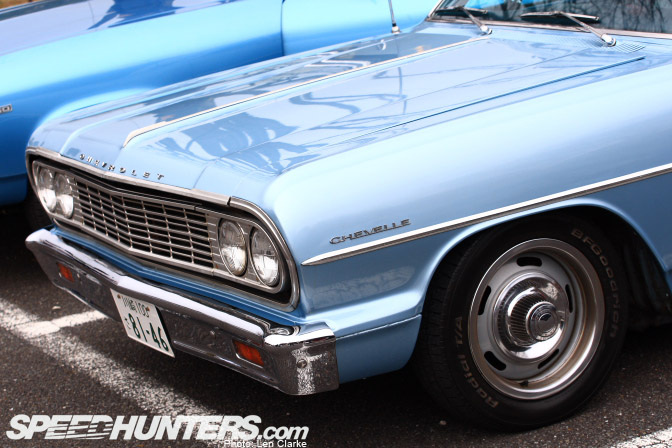 I mentioned in Part 1 the number of Chevelle/Beaumont/Malibu variants that turned up. This is one of a pair that really struck me – and those wheels (like what you'd see on RS/SS Camaros and Vette Stingrays from the same era) sold me.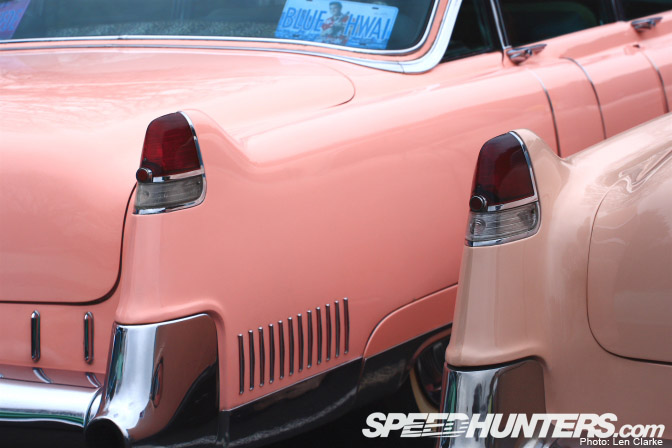 In terms of a great vintage, 1955 was to American cars what 1971 (or 1969, 1972, 1975, 1976 – woah, calm down) was to rock music. This pair of boats looks so serene moored next to each other, I just couldn't resist.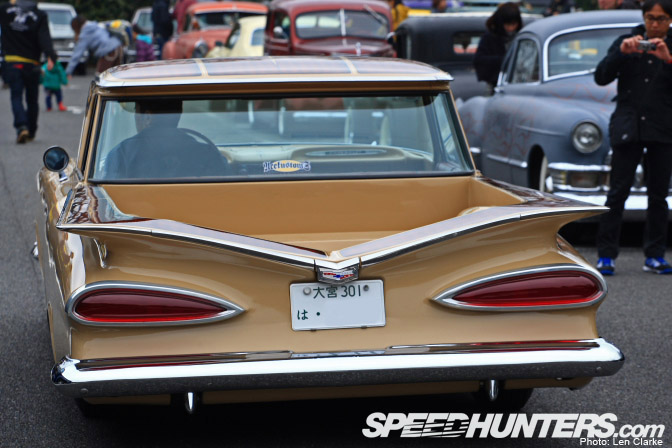 Here's one of the open-bed versions of that classic Chevrolet design. Great colour combination too.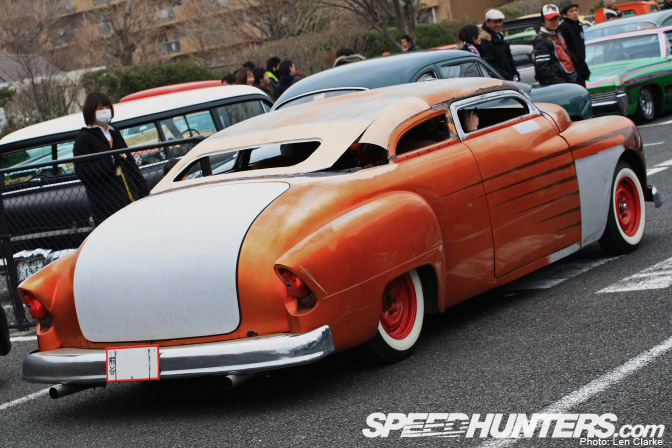 Well, what is this? Or, more to the point, what was this? One of a few cars that showed up on 'day plates' this not-quite-finished beast will, no doubt, be pristine by the time next year's meet comes around. Expectations are high….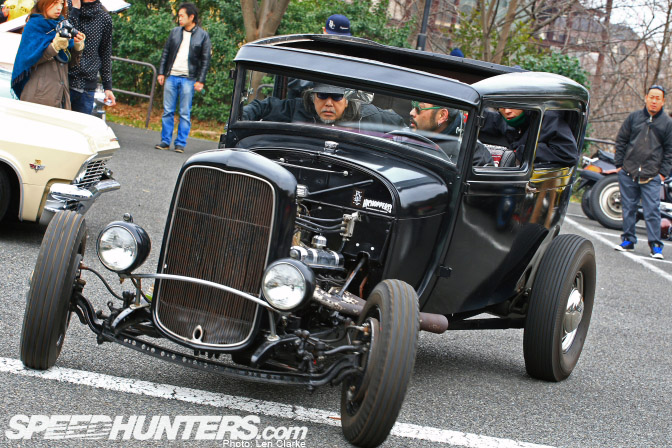 There were also quite a few Fords from the '30s. This one excited me as it's got such a sixties custom feel to it. Very nicely done.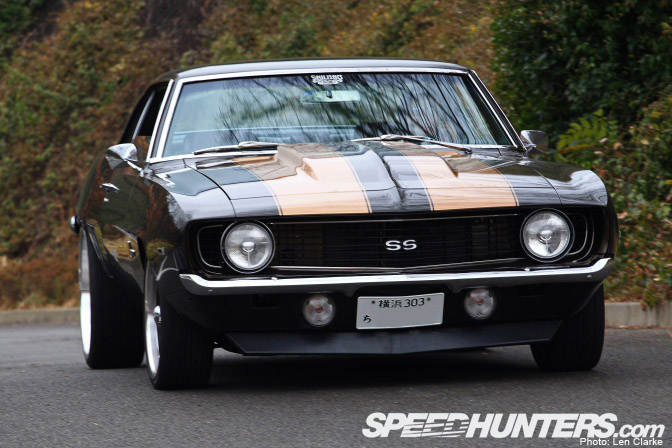 Uh-oh. OK, I should state here and now that '67-8-9 Camaros really get my blood pumping – and this one held my attention right from the get-go. Just look at the size of those rear rims – 22", 24"??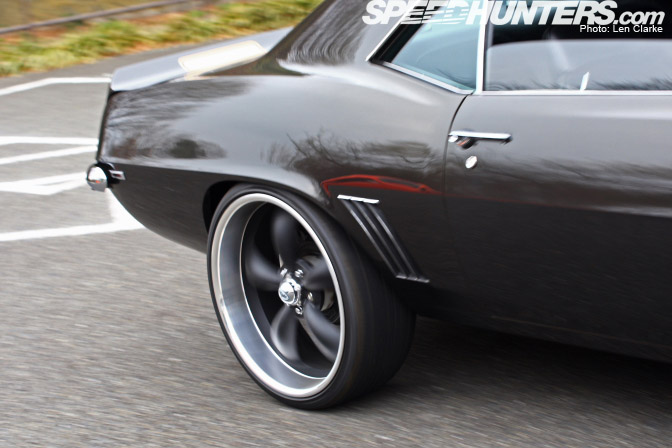 Oh yes, gigantic is the only adjective I'd use.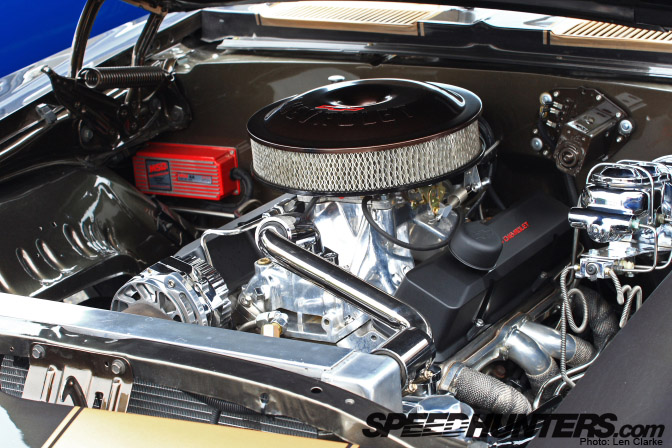 And just in case you thought it was a cosmetic build, take a look at the motor – arrived via crate, perhaps?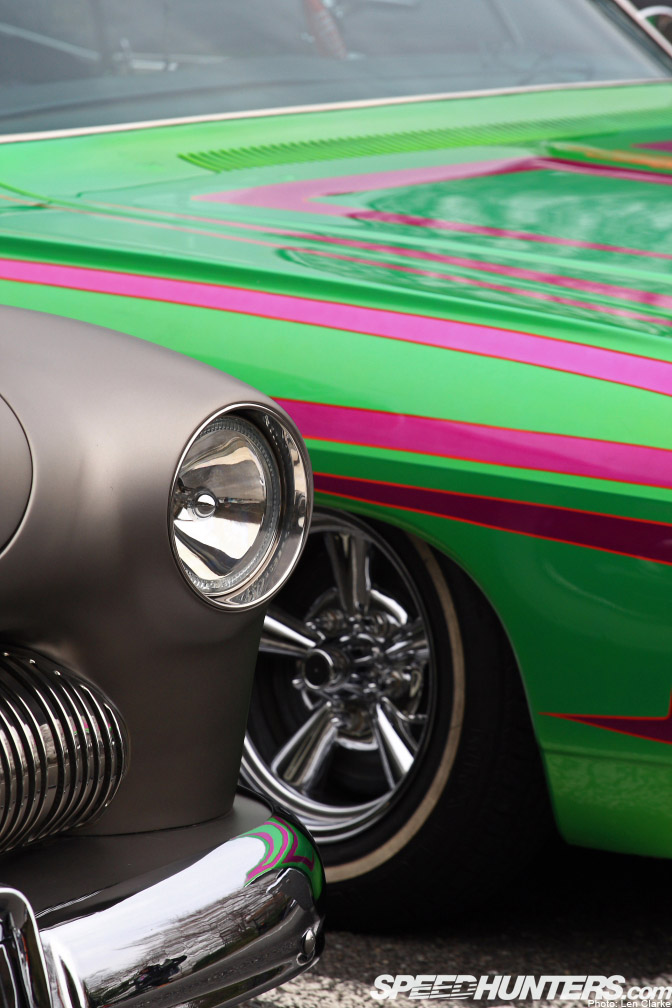 Monochrome vs. full colour – these rides are as iconic as they are impressive.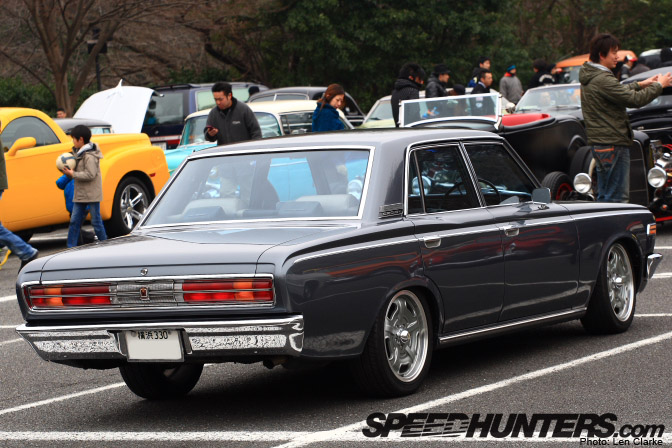 One of only a handful of Japanese cars, this Crown is one of the nicest I've seen.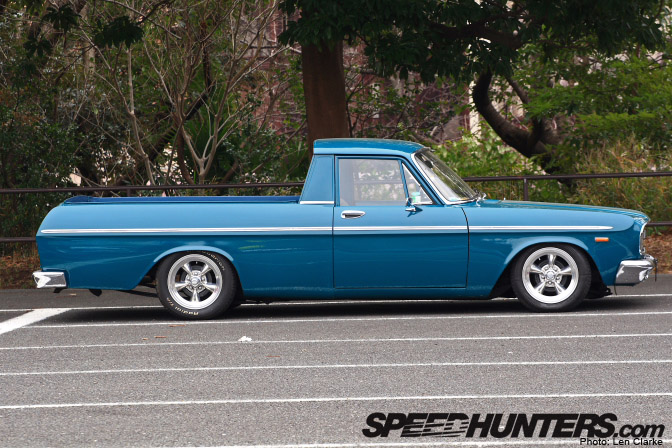 And the perfect closing shot, an earlier Crown pickup – a Japanese take on American custom style.
Razzle Dazzle gets bigger and bigger every year, and the variety of cars grows accordingly. It's a meet that's absolutely essential if you're into American hot rod culture and style, with the added benefit of seeing Japanese interpretations of some fabulous old cars. Roll on 2012!
 – Len Clarke