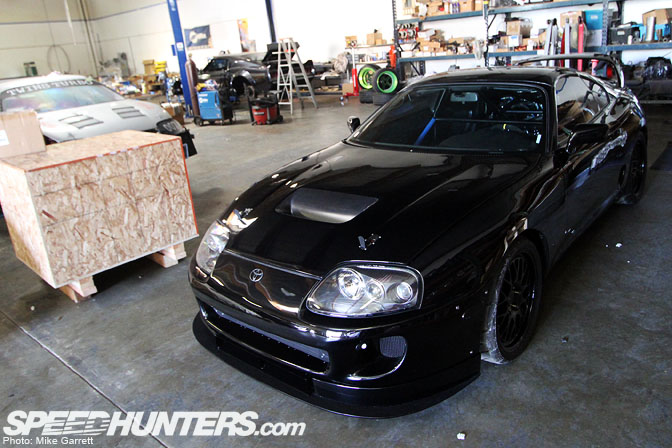 What's up fellow Speedhunters!!. Eric "Grim" here from Twins Turbo Motorsports. My brother and I have been lucky enough to be working with Team NFS on several projects over the last few years. Since it is builds month, we asked the Speedhunters crew if we could show off a project we have been working on for a while now. Those of you who know us know that we love the Toyota Supra and have been building / racing them since the mid 90's when we got started at Performance Factory NYC with Vinny Ten (what's up Vinny). So we have seen a lot of Supras over the years.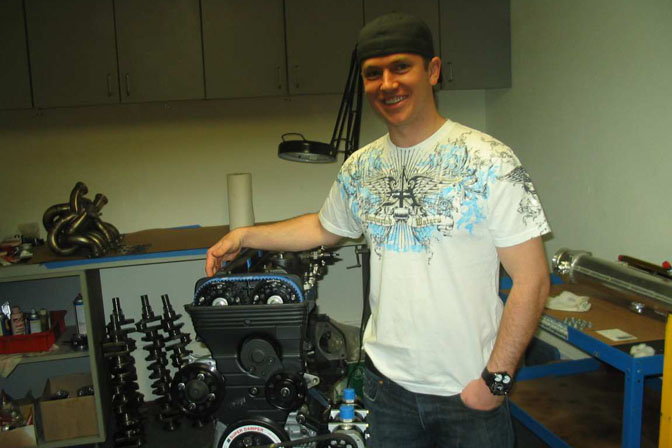 We had the opportunity to build this 1998 Supra Turbo for a very good customer / friend of ours named Dan Burkett. Dan's original plan was for us to assemble him a properly built 3.4 liter engine. After talking with him for a few weeks and showing him other projects we have at the shop, Dan started thinking big. His goals soon changed slightly and the new plan was to have something very special that looked stock outside but underneath resembled a Grand Am or ALMS car.
Dan loves metal work and fabrication, hates catalog parts, hates chrome, likes the color black. Pretty straight forward.
We were given a green light to fabricate as many custom parts as we could dream up. Dan was closely involved in every step of the build from start to finish. We shared over 1000 pictures with him via e-mail over the 2.5 years of planning, fabrication and final assembly. What started out as a simple 3.4 liter engine build and some small fabrication spiraled into the most intense Supra build we have ever completed.
When she is finally up and running, Dan plans on enjoying her and maybe doing some track days out here in So Cal.  Eventually Dan wants to bring the car to standing mile events for fun. We might even consider the silver state classic or some similar open road event.
My brother is the fabricator at the shop and does all of the metal work as well as engine building. So he will be detailing what he did and the steps that we took to build this beauty. We are almost finished doing the final assembly on "the black car" and hopefully we can show you the finished product next month.
With that I will pass you over to my twin brother Marc "Koz" and let him tell you her story. Koz, take it away….
This car was a great opportunity, a clean sheet, to do whatever we wanted to, so after stripping it bare, removing all systems, wiring, cooling, fuel, oil, etc. we set out with a plan and a set of goals. Basically a super mean car that balances what we love about the Supra – the body lines, interior, and engine layout with what we love about purpose built race cars. All function, no fat. With that let's get to the pics.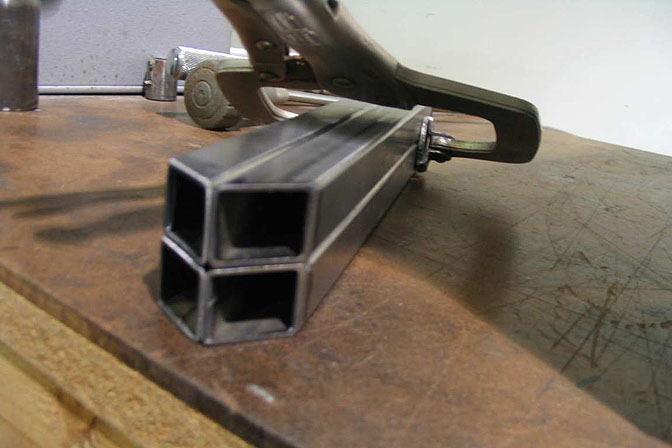 This entire build was about craftsmanship, we like to make as many things as we can from raw materials, making something  truly unique. Here we see some  ¾  .065 square tubing that has been  mitered @ 45*.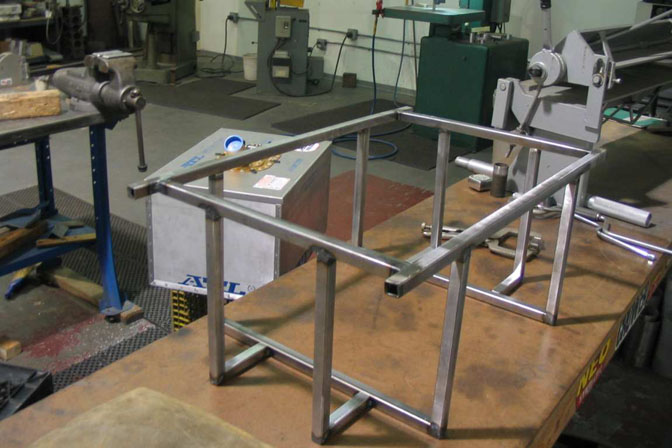 Out of that we made a cage to hold the fuel cell.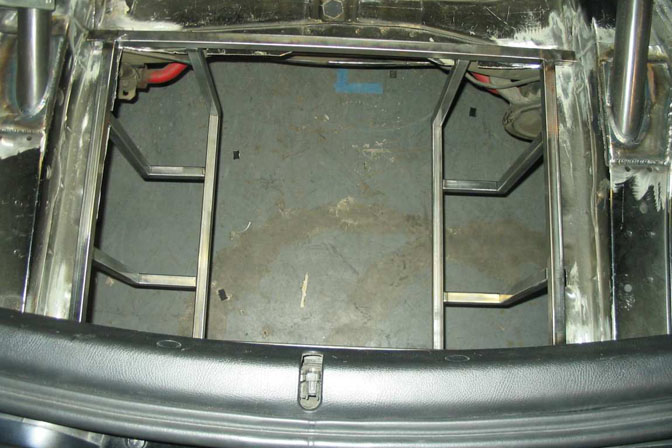 That cage was welded into the big hole we cut in the rear of the car.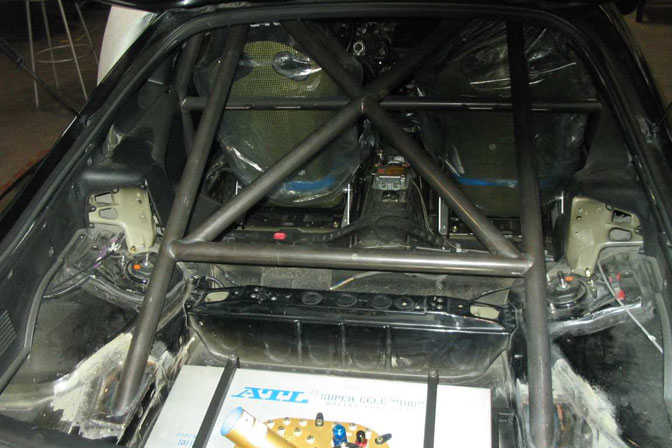 Once the fuel cell mount is installed we sealed up the area around the cell so no dirt or fumes can pass through. The fuel cell is a 22 gal aluminum ATL unit with internal surge tank. You can also see the 6-point roll cage fabricated by Steen Chassis in Signal Hill CA.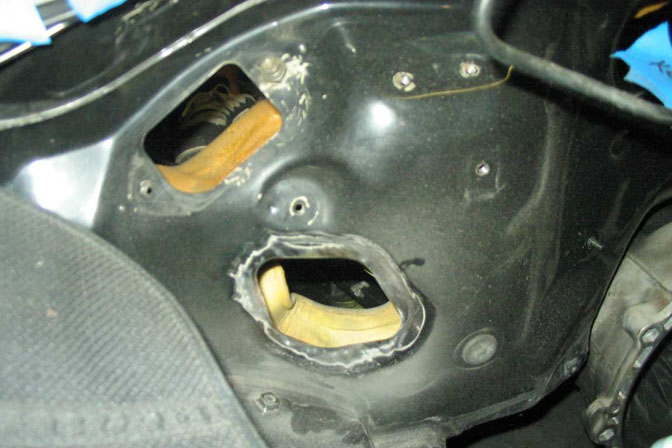 Moving on to the front of the car, after everything was removed we started sealing and relocating firewall pass-through. The hole on top is the factory wiring harness for the engine loom, which normally has to snake around the hottest area on the car , the turbo area. If we were going to do this right it would have to relocate. The other hole is the factory AC pass through.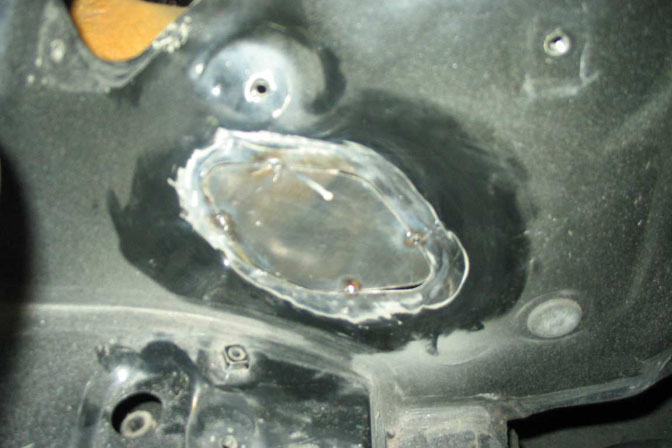 A common theme on this car is illustrated here, close off and remove anything not used. Strictly business.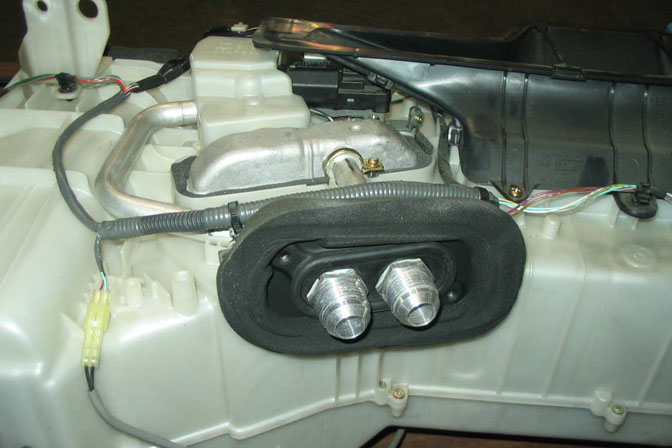 While we were there, the heater core was removed and we welded on some -12 AN fittings. We can't allow hose clamps to occupy this space, besides we hate hose clamps.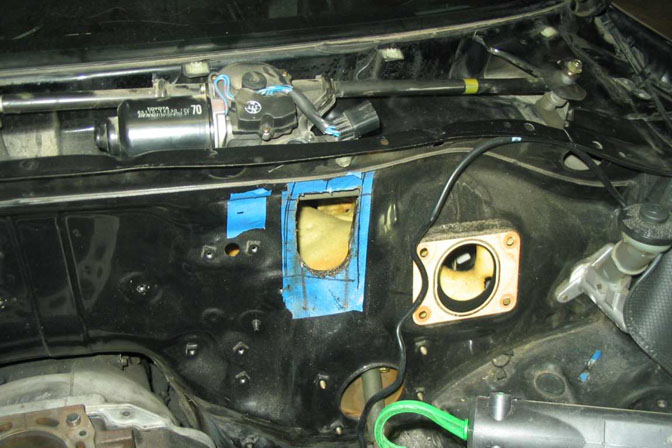 Here is where we decided to locate the wiring harness bulkhead. After we sealed up the factory location, a hole was cut.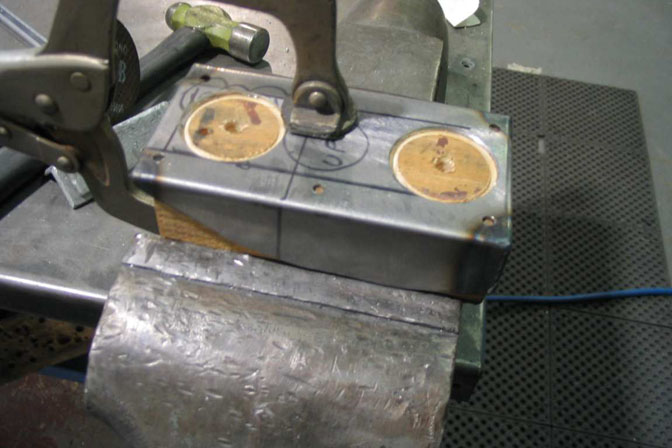 And a piece of sheet metal was formed to make a place to mount the auto sport connectors for the entire front of the car.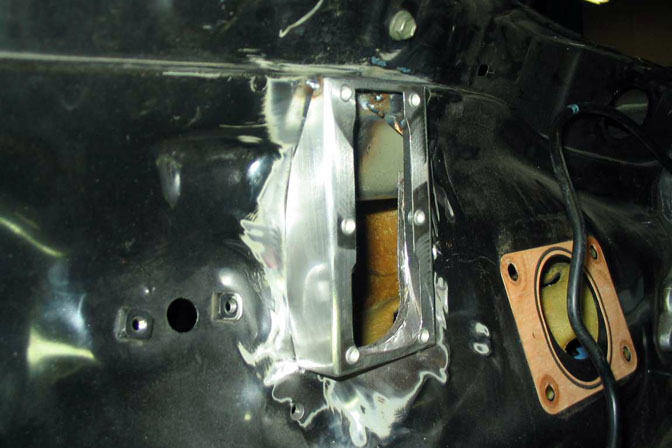 The new mount was then welded into place.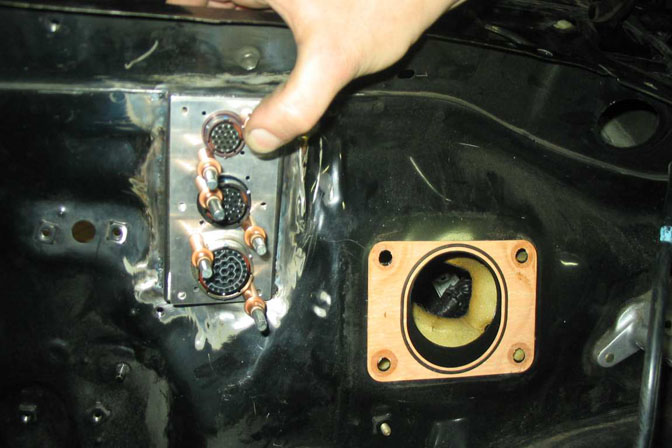 And a face plate was constructed. On top is the intake manifold/ fuel rail conn. Middle is the main engine H-ness, and the bottom Is the chassis conn. – fans, headlights, etc.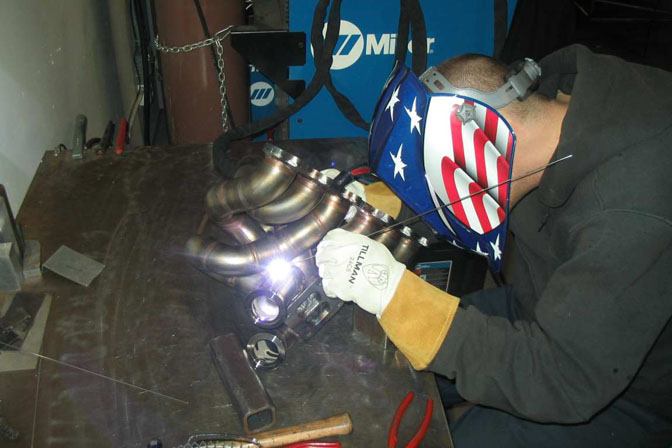 The header is from Full Race, and no matter how beautiful this thing is, it needed to be modified to fit our application, so we proceeded to cut off the waste gates and relocate them to suit our plans. Here I'm welding on the new gate tubes.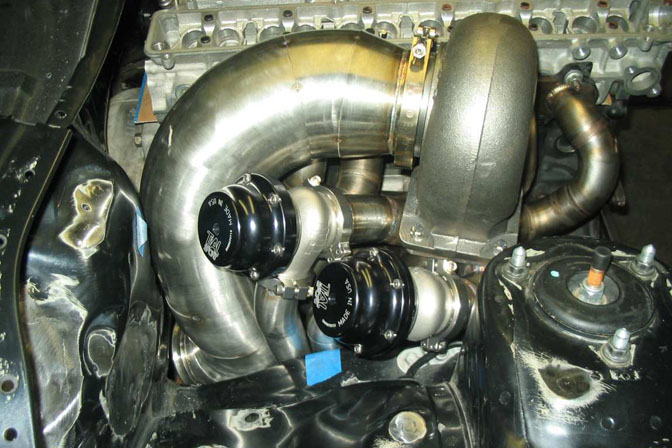 With the gates mounted we could now make a downpipe happen. This one is 5" SS, here it is tacked in place.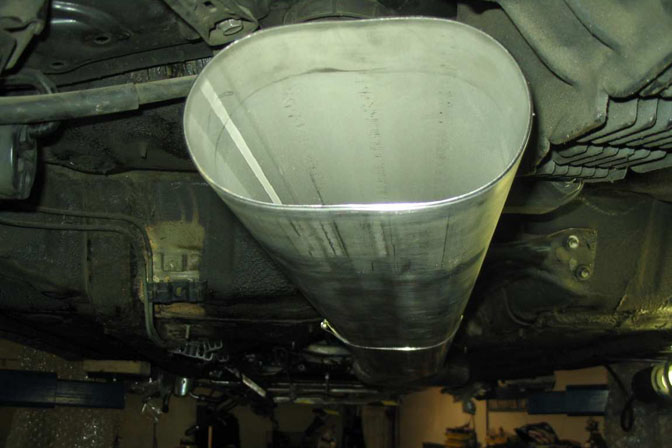 The downpipe dumps into 5" SS oval tubing, which flows great and has great ground clearance. Oval is tricky to work with , as it has to be level over a full exhaust. A few degrees off will mess it up nicely.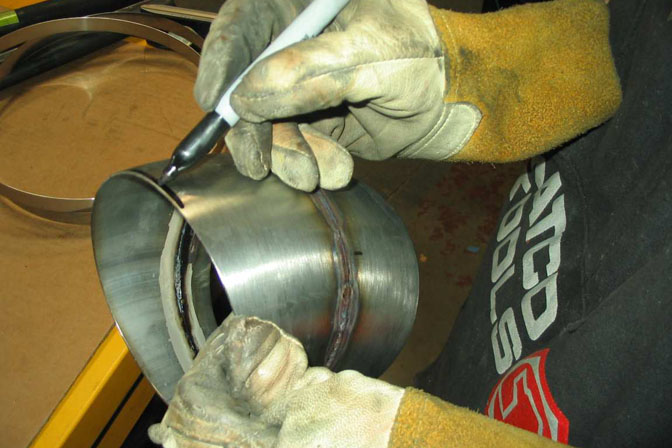 Out back we transitioned from oval to round to enter the muffler. This is the 5" round being trimmed for that purpose, and it looks like a sewer pipe.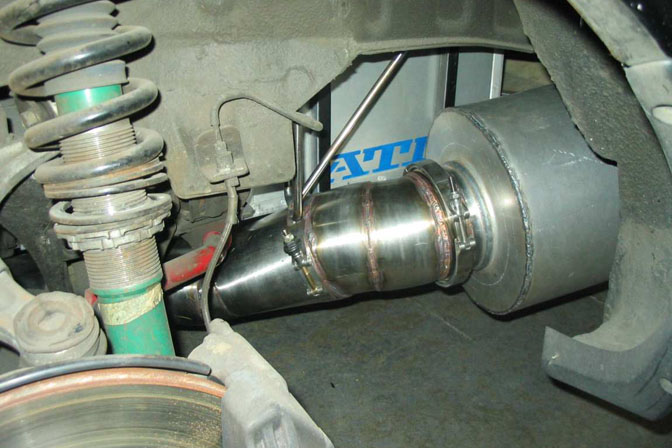 We had a custom muffler made to fit the space we had available to get maximum noise reduction. Yes I just said that. .maximum noise reduction, street car remember? Anyway, we built a test pipe to replace the muffler for "off road use" … wink.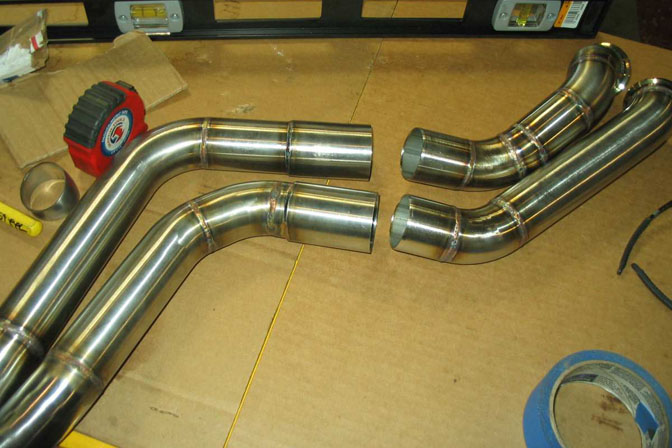 These are the start of the waste gate dumps, a very tight fit.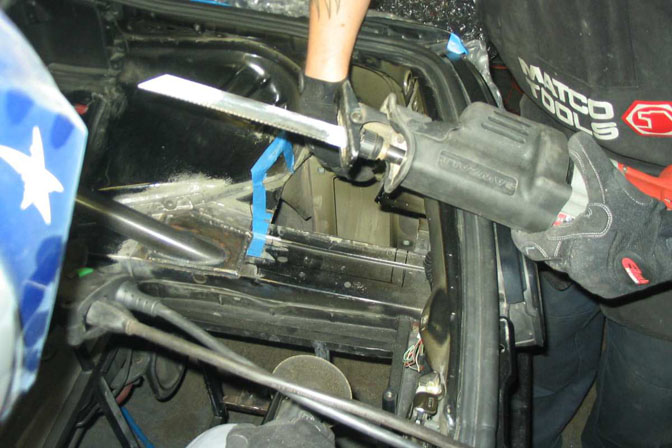 Out back again, we need to make room for our dry sump oil tank. Cue sawzall.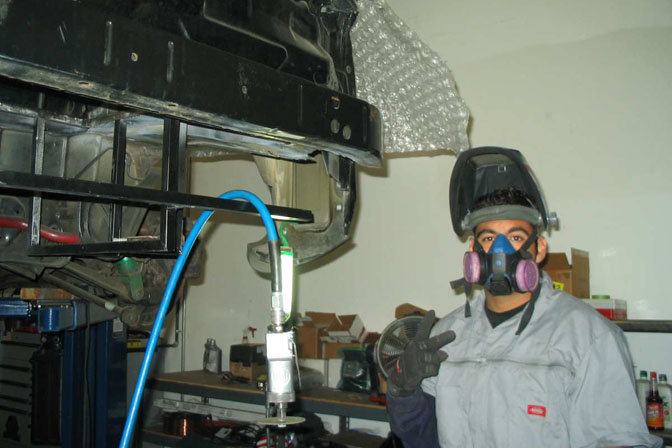 Here's my right hand man, Carlos doing what he does , cut metal, grind… repeat as necessary.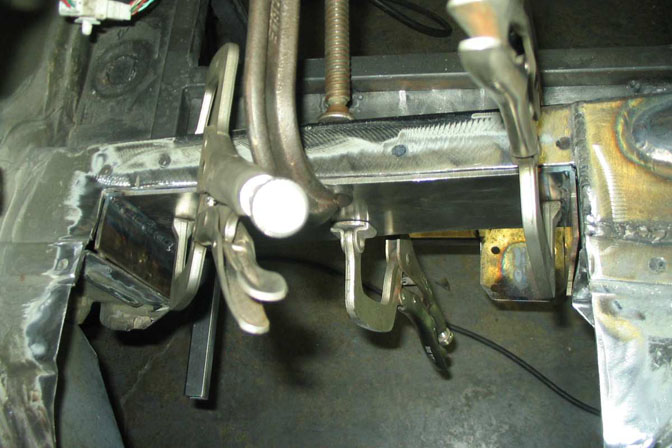 We fabbed in some 3/16 cold rolled steel to add structure to the area we removed.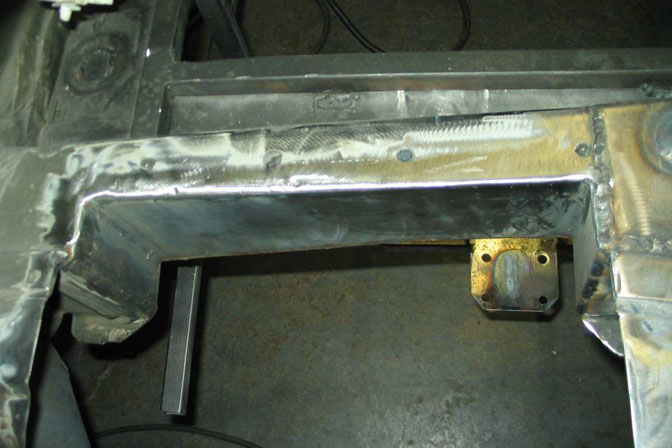 The same area post welding and finishing.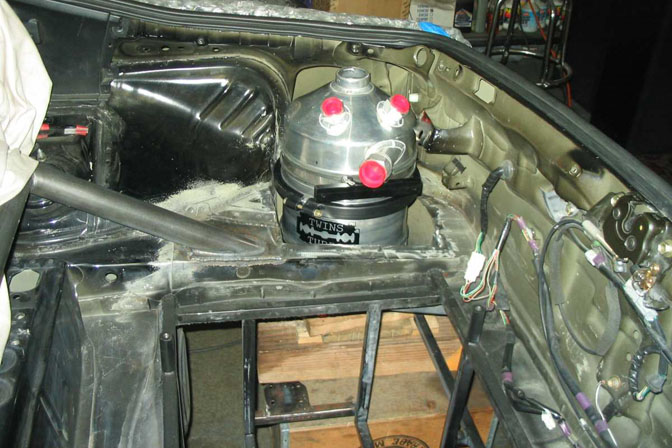 Now we can mount our oil tank… whoot.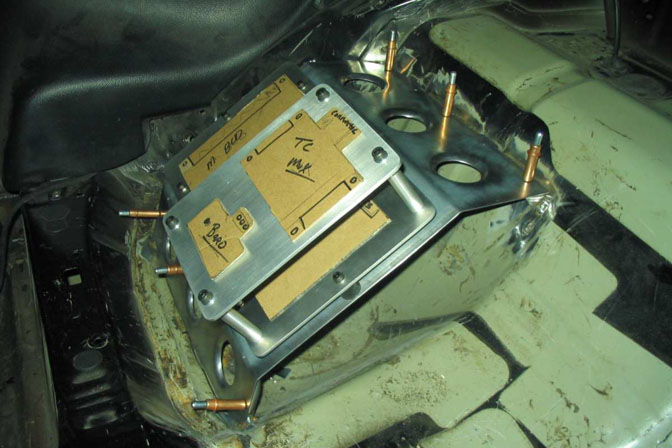 We needed to start thinking about the ECU's and where we would locate them. There were going to be plenty of electronics in this build, so we chose the rear seat location to house the majority of them. Bear in mind we removed the entire factory wiring…Everything from what makes the windows go up and down to the engine itself will all be controlled by us. Here is the start of the ECU condominium as it was dubbed.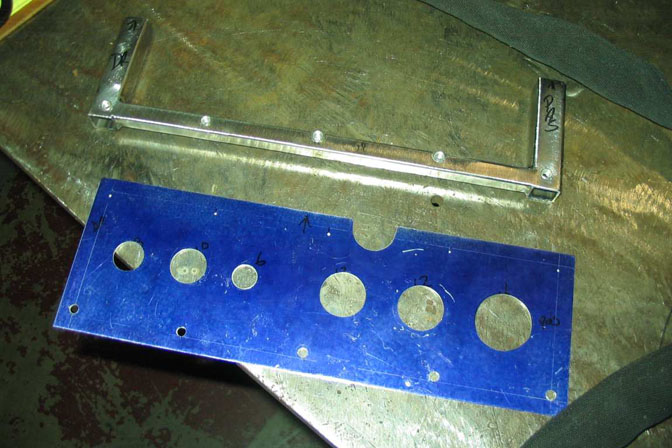 My brother does all the plumbing on these projects, and we need to fab things like this bulkhead for him. It will cleanly mount all oil and fuel lines in a secure and serviceable package.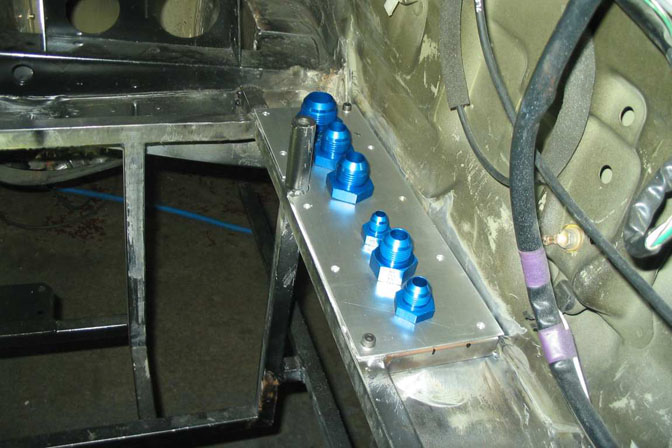 Here's the bulkhead plate mounted with fittings mocked up. Clean, neat, and makes sense.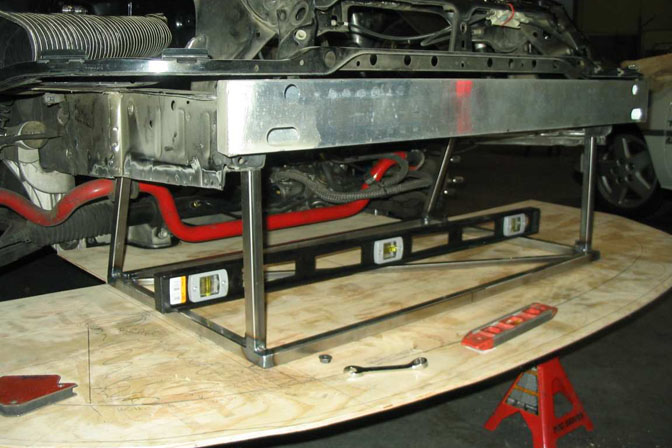 Up front again, after removing the factory lower rad. mount, we started to make our frame that would become the splitter/ coolers/ ducting mounts. After doing a few like this we had a good idea what we wanted to end up with.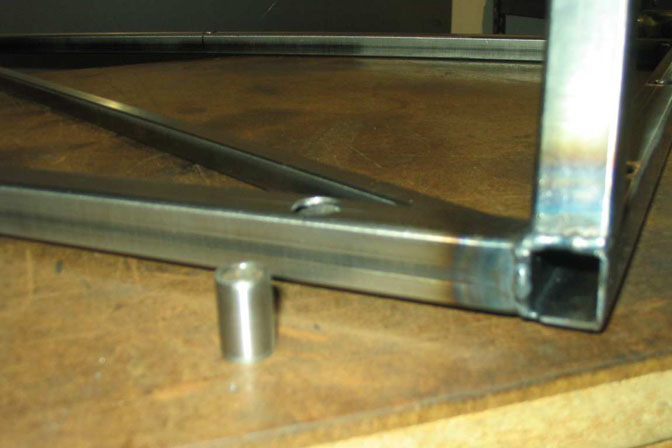 Because this would support the splitter, and the splitter would have a lot of force acting on it it had to be robust. Where ever a bolt passes through , a tube is welded in place to support that bolt. Very time consuming.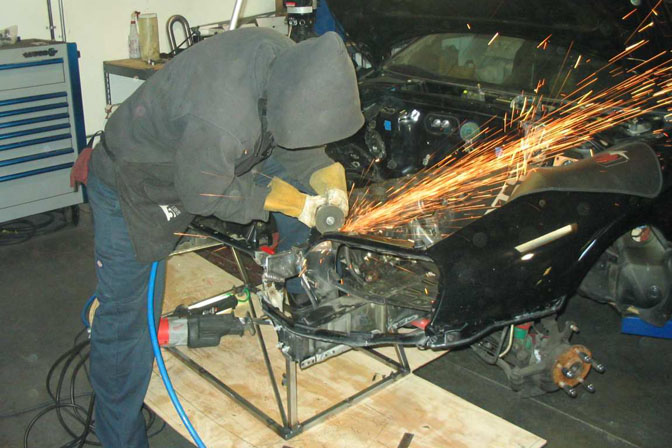 More cutting, this time making room for the intercooler core.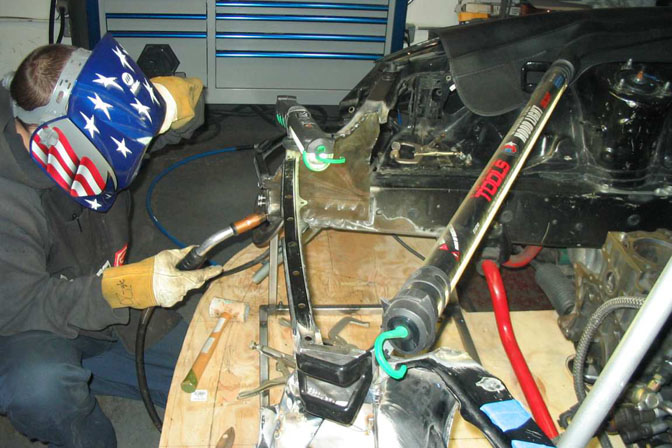 Add material for strength and aesthetics.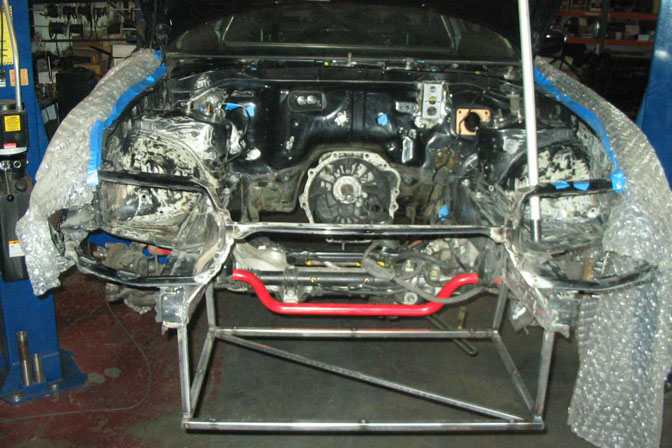 We now have some room to work with, and the frame is mocked up.
To be continued in part two!
-Twins Turbo