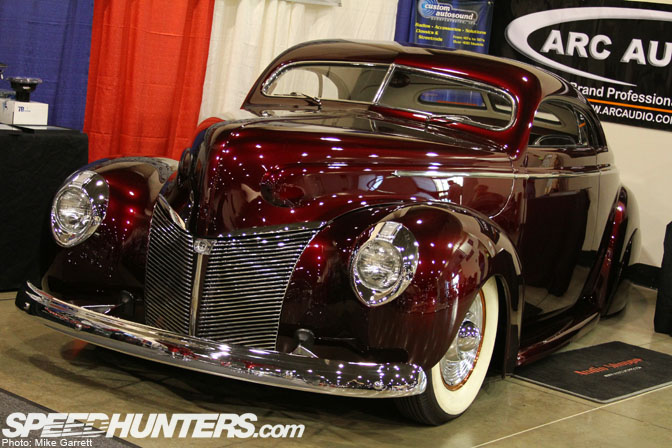 For most people in the hot rod and custom community, the Grand National Roadster Show is seen as the kickoff for another year of events and shows. Builders, media, and enthusiasts from all over the US converge on sunny Southern California to see the latest builds and to view historic show cars that have been unearthed for this important event.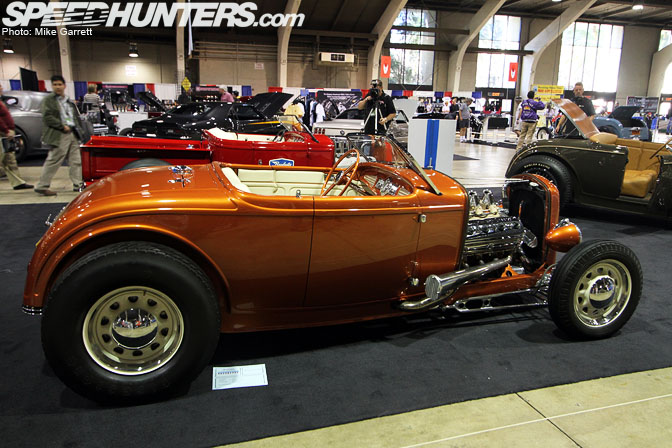 As you saw yesterday during my Behind the Scenes post, the GNRS is quite an event – with several halls full of show cars, not to mention the hundreds of cars that take part in the outside show. While the GNRS does features plenty of Roadsters like the one seen above, there's a lot more than to see than just that.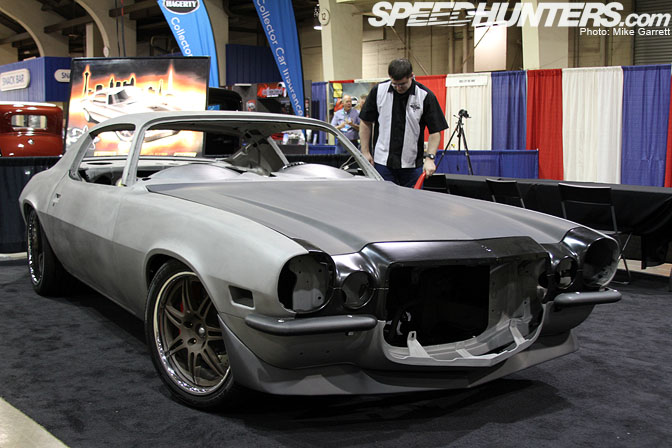 Whether you dig pro-touring style muscle cars like this under construction second gen Camaro…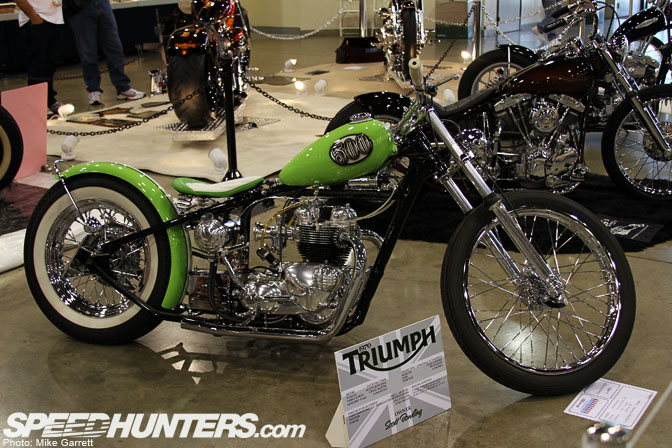 …or even customized motorcycles. It's a pretty diverse showing of vehicles.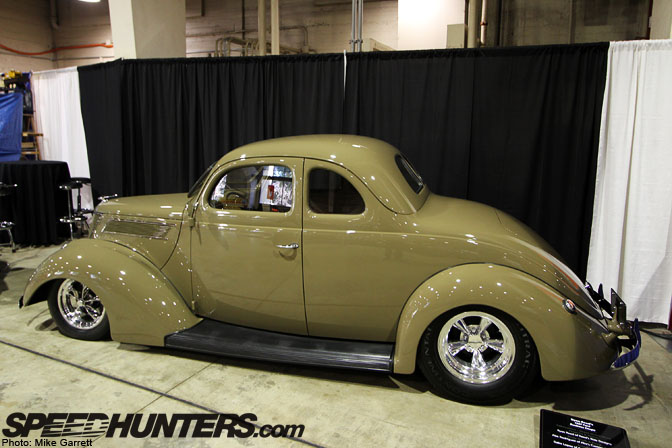 As I made my way around the first hall, this slammed '37 Ford Buisness Coupe got my attention. Love the military style color choice.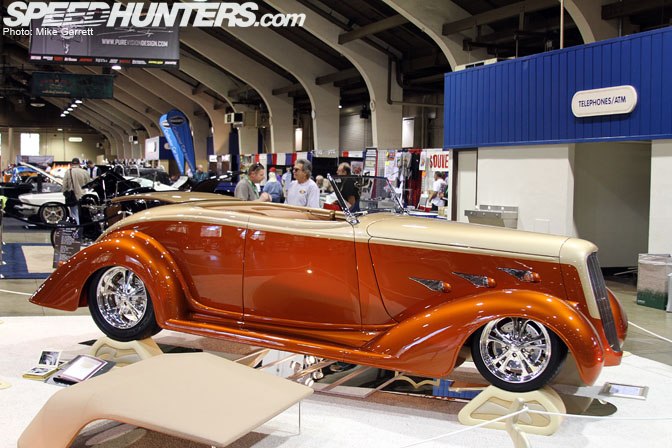 You'll find plenty of extreme show rod builds at the GNRS complete with huge displays, underbody mirrors and all that stuff.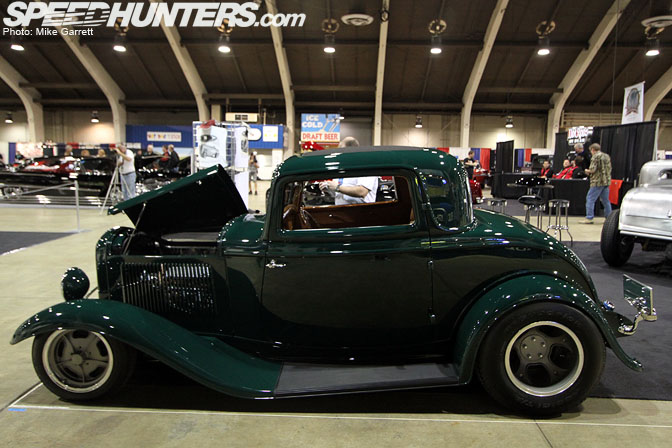 But personally, I'm more into the mild hot rod builds. They get even more points if they are street driven!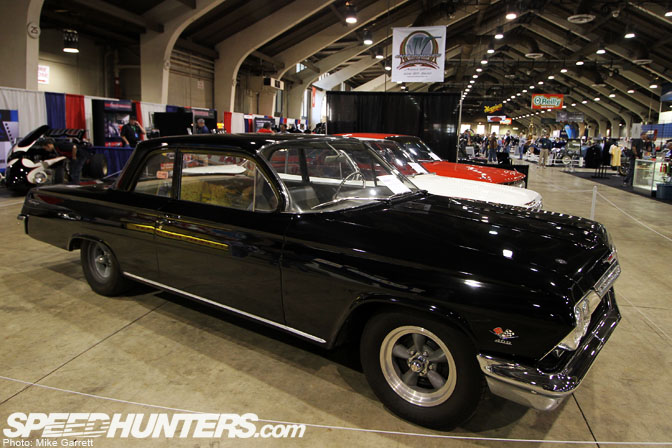 The 409 Chevy – a piece of American history immortalized by the Beach Boys in a famous song.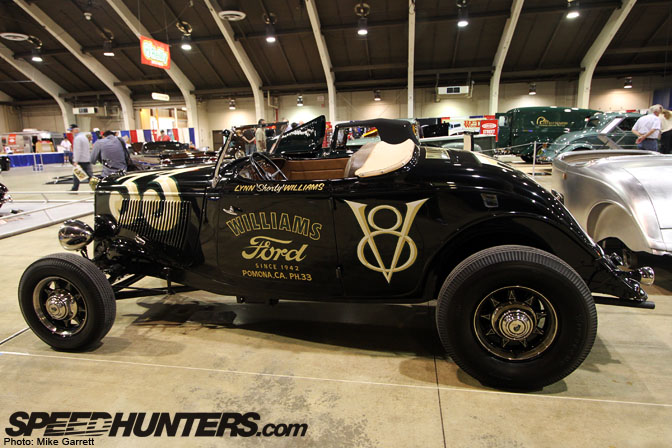 Here's a pretty traditional looking Roadster. The only complaint would be that it almost looks too shiny.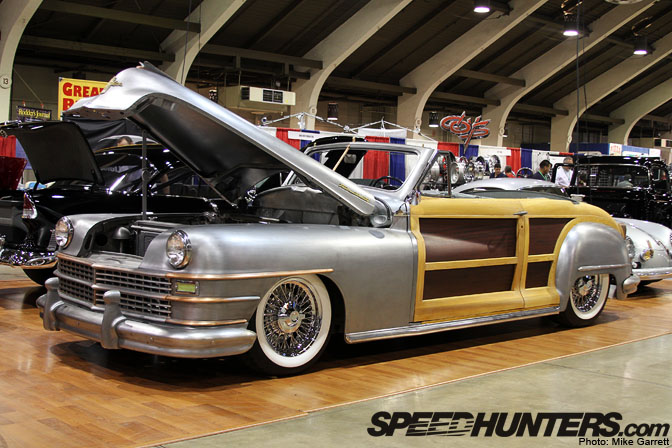 One of the most interesting cars of this show was this '48 Chrysler Town & Country being built by Hot Rods & Hobbies in Signal Hill.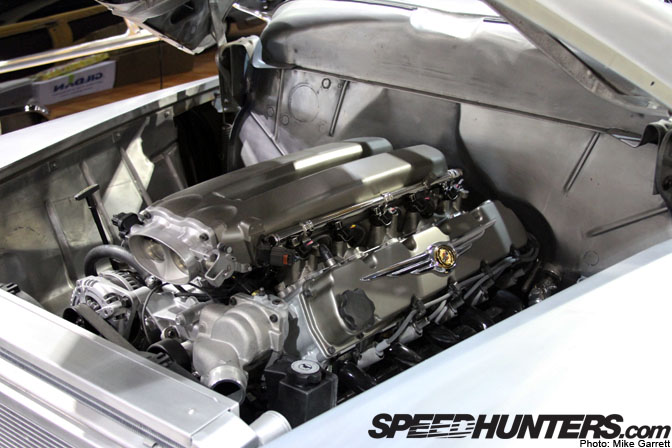 Yep, that's Viper-sourced V10 power under the massive hood.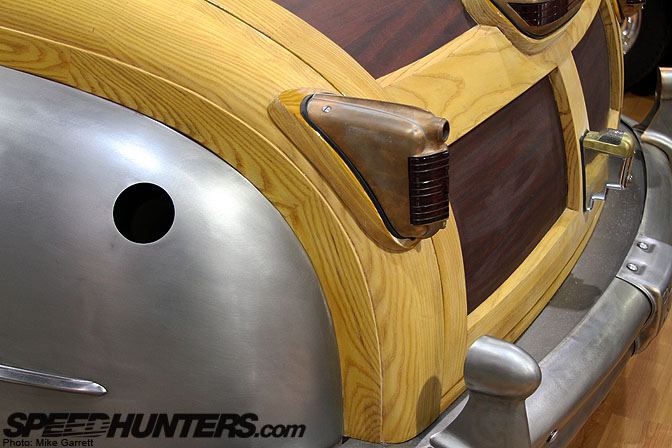 I know it's still under construction, but there's something damn cool about the wood on bare metal combo.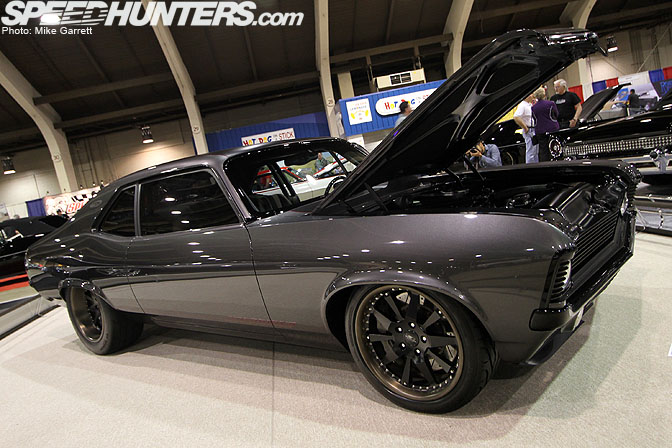 Also representing for the Pro Touring crowd was this sinister looking Nova.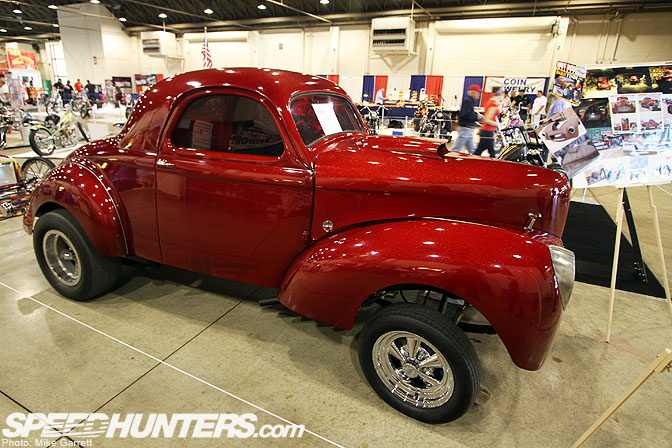 I spoke with the owner of this Willys gasser a bit and learned that this thing is a genuine "barn find" – virtually untouched since it was discovered.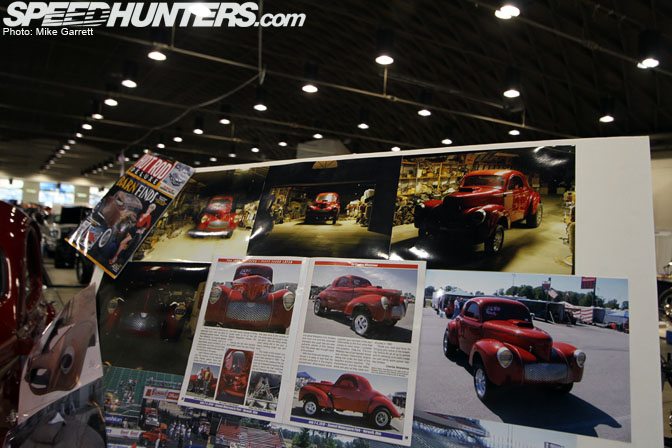 There are the photos to prove it!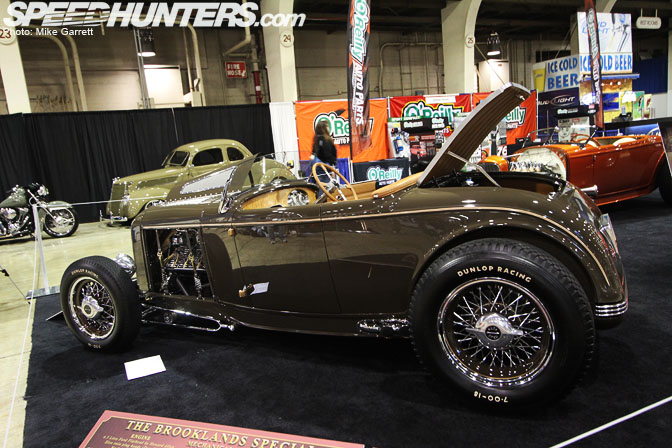 This Roadster known as the "Brooklands Special" was inspired by the historic racing circuit in the UK. The staggered wire wheels certainly give it a little European flavor.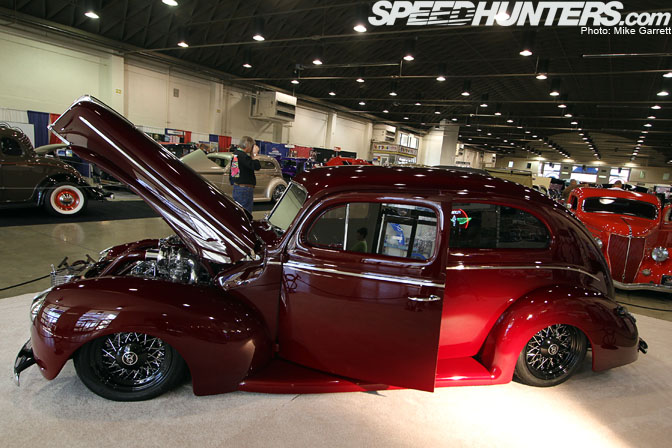 This '40 Ford out of the Bay Area was getting a lot of attention with its slammed stance and immaculate body work.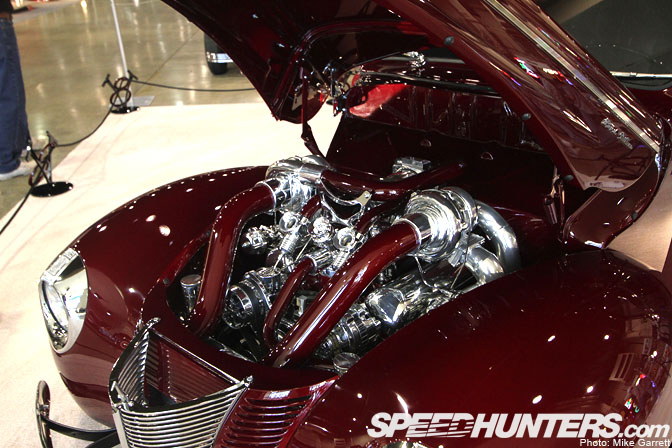 But my eyes were more drawn to the twin turbo 406 Chevy under the hood that apparently makes 950 horsepower.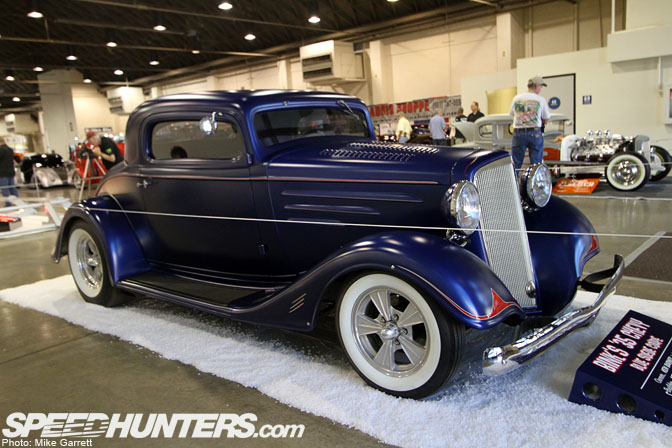 This '35 Chevy Coupe has a fine period look with suede blue paint and mild striping.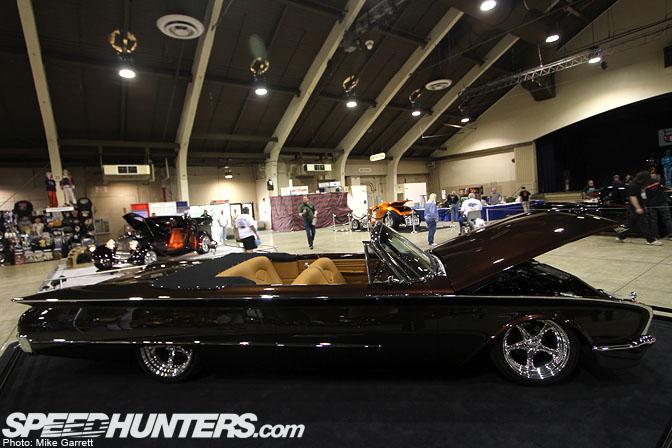 Have a look at this brown on tan drop top Ford with modern DOHC power. Talk about a sweet a cruiser.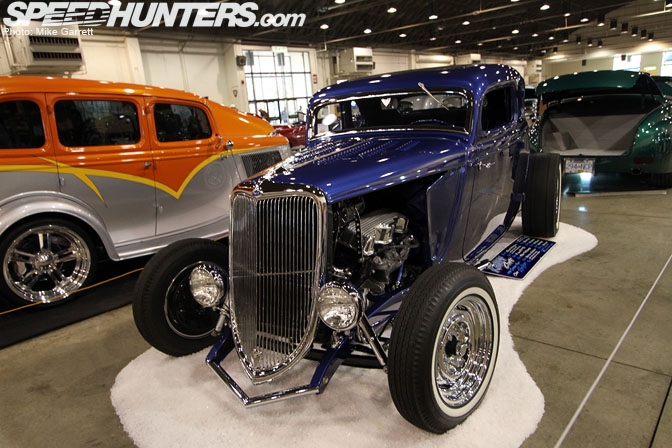 With its chromed out wheels and white walls, this coupe looks straight out of the early '60s.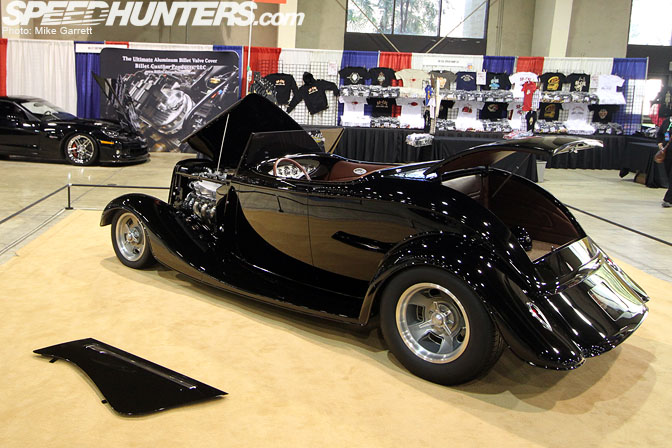 I'll finish up with a shot of the gorgeous '34 Ford Roadster out of Arizona that just happened to win the prestigious America's Most Beautiful Roadster award. Interesting because this car is pretty understated compared to the typical AMBR winners. A solid choice I think.
Wer'e just getting started here. I'll be back soon with more from the Grand National Roadster Show.
-Mike Garrett