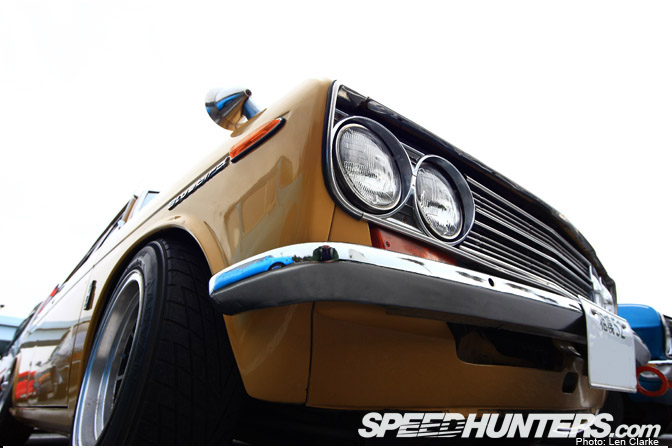 When I headed to this year's New Year Meeting in Odaiba, I promised myself one thing; to spend some time in the visitors' parking lot first. I'd always known it to be a bit of a treasure trove (looking down greedily every year as I exited the train), and when I finally devoted some time to look around, I found it filled with interesting stuff. This place is a show in itself! Above, design perfection. One of the world's perfect cars – there are only a few…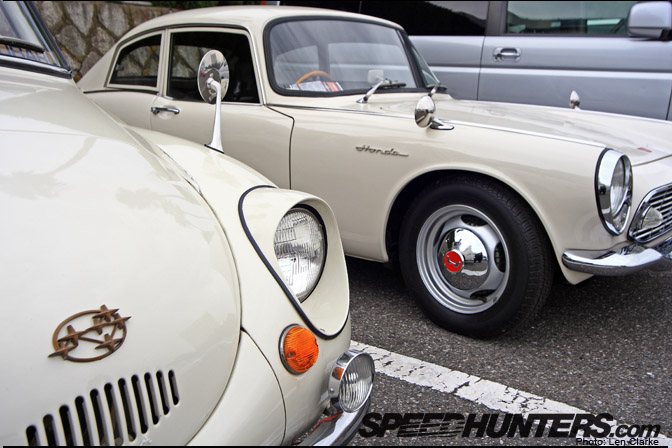 Naturally, the majority of the interesting cars were Japanese (literally every one of them a design statement). These two machines above, between them have less than 1,000cc – both also illustrate iconic lines from sixties' Japan.  While these two beauties are from different years and different makes, do you notice any similarity in the headlight shroud shapes? An Interesting example of something fairly similar in design terms, working well on two totally different products from the same era.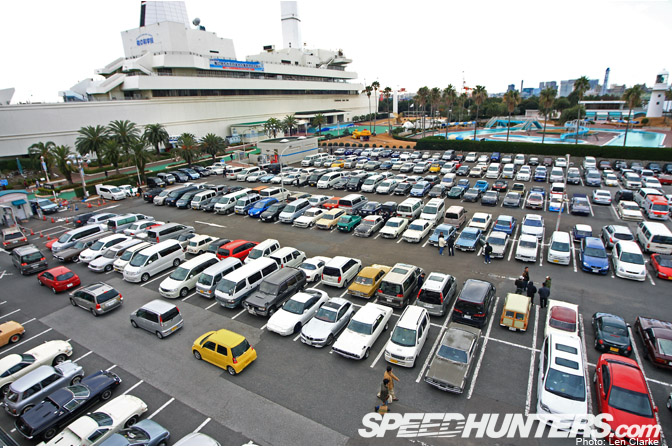 From the elevated exit of Fune-no-Kagakukan (Ship Science Museum) station. Check out the cement ship-like building on the left, that's the museum. And what about the cars? A couple of obvious ones – and a few besides. I'll make a Desktop so you can look closer.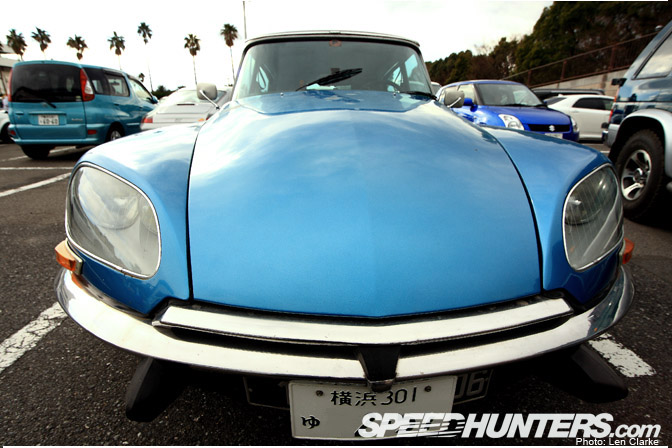 Mimicking something out of an art installation, this Citroen DS20 (rarer than its pre-and-successor 19 and 21 variants) flies the Tricolour for design, something deeply admired and understood in Japan. Yokohama slabs over Nice plates are a nice touch.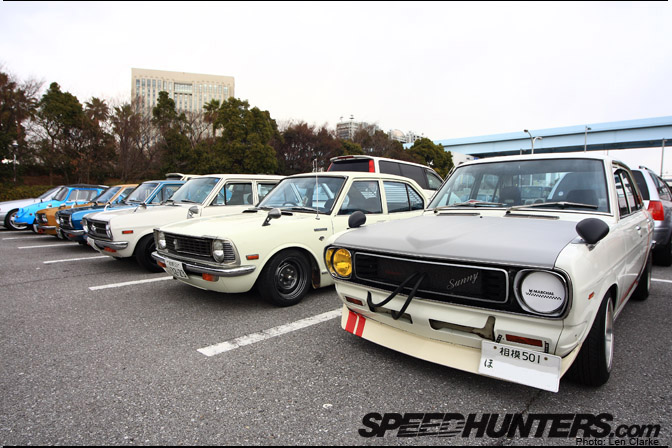 The Killer Sunnys: Seeing cars like this is the peak. Compact with a punch. Check out that interloper in the second spot, decidedly un-shy.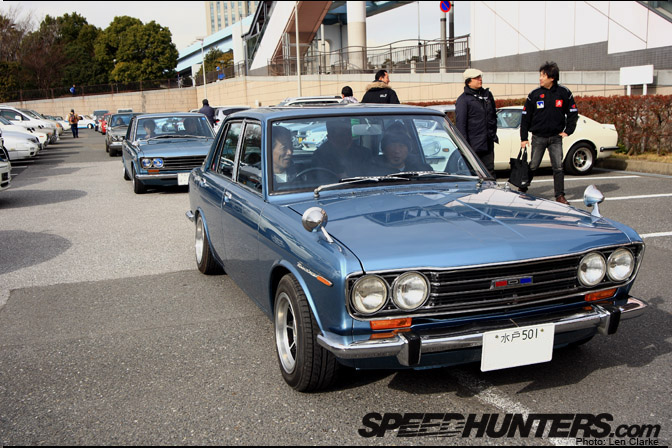 Bluebirds. One of the greatest cars ever built. These guys drove all the way from Mito (up near Motegi).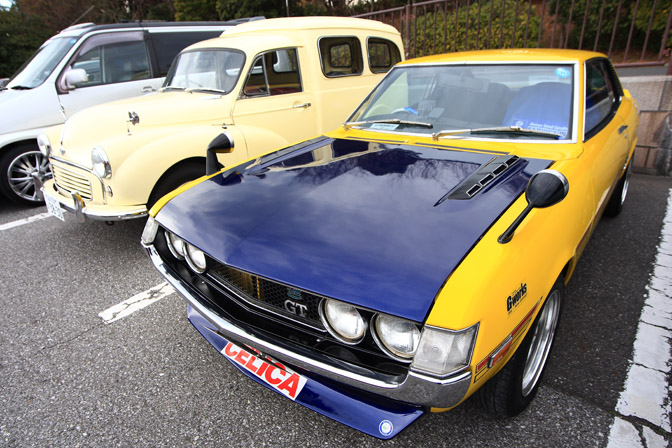 Best Celica ever? One of the best design-wise, that's for sure (until the Supras – more on that later). This one's brilliantly done. For a parking lot car, it's a ten.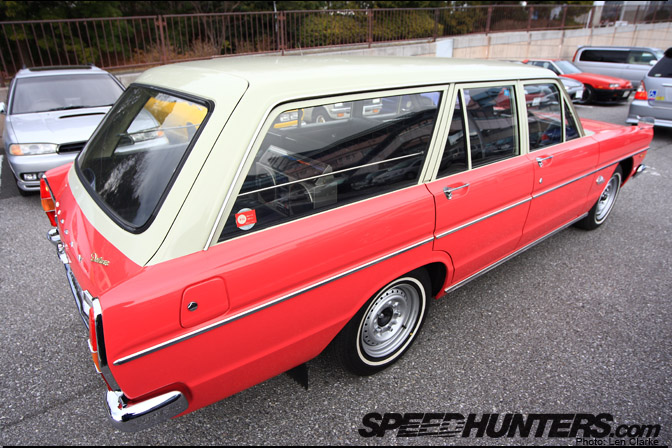 Here's another cool one, and check out the giant boom-box in the back – a nutter at the wheel, there's no doubt! Sixties Gloria wagons – you don't usually see (m)any of those around….and definitely not in that colour scheme.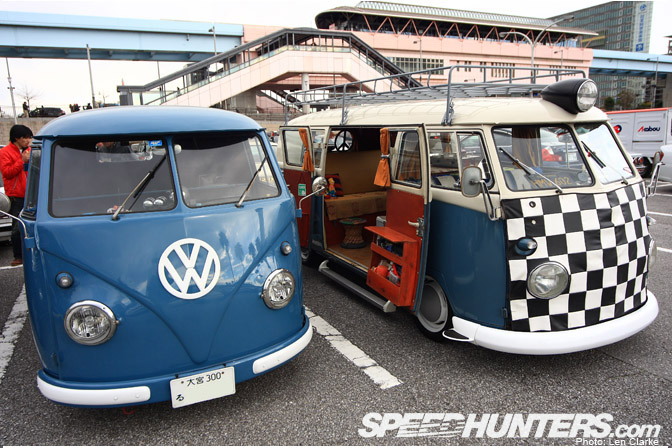 One of the amazing things about Japan (reason #1638) is that there's an audience for every form of ….everything! Be it a type of music, era of marque or model followed, a sport, film, whatever; there's a devoted following. Interesting spotlight on the roof, man!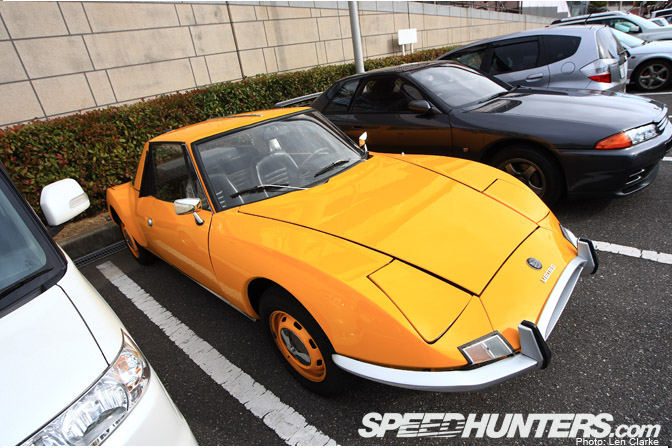 What in the world? OK, It's an early to mid seventies' Matra something – but which one of us can tell me? Certainly something one would not see on the streets here – and, in this day and age, an object ever rarer even in France… The rear view isn't all that pretty, though sports a full glass canopy.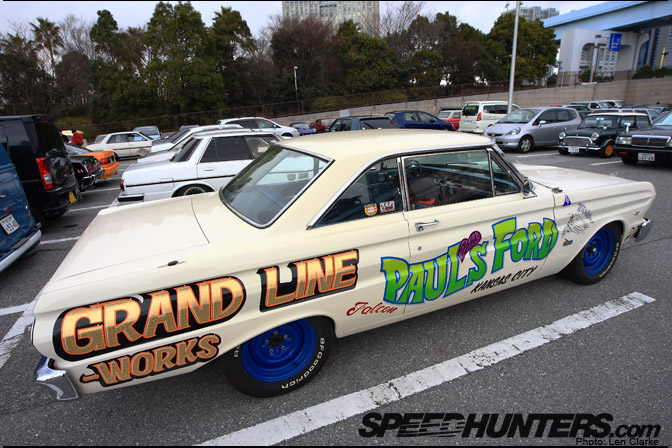 Detroit Rock City – there's a riff that'll go on in your head for ages. Just like this NASCAResque Falcon, very impressive.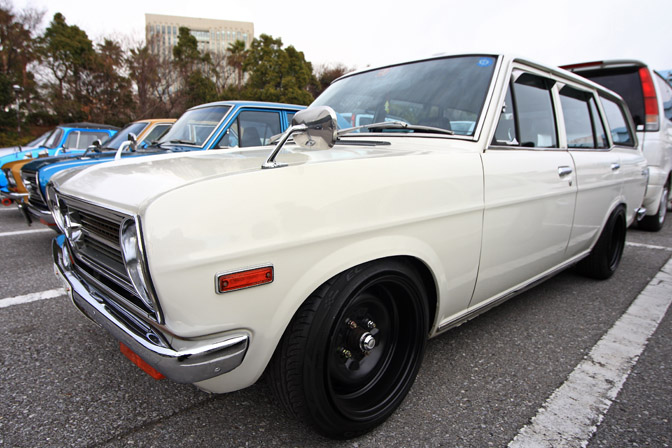 This Sunny wagon was 100%. You could hardly improve on this one.  How could you possibly improve in on this car?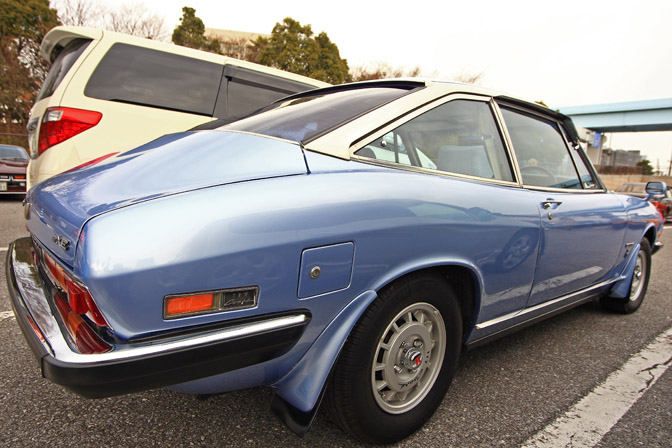 Isuzu 117 Coupe – one of the (many) incredible automotive shapes from Japan.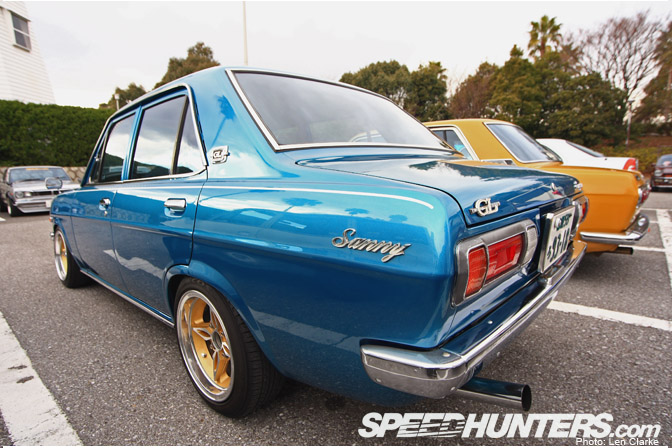 Another Sunny – can it get any brighter? Fantastic rims, and surrounded by other iconic Nissans.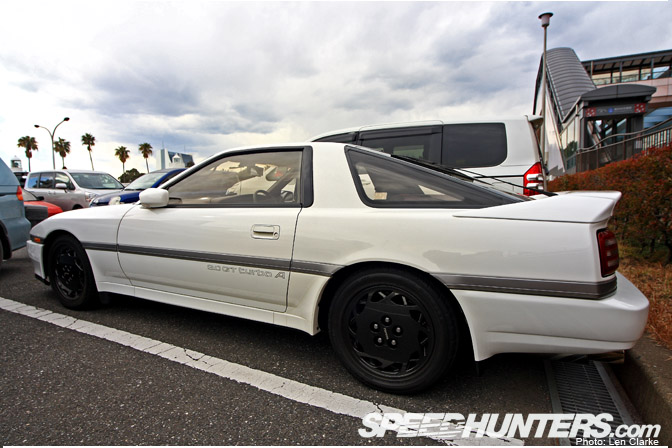 Oh yeah, here we go; JZA70 Supra, the ultimate sleeper. You never see these anymore, and one in this condition is really rare.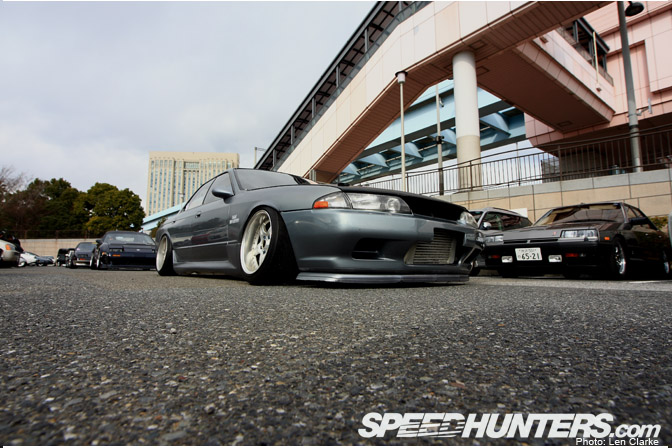 R32 or not R32, that is the question. This ride is like one of those huge lizards in the Galapogos: A car that defined a generation of JDM designs. Hey, that's reason #1639!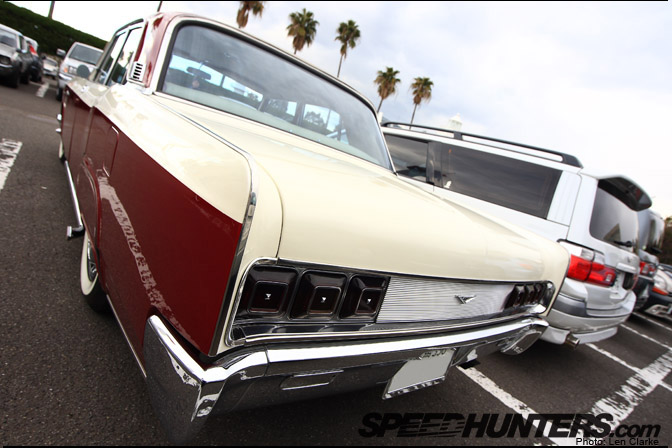 Cruizin' – and they continue to…. Glorias have an ardent following. This design's closing in on fifty years of age!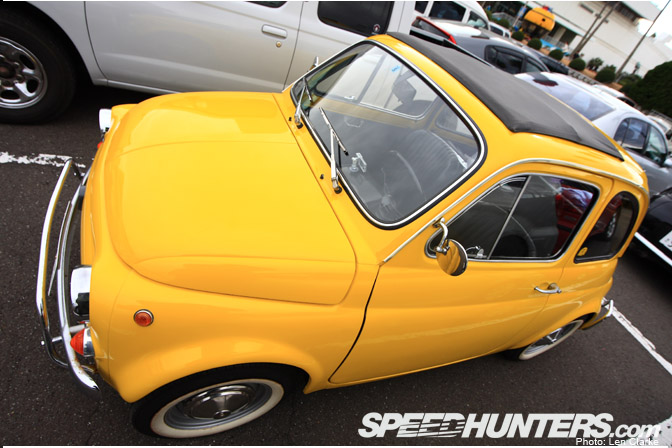 What car-nut parking lot wouldn't have one of these? Well, there were at least four, but anyway, the colour on this particular example was just brilliant.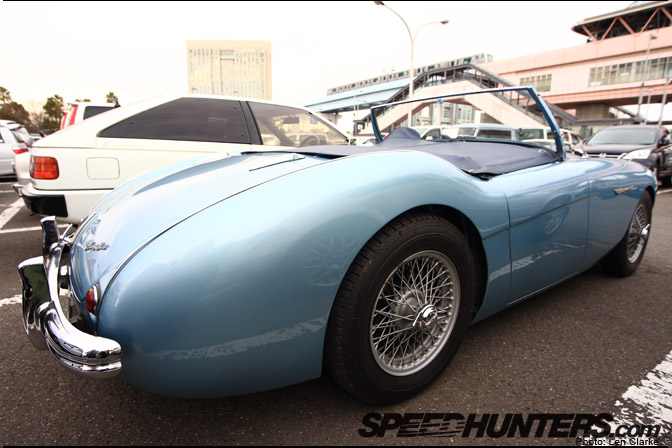 …and while some will focus on what's behind this (with help from another British marque – understood), any Healey would be cool in my books – one of the most pleasing designs of all time, with performance to boot. A pretty unique set of attributes.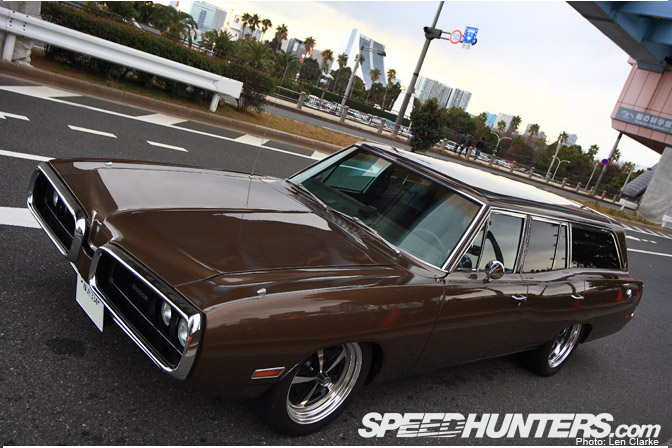 Dr. Death. The Munsters. Grave Digger. Transylvanian Taxi. These are a few of the words that come to mind when looking at this incredibly convincing 1970 Dodge Coronet wagon – and you should've heard this thing, shook the overpass as it waited at the light. He's got a bunch of friends purely into Mopars, they meet occasionally. Expect an image report soon.
And that was just the parking lot. Going in to the actual show I knew I was in for something special, but (seriously folks) I could not have imagined what lay ahead of me…stay tuned for event report.
 – Len Clarke