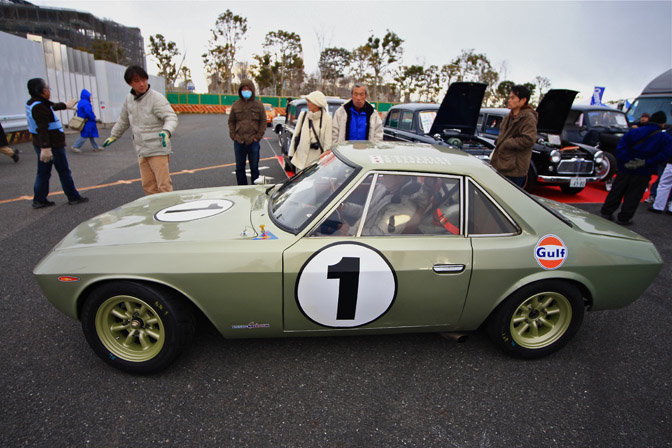 Coming over from the parking lot (previous post) I already knew this year's event was something huge. While I don't remember how many cars there were last year, I'd guess there were twice as many this time. Honda was the celebrated marque, but the number of Nissans and Toyotas far outnumbered that brand. For me, the coolest car by far was this S311 Silvia. To all the S13, S14 and S15 lovers out there, this is the origin of those icons, an absolutely stunning machine. It sounded raspy and mean through that side-exiting exhaust, too.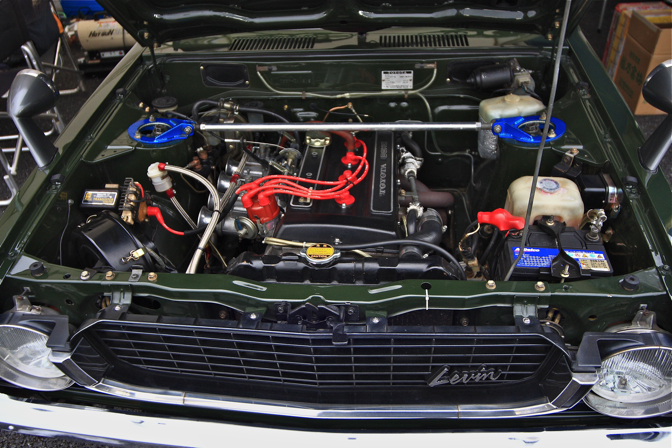 As usual, there was all manner of interesting Japanese classics like this Toyota Corolla Levin. The weather in the early part of the day saw dozens of machines with their hoods up, showing off immaculate oily bits.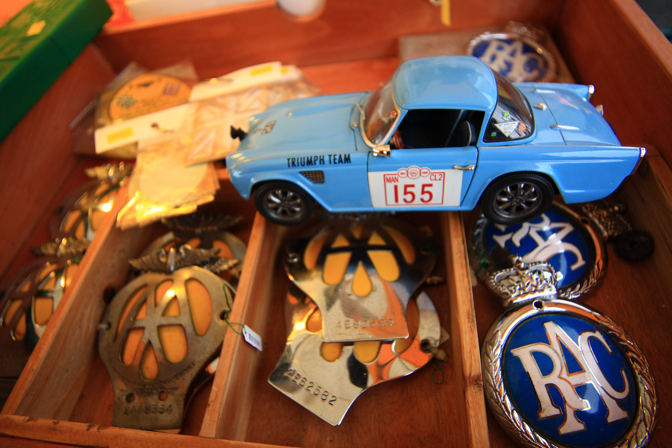 As usual, there were dozens of stands set out around the perimeter of the parking lot, and I couldn't help but notice the very English stance of this one, with its RAC and AA badges – not to mention this large and very well detailed TR250 diecast.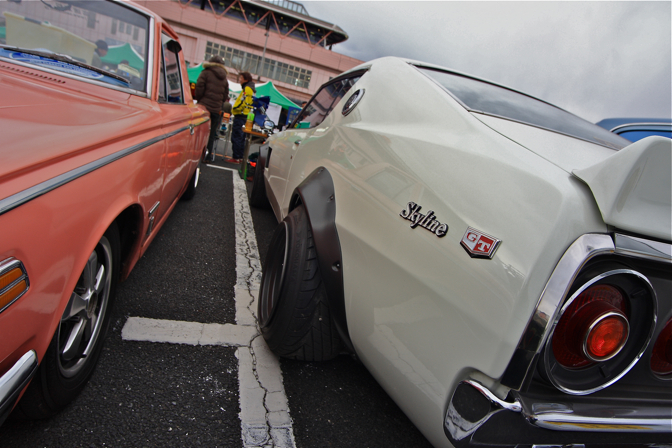 It's common at meets such as this to have stacks of identical cars lined up together, so seeing machines from rival manufacturers buddying up next to each other makes a nice change visually.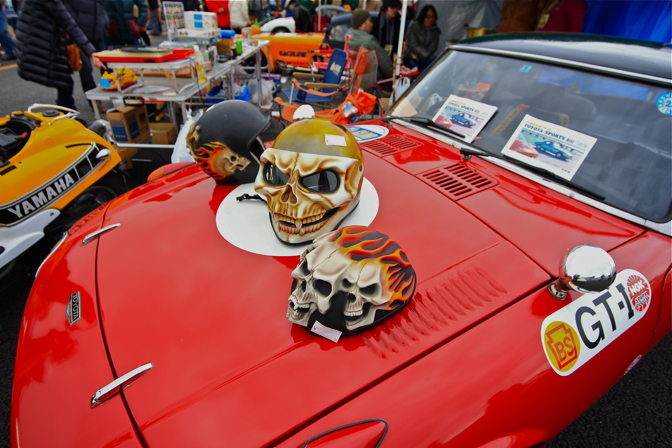 There are always really cool accessories and assorted sundries at the New Year Meeting. Check out these very impressive custom helmets sitting atop a Toyota Sports 600.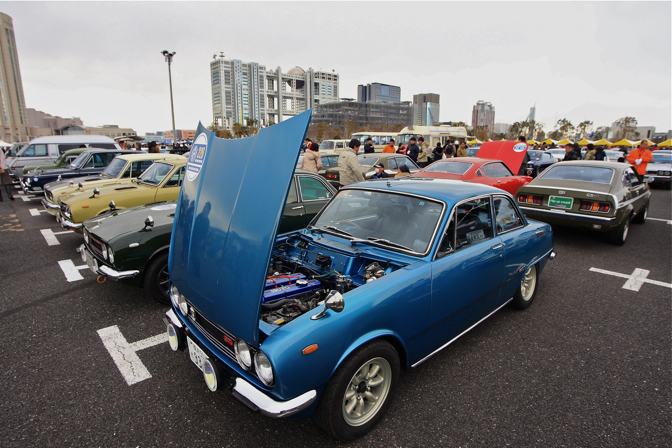 Although it had been sunny all morning, once lunchtime arrived the skies darkened and the day grew steadily colder….just hoe cold, I don't think anyone could have imagined.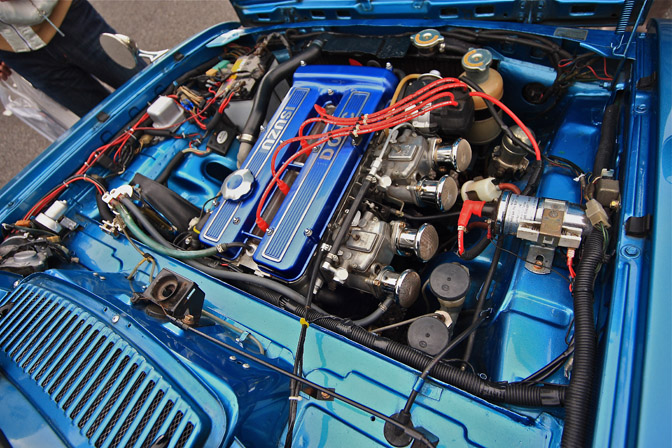 Here's a shot of that Isuzu Ballet 1800GT's beautifully detailed engine bay. The thing that's most impressive about a lot of the cars is not just the rarity of the machines, but the incredible level of attention to detail. Not a bolt or washer goes unnoticed.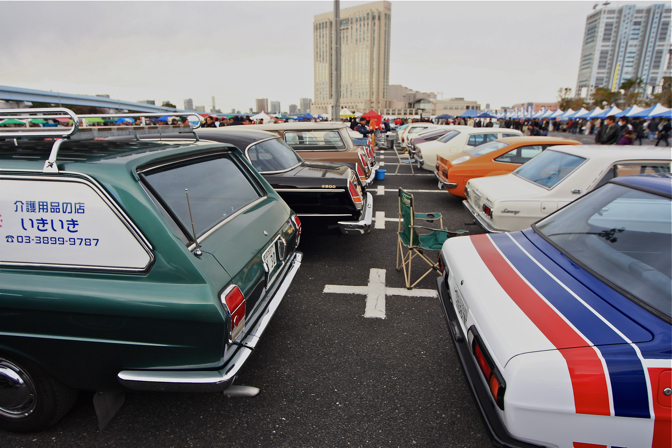 In the Nissan corner – not only were there lots and lots of cars (some 304 registered entries, with dozens of others also on display/sitting in vendors' booths), there were a huge number I'd not seen before at the New Year Meeting. Does this signify a more positive economic outlook? If so, not a moment too soon!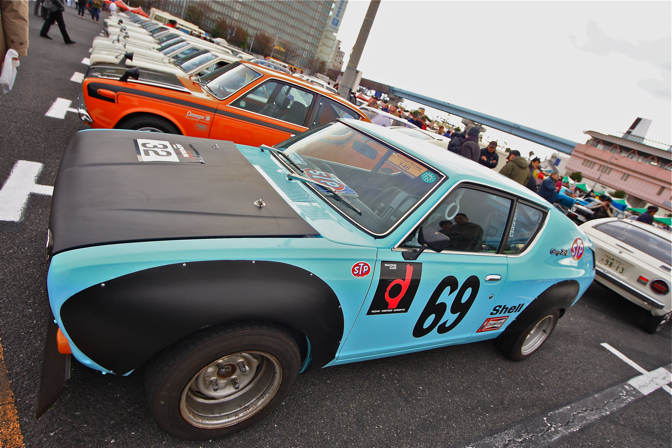 Never have I seen such an array of PE10 Cherry X-1s and coupes – crazy!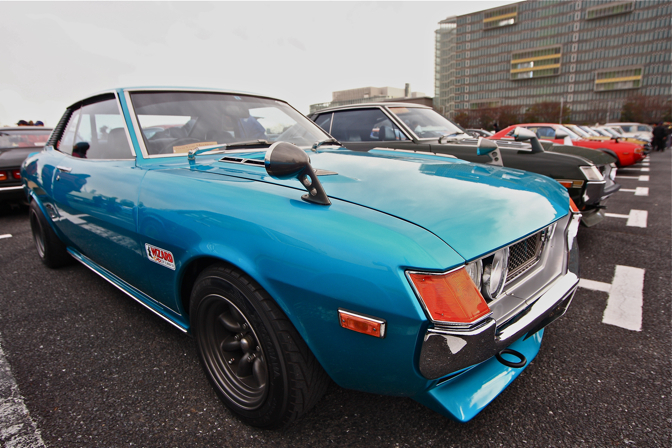 I can't walk past a Celica 1600 GT without a quick check. One of the great '70s designs.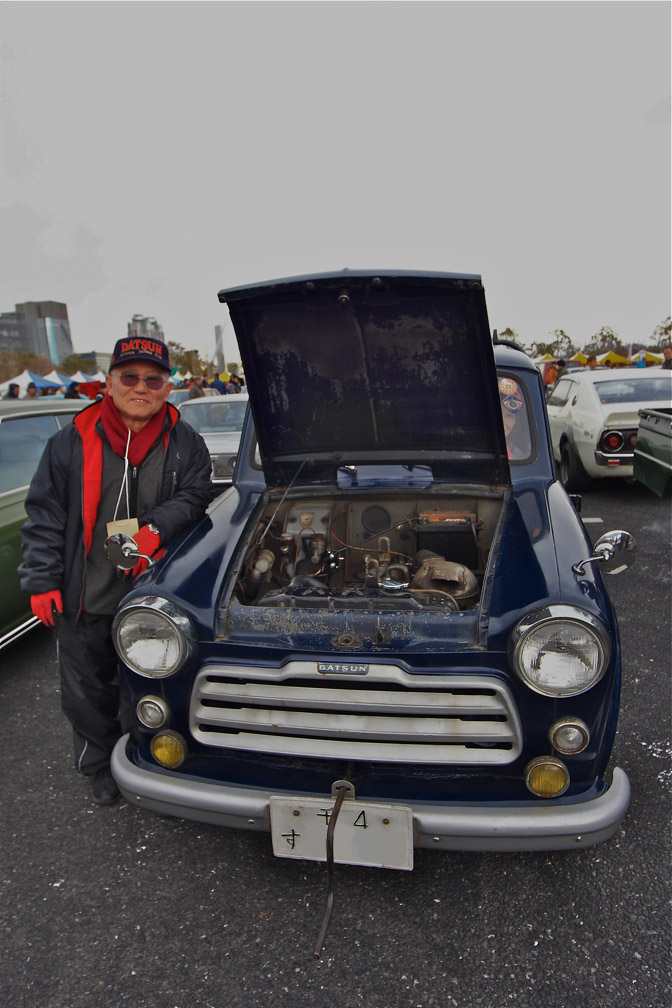 Take a look at this elderly gentleman standing proudly beside his 1959 Datsun Truck.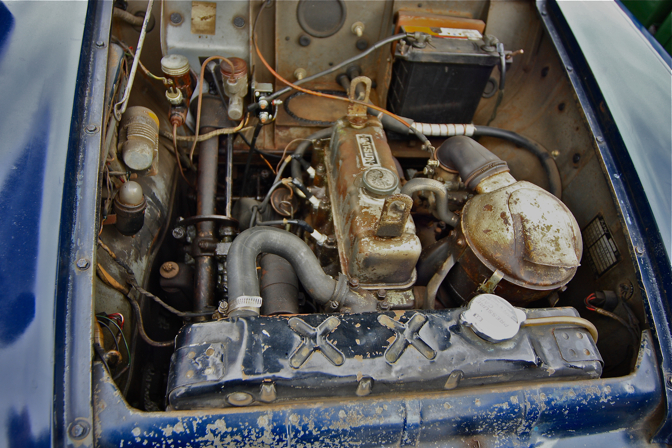 He told me he's owned it since new, that it's never been tampered with, nothing's been changed and it just runs and runs. Brilliant.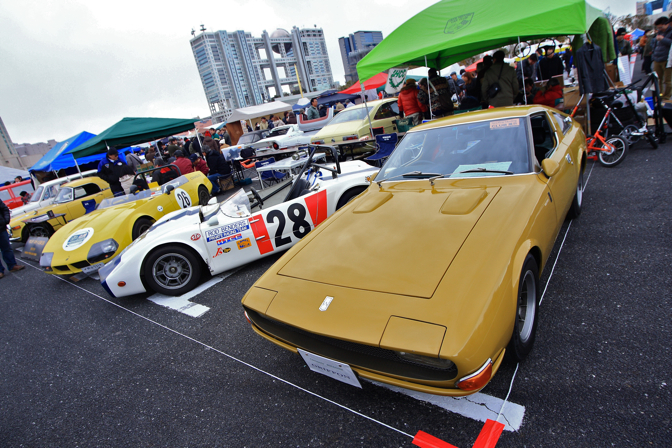 In addition to the 300-odd cars displayed by individuals, there were no fewer than 79 clubs, many of which had one or two machines on display. This is the Honda Twin Cam Club stand, with its ultra-rare 1968 Griffon in the foreground, and Honda-powered Cornilio and McLancer club racers in the background.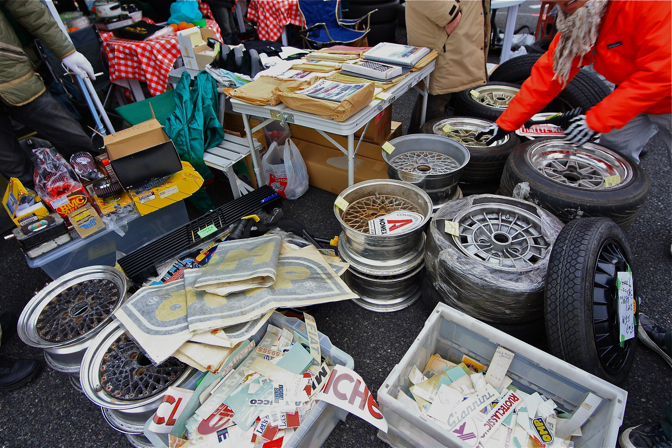 Naturally there was lots of horse-trading going on. Here we see wheels from Japan, Germany, Italy and beyond. There was a ton of stuff for sale this year.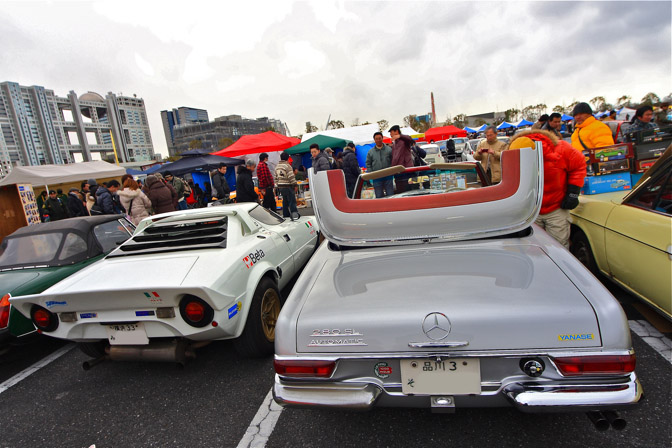 This club (Historic Car Club '95) brought along a few European classics – that Stratos was pristine. Unbelievably, you occasionally see Stratos on the streets of Tokyo.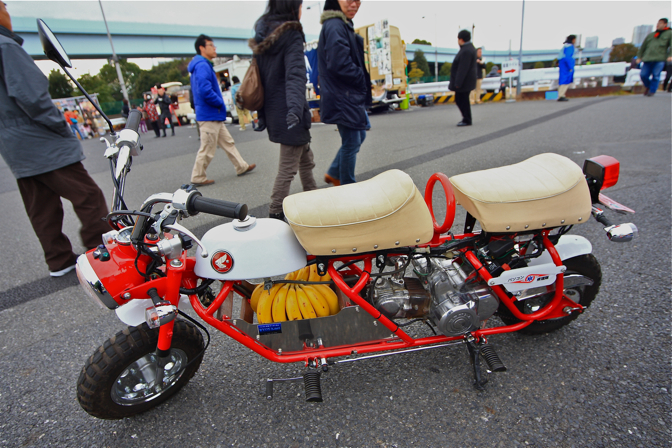 Oh, I get it. The bike's a Monkey, thus the bananas…riiight!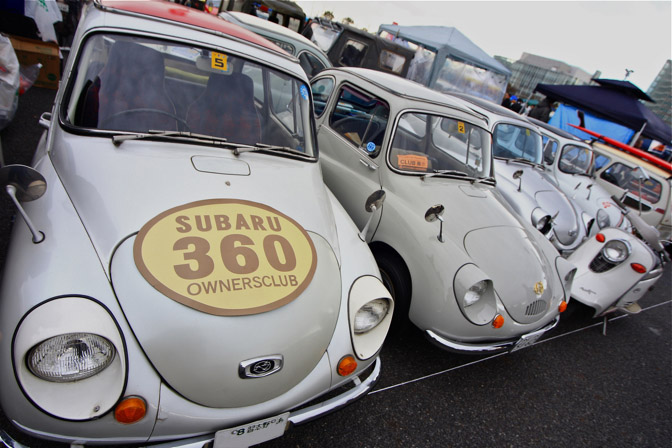 Can you guess what club this might be? The 360 was Subaru's first car.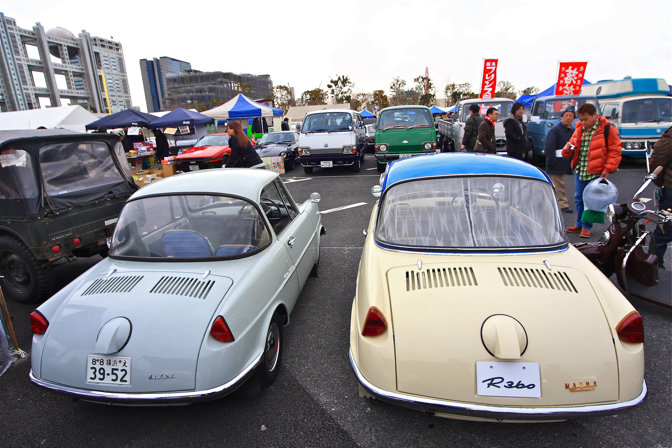 Sticking with the 360 theme, here's Mazda's contribution to that genre. The one on the right is the luxury model.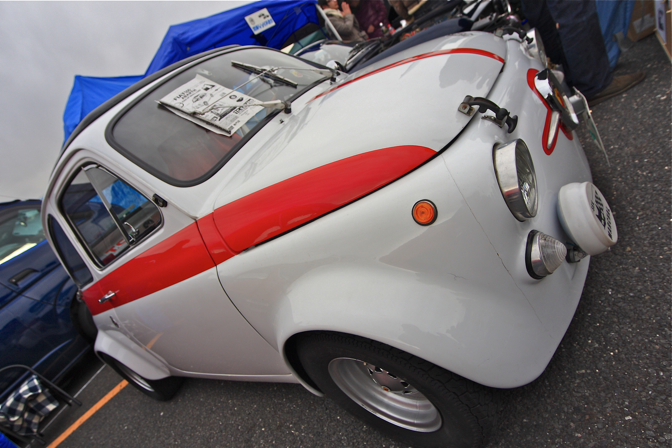 Fiat 500s have always been popular in this country – it's not hard to understand why. And whether in competition guise…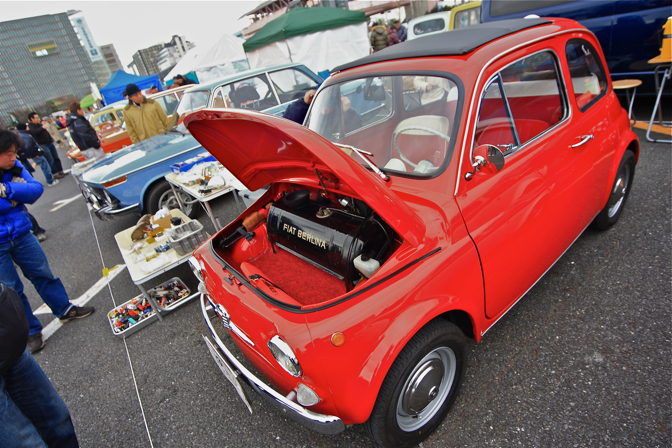 …or a purely showroom stock version, they have a large following in Japan.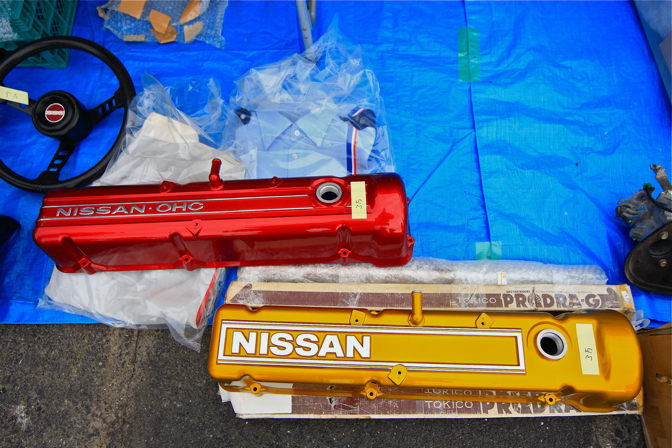 A somewhat eclectic offering from this vendor, but these valve covers sure gleamed. 300 bucks a pop.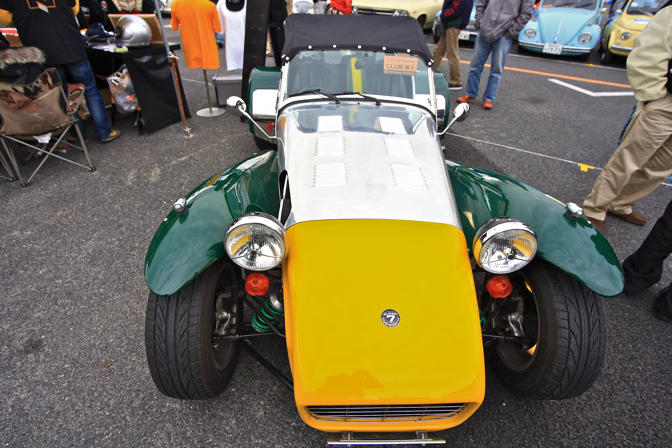 Sevens are ever-popular, the front fenders on this one particularly impressed, much more sporty than what one regularly sees.
OK, that's it for this part of the New Year Meeting. Stay tuned for part two.
 – Len Clarke