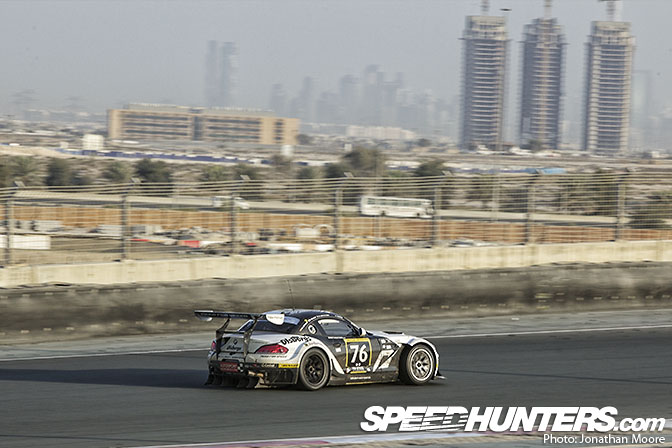 Edward: Okay let's see what happened from early morning and the battle to the flag at 14:00 PM. I seem happy and it's hard to not be when you're in the lead. The true thing is that you don't want too be too happy. So much can still happen and a small silly mistake can easy destroy everything. I was telling myself over and over again to keep concentration and don't think about race victory yet.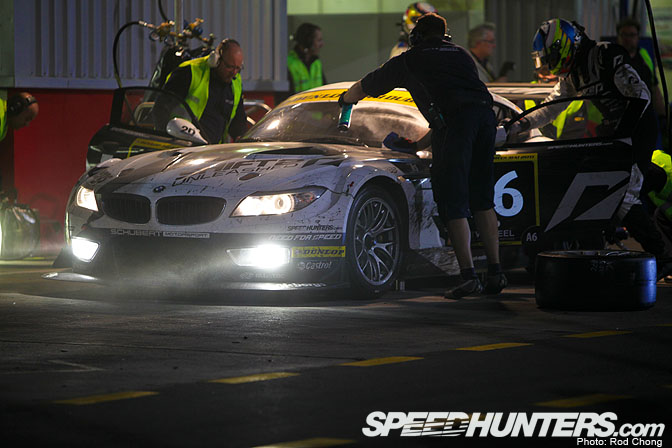 Tommy: 04:26 AM: Everything to this point was still going smooth. We had pitted not long ago for our only scheduled lengthy pit stop to change front brakes. Now it was back to the same old story; run laps, stay out of trouble, and no mistakes.
 Edward: I tried to sleep but could only get 1 hour together. I really tried but was too much into the race. In the morning we suddenly had problems with tires again when it got colder. Then you start wondering if a 3 lap lead is enough. The Mercedes was quite quick as well, so should we start to push? Augusto said this will be tough, but we have to keep doing the same and don't take any risks. He was right. Actually he left a really good feeling in the team with his experience. Thx Augusto!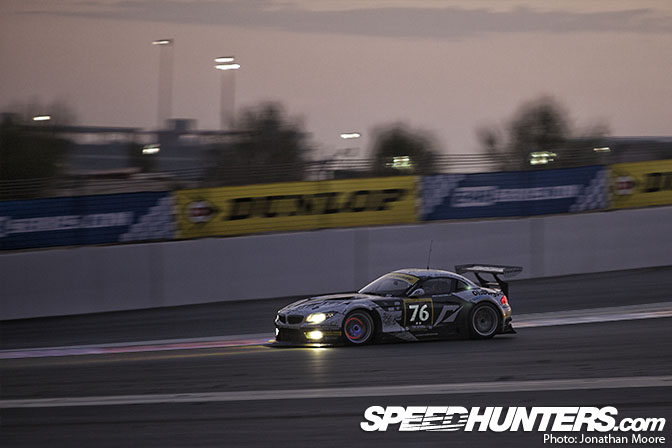 Tommy: Once dawn broke and we were still leading, now you can start thinking a little bit about the win but you don't want to. At this point in the race it's tough to stand there in the garage and have all these thoughts going through your head. Are we fast enough? Will the car last? What can go wrong? That's where daylight helps. It feels like you get a second wind once the night hours are over.
Edward: I think it's good when you can see daylight again. You get a fresh brush and at least myself got some new energy. And to be able to stay out of troubles during the night is a key point during a 24 hours race. We had so far been running without any problem at all. Fantastic. But you can see all the mechanics suffer at this point. The good thing was that they could rest between the stops.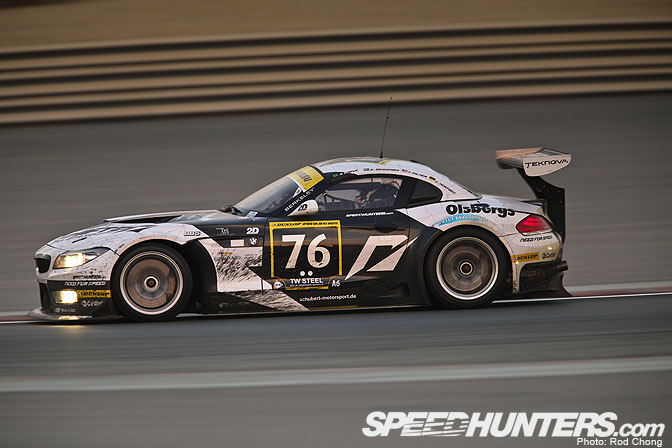 Tommy: After my last night stint, I took the time to head back to the shipping crate to get some sleep. The next time I would get in the car it would be light again. I got some good rest while Edward took over from me and woke up again about 2 and a half hours later feeling well rested and enough time to get a snack before I had to get ready for my next stint.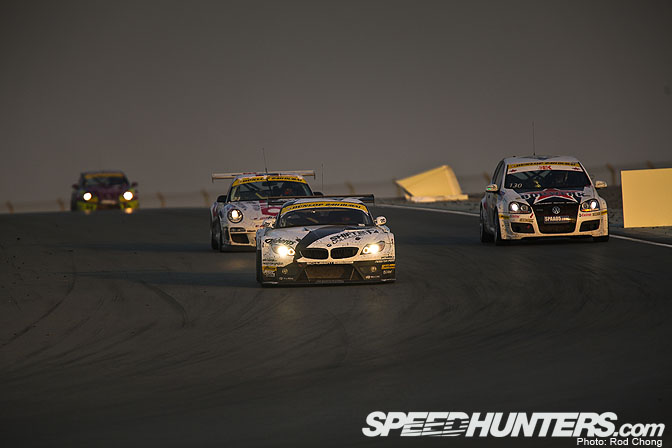 Edward: Probably the part you have to take most attention of is when you pas slower cars. But I think it was going better then expected and during this time of the race the amount of cars have changed from 87 in the beginning to around 60. Big difference.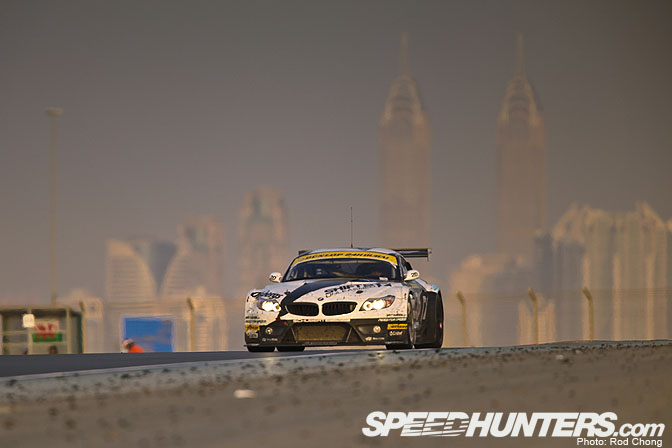 Edward: This picture I use as desktop on my MacBook Air. Good timing to take this picture.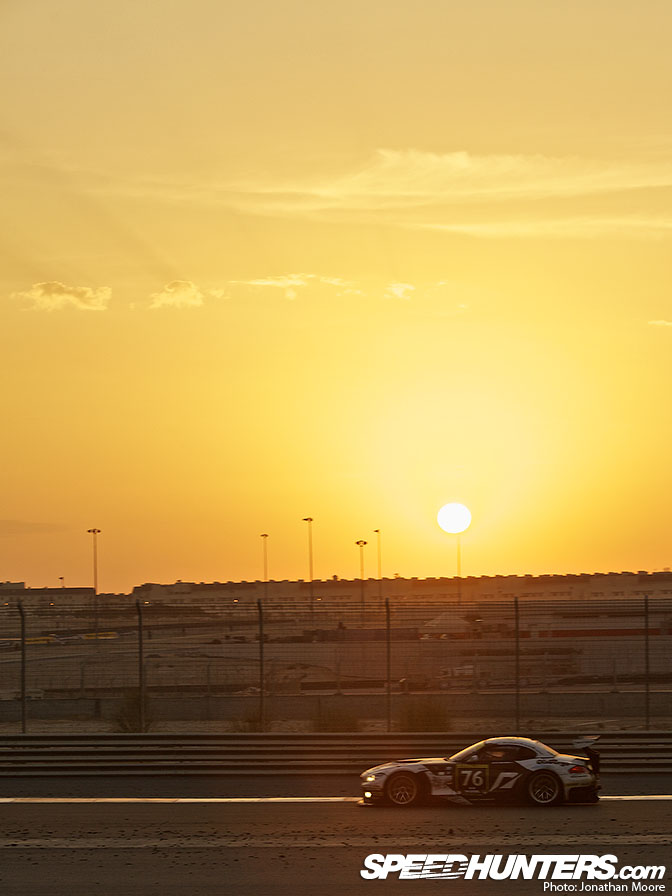 Edward: I had no problems with the sun. I was prepared with
a light dark visor with a stripe on top to use if needed. I have been
sun blocked before and that's really irritating. But I realize after
wards looking at the pictures how beautiful it was during this stint.
When you're driving, weather doesn't matter, and you keep on focus to
get your job done.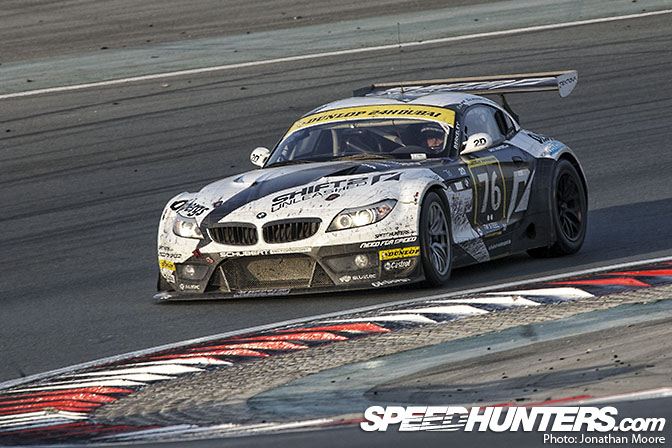 Edward: The rear wheels were not black because of debris. I think they changed tire strategy and went for another compound which were on black wheels. I think that was the case actually. Maybe all Speedhunters fans can give us their opinion if we should use black rims instead this year? Could look cool with that all around, or?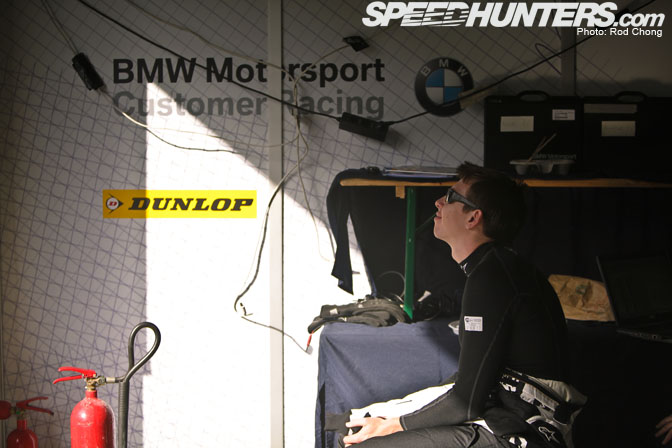 Tommy: So, here we go, four hours left. What would likely be my last stint in the car. I'm starting to get a little nervous now. We've come so far at this point, leading most of the way, and generally looking like we're in good shape. But this is endurance racing, and four hours is longer than a typical race. Anything can happen.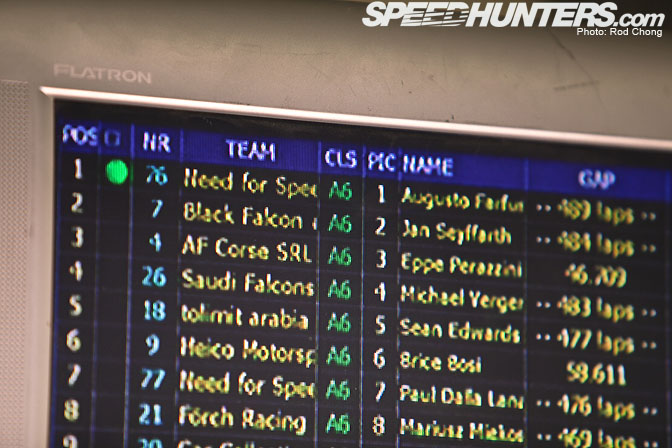 Tommy: At this point in the race, our two closest rivals are the #7 and #4. Both were running fast lap times and keeping their fastest drivers in the car to try and close the gap. I'm watching their lap times closely so I know what I need to do to keep this one out of reach without compromising our race.
Edward: I don't knew how many hours I was starring on this screen. The only way to see if any one could be a real threat and to get a feeling for what was needed in lap times to keep or make the gap bigger. At this time you also started to get an idea of how many stops everybody had to do until the end.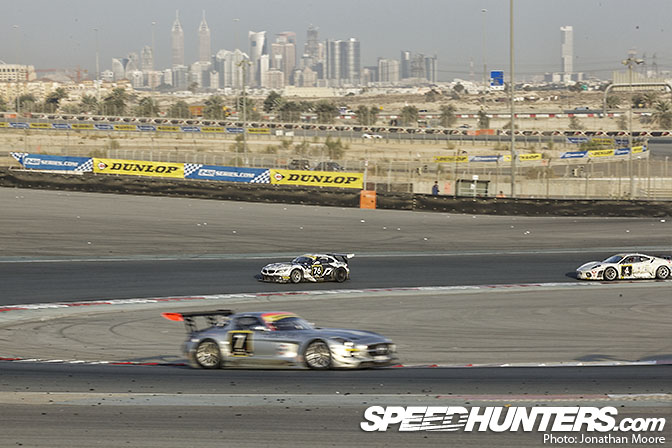 Edward: We were in the lead even if we would stop once more, but the
differnce was two laps in a stop and then it would be much tighter. A
code 60 can change a lot when the timing is good or bad. It wasn't the
case in the end.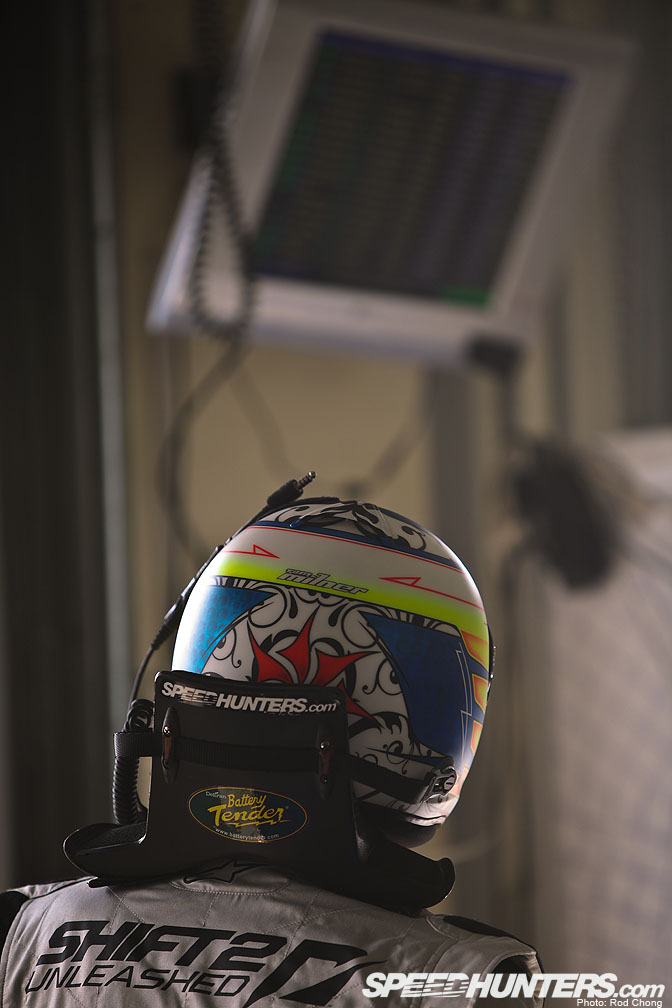 Tommy: 10:21 AM Each of my last stints I had to rush to the
car last minute because of a Code 60. This time though Augusto would go
the full distance so I had time to suit up without rushing. That part
was nice but waiting there and having time to think about how long we've
run without any problems, all of the things that have gone wrong for me
in the last 24 hour races I've run, all of that was going through my
head.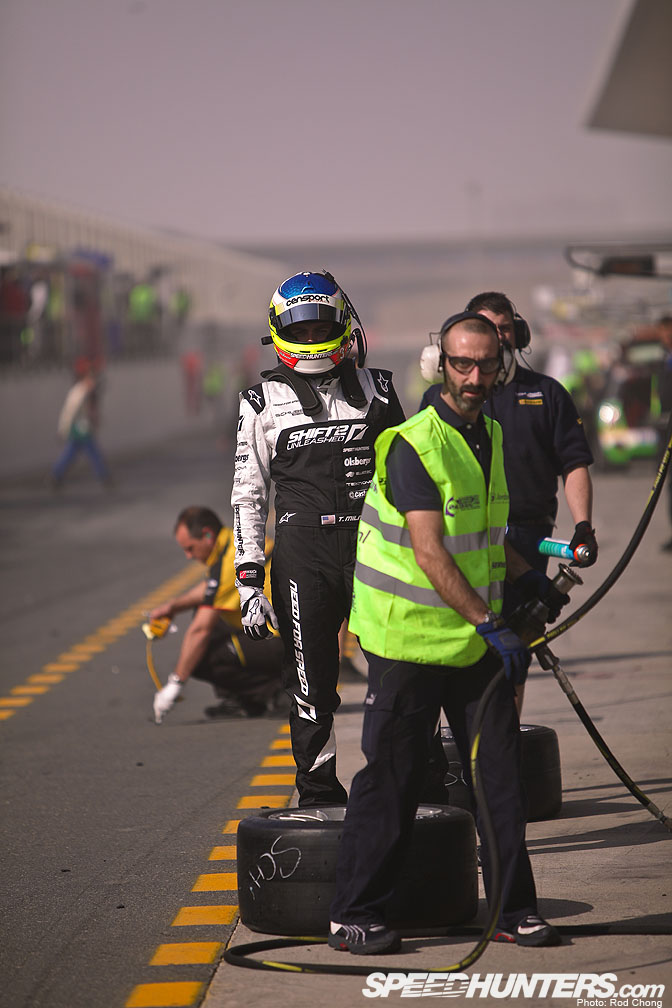 Tommy: Once I left the garage, I could see Augusto coming into pit lane and all of those negative thoughts left my mind.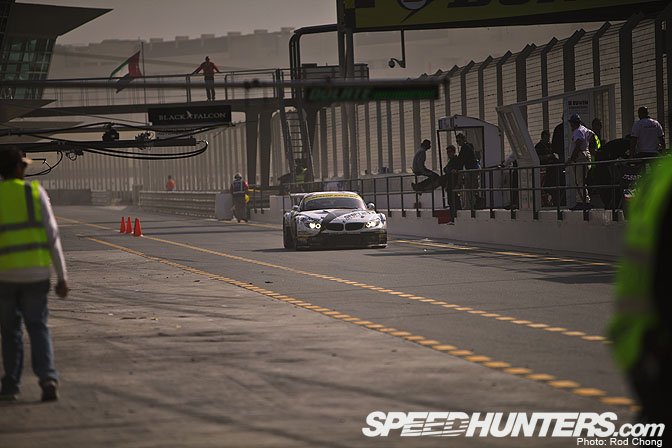 Edward: I think we used more then 20 sets of new tires during the race. You needed them, but it's also about not giving away a lap because of a puncture. Every time the car was in the pit for driver change all four tires where changed.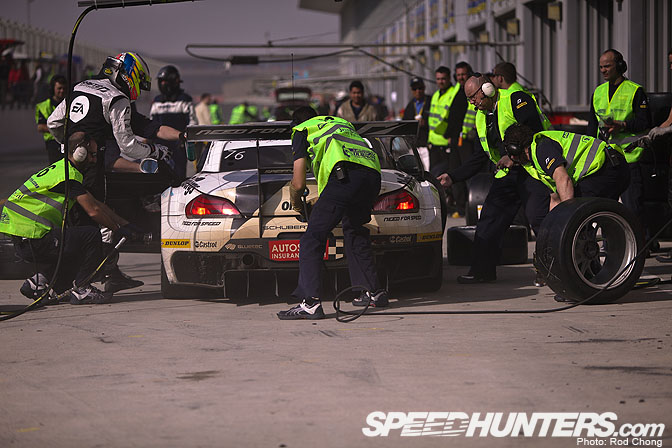 Tommy: Nice and easy, climb in, get the belts on, and off I go for the last stint.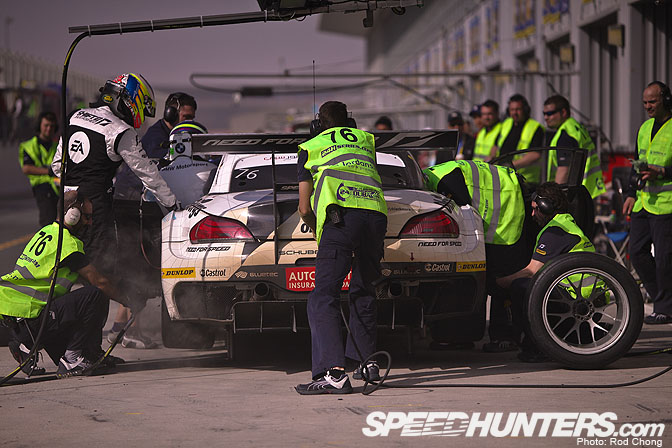 Tommy: Just ahead of me out of focus you can see our Engineer Stefan Wendl letting me know where the next car is on pit lane.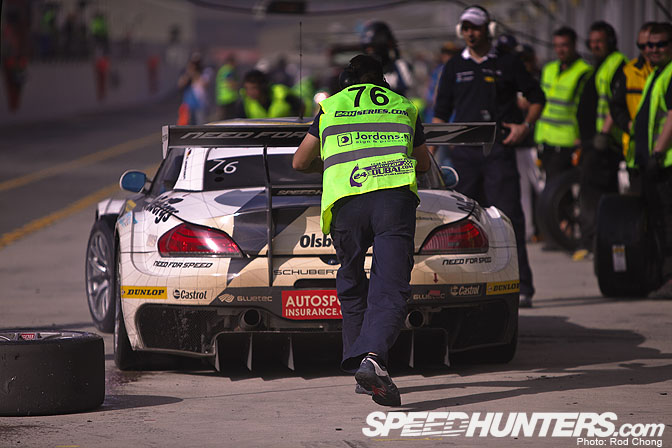 Edward:The crew knows what to do. Make sure the radiator is free from dirt, clean windscreen, brake wear check, tires change, optical check, oil refill if needed true a special designed system and driver change. Between 30-40 seconds later car leaves to refuel area.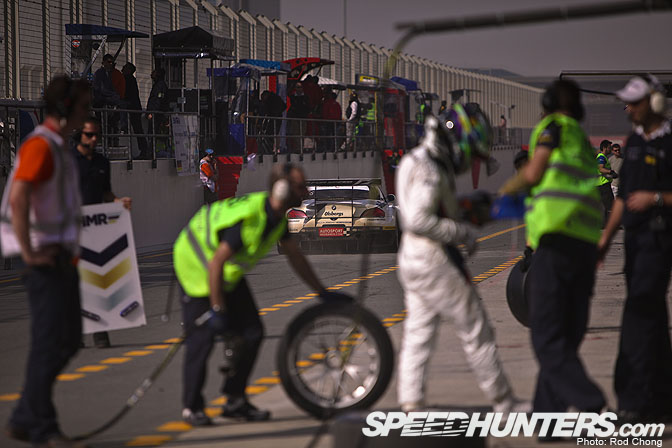 Tommy: Two thirds of the stop is complete and I'm on my way down to get refueled. Again, no traffic in the fuel area and I pull right up to the two Schubert mechanics in charge of topping me off.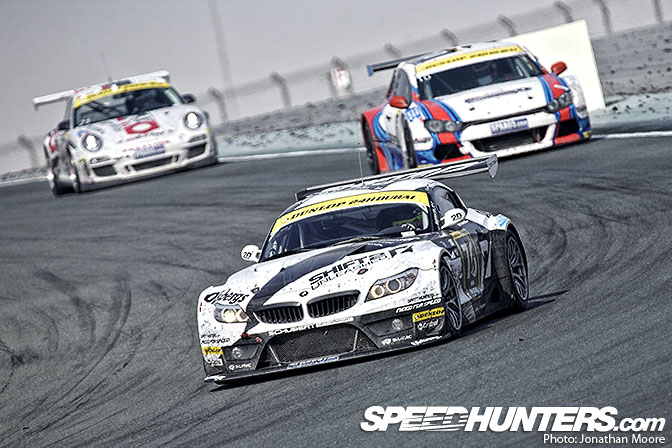 Tommy: So, last stint in the car. So far this weekend has been awesome. I'm halfway around the world, at this exotic place in the desert, and having one of the best races of my life. In some ways I was enjoying the moment knowing that there was real pressure from behind but also anxious to have time go by as fast as possible.
Up to this point, of all the moments in the race when weaving and dodging my way though traffic in the pitch black, nothing had gone wrong. Then I thought it was all going wrong. I made a routine move down the inside of a little WTCC SEAT into the last corner. The one thing you grow to learn from this race is that even the car you are about to pass has let you through every single time before, there might be one time he won't see you. As I was finishing the braking and just about to the apex, I notice the SEAT, who half a second ago was WAY offline to my left, had started to close that gap. Significantly. Surely he has seen me? Nope!
I wasn't on the edge so I had some ability to move the car halfway over the apex curb at the last second until we made contact. The SEAT turned hard left and I continued on. Then braking for T1 the car felt funny. I thought maybe I had a puncture. I radioed to the crew and let them know I may have a puncture but I wasn't sure. I kept going and it seemed to be OK. One lap. Two laps. No problem.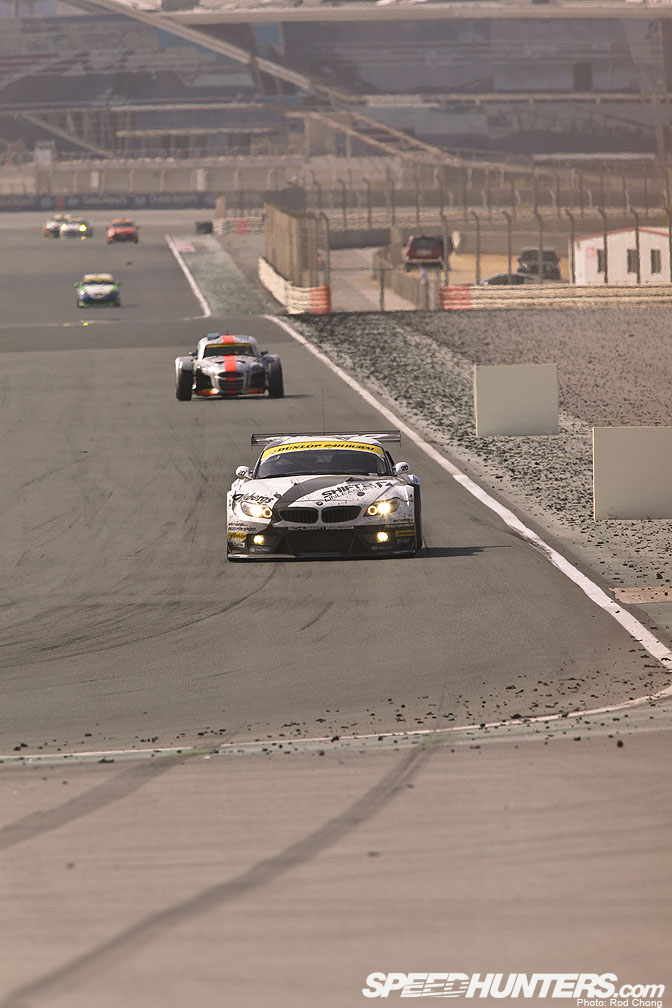 Tommy: How was your last stint Edward? Uneventful I hope?!
Edward: Yeah, I really could cruise and just control the gap to the cars in second and third. Still when I was cruising we where fastest on track then you knew it must be other things that could eventually spoil it. I was really easy on the gearbox. As ordered, I used only 3-6 gear and was trying to overtake when it was safe and not driving outside line too much in the dirt. Suddenly it felt like the clutch slipped for a short while during acceleration. I think it was producing the highest pulse on me in the race. I waited for it to happen again, but it didn't, thx god.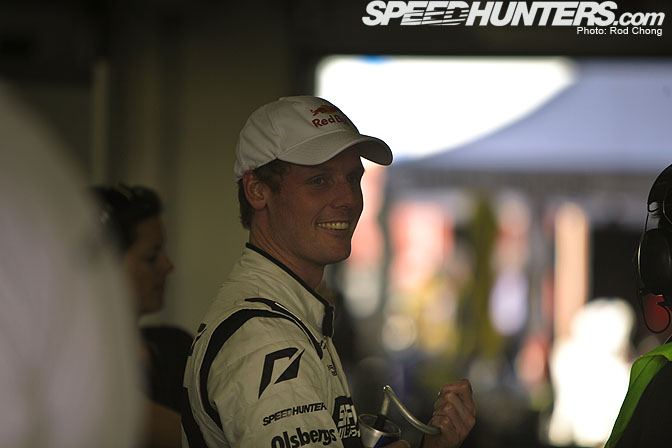 Edward: Last change, releasing the belts and find Stefan with the board for
the pit stop position and now Claudia should do the last stint and she's
actually a driver who doesn't do mistakes often, so I felt safe
regarding driving, but would the car keep on going without problems. I
had been asking Rupert our chief mechanic before the stint and he just
replied no worries the car will last without any problems. He was 100%
sure. He's really cool and a big pusher. I trust in him 100%.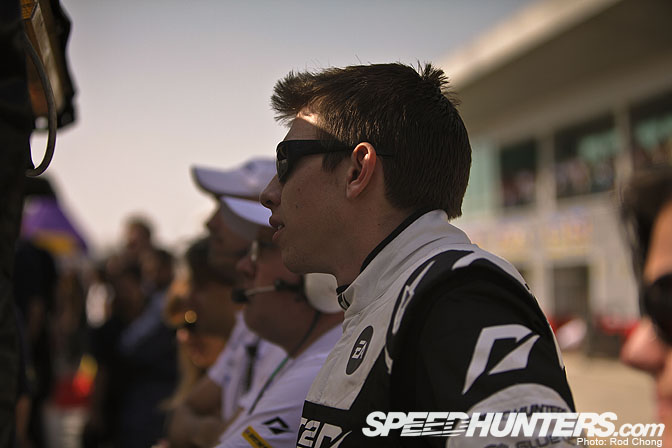 Tommy: Claudia would finish the race for us. Now it was just a matter of staring at the timing screens and waiting. With every lap that went by I got more and more confident we'd take the win.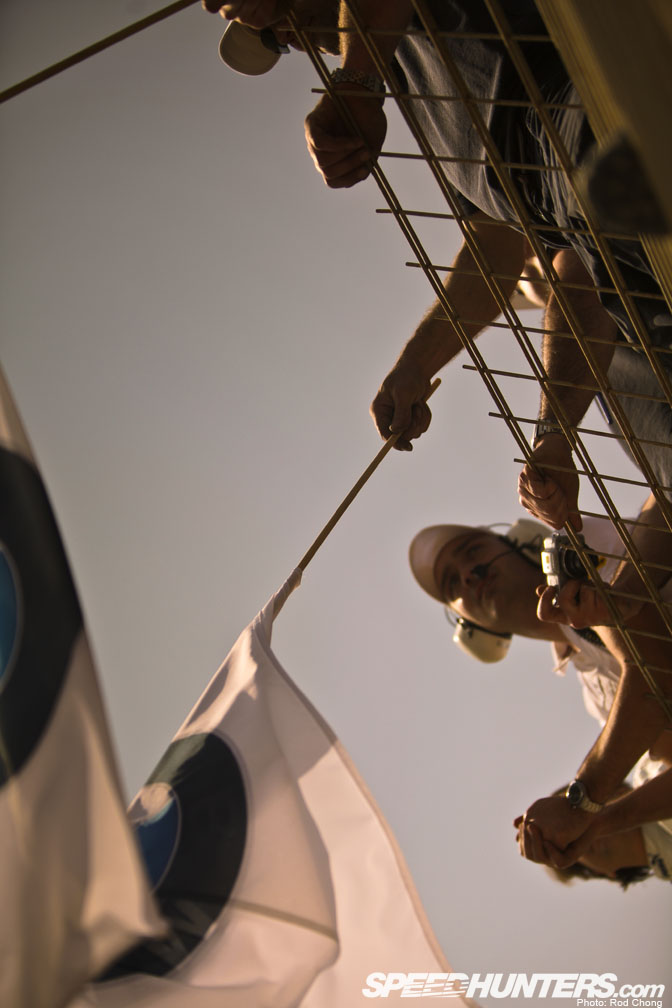 Tommy: Finally! With only a lap or two to go in the race. The whole Schubert team made their way out of the garage onto the pit wall and climbed the fence to watch Claudia take the checkered flag! What a feeling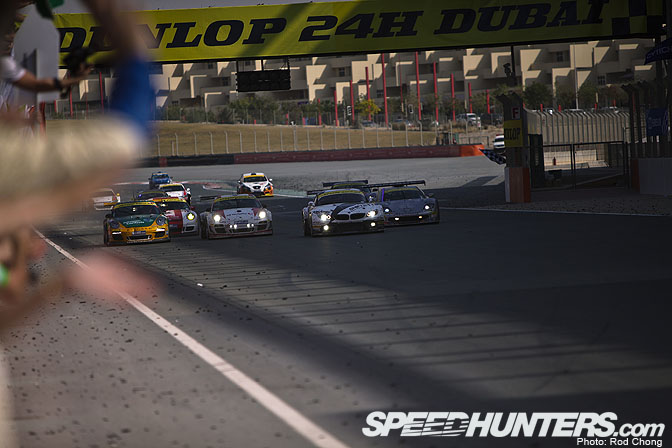 Edward: Something really special. I have been working with Schubert, Need for Speed and BMW for one season now and have already so many good memories and this one together with the win in Zolder are on the top list. Everybody cheering onto the pit wall and waving the BMW flags. But I was actually not taking anything for granted before the last time I could see Claudia taking the checkered flag. Schubert Motorsport have been in the lead in Dubai 24 hours before and been failing short before the finish. This was a team win for sure as always in motorsport. You're never better than your weakest link. I don't think we had any in this race… Will remember THIS WIN!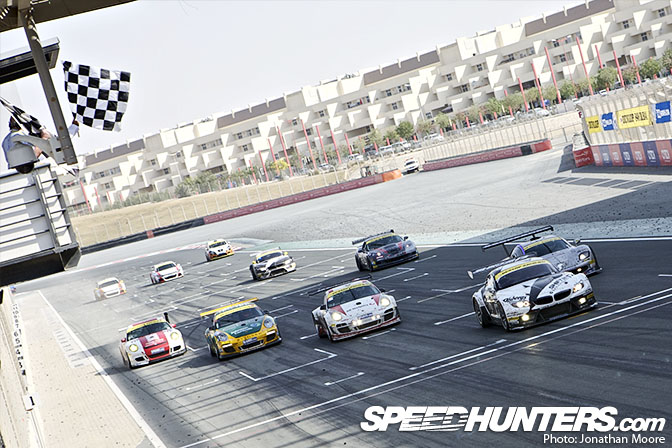 Tommy: YEAAHHHHHHH!!!!
Edward: JAAAAAA!!!!!!! – (in Swedish)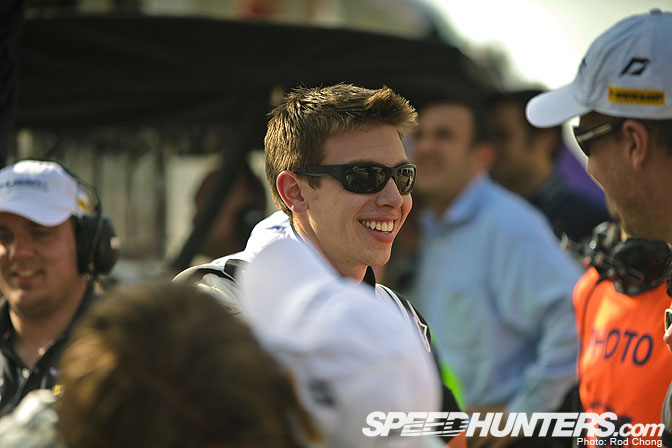 Tommy: And then the next best part…Sharing that victory with
your team. It doesn't matter if most of the team doesn't understand
English. The high fives, hugs, and hand shakes is all that is needed at
that point.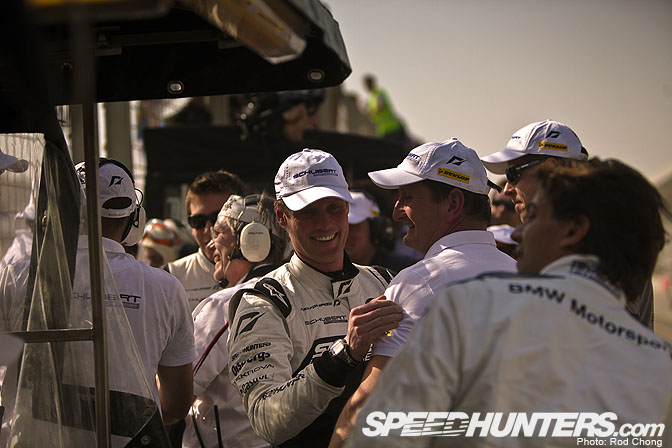 Tommy: For Schubert Motorsport, I really got the feeling this was something they've worked so hard for, for many years, and having heard stories through the weekend about how close they've come to winning a big race like this, to finally get it, was massively satisfying. While I was, and still am, stoked to get the win, it was cool to be a part of winning it with that team and those guys who have tried for so many years to get a big one like that.
Edward: Torsten Schubert the man behind Schubert Motorsport always said I should have fun when racing. I can guarantee I have at Schubert. Torsten really have the passion for racing and gives you the feeling of giving all you have. He and the team deserves a BIG thx.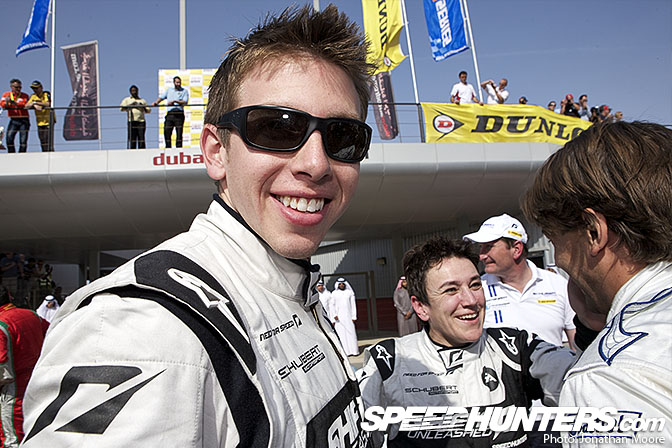 Tommy: Words can't describe the feeling of taking the win, especially after 24 hours of racing. You're still so amped from the adrenalin that being tired only sets in really once you've left the track and just have those few minutes of silence to yourself when you can think about what you've just accomplished.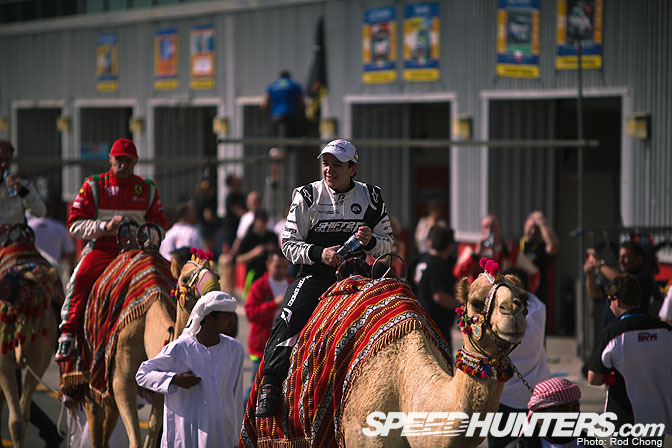 Tommy: Biggest disappointment of the weekend was not being able to ride a camel! Haha – Regardless, a really cool reminder of the different culture we were in. All of the finishing drivers in the top 3 got to ride in on the camels.
Edward: Claudia should be there and was the driver who got the ride on a camel. I think she is the driver who has been fighting longest together with the team to achieve this. She deserved it!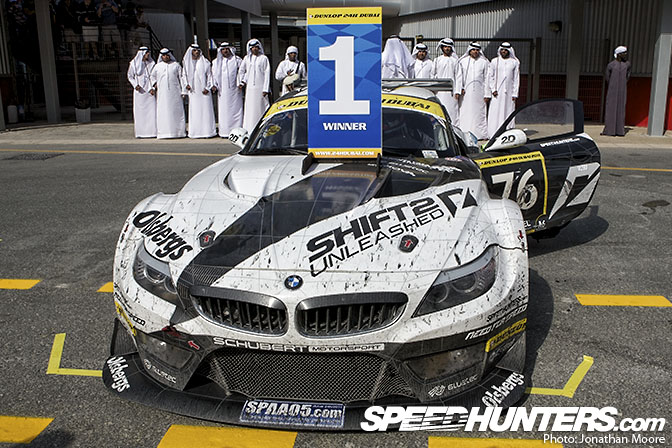 Tommy: You can see on the door just about the only scratch on the car. We all had a laugh as I tried to explain to Augusto and the rest of the team who was at fault for the damage on the drivers side door there. I just said that the car had to have a little damage somewhere!
BTW, I've never seen a car that's finished a 24 hour race and somehow managed to use all of the tire marks that litters the car actually as art. I'm sure Andy planned that well in advance. The car actually doesn't look that bad with all of the marks all over the car.
Edward: I've heard it was maybe the last race for this car in the team. Good way to end and thx for perfect reliability.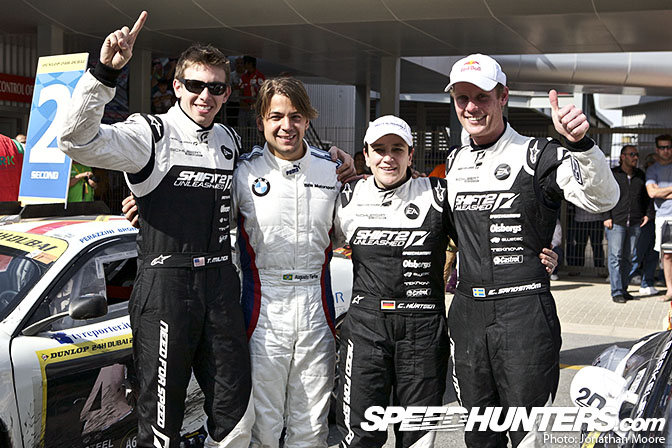 Tommy: 2011 Dubai 24hr Winners!
Edward: It takes one Swede, one Brazilian, one American and one German to do it!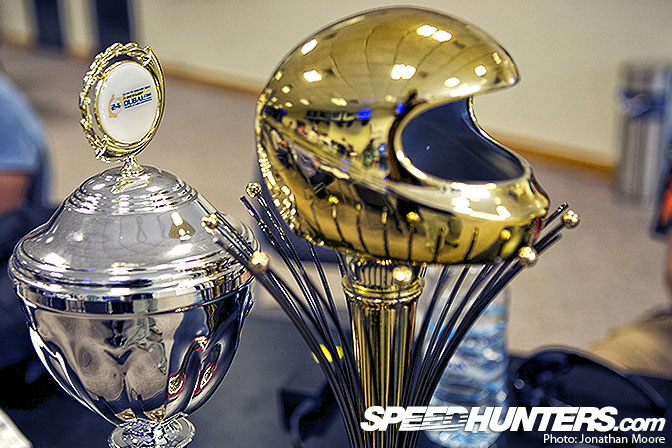 Tommy: Two great trophies to add to my collection. I need more of the ones with "First Place" on them. I've got enough "Second" and "Third".
For me, I had to leave that evening of the race and fly 14 hours back to the US to make it to Sebring Florida on time for my first test with Corvette Racing! Luckily the trouble we had getting to Dubai didn't follow us on the way home and everything went smoothly. Now, I'm focused on the ALMS season with my new team Corvette Racing and looking forward to putting a few more trophies like these on my shelf!

Edward: I had one day off in Dubai. Went up in the world highest building Burj Kahliffa and felt the trip to Dubai couldn't have been better. At the moment I'm on my way to Kall in Sweden and will make a test with a Porsche GT2 RS for a magazine on a frozen lake tomorrow. Fitness is also on the schedule really waiting for the season to take off. Patrick and I have a goal to win the championship  in FIA GT3 this year. Let's do it.