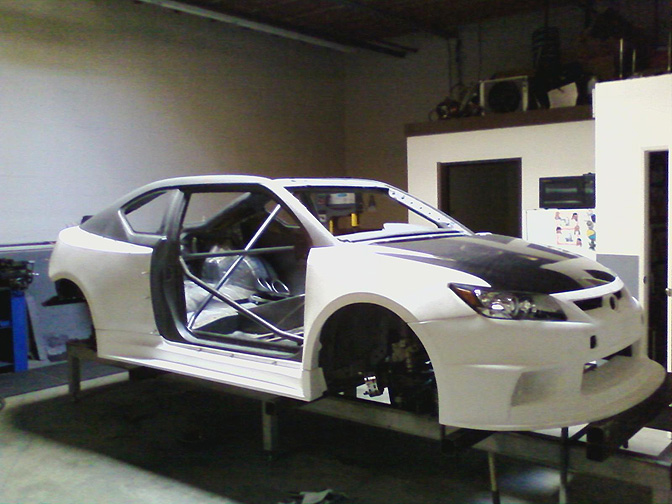 Dear fellow Speedhunters readers, I have some exciting news to announce. It's been 8 months in the making, and it has taken countless emails, phone conversations, long nights functioning in dual time zones and a handful trips traveling across the globe and back (although I've squeezed in some drifting in between)!
In one way it's just over, and in another way it has just begun. Today, I have officially become a Team Need for Speed drift driver, and I'll be driving the full 2011 Formula Drift Championship!
But there is more to it. I have been given a certain Tanner Foust's seat as his extraordinary career is currently geared towards international Rallycross and being a Top Gear USA host. Trying to look at it objectively, I consider Tanner and Papadakis Racing to have run the most successful team of Formula Drift over the last four years. Their drift program has been the benchmark and the idol of many – including me. I still can't believe what is currently happening… For me, WOW doesn't even remotely describe it!
Starting at the Formula Drift Round 1 in Long Beach, California this April, I will be driving the 2011 Team Need for Speed Scion tC. It's a new build that Papadakis Racing has begun and it's based on the 2011 edition of the popular tC. It will sport Toyota's 2AR-FE turbocharged four cylinder all-aluminum motor, a Jon Sibal designed body kit and there's even a few Supra parts thrown into the mix.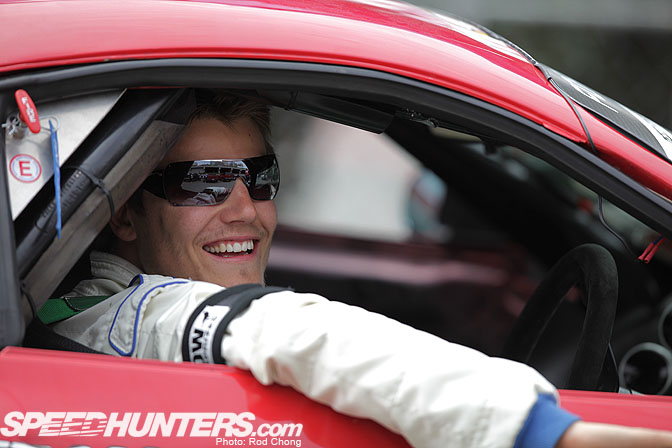 We just had to keep something from our 2010 Formula Drift ventures with the Japan Auto FSR Supra. Being helped, motivated, inspired and even physically pushed onto the track by fans, sponsors and friends from around the globe is such a priceless, extraordinary memory to have. It's hard to describe how it all felt, and how it still feels, but I will never forget what I experienced during the 2010 season. We became Formula Drift Rookie of the Year, I received the Hardest Charging Driver of The Year award and we won the Insane Entry Award at the Irwindale finals. And we did it in what some people would call a mildly seasoned Toyota Supra; he was battered, bruised and to some extent held together by zipties, rivets and duct tape. And his name is Chucky.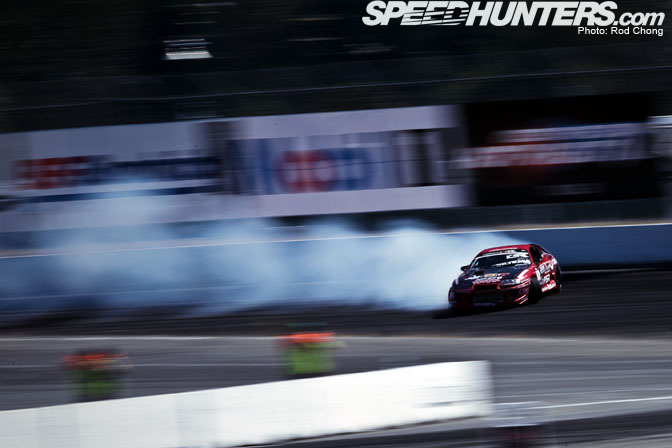 We did a couple of minor modifications as well as suspension upgrades to the Chucky Supra during the 2010 season, but it was still a fairly stock car compared to the rest of the field. It was still a good car though, and exactly what we needed. It did the job, and all I wanted was to go out there and give it all I had. Fuelled on by passion and a drive to see how far we could go, we went all-in. Sometimes it worked out, and sometimes it did not!
The reason that the Supra survived the season following the many crashes and bruises is entirely down to good friends putting in extreme efforts combined with sheer Toyota reliability.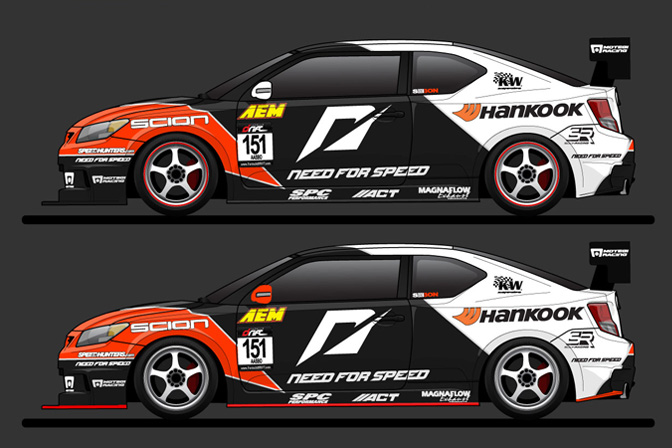 Considering the 2011 Scion tC is originally a front wheel drive car, Stephan Papadakis and the Papadakis Racing crew are modifying the car extensively within the boundaries of the Formula Drift rulebook. It's basically receiving the full treatment – it's becoming a proper race car carefully designed on the merits of a championship winning dream team. Needless to say, I am stoked out of this world to be allowed into such an operation, and I can't wait for the FD season to kick off!!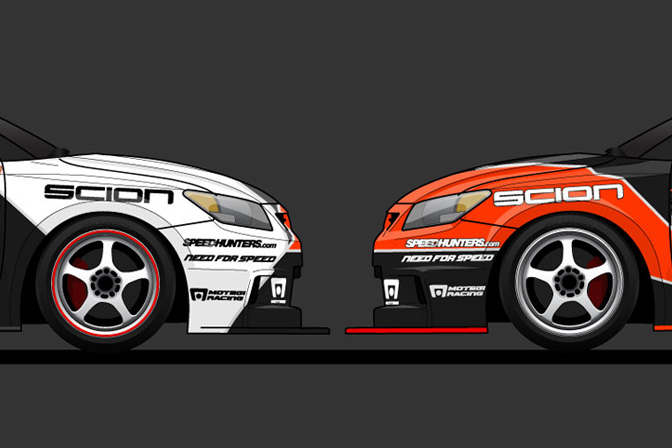 I'm really excited that I will be involving the Speedhunters audience in deciding on how some parts of the car will look. For example, do you prefer the all white rim or the red pinstripe?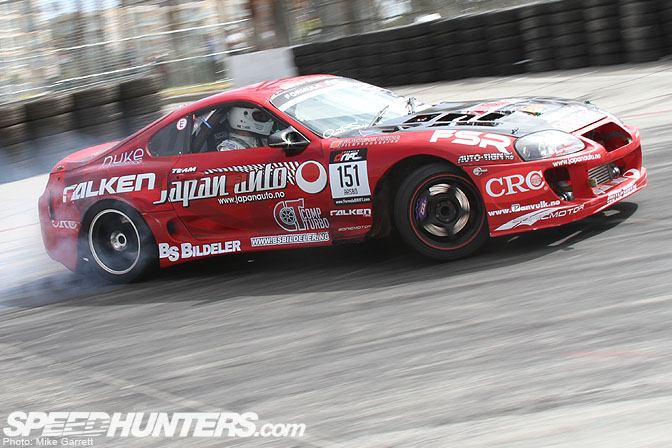 Despite being an inline four instead of a six cylinder, we are building the Toyota 2AR-FE motor for the tC in a way that should yield about the same characteristics as the 2JZ of the Supra. The motor is being stroked to 2.7 litres, and it's running high compression and a mild cam tune to preserve torque and driveability. Furthermore, we are putting in a Supra LSD similar to what we have in the Supra to help my transition even more. I am swapping from RHD to LHD for the new build – which will be a change back to what I am originally used to. I will be heavily involved with the new Scion tC build, and Stefan Papadakis and I have already had many discussions on my driving style and the specific things I would like incorporated into the vehicle.
I think the real challenge in adapting to the car and getting the most of it partly lies in getting all the small details right. Toe settings, steering geometry, and so on. More importantly, it's a case of getting seat time – with actual competition seat time being the best practice you can get.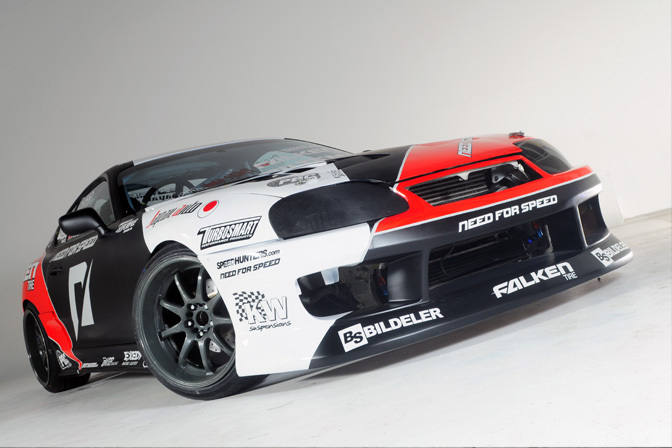 In addition to competing in the Formula Drift series, Team Need for Speed is preparing a European leg of its drift team. Our so called 'Euro Supra' is part of that team composition. I am delighted to announce that we will be running a couple of events in Europe this year under the NFS flag – one of those events being the Gatebil main festival in Norway in July!
For me, Gatebil was where it all started. A couple of years ago I was driving my old BMW E30 as hard as I could around the Rudskogen and Vålerbanen circuits. Gatebil is where my friends are driving the guts out of their wild Skylines, S-body Nissans, Audis and BMWs – I can't wait to be driving with them again.
First out, however, is the Formula Drift invitational event at the Yas Marina circuit in Abu Dhabi on February 25th. For the first time ever, drifting will be showcased at what is probably the world's most extraordinary racing circuit! The event will be streamed online via the Driftstream service.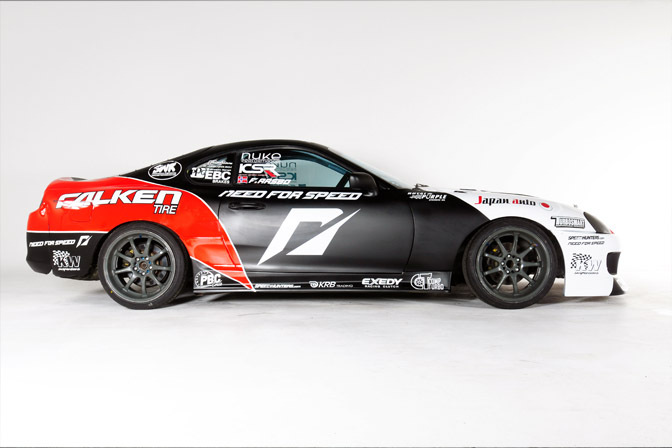 The Euro Supra, carrying its 2011 Need for Speed livery designed by car livery mastermind Andy Blackmore, is set to arrive in Abu Dhabi one of these days.As for our US Supra, I know some people would have liked us to continue campaigning it in the Formula Drift series. Keeping that in mind I just want to say that there is a time for everything. I've always been in drifting to learn, and I still am, and when I get a chance to learn from the best in the business… Then I hope you understand that is what I will pursue. To me, working with the likes of Team Need for Speed, Papadakis Racing, and staying true to the Toyota family through the Scion brand is a match made in heaven!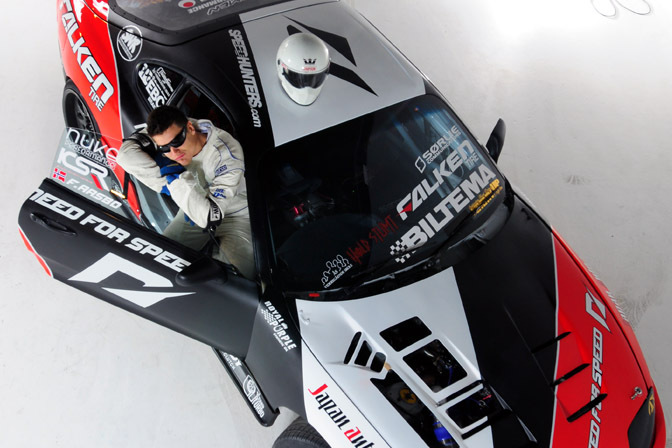 The only thing left to be seen, is whether the driver does the team justice…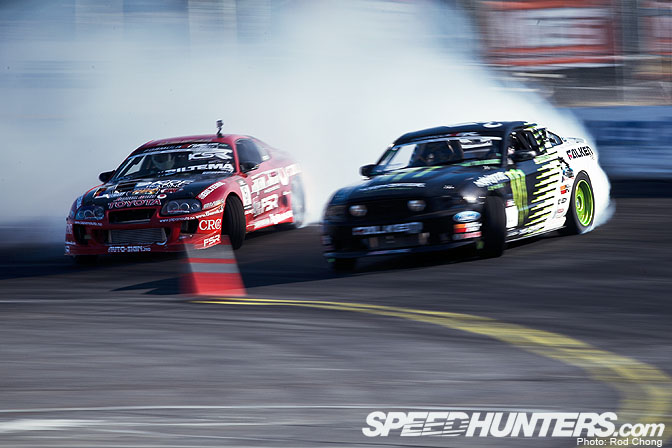 There is no secret that the Formula Drift championship is more than slightly competitive. It's a field of two faced Jekyll & Hydes – the camaraderie off track is simply unparalleled in the world of racing, yet on the track, when the lights drop, you're entering a battle zone.
And that's what I love about all of this. Out there, during the 20 to 30 second duration of the run where you battle your opponent, nothing else matters. It might not be such high stakes as a good ole' cowboy revolver duel, but sometimes, it feels like we are pretty close to exactly that. Maybe that's just me. Nonetheless, I feel like we have a good view to hone the weaponry this year.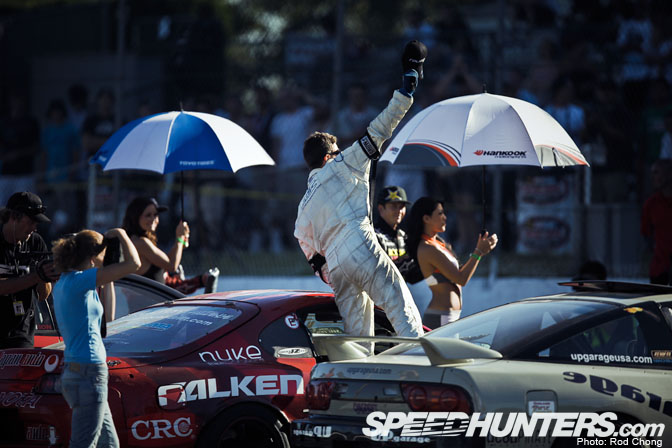 I would never have gotten here if it wasn't for all the people supporting me along the way. If it was not for Japan Auto giving me the opportunity to build and run the Supra back in 2008, all my friends and associate sponsors stepping up along the way and FSR Motorsport Creations offering all they had to help us out in 2010, I wouldn't have been even remotely able to dream about an opportunity like this. Most of all, I am deeply grateful for all the support you guys and girls have shown me. I owe it all to you.
I have gotten countless messages and greetings from all around the world following our drifting ventures over the last couple of years, and I am overwhelmed by all the positive feedback. Sometimes it feels undeserved – I am just doing what I love and I can't understand why I am so lucky to be supported to such an extent. At the same time, it is very heart warming if what we do inspires people around us. The thought of inspiring others is such a grand inspiration in itself it's making me look forward to the season even more!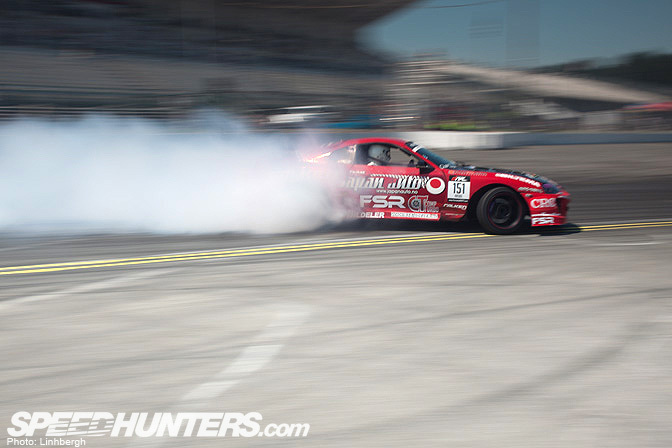 One of the things I look forward to the most is hitting the track practicing with team buddy Matt "Mattley Crue" Powers. We share the same drifting ideals (as well as taste in music, although Matt brings that to a whole new level!), making us push ourselves in the same direction.
Furthermore, Steffen, my right hand and "partner in grime" throughout the 2010 season is onboard the new team constellation. He will be keeping track on me from the spotter tower, continuing where we left off after the 2010 season. We are still set on our step by step approach in working hard to learn the game and eventually get closer to what it's really all about: kick ass driving.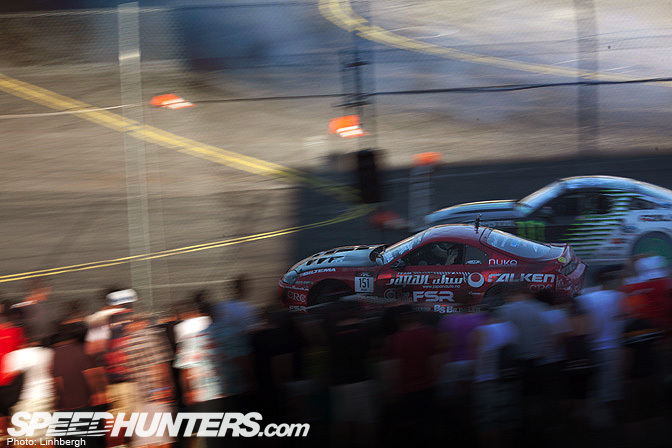 My first goal is to get comfortable in the car. Secondly, it is to get up to speed and proximity to opponent and the clipping points in both lead and follow runs. And then – I have to admit it – eventually a podium will be pretty frickin' awesome.
My parents have modestly asked for one of those carbon fiber vases to decorate their living room… And although I've told them those kinds of vases aren't that easy to come by, I am definitely on the hunt for one.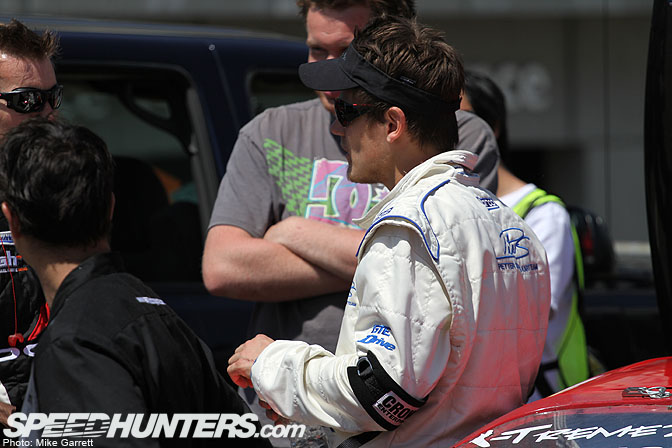 All in all, there is a lot of thinking and mental preparations going on over here right now. Partly, I am assisting Papadakis Racing and Scion in preparing the tC in a way that works for all of us and suits me as the driver. Furthermore, my travel itinerary for this month is pretty compressed: Norway, Spain, Morocco, Norway, Canada, Norway, Abu Dhabi, California. I am getting introduced to the whole Need for Speed universe and everything that surrounds it. Sometimes it feels hard to grasp what is real and what is not, and being in the middle of the most integrated racing game franchise has been a wonderful experience. One day I'm driving Vaughn's Mustang at Irwindale Speedway in SHIFT2; the next I'm battling him in real life on the streets of Long beach. And both events feel live – or fictional – it all depends how you view them. Sometimes I have to pinch myself that this is really happening.
To every single one of you, be sure to pop by if you see me in the pitlane. For me, getting to drive the Team Need for Speed Scion tC in the Formula Drift Championship is way beyond a dream come true; it's the opportunity of a lifetime. I feel extremely grateful to have the support of some of the most accomplished people and companies within the sport of drifting. At the same time, I realize I have huge shoes to fill and a long way to go, following in the footsteps of quite possibly the best Formula Drift driver this far: Tanner Foust. Remember, I'm just a guy from a small town far away, and I'm taking on a challenge unlike anything I've ever faced before.
There is a saying in motorsports that goes like this: The only thing certain, is that nothing's certain. What I can assure you, however, is that I will give this team absolutely all I've got… And then some. And I promise to do that for all the fans, every single time I go into a battle.
Yours truly,
Fredric