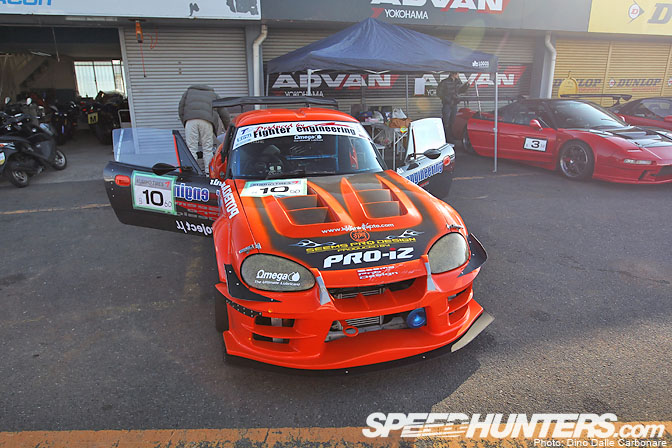 Weighing in at only 725 kg in stock form your can imagine the Suzuki Cappuccino is quite the fun little car to drive, despite only 63 HP at its disposal. Of course once it's stripped out and modified to produce over three times its original power then it becomes something else all together. As soon as I saw the tiny orange ER11R from Fighter Engineering I knew I had to run a spotlight on it, as this was unlike any other Cappuccino I had ever seen.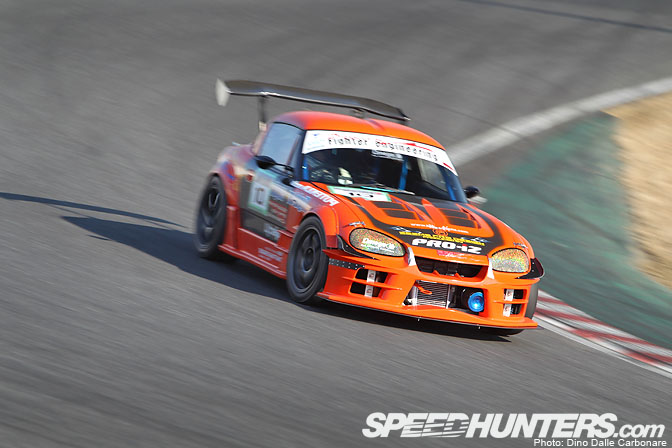 Out on track it managed laptimes in the 1-minute 7-seconds, which is barely believable…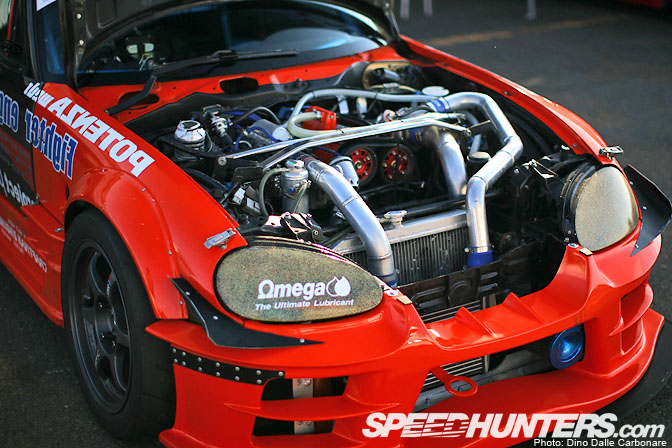 …until you take a look under that lightweight vented hood. The F6A 3-cylinder powering it has been stroked to almost 800 cc and now revs to 9,000 rpm. Force-feeding it air is an upgraded turbocharger which supplies enough boost to allow the tiny engine to pump out as much as 205 HP.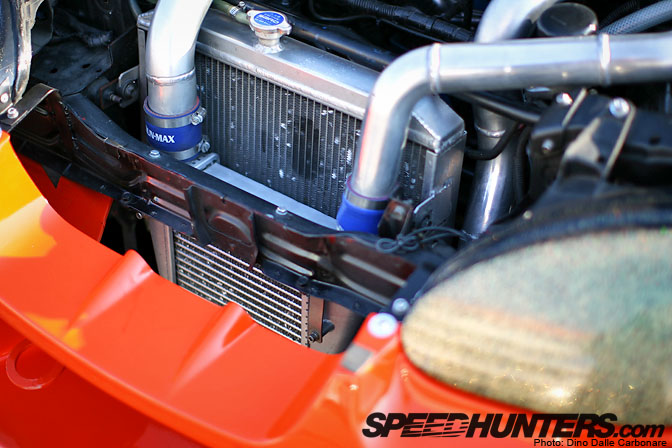 Pretty much everything has been upgraded and here you can see the racing radiator with the tiny intercooler directly in front of it.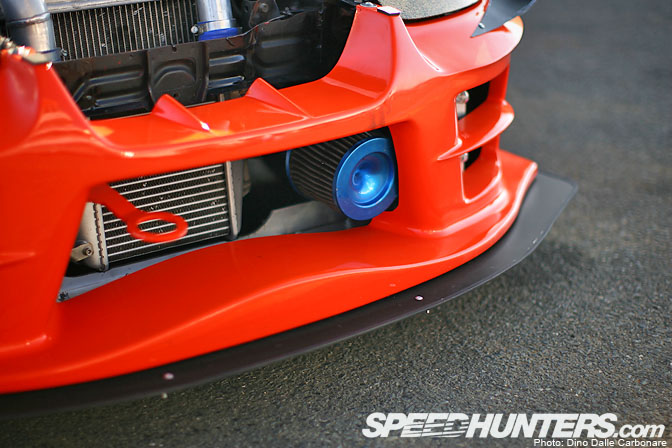 The placing of the air filter is optimal for that "ram-air" effect.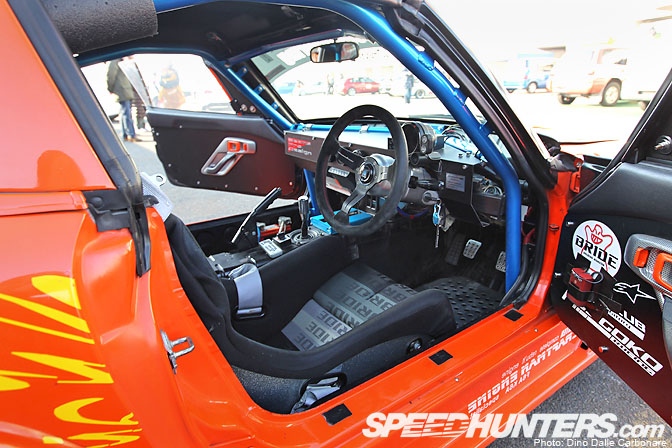 The interior is fully stripped out with only a Bride bucket seat for the driver while the Cusco roll cage adds safety in case of a roll, let's not forget it is a convertible after all and that hard top is very flimsy.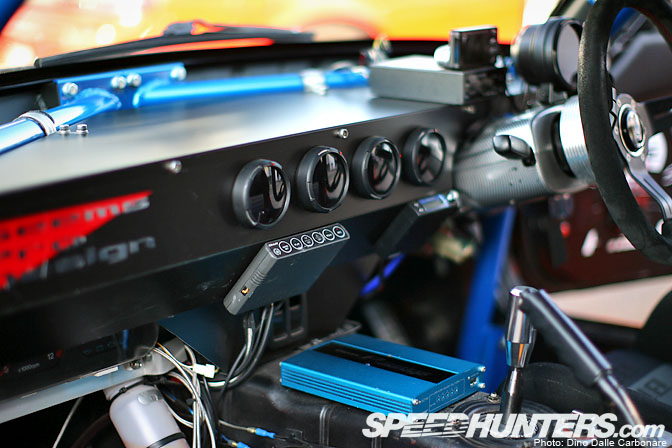 The stock dashboard has been ripped out and a custom aluminum one created in its place. This is where all Defi gauges and additional instrumentation are fitted. You can also see the GReddy ProfecB boost controller and GReddy e-manage piggyback ECU.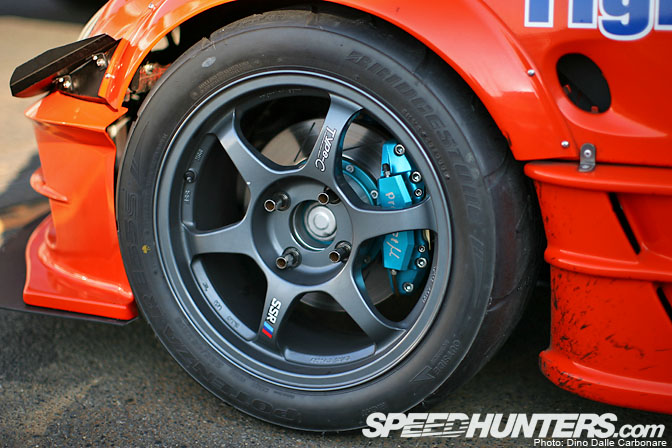 Lightweight 16-inch SSR Type-Cs are shod in 225/45 super-sticky Bridgestone RE55S semi-slick rubber for optimal grip. 4-pot Project µ calipers up front help slow the little Cappuccino down.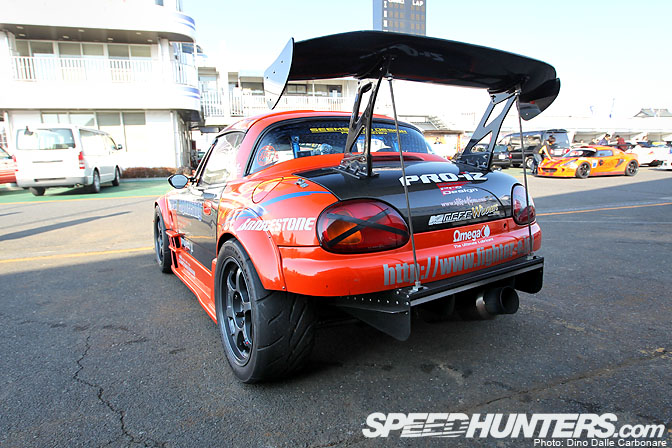 Is this the wildest rear wing ever? Probably! It's even braced on the custom rear diffuser! The almost central exhaust silencer is also very cool.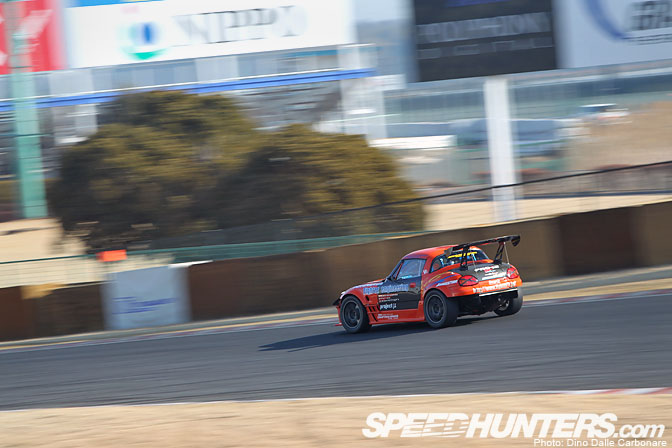 It's cars like these that make grassroots time attack sessions some of the best events in Japan.
-Dino Dalle Carbobare