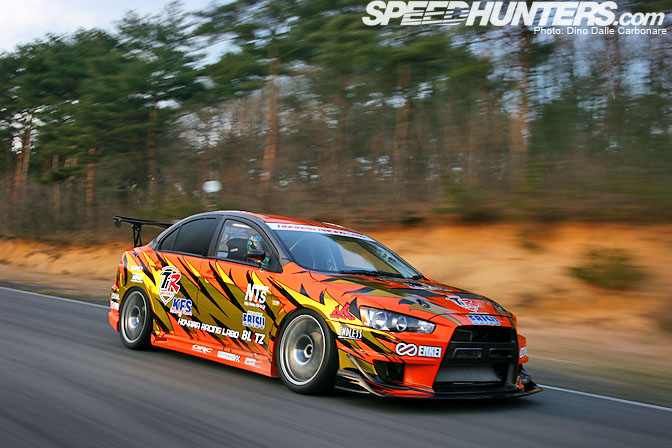 It's funny how when the Nissan GT-R and Mitsubishi Evolution X were released both manufacturers claimed it would be almost impossible to tune them. The Evo in particular was quite the curious replacement. Unlike the GT-R, which has enough power out of the box to not even require tuning, the CZ4A felt like a bit of a letdown compared to the 4G63-powered previous generations. Don't get me wrong, it's a very capable car, in fact I remember when Mitsubishi flew me out to Hokkaido to sample the new car back in 2007 and I was very impressed with its handling and S-AWD. But not the motor. In stock specification the all-aluminum 4B11 is slightly uninspiring, trading the explosive mid-range of old Evos for a very German-feeling liner torque curve. And the top end wasn't any better. But time has passed and tuners have been very busy developing parts for this new engine…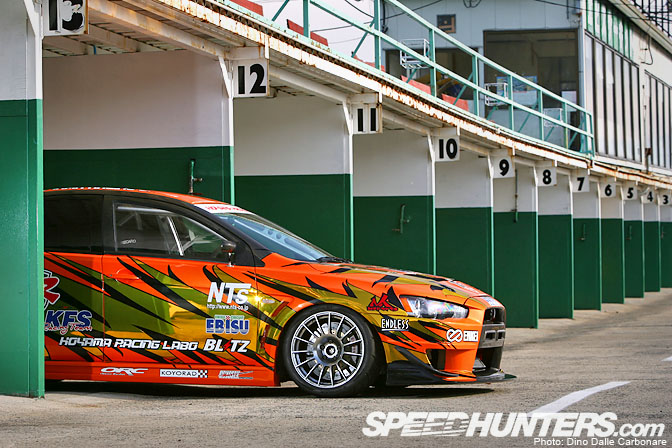 …and like we all know they have all come a very long way! The biggest surprise in Evo X tuning however, came out of nowhere. It was at the Rev Speed Lap Battle in 2009 that a very curious looking orange CZ4A showed up, recording a rather impressive time of 58″368, finishing 7th overall.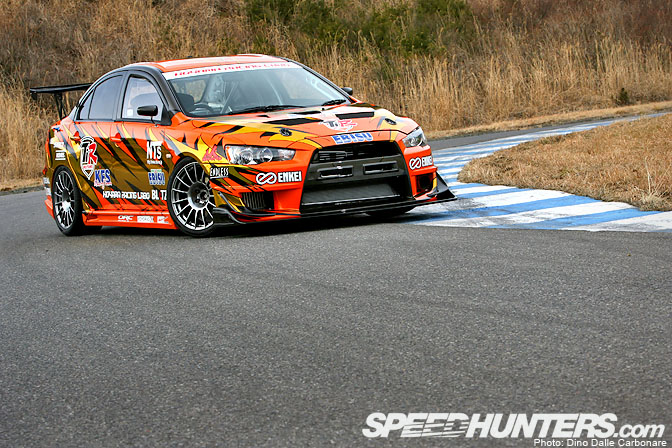 It was only out for a shakedown test but people quickly took notice.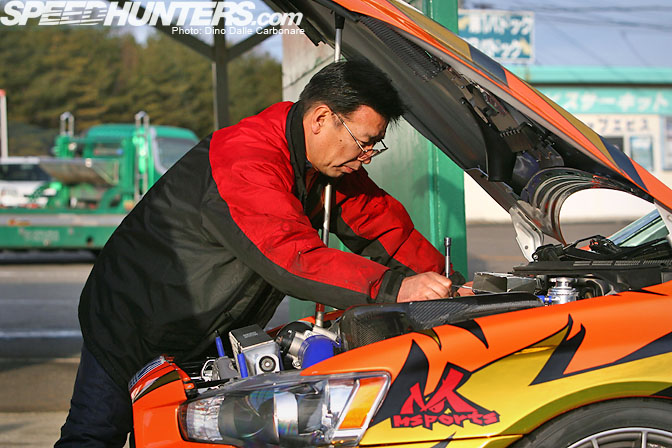 Once I spotted none other than Susumu "God Hand" Koyama working away under the engine everything began to make sense. This Evo X was the first car that Koyama-san built after leaving JUN, the first creation of the all-new Koyama Racing Labo.  I met Koyama-san back in 2004 when I shot a few of his wild creations at JUN Auto Mechanic and when I followed the build of Kumakubo's D1 Impreza. He is known in the industry as nothing less than a tuning guru; he knows engines inside out and has helped develop some of the best products on the market. On top of this he handled some pretty incredible one-off projects like the JUN Akira Supra, the "Hyper Lemon" GT-R, Evo and Impreza and the 4WD Z33 time attack car. Needless to say when I saw the Evo X for the first time at Tsukuba, I knew I had to get a closer look so I headed up to Ebisu Circuit…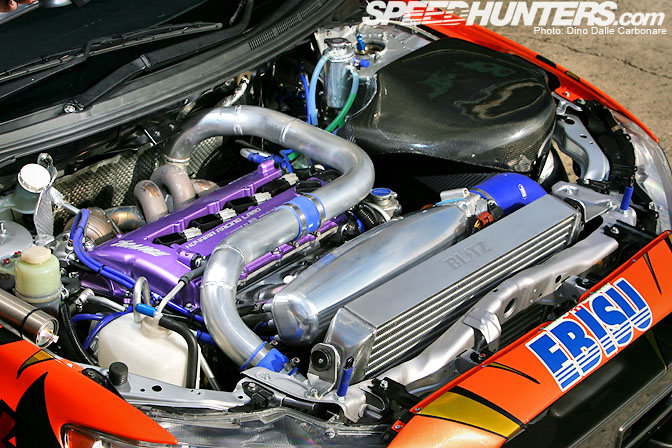 …to meet Koyama-san during another set-up session of the car. This all happened early last year, before Koyama-san's medical problem occurred. Kumakubo and Suenaga at Team Orange reassure me that his recovery is proceeding well so I hope you can all join me in wishing him the best of luck during this hard time. In the mean time, checking out this impressive Evo X is probably the best thing we could do, helping him remember that the world is waiting for him to get well enough to start working on cars again!  Koyama went all out on the 4B11, strengthening the block and throwing in an all-new 2.3L stroker kit he developed. The head was ported and polished over at NTS and fitted with special Koyama Racing Labo (KRL) cams, 264º on the intake, 272º on the exhaust side. An externally gated Blitz/KRL prototype turbocharger was created and dropped onto the custom exhaust manifold. To counteract the massive heat build-up around the turbo, due to the orientation of the 4B11 (180º from the 4G63 position), Koyama created a special baffling system that directs air from the hood's intake onto the turbo and manifold. This was removed for the pictures as it covered up all the interesting bits!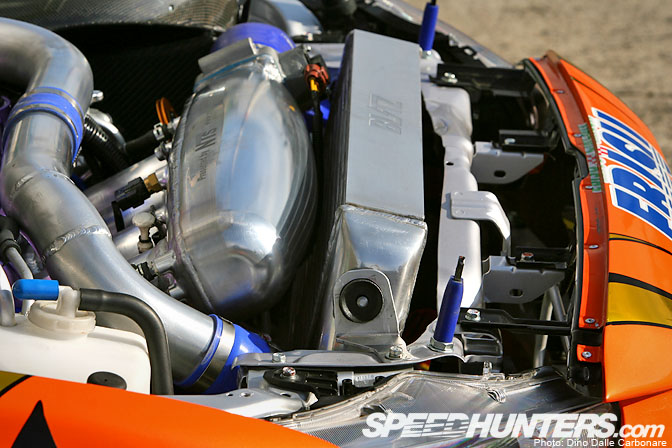 To give a slightly better throttle response the custom Blitz intercooler was mounted as close as possible to the engine, keeping the piping short, resulting in a pretty wild looking engine bay. NTS machined up a one-off intake plenum on Koyama's design, helping to supply a vast volume of air equally to each of the four cylinders, through the NAPREC 80 mm mechanical throttle.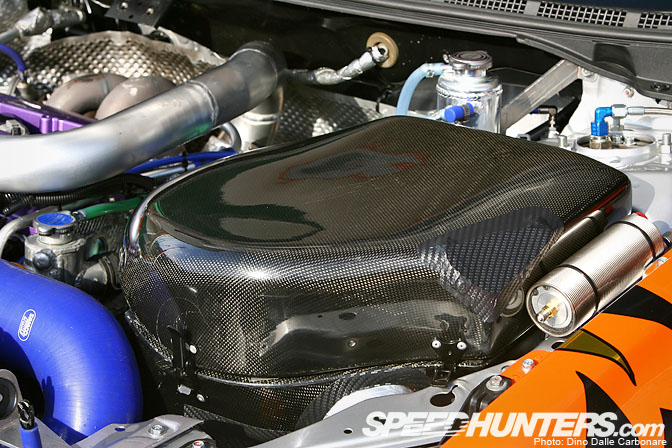 Keeping intake temperatures as low as possible is the carbon air box, yet another custom part. Running around 1.6 bar of boost the 2.3L 4B11 develops 600 HP, but being a time attack car it was the torque that Koyama fine tuned, managing to extract 485 lb ft and make it as flat and as accessible as possible. The stock 5-speed transmission which comes with the RS version of the Evo X, was modified with a KRL shorter 5th gear ratio (0.82) while all cogs and components where given a "micro-finish" coating at NTS. ATS carbon LSDs are fitted front & rear while the ORC twin plate completes the driveline upgrades.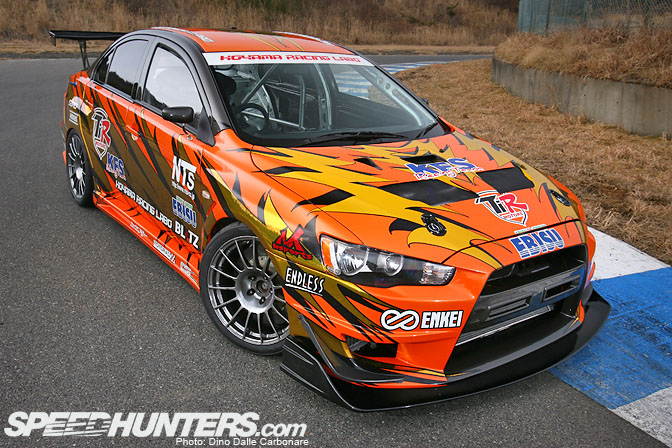 The exterior is almost identical to the Evo X Kumakubo drives in D1, wearing a full M-sports aero kit along with Top Mix carbon fiber front and rear doors and a KRL FPR hood with a special turbine-cooling duct.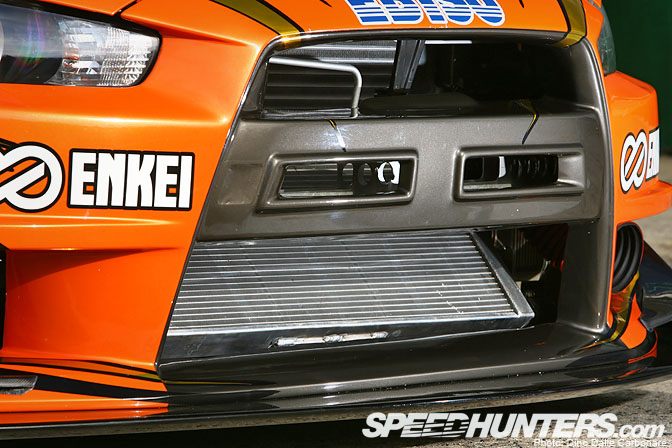 You can see how the Koyo radiator has been tilted at a 45º angle to allow the intercooler to be positioned like we saw above. It is almost a V-mount set up.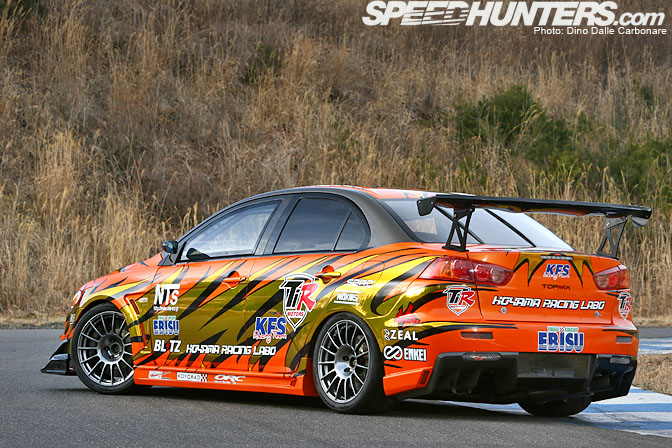 The rear Sard carbon wing helps keep that rear end planted!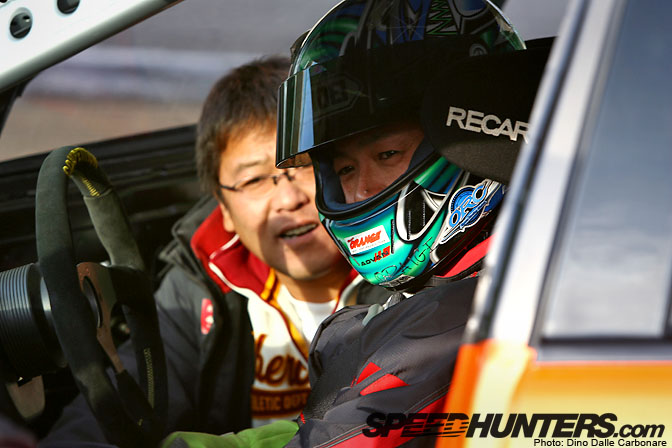 Suenaga and Kumakubo where present at the test, Suenaga taking care of driving the Evo hard around Higashi circuit. He actually drove the opposite way around the track at times as one section was blocked off by snow. After a few hot laps he jumped out of the Recaro driver's seat screaming it was scary fast! This from a D1 driver that spends most of his time sideway sat 100 mph!!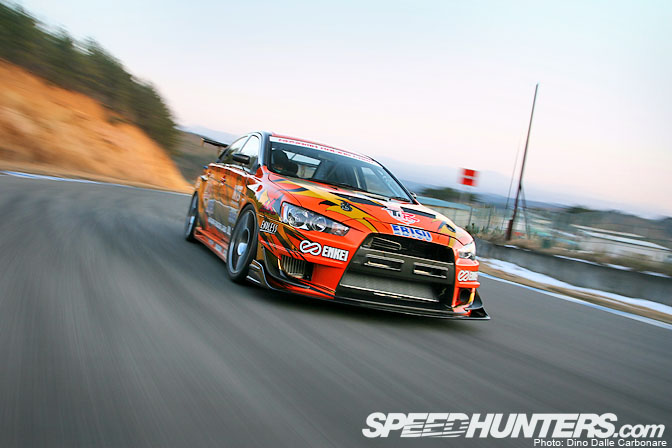 If you saw this view in your rearview mirror you would move out of the way pretty fast!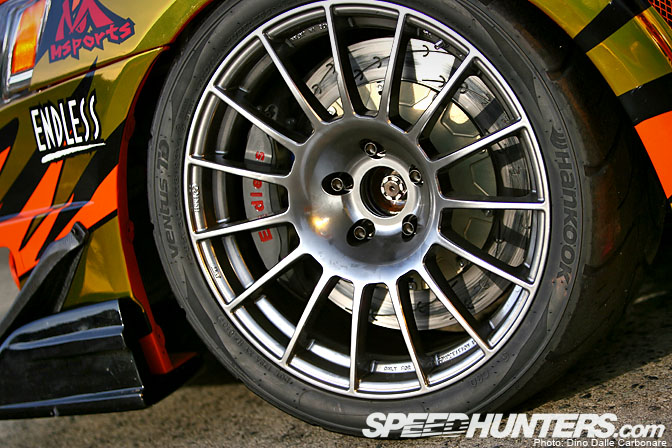 On such a potent car the stock Brembos were just not going to cut it so Koyama went with a full set of Endless monobloc calipers, 6-pot front and 4-pot rear for the ultimate braking performance. The fronts just manage to squeeze inside the 9.5Jx18″ Enkei Sport RC-T4s. Like more and more time attack cars Hankook was the tire of choice, semi-slick Ventus TDs in 285/30/ZR18 at all four corners. It's also good to see Koyama didn't limit himself to 265/35/ZR18s as every one in Japan seems to do for some odd reason!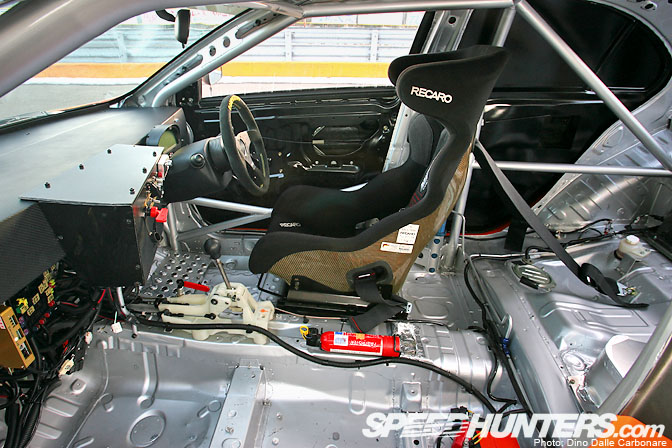 It's pure race car inside; the stock dash is gone and replaced with a custom unit that helps push the driving position back a little so that the Recaro bucket can be in line with the B-pillar. The chassis was fully stripped, seam welded and fitted with a custom roll cage and even air-jacks to help make pit stops a little easier.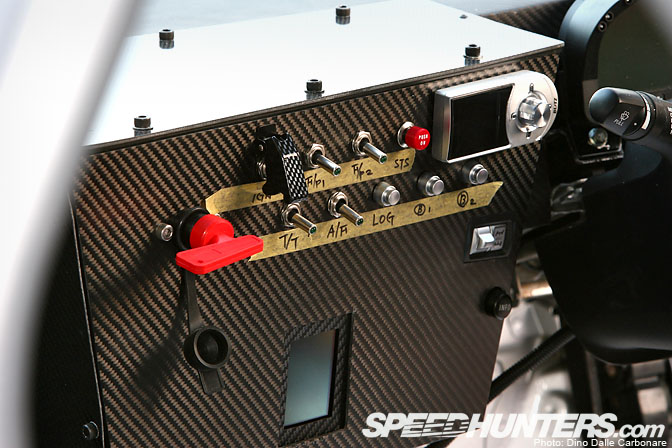 A closer look at the carbon switch panel where all of the electrics have been moved to.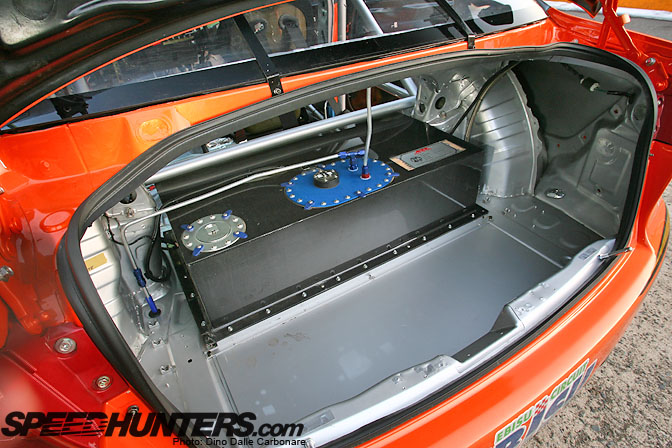 Feeding the four 1000 cc/min Sard injectors is the large Sard fuel pump, which sucks up high-octane gas from the huge 120L endurance racing tank in the back. The car will be eventually raced in the Macau GP, it was supposed to in 2010 but unfortunately Koyama-san had his health issues and the whole project was halted.
With cars like this and all his previous creations and achievements it's easy to understand why people began calling Koyama-san "God Hand!"
Get well soon Koyama-san!!
-Dino Dalle Carbonare