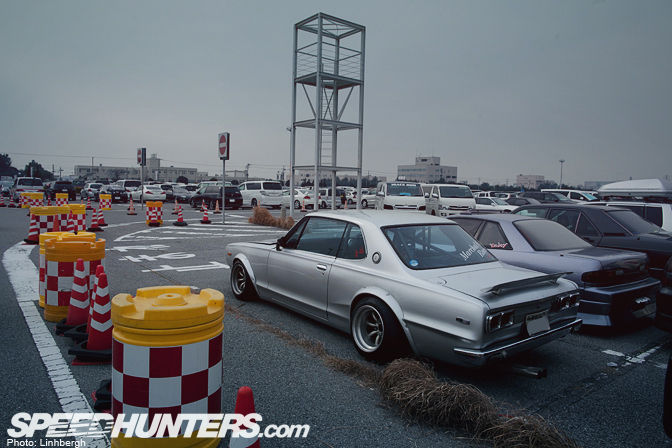 When I found out I was heading to Japan for Tokyo Auto Salon, Rod mentioned that I needed to spend some time checking out the TAS parking lot. Soon after my arrival Japan, I met a few people that kept mentioning the TAS parking lot and how amazing it is every year. Some of these people spoke of spending hours just gawking and drooling.
So last Saturday, I took the train from Shinjuku, where my hotel was, to Makuhari Messe, not to attend TAS, but to check out this parking lot. I was not disappointed.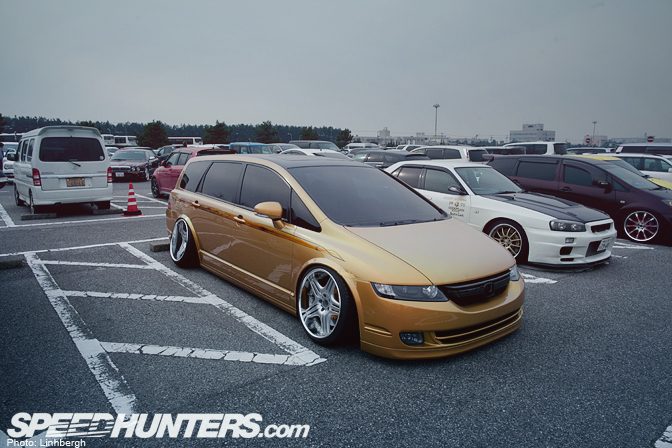 The parking lot was a ricer's dream come true. It was like living in Mike Garrett's old Auto Otaku blog, or experiencing Dino or Len's Japanese adventures in real life. This JDM Honda Odyessy was one of the first cars I saw. In the same picture, you can get a glimpse to what other cars can be found in the parking lot.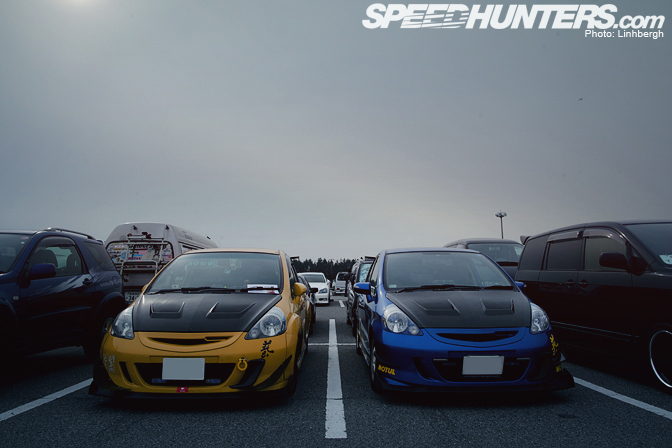 A pair of Honda Jazzes (or is it Jazzi?).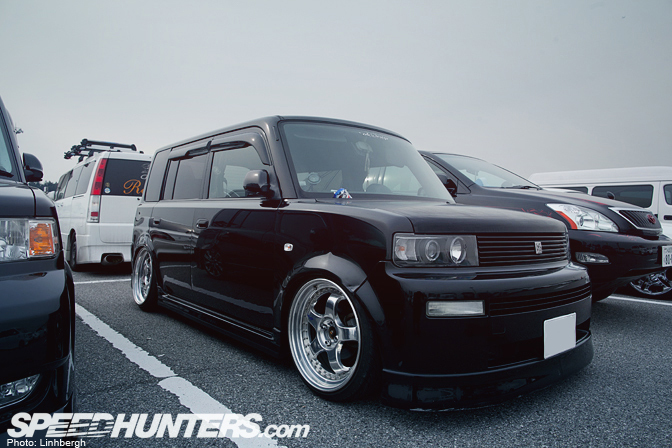 A really nice and clean example of the Japanese counterpart to the Scion xB, the Toyota bB, on a set of full polish Work Meisters.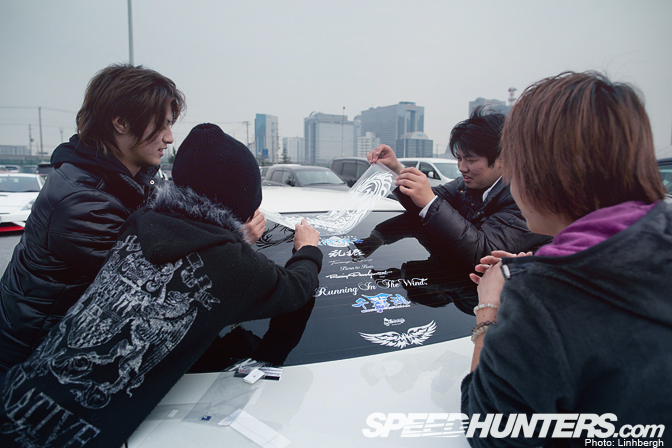 While I was busy walking around in the automotive equivalent to a candy store, I couldn't help but notice a group of Japanese youngsters putting on a new sticker they just purchased at TAS.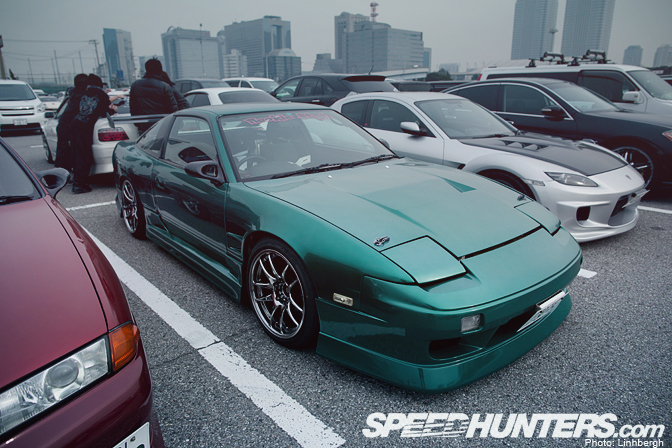 Just behind those youngsters was this green S13 that seemed to have a good balance of form and function.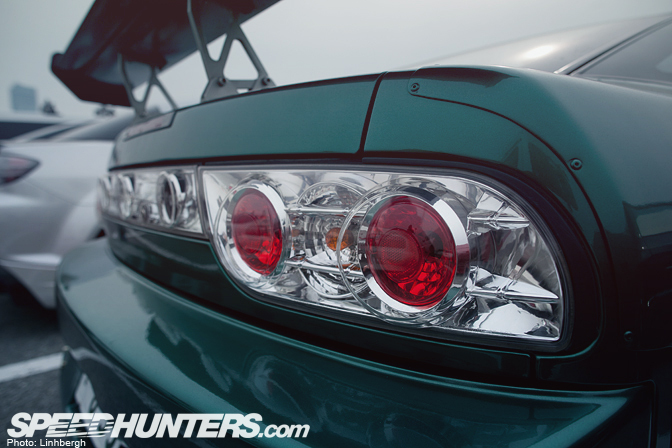 Though the Euro tail lights is all form.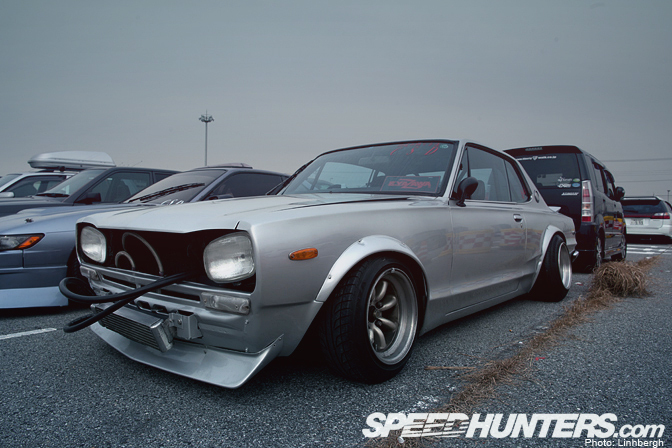 Now, imagine walking around taking photos of cars left and right, then hearing the recognizable sound of the Godfather theme being produced by a set of air horns echoing throughout the lot. As it continued to play on and on, I investigated the source. To my surprise, it did not come from a full-blown shark nose bosozoku car but instead this rather slammed, yet somewhat clean, Hakosuka on a set of Watanabes.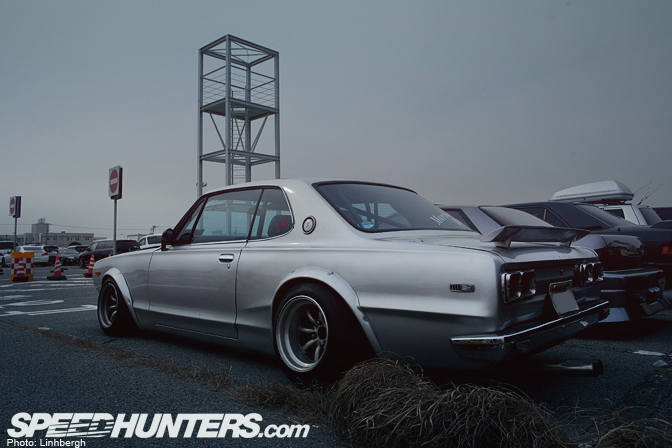 Gosh this is a good looking car. Especially being as low as it is.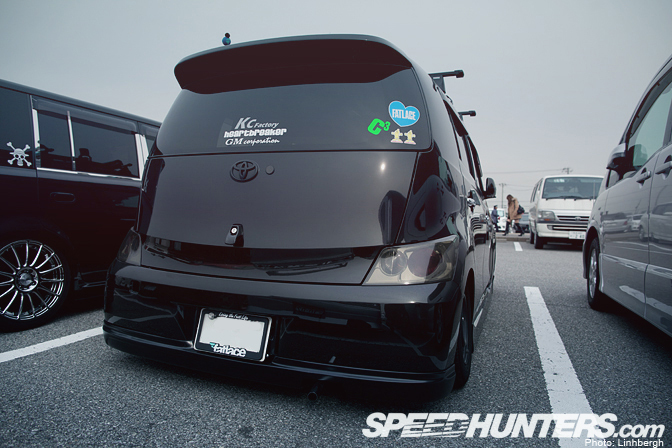 I was surprised to find so many Western styled cars in the lot. These Japanese are very good at the little details. Take for example this 2nd gen Totoya bB, the Fatlace stickers on the rear windshield, the Fatlace license plate frame….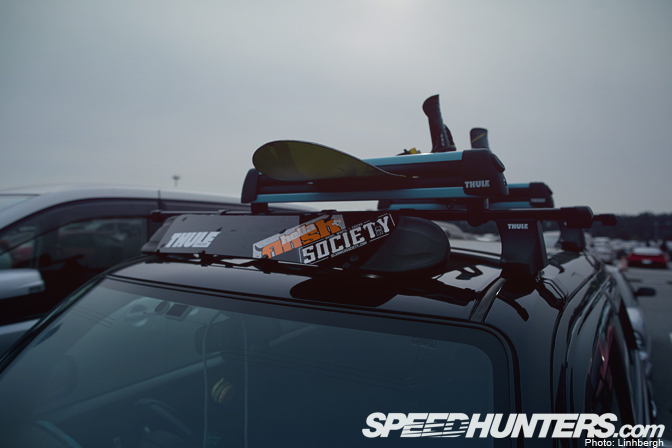 …and the roof rack with Hellaflush and Slammed Society stickers.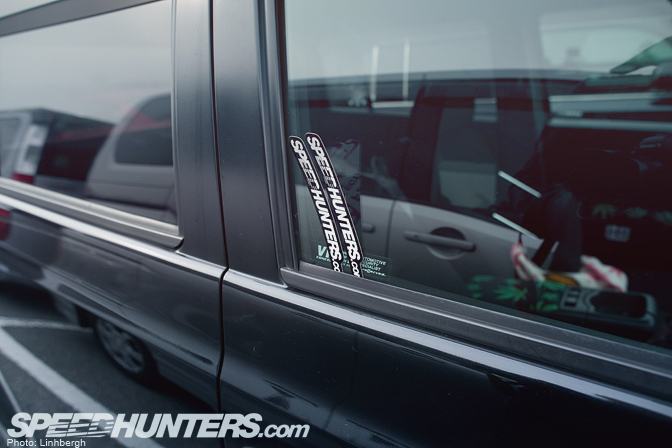 Seeing how they seem to be big fans of Western culture, it's safe to assume that they know what Speedhunters is. So I left a pair of stickers.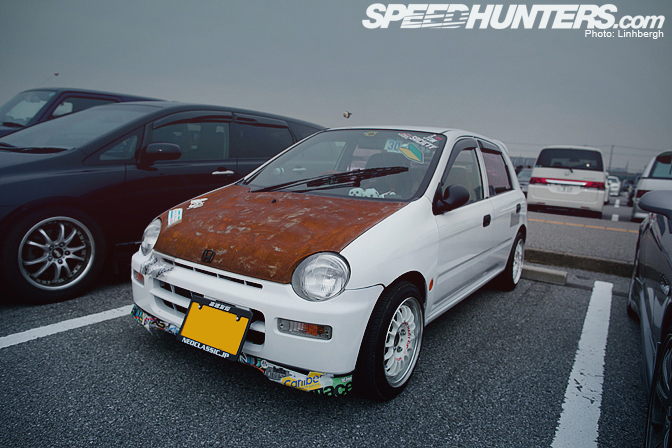 Here's another western styled car. This time a Honda Today kei car and again, it's all in the little details; the rusted hood, the stickered up front lip…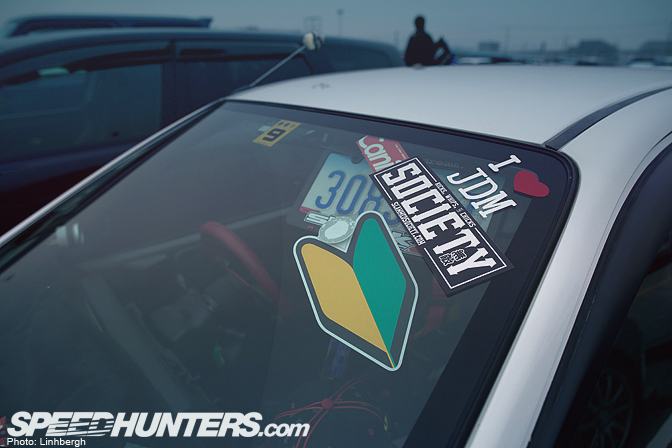 …I love JDM sticker, Slammed Society sticker, Canibeat, a California license plate with Skunk2 license plate frame, and the JDM soshinoya (new driver) leaf.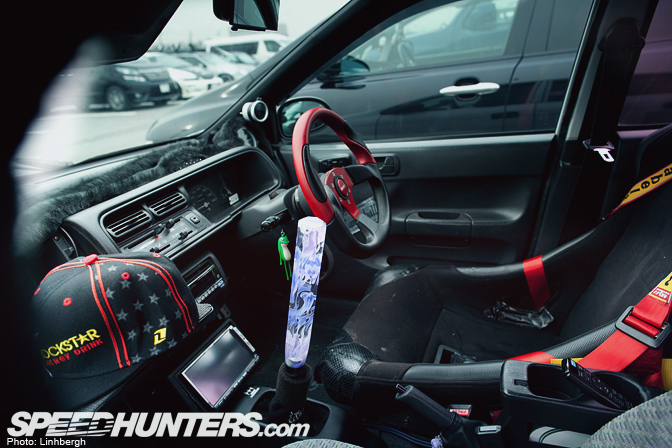 Even the interior seems to have been westernized. I just love the crystal gear shifter. It's Japanese car styling that has been exported to the west, and then imported back into Japan. Amazing!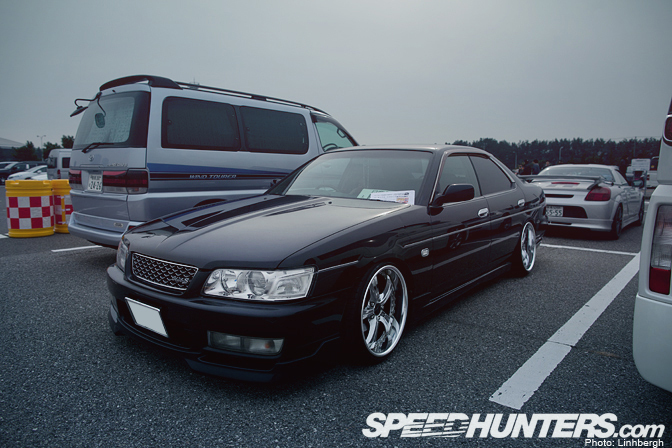 A pretty clean C35 Nissan Laurel, VIP style.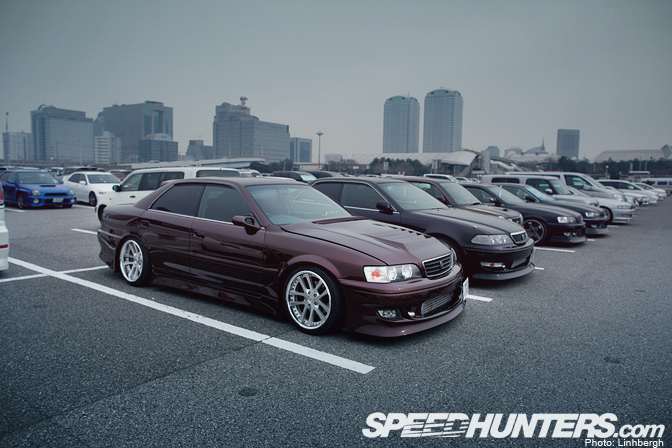 Here's a Chaser that's more in the drift style. It saddens me to think that we don't get these amazing sedans in the states….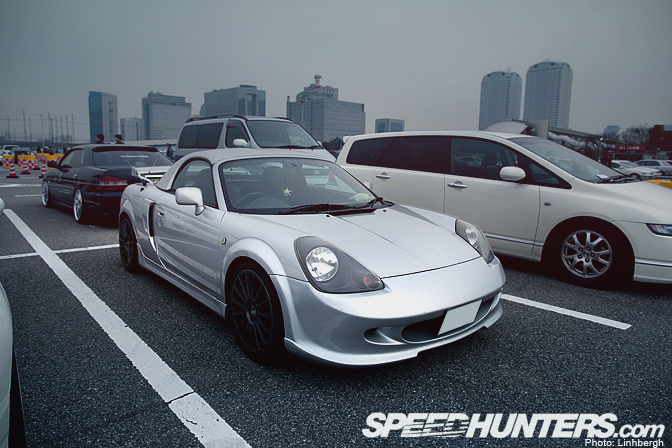 The Toyota MR-S is a car that seems to not have too big of a following in the western world, and also in Japan. Still, these little cars have a nice cult following.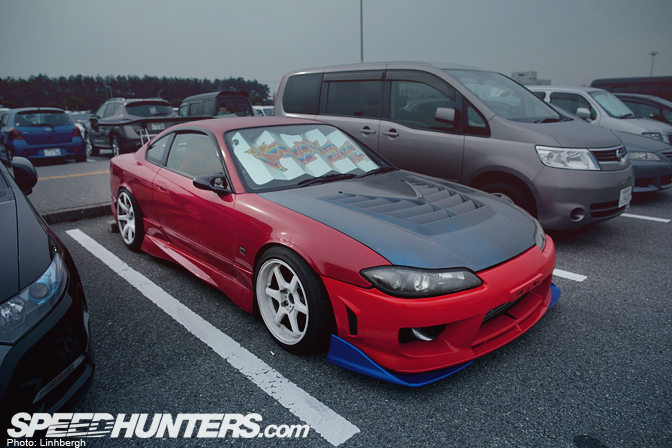 A drift spec S15 that looks like it has already went through a few bumpers.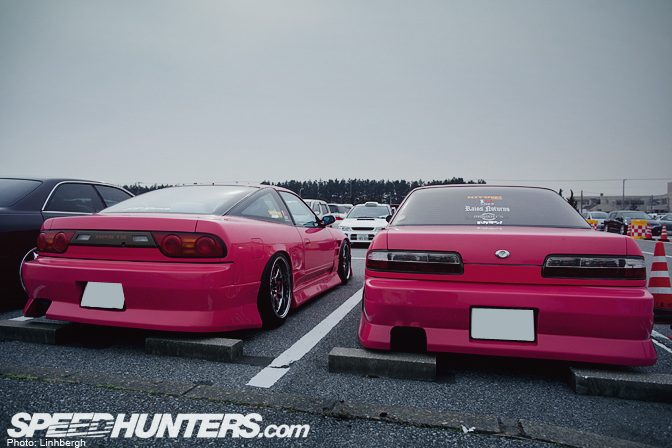 Standing out from the gloomy day in Tokyo was this pair of pink S13s.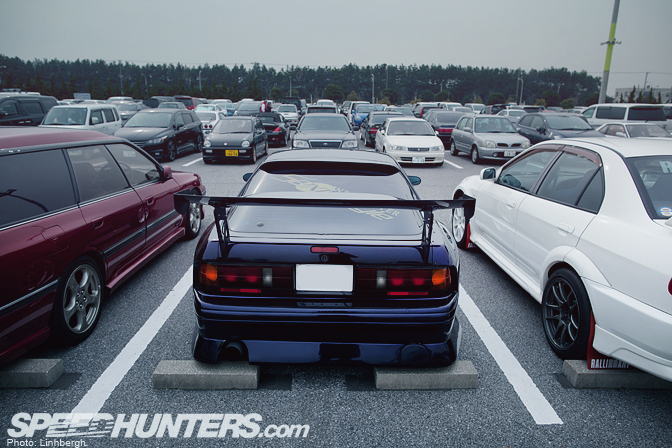 That's a nice butt on this FC RX-7. Sights like this are normal while walking the TAS parking lot.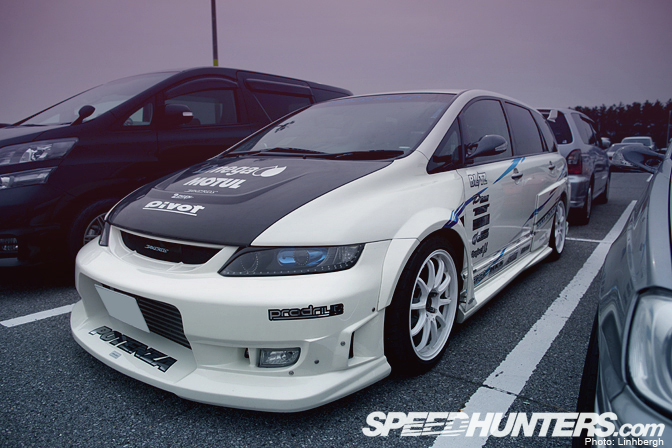 This Honda Odyessy looks to be sporting the same kit as the Takero's time attack Odyessy though it has the looks on the outside, it still has retains the stock interior.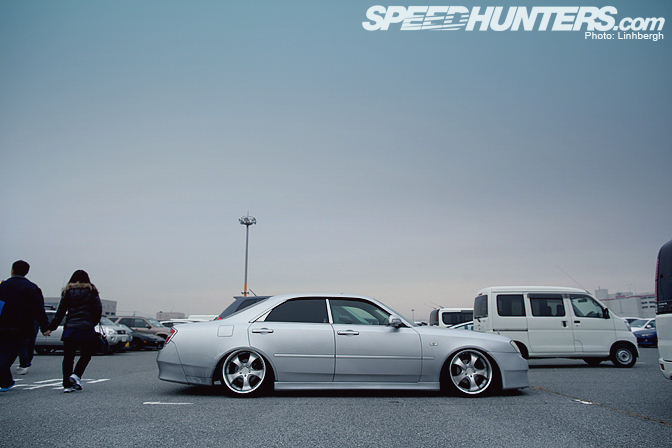 I fell in love with this slammed Y34 Nissan Gloria.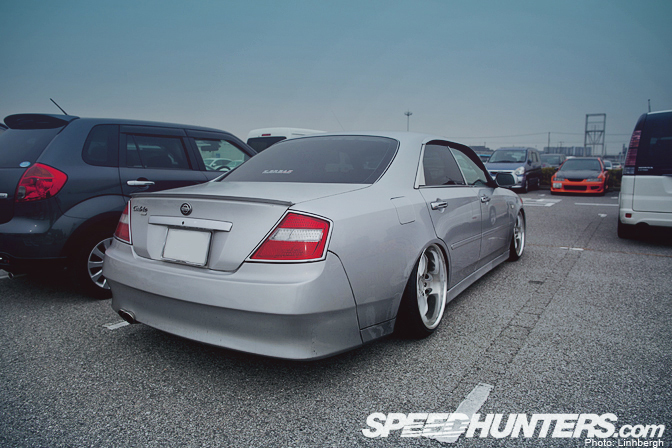 It especially looks good from the rear 3/4.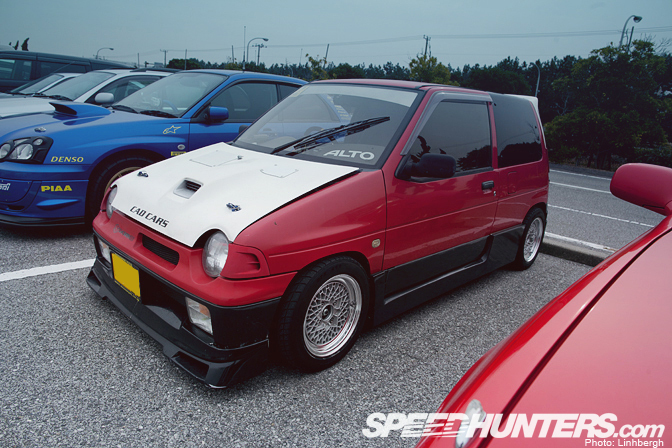 Kei cars were also dime a dozen in the parking lot. I took quite a liking to this Suzuki Alto.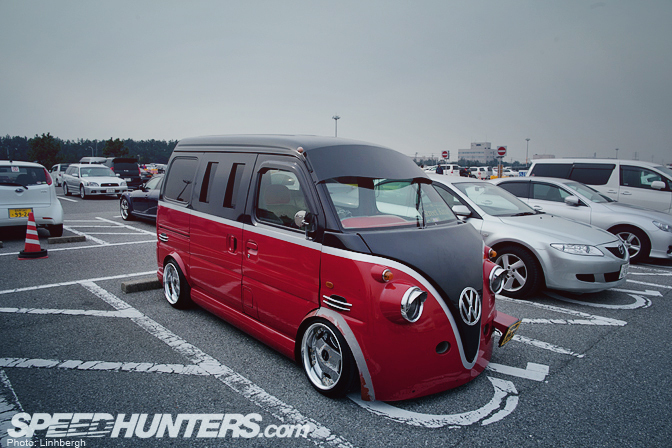 Not quite sure what this Kei van started off as, but the VW Bus conversion is amazing. If you ever wanted to know what a VW Bus would look like with VIP style wheels, this is it.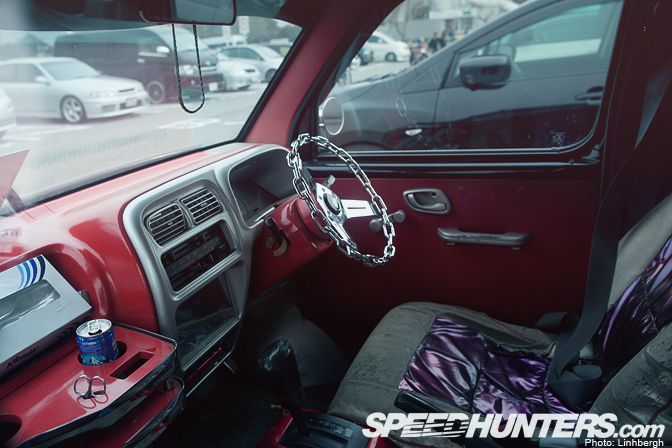 It's interior is just as wild as its exterior.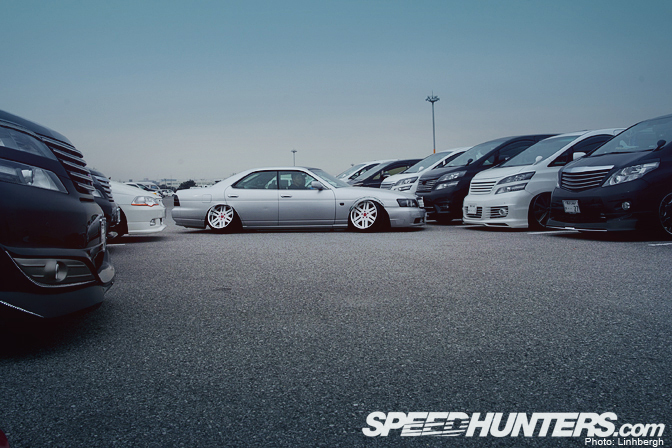 As I was taking photos of a few cool vans, I saw a super slammed sedan pull out from its parking spot from the corner of my eye.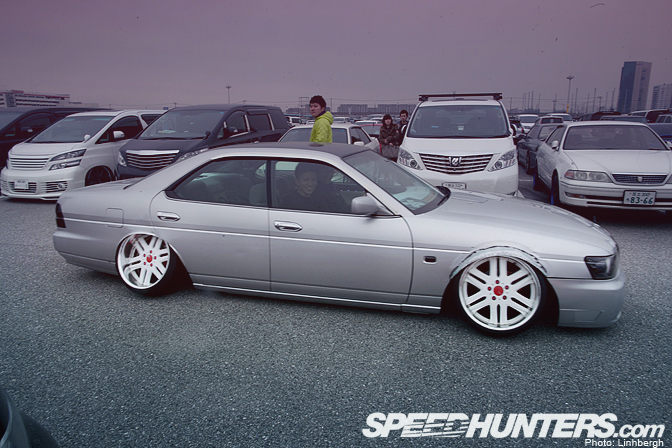 It was a obscenely cambered out C35 Nissan Laurel! Check out the front fender modifications needed to make those wheels fit. Insane….
The owner seemed very happy that I was snapping away at his car.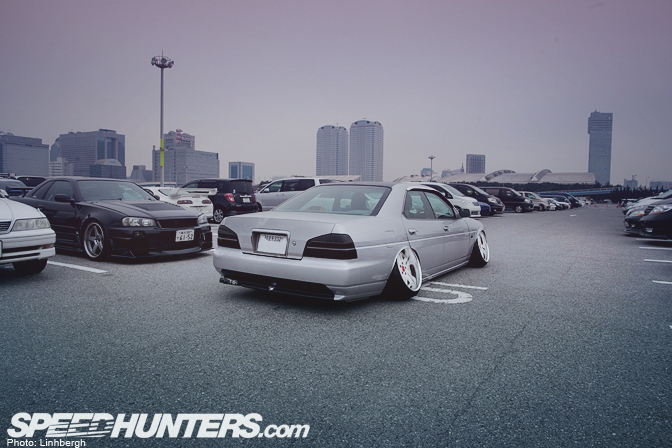 I'd never thought I'd see a car this wild. It was something to behold as it slowly creeped by. Only in Japan would you see a car like this. 
And we're just getting started with our look at the parking lot. Part 2 soon. 
-Linhbergh