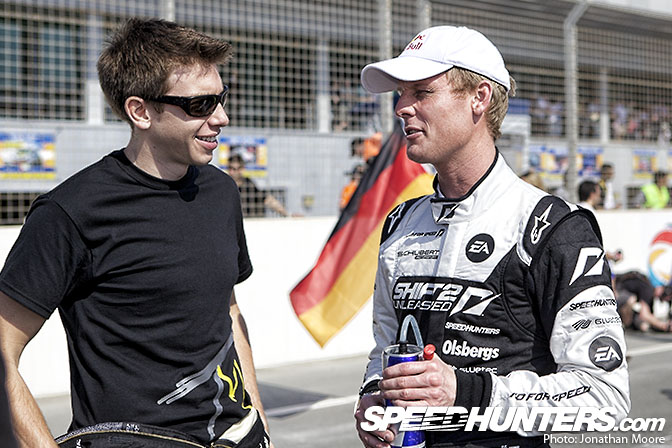 Tommy Milner: What's up SpeedHunters! Welcome to a two part blog about the Dubai 24 Hours from half of the winning driver lineup, Edward Sandstrom and myself, Tommy Milner. The Dubai 24 Hour race is, for some people, a warm up for the 2011 season and for others their biggest race of the season.
I've known about The Dubai 24 Hour for a couple years. Recently, it's been getting more attention in the world motorsport press as more well known teams and drivers make the trip to the UAE. This year was no exception as a number of world class teams sent their cars, crew, and drivers to Dubai for the first 24 hour race of the 2011 season.
Being a sports car racing driver, any 24 hour race is good experience and a good workout at the bare minimum and has the potential to be an unforgettable twice around the clock marathon. This year was exactly that.
Edward Sandstrom: Hi again. New season and what a perfect
start then. I've never been start-ing a season in early January before,
so it was great to start driving directly after Christmas. I was already
in Dubai 2004 doing a race in Formula Renault V6, but my memories of
the track wasn't too sharp when me and Augusto were biking around the
track. Off course I was bit disappointed that my regular co-drver
Patrick unfortunately couldn't drive because of his neck injury after
the crash at Zolder. A good thing instead though was that he was helping the
team with strategy during the race.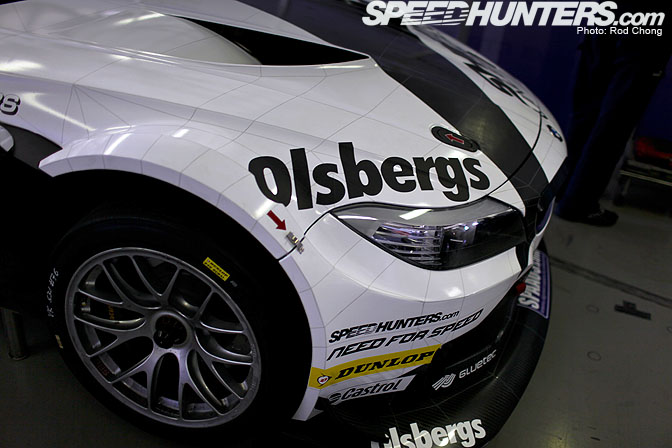 Tommy Milner:  My involvement with Need for Speed, EA, and Speedhunters has lead to some great opportunities. Rod had hinted a few times at a desire to have me drive the Team Need For Speed Z4s. Rewind to a few months ago when I spoke with Patrick Soderlund and just like that I was going to drive for the team at Dubai! I was excited and I could tell Patrick was too.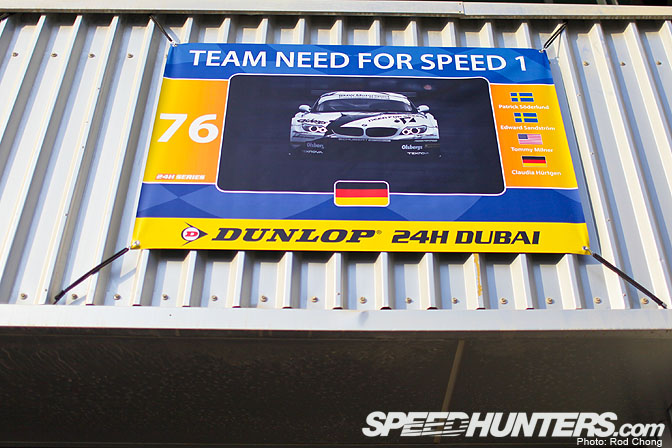 Tommy Milner:  As you are probably aware, the crew responsible
for making Team Need for Speed happen is Schubert Motorsport. Having
been around BMW's racing programs for a number of years, the most well
known and most well connected privateer BMW team has to be Schubert
Motorsport. They are always first to run BMW's latest customer racing
car offering. I'd never met anyone from the team before until BMW's End
of Year Gala held in Munich where I met the lead Engineer for the
team, Stefan Fober. We had a long chat about the race and after speaking
with him I was pretty sure we had a good shot of winning this race!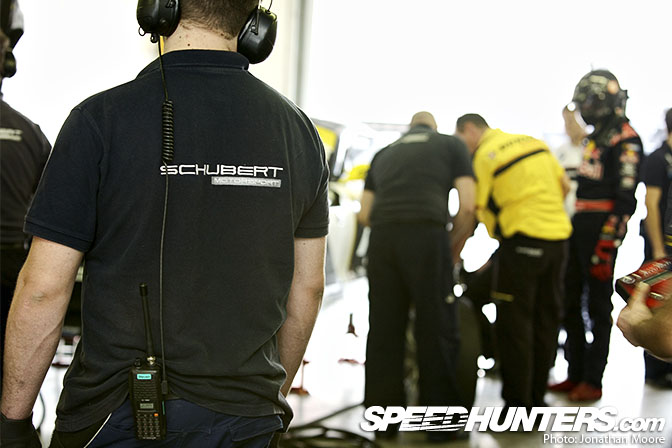 Edward Sandstrom: I've known, Schubert since last season and must say I'm really impressed over the dedication they have for racing and preparing race cars. Every time I've been behind the steering wheel of their cars, everything is always working perfectly. Even when there's been a crash they always make sure everything is 100 % to perfection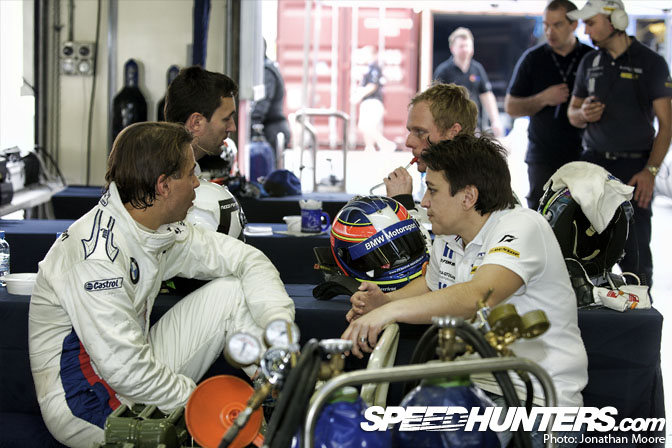 Tommy Milner: Our team for Dubai was Edward, Augusto Farfus, and Claudia Huertgen. I'd never met Edward and had only met Augusto and Claudia briefly before but I was aware of who they all were from following the GT3 championship here on Speedhunters and Augusto did a lot of the testing for the BMW M3 GT2 car I race for the last two seasons. I don't think anyone would disagree with me when I say we had the best all around driver lineup in Dubai.
Edward Sandstrom: Claudia and me have been working together in the team during the 2010 season. Augusto I met shortly before. And fast Tommy was first time. Anyway this was best driver lineup I have ever shared a car with.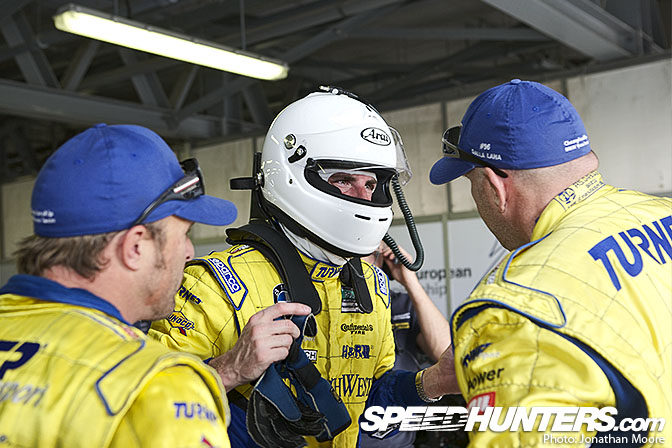 Tommy Milner: Joining the Schubert Motorsport team in the sister car was a bunch of nobodies… Yeah, no, just kidding. The other car was probably our stiffest competition going into the race. Boris Said, my teammate from last year Bill Auberlen, Matt Plumb, and Paul Dalla Lana. 3 Americans and one Canadian. I think just in our team was half of the American's driving in the race. These guys would be fast for sure.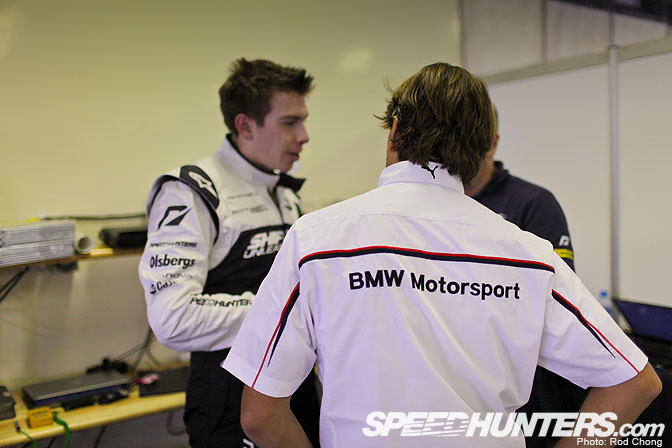 Tommy Milner: The first practice was my first time in the Z4 GT3 car so I was happy to hear they added another practice session as there wasn't much time otherwise. The car felt like a slightly less refined version of the M3 GT2 car I was used to. However, with ABS, traction control, and stability control, finding the speed was easy.
Edward, How did you find the car in the first session? Was it a big change going from be-ing around cars that were all your speed to passing 30 cars per lap?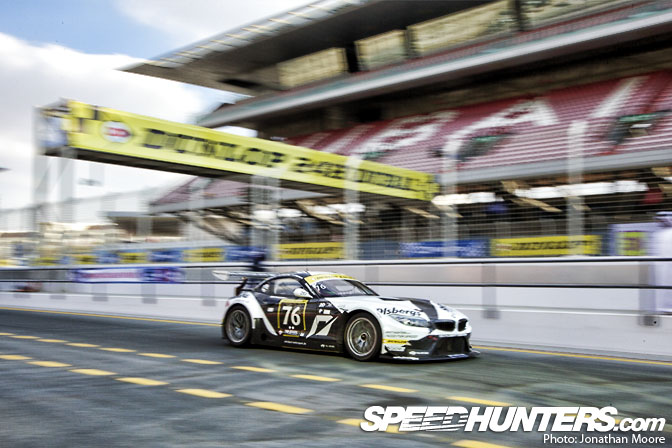 Edward Sandstrom:  Actually the car itself worked better then expected. Because of the different rules for this race we had to change some important things like ride height on the car. I had some worries before, but it was no really drama. The thing was to get the tires working properly. The track in Dubai is really "green" and it isn't too much rubber lad down, which causes graining. The traffic was actually worse then at Nurburgring 24h. You really have to pay attention to avoid all possible misunderstandings with slower cars. But it worked fine for me.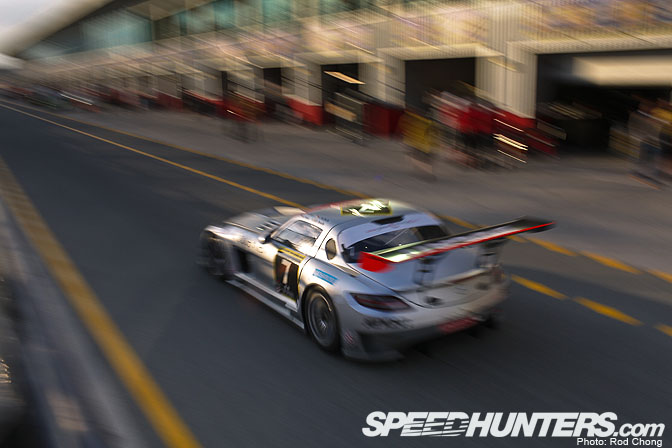 Tommy Milner: Our biggest competition for the race looked like it would be a couple Porsches, a Mercedes or two, and Ferrari or two as well. Judging by their lap times and driver lineups I guessed we'd be fighting at least one or two of those cars throughout the race.
I mean with names like Bernd Schneider, Sacha Maasen and Jeroen Blekemolen you know it's better to step on it and have perfect tactics. The Mercedes SLS AMG GT3  is new and looks impressive and was also very fast on track.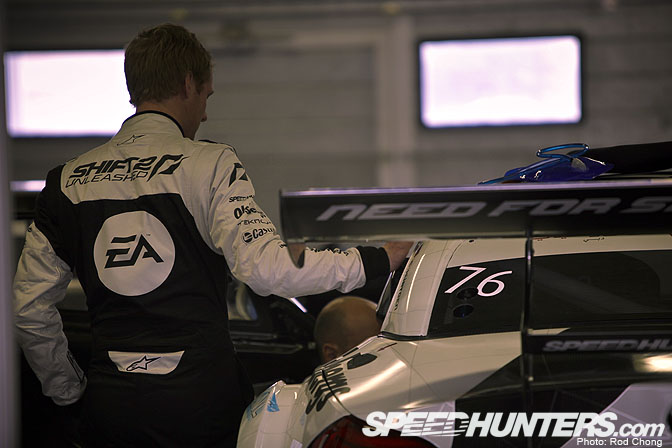 Edward Sandstrom: I'm used to sharing seat with Patrick who is tall (198cm), so with standard Recaro-seat it was easy for me. Even then you have to adjust belts and everything to make sure everything fits properly and all stops can be effectively made.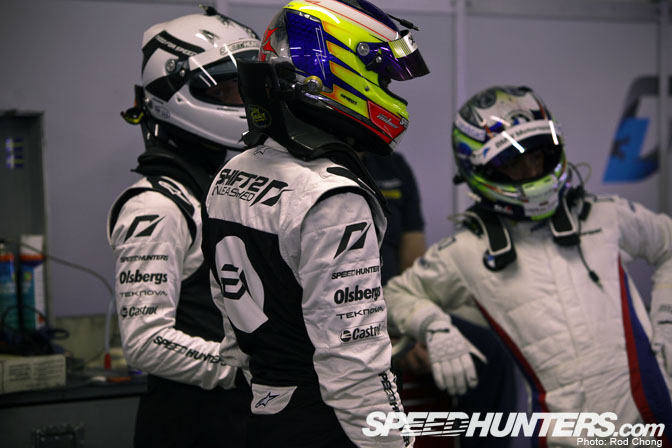 Tommy Milner: One of the first things on the schedule was fitting into the car. When you have four drivers of all different sizes, the seating position and belt fitment is key. The four of us spent half an hour working on getting fitted into the car and doing some driver change practice.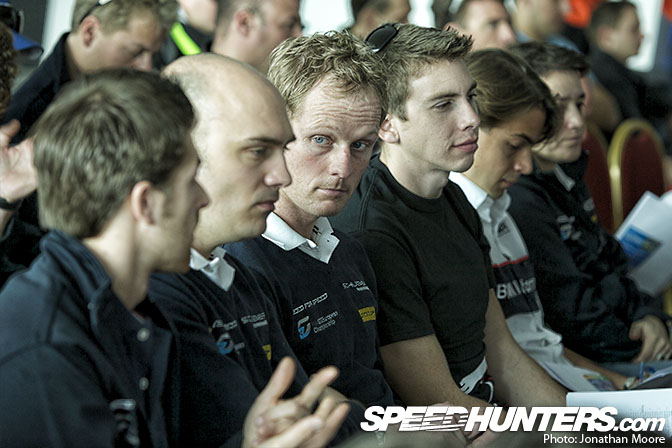 Tommy Milner:  With 80+ cars entered and every car having at least four drivers, some with five drivers in the car, the drivers meeting was packed. The Dubai 24 Hour has some different rules so I spent most of the meeting reading the handout and asking Stefan some questions about the Code 60 rules which was the biggest difference for me.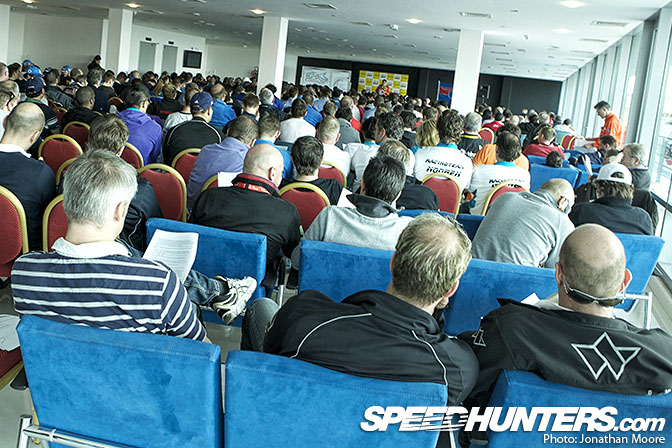 Edward Sandstrom:  Quite different rules in some areas, code 60 means they instead of using a safety car puts out code 60 board which means you have to go around the track not higher then 60 km/h. You also have reference time for it. 5 min 23 seconds I think it was. I had a penalty in the race when I had been too quick, but just visual, hmm.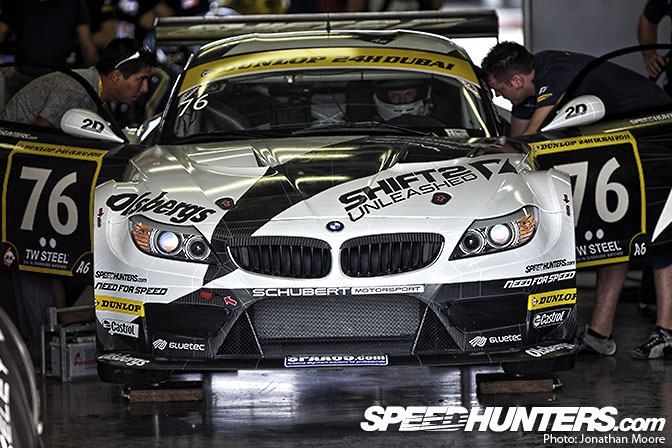 Tommy Milner: The NFS crew loves to put cameras everywhere. Edward had the honors of doing a helmet cam for the team this time. Does that distract you in the car much?
Edward Sandstrom: Off course you maybe doesn't want to use it in qualifying. But you tend to focus on your line and so on. So it didn't really disturb me. I'm just waiting to see the result and hope the developers got some useful data for helmet cam, which I really think is great in SHIFT2 UNLEASHED.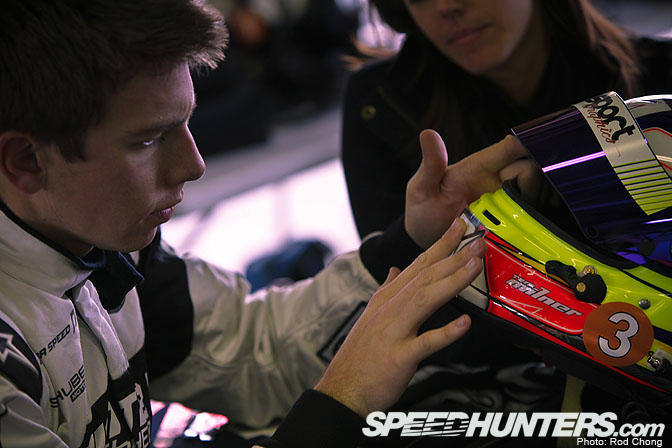 Tommy Milner:  New team, new stickers. Throwing on some NFS branding on the helmet for the event. Thankfully, my helmet painter decided it would be better to put stickers for last years sponsors and not paint them. It made rebranding a lot easier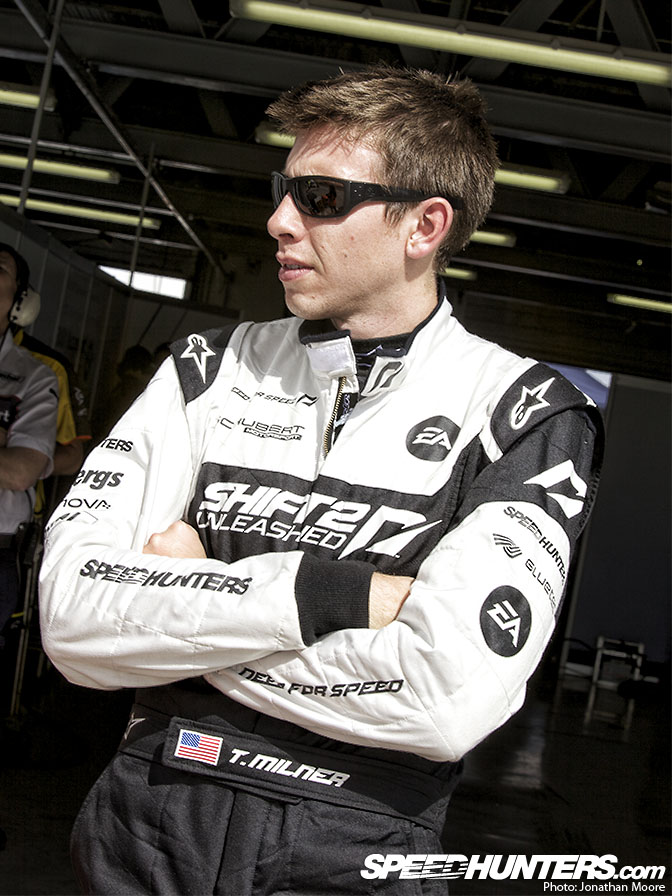 Tommy Milner:  And some shiny new suits designed by the one and only, Andy Blackmore. Definitely one of the best designs I've worn.
Edward Sandstrom: Yeah I agree, thx Andy! They worked perfect and also shoes, gloves and underwear from Alpinestars. You really need a lot of things when doing 24h race and definitely need dry and fresh gear for every stint.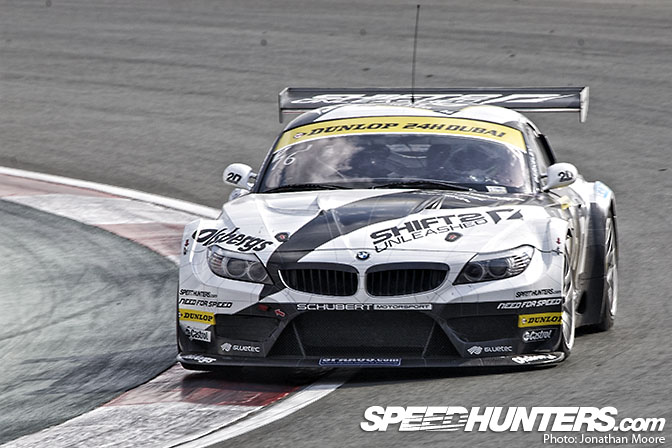 Tommy Milner:  Practice was … OK. The car and team and drivers all worked well but we struggled with the tires. Specifically, graining the tires.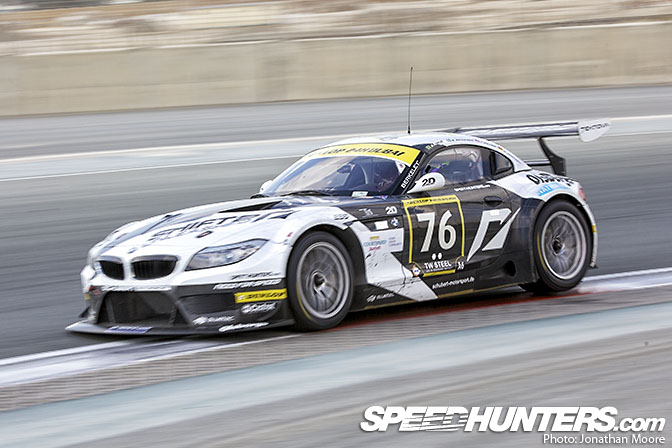 Tommy Milner: Depending on the balance of the car, we'd grain either the front tires
or the rear tires. We hoped that it would be better in the practice
session before qualifying after some more rubber was laid down on the
track, but that wasn't the case. We still had trouble.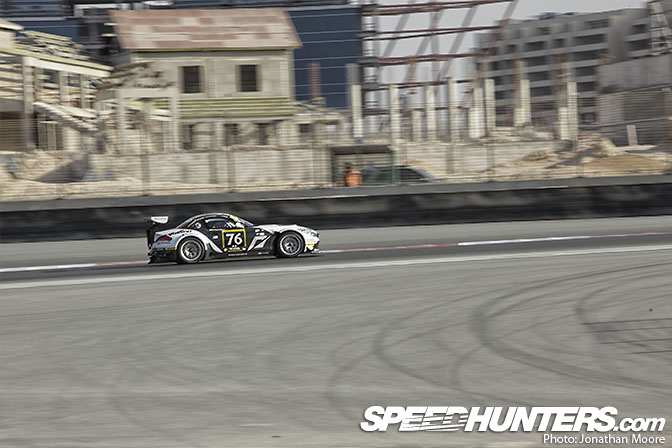 Tommy Milner: The track surroundings are pretty interesting. As you drive to the track from the main city area, you leave these towering buildings and head out to what looks like nowhere. As you get closer though, the specs off in the distance then become buildings which are, as you soon become well aware of, under construction. Three, four, five, and on and on. More and more buildings this far out from the main city are just shells of buildings.
When I'm driving though, all I see is brake points, apexes, and the rear
bumpers of about 20 cars per lap. You could put me into a street
circuit in downtown NYC and all I'd end up seeing is the race track.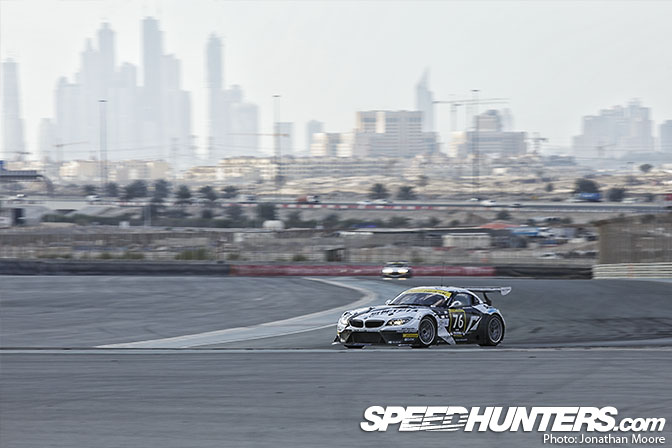 Edward Sandstrom: Yes, all aspects about the surrounding I was watching during the cab drives to the track. Off course you also crossed your fingers he would find the track. It wasn't for granted. On track it's only cars and the best possible overtaking you could do all the time.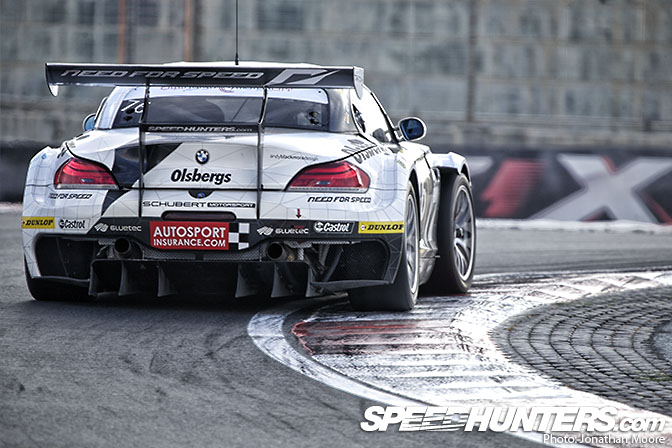 Tommy Milner: The track itself is great though. The flow of the track is actually quite nice. The first section with a tough downhill right-hander that leads to a flat out left kink to a long right-hander. Then a quick little left kink to a long right, then to a long left. That first section has a great rhythm to it that when the car is on new tires and well balanced, a lot of fun to drive in the Z4 GT3.
My favorite part of the track has to be the last section. A really fast, flat out, left hand kink that leads right into the brake zone for a slow, late apex, left with lots of camber. You can really throw the car into the corner here and let the camber in the road catch the car. It was also a place in the race that I was able to make a lot of passes.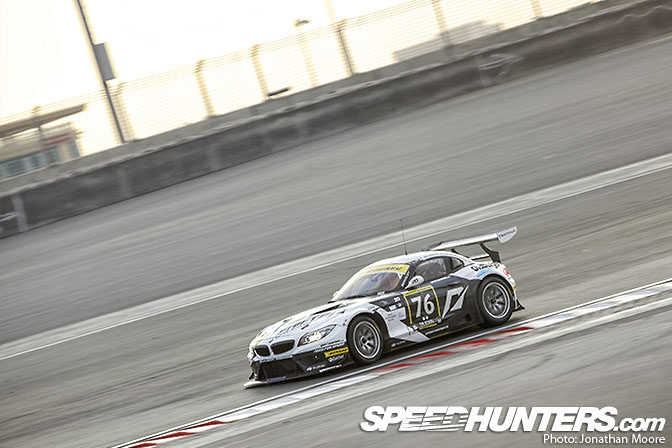 Edward Sandstrom: We wanted to qualify in a certain time, because of the rules with ballast. Setup changes and stipulated best time in the race if you went too fast. Our time was a little bit better than we wanted and therefore we had to put in 75kg ballast instead of predicted 25kg. We actually saw that our opposition reflected on this and bettered their times as well. Good to know they where watching us. What we had calculated with from the beginning would have been enough to go flatout in the race without hitting the reference time, the traffic influences the laptimes quite a bit. If you went lower you had 10 joker cards to use before getting a penalty. Strange to get a penalty for being too fast, but it actually didn't affect the race this time. But I hope this rule was one timer.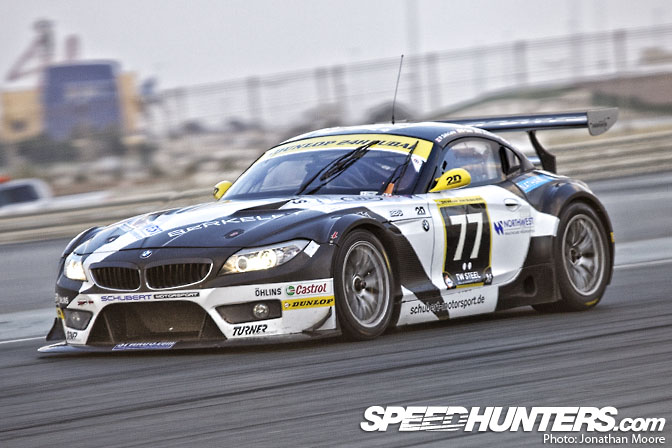 Tommy Milner: I was focused on our 76 Z4 but I was also keeping an eye on 77. Having worked with both Bill and Boris before I was chatting with them as well about how they were finding the car and the track.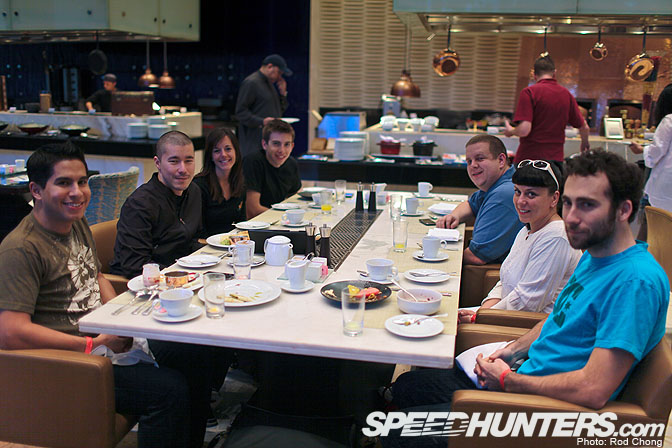 Tommy Milner: The morning before the race. The whole EA/Speedhunters crew, minus Jonathan here, was up enjoying the awesome breakfast at the hotel. Usually I'm really picky about what I eat before a race but I couldn't resist enjoying the food they had out. I was really relaxed and ready for the race. It was odd having such little time in the car before the race. Usually, the team and I have done a lot of testing and practice leading up to the race that you're almost tired already of the weekend. In Dubai though, I was excited to get going and racing for 24 hours. Quite a bit different feeling than I'm used to. It was a nice change.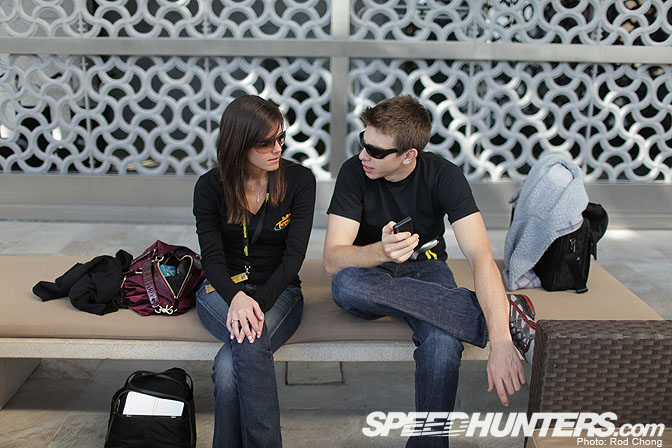 Tommy Milner: My girlfriend, Evin, joined me on the trip and she was a huge help, as always. She would get me a snack if I needed something during the race.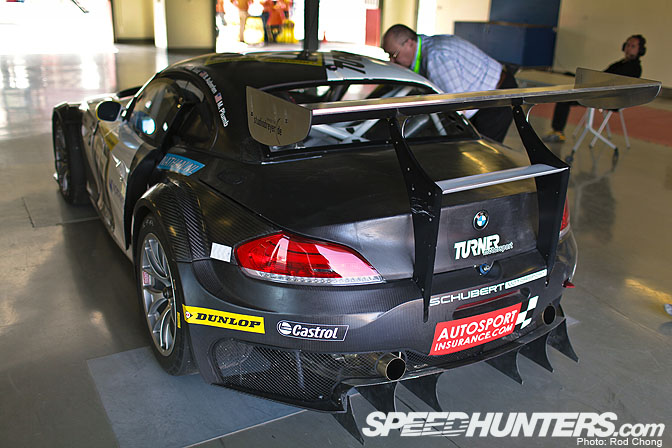 Tommy Milner: Before qualifying the #77 car had a problem with a brake line and smashed the rear end pretty good. The Schubert guys were up until 5am before the night of the race fixing the car so it was good as new. A huge effort before a 24 hour race and something you never want to see but it was pretty impressive to see the car the night before the race and to see it all buttoned up and looking ready to race the next morning.
Edward Sandstrom: When it comes to repairing cars Schubert Motorsport knew how to do it. Even if you think it's not possible.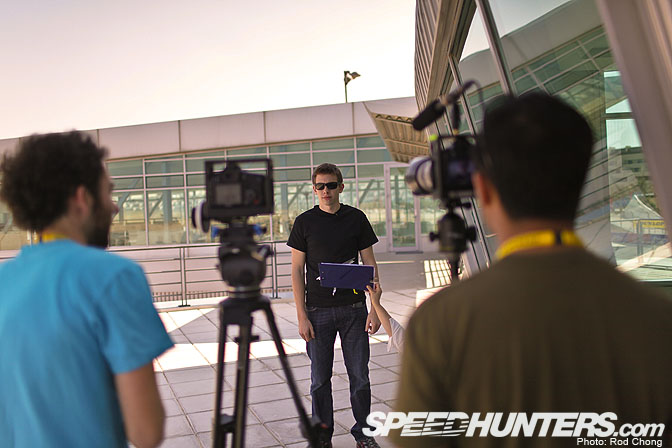 Tommy Milner: Part of the agenda for the weekend, besides winning races, was doing some video for SHIFT2 UNLEASHED to appear later. As I've had a bigger hand this year in the development of SHIFT2, with helping them improve the driving characteristics of some of the race cars and other gameplay improvements, they've also had me do some more promotional video clips as well. Every time I play an updated version of the game, the better it gets. Can't wait to see where they take it by the time it is released!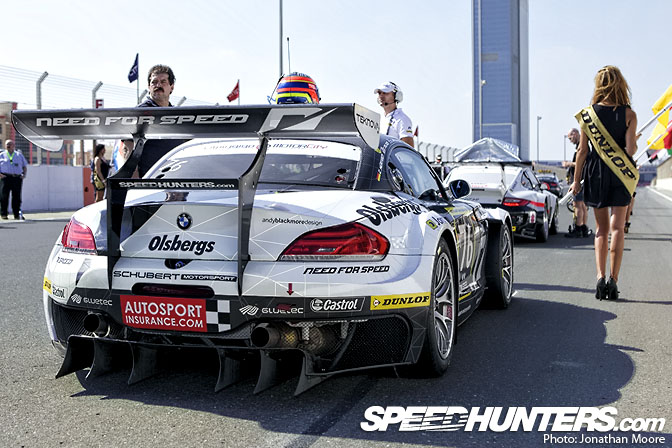 Tommy Milner: So, it was race time! It felt like it came so soon, which is a nice change. I headed out onto the grid to take a look, finally, at some of the competition. I recognized a lot of names on the tops of many of the cars. I was pretty surprised at the level of development that has occurred on the GT3 cars now. The Mercedes and the new Porsche GT3 R are impressive looking from the outside and look almost more aggressive than the GT2 cars I'm used to!
Also, a pretty cool meeting I had on the grid, was with a distant cousin of mine! Amazing that we'd meet in Dubai of all places. Will Langhorne races quite a bit in Europe in the Porsche Supercup series and is related somehow to me on my mothers side. He had spoken with my mom a number of years ago and it was neat to meet him there before the race.
Edward Sandstrom: I had a good feeling for the race. Bu you never know which cards have been shown during qualifying.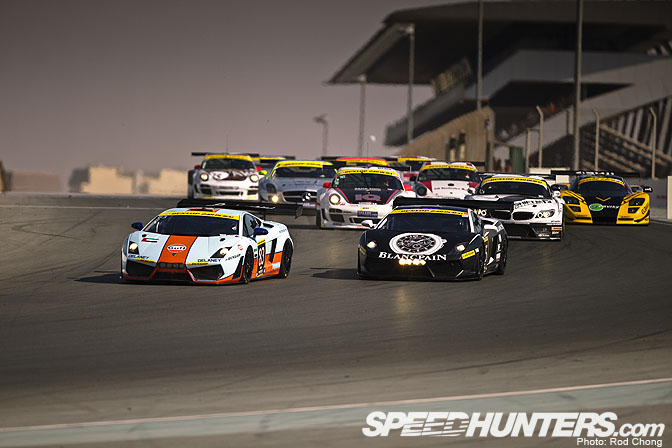 Tommy Milner: Giddy up! It's go time. Claudia would start for us and she did a phenominal job at the start. Moving up from sixth to third on the first lap. Just as soon as the race got started though, it was under a Code 60, or essentially a full course caution. Code 60 basically requires you to cruise around the track at 60kph while they clean up the problem. A Porsche had speared off the track at the end of the fastest straight and completely taken out a section of guardrail. A quick end to a long race for those guys.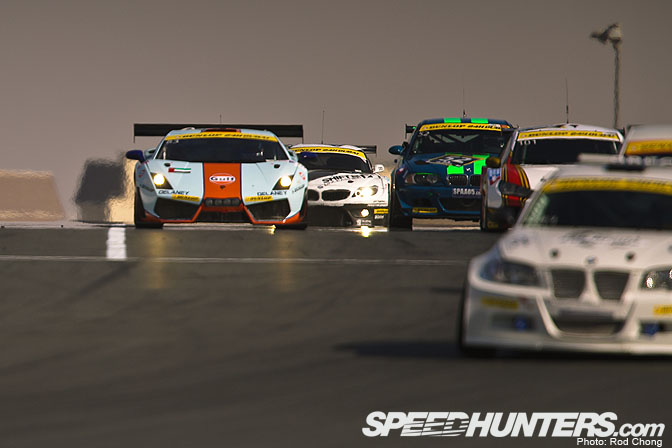 Tommy Milner: Once it went back to green flag racing, Claudia held her spot in third for a number of laps, running some fast lap times early on while traffic wasn't much of a problem. However, it wasn't long before she started to drop back. The problem was the tires and they were graining again. We had hoped that by now the track would be nice and rubbered in and the tires would hold up fine but that wasn't the case. We now all had to do our best to conserve the tires as long as we could so we wouldn't have to stop early for tires.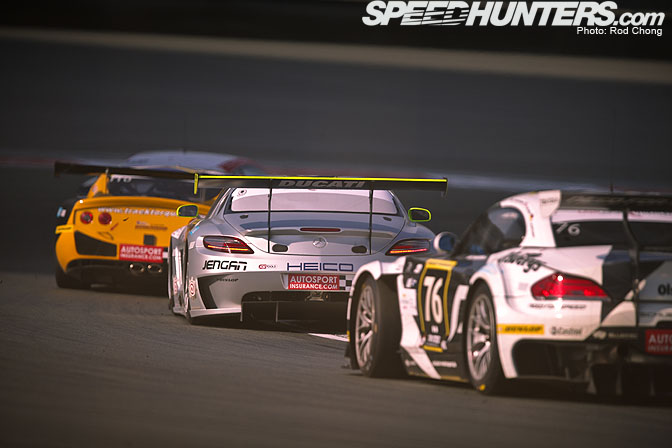 Tommy Milner: Claudia pitted a bit earlier than the others, which was to plan actually. The fueling stations can get crowded so we wanted to be off sequence of the rest of them so we weren't waiting to get fuel. It also helped our tire situation as we had dropped down the order a few spots at this point and we needed to get the tires off the car.
Edward Sandstrom: I was seriously concerned because of all the problems during practice with graining. We had hoped the amout of rubber should have changed our tire situation. Luckily we found a way to cope with it.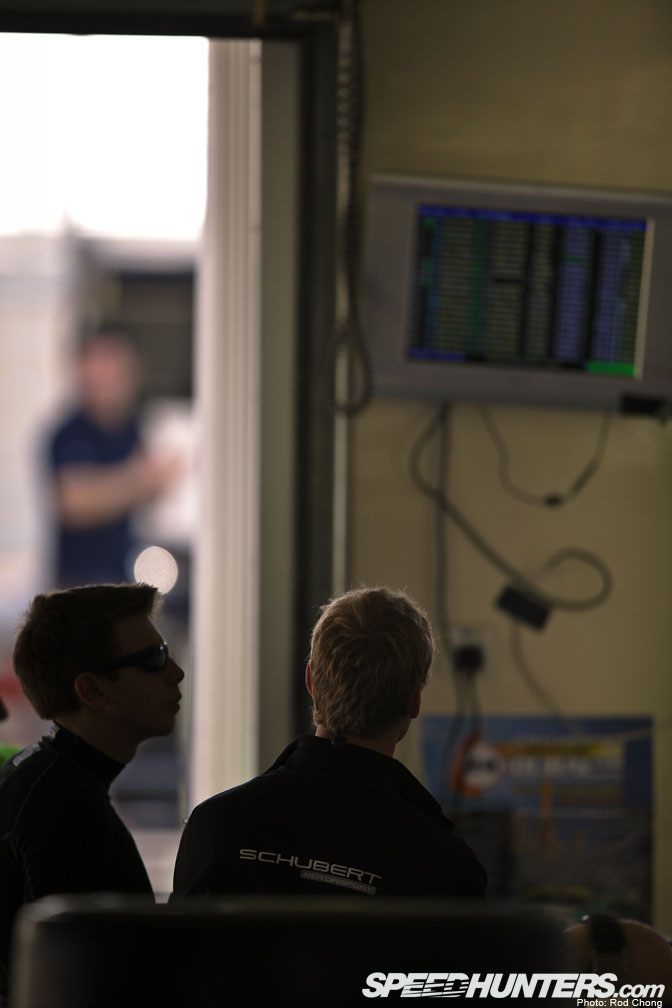 Tommy Milner: Our plan for the driver rotation was Claudia, Augusto, Me, Edward. Augusto is in the car at this point now and he is trying to conserve the tires as best as he can. Edward and I wait and watch the timing screens to see how our progress was since the pit stop. We had dropped WAY down the order by pitting early but it wasn't long before we'd be back on top.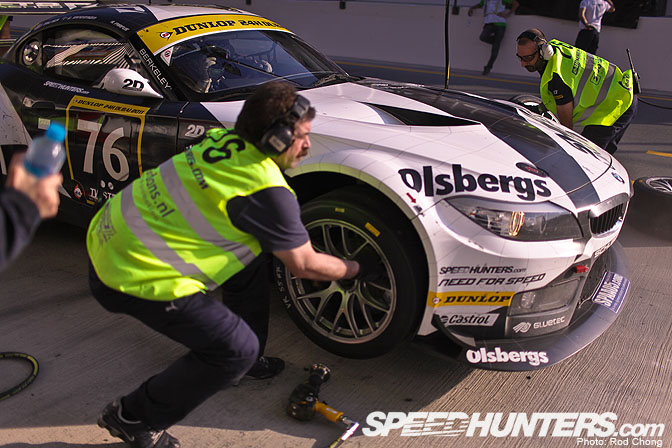 Tommy Milner: The Schubert guys hard at work during a pitstop. No mistakes in pitlane would be a huge part of doing well.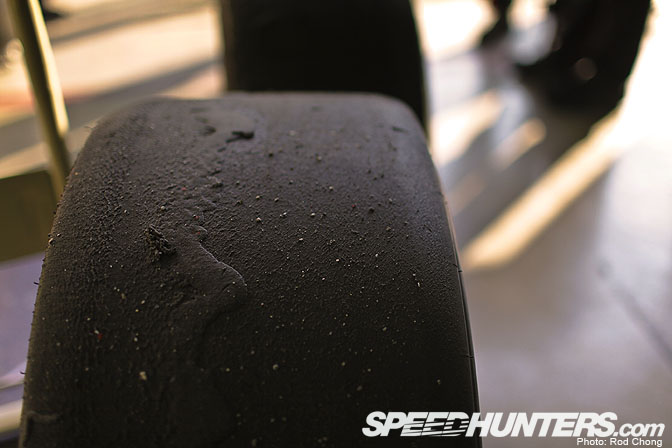 Tommy Milner: Everyone was examining the tires that came off of Claudia's car at the start. We knew by the lap times that they were graining so Augusto and I had already discussed taking it easy on them in a few areas and discussed with Claudia where she thought we could push and where we could take it a bit easy on them.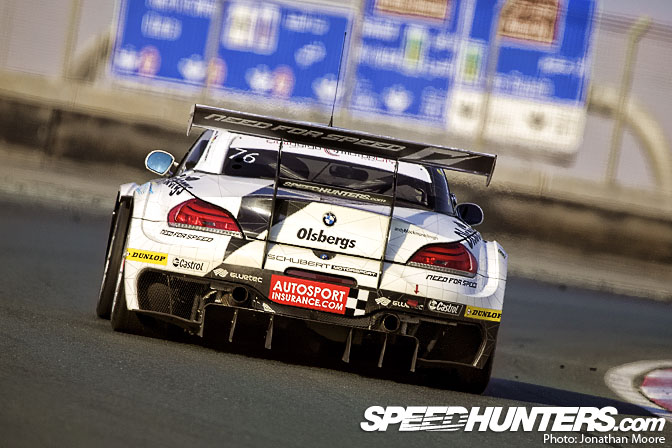 Tommy Milner:  Almost 5pm and it was my turn in the car. I would drive from sunset into the darkness.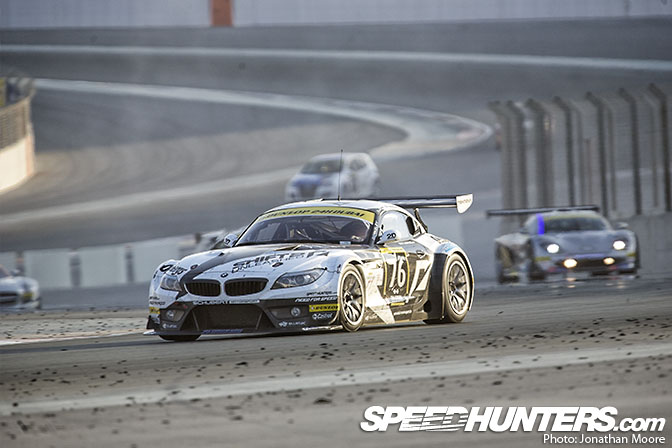 Tommy Milner: It was good to just get in the car and get that first stint out of
the way. I took it easy on the front tires and it really made a huge
difference over the stint. I was the quickest car on the track during my
stint and was able to maintain that all the way through.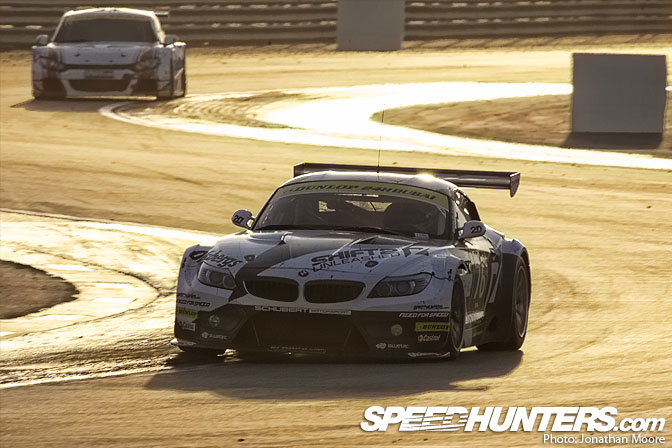 Tommy Milner: By this time
we'd moved up from below 20th back up into the top ten and working our
way back to the front.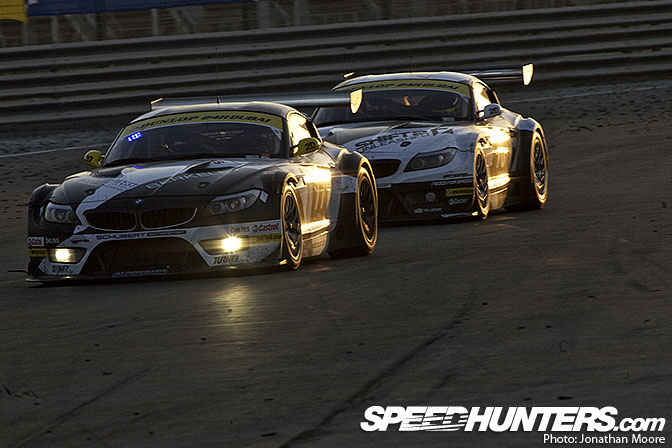 Tommy Milner: I came out of the pits around the time the 77 car was nearing the end of its stint. Bill was in the car at the time and we raced for a bit before I let him by. It wasn't but a few laps later and he was pitting to finish his first stint.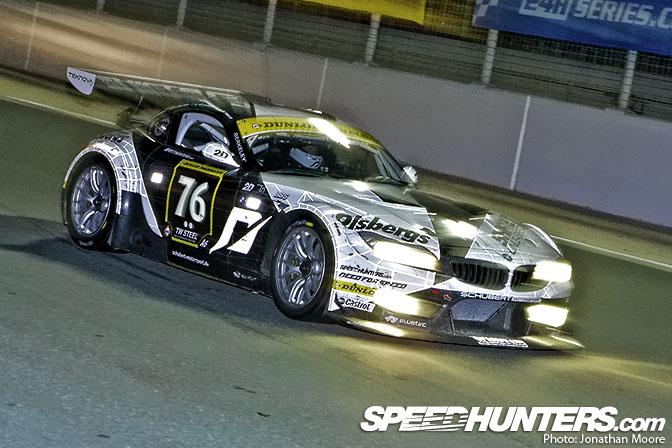 Edward Sandstrom: I used the first stint mostly to settle in. I first had to understand how dirty the track was off the racing line. If you overtook cars too much off the line you definitely suffered from pick up on the tires. When I realized all this it felt easier to get a good rhythm. The darkness was most difficult in the early high speed right hander as the elevation made the apex blind in the dark.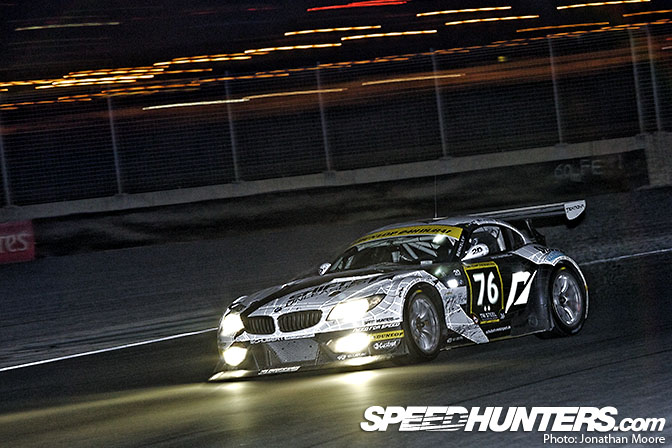 Edward Sandstrom: Actually the head lights arent as important as on Nurburgring as the track is quite bright even in the dark.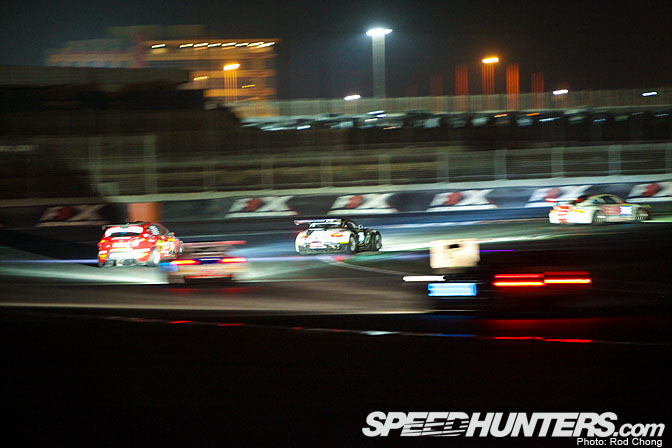 Edward Sandstrom: But the headlight flashing function is very useful to get attention from slower cars when passing in the traffic!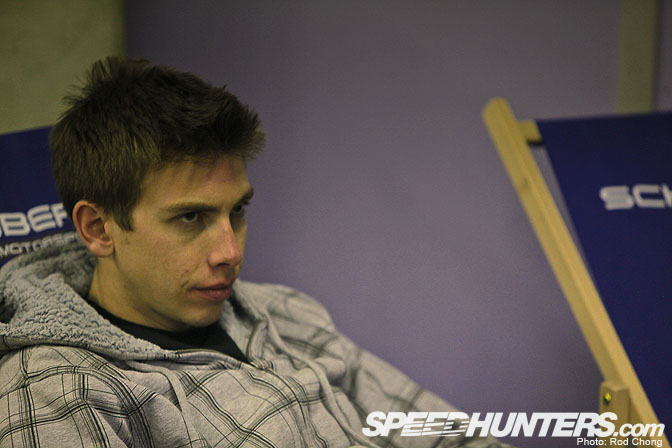 Tommy Milner: Looking pretty unhappy here at this point. Everything was just getting started really. We'd solved our tire issue and now leading the race. Things were looking good!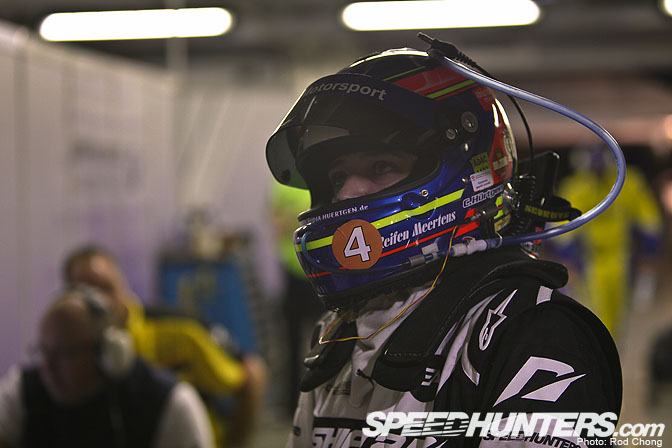 Tommy Milner: Here's Claudia waiting for her turn in the car again. Her second stint now. The big number on the helmet is for the organizers to know who is in the car. The number corresponds to our entry sheet that lists each driver as 1, 2, 3, or 4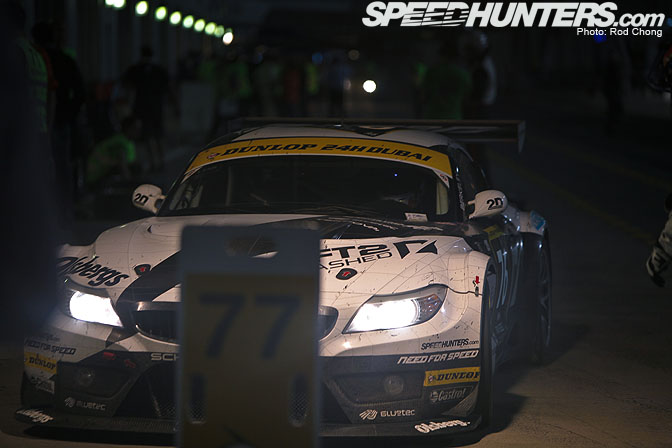 Edward Sandstrom: Here I was actually bringing the car into from lead after 7 hours I think. But I didn't know I was in the lead. Also there were so many hours left that it didn't really matter. Instead you always where thinking about strategy. How many stops have the others made or not, will they stop refueling before or after us.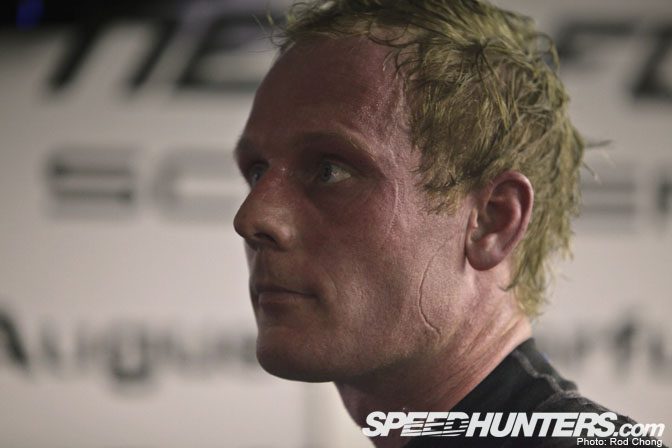 Edward Sandstrom: Stefan Wendl our engineer and Patrick, who because of injury were
replaced by Farfus, did an early master call in strategy, when we used
the first code 60 to top up the fuel and stretch the stint for Farfus.
Later the others started to copy this. But they weren't awake from
start, which made us an advantage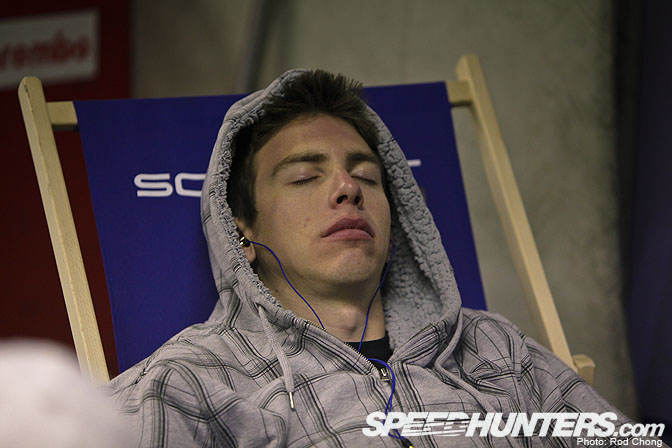 Tommy Milner: The key to these races is getting rest when you can. By the end of the race, hopefully, I'll be sore and tired from the event so napping while I can is huge. The earbuds were crucial too for sleeping later in the night as they blocked out all of the noise and the iPod put me to sleep.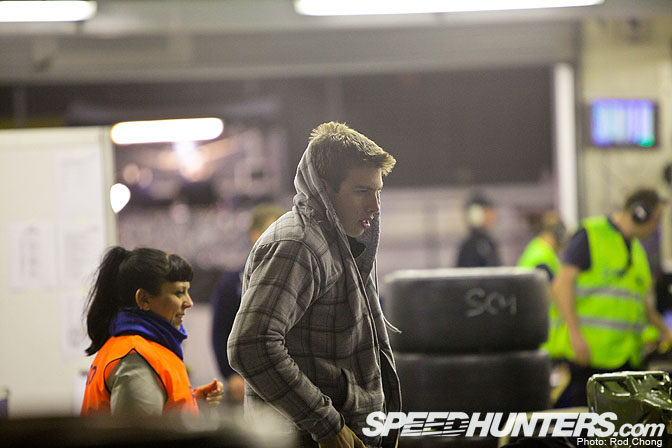 Tommy Milner: Waiting… It was pretty chilly in the garages with the wind rushing through. I threw this hoodie in my bag last minute and I'm glad I did. Maybe next year I'll pack a snuggie just for that extra warmth.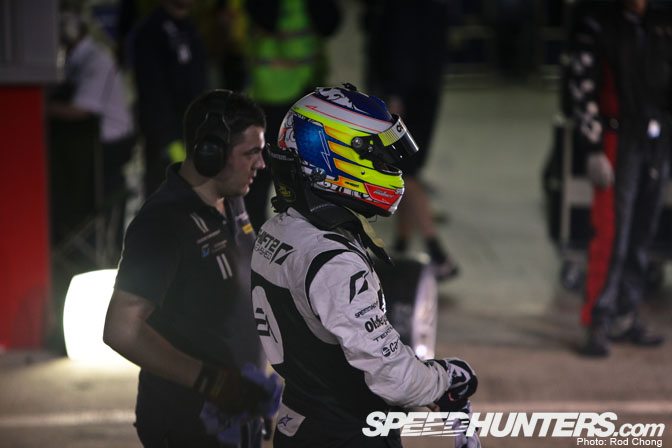 Tommy Milner: No more than 5 minutes later from the previous shot, the car was coming in and I had to throw my helmet and suit on as quick as possible as Augusto was coming in a bit earlier because of a Code 60 again. Ready to go!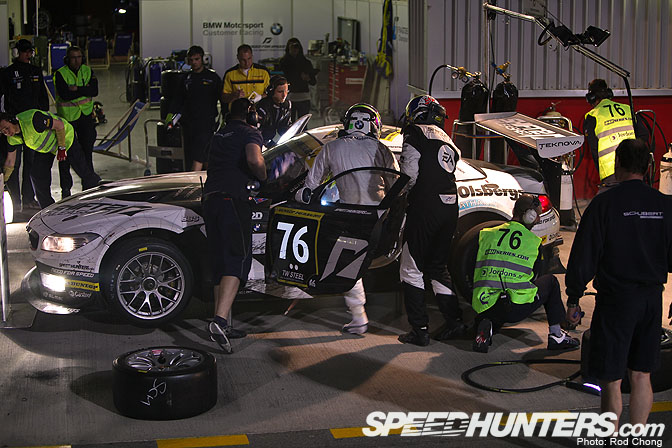 Tommy Milner: I was actually a bit nervous about the driver changes. In practice, I had trouble getting the lap belts buckled quickly. For whatever though in the race, it all went smooth and I got the belts buckled easily each time. One of those times when habit and second nature takes over and everything goes easy.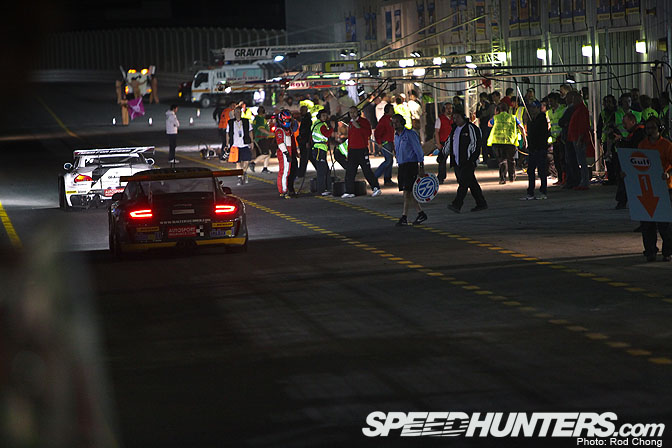 Tommy Milner: And away I go, but not before I had to turn hard right at the end of pit lane to go to the fueling station where two more of the Schubert crew were waiting for me, to fill me up with fuel out of your every day gas pump. The whole situation was bizarre for me as I've never seen anything like it but amazingly it worked well.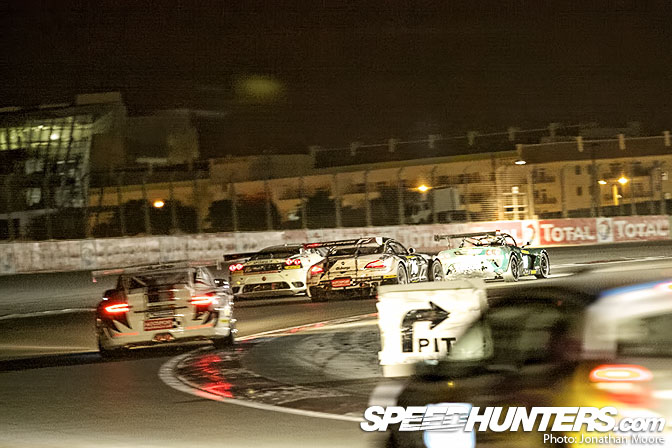 Tommy Milner: To be honest, I was a bit of a mad man in traffic. I was taking some risks but ones that I thought were worth it.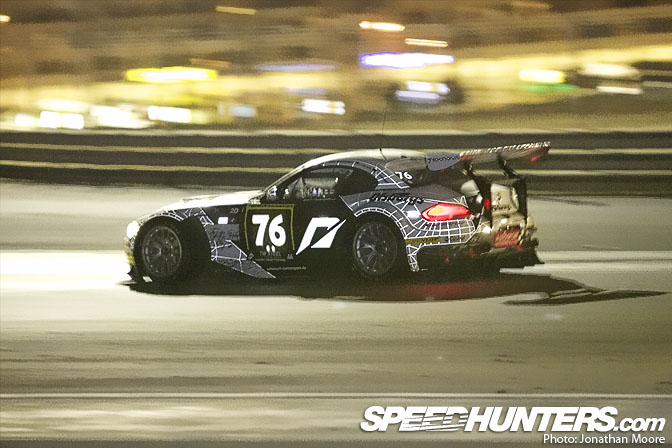 Tommy Milner: Despite the fact that we were in the lead and at this point leading by a
lap or so, there was still a lot of race left to be run and who knows
what would happen later. I wanted to put in good drives each time I was
in the car and keep the gap we had built and if I could, extend it.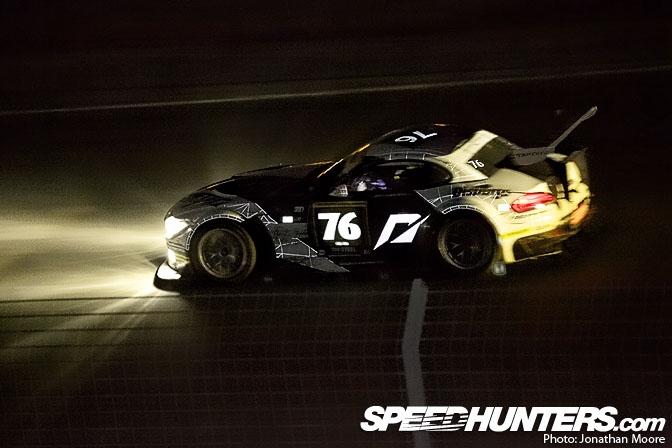 Tommy Milner: The car does look fantastic with the reflective wireframe. It's also worth pointing out the lights. The Z4 GT3 has a high beam flasher button on the wheel that I've never pushed so much in my life. With so many slower cars around me on the track, it might have been more effective to just turn the high beam flasher on full time.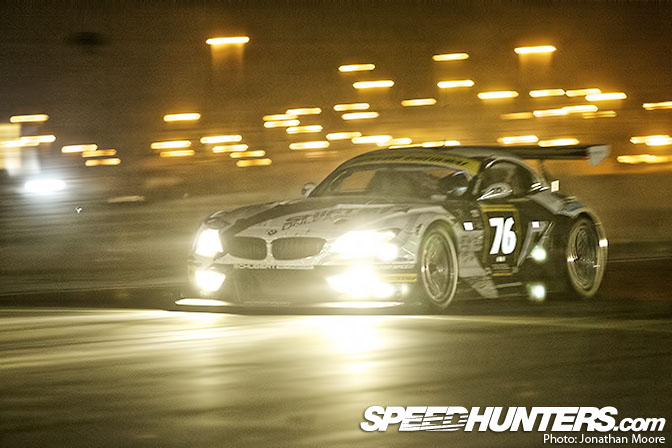 Tommy Milner: I'm sure some of the slower cars were annoyed with us faster cars as I saw many other faster cars doing the same thing I was.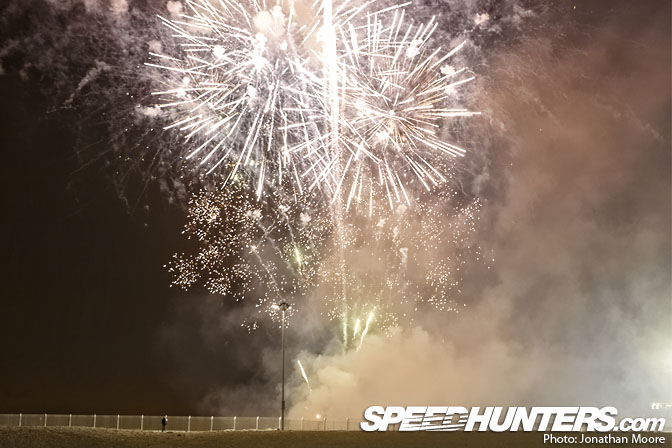 Tommy Milner: Fireworks! Pretty cool to be in the car while the fireworks were going off at Midnight. The first firework caught me off guard a bit but after that I just tuned them out until the back straight where I took a break when I could to check out the show.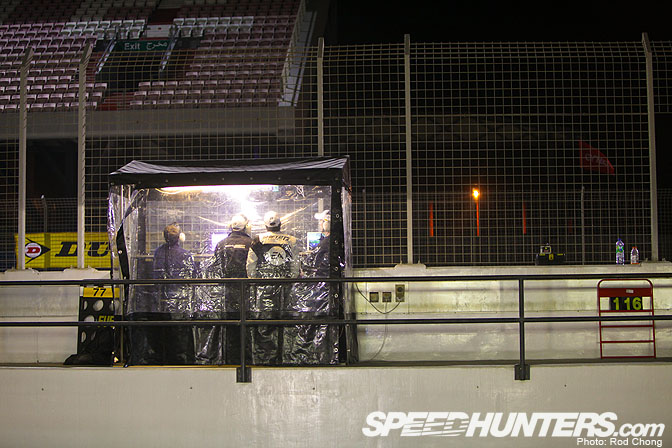 Tommy Milner: By this time this photo was taken at 1AM, I'd headed back for our shipping crate and some cots set up in there to get some sleep. Bill Auberlen was already sleeping and Augusto was in there as well getting a little rest. I chatted with Augusto real quick about the car and my stint and then put the earbuds in and turned my brain off for a bit.
More in part 2!…