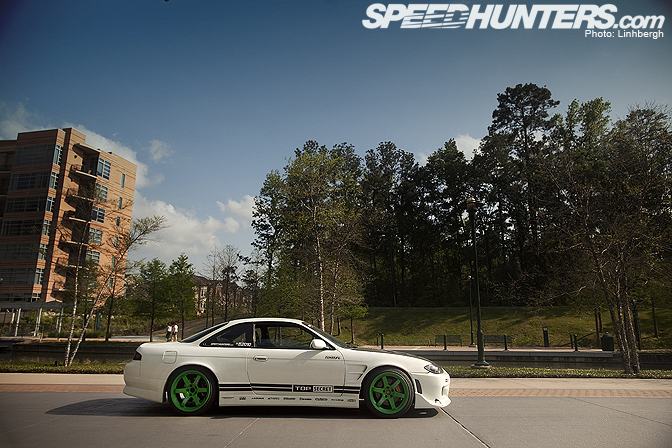 Last April, I had the opportunity to check out the Houston, Texas car scene by attending their biggest car show of the year: Import Reactor. It was a car show which ran in conjunction with Anime Matsuri, Houston's annual Anime convention. Those two coinciding events were a great celebration of Japanese culture. During that time, I had opportunity to photograph two Top Secret tuned 370z's and also the opportunity to interview and photograph the legendary Top Secret tuner himself, Kazuhiko "Smoky" Nagata.
In celebration of S14 day, I thought I'd dig up this shoot of this Top Secret tuned S14 from those Houston travels.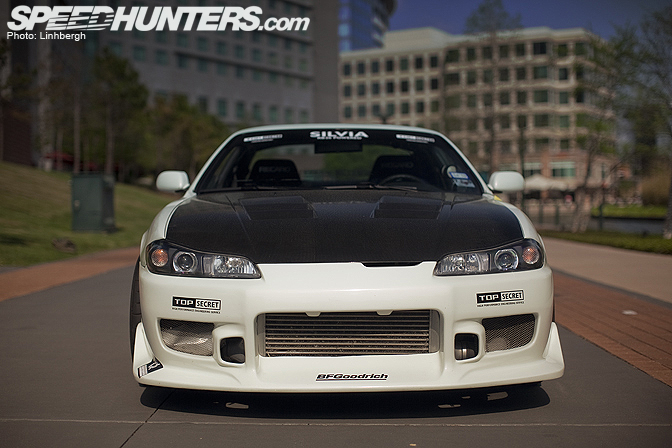 The car started off as a zenki S14, but the owner, Hajime Maki, decided to change things up and opted for an S15 front conversion with a C-West N1 front bumper, Ings+1 side skirts, Ings+1 rear aero bumper, and a Top Secret carbon fiber hood.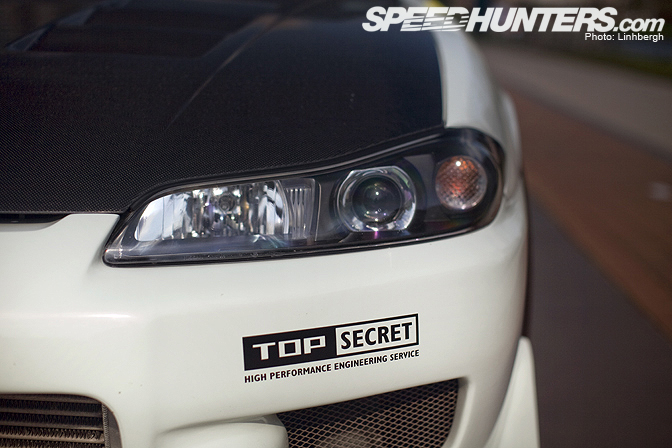 Hajime also upgraded the S15 headlights to HIDs.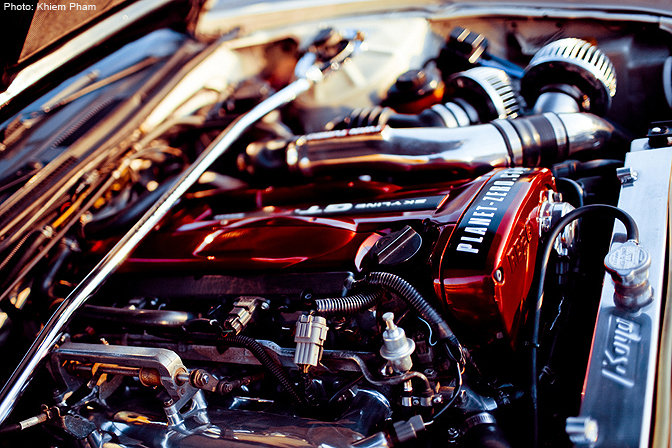 The most important character trait of this car is this iconically monsterous twin turbo RB26 from an R33 GT-R. This is far from the natrually aspirated motors of the twin Top Secret 370Z's V6's, eh? The motor had a few things added to make it just that much more of a monster: a Greddy airinx intake, Greddy front mount intercooler, McKinny Motorsports downpipe and an HKS TwinPower iginition.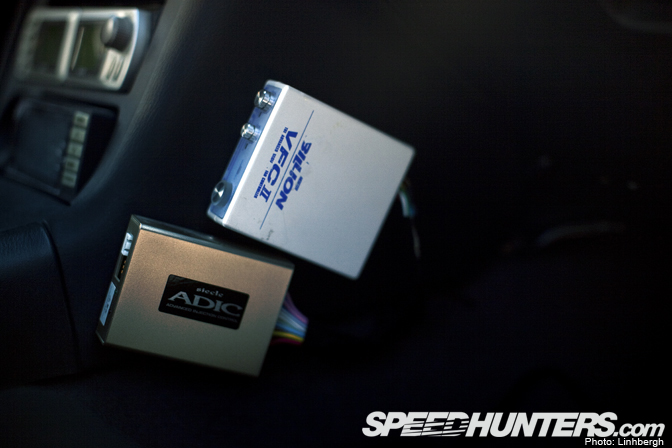 The monstrous motor like this had to be kept in check with a few electronics: an Apex'i PowerFC and a Sliede ADIC. The car has also been tuned by Smoky Nagata himself with his PROcess tune system.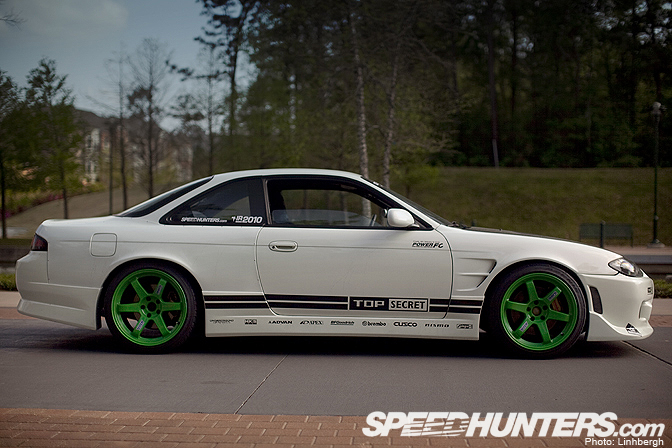 The suspension has been pretty Cusco'd out starting with a Cusco Type Zero 2 coilover system, Cusco E-con controller, Cusco Pillow Tension rods, Cusco rear upper control arms, Cusco lower tie rod and finally, and Cusco front and rear sway bars (all that Cusco-ness is making me sound like ITB S2000 guy….).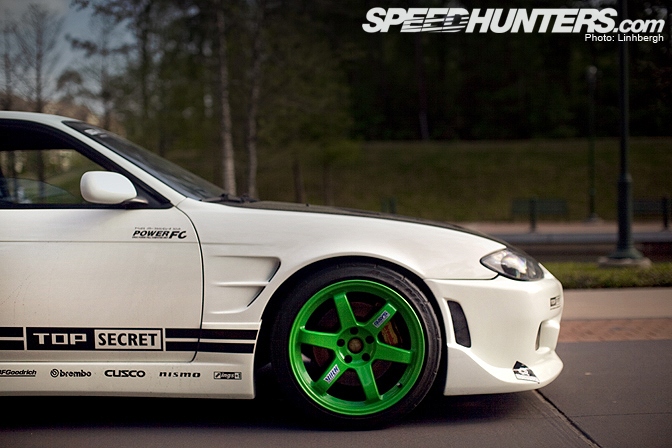 Hajime also opted for some wider fenders and chose to go with a set of iconic Takata Green Volk TE37 wheels. There's very little ground scraping flushness here as Hajime likes his cars to perform.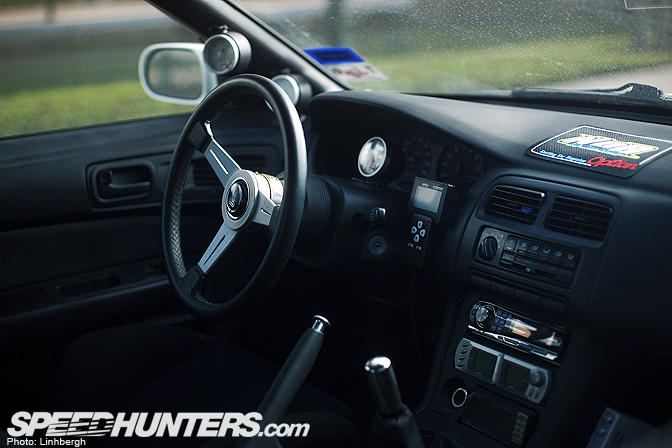 The interior is functional yet has good form in mind. A beautiful leather wrapped Nardi wheel with a Top Secret quick release graces the steering column and the stock front seats were swapped out for a set from an R33 GT-R.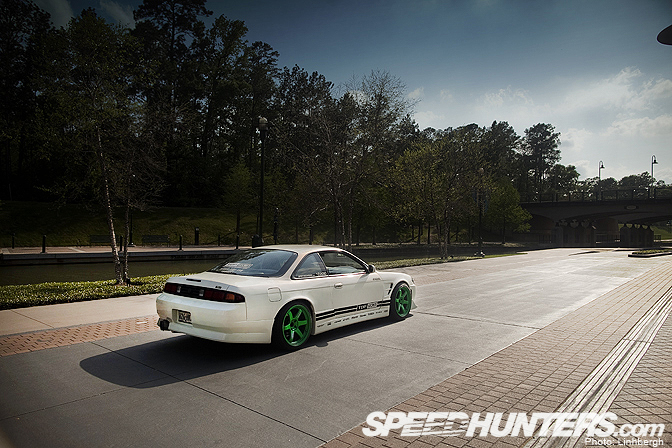 With a twin turbo RB26 powered S14 with an S15 front and tuned by the legendary Smoky Nagata, its hard to go wrong.
-Linhbergh
Complete Spec List:
Exterior:
- Nissan S15 front conversion
– Nissan S15 headlights with HiDs
– C-West N1 Front Aero bumper
– ings+1 side skirts
– ings+1 rear aero bumper
– Top Secret Carbon Bonnet
Suspension:
- Cusco Type Zero 2
– Cusco E-con controller
– Cusco Pillow Tension rods
– Cusco Rear upper control arms
– Cusco Lower tie rod
– Cusco Front and rear sway bars
– GReddy front strut tower bar in chrome
Drivetrain:
- Nismo 1.5 way LSD
– RB25 Manual Transmission
– ATS Carbon twinplate clutch
Brakes:
- Z32 Brake Master cylinder
– R33 GT-R Brembo calipers front and rear
Engine:
- RB26DETT from R33 GT-R
– GReddy Airinx intake
– GReddy Front mount Intercooler
– GReddy Breather tank
– Siede ADIC
– Apex'i PowerFC
– Apex'i N1 Exhaust
– McKinney Motorsports Downpipe
– SPAL electric fans x2
– HKS TwinPower ignition
– Splitfire coilpack
– NGK Iridium plugs
– Koyo Radiator
– Blitz SBC-iD
– Blitz PowerMeter-iD
Interior:
- Nardi Steering wheel
– Top Secret Quick Release
– Apex'i Multi Checker
– Defi Oil Temperature gauge
– Defi Water Temperature gauge
– Defi Boost gauge
– GReddy Oil pressure gauge
– GReddy Fuel pressure gauge
– Nismo shift knob
– R33 GT-R front seats
– R33 GT-R gauge cluster