As we have a 'Behind the Scenes' theme going on this month, I thought I would give an insight into how my SATS Cosworth shoot played out. Rarely do I get the chance to leave the confines of mainland England for a shoot, so when a call from Mark Luney informed me of the chance to shoot the SATS Supra in its 2011 livery in Northern Ireland I didn't need to be asked twice. In this day and age of easy traveling between countries and looking back on the almost intergalactic mileage covered by the Speedhunters team during 2010, a quick hop over the Irish sea for the shoot seamed easy … Wrong!
A small covering of snow a few days before I was due to travel had sent the country back into the dark ages. Just as I was leaving for the airport an email confirmed the worst… My flight had been canceled and there were no more due to leave Gatwick until Sunday night. A frantic 40 minutes on the phone revealed my only chance of making the shoot was a twin-prop death crate out of Bristol airport …170 miles away. Through rush hour traffic. Checking in to Bristol with minutes to spare and boarding what can only be described as airborne farm machinery, I eventually arrived in one piece at Belfast city airport six hours late to be met by Mark and his PR manager.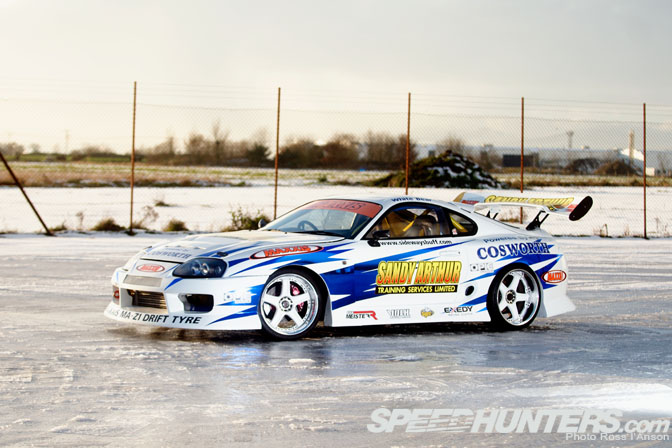 With the promo film due to be shot the same weekend,this would be my only chance to shoot the car before its official unveiling. However my plans and the plans of the film maker were dramatically changed by the weather. Arriving at Sandy Arthur Training bright and early Saturday morning we found the site to be evenly covered in two inches of solid ice. It was lethal to walk on let alone drive on so a quick rethink was required.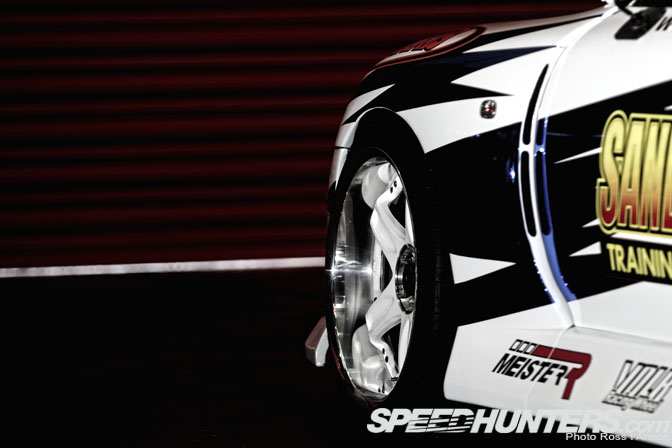 When team owner Chris Arthur bought the car it was no more than a standard Toyota Supra with a BN sports wide body kit. Over the years many attempts have been made to transform the car into a competitive drift car but with little success. The attempts came to a head with a 5th gear seat pinching moment as the unwieldy Supra left the track and was nearly destroyed. To make the car competitive, dramatic steps would have to be taken.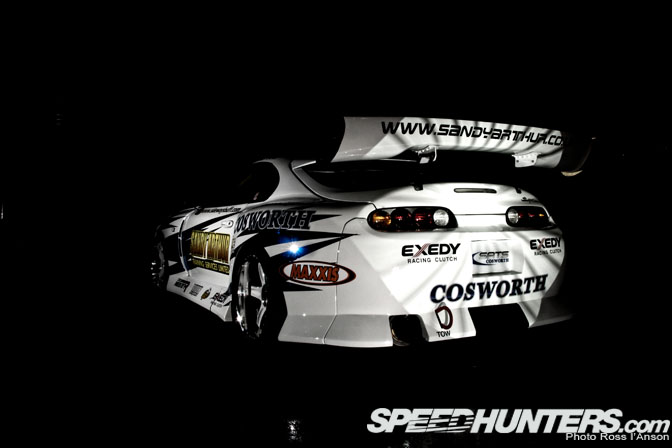 The car was stripped back to a bare shell and driver Mark Luney was given free reign to build the car exactly how he wanted it. Completely reworked with Meister R suspension and one-off brakes Team SATS ran the car throughout the 2010 drift season, 2010 was meant to be a development year but with a season of strong results the car arrived at the final of the British Drift Championship with chance of taking the championship, only to be stopped dead in its tracks with a massive oil pump failure.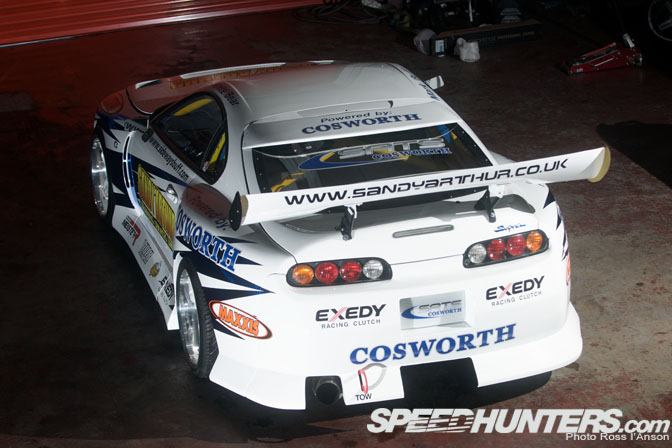 A lot has changed over the winter, a new livery and with Cosworth engineering coming on board with a brand new engine.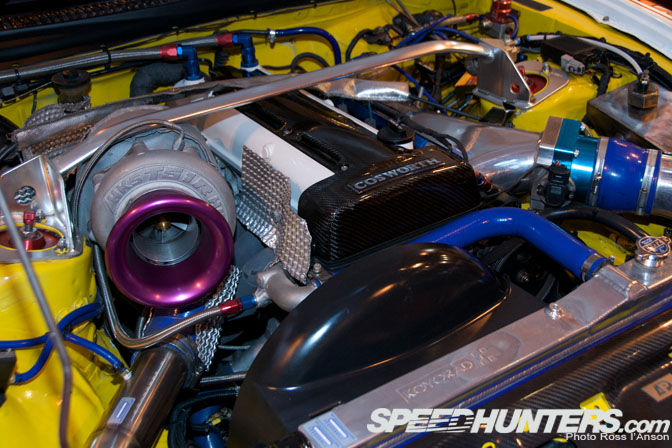 The engine spec is quite something, Fully forged  pistons and rods all balanced to within three grams, stage four Titan Motorsport head hand finished by Cosworth, race cams, large bore diamond finished block, breathing through a HKS T51R turbo, all hand built in the Cosworth F1 engine shop. 800hp+ and 9000rpm are to be expected.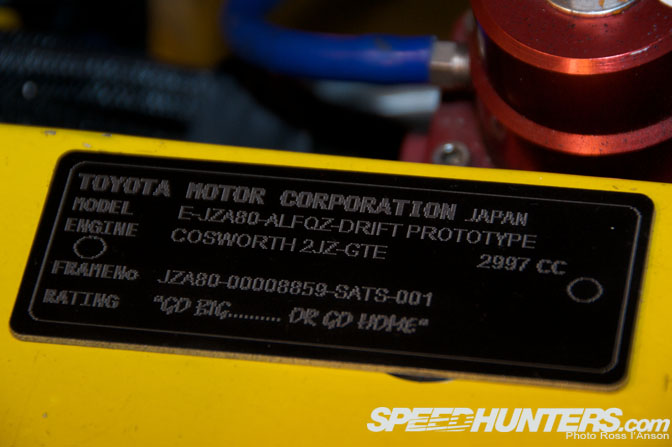 The new chassis plate says it all.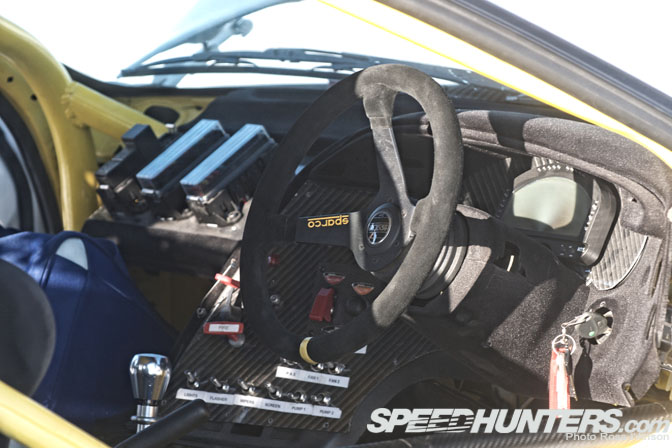 With the Saturday shoot in the bag Sunday was meant to be a shake down day.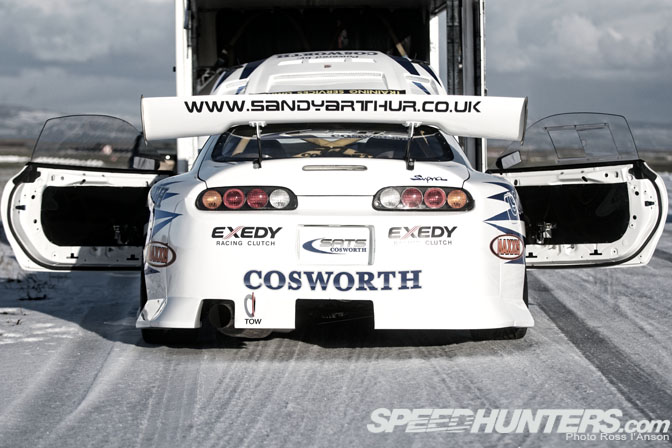 With test venues fairly hard to come by, Chris Arthur went for the long shot and rang Derry City airport to ask if we could use a bit of runway for the action shots. Amazingly they said " Yeah no problems, come along"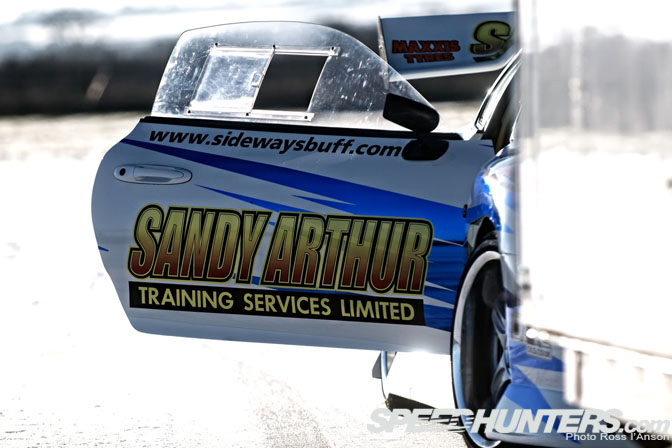 Unfortunately the bit of runway allocated to us was completely ice bound. No matter, the show must go on.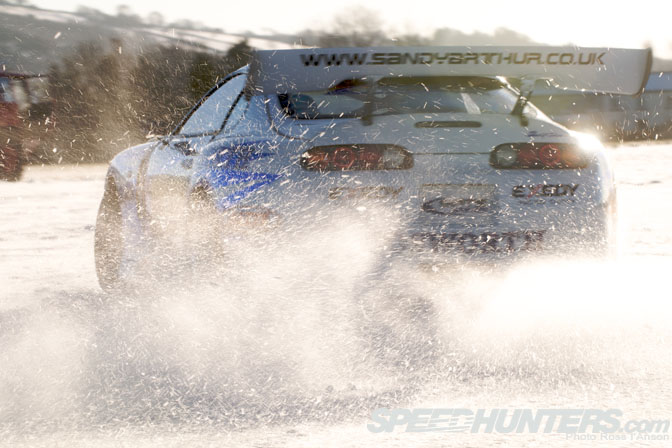 Shooting a hugely powerful car with big fat tires drifting on sheet ice causes its own very unique problems. Normally I will be fighting with smoke and dodging the odd flicked up stone but never before have I had to contest with shards of ice …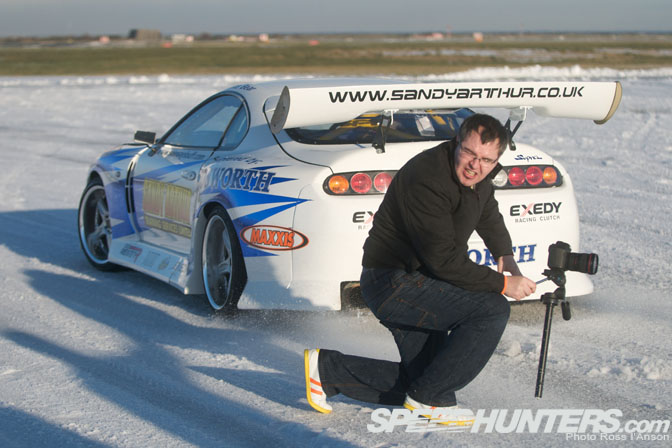 … A problem Ciaran Smith also had making the promo film.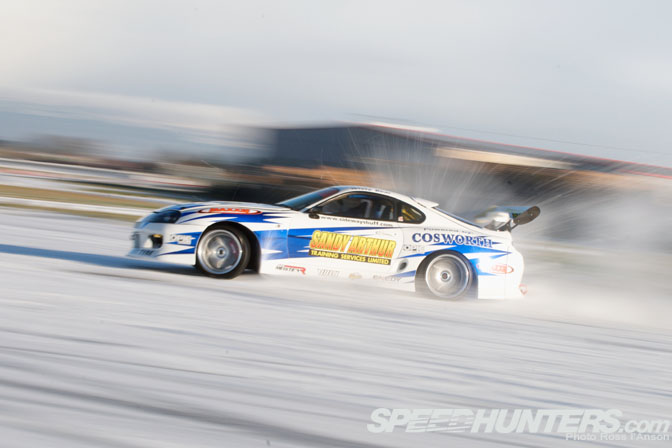 But shooting with ice brings its own beauty into the images.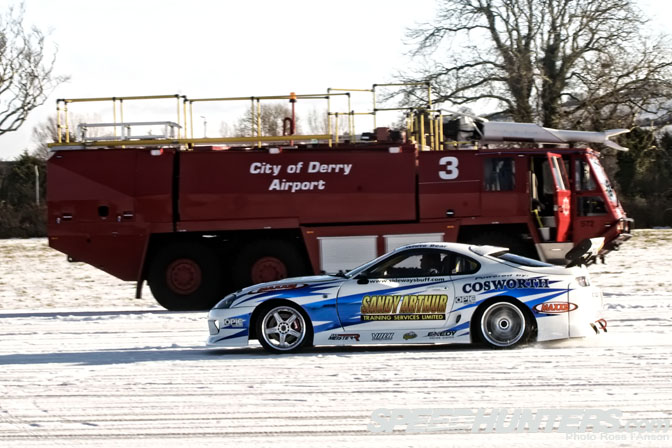 When embarking on a high-speed shoot its a necessity to be aware of your health and safety obligations. Everybody knows a hi-vis vest will save you from most evils, but its always worth making sure you have a fire extinguisher handy.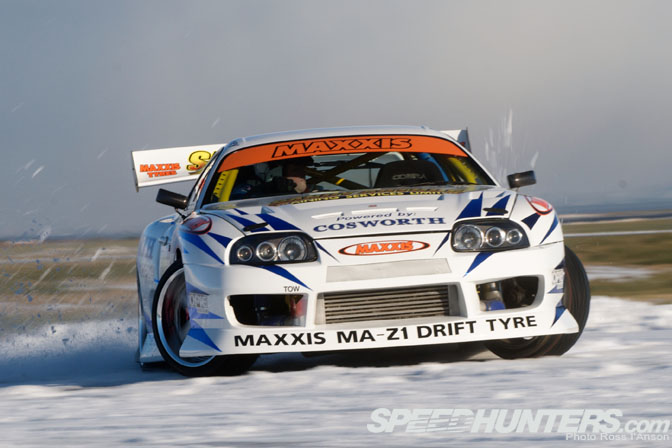 The ice laden runway didn't really provide a great shakedown but was definitely different and one I won't forget in a hurry.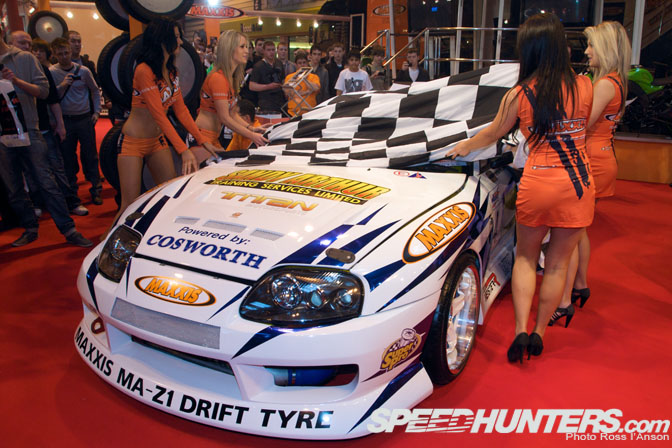 The car was officially unveiled yesterday at Autosport 2011 and is ready to roll. With a Double European champion at the wheel and Cosworth power providing the drive, the SATS Cosworth Supra will be a force to be reckoned with throughout the 2011 European drift season.
Ross.