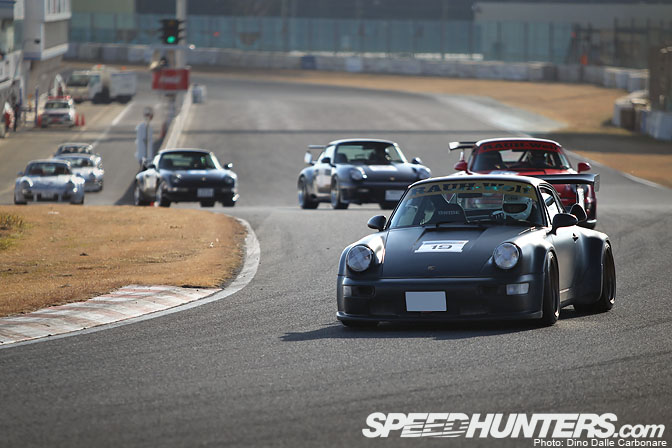 Time to pick up where I left off yesterday and head to Tsukuba for the second part of the Rauh Welt meeting. As if seeing close to thirty wide-assed Porsches run wild on the highway and regular roads wasn't enough the best had yet to come as these lovers of all things rough, and wide, were just about to let loose on track.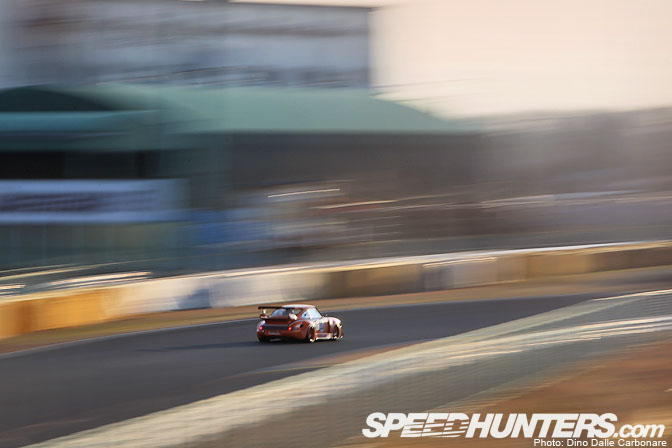 When we arrived in the paddock there were already some other cars waiting for Nakai-san, mainly people that had made the journey from other sides of the Kanto area. Like at Moriya PA, I had never seen a lot of these cars and it wasn't until then that I really began to understand just how big of a following RWB is getting these days.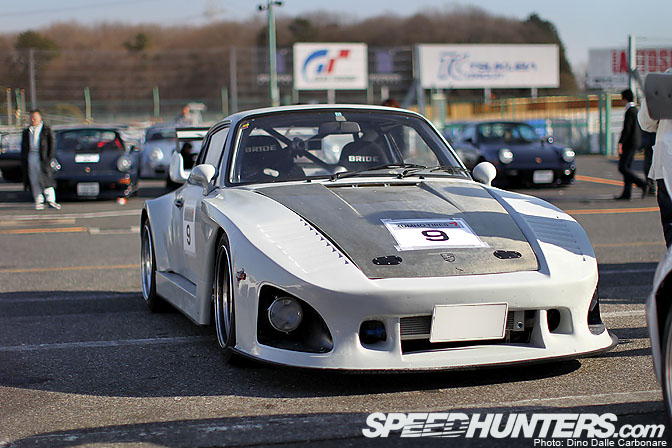 How cool is this, a flat-nose 930 in matte gray. Pure race car feel but still street legal…barely!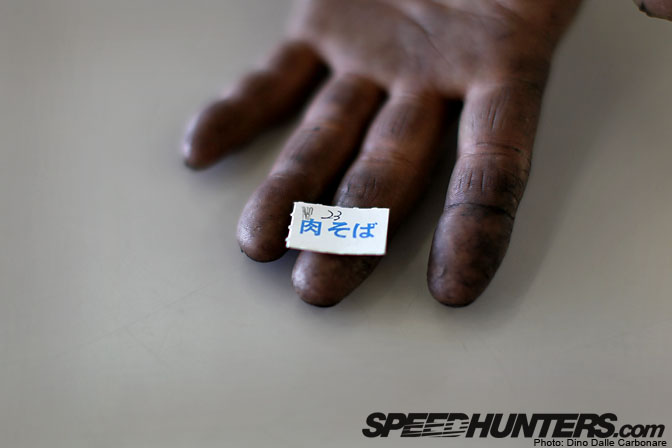 Before things got started I headed to the little restaurant in Tsukuba circuit with Nakai-san to grab a quick bite to eat. While waiting at the table with our little curry rice and niku soba tickets I just had to grab this shot! He was working on his car through the night to get it completed and his hands were in a pretty bad state.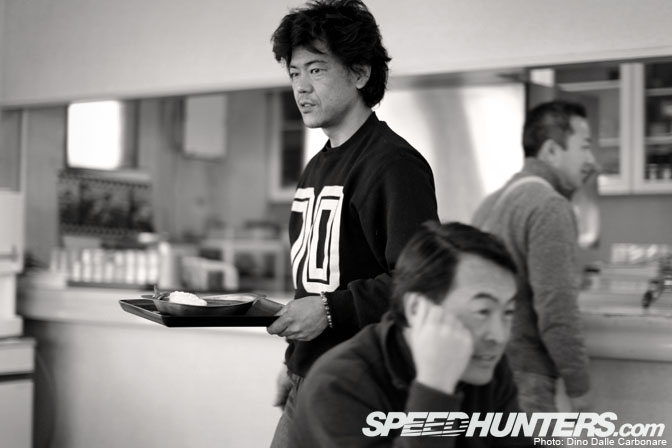 Eventually our food arrived…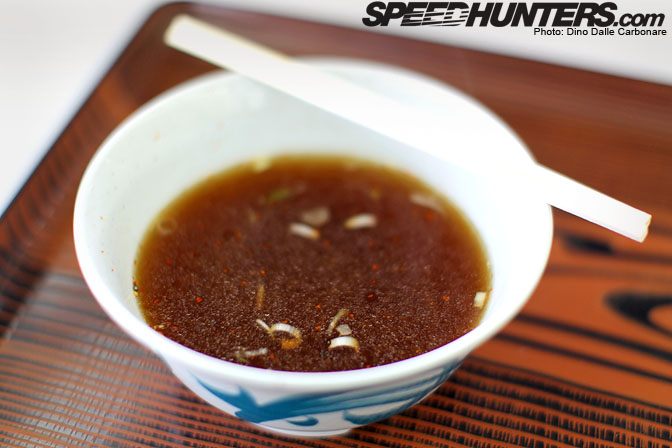 …and it was sucked up and consumed in a matter of minutes before getting back to the paddock.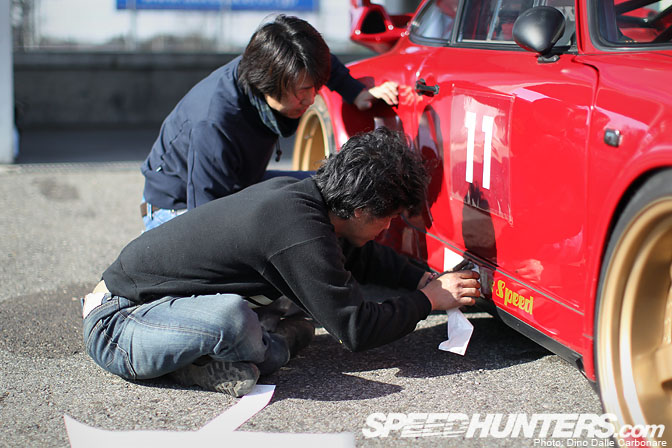 Yet another recently finished car, all ready to head out on track but not before Nakai gives it the final touch, its name "Good Hills Speed"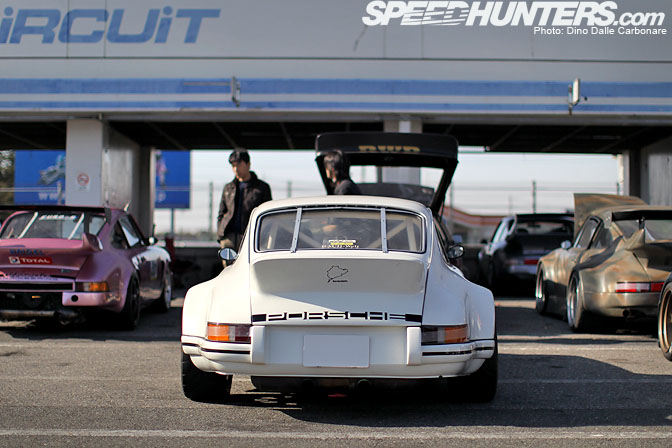 Simple is obviously best for some. You really can't argue with the classic lines of the 911 especially fitted with a Rennsport spoiler.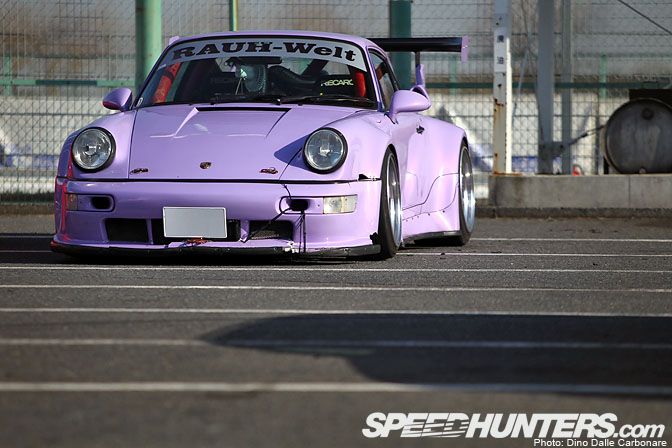 Can you spot the zipties?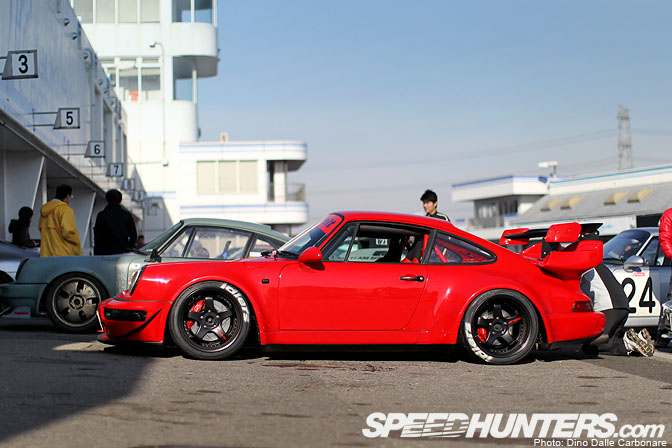 With the affordable prices of 930s these days in Japan this remains the most popular choice for those wanting the full RWB treatment. Owners, after some discussions with Nakai-san, hand their cars over and allow him to do his thing…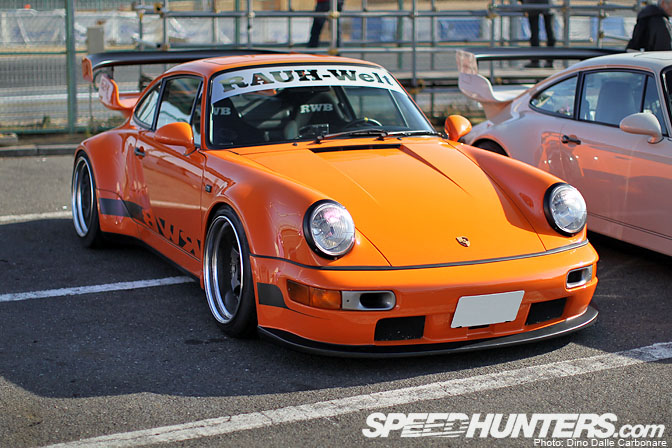 …treating each car as a blank canvas on which to let his ideas flow onto. Customers don't even have a say on the color, Nakai takes care of that too and he has yet to find someone that has rejected his choices.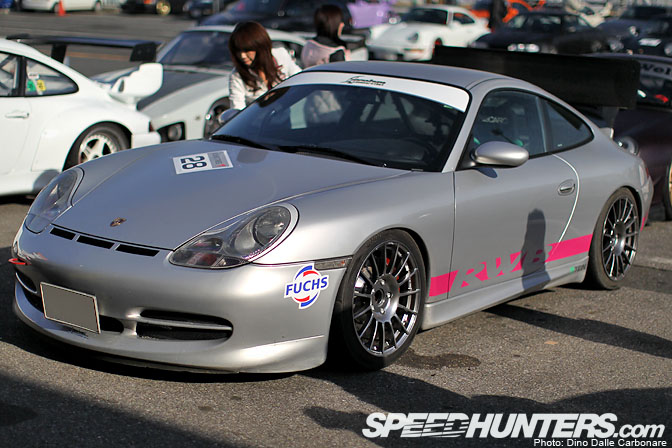 The owner and driver of this 996 is a lady which explains the pink RWB strips on the sides. I wonder if there are any plans to make this a little wilder?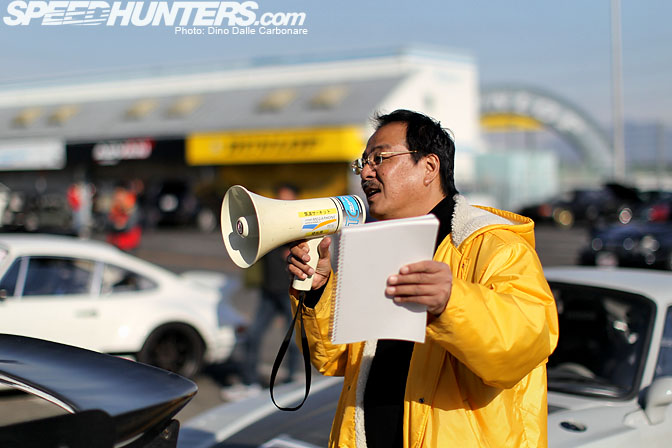 Unlike most track day events Nakai likes to do things a little differently, keeping things as easy and as stress-free as possible for those that have entered. With most of the drivers present having on-track experience and being well behaved there is no need for long a driver's meeting, you get your number and timing gear and you are pretty much on your way. Nakai did address the drivers briefly to run through the schedule and then passed on the megaphone to Seike-san, the editor in chief of 911 Magazine who was there with his photographer covering the event for an upcoming issue.
At 2 pm the first group of cars headed out and I run to the first corner to begin shooting some action.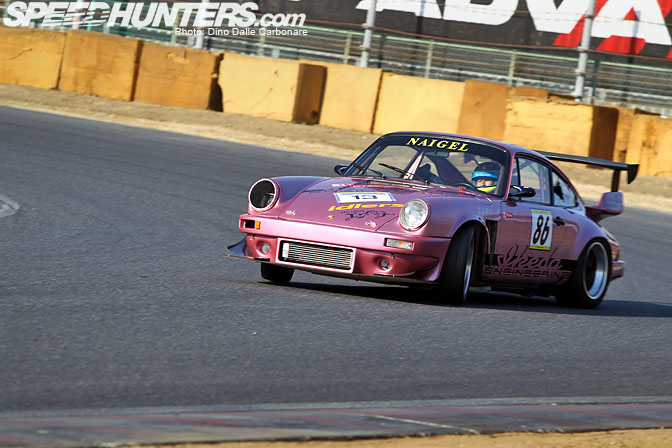 This guy was getting the tail out quite often in very smoothly controlled drifts!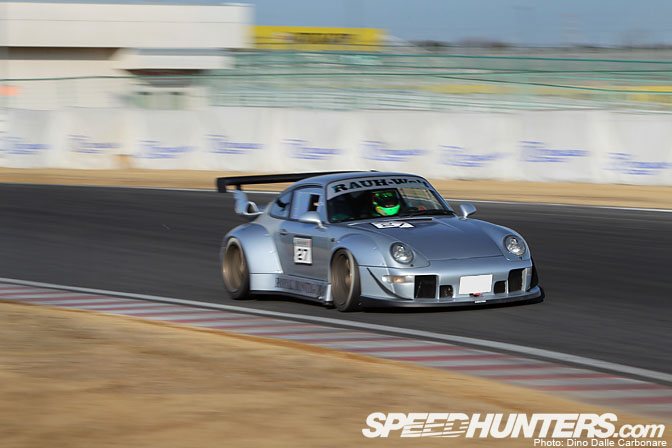 Nakai was so busy with keeping things organized that I only saw him head out once with the Royal Montegobay. This new car just looks too hot out on track! I can't wait to see this develop through the years just like the Stella Artois was.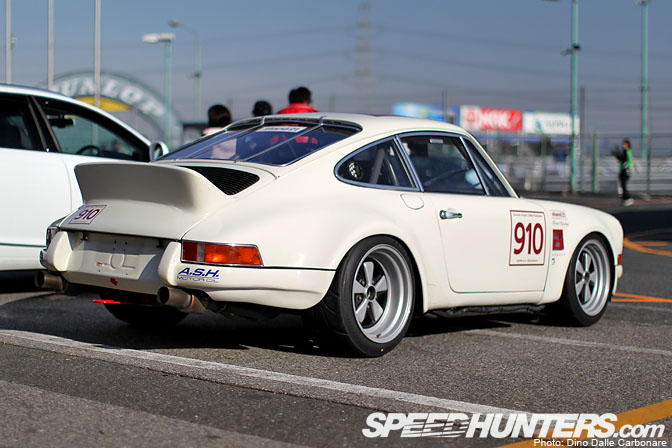 More ducktail perfection.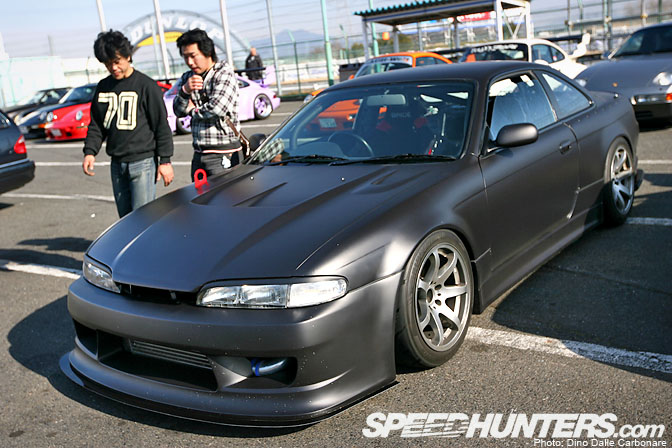 But wait, let's not forget the Japanese cars! You may recall seeing this matte back S14 at last year's Tuning Powers show…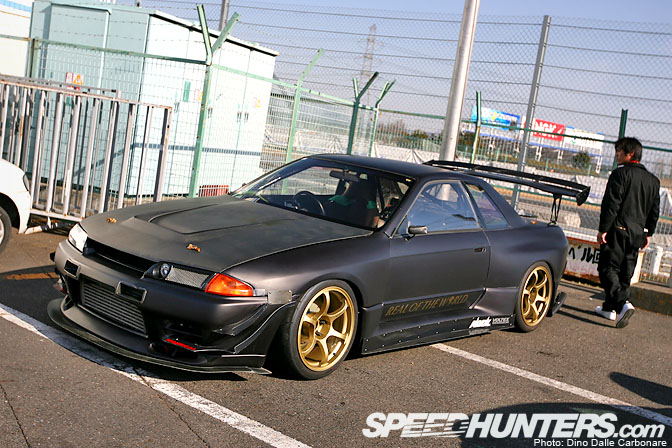 …and this T78-boosted widebody BNR32 from the Skyline Owners Battle last month, both there to join in the fun.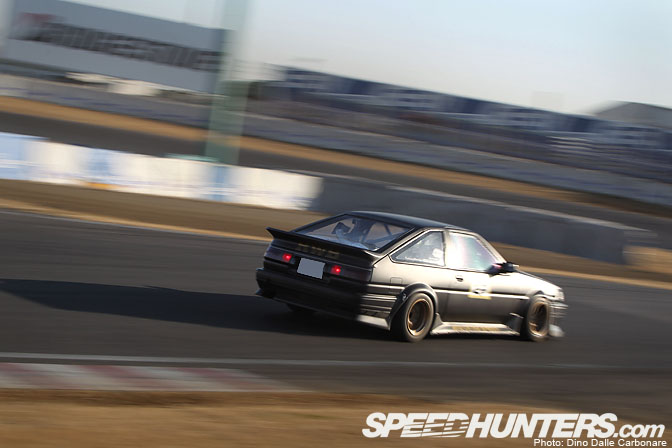 And like at all RWB and idlers gatherings Nojima-san of Nojireal was present with his AE86. He's the guy that handles the painting at Rauh Welt and is a master at getting those complex matte finishes velvety smooth!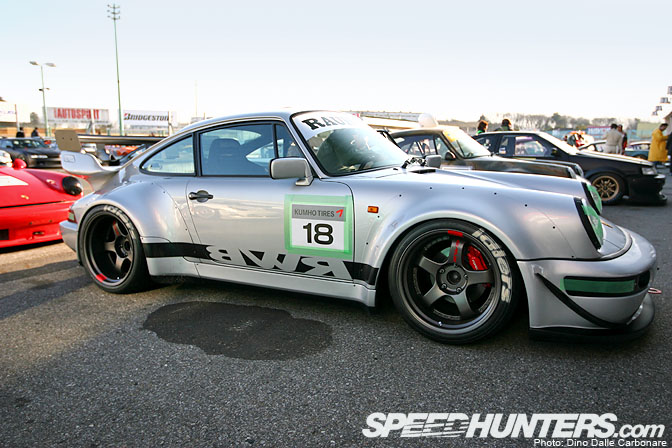 Those SSRs are just the perfect shade of dark metallic silver against that light colored body. Perfection once again!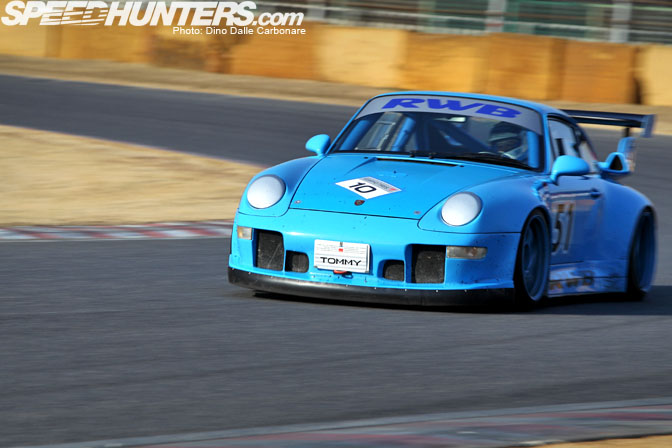 This car runs the same front bumper as fitted to the Royal Montegobay.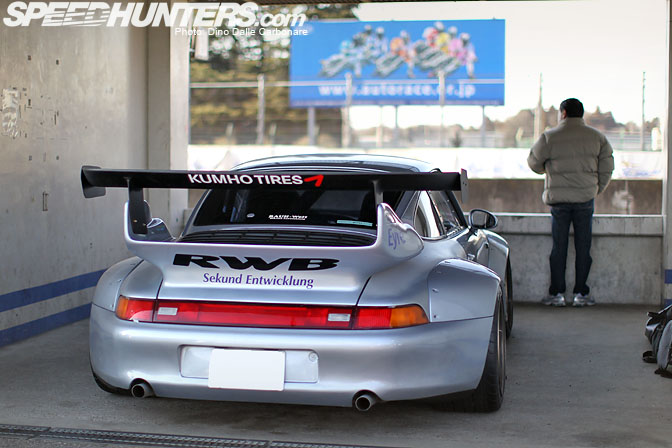 I like big butts and I can not lie…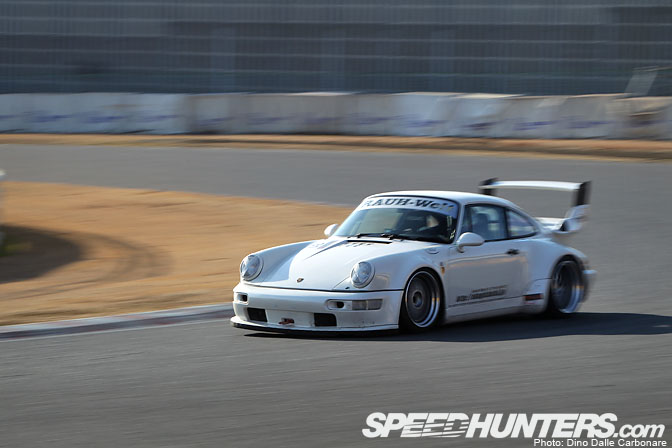 With virtually no pause in the soukoukai I thought I'd move around the track as much as possible to get the cars from as many different angles as possible…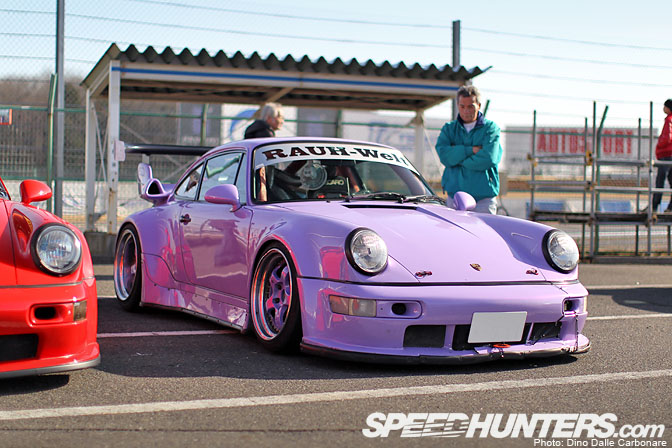 …but every time I passed through the paddock I just couldn't help going back to some of these cars for a second closer look…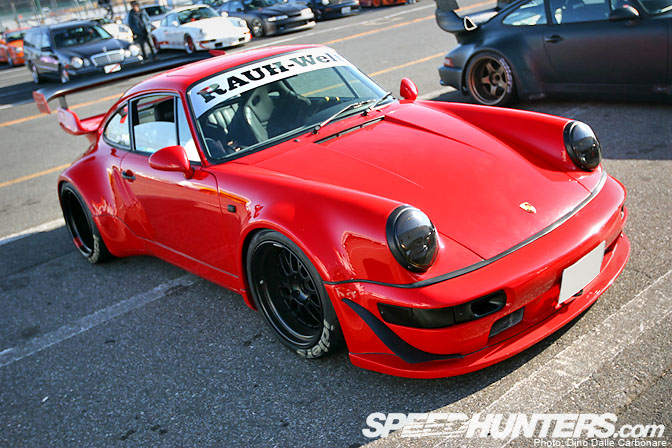 …I mean how can you resist keeping away right? Another superb 930!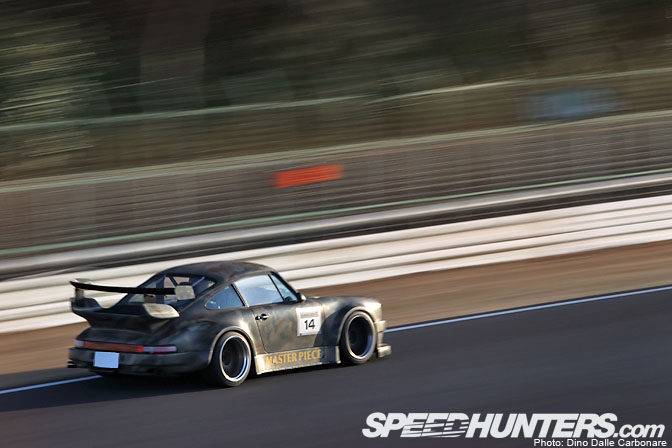 I was going to keep the coverage of this event at two posts but I've got so much to show you still that a third one might be unavoidable. Maybe I can squeeze it in before the Tokyo Auto Salon gets going…what do you think, you all want to see more?
Behind the Scenes – Rauh Welt Begriff Meet – Moriya PA
-Dino Dalle Carbonare