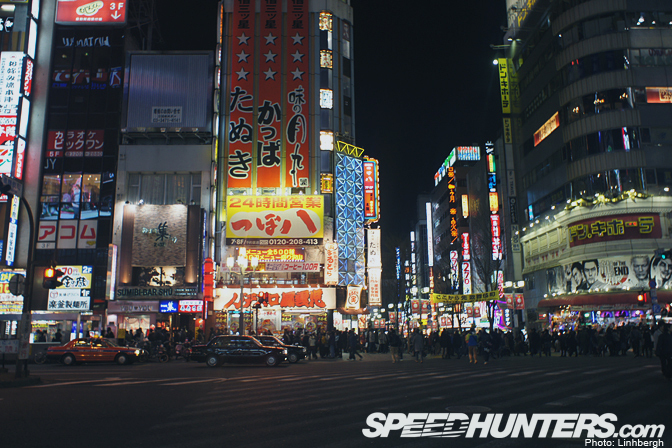 It's been a little more than a week since I was in Japan. My head is still trying to process I've experienced: the trains, the food, its amazing car culture, Tokyo Auto Salon, the extremely hospitable people, and the sense overload that is the metropolis of Tokyo.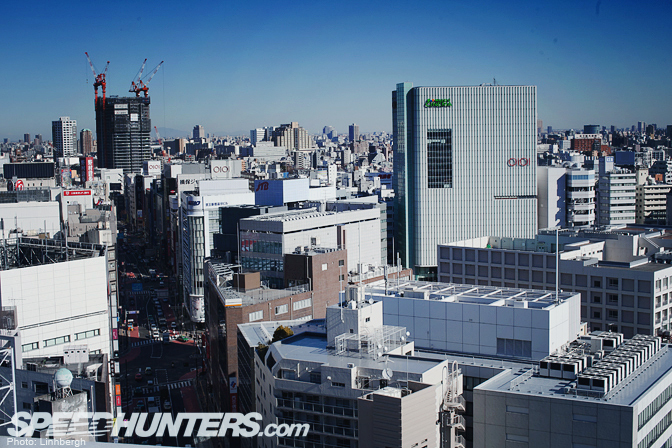 One of the many things that stuck me about Tokyo is just how clean it is. Even the "not so nice" areas are extremely clean. It's a city of organized and calm chaos. It amazes me how it all works.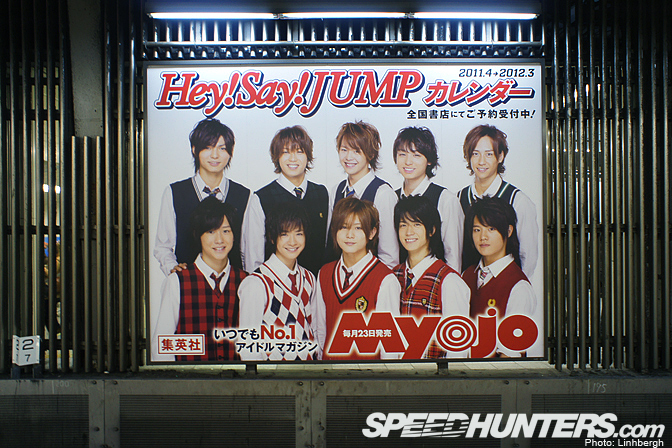 What also amazed me were the billboards up at the train stations.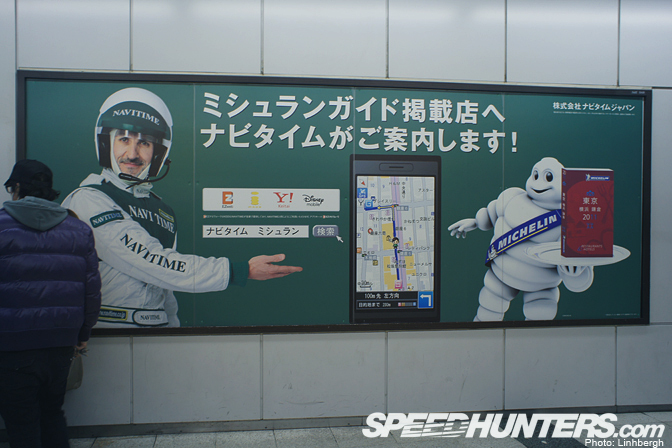 Like this one…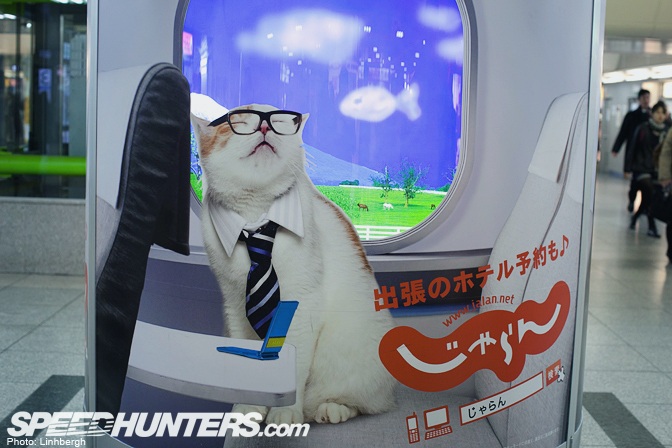 …and this seemingly Lolcats inspired one.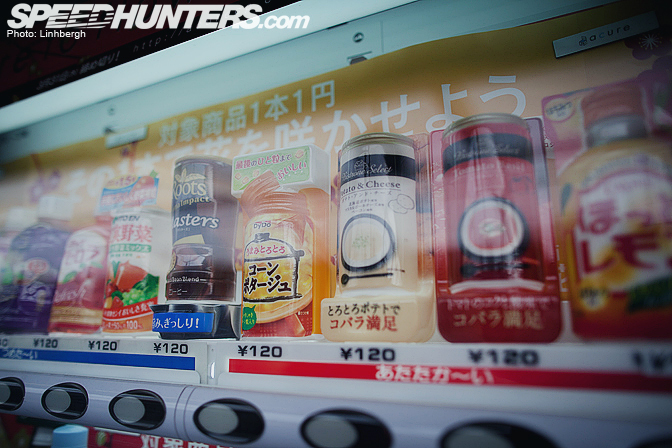 What's visiting Japan without the obligatory vending machine shot?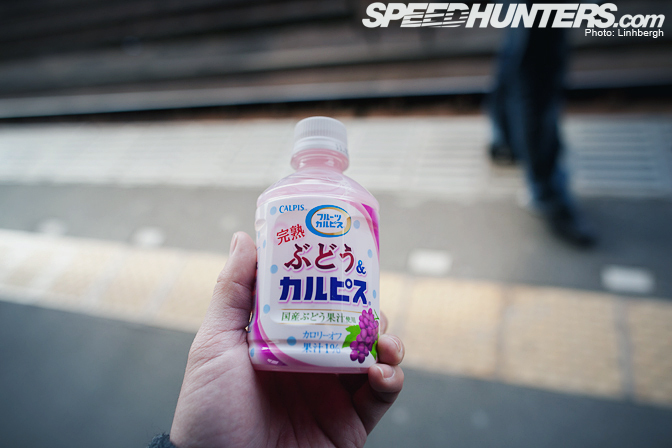 I decided to wuss out on the vending machine soup and opted for a grape flavored Calpis (or Calpico to you westerners). Mmmm… purple flavored.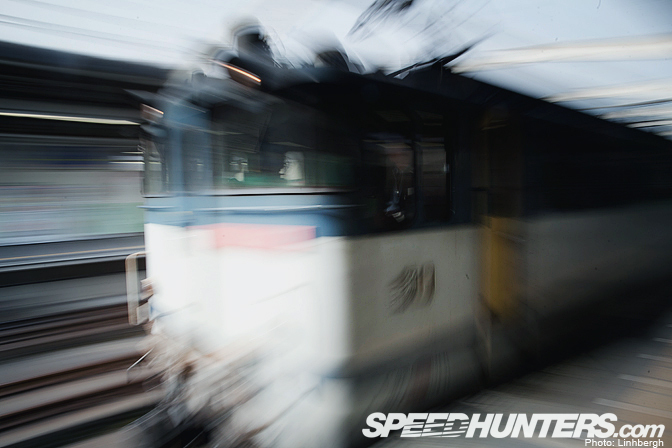 Not long after my purple flavored refreshment, the train arrived right on time, exactly to the minute.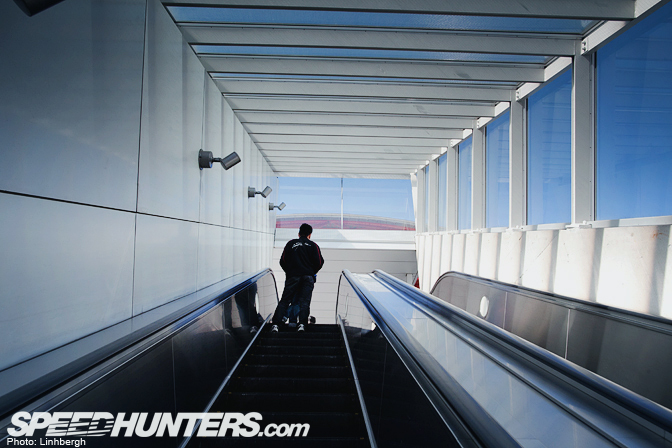 A short while later, I found myself once again heading up the escalator to the Makuhari Messe convention center. Once inside, I saw the gigantic crowd and dove straight for the pressroom to get hooked up to the Internet, check emails and log into Speedhunters to see what's going on.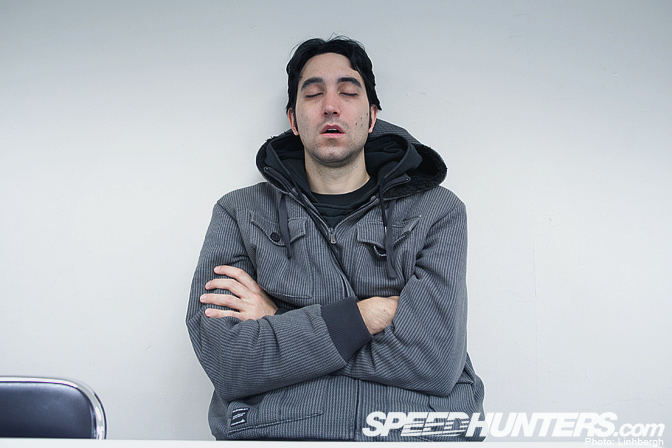 Inside the pressroom, I found a sleeping westerner. This rather knocked out looking fellow is none other than Alexi Smith of Noriyaro. Apparently, he was up the previous night doing a bit of drinking….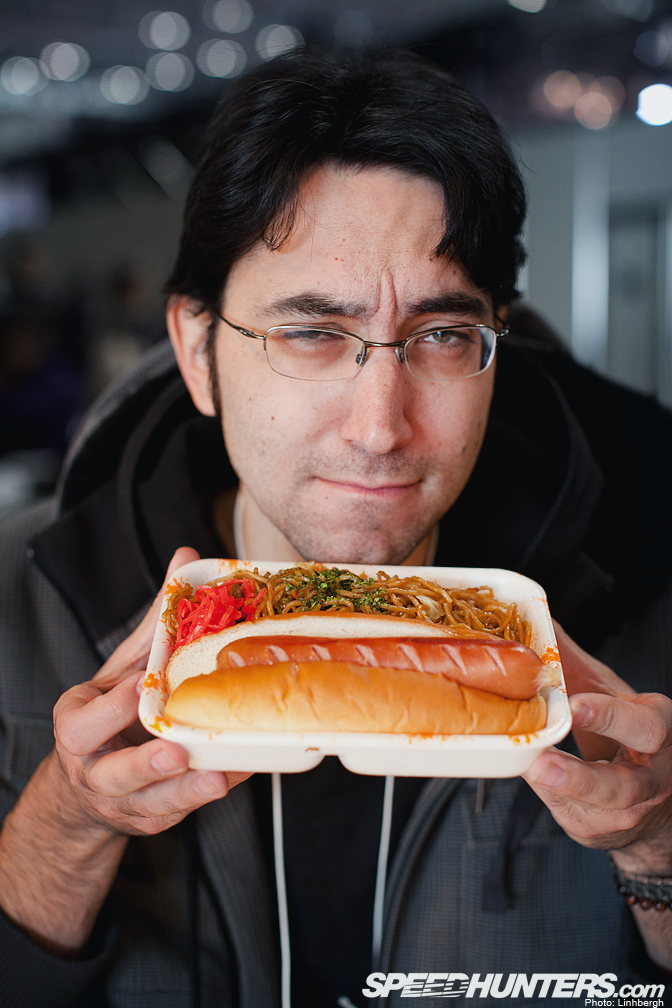 I woke the man up from his hung over slumber and had a rather pleasant conversation. An hour later, both of our stomachs were growling, so we headed down to the convention hall to grab some Japanese fast food: a hotdog and set.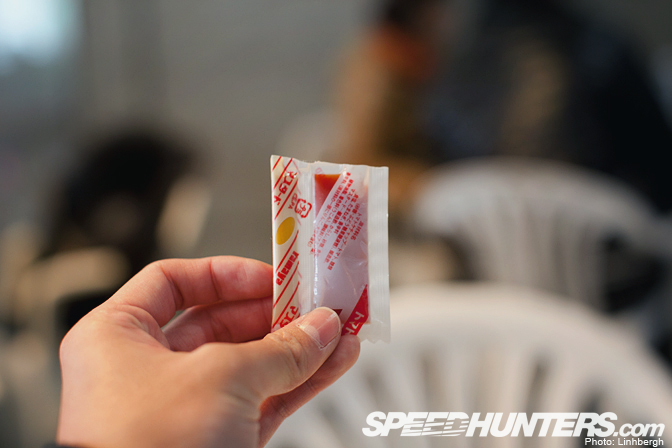 The set came with a single packet that contained both ketchup and mustard. With one simple squeeze, the perfect amount of sauce is dispensed from this packet. It makes me wonder why we don't have such amazing forms of efficiency in the west….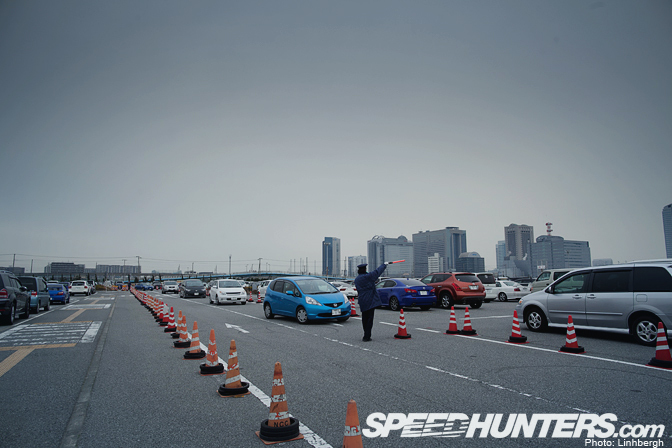 After lunch, it was time to get serious and speedhunt. I headed to the TAS parking lot to speedhunt away. If you missed the first part of my look at the parking lot, you can check it out here. Part two is coming soon!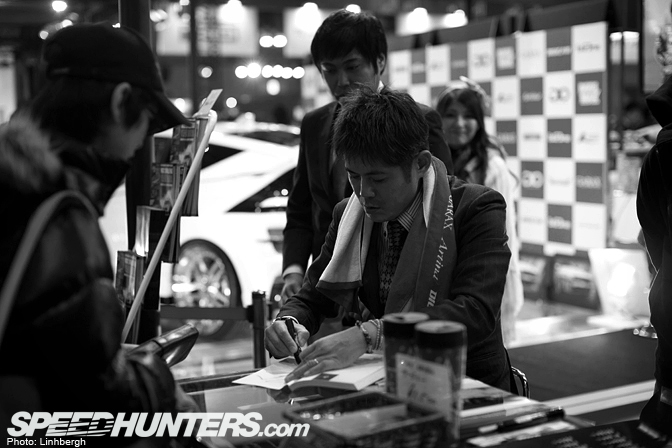 Back inside the convention hall, the crowds were still about and D1GP stars, like Manabu Orido, was at their respective booths signing autographs.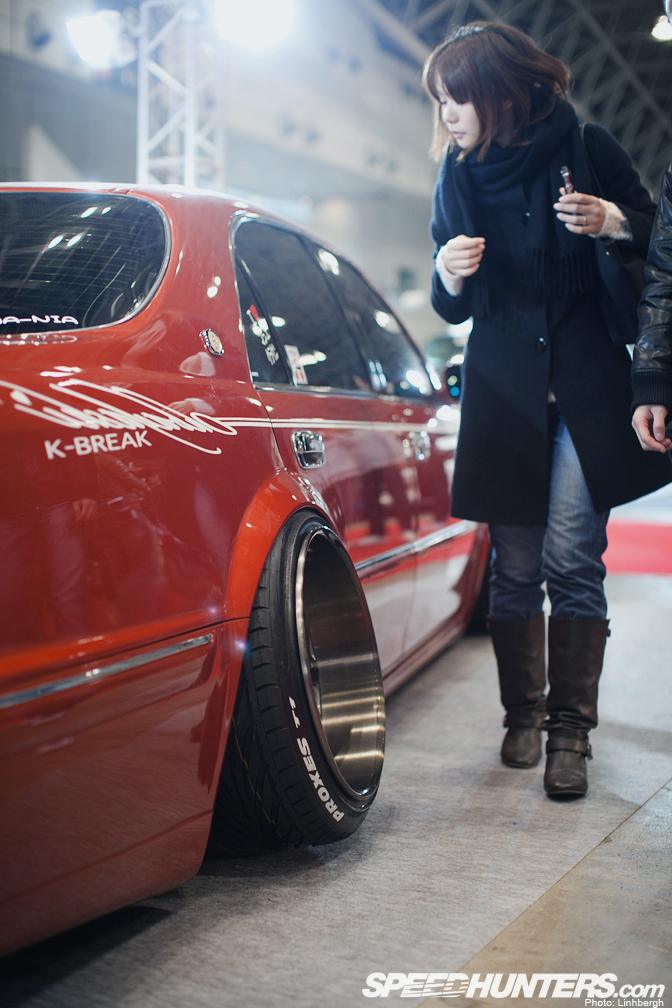 The D'Custom Freak/Bee Dragon Crown Majesta is loved by all.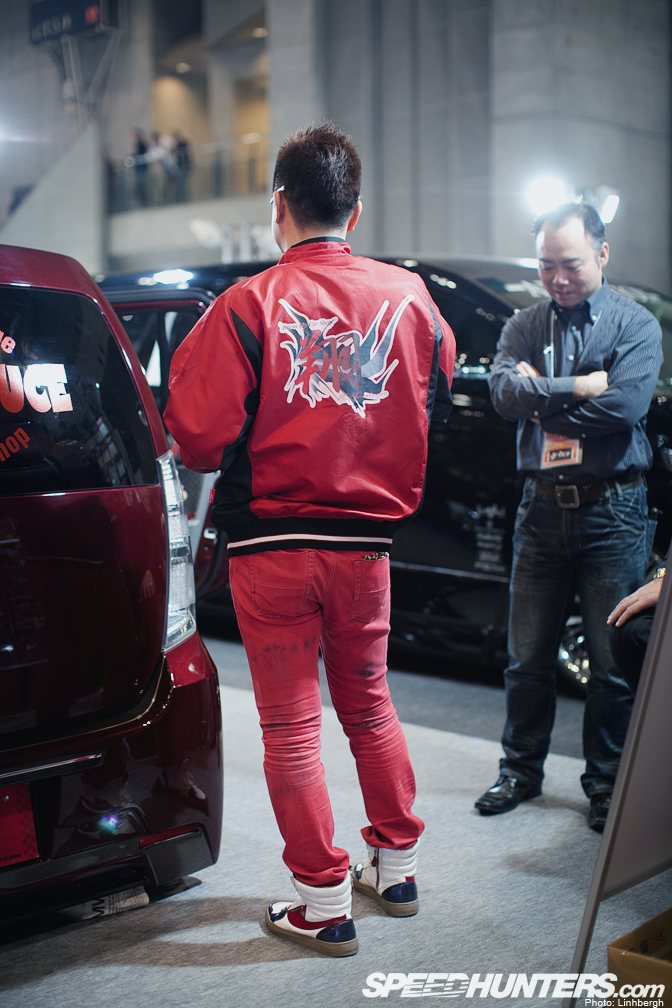 What an outfit.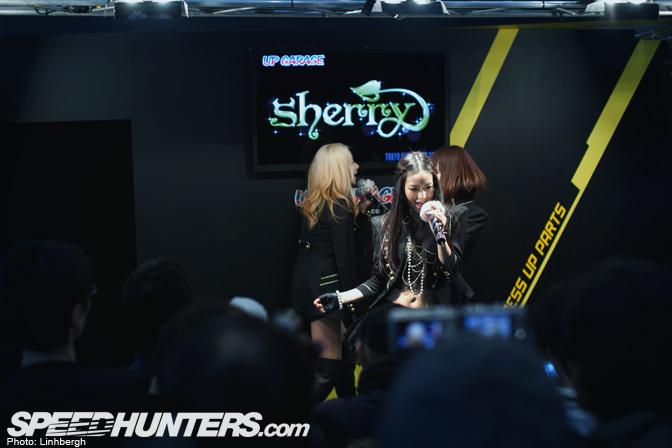 During the last few hours of TAS, some booths had bands performing. This all girl band, Sherry, was quite mesmerizing to watch.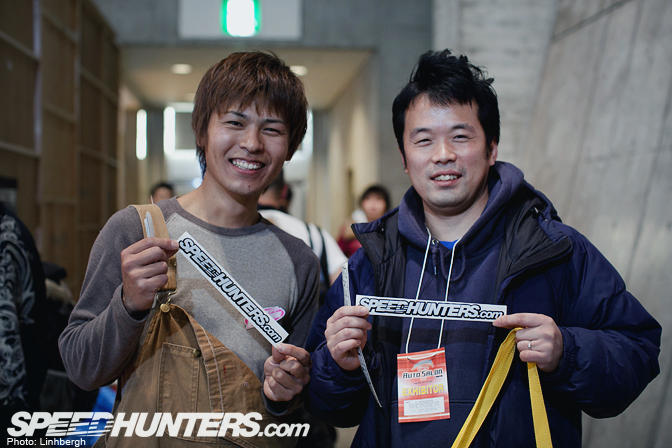 While it was awe struck by Sherry's performance, I get a call from Alexi and he mentioned he's with a Speedhunters fan
that is wondering how to obtain a set of stickers. I bolt me way to the Option booth and find myself in the presence of grassroots drifters Suguru Ishiai and Manabu Mitsumori (who's JZX100 Casey did a spotlight on). They kept mentioning just how much they love the site. I gave them our normal sized 6″ stickers, but seeing how they were such big fans, I decided they were worthy of our limited big stickers.
"Wooooooow so rare!!" is what Suguru-san said as I handed the sticker to him. It was quite an eye opener to see just how big Speedhunters is outside of America!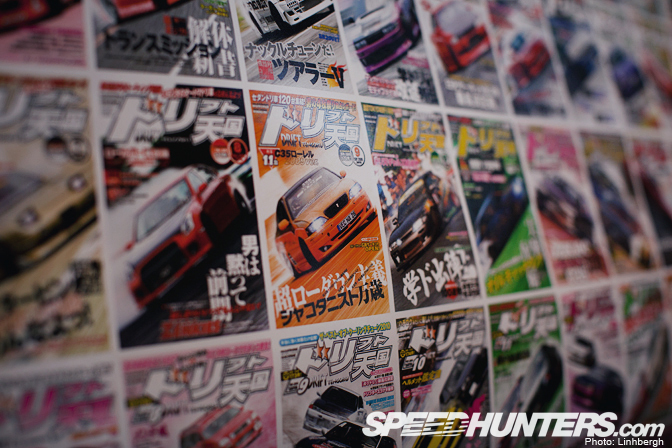 This orange colored Toyota Cresta is Suguru-san's car. So cool!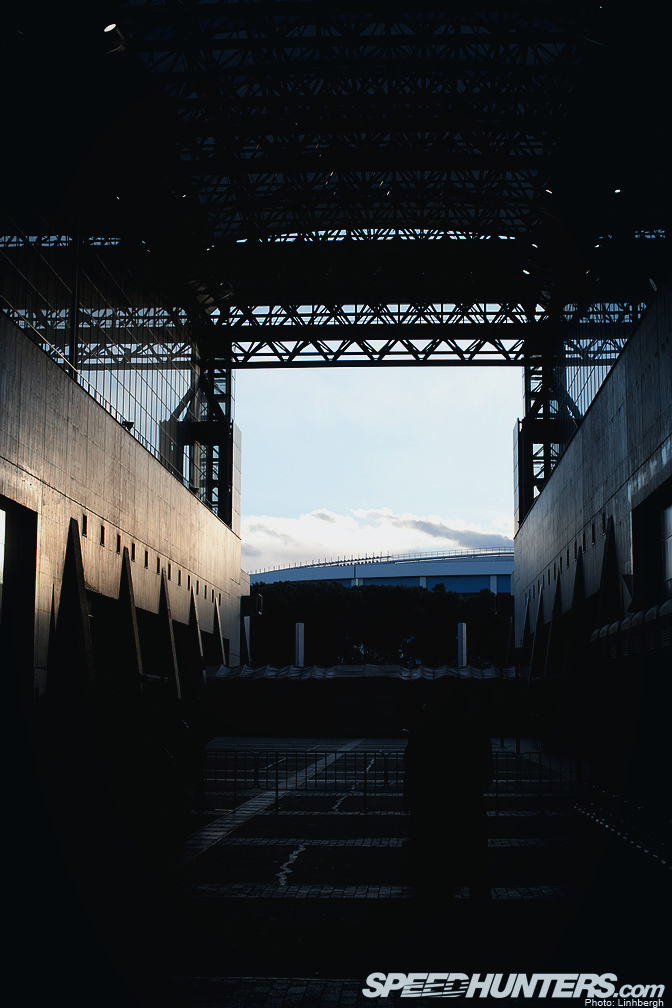 Here's a shot outside between convention halls as the sun started to come down. The Makuhari Messe convention center has some really great architecture from the outside.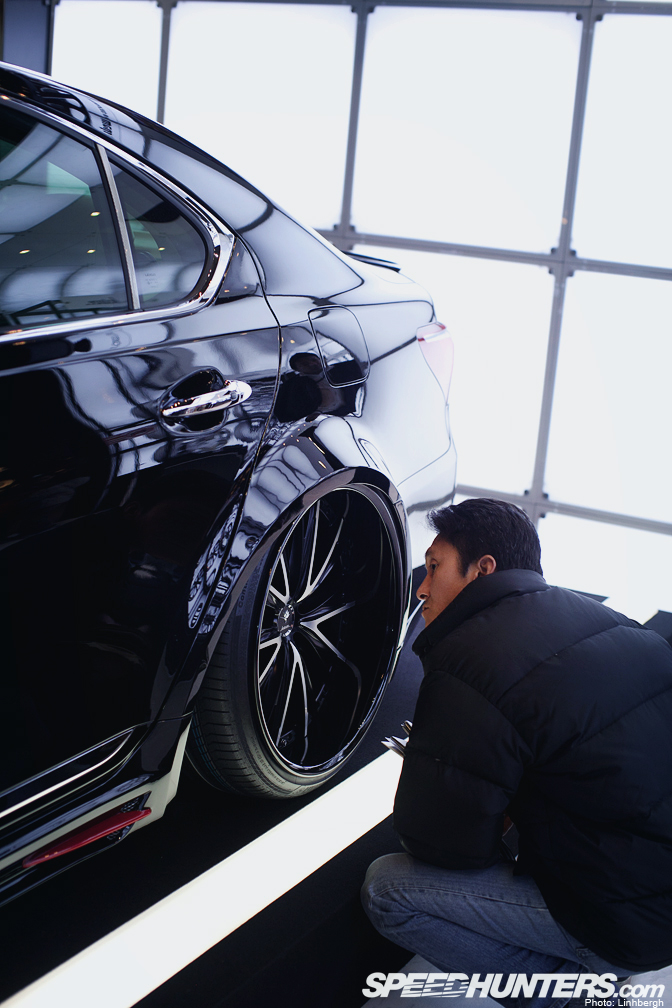 I did exactly this to the same wheel just seconds before. Amazing fitment.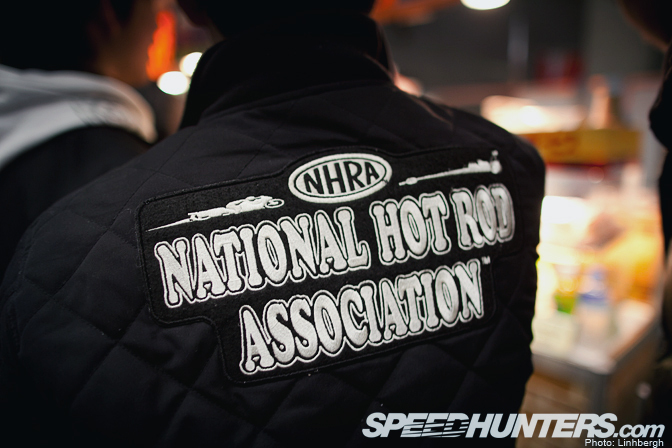 If you're a Japanese person and you have an NHRA jacket, you have to be super cool. That's like owning a Bride, Tein, Top Secret, D1GP, NISMO, or Spoon Motorsports jacket outside of Japan!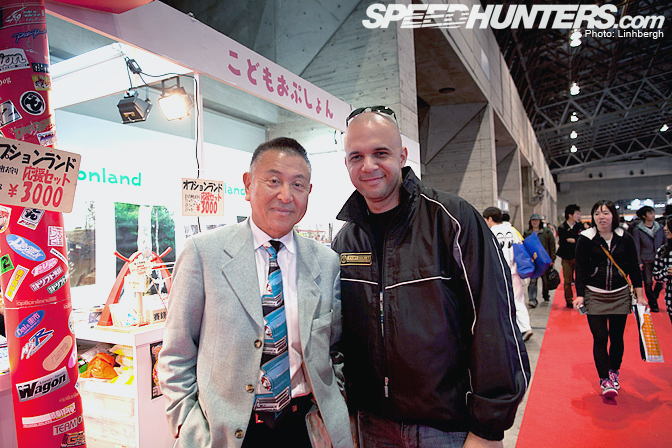 John Leigh with the father of all riceness: Daijiro Inada.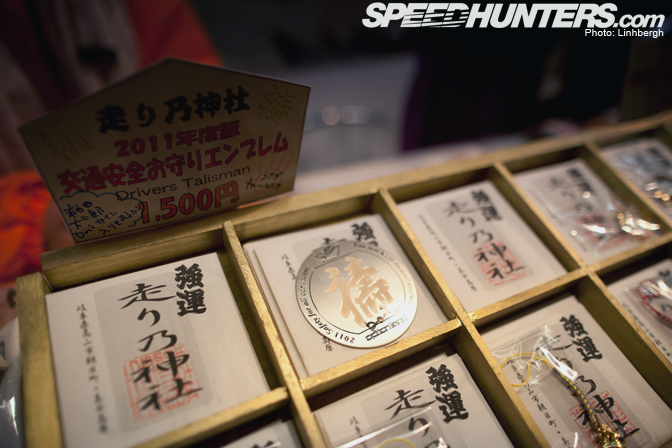 In his booth, he was selling road safety trinkets, which he's signed himself.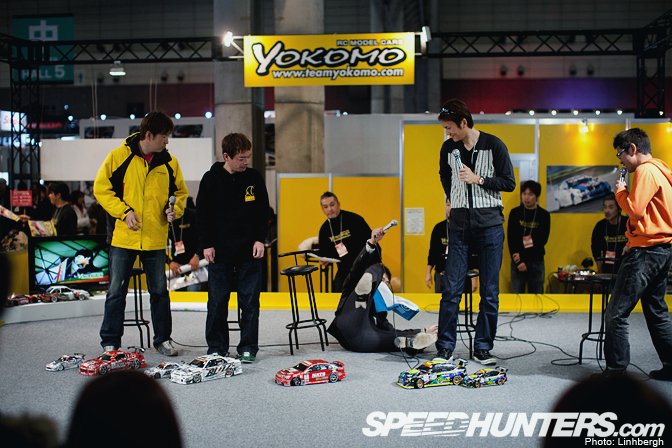 Just before TAS closed its doors for the last time this year, Yokomo put one last show with D1GP stars Yoichi Imamura, Ken Nomura, Manabu Orido (who's fallen down), Nobuteru Taniguchi, and D1GP announcer, Mana-P. It was a rather comedic show with each driver tumbling and falling down as they entered the stage and throughout the show.
It was pretty cool to see even in real life that they are exactly how they act in the Option videos….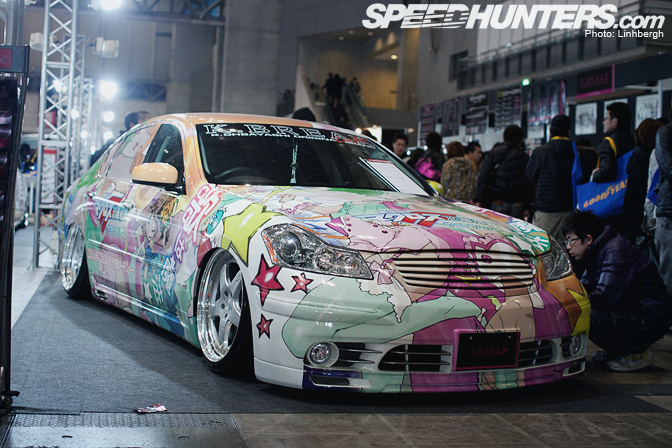 An Itasha-ed out Y50 Nissan Fuga displaying an Anime and character I actually know: Macross Frontier with lead character Ranka Lee. Nerdcore.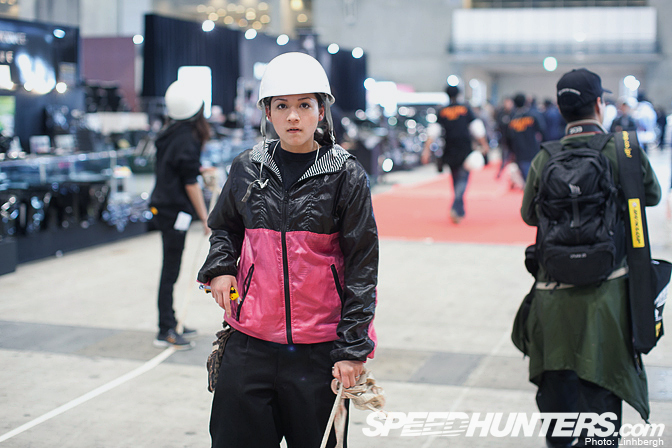 Not too long after the Yokomo show, the exit music faded in and echoed throughout the convention halls. That signaled that it was time for everyone to leave. I stayed behind to do some rush Speedhunting as this was the first time that there were no crowds around the cars.
This girl was helping remove the double-sided tape that connected the red carpet to the floor.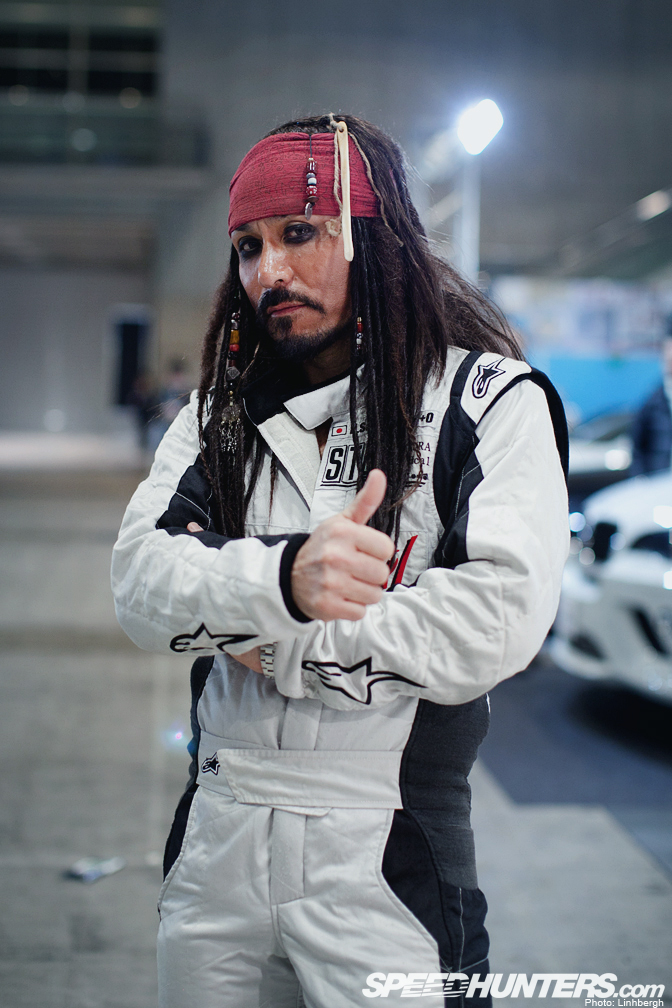 Ladies and gentlemen, I bring you Captian Jack Sparrow, racing car driver.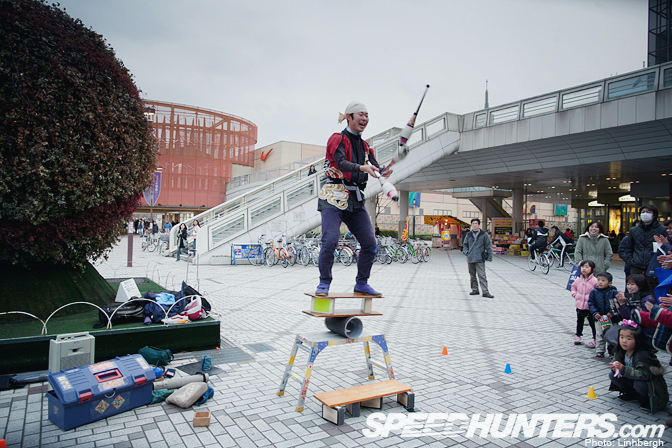 As we left the convention center for the last time, this street performer was just outside the Makuhari train station. I couldn't help but be completely spellbound by his performance. Alas, we had a train to catch and stomaches to fill.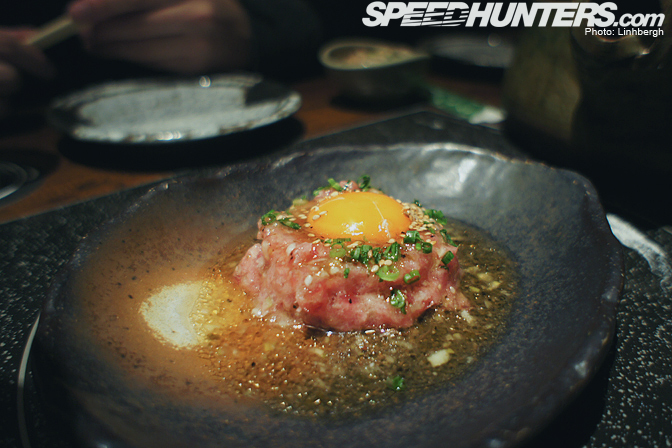 It was a cold evening out so something hot and soupy was perfect. We opted for some nabemono, a form Japanese hot pot variation with a spicy miso broth.
A plate of raw ground beef with some oil, sesame seeds and raw egg came out. There was to be no cooking. It's eaten raw. So, my American-ness quickly questioned such a dish. But after mixing it all up into a goopy mess, I tried some. To my delight, it was absolutely delicious. The others didn't quite enjoy it as much as I did so I finished up most of the dish.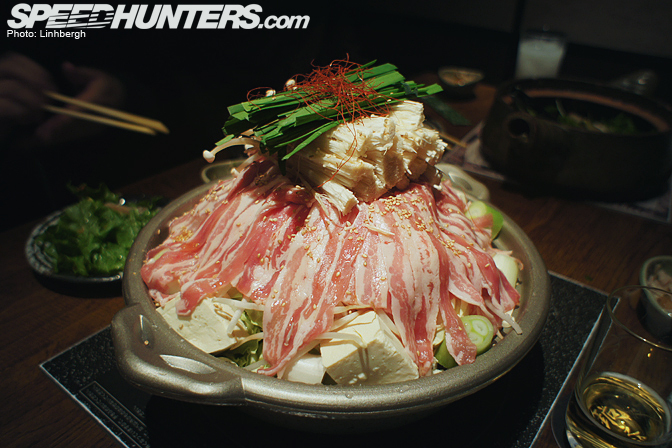 The main course came out in a giant iron cast pot with its towering heap of vegetables, tofu and pork.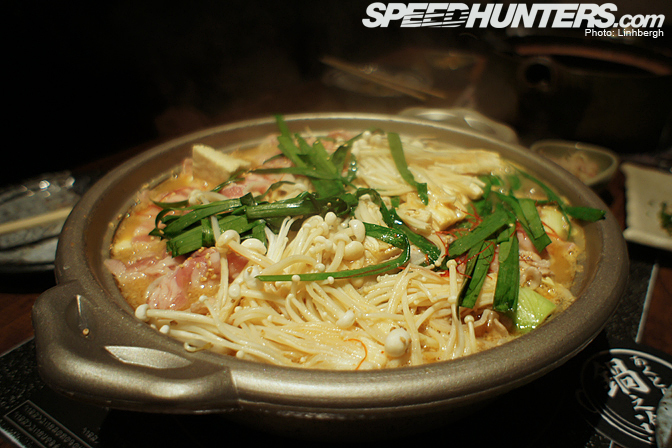 After a while of being on the heat, the tower of food boils down to a delicious and hearty soup. The nabemono was one of the best meals during my stay in Japan.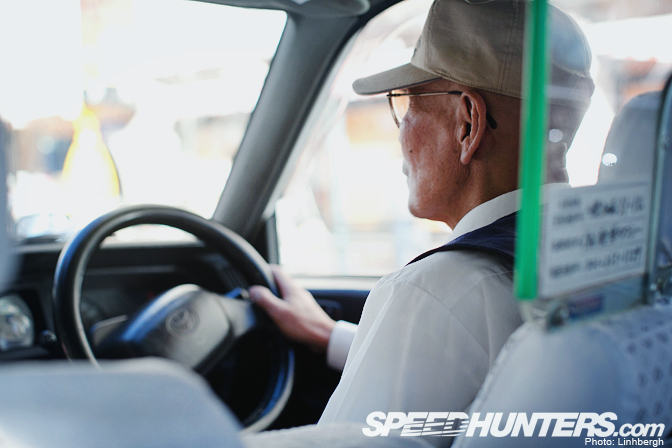 The day after TAS, John and I had a date at Top Secret, which was located in Chiba. A hour and a half train and a taxi ride later, we arrived at the shop.
If you haven't had the chance to check out my visit to Top Secret, you can check it out here.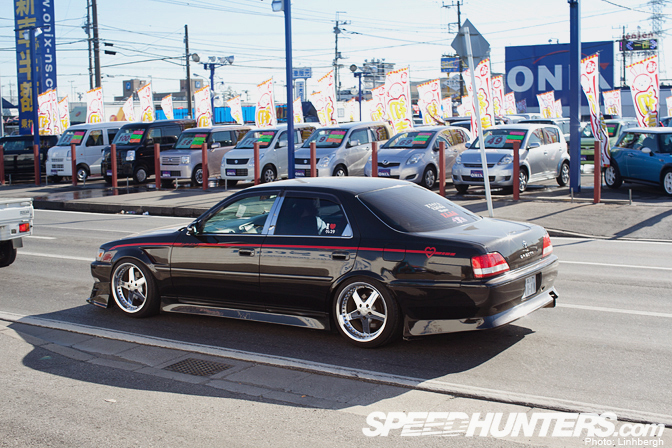 The street right outside the shop proved to be a good speedhunting spot. Not to long after my arrival at Top Secret, I spotted this Toyota Cresta on Work Equips.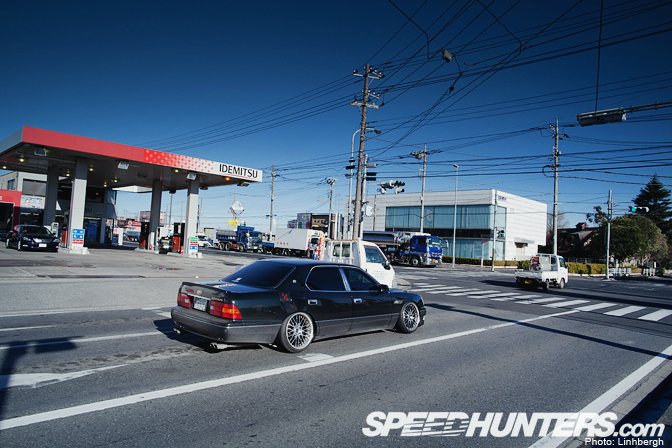 The next spotting was this Toyota Celisor…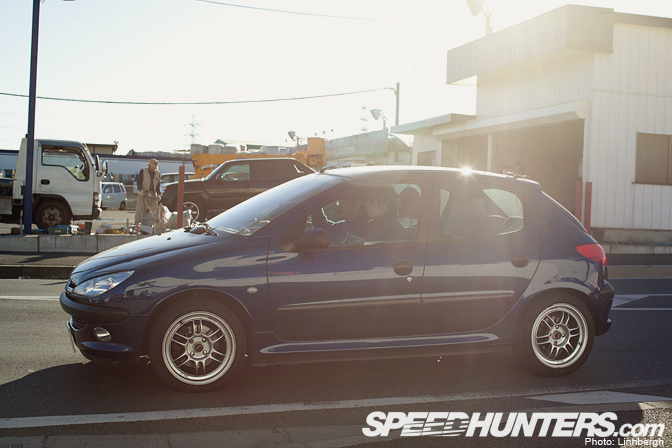 …then this Peugeot 206 on Enkei RPF-1s.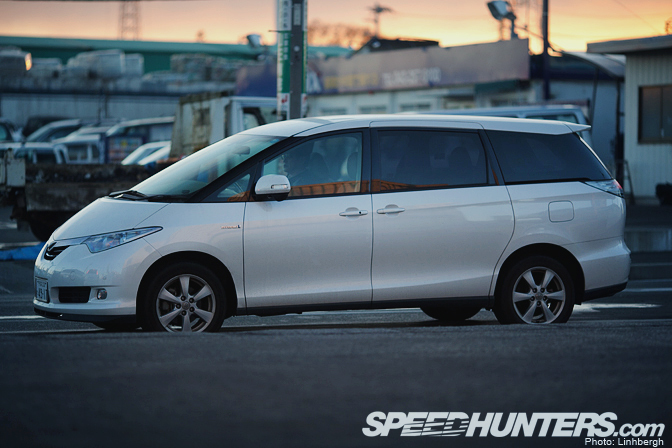 The last spotting of the day was this Toyota Estima just because these minivans look amazing tuned but also looks great in stock form.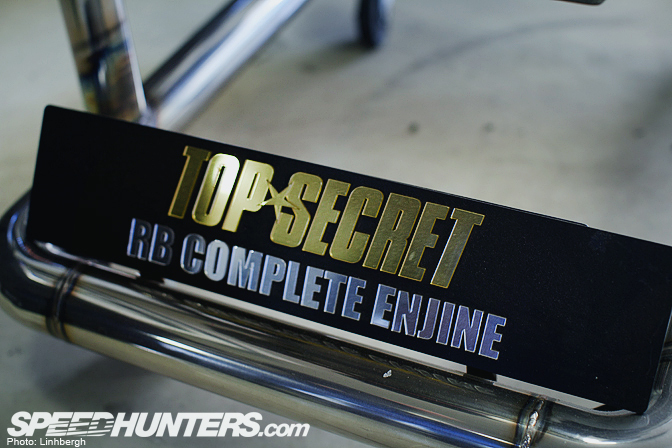 Inside the shop, on one of the engine stands, we spotted a bit of John and I spotted a bit of Japanese Engrish.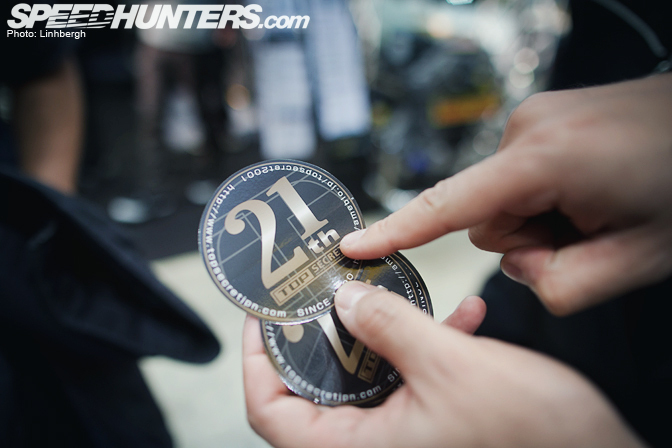 Top Secret's managing director, Hyobu Shibuki, handed us a set of 21st anniversary stickers, which we spotted the second bit of Japanese Engrishness. We love it.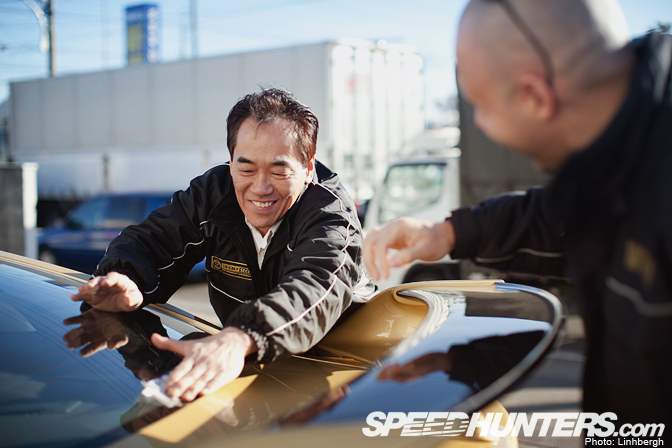 As we already know, Smoky Nagata will be in Houston for Import Reactor in and also be driving his V12 Supra and Stateside GTR a week later at the Texas Mile. We can't wait to see how both cars perform!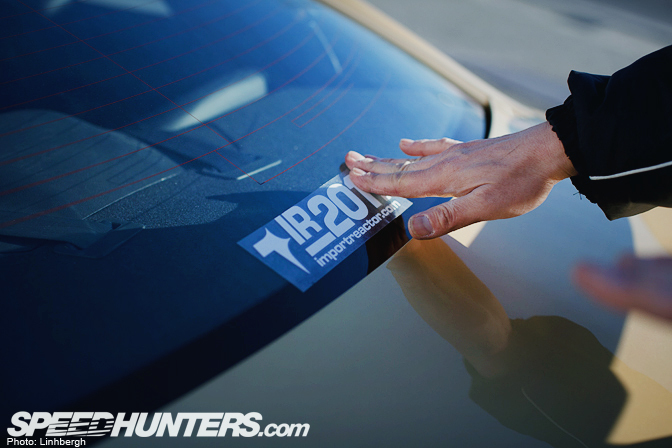 Even though the Gold GTR will not be in Texas with Smoky, that didn't stop John from stickering up the car!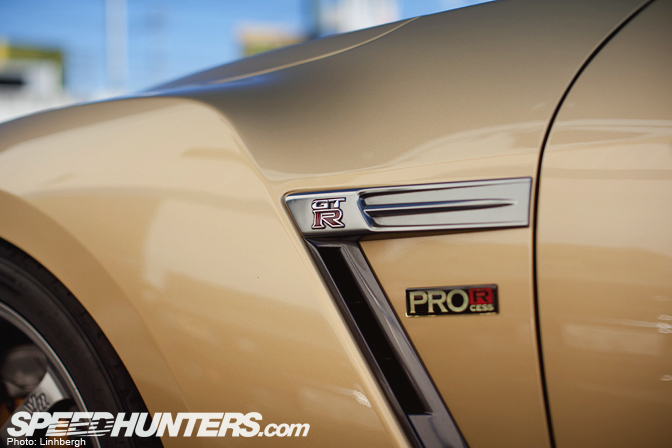 The gold on the GTR looks amazing.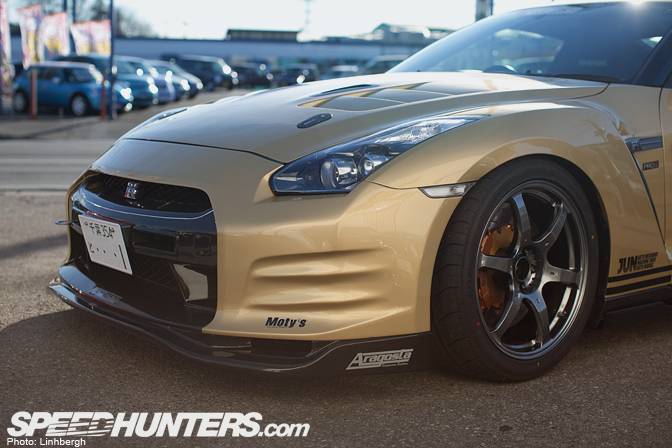 Another shot of the Top Secret GTR, this shows off the bumper which is 6″ longer than stock.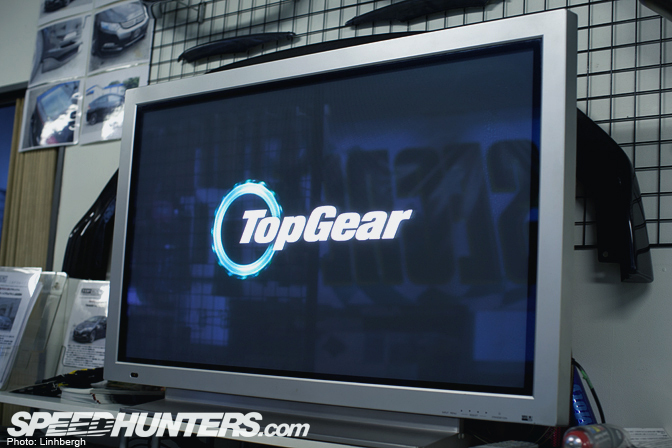 Inside the shop, the TV was showing the greatest automotive show in the world. John and I were mesmerized for a good hour.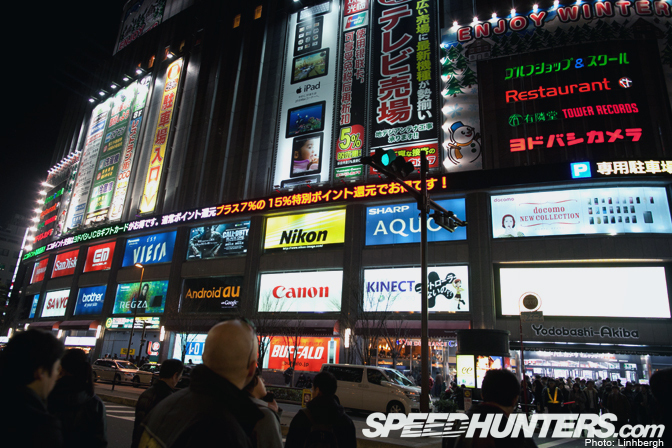 We left Top Secret to do a bit of shopping. Our journey lead us to Yodobashi-Akiba in the Akihabra district…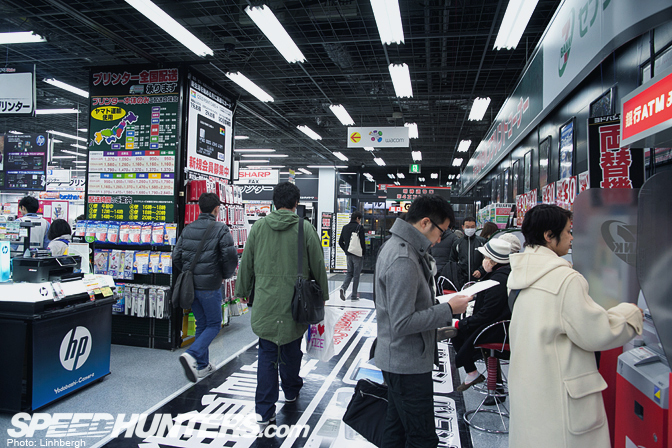 …which is a giant department store where each floor had different things for sale.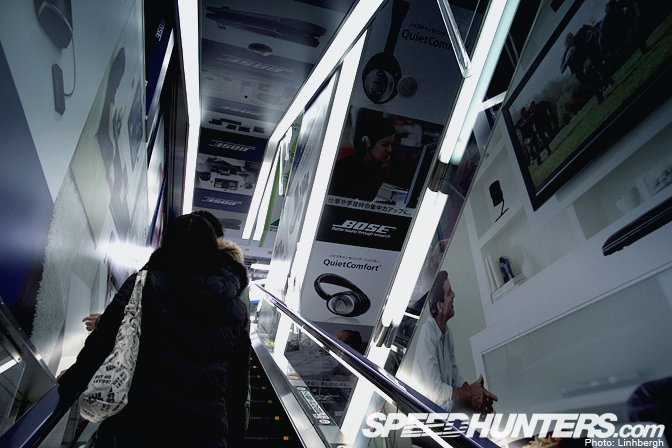 Wherever there's space, the Japanese stick advertising on it.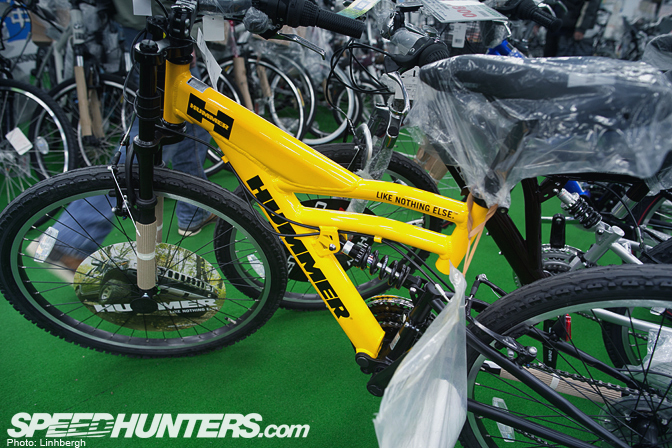 On the floor, which sold toys and sporting goods, John was keen to show us the cool bicycles that children in Japan had the opportunity to purchase. These bikes had various car company's branding on them. Here's a Hummer branded bike…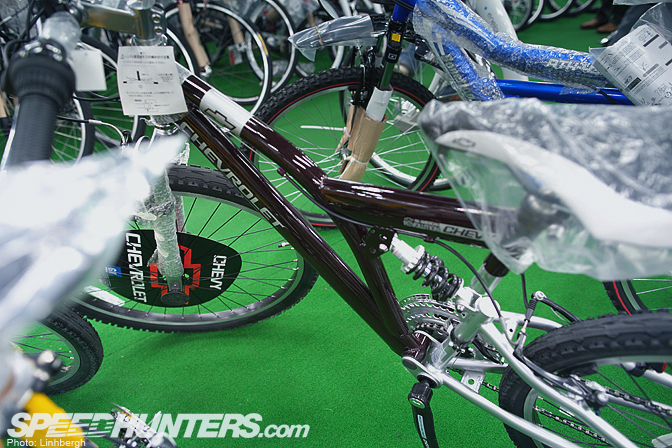 …a Chevy branded bike….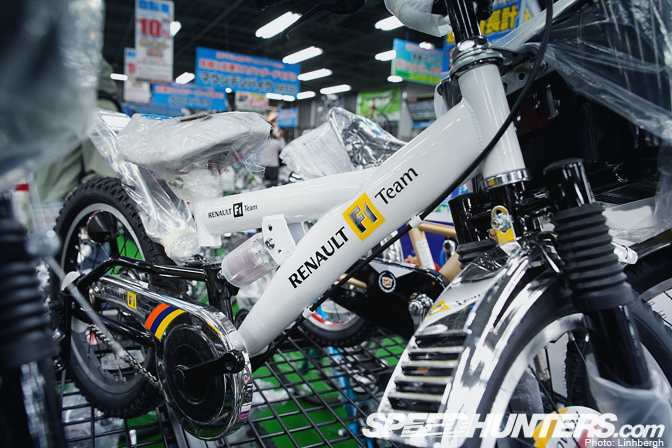 …and finally a Renault F1 branded bike. I would love to be a kid in Japan and had a bike like one of these!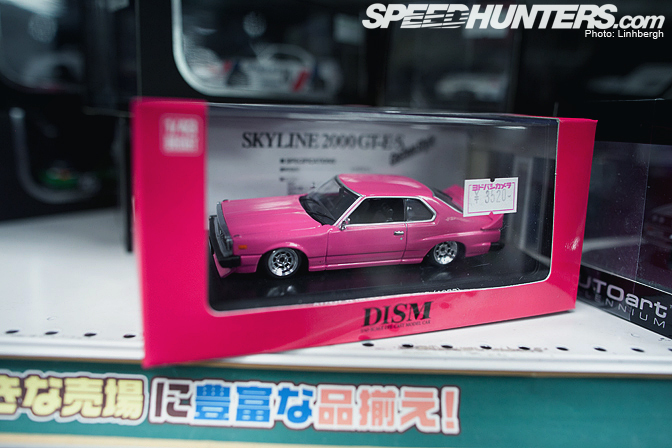 On the same floor, I found the Auto Art section and saw this pretty cool Bosozuko style 2000GT Skyline. I was tempted to purchase but ¥3520, or $42.50, was a bit too pricey for me….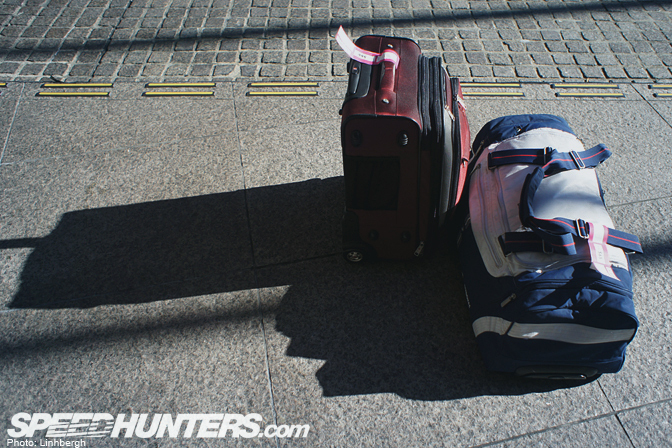 I couldn't believe I spent a week in Japan. Seven days is not enough to see all the sights and sounds of Tokyo, let alone the rest of Japan!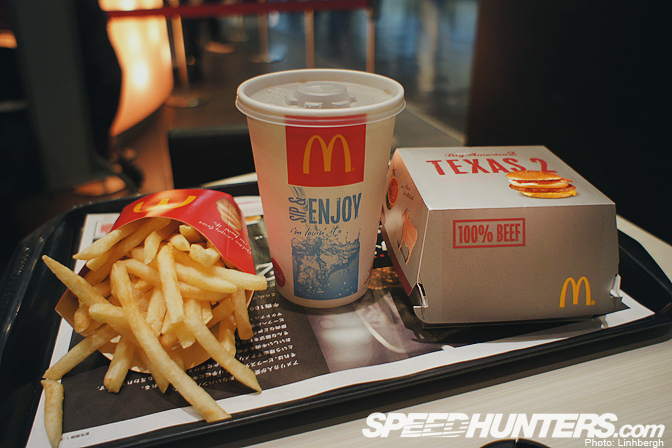 At the Tokyo airport, I had my last meal in Japan, McDonalds. Of course, I didn't order what is also available in the states. But instead, I ordered the Japanese take on an all American Burger, the Big America 2: Texas 2. It was a burger with a big beef paddy, cheese, bacon, and chili. Though, the chili had more of a Japanese curry taste to it which made it more of a curry burger than an American chili cheese burger. I enjoyed my last pseudo-Japanese meal nonetheless.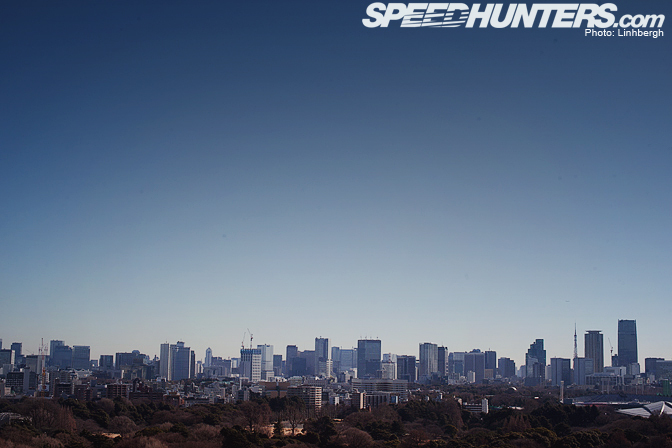 Japan is like going to a different planet or time traveling 50 to 100 years in the future. The language barrier, the historically deep culture, its car culture and its seemingly futuristic society is like nothing else in the world. Usually expectations fall short, but Japan has met my every expectation and exceeded it.
Seven days wasn't enough, I need to go back and soon.
-Linhbergh