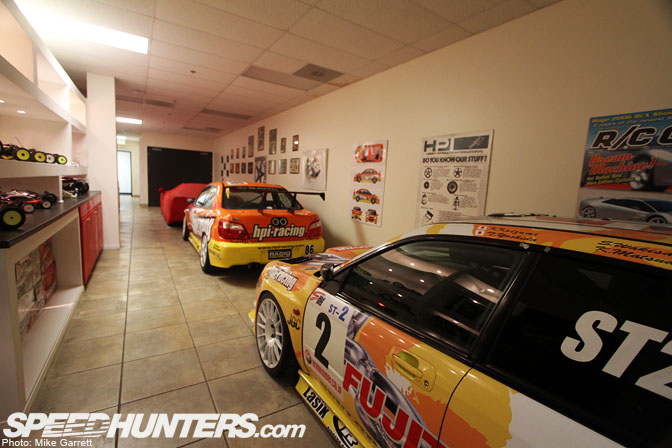 Is there anyone that doesn't like radio control cars? Seriously. Now obviously some are more devoted to the hobby than others, but I doubt there are many people out there who would see someone playing with an RC car and not think "I wanna try that".
With those thoughts in mind, I took a trip down to Foothill Ranch in Orange County yesterday to visit to the headquarters of RC car maker HPI Racing.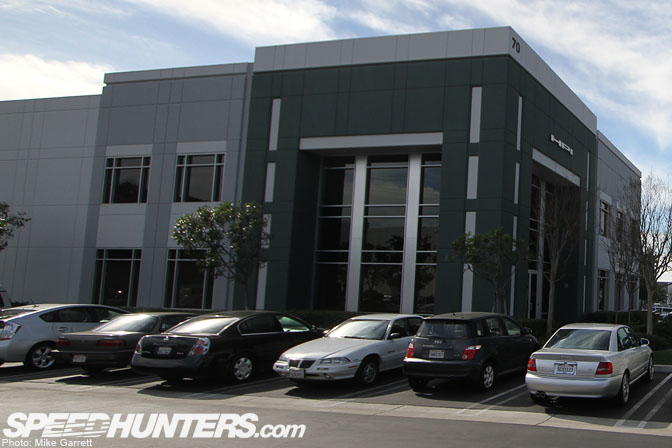 Originally I was planning to visit HPI last month as part of our collectables theme, but because SoCal was getting soaked by rainstorms and the chaos of the holidays, we decided to postpone my visit to a better day. I arrived at the large modern building not quite sure what to expect. I had seen HPI's products before, but was not expecting their facility to be this substantial.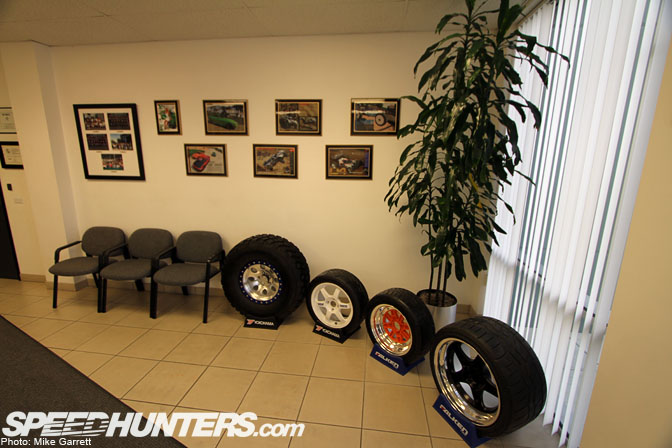 After walking through the front door I arrived in the lobby where the walls were filled with framed magazine articles featuring HPI's products.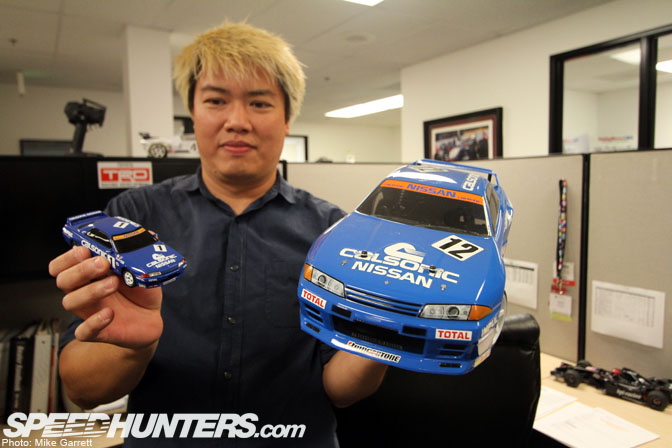 A few moments later I was greeted by Andrew Hillman and Collin Cocores who would be my tour guides. Here's Andrew showing off a pair of Calsonic GT-R's of vastly different scales.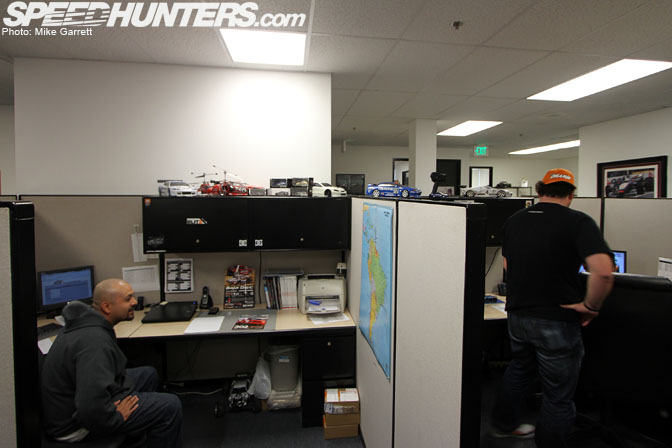 I was introduced to the various employees in the office, and all of them seemed to be enjoying their jobs quite a bit. Working for one the world's most established RC companies can't be a bad gig. The USA location has about 70 employees total.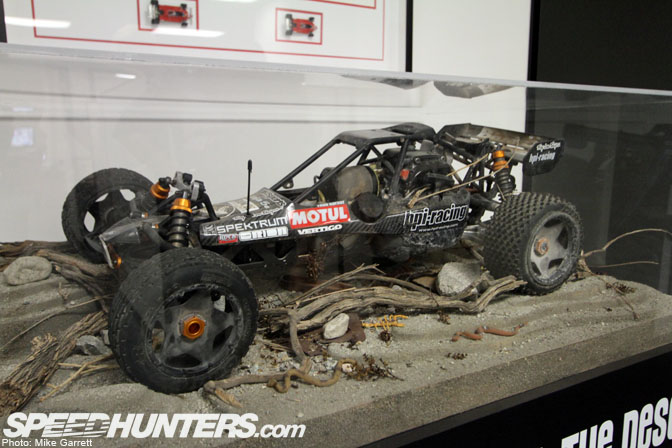 One of the first things that caught my eye in the office area was this gas-powered RC buggy that made a 120 mile trip across the Mojave Desert from Barstow,California to Las Vegas, Nevada. Incredible.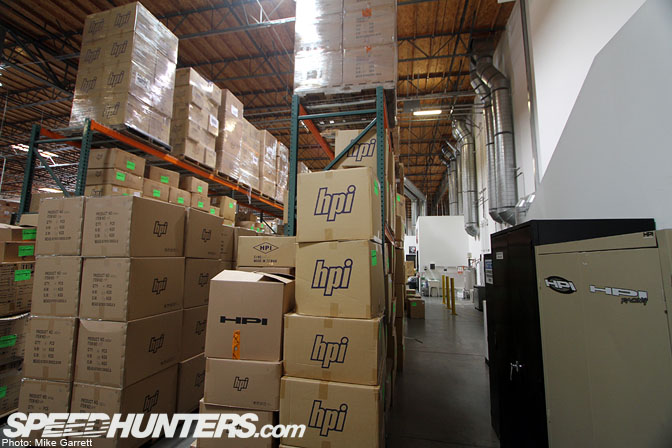 The warehouse was one of our first stops on the tour.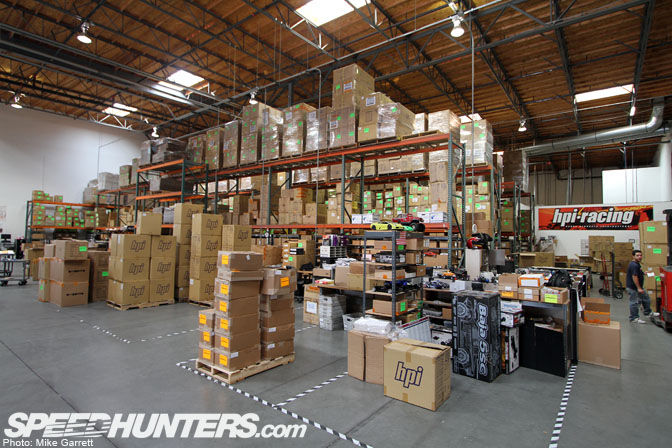 As we walked around the massive warehouse I learned that contrary to popular belief, HPI Racing is actually an American company – not a Japanese one. The founder, Tatsuro Watanabe hails from Japan, but he started HPI here in Southern California selling RC accessories in the 1980s. The company operates branches in Japan and other countries, but this is the heart of the global operation.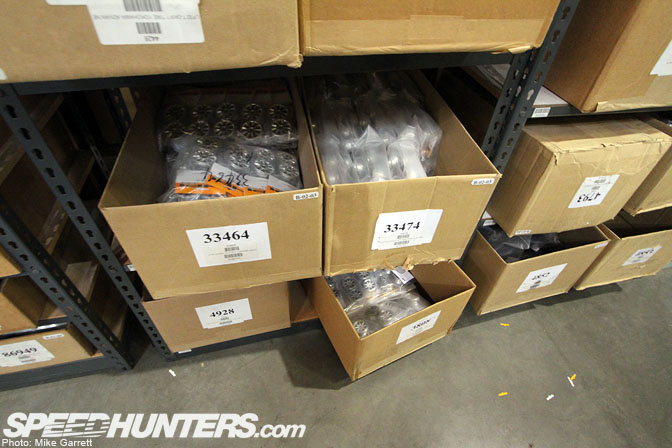 There are rows and rows of RC car parts stored in these aisles.
I got quite a kick out of these scale Watanabe/Panasport type wheels. Perfect for your vintage RC car!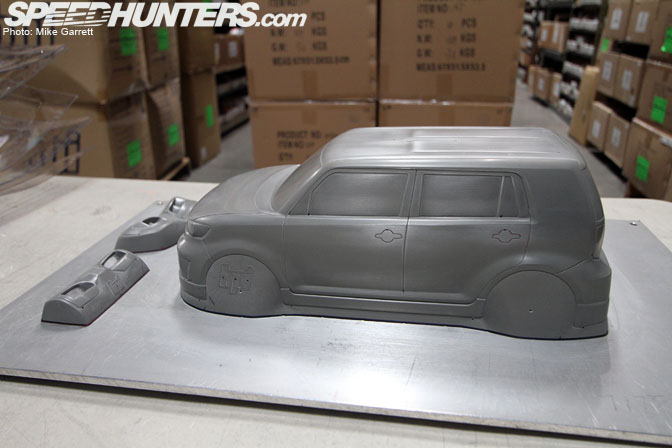 I got to see a lot of the super-secret R&D area, but most of it was off limits to my camera. I did get a chance to shoot this tool for HPI's new Scion xB body. The detail is wild!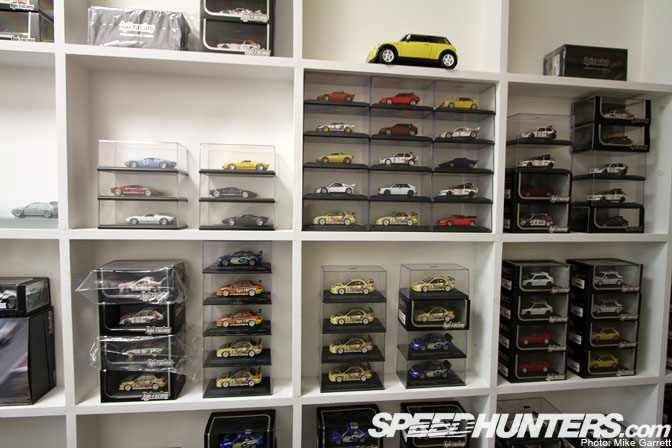 Our next stop might have been the coolest place in the entire building – a museum of sorts. Did you know that HPI also made die cast cars? I didn't until I saw this huge display of HPI 1/43 scale cars. Most of these were done for the Japanese and European markets.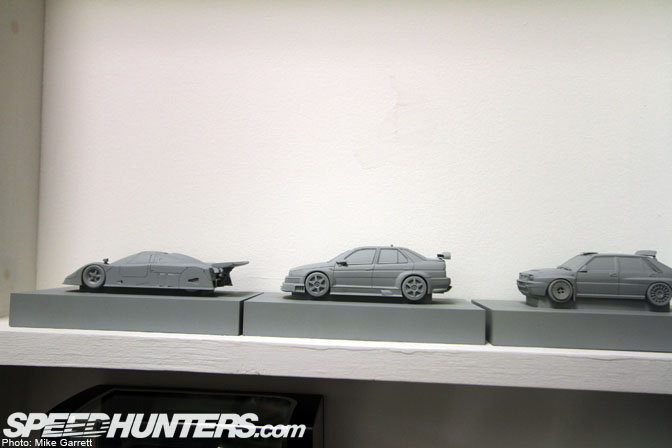 Check out these toolings! Amazing.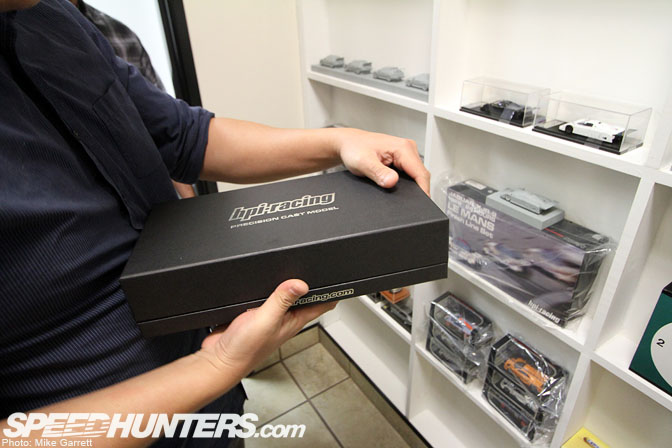 Here's Andrew giving me an up close look at some of these die casts.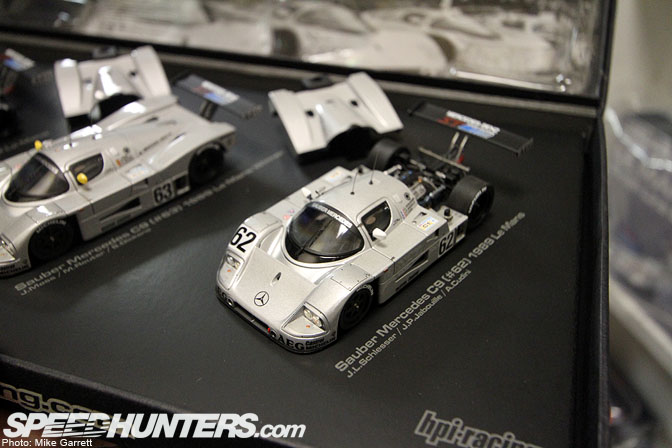 I had to be careful not to salivate all over this Sauber Mercedes LeMans three-car set.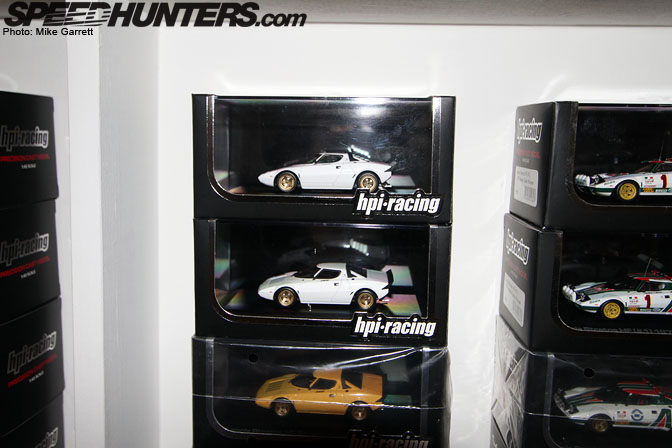 The Lancia Stratos die cast was equally drool-worthy. As you can see, it was produced in both street and race trim.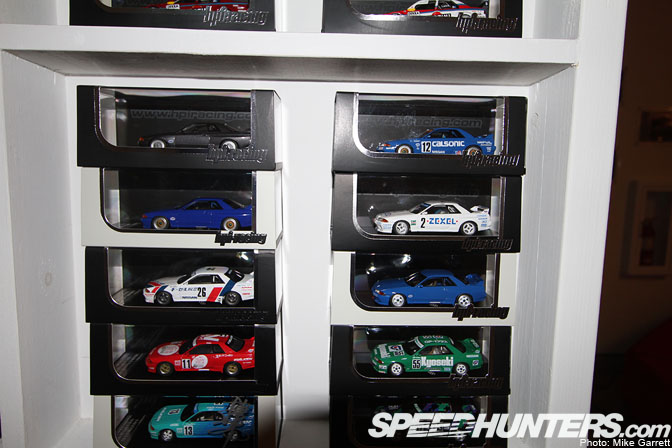 How about a little JDM flavor with this full selection of Group A R32 Skylines?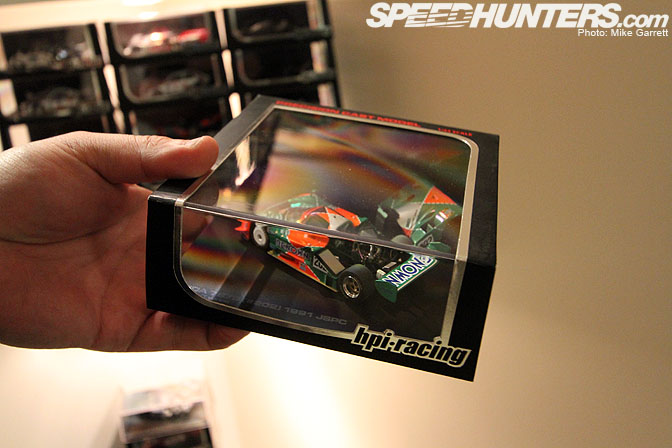 Can't forget about the Mazda 787B either!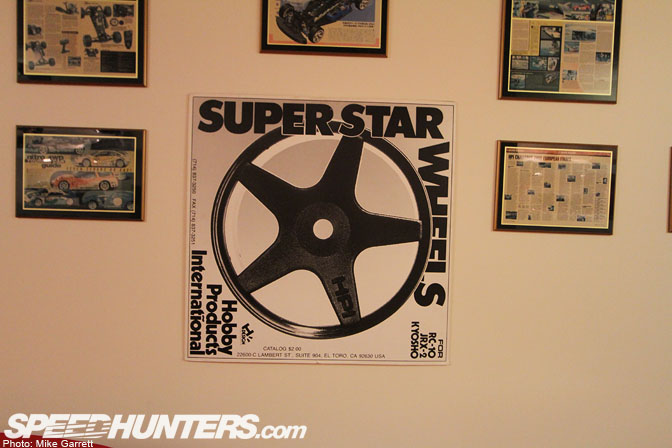 Down the way from the die cast area is a collection of classic HPI products and competition winning RC vehicles. The Super Star Wheel was HPI's first product, and quite popular one back in the '80s. As this vintage ad states, HPI stands for "Hobby Products International".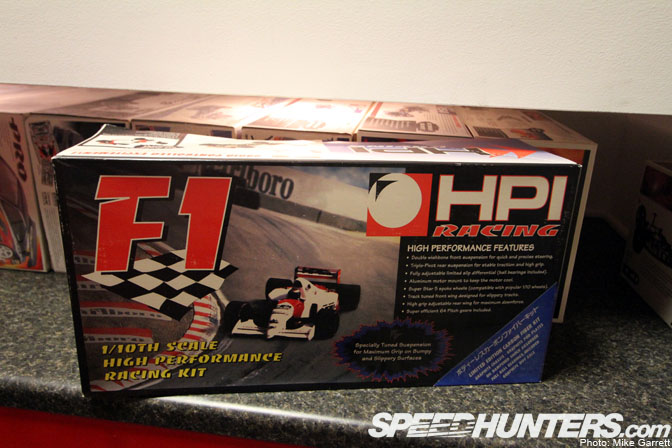 This F1 car was HPI's first full kit, produced back in 1994.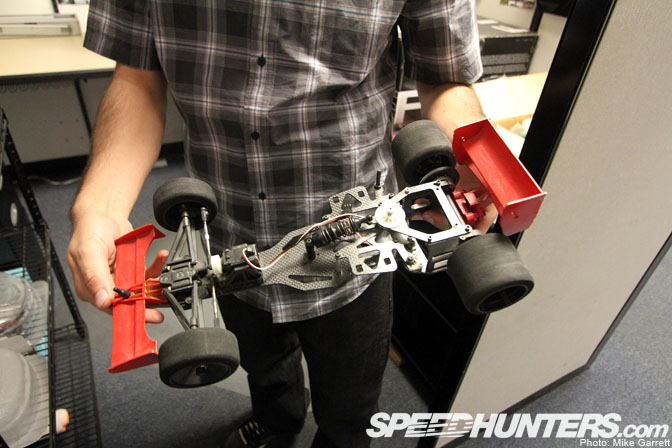 Here Collin shows off the chassis of this historic RC machine.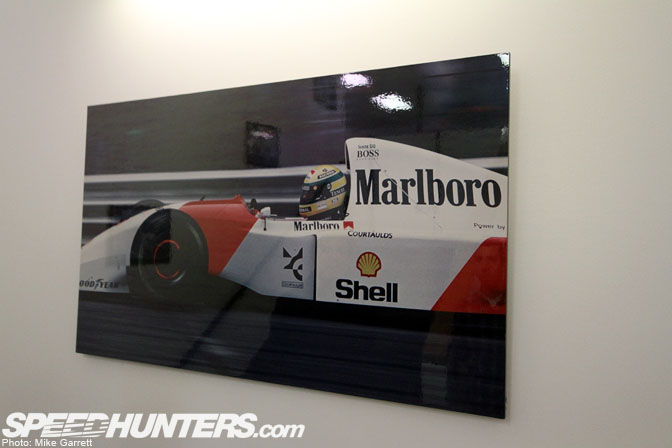 As you might be able to tell now, Tatsuro-san is huge fan of Formula 1. The entire building is filled with F1 memorabilia and photos.
I've put my thumb up to give a size reference for this massive 1:5 scale off road truck. Powered by a weed whacker engine, this rig weighs about 30 pounds and can hit 40 miles per hour on rough terrain.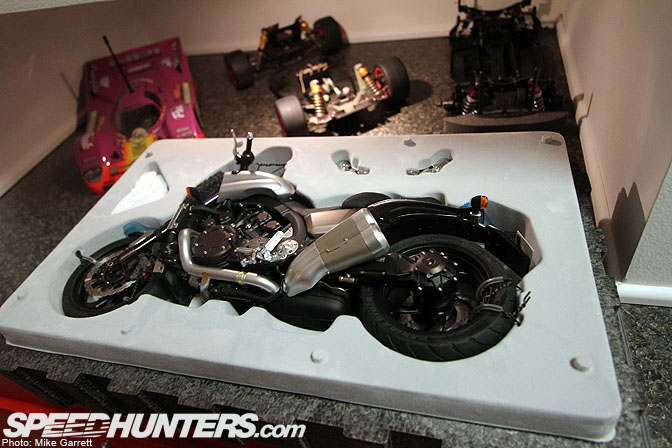 Have a look at this ridiculously detailed die cast motorcycle. A "special project".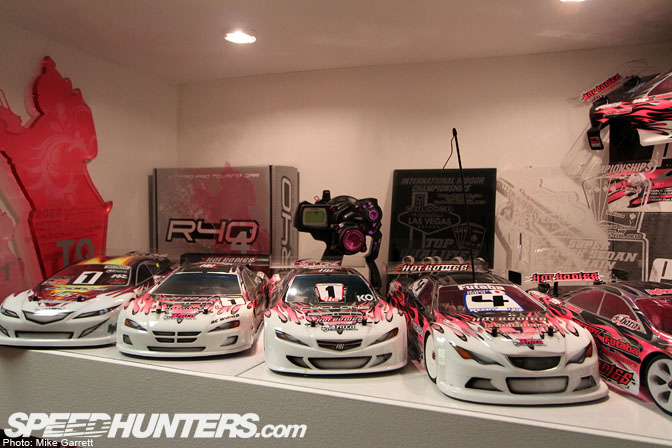 A selection of competition-winning touring cars with pro livery.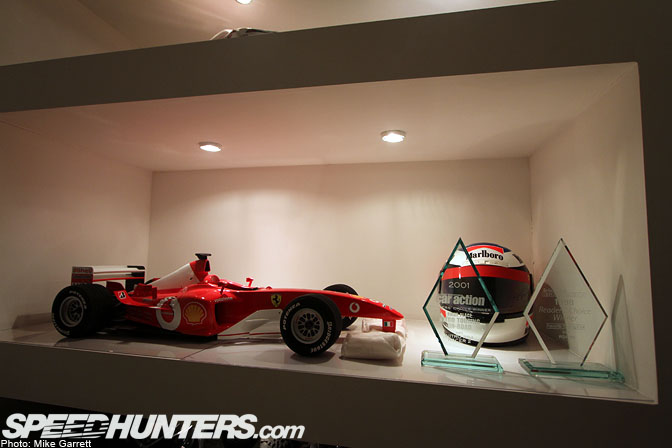 More F1 gear.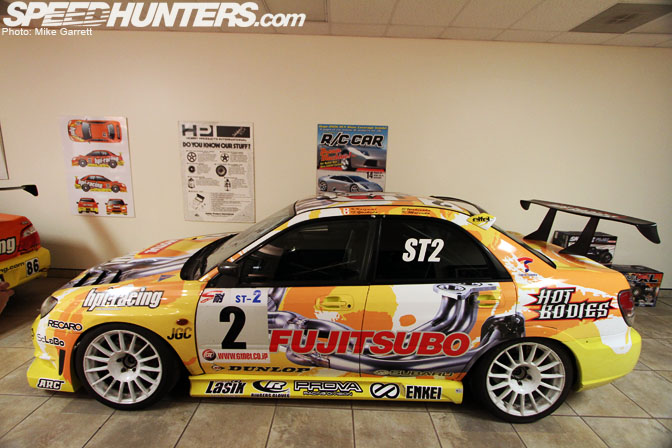 The real highlight of this room though has to be the pair of real life HPI-sponsored Impreza Super Taikyu race cars from Japan.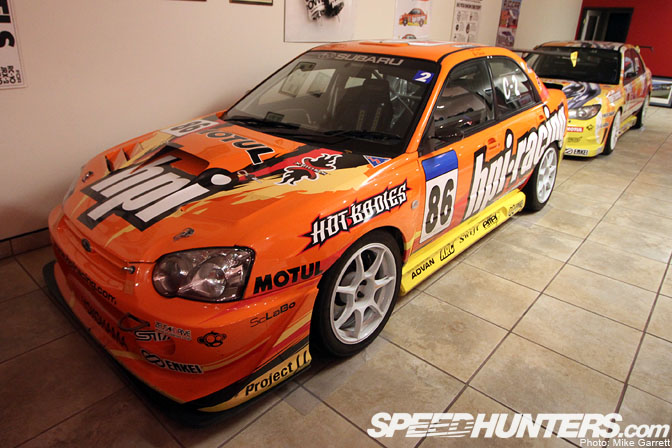 Although they still run and operate, Andrew and Collin say they are essentially 1:1 scale die casts now.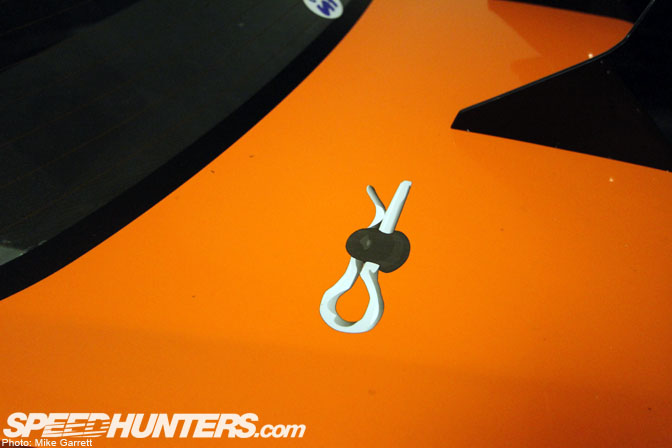 Check out the RC body pins that are part of the livery. Nice touch.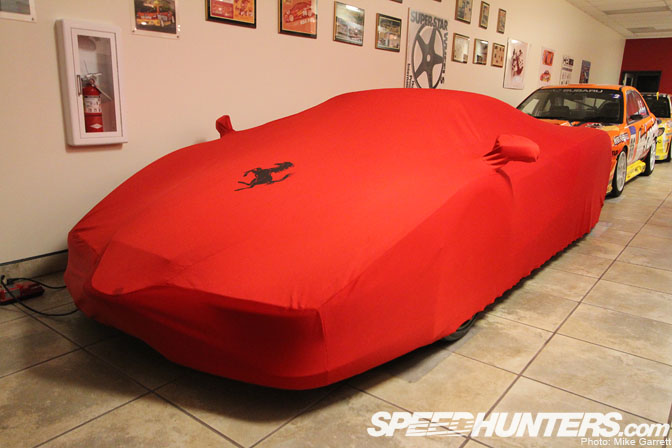 Hmm, what's under that cover? I suppose it's just some sort of big F1-inspired collectable.
With that I'll wrap up the first half of my visit to HPI Racing. Be back soon with part two!
-Mike Garrett