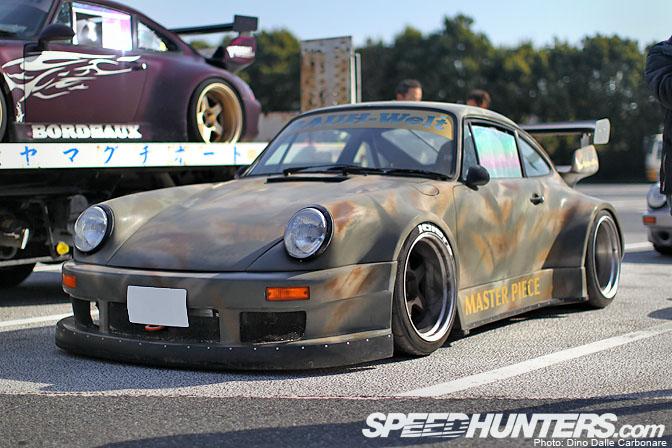 Before the Christmas break I stopped over at Rauh Welt one night to say hello to Nakai-san and take a look at some of the latest cars he was working on. He had a lot going on back then and was putting the finishing touches to some imposing looking machines. He told be that if I wanted to see something real special I should probably come along to the first soukoukai of the year that he was organizing on the 9th of January. I immediately put the date down on my calendar as this was a day I was definitely not going to miss.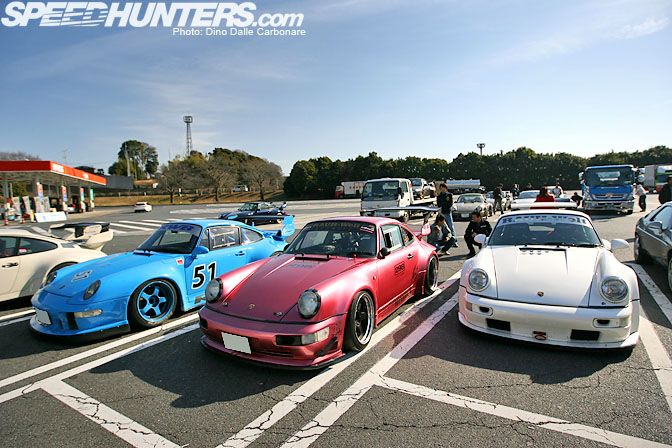 Then late last week Nakai calls me up and tells me that it would probably be a good idea if I met him and the RWB crew at the Moriya Parking Area on the Joban Expressway, the place they always gather before heading out to Tsukuba Circuit in convoy. The meeting time was 11 am and there was no way I was going to be late so I probably woke up a little too early to check the traffic situation on the internet in order to make sure there were no accidents on the shuto, as this can at times turn a simple 1-hour journey into a grueling 3-hour torture.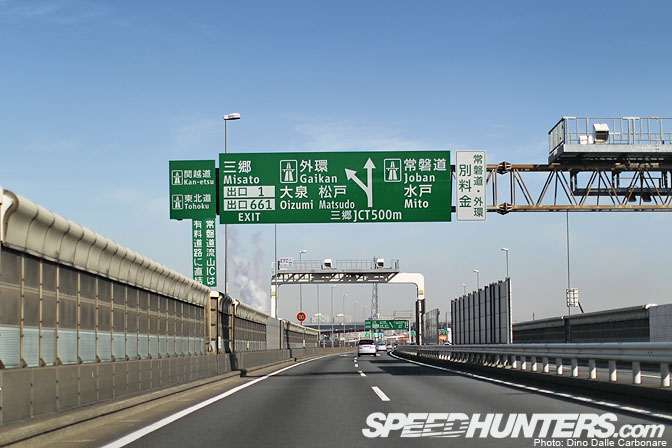 Being a long weekend all the roads were pretty deserted thankfully which meant some much welcomed smooth sailing from the C1 onto shuto number 6 and then to the Joban Expressway.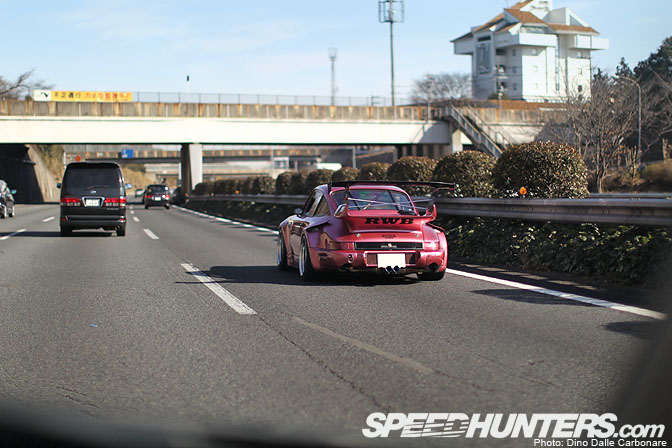 As soon as I passed through the Joban toll gate at Misato I was immediately overtaken by a pink RWB beast…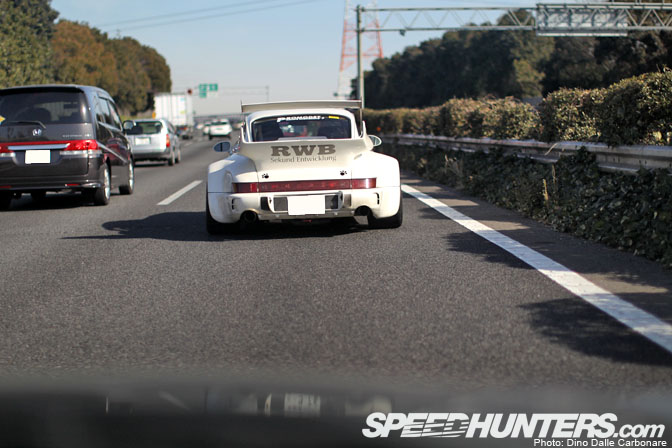 …and then again by this wide 964! These two guys were running together at quite some pace! I stepped on it trying to coax the Legacy's flat-6 (having a boxer 6 I somehow felt part of the RWB club LOL) to churn out its mighty 250HP in an attempt to keep up.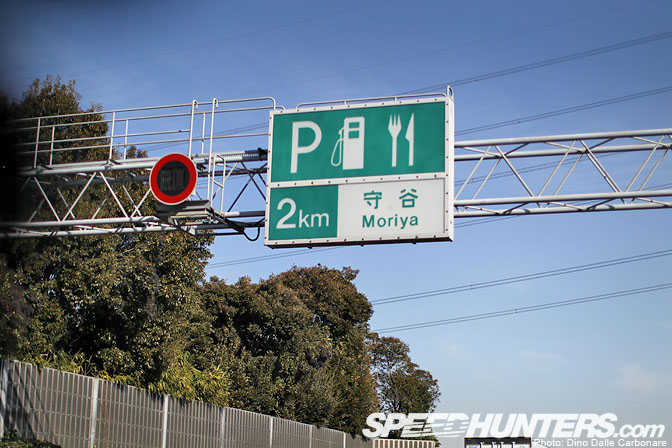 Moriya PA is only a 10-minute drive or so from the beginning of the Joban so we were there in no time…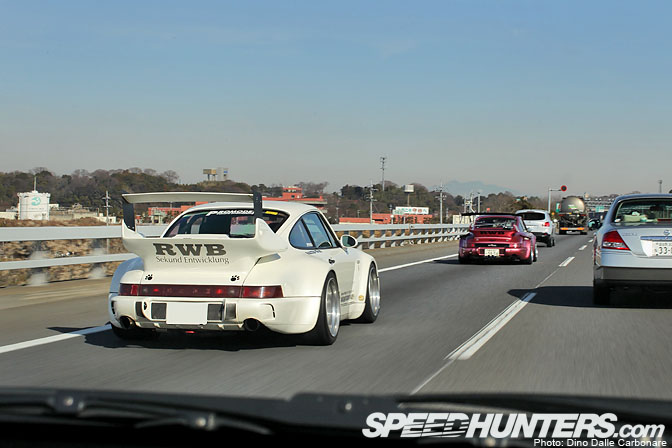 …and thankfully some traffic slowed the Porsches a little so I could catch up and get a couple of more shots.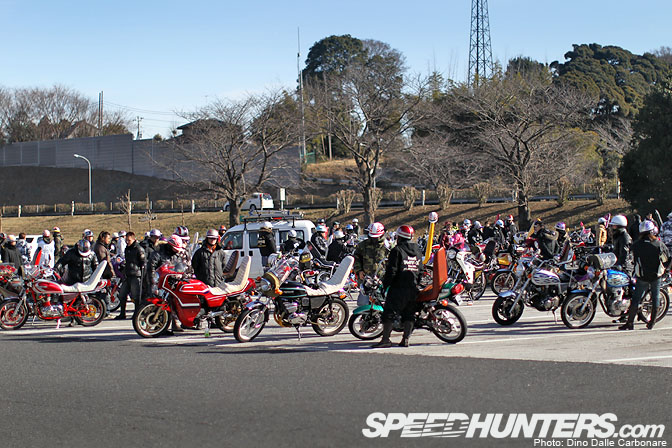 Welcoming us at the PA was one of the biggest group of bosozoku I have ever seen! They were there waiting for all their buddies to arrive before shooting off together, like a noisy hoard of angry bees. An undercover Police Toyota Crown was sitting there, peacefully looking at them as they left the parking. They followed them out like they were escorting them or something. It never seizes to amaze me how powerless the Police are against these guys! Only in Japan as they say!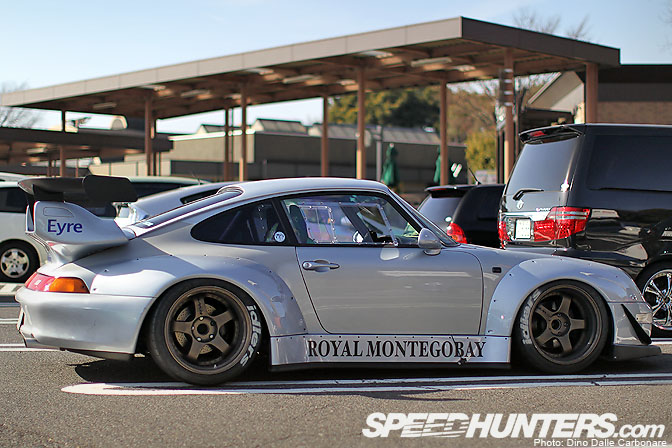 Nakai-san's new personal car has just been finished, the Royal Montegobay…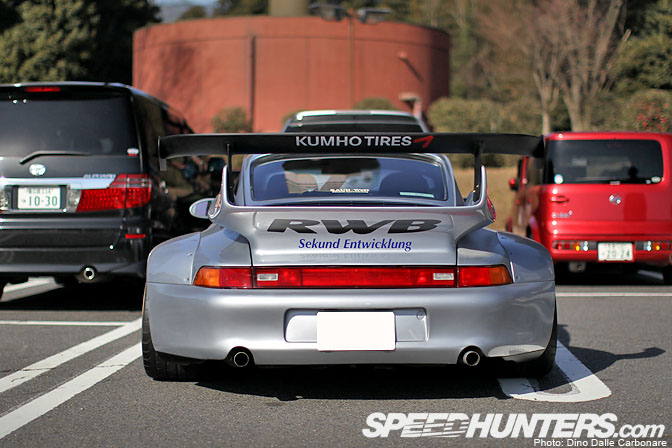 …sporting without a doubt the widest ass ever seen on a 993! It's as wide as Nakai has ever gone, making this thing beyond imposing from the rear!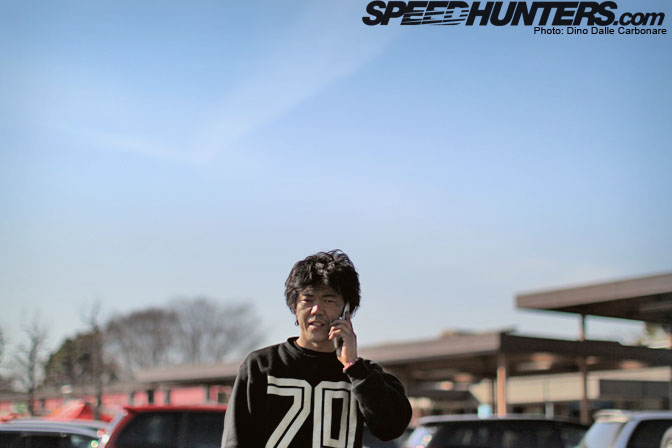 Nakai was busy that morning, trying to coordinate everyone and keep the schedule running on time. The idea was to wait for everyone until 11:30 and then head off towards Tsukuba Circuit, grab some lunch and then get busy on track from 2pm till 4pm.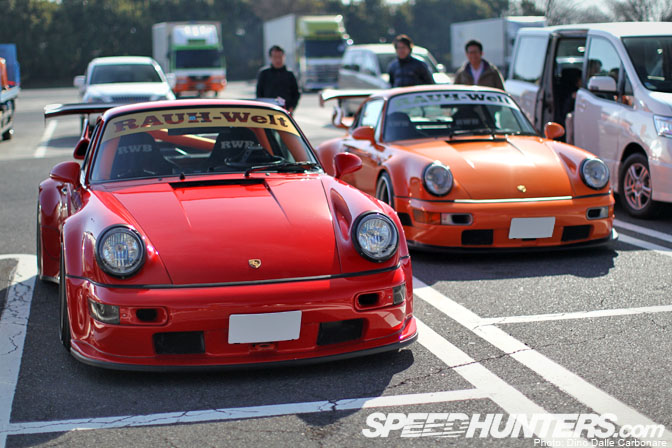 I was amazed at the variation of cars that came, a lot of which I had never seen before.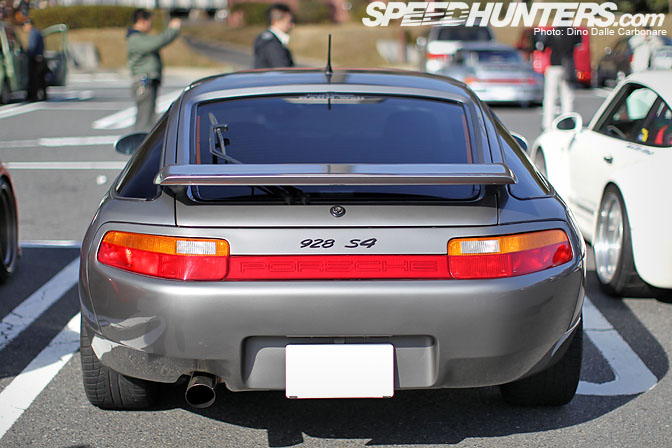 Even a 928! Can you imagine this once it gets the RWB treatment??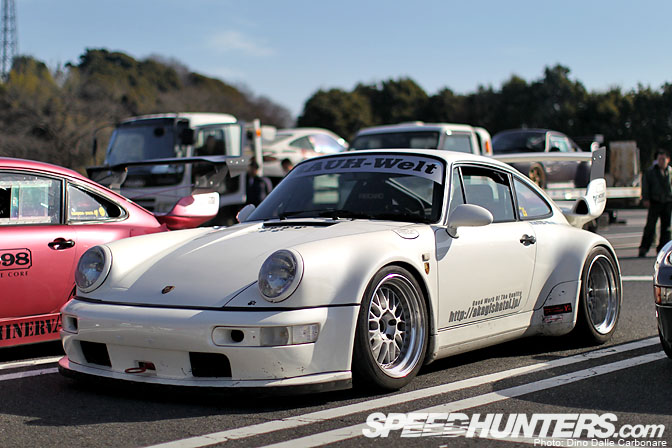 White on white 964, simply awesome.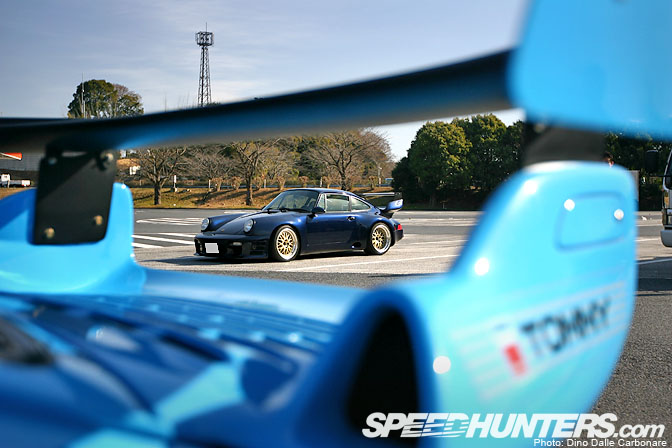 Look at those BBS shine under the morning sun!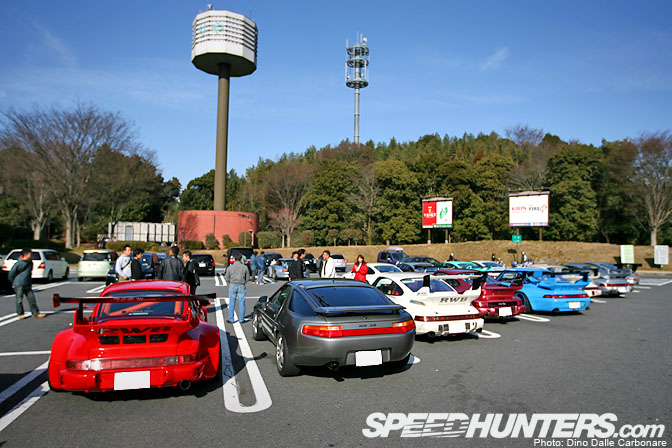 In about fifteen or so minutes quite a nice little group of about 25 cars had gathered with more arriving by the minute.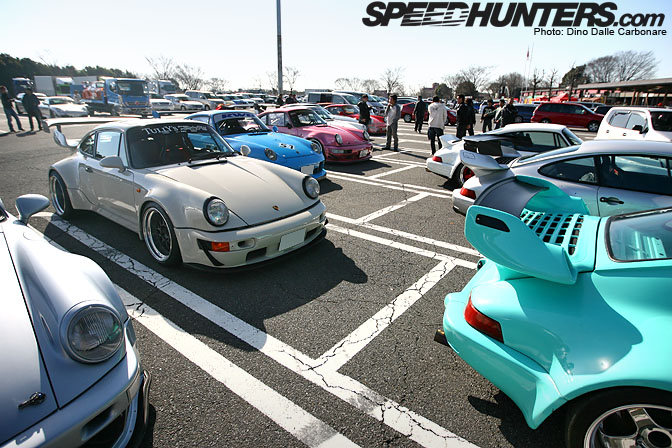 No matter if you like the RWB style or not, you just can't help but admire each of these unique creations.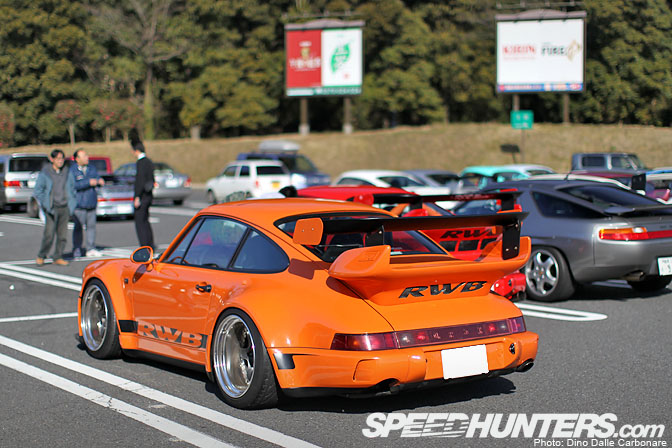 This is one of two orange 964s that Nakai has recently finished. The second, called Sunburst, is a widebody race car, which you will be seeing in detail soon!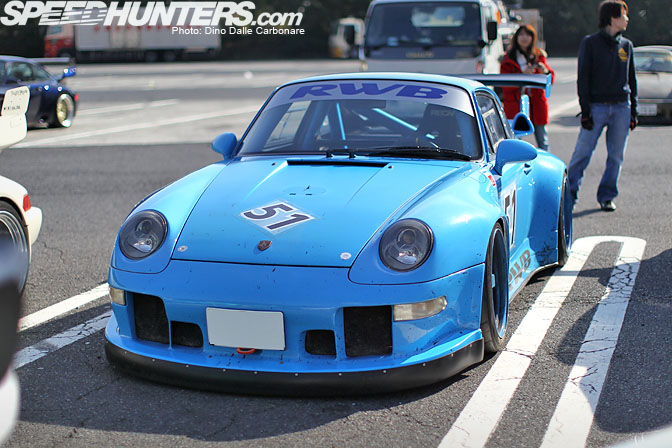 The race look of this 993 made it one of the toughest cars present.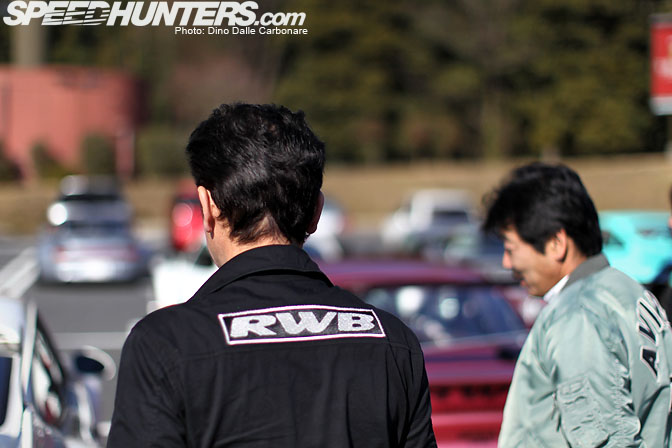 RWB all the way!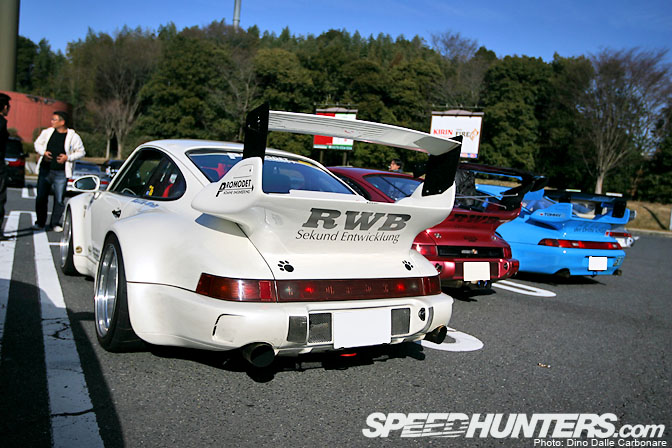 Despite all this mouthwatering selection…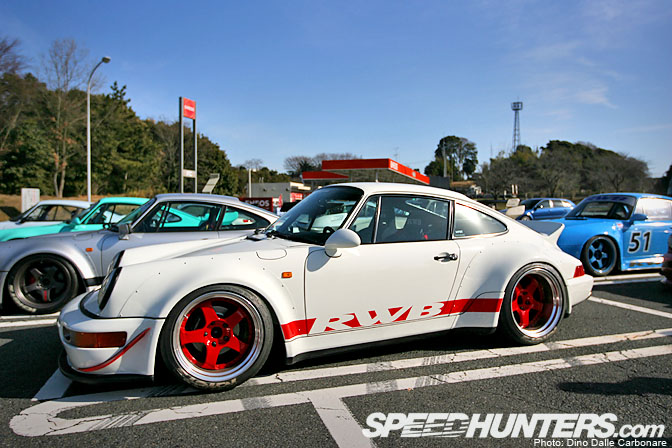 …it was without a doubt this white 930 on red SSR SP1s that did it for me, I especially liked the RS-like rear ducktail spoiler!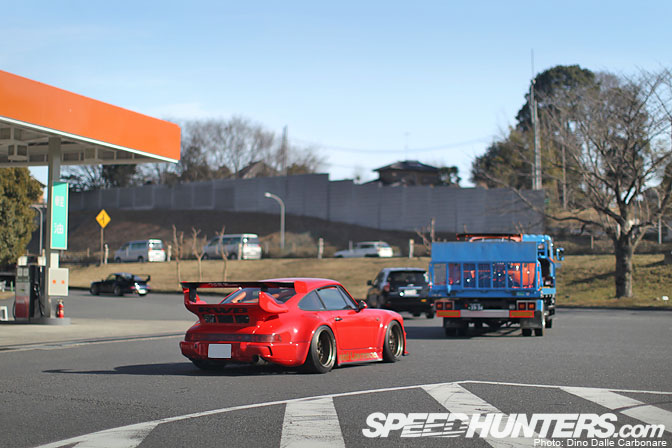 But there wasn't enough time to continue the drooling session as Nakai-san gave the word it was time to head out.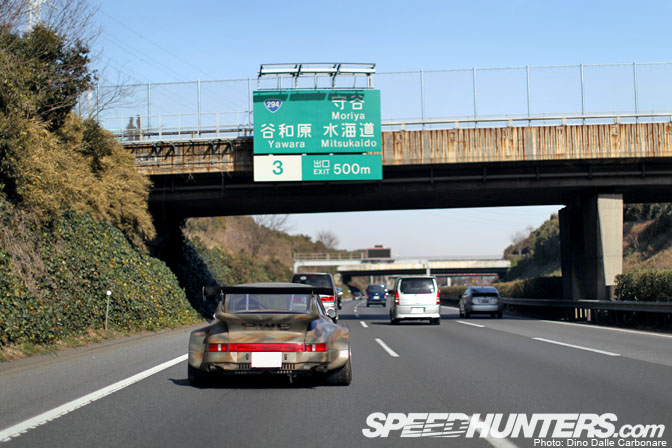 It's only a 5-minute blast up the Joban to the Yawara exit…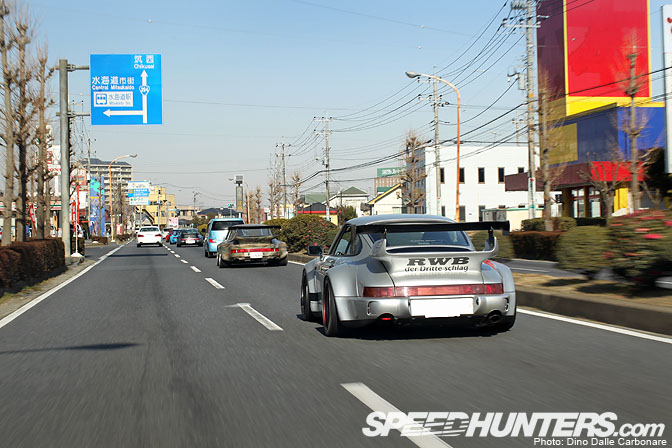 …and then onto regular roads for the twenty or so minute drive to Tsukuba circuit.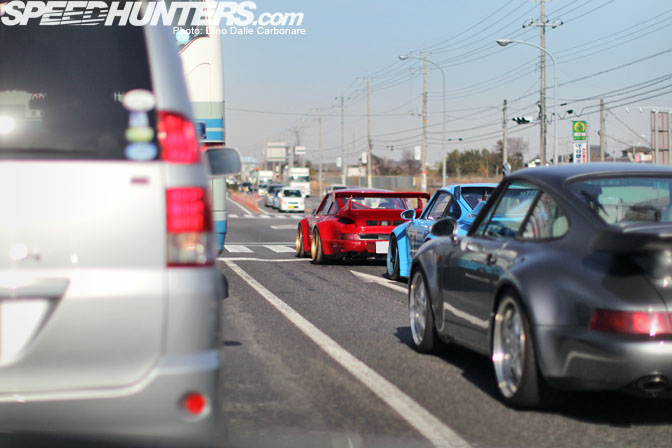 Not every day you get to see this kind of metal at junctions!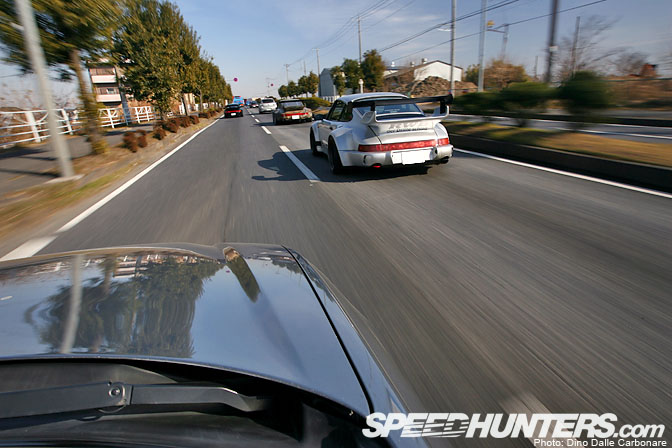 I did my best to stay with the group and try to grab a few snaps at the same time!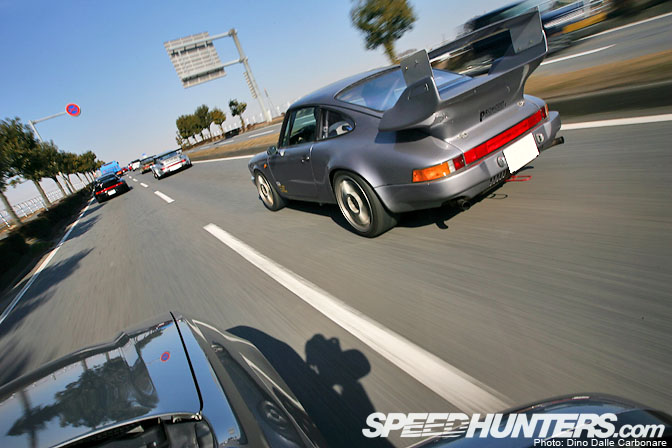 We arrived at Tsukuba fairly quickly, but you will have to wait for Part 2 to see the rest of the coverage!
-Dino Dalle Carbonare