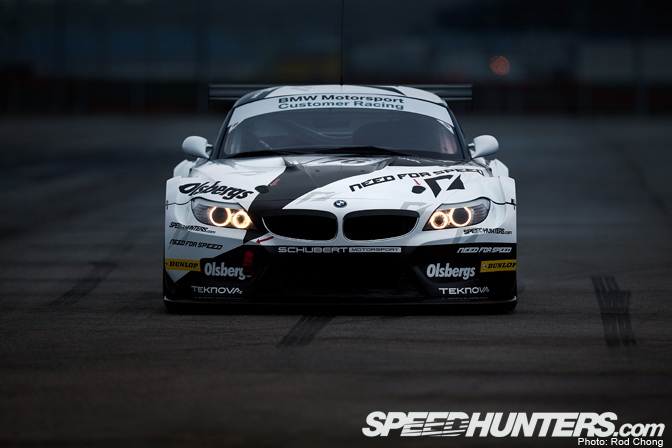 Above: FIA European GT3 Championship, Silverstone Circuit, UK.
Many moons ago, as I was starting out my music video directing career, I had a mentor who would occasionally give me a spot of advice here and there. His name was Philip Spink and he used to coach me on how forge a career as a professional creative person. Being a commercial and feature film director himself, he taught me many valuable lessons about varied subjects from business ethics, to camera techniques and everything in between.
I recently found myself repeating one of Phil's lessons to one of the young members of the Speedhunters production team. It was the talk about the artist's bag of tricks and it goes like so:
To succeed as a professional artist you have to develop your own unique bag of creative tricks. The more innovative and unique your tricks are, the more likely you'll be a success. A truly great artist is always going to be updating, rethinking and adding to their bag of creative tricks, and will never rest on their laurels. Even more importantly, a great artist will always know what trick to pull out of their bag to suit the needs of the creative situation.
And finally, the bigger the bag of artistic tricks, the greater your chances of making a proper professional career from your talents.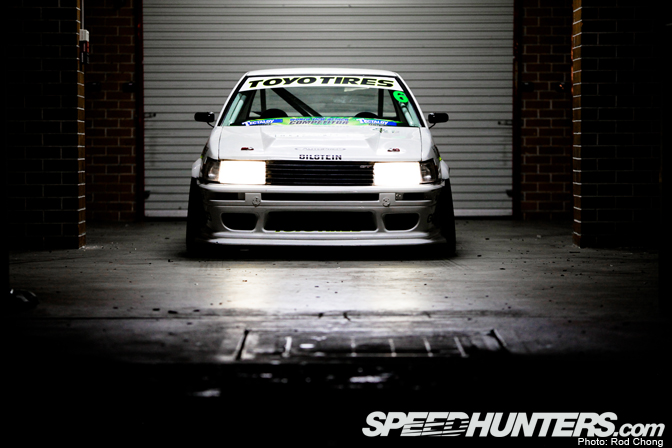 World Time Attack Challenge, Eastern Creek Raceway, Sydney, Australia.
You can take this little premise and apply it to the various Speedhunters photographers: Linhbergh has his bag of photography tricks as does Dino, Ross, Jonathan, Casey, Mike, Jonathan, Paddy and the rest of the crew. As the creative director of Speedhunters I can look at each of these guys' work and see their bag of tricks quite clearly. If you have any experience in the field of art and design then this is pretty straight forward to see.
But rather than put the boys under the microscope, I thought I'd go one better and showcase for you my own little bag of visual tricks.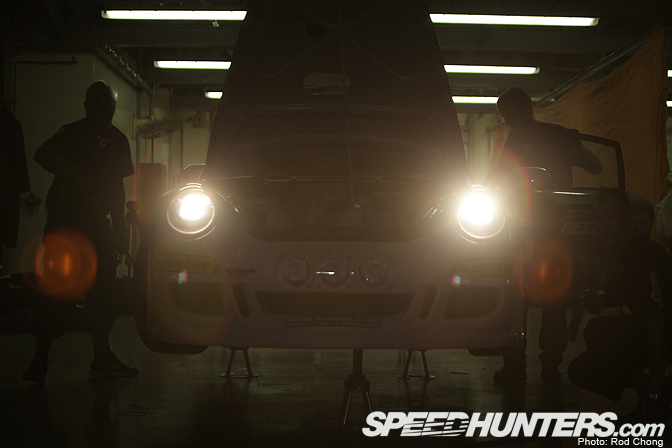 Dubai 24 Hours, Dubai Autodrome, UAE.
Now although I've only been snapping automotive photography for less than two years, I've been shooting video for over 20 years now. I've spent the last year adapting my own camera language to the medium of photography while picking up some new techniques here and there. Yes I'm by no means a very experienced shooter, and I have a huge amount to learn, but my bag of tricks has yielded a few shots in 2010 that I'm reasonably happy with.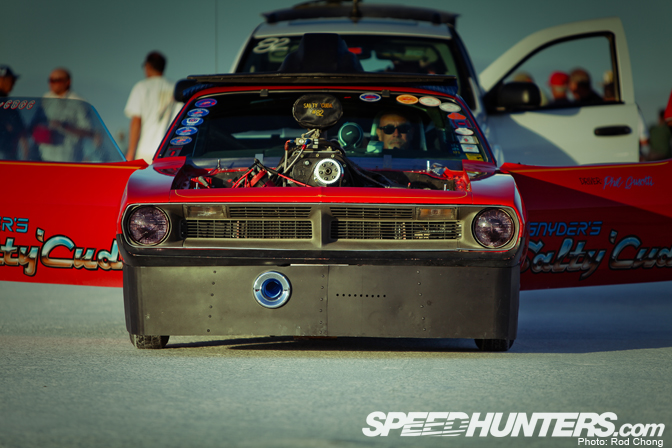 Bonneville Speed Week, Wendover, Utah, USA. 
So let me try and analyze my perhaps somewhat limited bag of photographic tricks here… First off, I love shooting at right angles to a car, whether it's the side, front or back. You can see this predilection with right angle shots the above photo.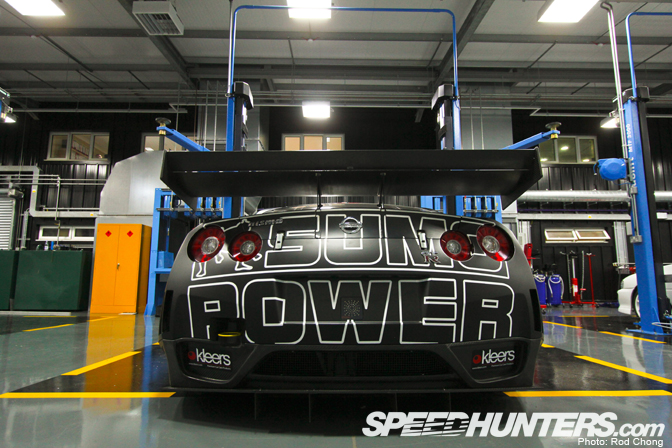 Sumo Power HQ, Rye, UK.
I'd say this very formal style of camera framing is something I seem to have picked up from watching Chinese Films like "Raise the Red Lantern" Maybe it's in my blood? Somehow I'm always trying to frame cars like this.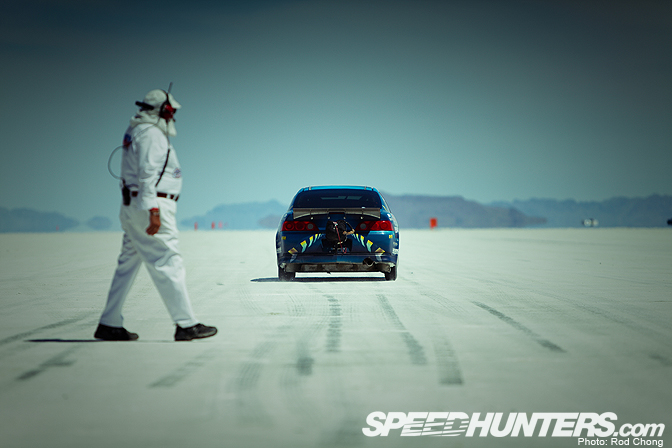 Bonneville Speed Week, Wendover, Utah, USA.
See what I mean? I had to wait until the last day of Bonneville Speed Week before I could confidently stand straight behind one of the launching cars. The staging lanes were too busy earlier in the week.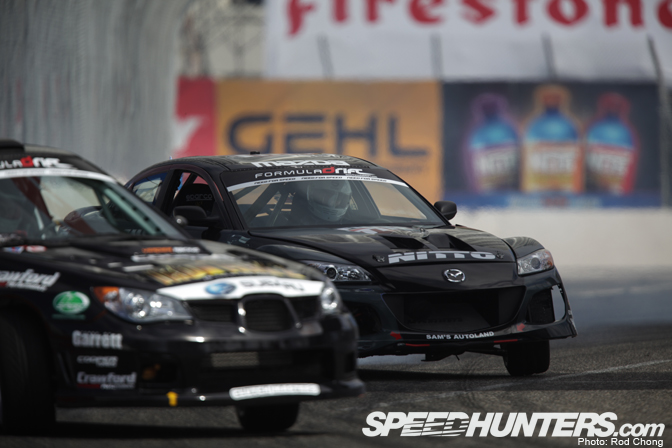 Formula D, Long Beach, California, USA.
Any of the other Speedhunters will tell you the first thing I do when scouting camera angles at a race track is try and find spots where cars are driving DIRECTLY at me. I don't know why, but this is for me the best way to shoot automotive action.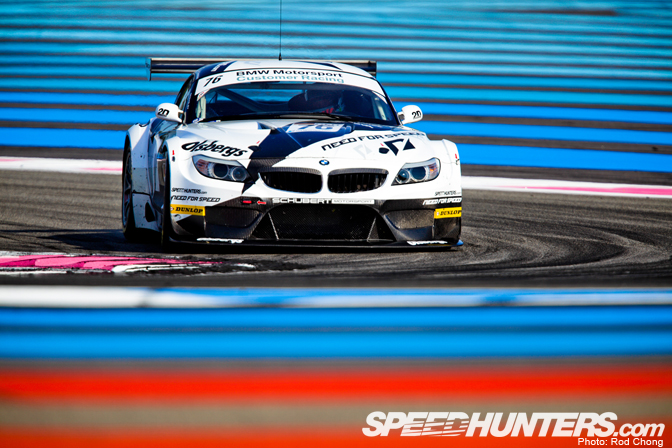 GT3 European Championship, Paul Ricard Circuit, France.
Same thing here. I also try and find places on tracks where by the backgrounds are very simple to allow for graphical types of composition. Case in point with this shot of the Team NFS BMW Z4 GT3.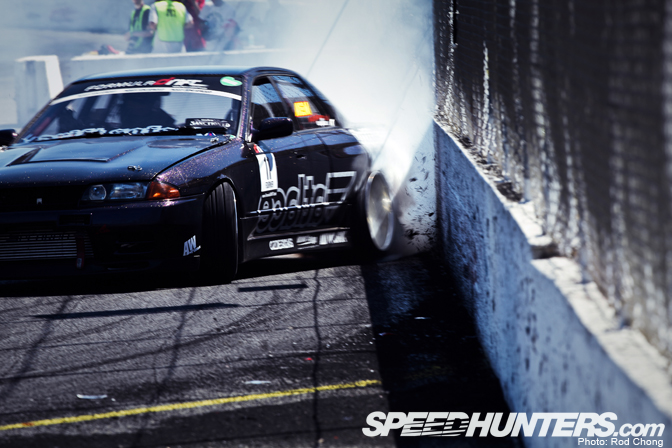 Formula D, Evergreen Speedway, Seattle, Washington, USA.
And again… you must be thinking that I'm a one trick pony here huh? The result is very different though as I'm using the barrier on the right to lead the eye to the focal point of the car. And before you ask, this was already released as a desktop. You'll just need to dig around to find it.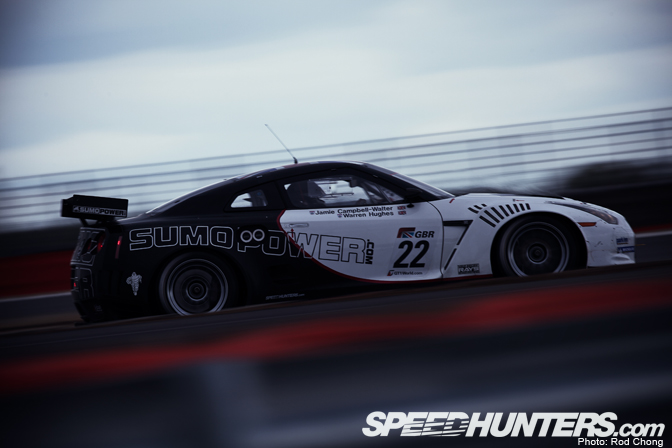 GT1 World Championship, Silverstone Circuit, UK.
My obsession with right angles also carries through to side shots of cars. This action snap of the Sumo Power GT-R from Silverstone is a perfect example.  I wanted a perfect side shot of the Sumo car and was absolutely not going to leave the spot until I bagged the photo.
Notice the heat coming off the engine cover…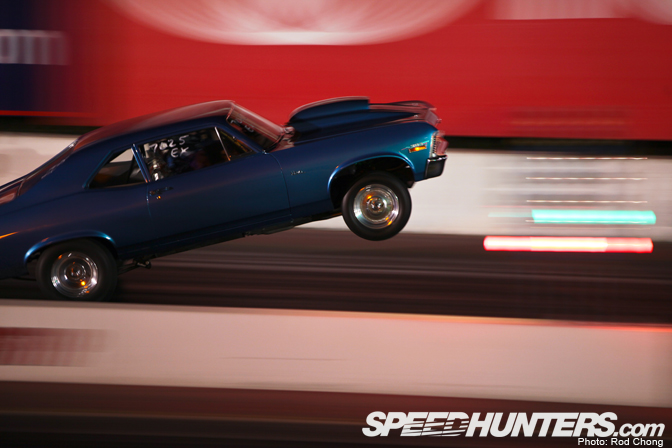 Thursday Night Drags, Irwindale Speedway, Los Angeles, California, USA.
The absolutely master of the slow shutter, telephoto panning shot is fellow Speedhunter John Brooks. It takes a while to learn how to do these panning shots, but I've been slowly getting better at this.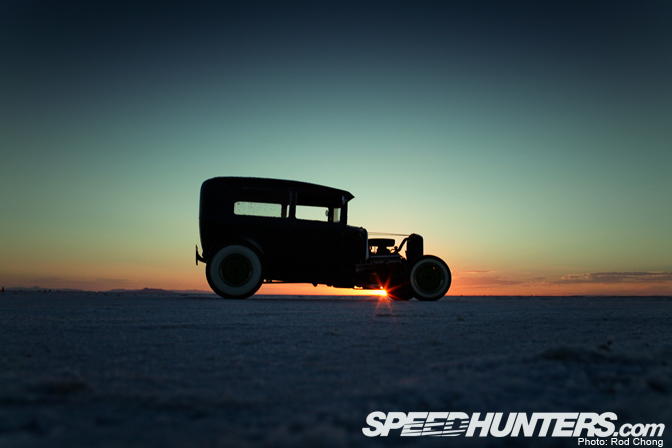 Bonneville Speed Week, Wendover, Utah, USA.
And another side view… You can see why I like this shot so much. It contains such clear graphical framing and lines… plus I managed to capture the exact moment that the sun appeared above the horizon, but underneath the car.
Funny enough I was not looking through the viewfinder when I took this snap…. I was spraying with the camera as we had literally no time to capture the moment.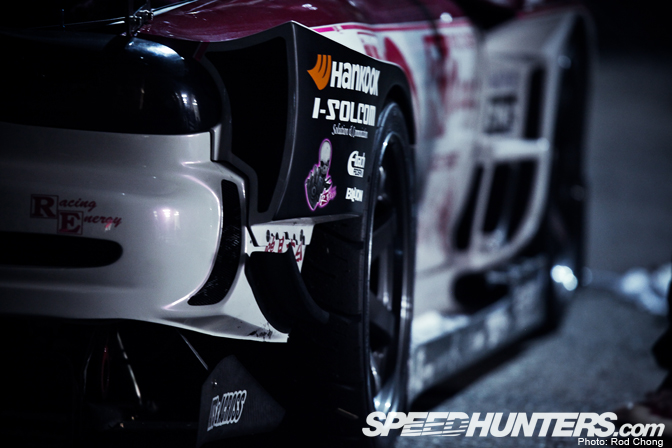 World Time Attack Challenge, Eastern Creek Raceway, Sydney, Australia.
 I absolutely love the visual effect of narrow depth of field. To me, this creates a wonderful sense of stylization…. The creation of beauty can be done with almost any subject with this photographic technique IMO.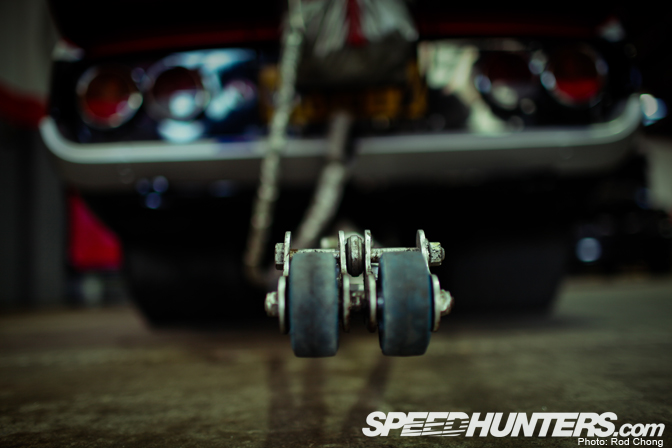 JC Racing, Sydney, Australia.
See what I mean? A photograph of some wheelie bars is instantly turned into art.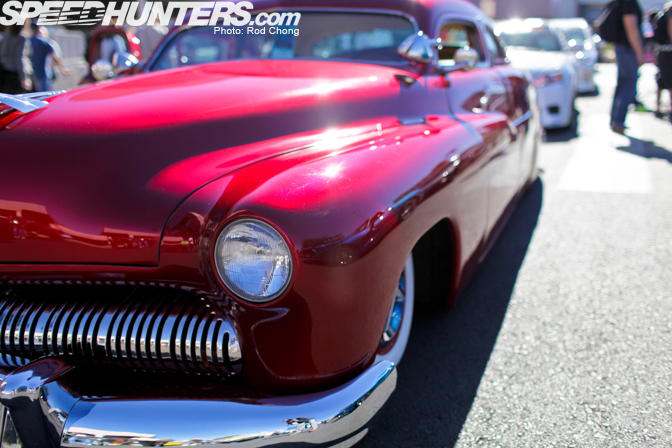 SEMA, Las Vegas Convention Center, Nevada, USA.
Of course this means that a lot of my shots have blurry rear grounds. Perhaps this isn't always the best situation if you are wanting to see an entire car in focus. But I don't care really, I prefer stylization over hard reality.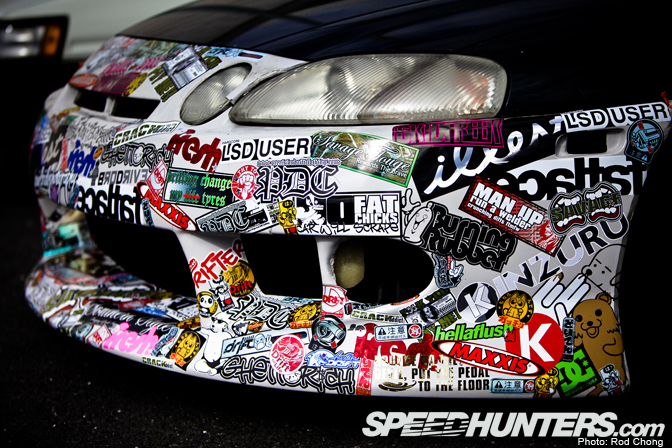 JDM Allstars, Wembley Stadium, London, UK.
I also love to shoot parts of cars too and will normally snap off a series of extreme close up shots of a vehicle.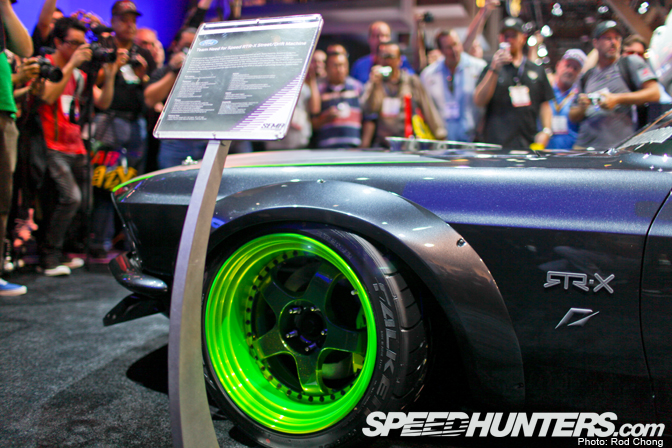 RTR-X Unvealing, Las Vegas Convention Center, Nevada, USA.
I'm also always trying to create a sense depth in my photographs. A separation of the subject from the rear ground.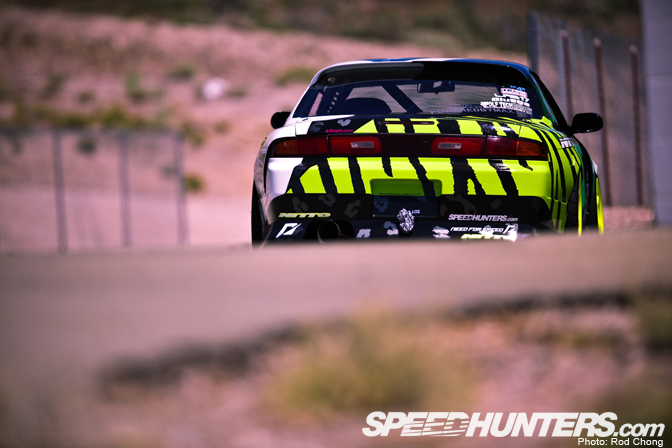 Team NFS Test Day, Willow Springs Raceway, California, USA.
In this case, the subject of Matt Power's S14 has been cut out from both the foreground and the rear ground, which is why I like this shot so much. I was quite far away from the car when I shot this and far down a hill too in order to get the road in the extreme foreground.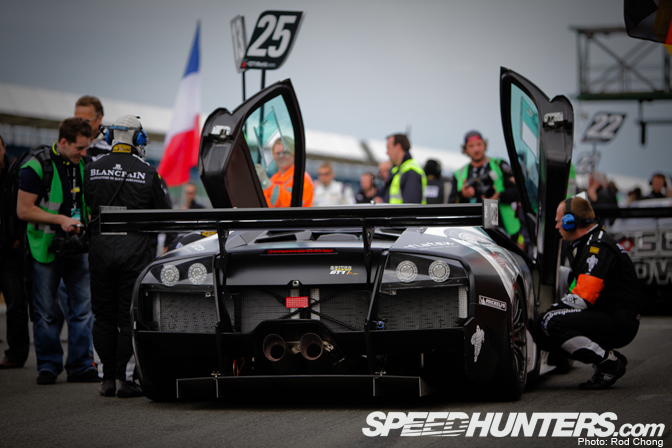 GT1 World Championship, Silverstone Circuit, UK.
Mmmm… check out that behind! And those radiators!…. Telephoto lenses FTW!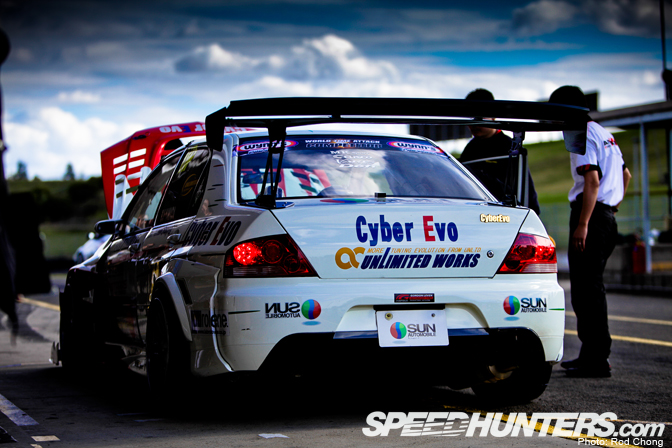 World Time Attack Challenge, Eastern Creek Raceway, Sydney, Australia.
Similar shot but captured on the other side of the planet.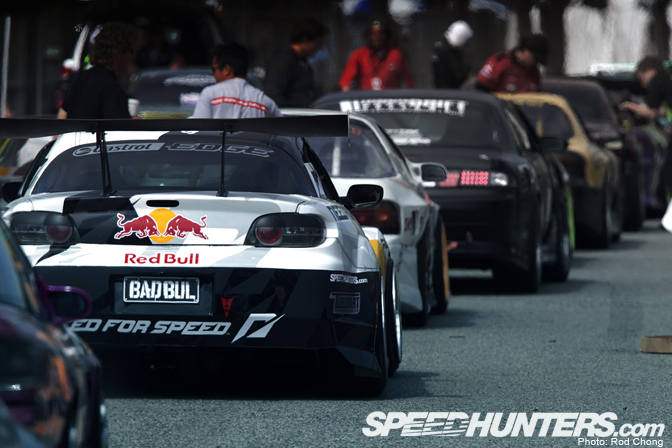 Formula D, Long Beach, California, USA.
My 400mm lens tends to get a lot of attention from bystanders at drift events. Although it's nothing too special at circuit races, there aren't many drift photographers with this type of kit. One thing I like to do with this lens is wander about the paddock finding interesting snaps.
At Long Beach this year, I was able to shoot Mad Mike as he lined up for one of his first Formula D 2010 practice runs. The telephoto image style did a good job capture the moment.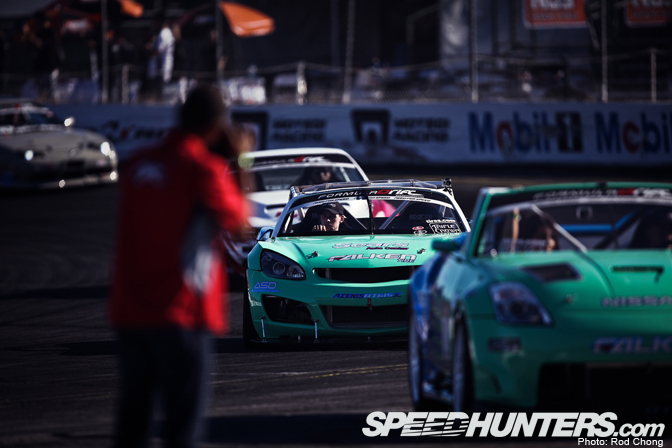 Formula D, Evergreen Speedway, Seattle, Washington, USA.
I caught something similar during the opening ceremony of Formula D Seattle. In this case I was focusing on Darren McNamara.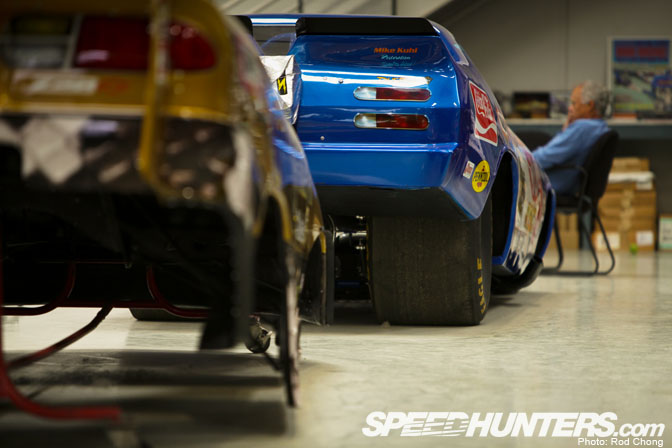 Snake Racing, Vista, California, USA.
You can see my foreground/rearground lensing trick being used while visiting with drag racing legend, Don Prudhomme in Oct. Check those rubber meats!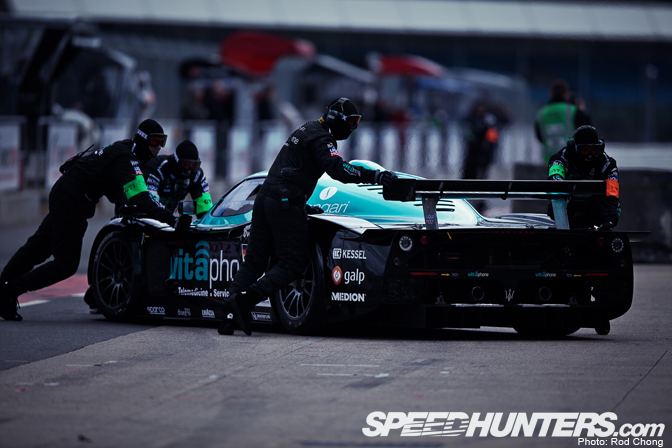 GT1 World Championship, Silverstone Circuit, UK.
I'll leave you with this shot of the FIA GT1 Championship winning Maserati MC12… Next up for my final Photos of the Year post, I'll concentrate on my fav race action shots from 2010.
:Rod