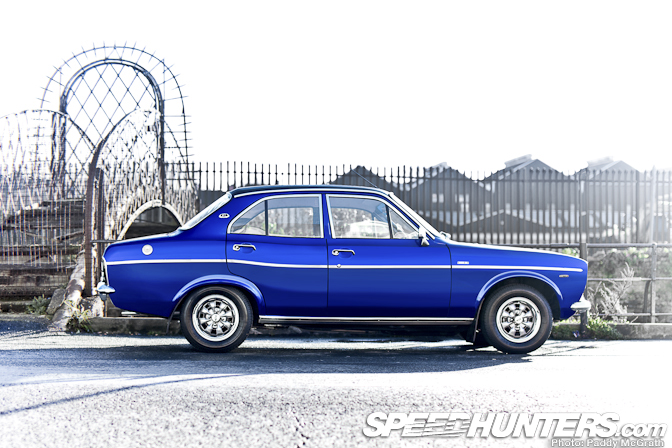 What a year. Just what an incredible year it has been. To think, in January of this year I was still working behind the counter of a local Blockbuster dreaming of a life beyond and just twelve months later I'm looking back at what, without any question, has been the greatest year of my life. I've experienced more in my first eight months as a full time Speedhunter than I have in the last ten years. I'm a lucky SOAB too, there are plenty of other guys out there who would kill for this position but with lots of hard work and perseverance I've managed to land this, my dream job. Even if I can't write as good as I'd like (It's something i'm working on) I still give it 110% everytime I'm out there because I want to bring you back the absolute best coverage I can put together.
Rather than re-tell stories I've already told, I'm going to talk you through the how / what / why / where and when of how each photograph came about. I really enjoyed our photography themed month we ran back in July and it would appear that some of you guys and girls did too. Before I take you through my year in photos, I just want to say thank you to every single person who commented on my stories throughout the year, regardless if it was positive or negative, I read and took every single word on board. Except that one comment that I should stick to potatoes, drinking Guinness and doing the Riverdance. I do like me some potatoes (mashed with some ground pepper thank you) but I can't dance and I definitely don't drink Guinness.
(Above) Ford Escort 1300E, Waterford, Republic of Ireland
Canon EOS5D MKII, 50mm, 1/160, F2, ISO50
This was meant to be just a straight forward, profile shot of my Dad's classic Ford but when I got home, I realised the houses behind me had quite nicely bounced the light back onto the car. However, they had also bounced some nasty reflections onto the car so over the course of a few hours I repainted the side of the car to remove any / all reflections. It is still probably the most amount of editing I've done to an image (with the exception of rig shots) as I don't usually rely on post processing to save my ass.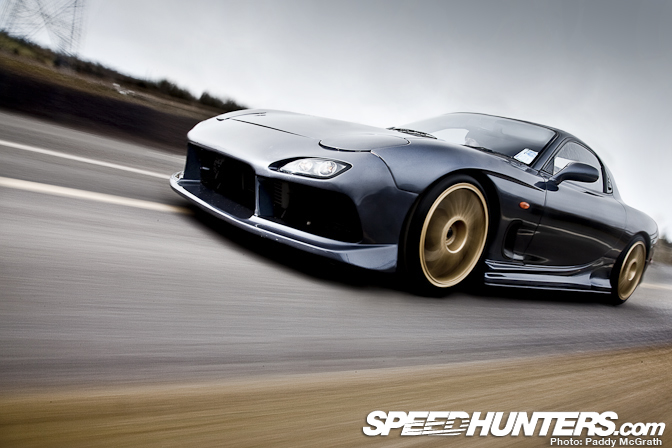 Canon EOS 5D MKII, 24mm, 1/3, F22, ISO100
Mazda RX7 FD3S, Waterford, Republic of Ireland. It was intended as just another shoot of a car a friend had recently completed but throughout the day evolved into something more than that. The car was mounted with my own custom built suction rig, which ran across the roof and windscreen and had to be removed later in post. The entire top right corner of the windscreen was re-created from scratch. I'm currently rebuilding the rig to run it longer and with a little bit more stability.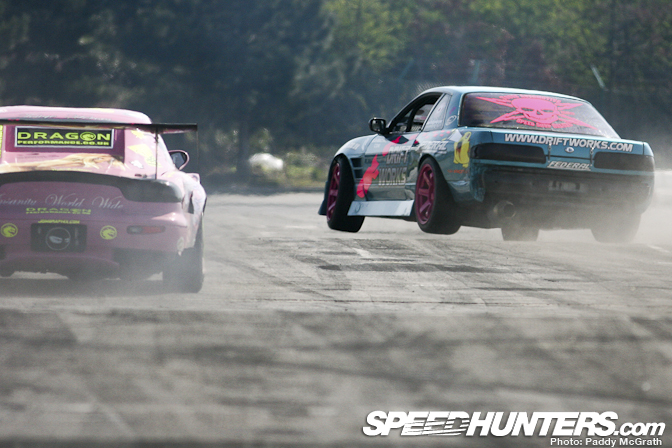 Canon EOS 1D MKII N, 300mm, 1/1600, F4, ISO400
Dan Chapman's Nissan Silvia PS13, JDM Allstars, Manchester, United Kingdom. On arriving at the Machester street circuit, it was pretty obvious how bumpy the surface into turn one was. To really emphasize it in a photograph, I watched the guys during practice to see who was the most aggresive across the rough surface. Once I'd identified Dan Chapman as the culprit it was simply a case of taking up position on the start line and getting as low to the ground as possible.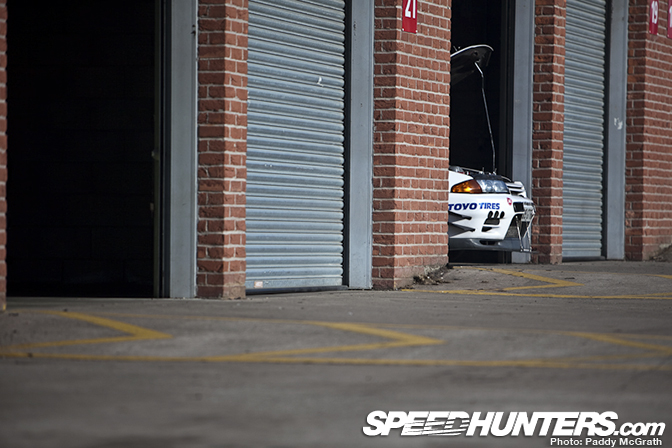 Canon EOS 5D MKII, 200mm, 1/2000, F2.8, ISO200
Nissan Skyline R32 GT-R, Time Attack Series Round One, Oulton Park, United Kingdom. 2010 was my first year shooting the UK based Time Attack Series. Tasked with creating an 'Art of' post from the event, I wandered around the paddock early in the morning trying to capture the atmosphere around the place. I was coming back from shooting the empty track when I picked out the front of this GT-R poking it's nose from the pit garages. Once I had composed the image in the viewfinder it was just a case of using a shallower depth of field to guide one's eye onto the car. Basic colour adjustments in PP and it was ready to run.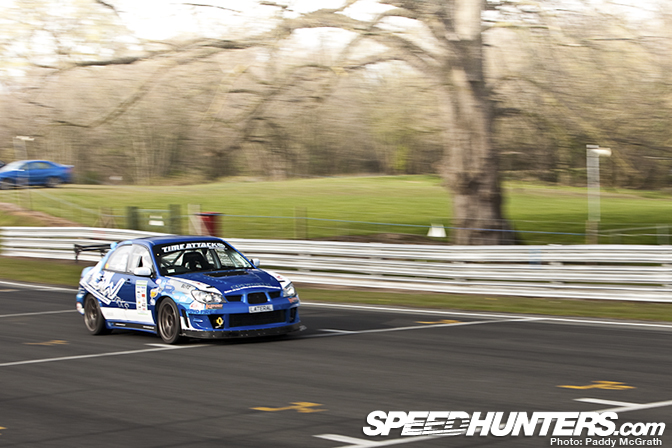 Canon EOS 5D MKII, 70mm, 1/125, F6.3, ISO200
Subaru Impreza Hawkeye, Time Attack Series Round One, Oulton Park, United Kingdom. One of the hardest aspects of 2010 for me was trying to learn and memorize each competitor, their car, in each class, in each series. There is only so much a persons brain can take in before it slowly dissolves itself. Trying to create a different sort of shot on the main straight, I went as wide as the lens would allow me, with a realtively slow shutter to capture the movement. It's a pretty straight forward panning shot which is aided by the rather nice natural colours in the background.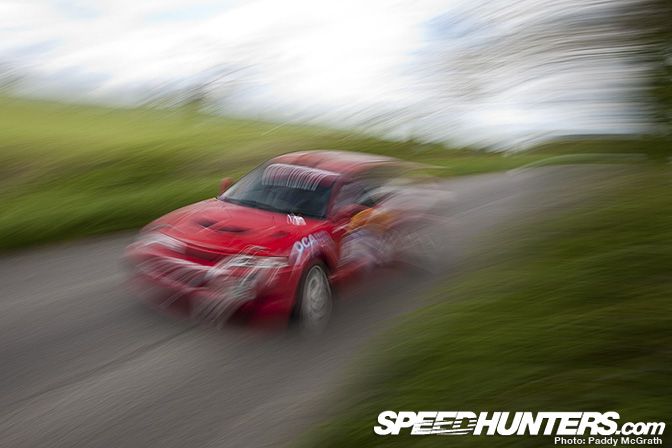 Canon EOS 5D MKII, 24mm, 1/10, F10, ISO50
Simon O'Rourke's Mitsubishi Lancer Evo VI, Carlow Stages Rally, Carlow, Republic of Ireland. This on the other hand was a more experimental attempt at panning. One tenth of a second is a pretty long time for a shutter to be open but it does create a beautiful blur of colour.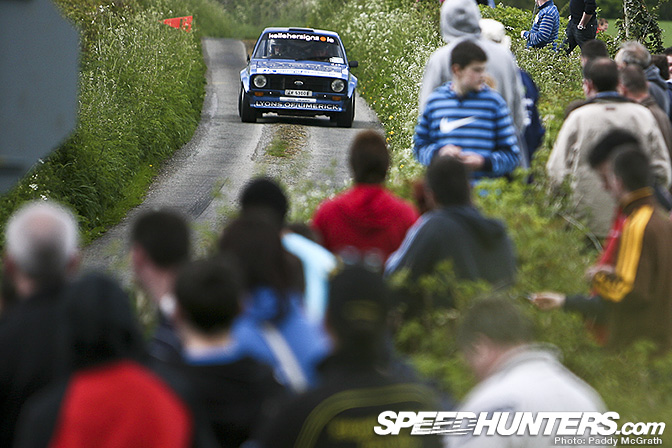 Canon EOS 1D MKII N, 200mm, 1/500, F2.8, ISO200
Ford Escort MKII, Carlow Stages Rally, Carlow, Republic of Ireland. At each and every event you have to try and make the most of each location. I get pretty bored, pretty quickly of locations and I always find myself trying to find new angles. This was one of the more successful attempts (If only the guy in the Nike top had been looking towards the car …)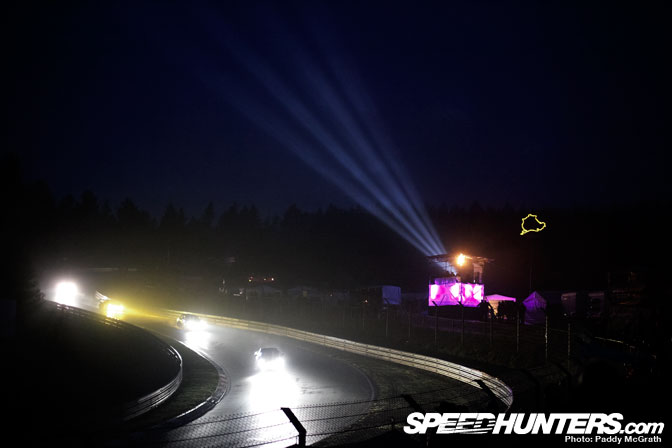 Canon EOS 5D MKII, 50mm, 1/250, F1.6, ISO5000
Night sets on the Nordschliefe, ADAC Nürburgring 24HR, Germany. The Nürburgring is a special place at any time of the year but for one week in May it is transformed into the most insane venue on the planet. Lightshows, fireworks, 220,000 people, raves, BBQs all to celebrate the Thursday night practice session. The high ISO abilities of the 5D MKII is something special and coupled with a fast lens, it does pretty much allow you to see in the dark. Shot handheld at Brunnchen, it was the start of my favorite event of 2010.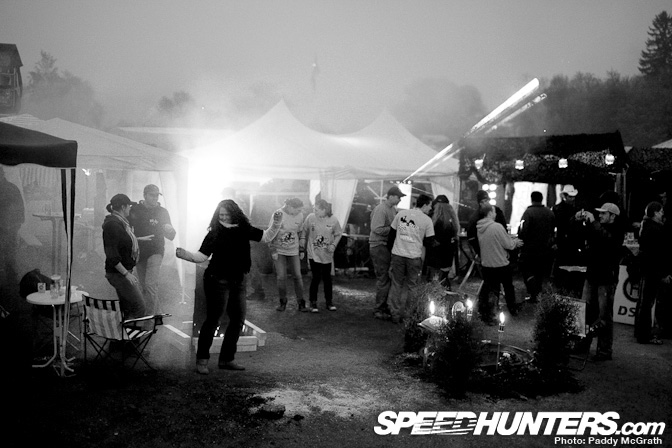 Canon EOS 5D MKII, 50mm, 1/125, F1.6, ISO3200
Nürburgring Nightlife, ADAC Nürburgring 24HR, Germany. You're probably sick of me harping on about how it's not always about the cars, but sometimes it is worth your while to turn around and see what is happening behind you.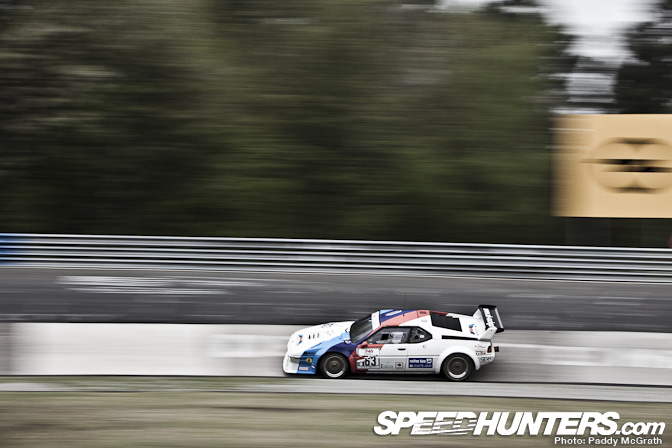 Canon EOS 5D MKII, 70mm, 1/20/, F6.3, ISO800
BMW M1 at the Ring Classic, Nürburgring, Germany. You don't so much watch and listen to the M1 as you do experience it. From miles away you can hear it coming through the forest. Set up at Karussell, the corner is perfect for low speed panning as the cars drive at an almost perfectly consistent radius around you.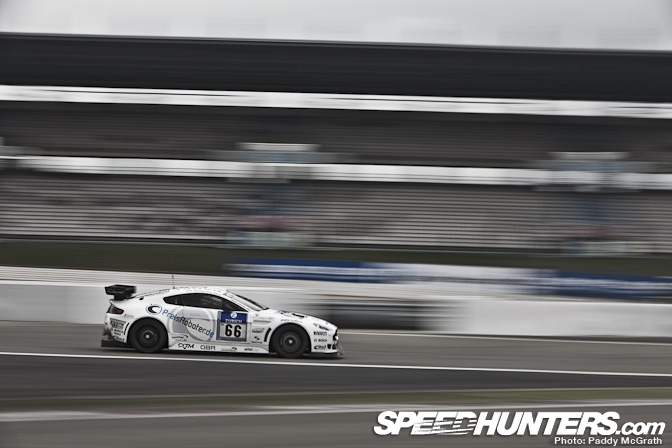 Canon EOS 5D MKII, 100mm, 1/15, F13, ISO50
Team Schrick, ADAC Nürburgring 24HR, Germany. Panning always seems like a bit of a black art when you're starting out in the photography world. Fact is, it's probably as straight forward as a technique as they come. The only way to improve your technique is to practice, practice and practice some more. The backdrop of the empty grandstands created a neat linear pattern for the car to stand out in front of. Linear patterns like this also helps to increase the sense of motion in a shot.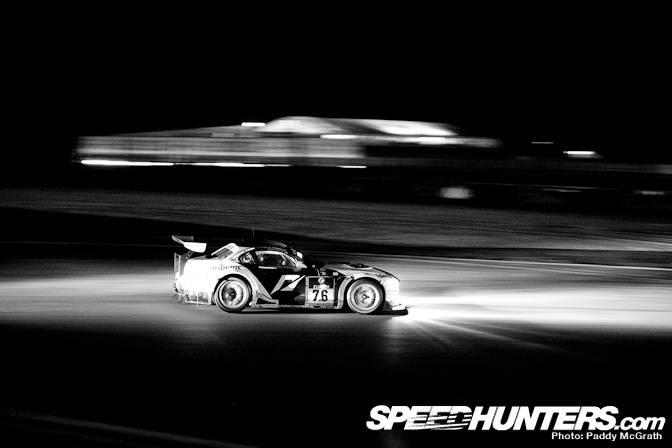 Canon EOS 5D MKII, 70mm, 1/40, F2.8, ISO6400
#76 at Midnight, ADAC Nürburgring 24HR, Germany. Sometimes you really need a little bit of outside influence to help you catch that shot. Waiting on the inside of turn one at midnight, it's almost pitch dark but thanks to a chasing car the Team NFS #76 car gets caught at almost the right time to illuminate the parts of the car that moments before were hidden in darkness.
I'll continue the rest of this story after the weekend, but if there is any requests for any specific images or even for further details on those already mentioned, please leave a comment at the bottom of this post.
-
Paddy McGrath