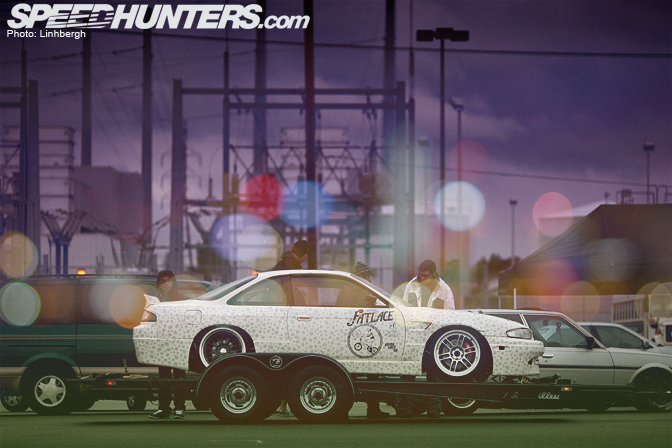 It was constantly wet. The rain never stopped during my six hour drive north from southern California to the Bay area. It seemed as though the rain clouds were following me during the whole journey. The next morning, I woke up to the soft pitter-patter of rain. It was 6 am on a dark late-autumn Saturday morning. My bed was warm and I didn't want to get out into the cold.
My one motivation to get out of bed was the thought that I would be able to photograph cars sliding in the rain. The chance to catch a car mid-drift passing by a puddle with the reflection of their car passing through. I missed the chance in 2009 at Wall Stadium during Formula D's Friday practice and qualifying session. So this is chance number 2 and I couldn't miss it. 
With that thought, I pried myself out of bed. The instant my bare feet hit the cold tile and I was instantly awake.
I was heading to the Fatlace WordUp event. A drift event setup by the guys from Fatlace for the people in Northern California to have a local place to safely learn to drift.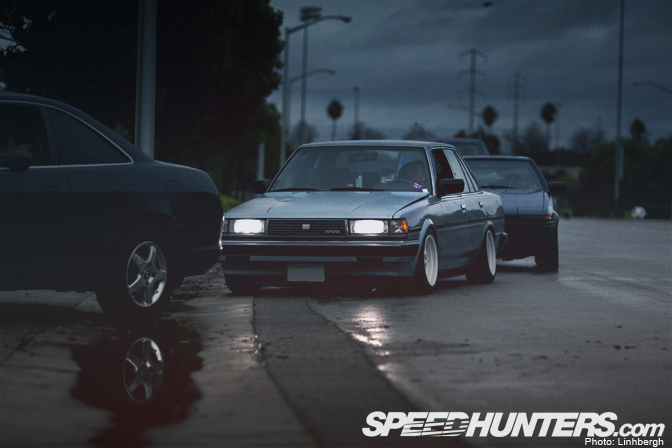 I arrived slightly early as no one was really there yet, and the course was still being setup by the crew. But not too long after, the cars started to roll in and I quickly moved to the entrance of the event to check out what cars were going to be driving at the event.
This slammed 3rd generation Cressida on white painted XXR 002s was a car that definitely stood out from the rest of the field.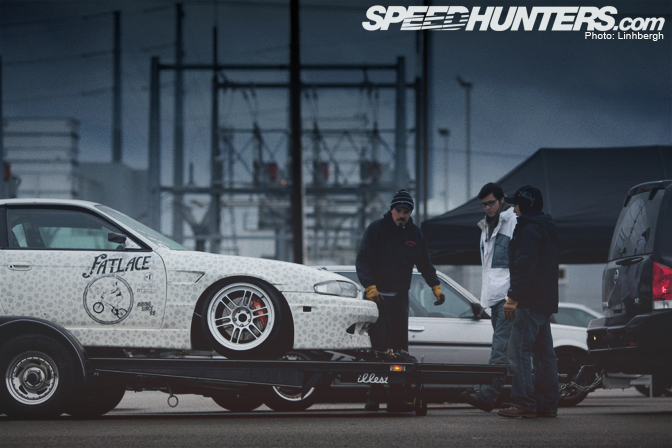 With a line of cars building up outside waiting to be checked in and tech'd, I walked around the paddock. Mark's S14 was still on its trailer.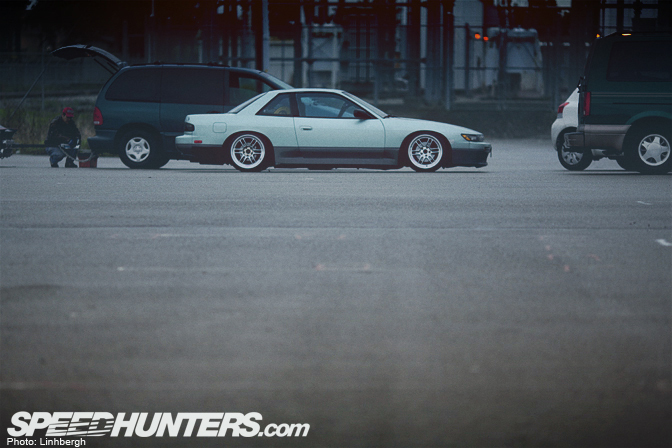 Walking around a bit more, I spotted this amazing two tone S13 Silvia coupe.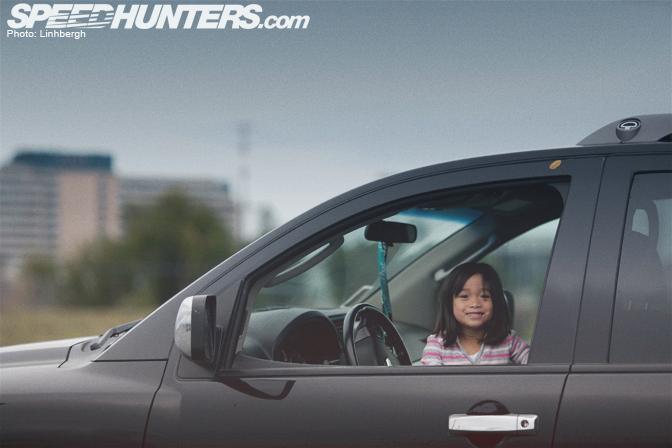 This isn't a sight usually seen at a grassroots drift event. But if you're the daughter of Fatlace founder, and event organizer, Mark Arcenal, its sort of a given that there's a bit of race gas pumping in your veins.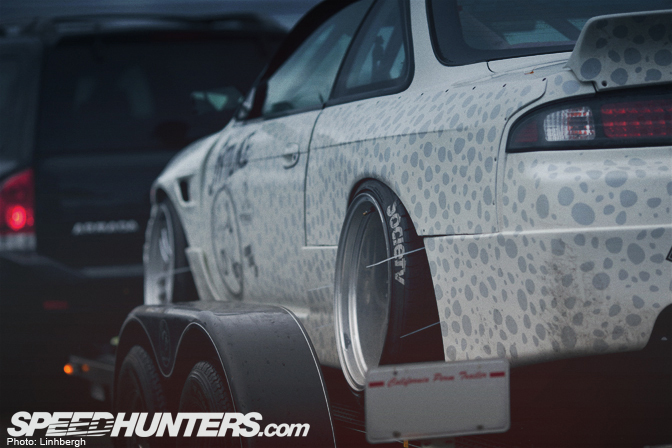 Without the presence of resident S-Chassis animal print lover, Matt Powers, you're probably wondering about the S14s overall print. It's Mark homage to his sneaker roots –Nike to be exact.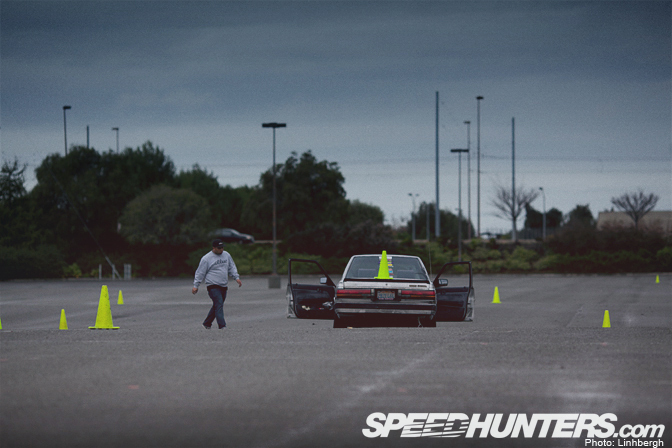 As drivers and cars started filing into the parking lot, the Fatlace crew was setting up the course. One of them smartened up and decided to use his Cressida as a cone carrier.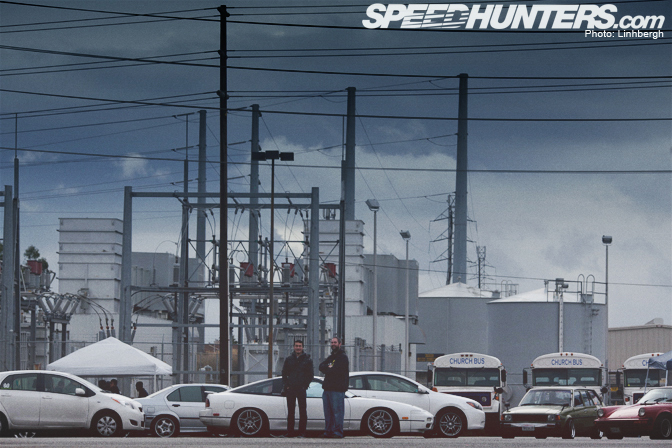 The backdrop for the event is worth a mention. The parking log acted as an overflow parking lot to the Six Flags theme park, Great America. On one side, was the training center for the San Francisco 49ers (a professional American Football team), on another side were some power stations, and just next to that was the roller coaster filled skyline of the theme park park itself!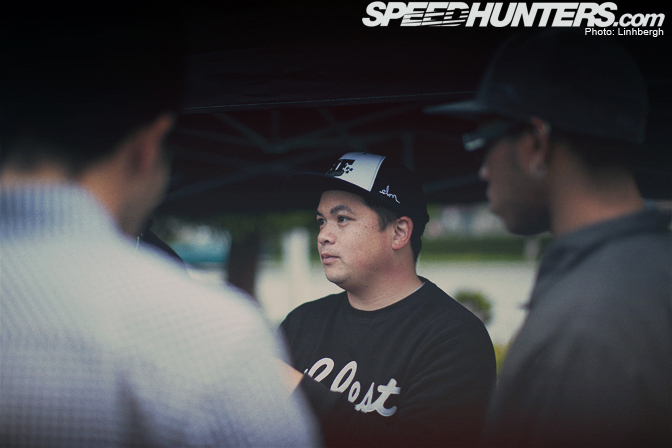 Here's the man himself, Mark Arcenal.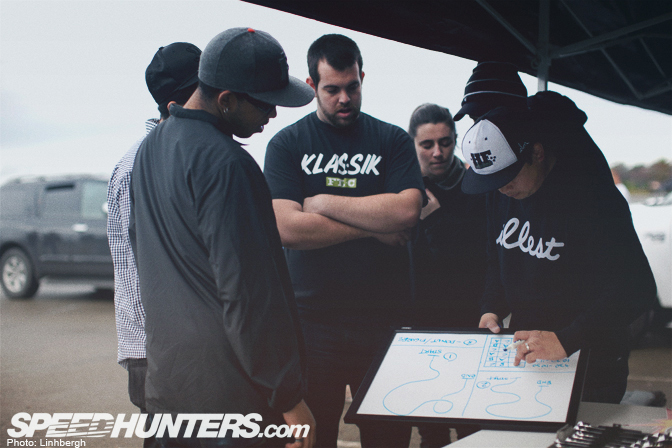 The parking lot was split up into four different sections: a donut section for those new to drifting, a figure 8, a drift course for intermediate drivers, and a longer much more complicated course for the advanced drivers.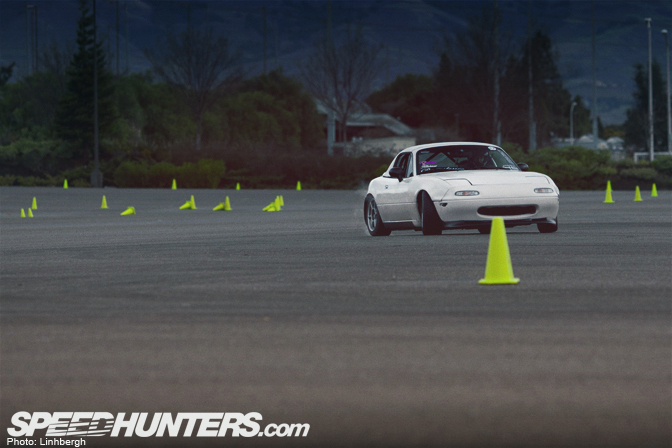 In the first few hours of the track, many of the grid took their cars to the donut and figure 8 sections to warm up and get into the rhythm of drifting.
It's always great to see these NA6 Miatas out having some fun.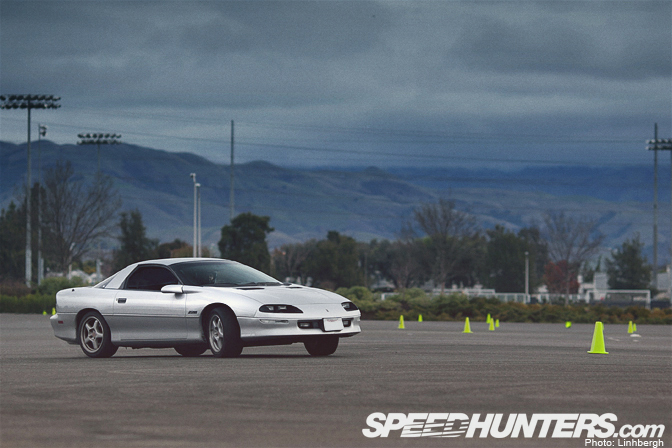 Here's a car not usually seen at a drift event. The Camaro's allure of a V8 on an affordable and good RWD platform can't be ignored. It'd be good to see more of these cars out there.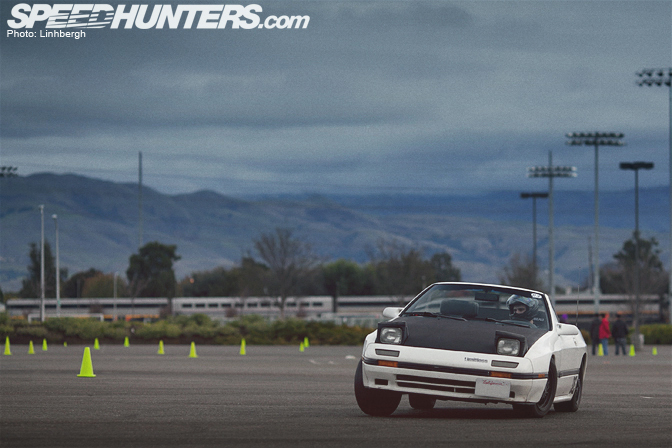 Leaning tower of Mazda FC RX-7 convertible or not, an event like this was setup so any person can take their car out, no matter what their setup, and just learn.
In the coming months, I'm hoping my E30 will be out there for a donut making session!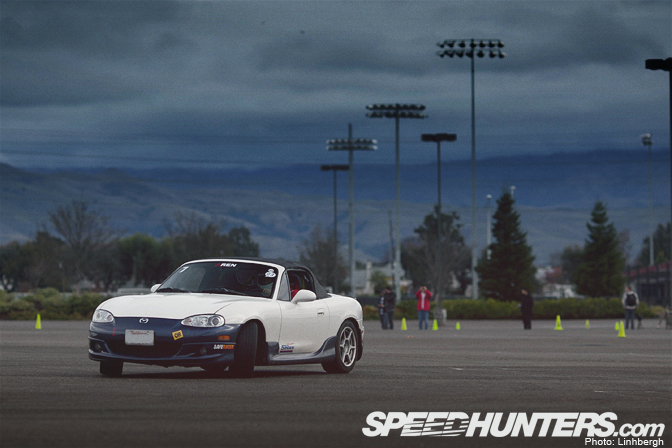 Another Miata having a go at the figure 8 course, this time a later NB8 model.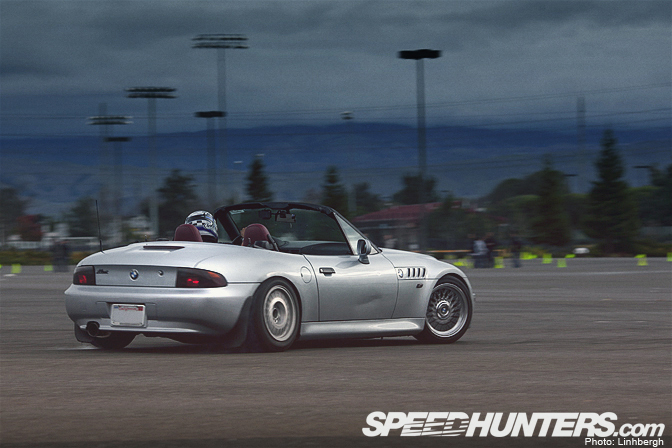 Now here's a car that is rarely seen in the tuning world let alone sliding at a drift event! We'll take a closer look at this BMW Z3 with a spotlight in the coming days.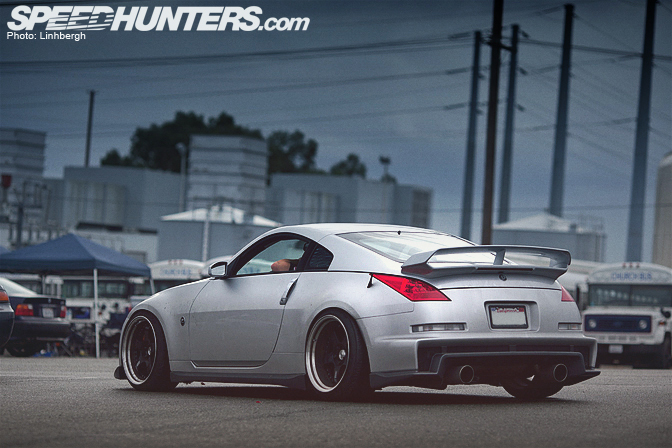 It was great to see this Nismo 350z on Work Meisters out doing a bit of sliding.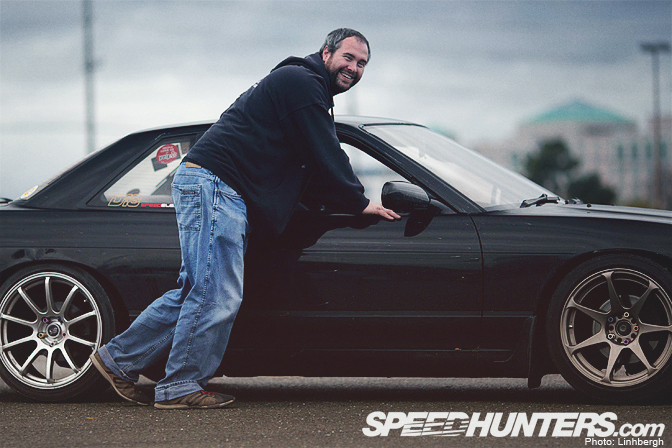 Apparently, people get embarrassed when you point a camera at them while they're pushing their cars up the line.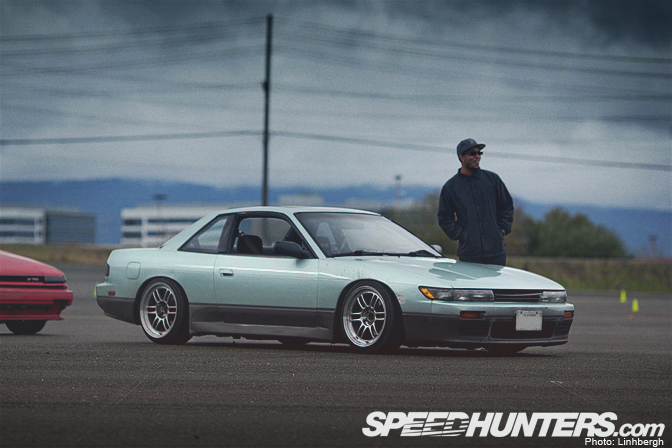 Did I already mention that I like this Silvia coupe?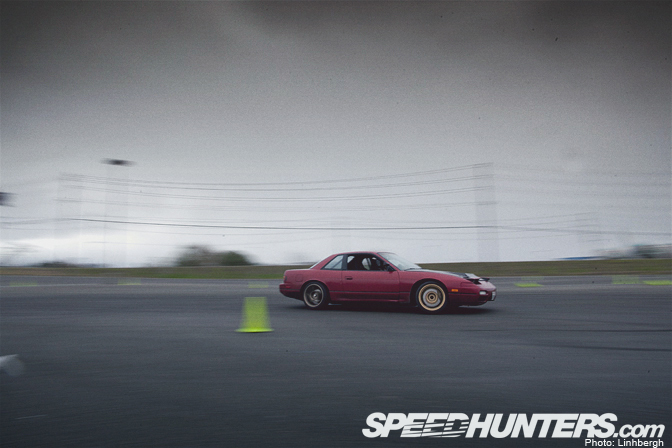 Like any drift event these days, there's no shortage of S-chassis.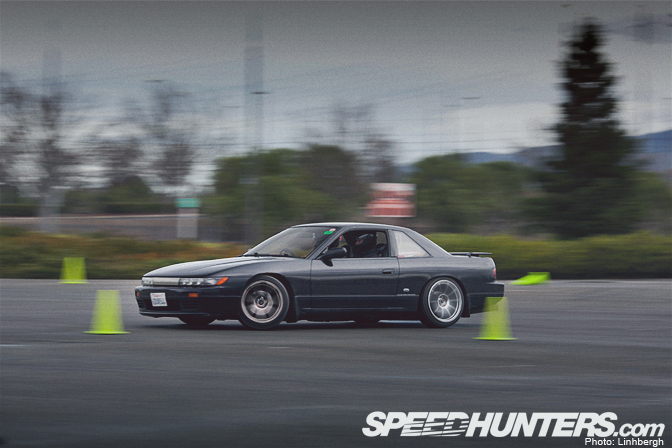 This particular Silvia was imported and is right hand drive.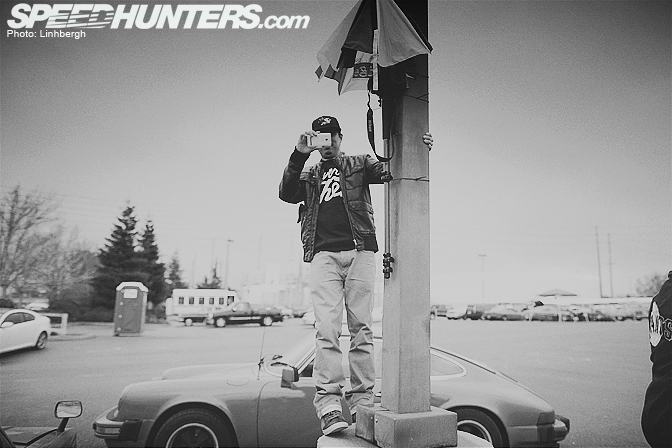 Seeing how drifting is such an internet based movement, it's great to see new media being grasped by the sport. This man, Al Lagura, standing on the light pole is streaming live content to the internet though his phone! 
Oh and yes, that is a camera mounted on a monopod, mounted onto the light pole with zipties, then an umbrella ziptied to protect the camera from the rain. Al was doing a bit of  time-lapse video with his camera.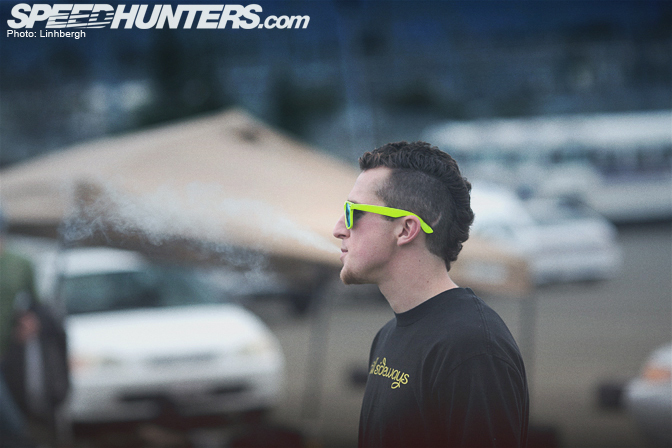 Towards the midday, the event was graced with the presence of Formula D driver and northern California native, Matt Field. Him and his buddies would provide much entertainment to the event later in the day.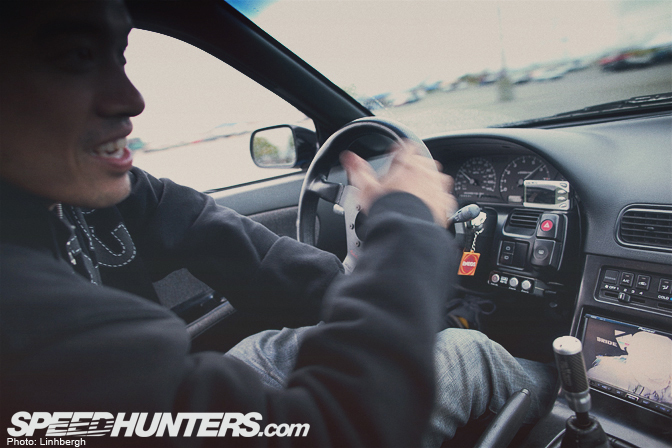 Phil, from 360 Video Magazine, grew tired of shooting video of people having fun with their cars so he bit the bullet and bought an S13. This particular S13's previous owner was Toshi "What up Tosh" Hayama.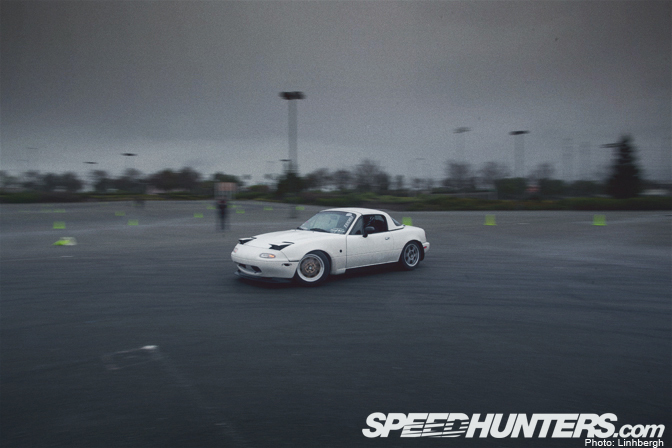 As the drivers became more comfortable with their cars, they'd take the cars to the harder courses. It was good to see this NA6 move up from the donut to try his hand at the advanced course.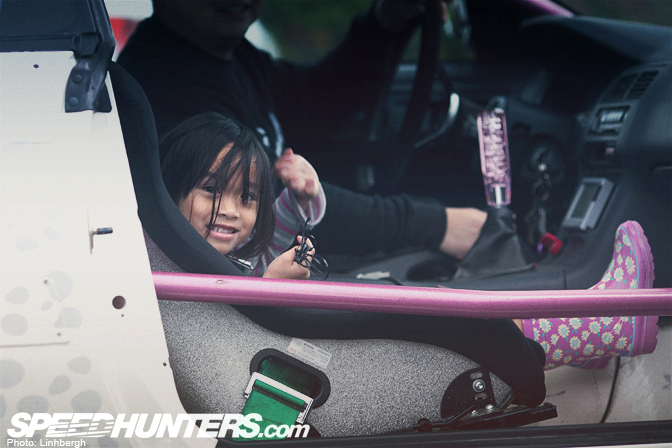 A little girl in a Bride Lowmax is another sight not usually seen at a drift event. Mark treated his daughter to a donuts in his S14.
I'm diggin' the pink rain boots.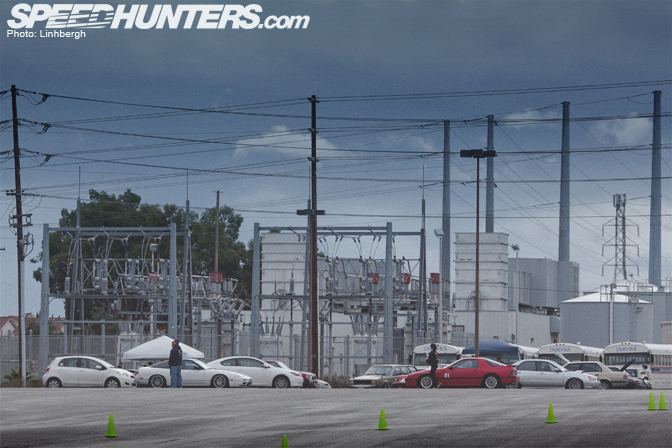 What I like best about attending these grassroots drift events is just how relaxed they are and how friendly everyone is on the paddock. Everyone is out there to have a good time, hang out with some buddies, and, well, do some of that sliding/tire burning thing.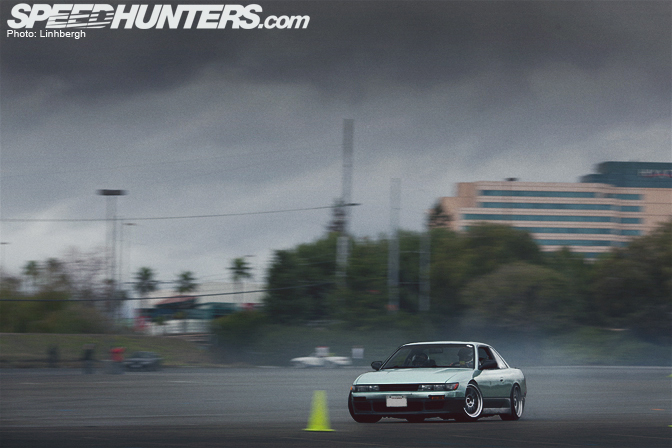 It seems that the weather gods are not pleased with me. When I want it to rain, it doesn't rain. When I want it to not rain, it rains. The sprinkled for most of the day at the WordUp event, not enough rain for puddles to form, or to get back spray from the cars. Here's to hoping chance number 3 comes soon….
I didn't attend the event to just photograph it, I attended the event to also learn how to do what I photograph so often. We'll look at my experience behind the wheel of a car next.
-Linhbergh