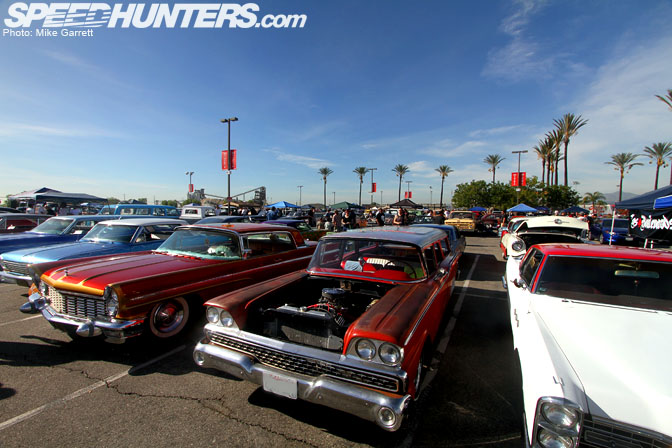 I'd imagine that after hearing about the warm weekend in Southern California, some of our readers in the colder parts of the world might be a little envious. After seeing all the treacherous weather in the eastern part of the United States, I'm quite happy to be living here in LA, where the automotive activity has no off season.
Let's jump into another look at the sunny and warm 2010 Mooneyes X-Mas Party at Irwindale Speedway.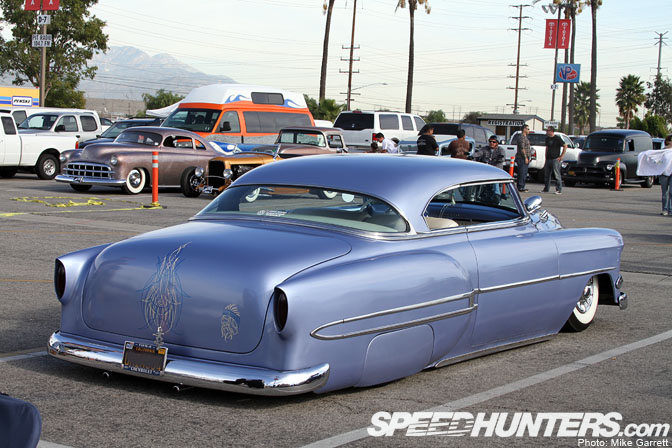 Why not start off with one of those quintessential Chevys, bagged out on wide whites and Caddy hubcaps. Extremely clean.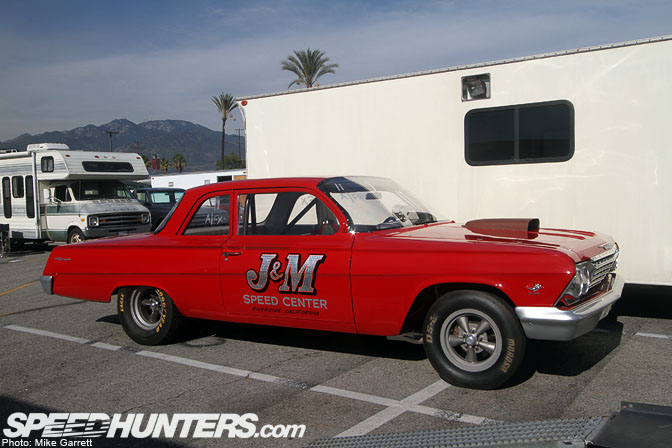 When you think about it, it's pretty amazing that low 'n slow sleds can co-exist at the same event with cars like this 62 Chevy A/FX racer.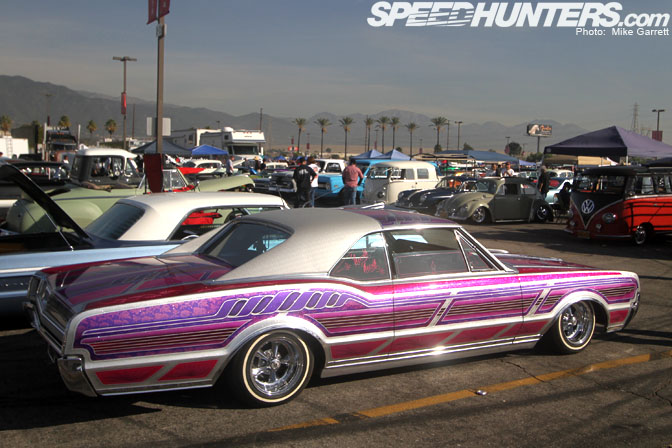 Another one for the low and slow team, a crazy looking Oldsmobile lowrider.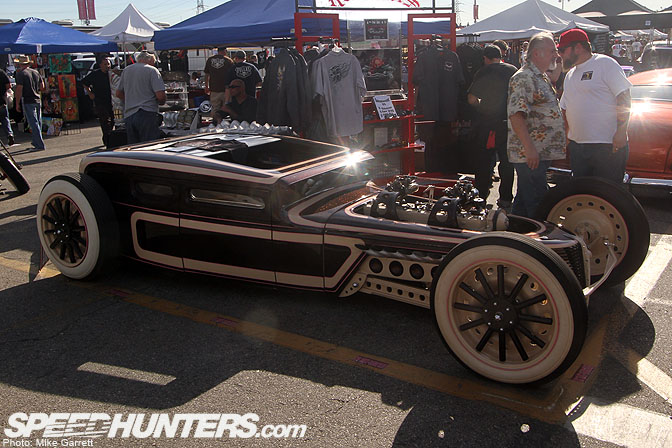 When Linhbergh and I saw this straight-8 powered show rod with 20" wooden spinners, we weren't quite sure what to think. The crowd sure seemed to dig it though.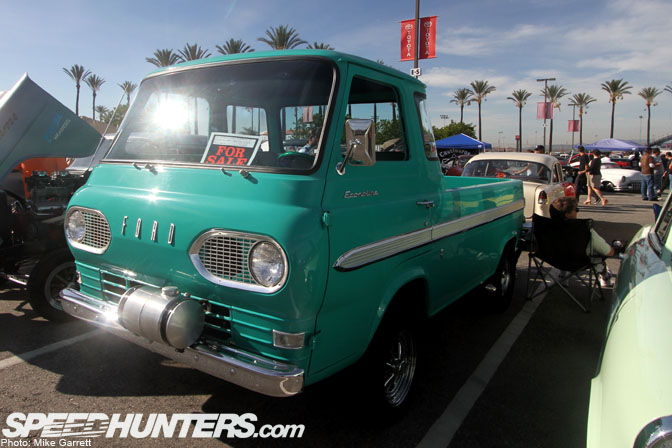 On the other hand, we could both agree that this 347-powered Ford Econoline was universally cool. Right, Linhbergh?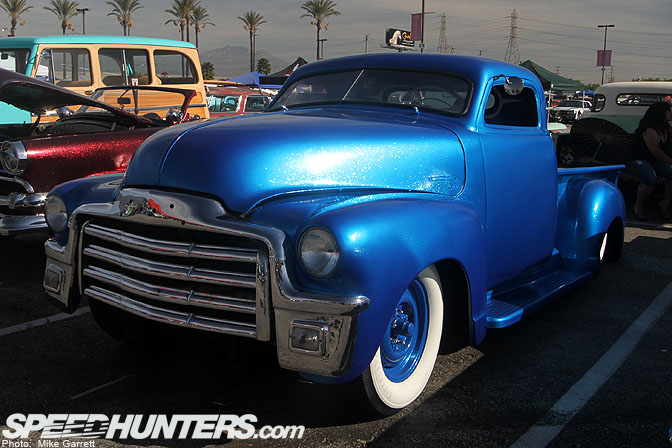 Like every Mooneyes show, there were lots of sweet pickup trucks to check out, like this chopped metallic blue Chevy.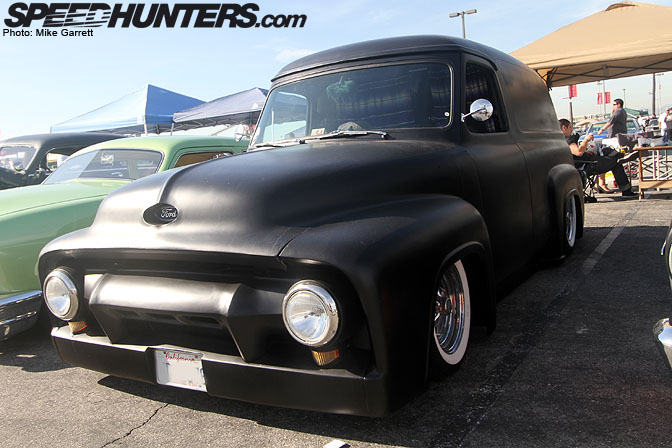 Or my favorite, this satin black Ford panel truck bagged on Cragars and wide whites.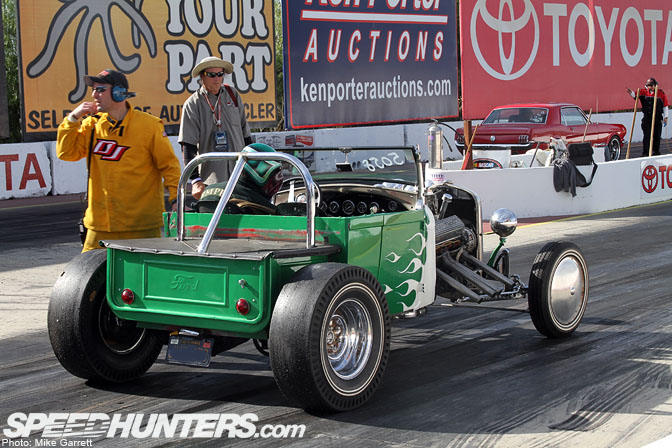 This cool little roadster pickup was looking pretty fast on the eighth mile before it was sidelined with mechanical problems.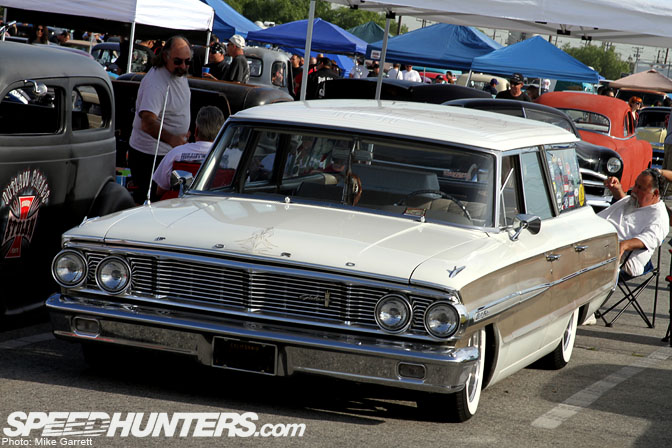 Wagons always get extra style points. Even more if they have woodgrain panels on the side, like this Ford Galaxie.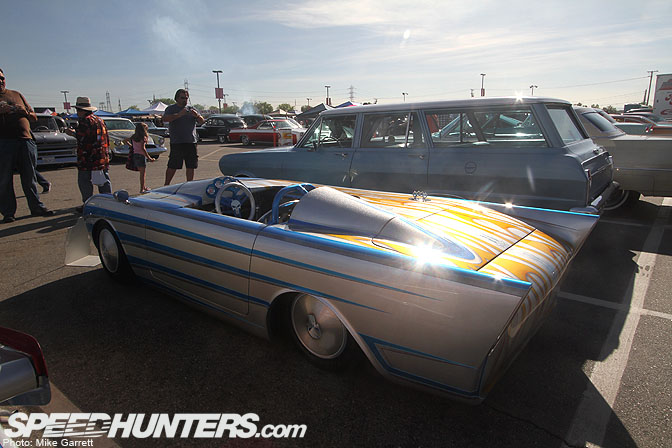 When was the last time you saw a 1960 Sunbeam Alpine built into a custom show car? Somebody put an incredible amount of work into this thing.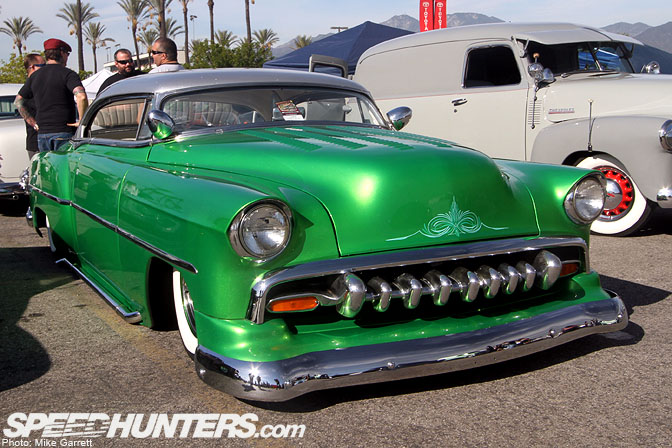 It can be tough to stand out in the crowd of early '50s Chevys, but this chopped green coupe did just that.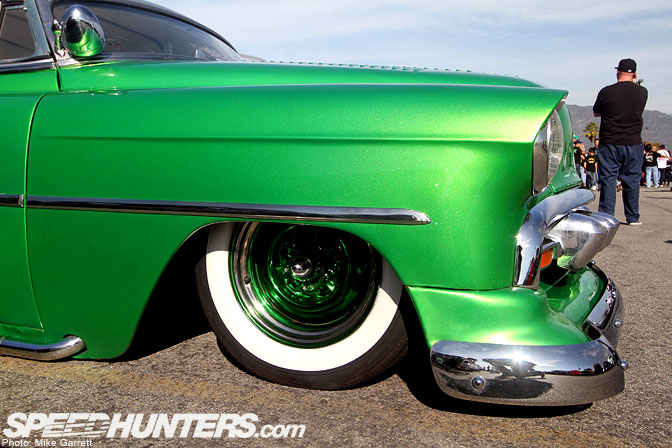 Yes, that's how to do it.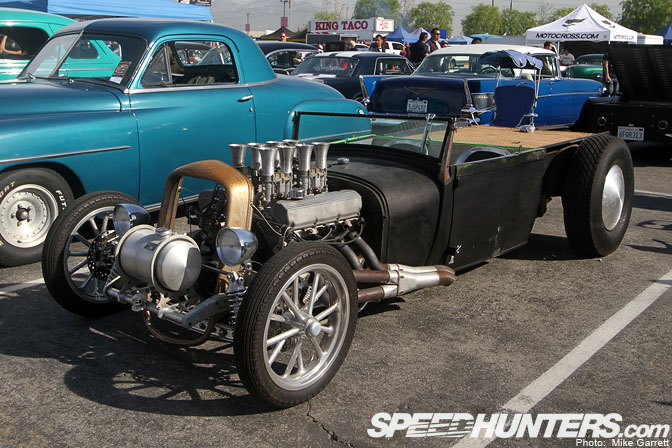 The engine setup alone on this long wheelbase pickup is worthy of a photo.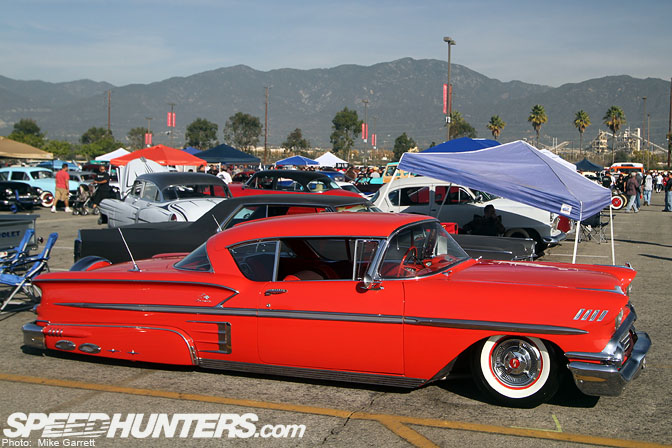 With the exception of the rear fender skirts, the body on this '58 Chevy looks to be 100% stock. No, they don't make them like they used to.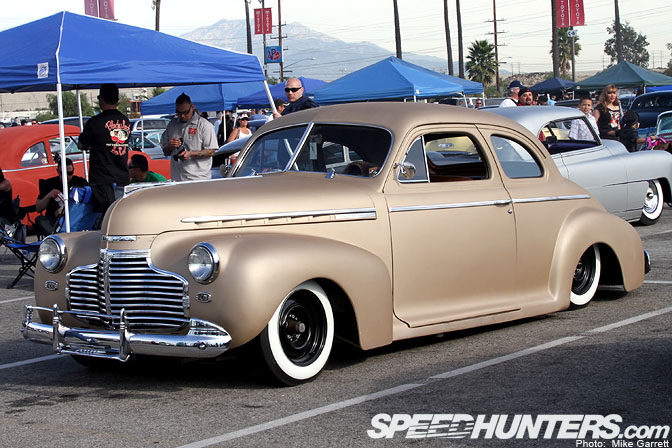 There's something very intimidating about this car. I'm guessing it's the black steelies tail-down stance.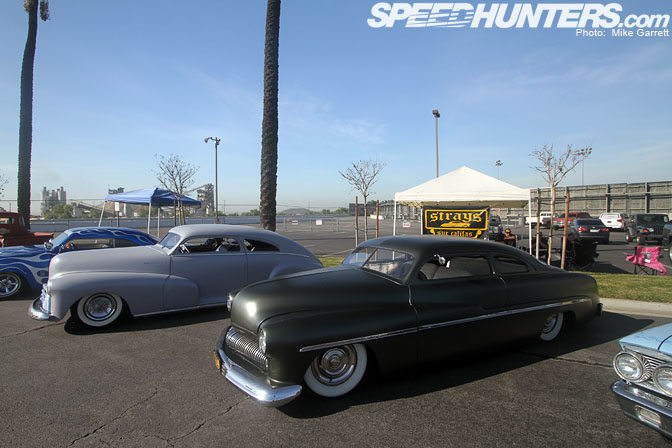 Members of the Strays Car Club soak up the sun. Love that Merc!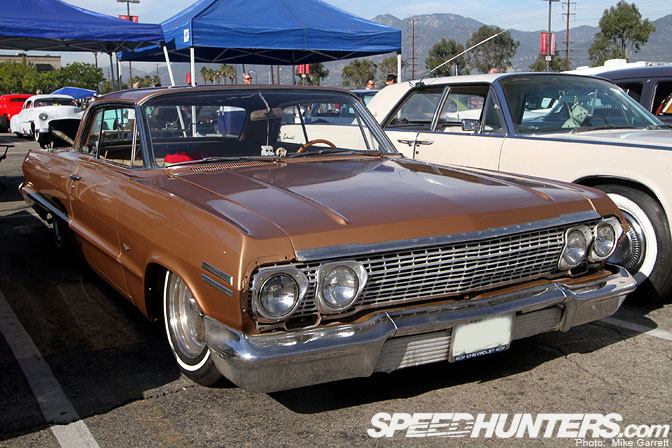 1963 Chevy scraping the ground, just like you would expect it to.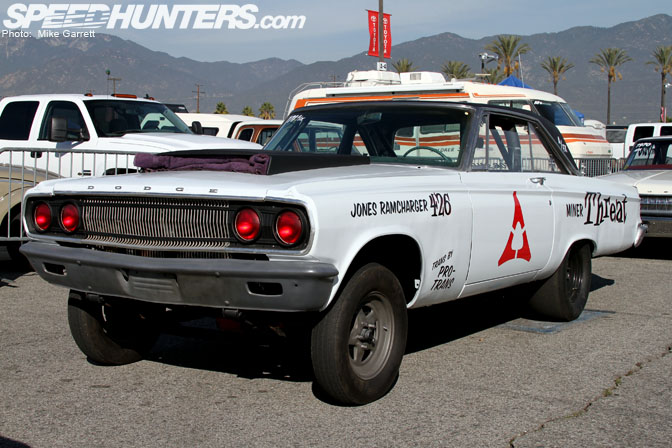 The "Miner Threat" Dodge A/FX car in the staging lanes. To me, this is what retro drag racing is all about.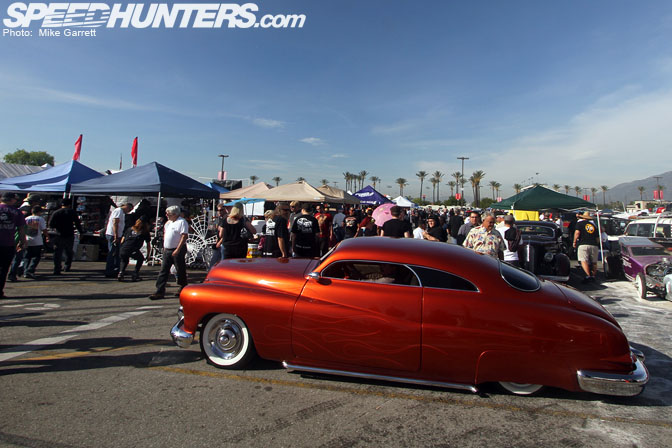 That will wrap things up for now. I'll be back soon with one more look at the 2010 Mooneyes X-Mas show.
Stay warm!
-Mike Garrett