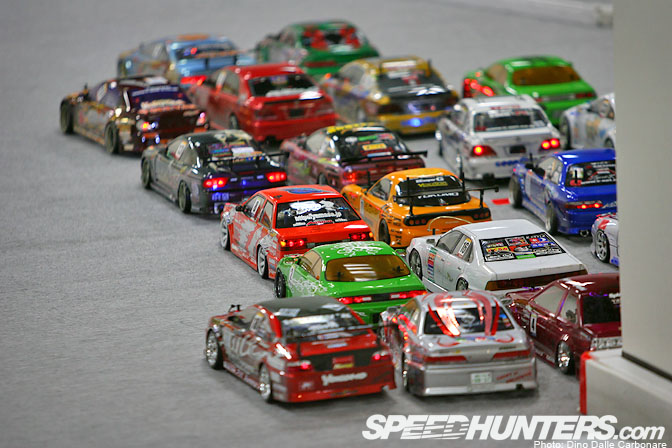 A few months ago I was invited by Ueno-san of T&E to check out the inaugural RC Drift competition that was being held at his recently opened RC drift track. Having been interested in RC cars since I was a teenager and having my own Yokomo drift car, I thought I'd drop by for a look as I know very well how seriously the Japanese take this hobby. I didn't even bother bringing my beaten up gold Mark II as, apart from a few mechanical modifications like a one-way center shaft and a slightly more powerful motor, it is pretty much all stock. I had no intention of feeling inadequate!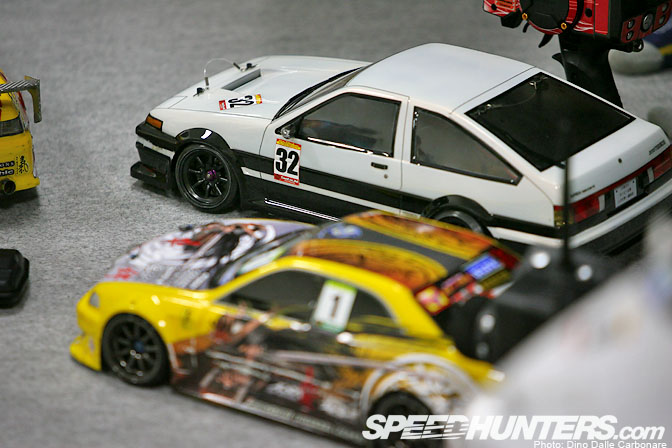 It was a good move, as the cars that were present would have made my little creation look like utter garbage!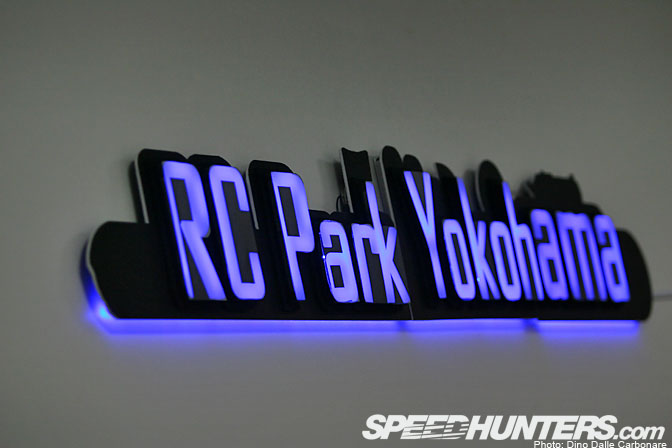 RC Park Yokohama is the name Ueno has chosen for his track, which is strategically located on the second floor of a department store in Yokohama. It's about a 20 minute drive from my place so when I'm in the area I always make a point to stop by and not only check out the action, but see who is hanging around as you always find the odd D1 driver in there honing his miniature drift skills. So many drift-oriented tuning shops in Japan have set up their own track close to their shops, most of them becoming popular places for customers to hang out away from the "real" drift track.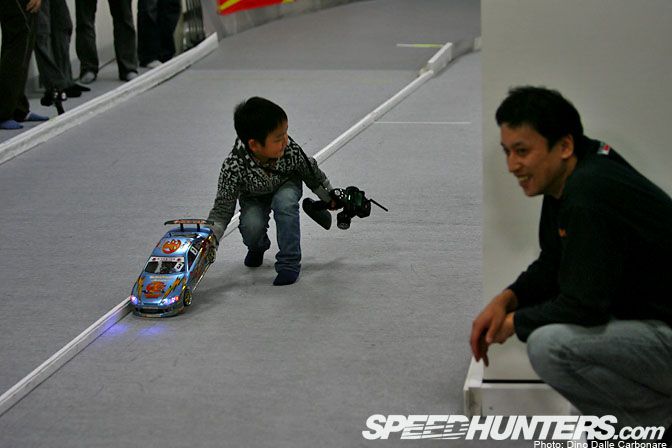 Here is Ueno's son with his Vertex Soarer. He might look a little young to be holding one of those prohibitively expensive Futaba remote controls but the kid has some very impressive skills already!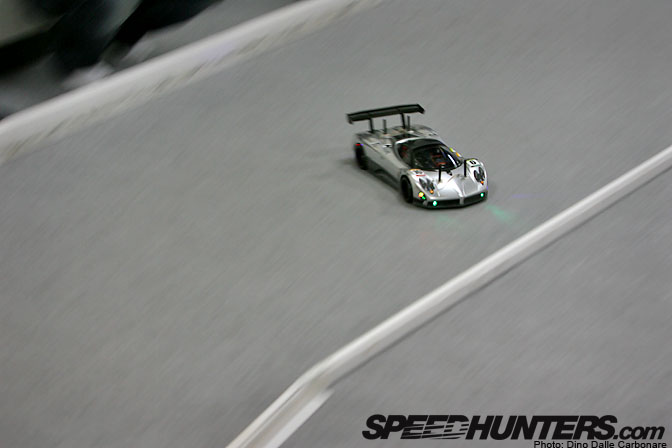 Like with anything and everything the Japanese take up, they like to take their obsessions to new levels. The attention to detail of every single body I saw was simply shocking from this chrome Pagani Zonda…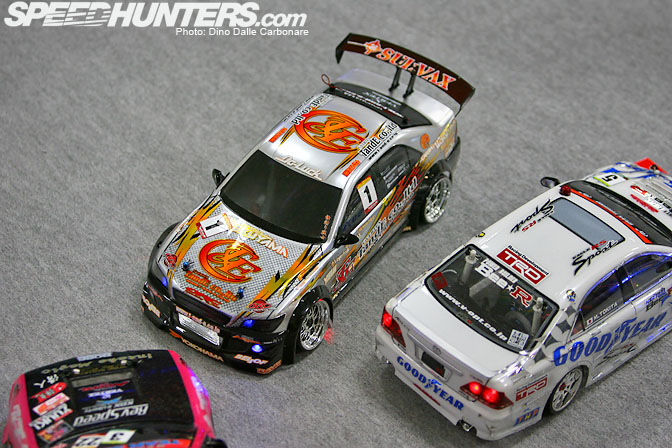 …to these more recognizable drift oriented cars. I was among true otakus, and I felt right at home.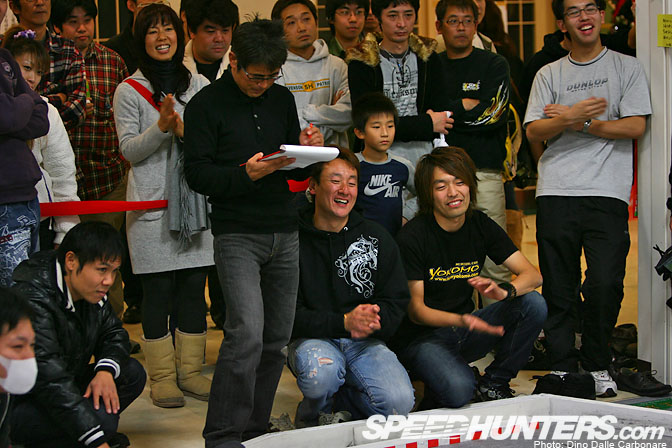 Mana-P was called in to take care of the commentary for the main competition that was being held on the day. He would be judging judge along with Ueno and Yoshioka.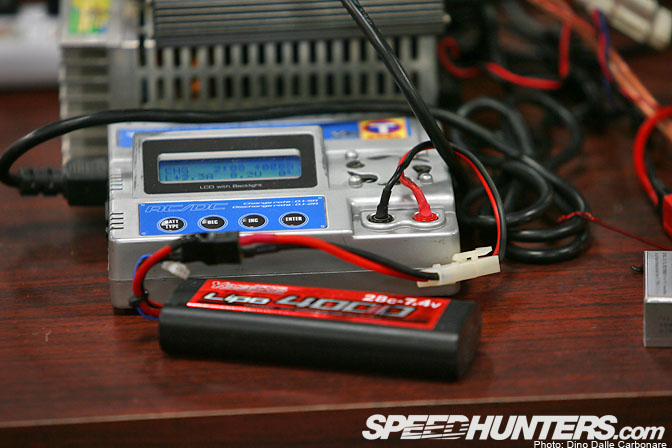 Next to the main track Ueno has created an area where people can set up their own little miniature pits. This is were battery chargers are kept working overtime and where fine-tuning of suspension and other things is done.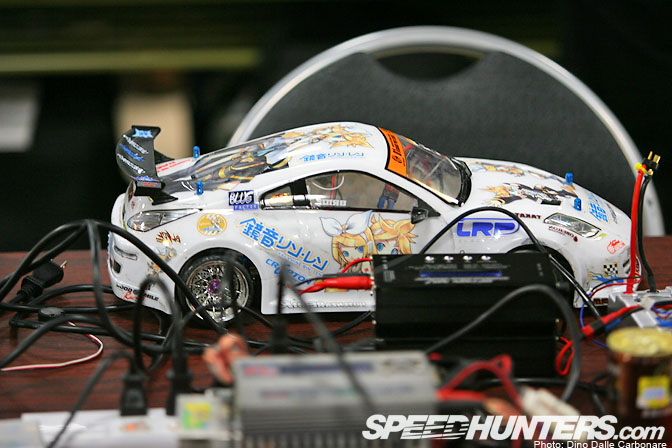 A Z33 itasha!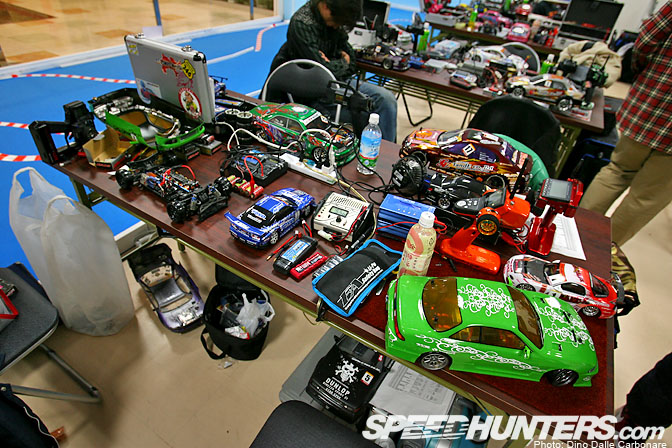 Your average RC drift otaku in Japan usually comes well prepared with a dedicated carry bag or hard case, a couple of chassis, a couple of impressively painted bodies and enough tools and batteries to keep him drifting all day.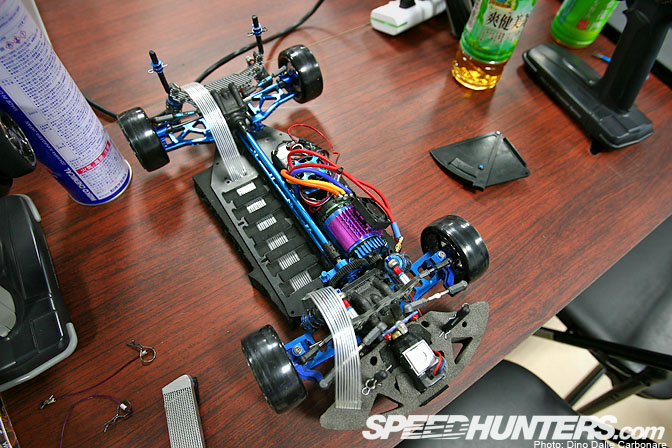 People invest so much into this hobby it is at time hard to believe. You haven't got anything special if you aren't rocking aluminum arms, motor cooling fans and complex speed controllers especially built to be mated to expensive li-po battery packs.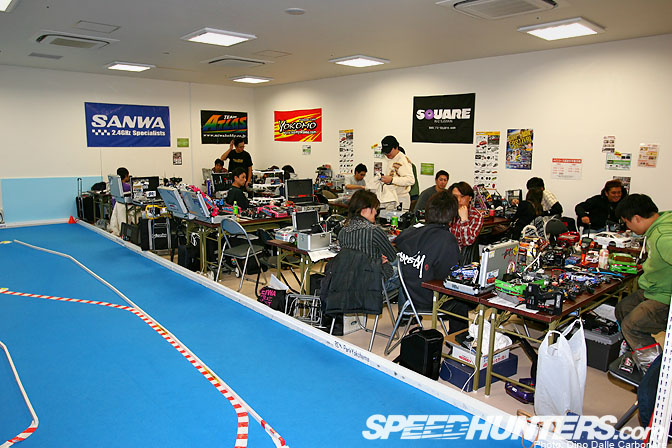 Next to the main "pit" area is another small track, which Ueno has made for those that want to enjoy their smaller 1/16th scale RC cars like the Yokomo Ichiroku.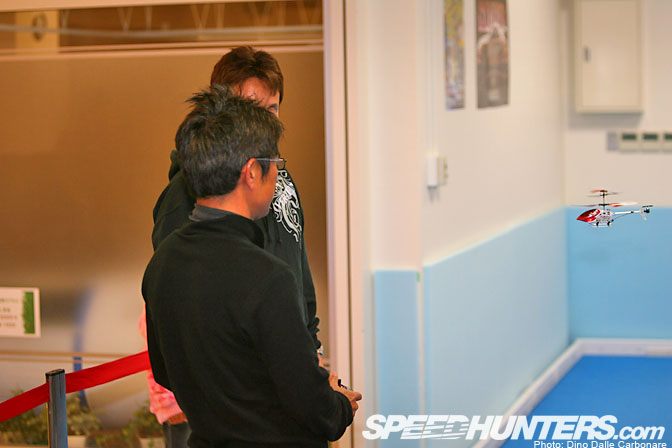 Ueno and Mana-P playing with another cool gadget, a little RC helicopter.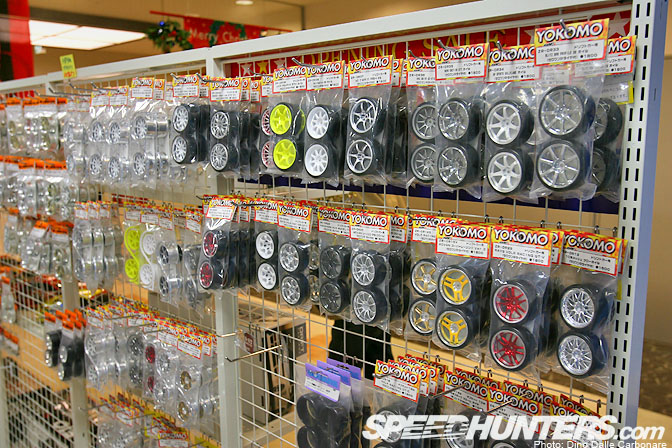 RC Park Yokohama wouldn't be complete without a dedicated shop selling accessories, spare parts or complete RC kits to help people modify and maintain their cars.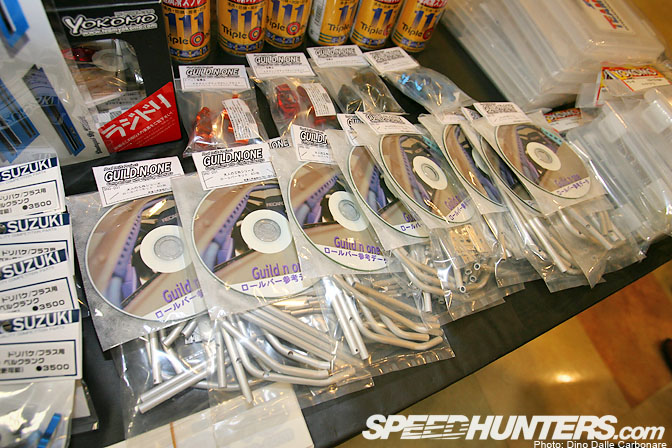 The latest gadget! This is an aluminum roll-cage kit from Guild N One that you can construct inside your polycarbonate body. Guild N One are the people that built the Celica-front Supra that competes in MSC, a perfect example of how drift shops are getting involved in the RC scene.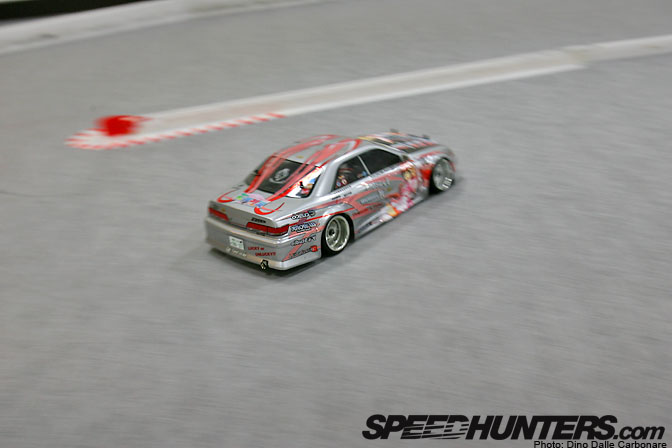 Let's check out more cars and more action now.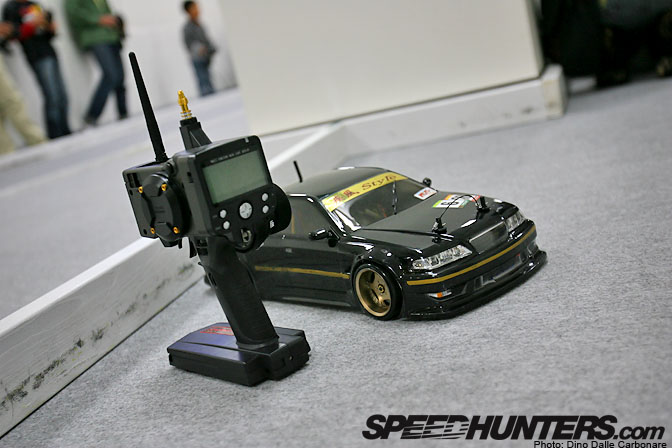 How is this for a cool JZX110! Notice the same gold on black motif being carried over to the controller…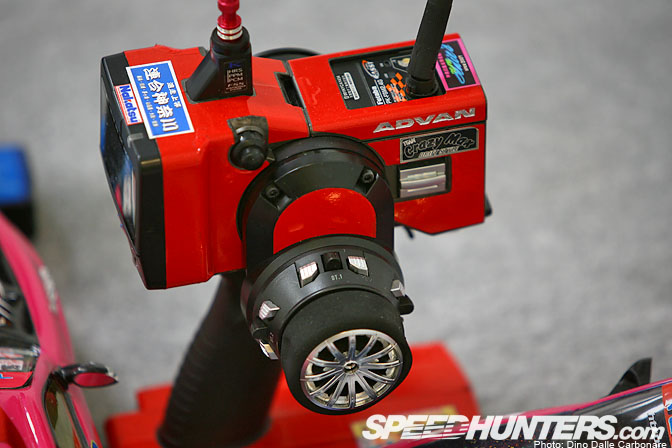 …a part that is as equally customizable as the car it controls!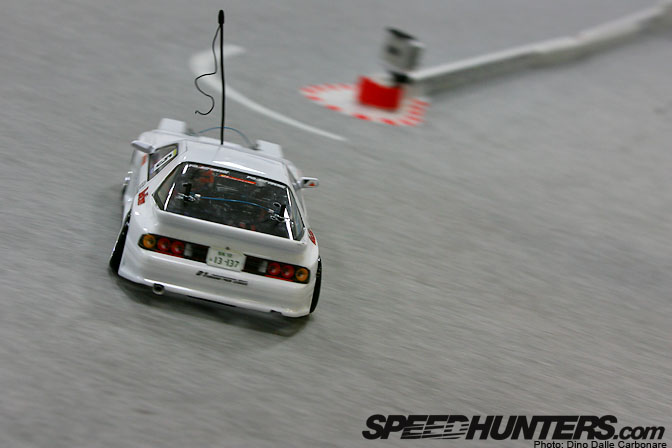 Widebody FC.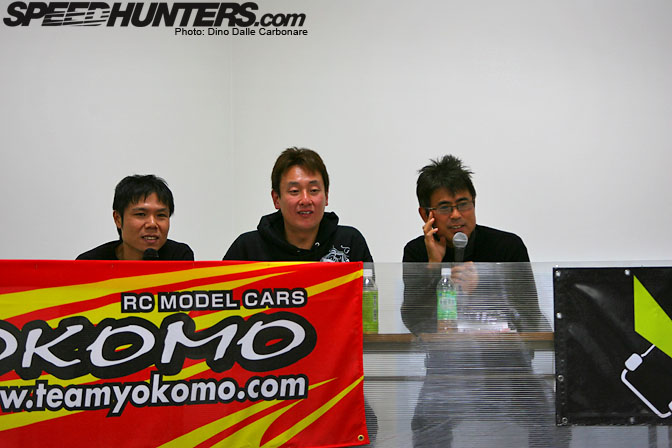 The judges doing their thing!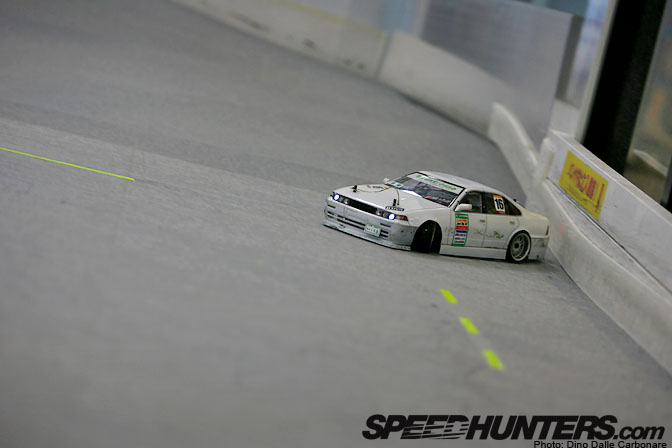 Trying to get action shots of these tiny little cars zooming past you at silly speeds was quite the challenge but so much fun to try.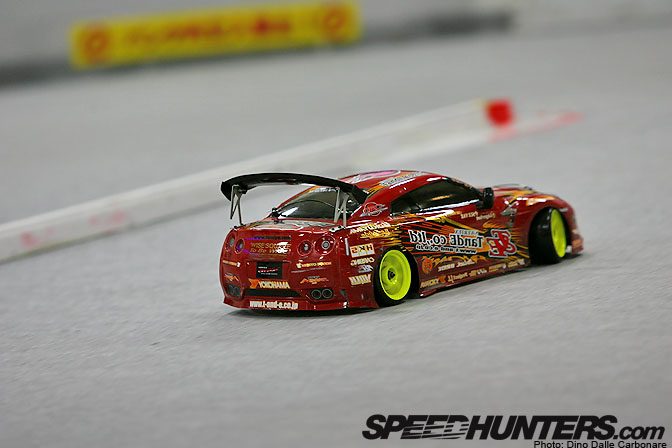 This mean looking T&E R35 GT-R belongs to D1 driver Hasegawa-san, here exiting one of the track's hairpins under full power.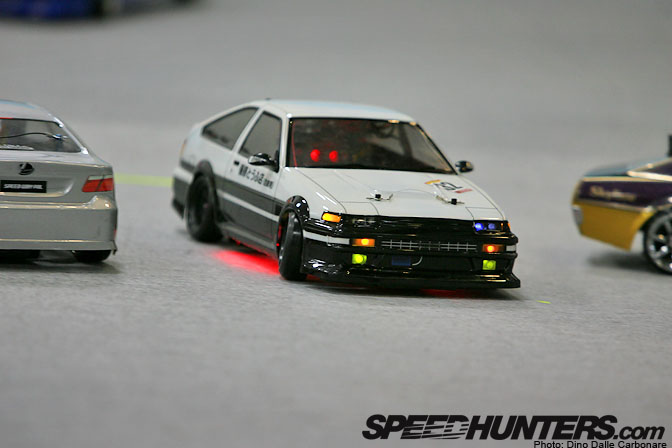 If you don't have functioning lights on your car then you are nobody!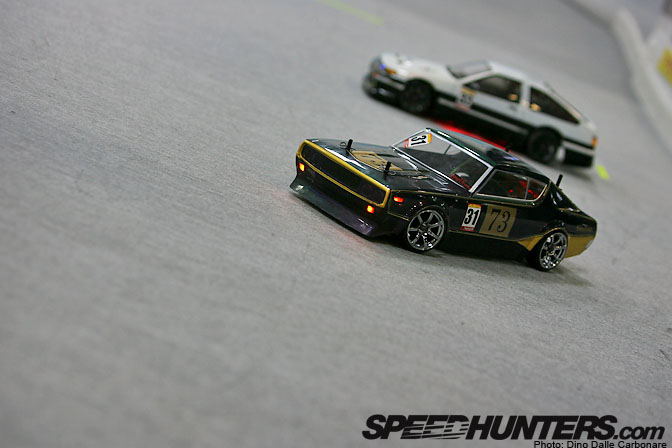 How is this for oldschool love! KPGC110 Skyline 2000 GT-R in the same livery as the factory Nissan race car that never had a chance to run due to the oil crisis. Beautiful.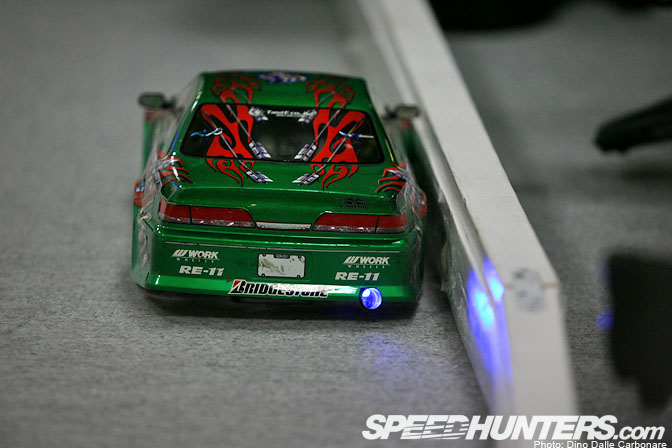 With RC Park Yokohama so close to me I want to try and head there a little more often to get some more cool pictures of a scene which has really exploded in popularity right now. I might even bring my car for a play too, but will try to fight temptation to blow money on to customize it as much as these guys have!
-Dino Dalle Carbonare