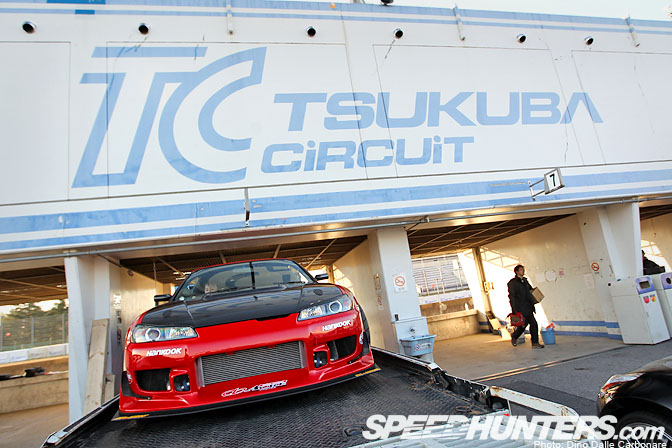 Time now for a final look at the 2010 Tsukuba Super Battle, an event that seems to always come to and end all too quickly. With each car being allowed to participate in only three timed sessions, most begin packing up as soon as they are done, or even earlier if they run into unexpected problems. So once again I was very glad I started shooting in the paddock early in the morning, as this is one of those gatherings that really fills up memory cards quickly!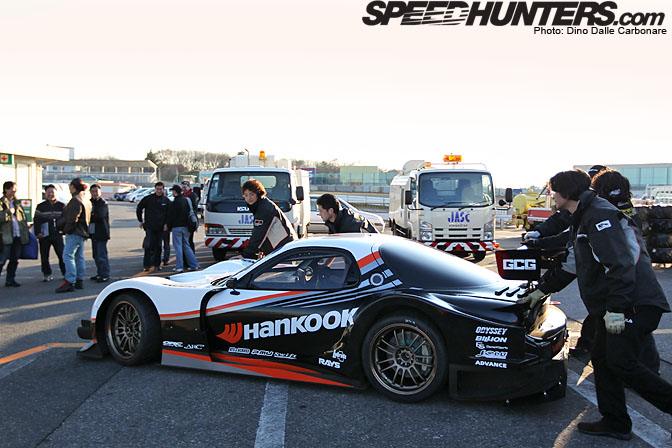 With Japan's fastest GT-Rs and Evos not making an appearance over the last few years, RX-7s have began to dominate this time attack event. It's quite outstanding to see how much more performance tuners like Revolution…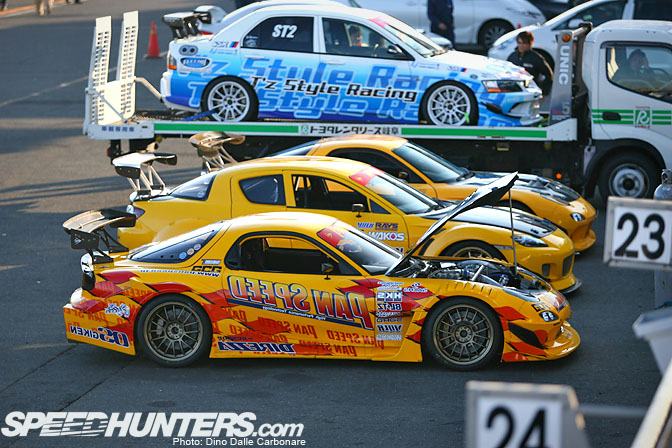 …and Panspeed are managing to extract from their cars every year. Panspeed had no less than three cars present at Tsukuba, an unmistakable trio sitting in the main paddock area.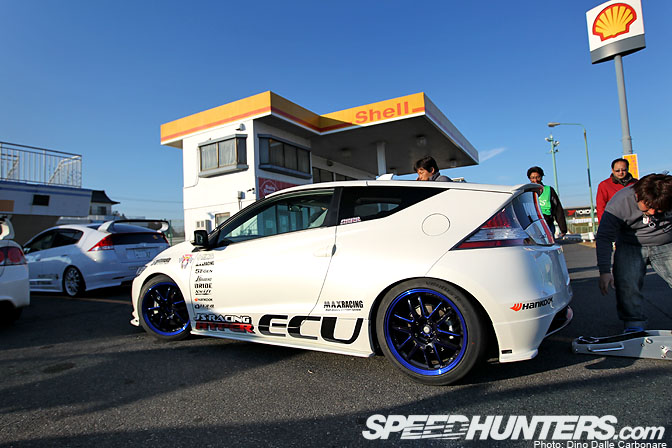 The CR-Z has really been selling well in Japan and tuners like Max Racing have taken an interest in trying to make the little sports hybrid perform a little better. The simple series of aesthetic additions like the side and rear skirts…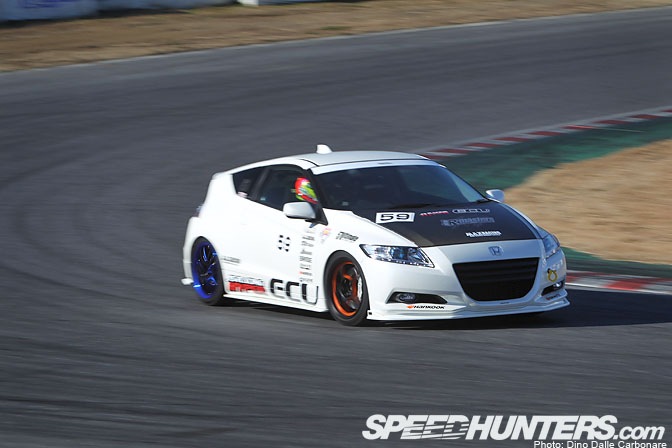 …as well as the front lip spoiler are a good way to enhance the looks without going overboard. The car was running blue/black Gram Lights 57Ultimate SC spec most of the day but I also spotted it use what looked like orange/black 57Ds up front. I think Rays are on to something with the painted inner spoke look, and I'm guessing we will be seeing a lot of show cars at the Tokyo Auto Salon running similar wheels.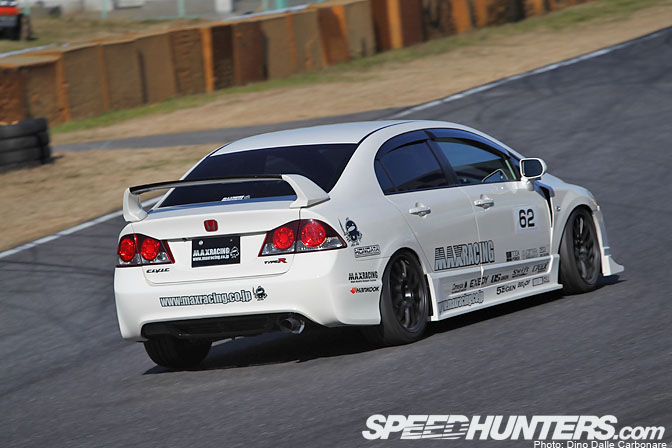 Max Racing also ran their FD2, which recorded a best lap of 1'05"448, over six seconds faster than the CR-Z. I just can't help wondering what a K20-powered CR-Z would be able to do!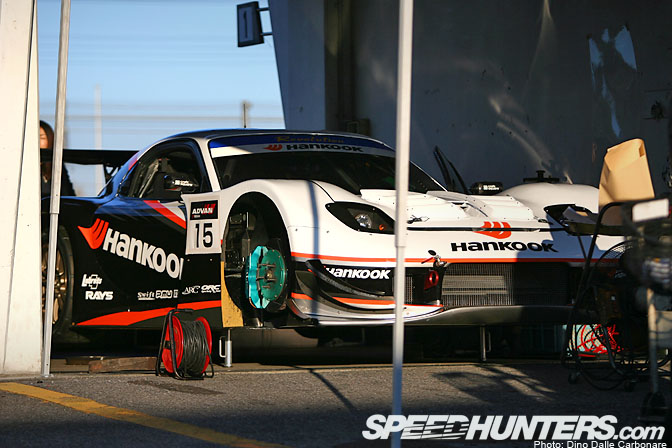 Ok, I've avoided talking about the Revolution RX-7 on purpose so I could dedicate a bit of space to it on this final post from the event.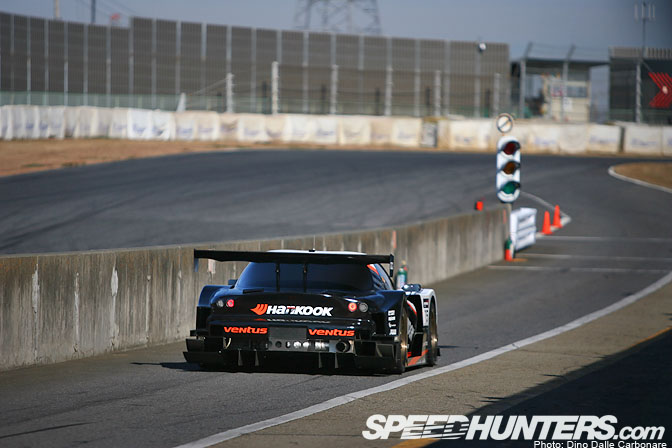 Aoki-san and all the guys at Revolution have been working extremely hard over the last year in trying to get every minute detail of the engine, suspension and aerodynamics perfect. As soon as it headed out on track with driver Kikuchi Yasushi at the wheel, everyone stopped for a few minutes during each record attempt that was made, listening carefully to Mana-P's commentary, and waiting for the car to pass the finish line on the home straight. Their best time so far came in the late morning session, where the 53.673 sec lap was set. It managed a top speed of 225.8 km/h (140.3 mph) on the back straight.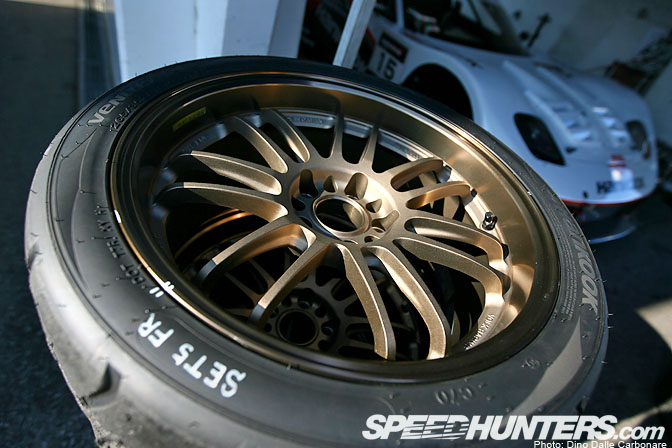 Lightweight RE30s are the wheels of choice, wrapped in Hankook Ventus semis. Rumors seem to point that if the Revo-tune FD was fitted with slicks it could well break the 51"875 sec lap set by Keiichi Tsuchiya in his old GT500 NSX. Would be cool if they would just have a go for fun to see the ultimate potential of the car. I guess the extra grip would also allow the team to raise boost a little to extract more power!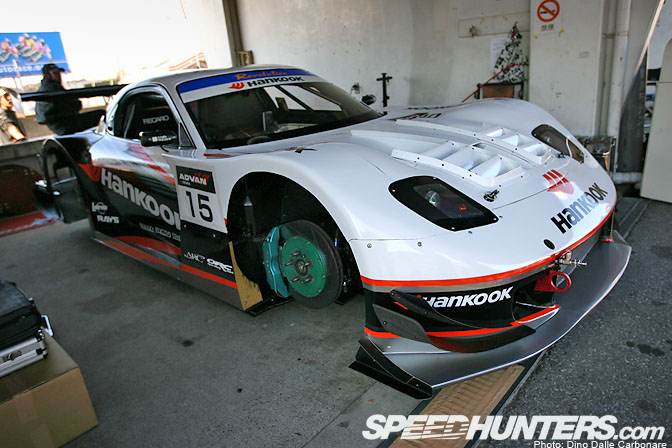 The hood was shut when I dropped by the pits, not that there is much to see under there as the engine sits so low and so far back in the chassis.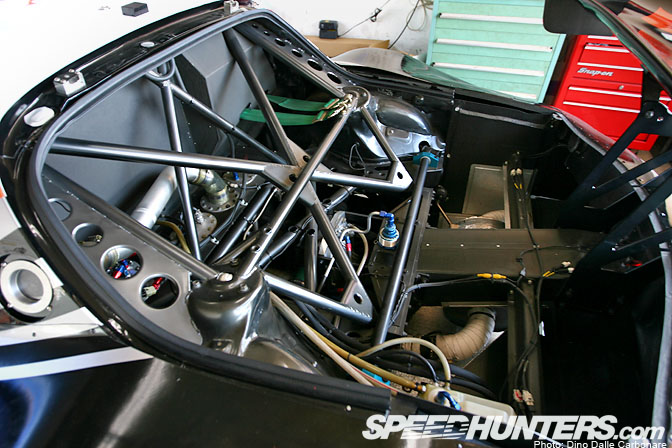 There isn't much left from a stock FD at the rear, the custom tubular rear frame allowing for an all-new and extremely adjustable double wishbone suspension layout. It's much the same story up front. Apparently from 2011 the Word Time Attack Challenge regulations will allow tubular frame cars like this to participate…interesting!!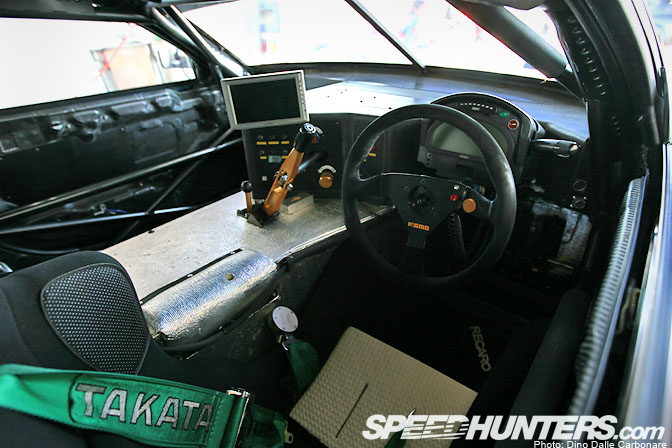 It's pure race car inside with the high carbon transmission tunnel built to contain the Hewland sequential transmission.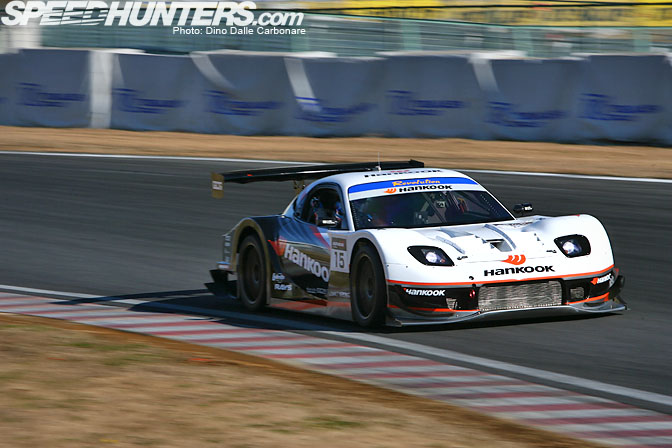 It's so tough when out in action, it has been known to scare small children that have dared look at it!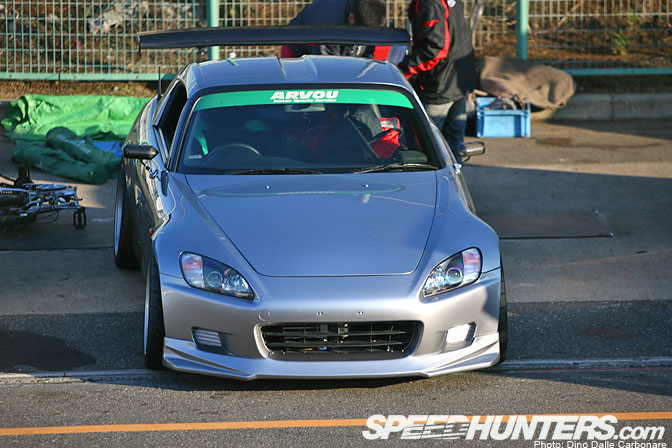 Someone asked for some pictures on the Arvou S2000 so here is a quick snap. Fastest lap on the day for this AP1 was a 1'02"027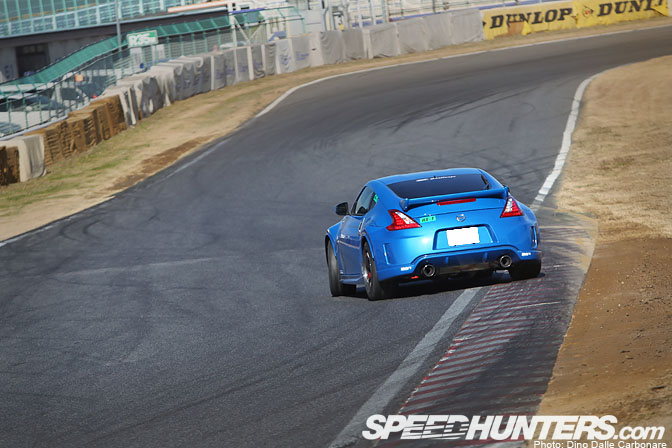 Rear wheel drive providing a bit of fun when powering out of the hairpin…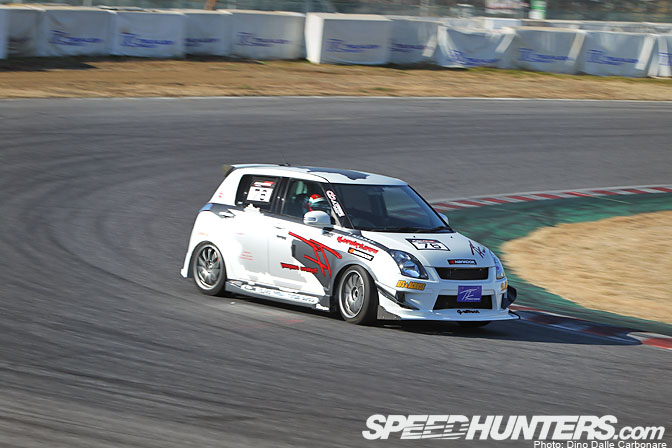 …and front wheel drive doing the same when entering it under braking.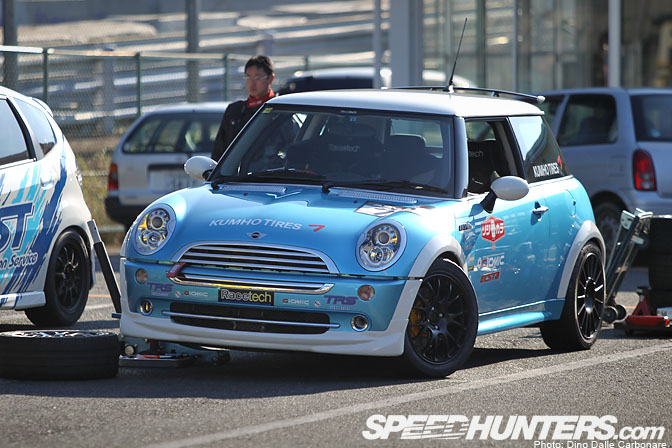 The G-CLIMB R50 might not have been the fastest out of the other Minis present with a best time of 1'09"542…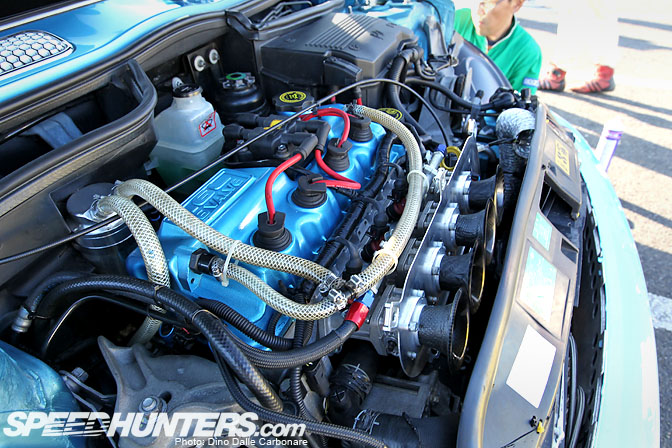 …but it sure as hell had the most impressive looking engine bay. Those are dry-carbon funnels!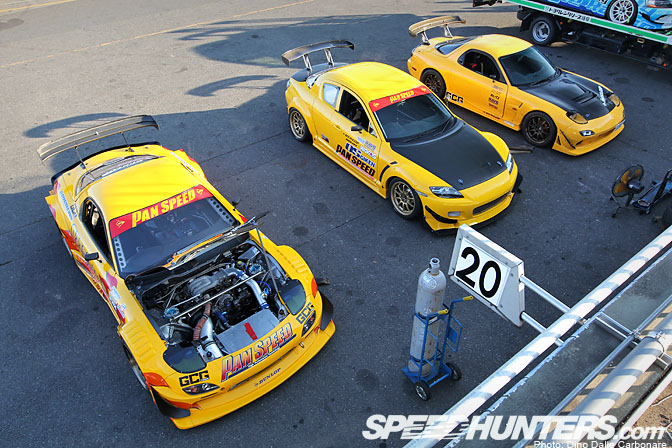 While talking to Komoriya-san of Panspeed after the event, I was surprised to hear they went through 40 tires! Running three cars at an event like this takes a hell of a lot of dedication, we have to remember these are tuning shops, not race teams!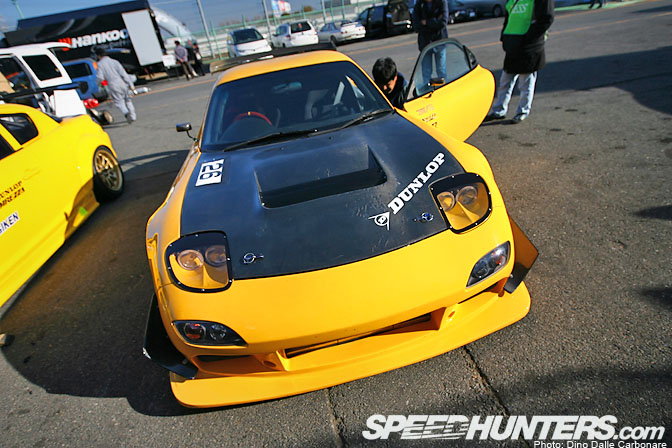 This street-tuned FD3S built in collaboration with GCG turbos and driven by pro-driver Banba-san, managed a best time of 58"427 sec on semi-slick rubber. Naoki Hattori of Best Motoring and Hot Version fame was piloting the RX-8 which, like we have already seen, was a smidgeon off the coveted sub-minute lap with a 1'00"312.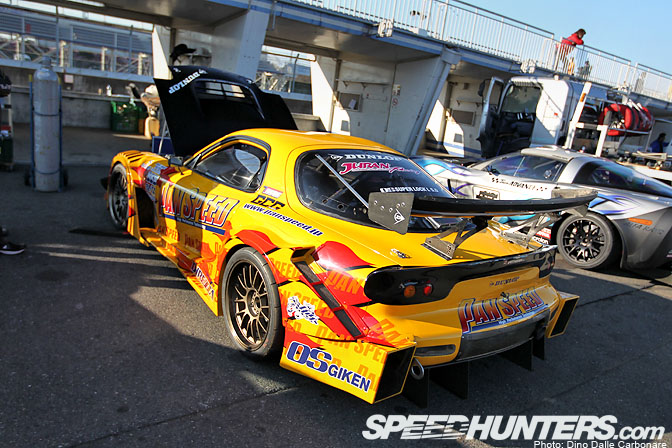 Sasaki-san was still in charge of driving the main Panspeed RX-7, managing a best of 55"970 sec.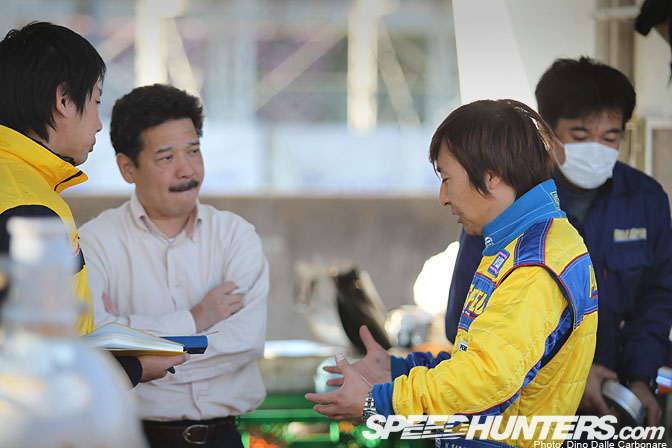 Here he is chatting to Komoriya-san.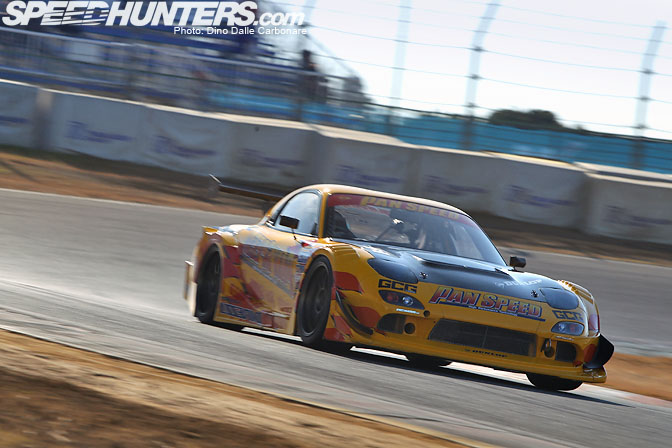 There is still a lot of potential left in this FD and Panspeed will be trying to go even faster in 2011.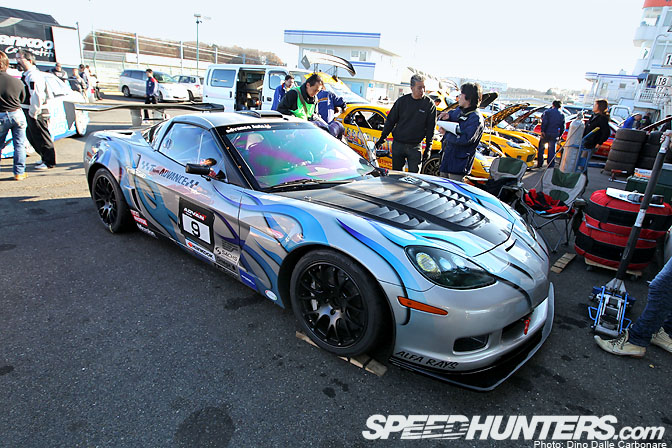 Nothing like a little variety to spice things up. I just had to get a closer look at the Advance Auto C6…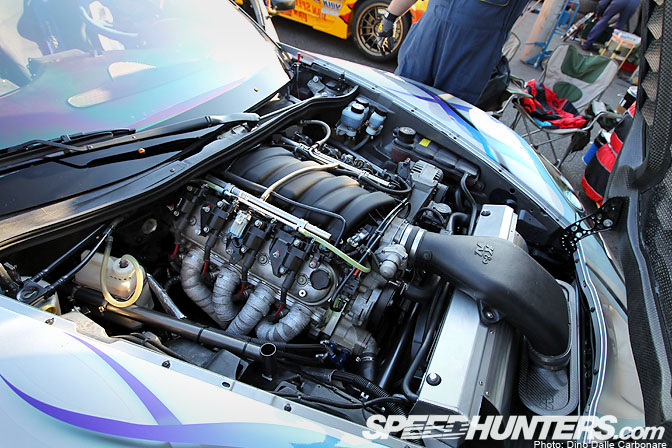 …and what powers it!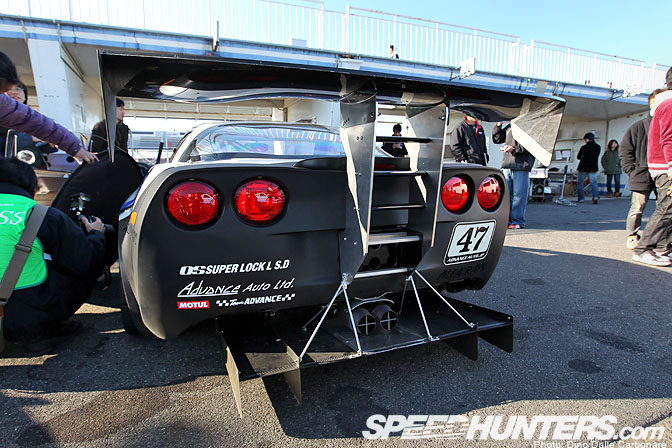 There are obviously issues, or rather there were, with rear end stability under hard acceleration! This little aerodynamic package has addressed that particular problem successfully.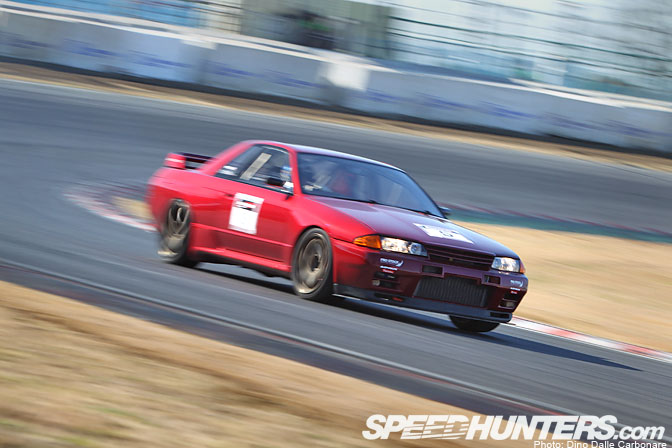 It might not be their full on BNR34 time attack monster that has yet to run, but Pro Stock Racing managed to get a decent time of 58"779 with their new BNR32. Taniguchi was the one driving it throughout the day.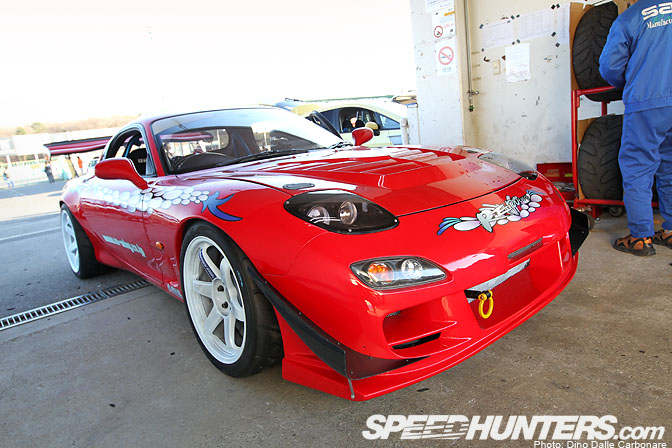 I love the simplicity of the RE-Wing FD, with its rare MazdaSpeed front bumper and widened rear fenders…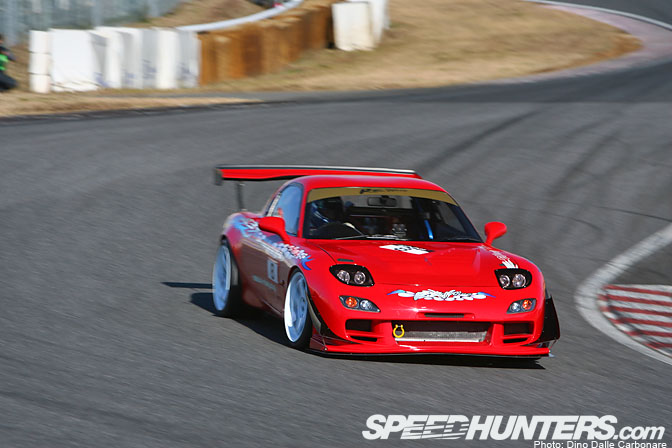 …it is one of only a few street-legal cars running in the Open Class. Takeo-san, the man behind RE-Wing, wasn't happy with the 58"624 sec lap that Taniguchi managed to get. The car could have gone a lot faster but a strange problem with the boost kept the engine from developing full power at higher rpm. There is always next year as they say!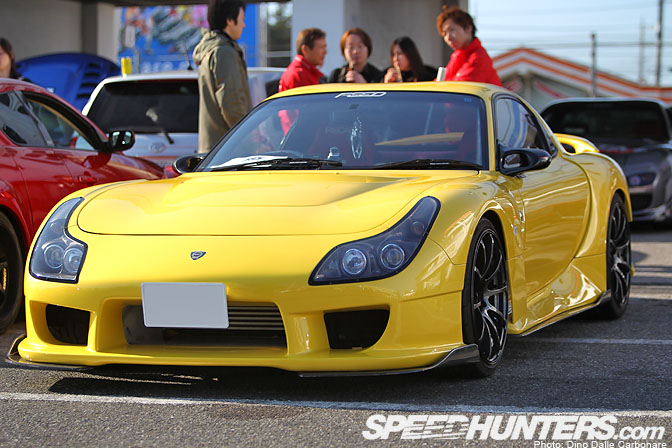 I saw this Fujita Engineering TVR-look RX-7 in the parking earlier in the day…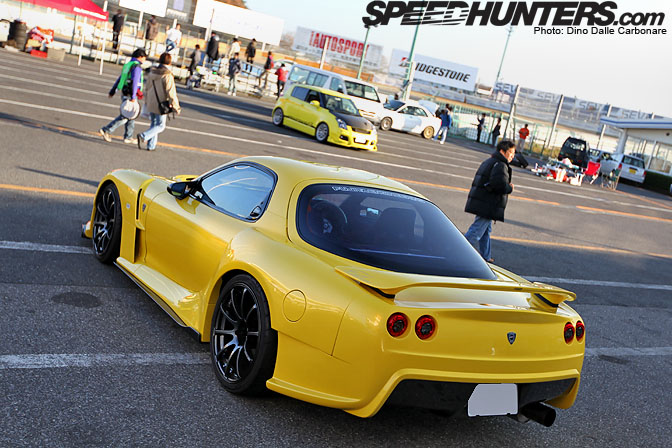 …but it all of a sudden showed up in the paddock in front of the Feed pits. A great example at just how easily the FD3S can be transformed.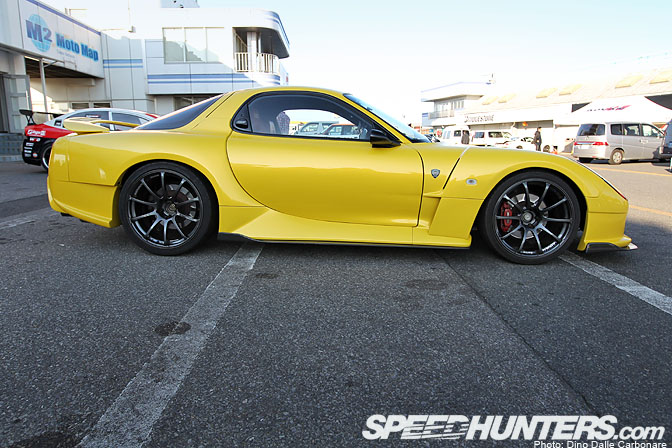 That's about it from Tsukuba and the Super Battle. It will be another year until the Rev Speed guys put such an event on again, but not to worry as there will be plenty of other time attack events going on during this upcoming winter season. This is only the beginning!
2010 Super Lap Battle – Preview
2010 Super Lap Battle – Part 1
2010 Super Lap Battle – Part 2
-Dino Dalle Carbonare