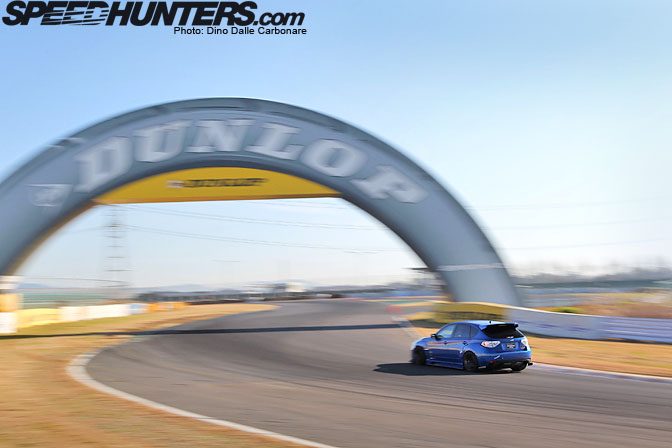 Since joining the Speedhunters team last year I've found myself covering a huge number of drift events. There is no denying that from an entertainment point of view sliding cars around corners looks far more exciting than anything one would see at a grip event, but saying this, I just felt right at home at Tsukuba on Friday surrounded by some of the fastest tuner cars in Japan. Time attack is what really sucked me into the JDM scene initially and every time I cover the Super Lap Battle I really couldn't find myself more at home. In Japan time attack is a discipline that isn't at all followed in the same way it is in the UK, the US and Australia. Sure readers anxiously wait for the reports about the Rev Speed and Option organized events but they don't take the time to actually come to the track to watch the cars in action. A pity, but probably more due to the fact that nobody has tried to make time attack into a spectator event since the first few T1s back in 2003 and 2004.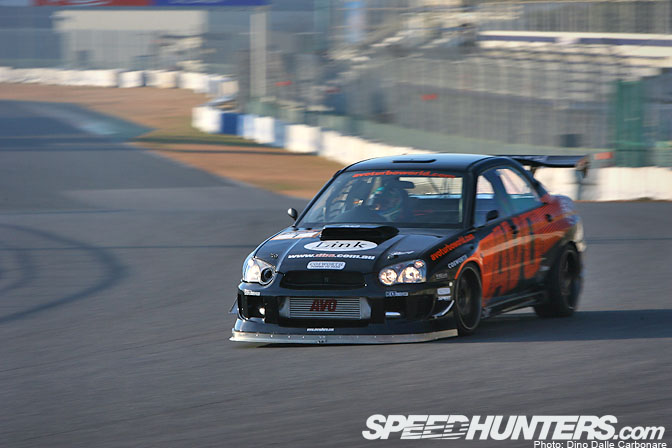 Seeing cars like the AVO Turboworld Impreza pushed to the limit out on track is something that for me can't be rivaled, even by proper race events. The cars are all tuned beyond what their chassis were ever designed for and watching pro drivers like Taniguchi and Tarzan fling them around corners, struggling to keep them straight due to their explosive power delivery is very satisfying. Ross at AVO was satisfied for having gone much faster thanks to the new complex rear sub-frame he made up for his Open Class GDB Impreza. Compared to last year the bump steer the car was suffering from is gone and the whole set up has been revised, making it handle far better around Tsukuba's demanding layout. With the boost set to 2 bar, the bulletproof Cosworth EJ allowed for a 58.298 sec lap, making it the fastest Impreza on the day! That is over a second off the 59"343 it got last year.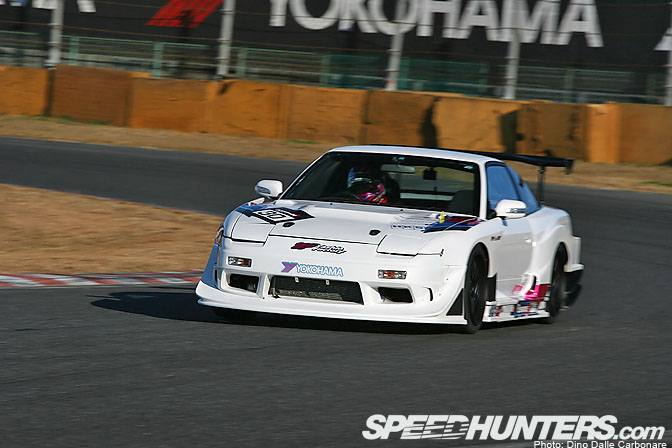 Okachan from Yashio Factory, after hearing that both Daijiro Inada and Keiichi Tsuchiya resigned from D1 last Wednesday following a dispute with the D1 organizers, was out practicing a bit of grip driving. Now that the future of D1 is up in the air, grip may become the next big thing! He managed a best time of 1'03"154 with his very cool GP Sports kitted RPS13. He was supposed to be running S-tires but changed his mind at the last minute and went out on Yokohama Neova street rubber. Yokohama has also pulled out of D1 for 2011 so a lot of teams like Yashio Factory will be looking for new sponsorship, or on a worst case scenario, drop out all together!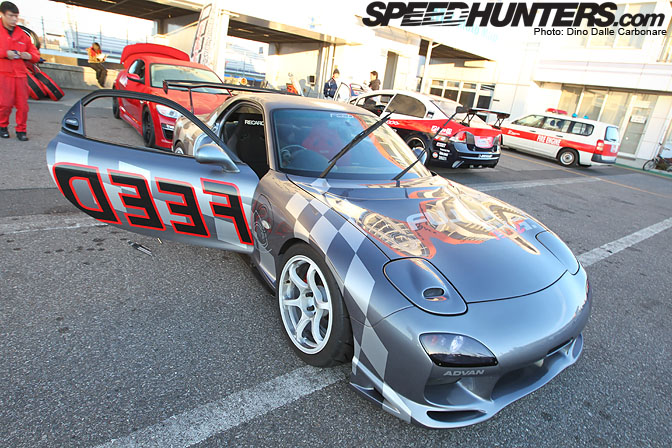 Ooi-san, behind the wheel of the Fujita Engineering FD3 came extremely close to that 58-second time with a 59.001 sec lap!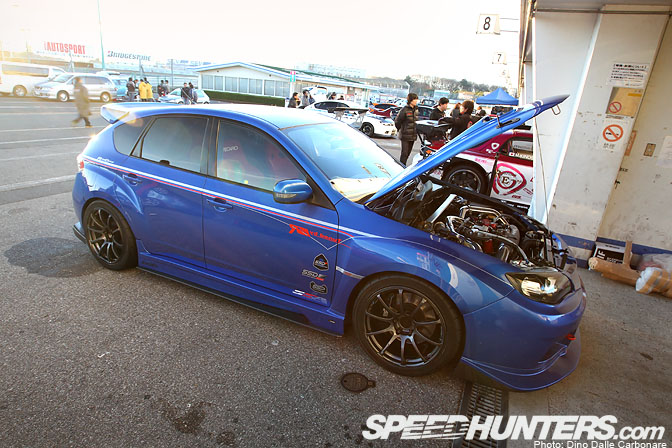 Ooi was also in charge of driving the Original Runduce GRB, mildly tuned for now but still able to post a very impressive 1'00"528 on radial tires.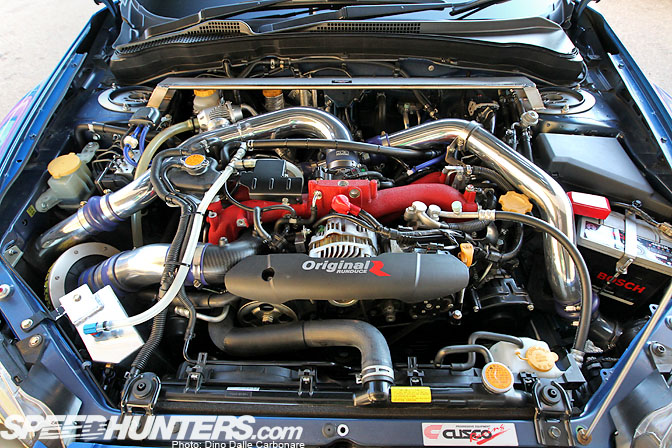 The car is running about 400 HP and as you can see from the long piping, a front mounted intercooler. The pipe that connects to the turbo's intake is dry-carbon, not something you see every day! I wonder why more makers like HKS and GReddy don't make cool carbon piping for their intake kits. I know I'd buy one in a flash even if it was a little more expensive. Surely I can't be the only one with an incurable dry-carbon fetish, right?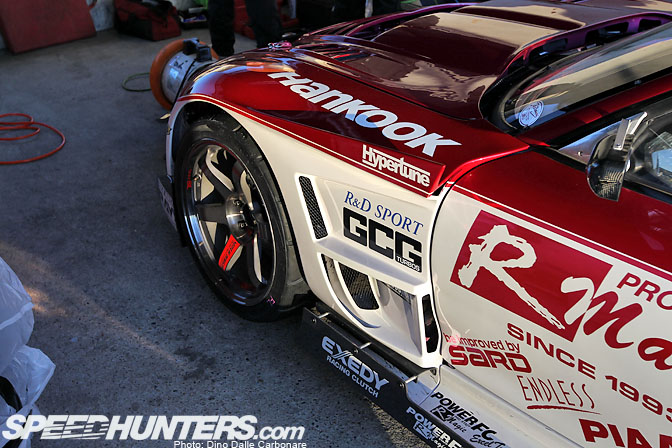 The R-Magic FD3S, with Kinoshita doing the driving as at the WTAC in Australia earlier in the year, posted a best time of 56"039 sec…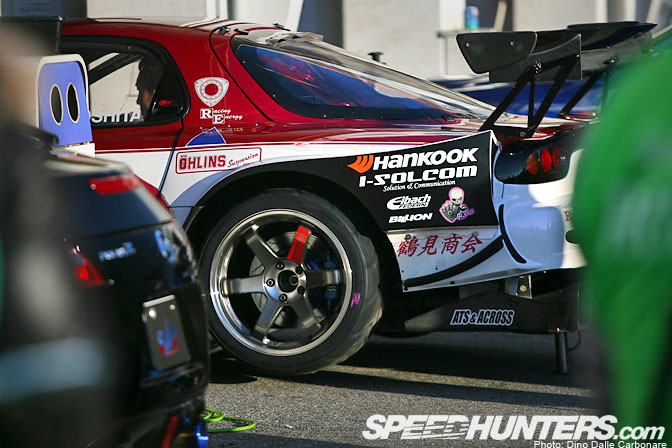 …ever so close to that 55-sec lap they have been shooting for. I really hope they release their wide-body aero kit soon, would love to see what it would look like on street car!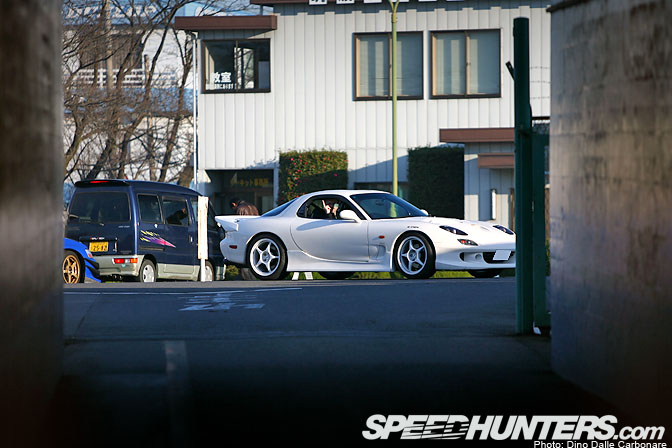 As I was making my way through the tunnel, heading to the first corner, I spotted Russ from RE-Xtreme arrive with his new white on white FD. As soon as he is done with fine tuning it, I will have to shoot this wild beast. After getting his rotary fix for the day Russ headed out for a play on Mt. Tsukuba…oh how I wanted to join him!!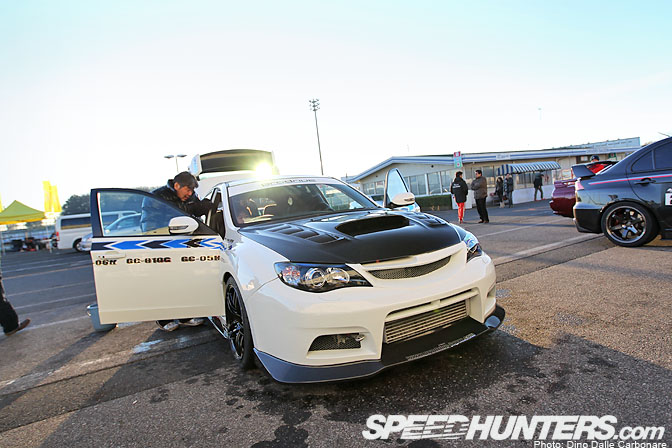 Prodrive Japan with Auto Produce Boss were at Tsukuba with this street-tuned GRB.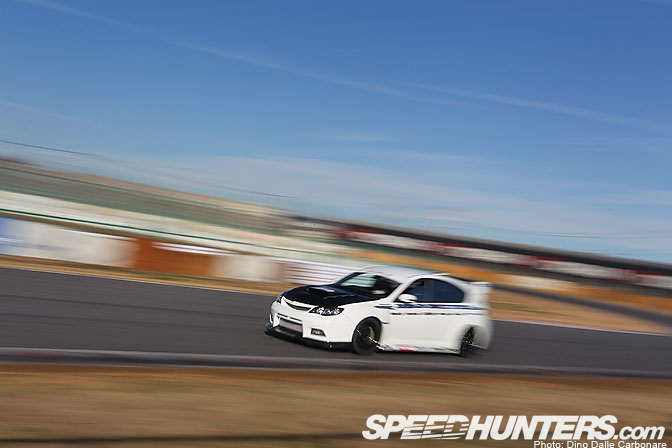 Kinoshita managed a 1'02"199 lap in the afternoon session and, just like the Original Runduce, it was in the Street Radial class.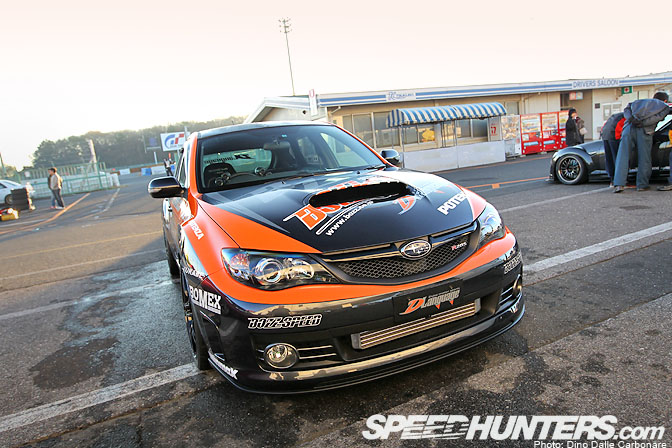 The GRB is a true favorite among tuners these days and as we saw in the Preview post Bozz Speed came out in force with this new beast.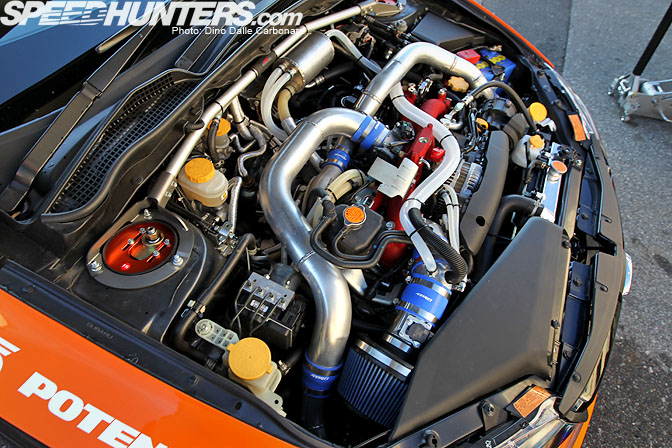 The stock R205 twin scroll has been replaced with a Trust TD06 good for just over 400 HP. The space freed up by getting rid of the factory top-mount intercooler has allowed them to direct more cooling air towards the brake's master cylinder, helping it stay cool. The R205….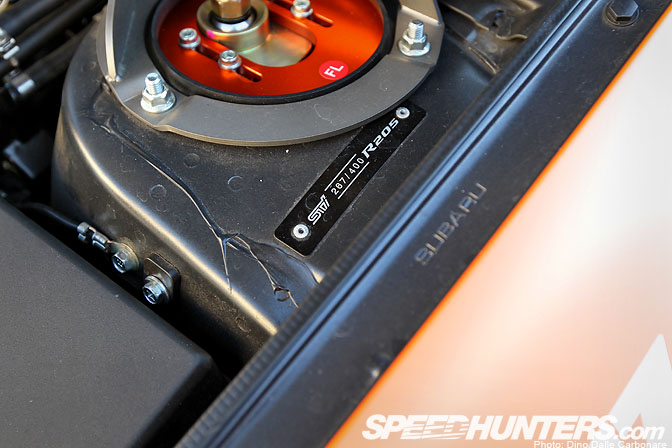 …which as you can see here is number 267 if 400 made, comes with very capable Brembo monobloc calipers, 6-pots at the front and 4-pots at the rear. They are more than capable of handling the boosted performance. Running street legal RE-11S tires the car managed a best time of 1'02"507.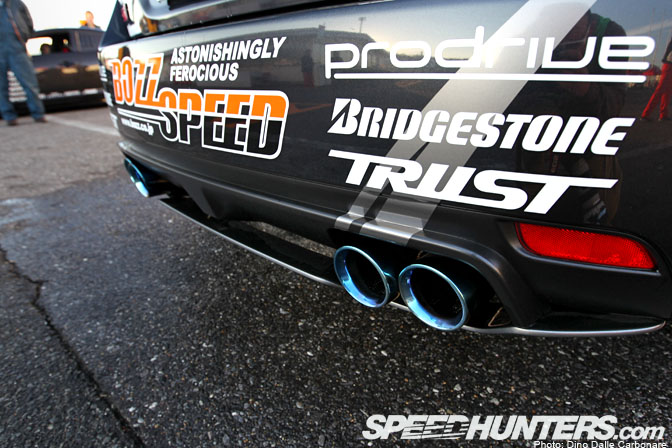 Titanium exhaust, yum!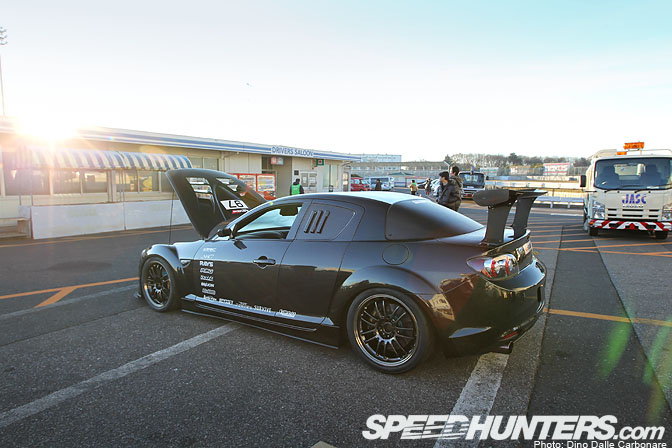 On top of their blisteringly fast RX7 Revolution brought their SE3P for a play. Its fastest time of 1'00"260 makes it the fastest RX8 in the country with the Panspeed RX8 right behind it with a 1'00"312.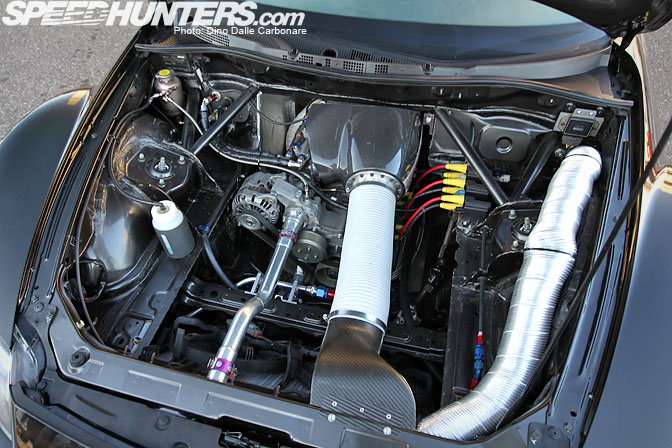 Under the hood, sits a custom-built, 13B-based, triple rotor, naturally aspirated engine. It manages to develop over 400 HP, so there is still a ton of potential with this car. The Panspeed RX8 on the other had develops 300 HP from its tuned Renesis.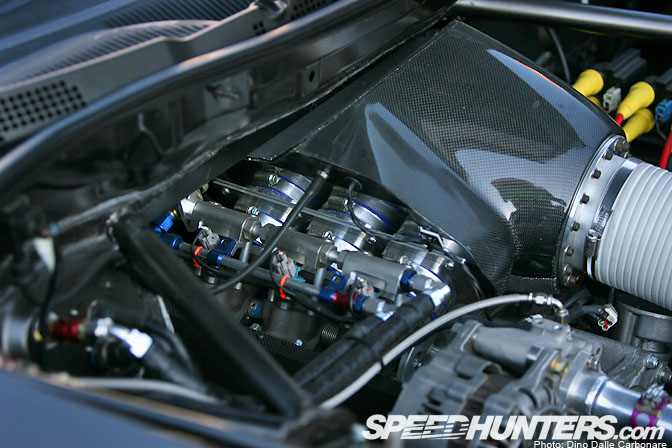 You can just about see the three custom throttles that suck air in from the carbon airbox. The engine sits so far back in the chassis most of it us actually under the dashboard!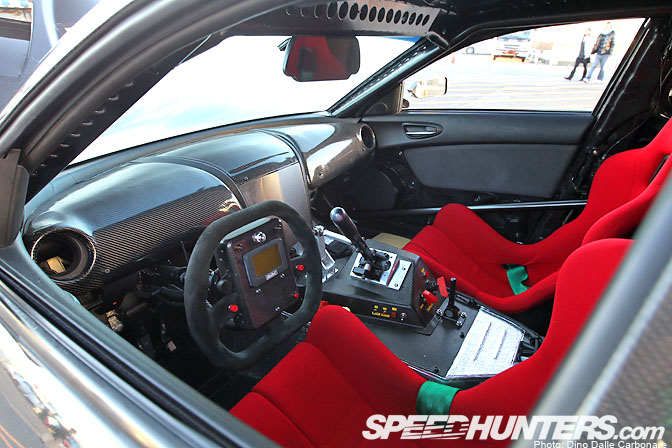 The inside is pure race car, carbon dashboard and transmission tunnel, receded driving position oh and that curiously mounted gear lever actuates the Hewland 6-speed sequential! A very high-budget build to say the least. This car, once set-up properly, will easily shave a few seconds off its time.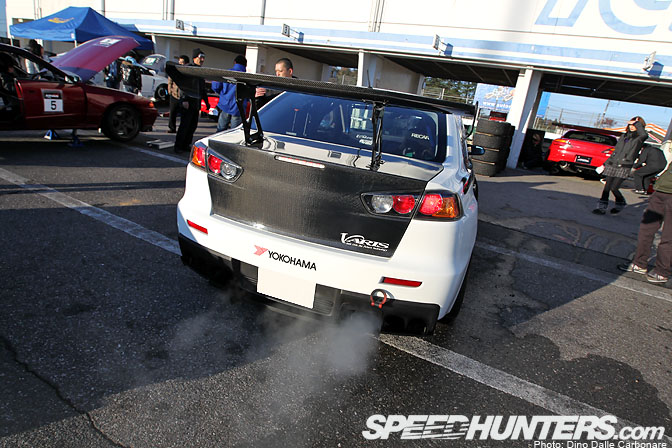 The guys at Garage G-Force were out with the CZ4A Evo X RS they built in collaboration with Varis and Sunbeam. Taniguchi was hired to do his best with the car but couldn't better last year's time of 57.963 sec. 58"028 sec was the best he could do.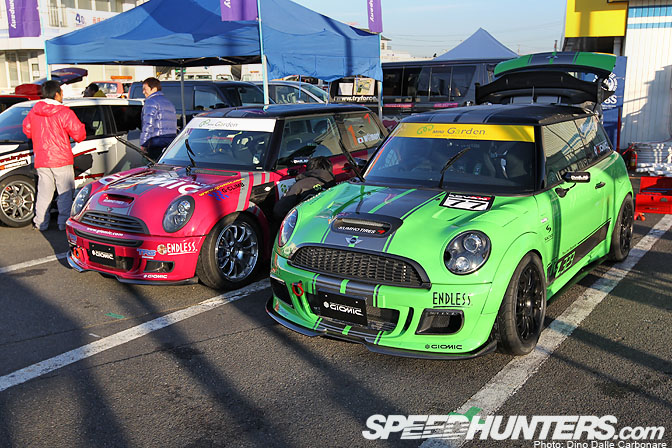 Good to see more import cars joining the predominantly JDM event. These two Mini's were really cool to see blast around Tsukuba as they often slid their rears out when the driver backed off the throttle on corner entries. The green Mini Garden Copper S's best time was a 1'05"256 while the pink GIOMIC managed a 1'05"363.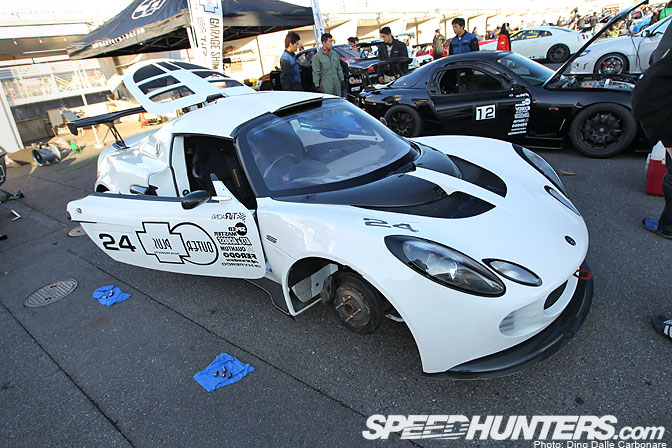 I've decided I'm going to head over to Garage Shimaya in Chiba to take a closer look at this ridiculously powerful Exige S. Seeing this thing buzz around Tsukuba…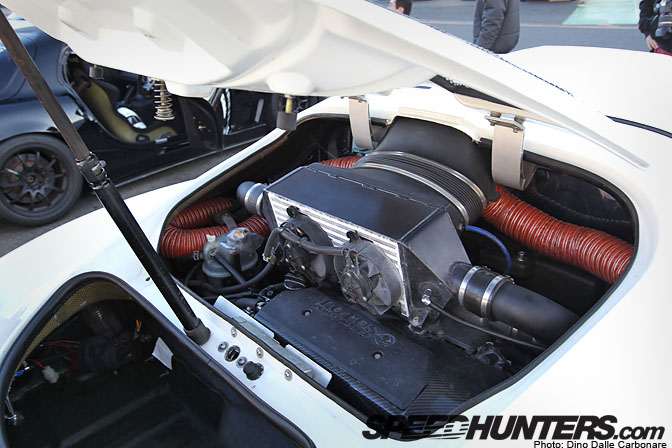 …with its supercharger whining away is something else. Its entry speeds made bigger cars look like overweight pigs! Fastest time of the day was a 57"660 sec, not an easy time to get out of a challenging car like this!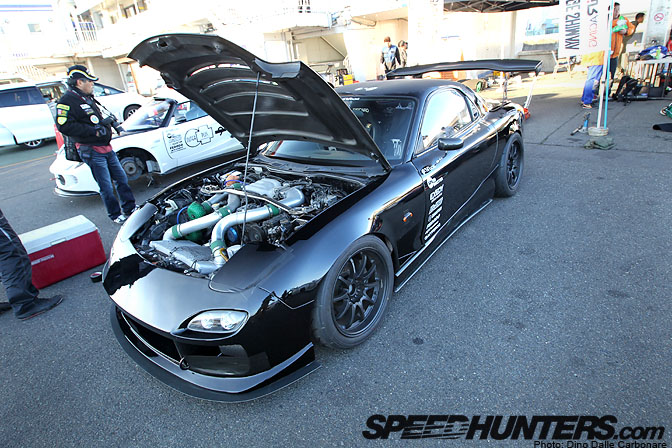 Ti Racing's FD, really does deserve special mention. Sitting in the paddock it looked nothing more than a lightly tuned street car, still running a twin turbo set-up and very conservative body modifications. I was surprised to see it entered in the Open Class along with the all the big boy, but even more surprised to see it record a 57"833 sec! Congrats guys!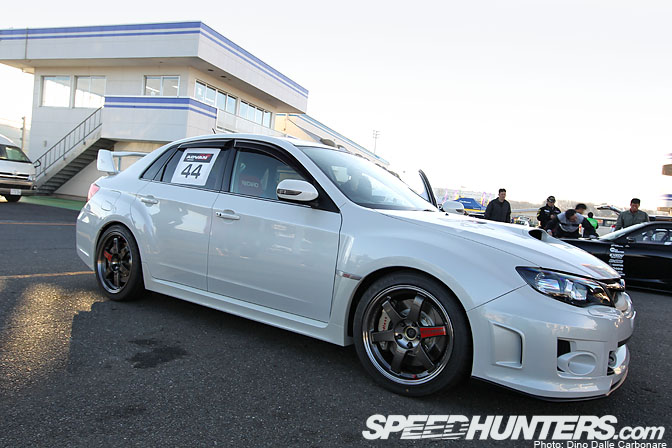 Super Autobacs Nagoya Bay were out at Tsukuba with their newest demo car, this white GVB STi sedan. Aside from the suspension upgrade, Endless brakes and the very sexy TE37SLs the car is still stock. Its best time was a 1'05"480.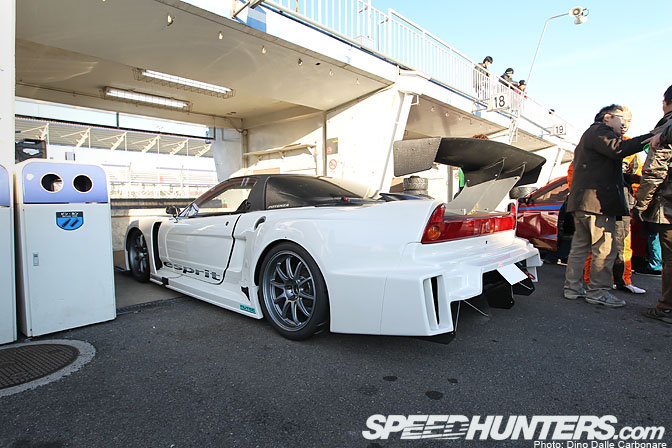 I'm glad to see that everyone appreciated the wild looks and mechanical modifications that the Esprit NSX boasts.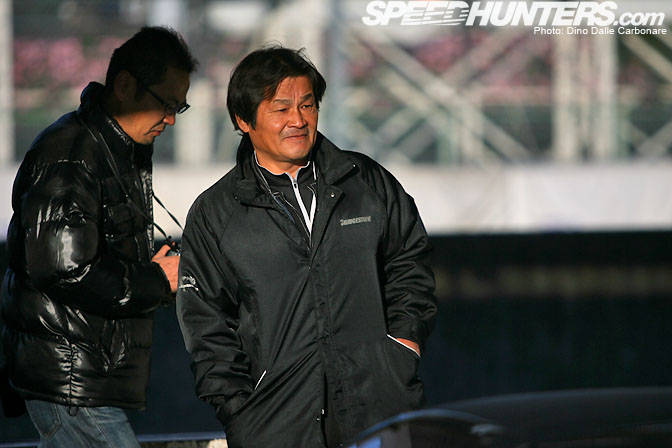 Here is the Esprit shacho looking on as Tarzan drives out of the pits for the first session of the day.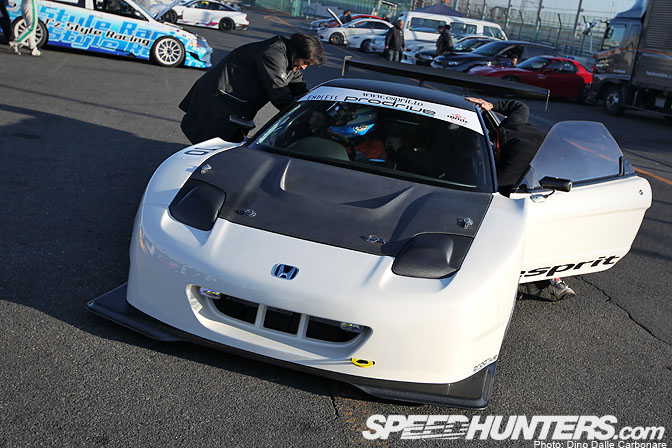 Unfortunately due to an unexpected mechanical problem the car came back in straight after it's first lap attempt where it got a 1'02"128. The problem was ruled too serious, so the car was retired for the day leaving Tarzan…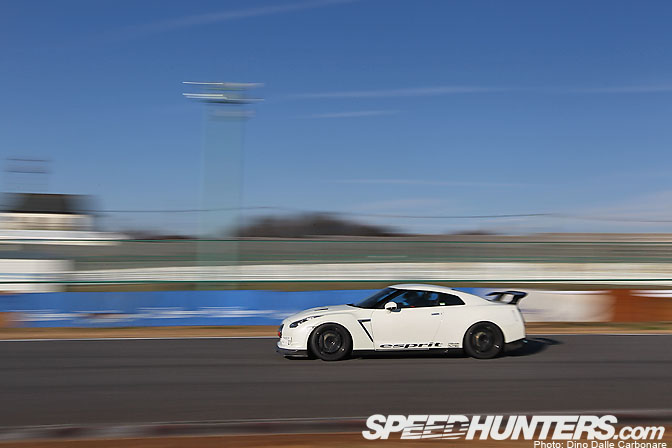 …to concentrate on driving the R35 GT-R. Tarzan was right about the power delivery, it was visibly instant and he had to give up trying to get on the gas early when exited corners as it would just snap sideways. It's hard to believe the stock dual clutch transmission can handle all the extra horses the upgraded turbos throws at it. Best Tarzan got was a 59"348 sec on stock tires.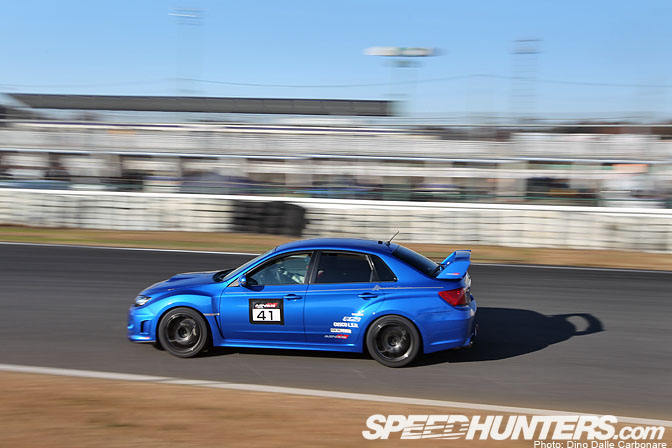 One other tuner to jump on the new GVB as soon as the car was released back in summer was HKS Kansai Service, turning it into the fastest Impreza sedan on the day with a 1'03"969 lap.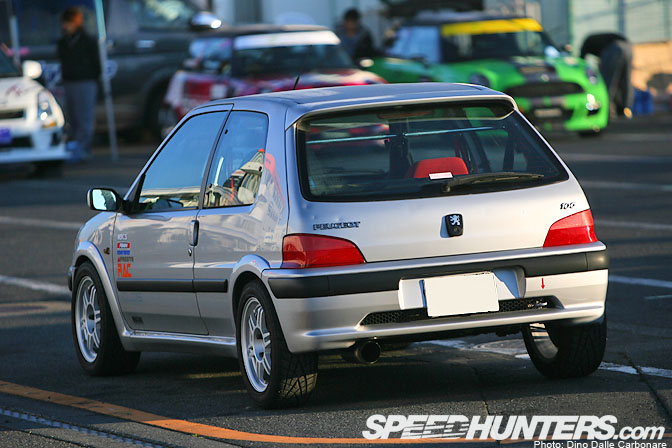 I'm always one that appreciates people doing things differently and this turbocharged Pegeout 106 from Rosso Corsa was one car I instantly spotted on the paddock. It lapped Tsukuba in 1'10"159 which isn't too bad for a car of it's performance.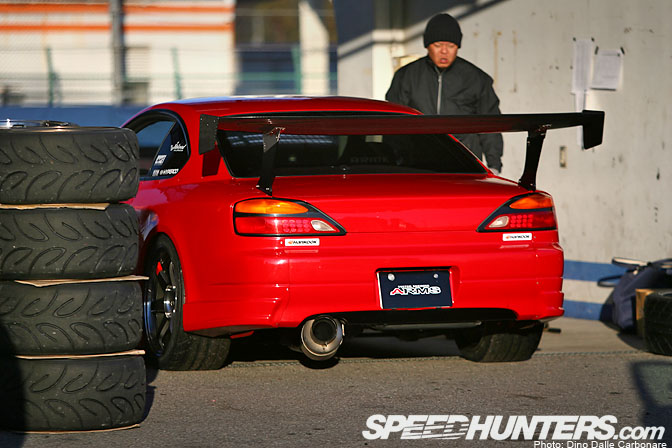 A Lap Battle favorite is always this red S15 from Arms, a small tuning shop in Nagano. The goal was to get a sub-minute time on radial tires but Kinoshita who was driving could only coax a 1'00"818 out of it. Better luck next year!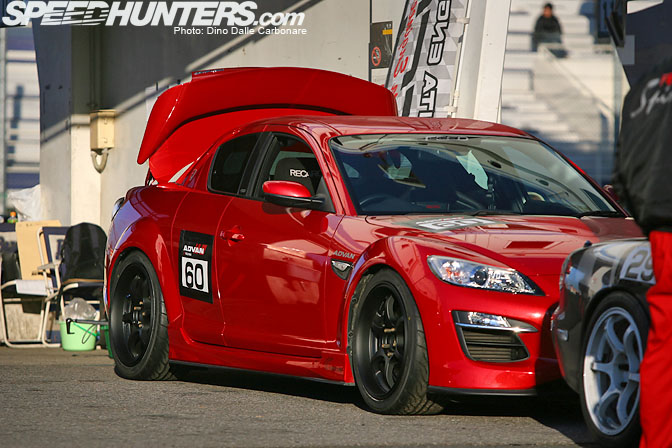 Together with the guys from Fujita Engineering was Nagao Tech with this RX-8 on matte black RG-Ds. Mild tuning allowed it to post a best time of 1'06"917 which is respectable for an SE3P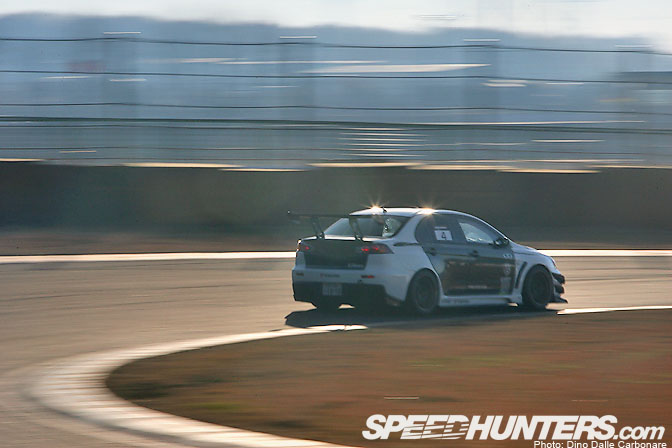 There is plenty more from the Super Lab Battle coming up in Part 2 and I also have to sort through the pictures I took at yesterday's AE86 Matsuri at Tsukuba! I hope you won't get bored at seeing so much of Tsukuba over the next week!
2010 Super Lap Battle – Preview 
-Dino Dalle Carbonare