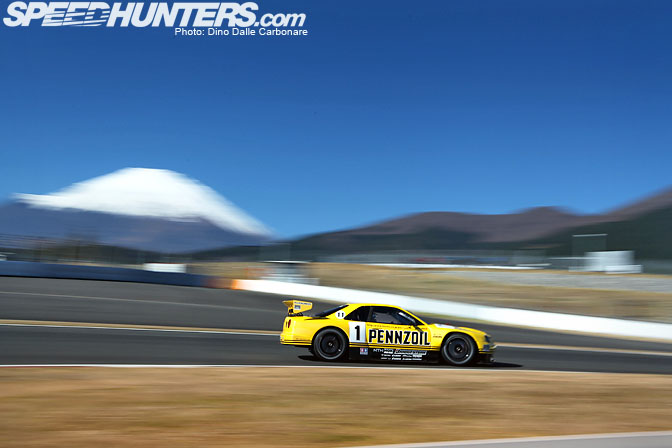 This final month of 2010 seems to be jam packed with events and just five days into it I've already covered two of the most important shows of the year. After completing my first post on the Mooneyes Hot Rod Custom Show and crashing for a few hours, it was once again up at the crack of dawn, as I jumped in my trusty Legacy wagon and headed south towards Shizuoka-ken. The destination for today was to be Fuji Speedway and the 2010 Nismo Festival! The guys at Nismo and Nissan have been putting on this event since 1997 and every year it attracts an impressive number of Nissan enthusiasts from across Japan as well as other countries.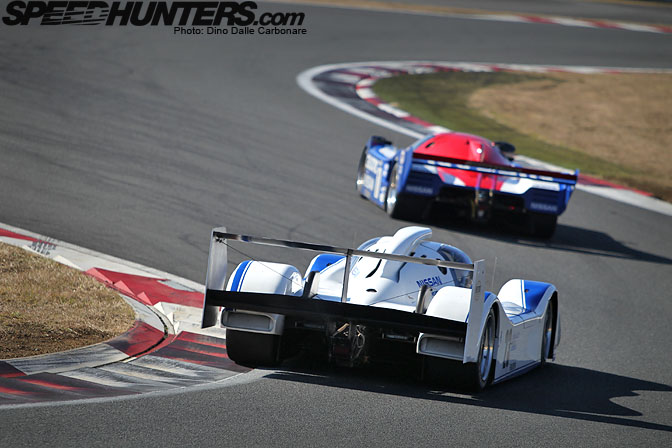 With the usual tantalizing selection of race cars, I always try to get through the gates nice an early in order to start covering the vast event right from the start. A new format was implemented this year, aimed at keeping a continuous stream of action out on track as well as ending the day an hour earlier compared to the past, to avoid crowds freezing when the sun eventually sets. I knew I'd have little or no time to take any sort of break.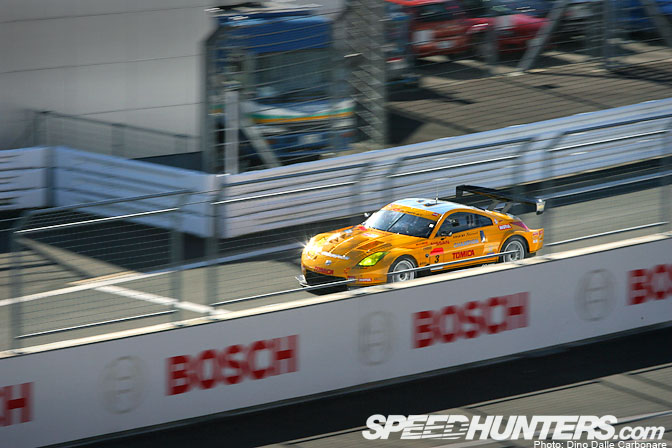 The sheer amount of race cars, new Nissan models, tuner cars, collectables, parts and memorabilia kept me very busy.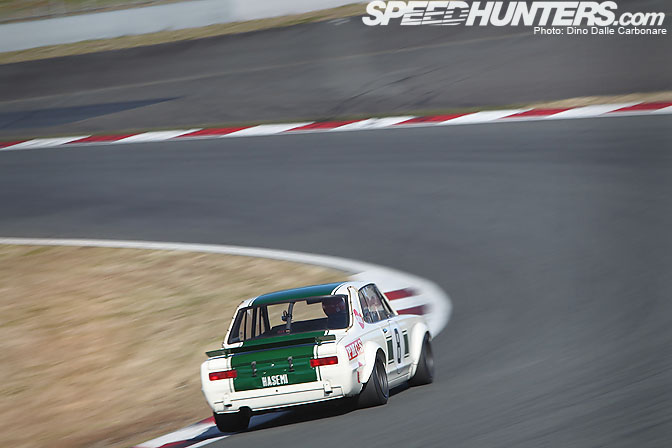 But before all the cool action on track started I decided to head over behind the main grandstands to the big exhibition area…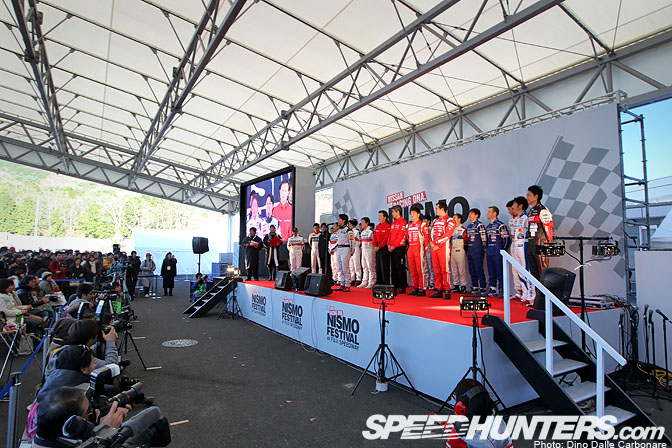 …where the event was officially starting on the main stage. Some of the most famous Nissan and Nismo factory drivers were called in to the event to make an appearance for the fans and take their cars out on track during the exhibition races.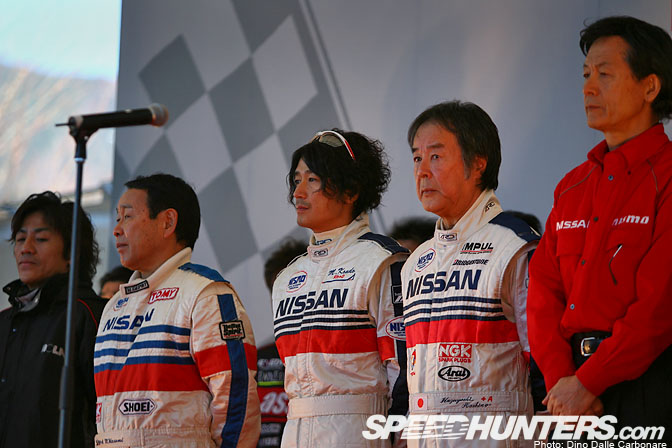 From left to right, legend Masahiro Hasemi now team manager of Hasemi Motorsports, famous singer and ex car driver Masahiko Kondo of Kondo Racing and of course Kazuyoshi Hoshino of Impul, one of Japan's most famous drivers and team manager of the Calsonic/Impul Super GT team.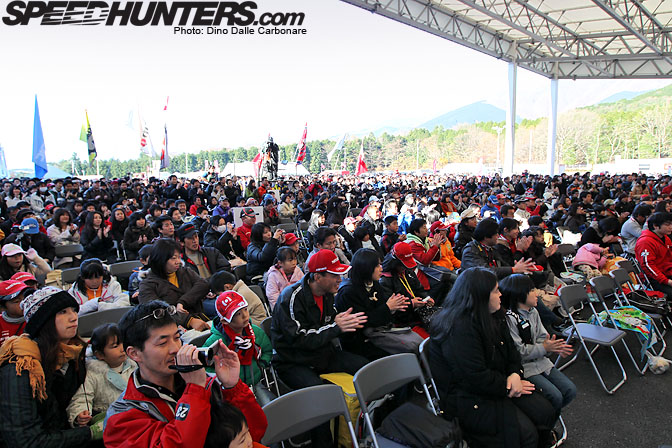 The crowd that had gathered around the stage was incredible, all that could be seen was a sea of tightly packed enthusiasts there to hear their favorite racers welcome them to this year's event.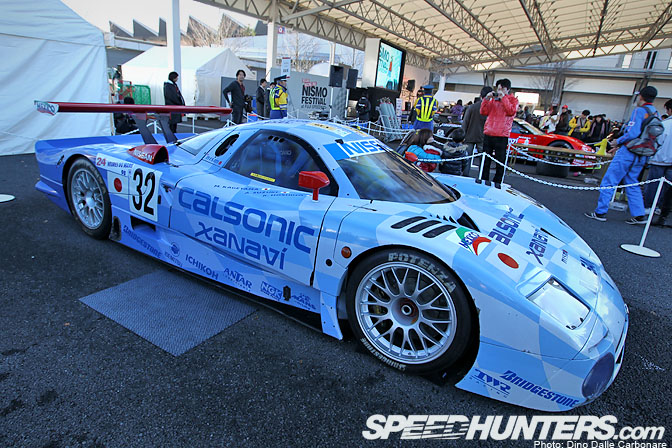 After the ceremony was over it was time to check out what was on display in this small paddock area and I immediately spotted this R390 GT1. A line was already forming next to it, as people were just about to be given a chance to sit behind the wheel for a few seconds.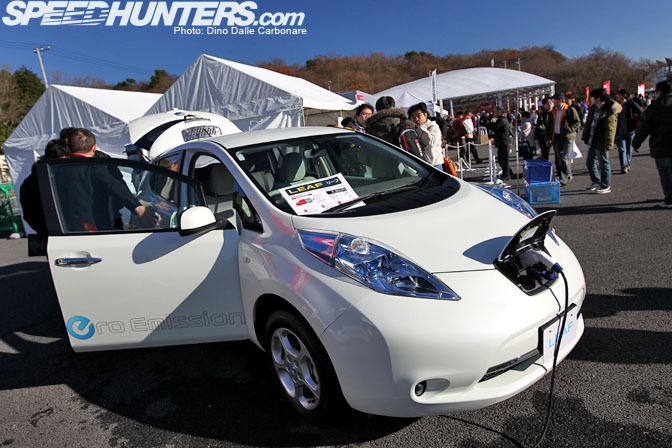 This is Nissan's biggest and most important car release for 2010, the all-electric Leaf. The car is officially on sale and first deliveries begin in just under two weeks. I'm pretty sure streets across Japan will forever change from this month! I'm actually looking forward to testing this out for myself as I've already spotted a coupe of quick-charge points around my neighborhood.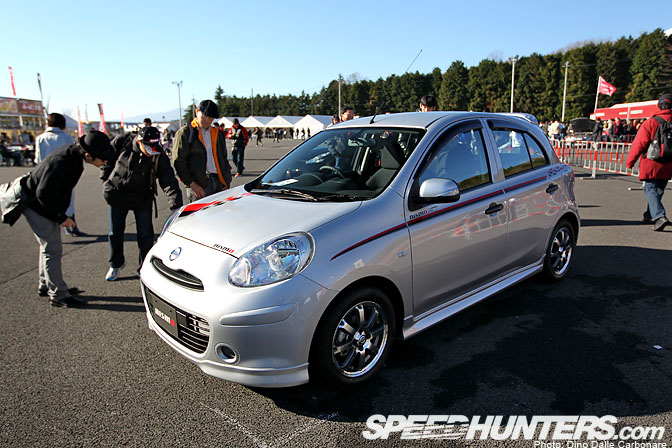 The new Nissan March, or Micra if you are reading this from Europe, is selling like hot-cakes in Japan so it's not surprising that Nismo…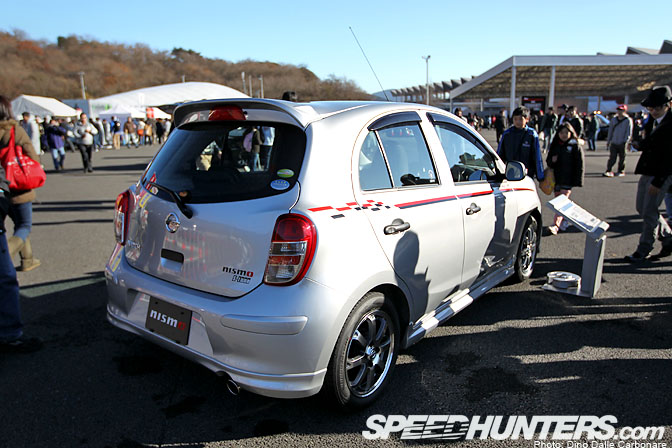 …has already created an S-tune demo car sporting a few basic tuning parts. Would be cool to do a feature on this thing!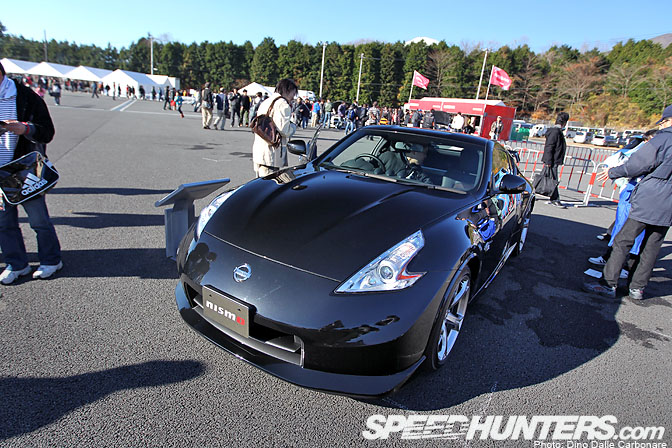 Nismo had a nice selection of street cars on display on top of the March, like this Z34 Nismo version…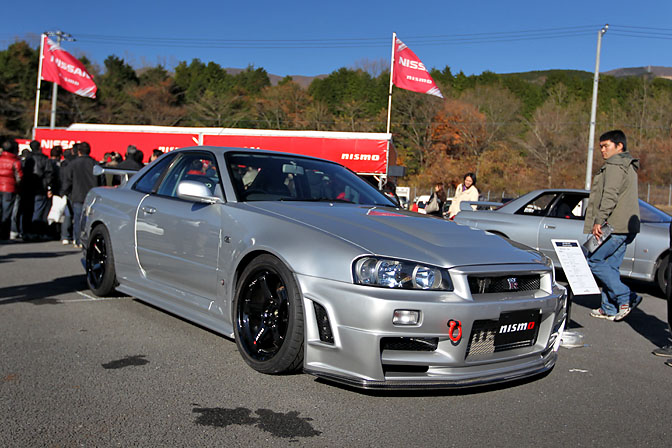 …and the BNR34 Z-tune development car.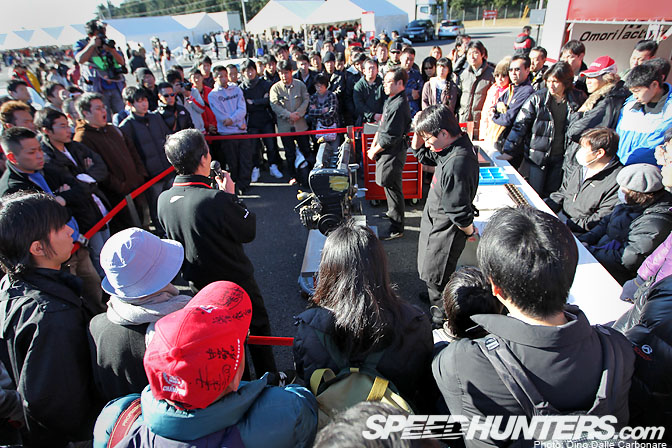 Here a few of Nismo's mechanics were giving a presentation running through the steps of an RB26DETT re-build. If you are a true otaku this was the place you should have been in the morning!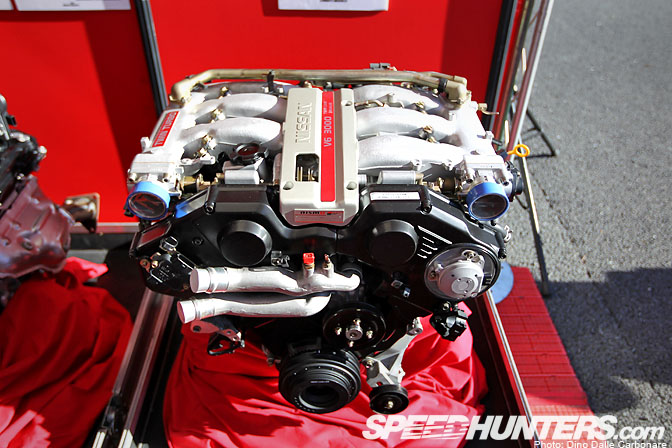 A VG30DETT on display at the Nismo Omori Factory booth.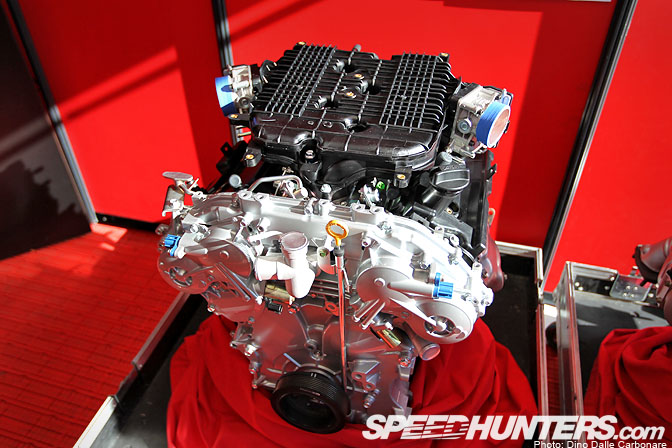 Next to it was the a Nismo version of the VQ37 easily recognizable due to the twin throttle set-up…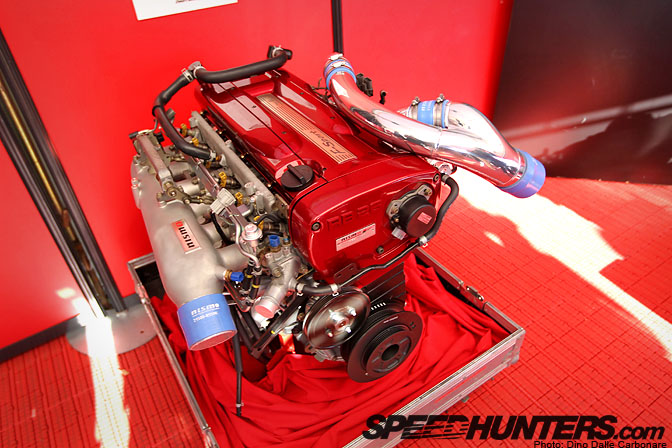 …and of course the best of them all, the RB26DETT, here in Nismo F-sport spec fitted with a GT intake plenum and the special Gr.A turbine outlet pipes.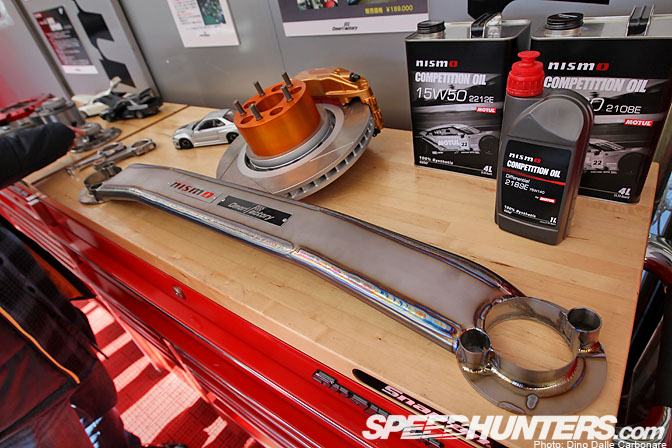 A few years ago Nismo for some reason decided to stop making their titanium front strut-tower bar for the R33 and R34 GT-Rs. I found out about this too late and never manage to get one for my car. I was, and still am very sad about it. Second hand ones can sometimes be found on Yahoo Auctions but sell for double or more of the original $690 retail price. So I was very happy when I heard a while back that they had released an all-new one. I finally got to see it up close…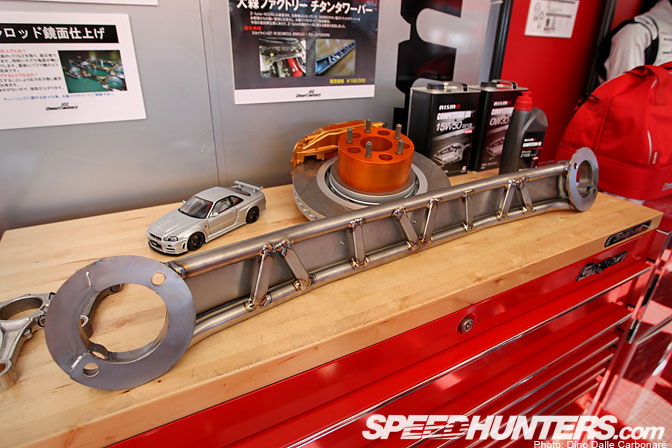 …and despite the very plain design I sort of liked it. However I almost had a heart attack when I heard the price, ¥180,000 or just under $2,200! I think they've applied the "R35 tax" to this item by mistake!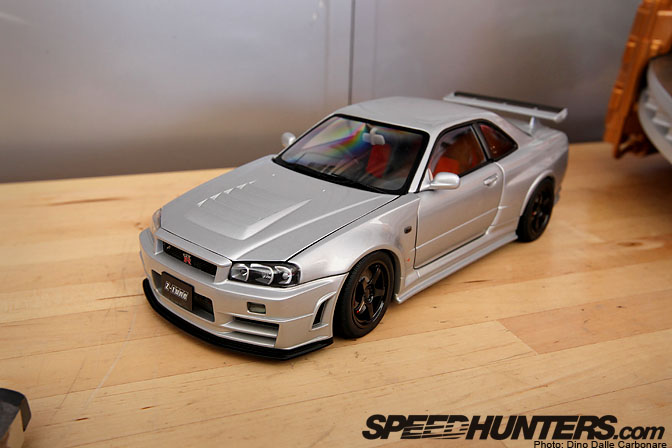 Next to all these cool parts I spotted a pair of very detailed models and seeing our theme for December I thought I'd grab a couple of shots of each. This was a perfect recreation of a Z-tune…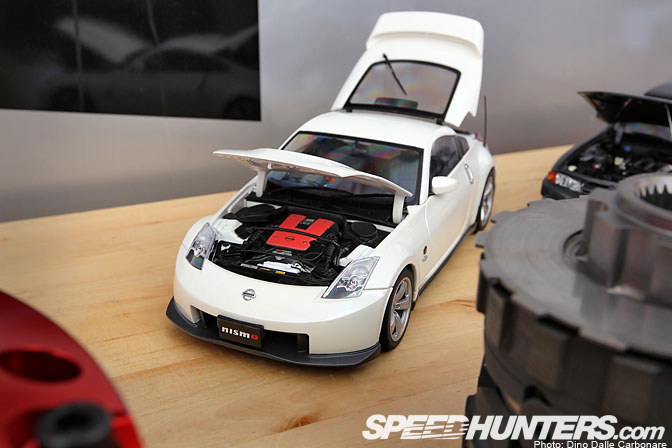 …and the Z33 Nismo 380RS. Beautiful.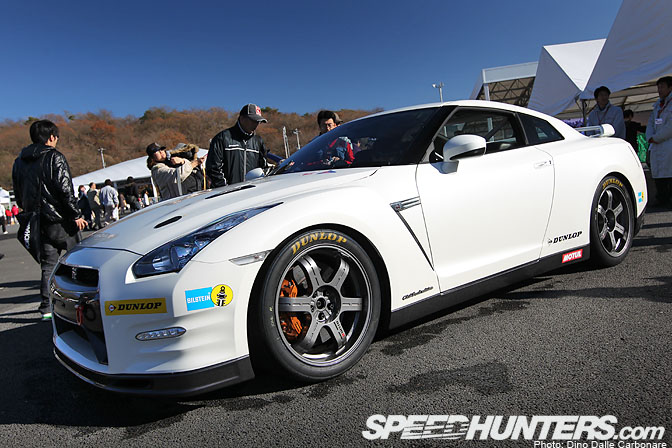 I originally saw this car up in Sendai Hi-Land at the end of August but since no cameras were allowed to the event I was unable to grab some shots. This is the R35 Club Track edition that is built on the new 2011 R35, a slightly stripped out and more track oriented version of the new-gen GT-R. The car runs the special lightweight Nismo wheels made by Rays Engineering, wrapped in 20-inch Dunlop slicks.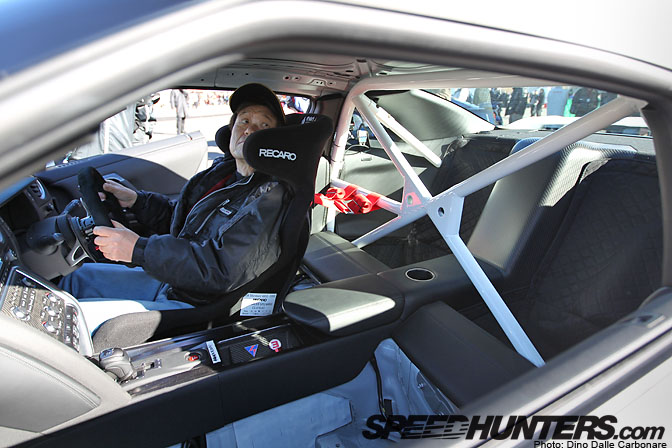 On top of a special suspension set-up the car comes with a stripped-out interior, half-roll cage (full is an option), a Recaro carbon bucket seat, a nice Momo race steering wheel and a Nismo data logger. The car is only available in Japan and in base form costs ¥10,479,000 or $126,417. You won't be able to take the car home with you however, as it can't be registered for street use. So Nismo, or the other two other authorized resellers Nova Engineering and Nordring, will keep and maintain the car for you and bring it to the track for the four race events that will be organized from 2011. There is also a yearly membership fee of ¥2,000,000 that needs to be paid up to allow entry into this ownership cub, plus maintenance costs.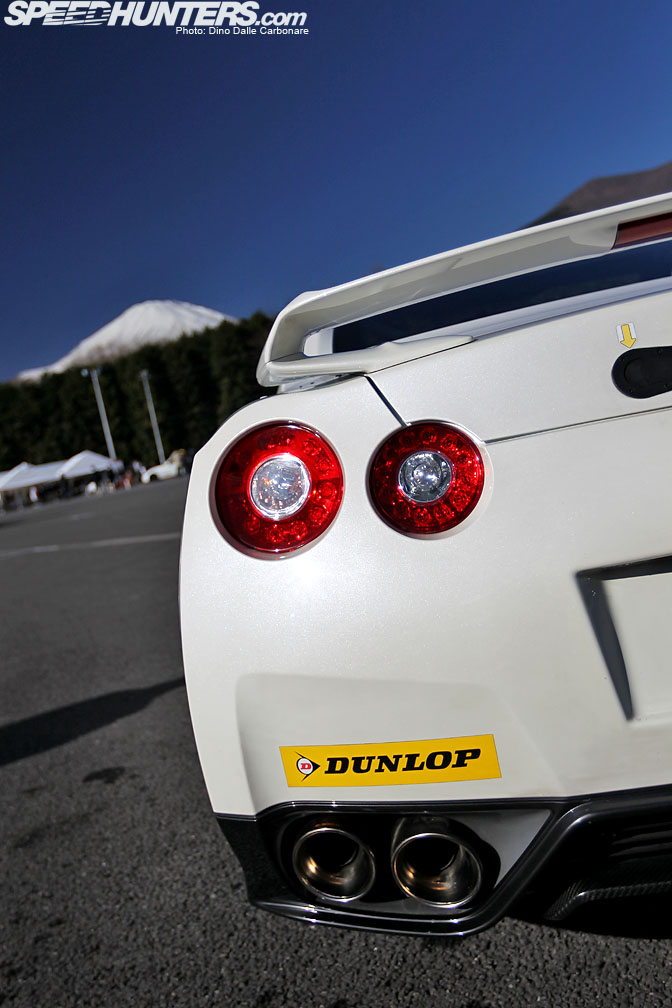 GT-R, meet Fuji-san!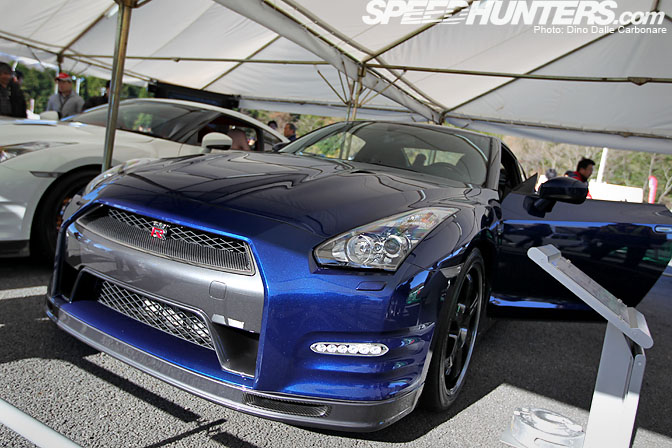 But it doesn't end there for the R35. The 2011 specV was also on display, painted in the new metallic blue, "Aurora Flare Blue Pearl," or Bayside Blue II to make it easier LOL.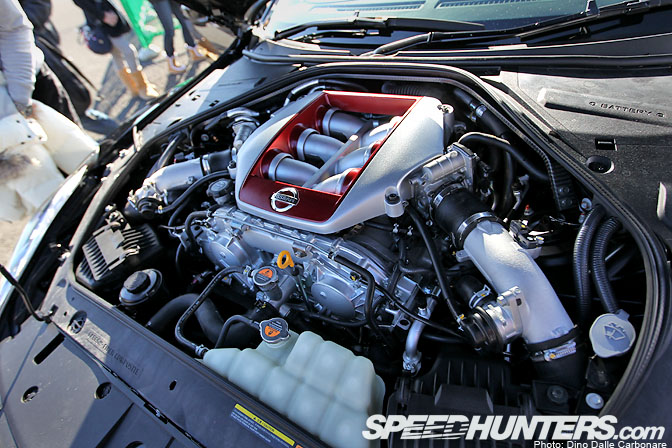 The new GT-R gets lots of little tweaks to the chassis and suspension as well as more power from the VR38DETT, now cranking out 530 HP.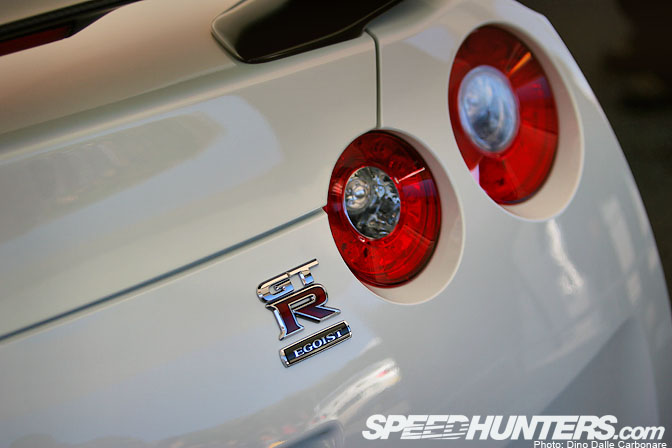 Next to it was the all-new "Egoist" version…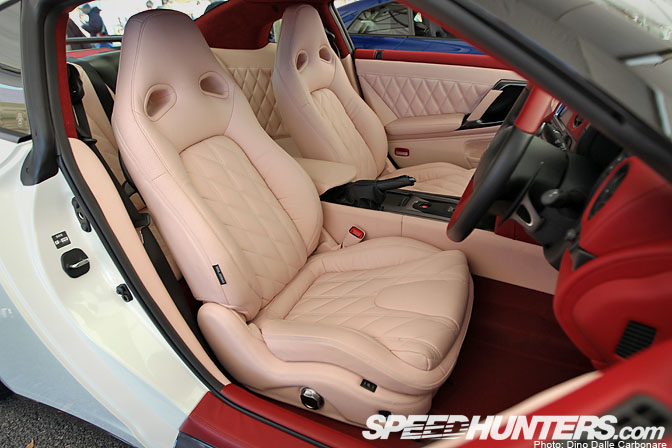 …the choice for those that not only want the best possible quality but also like to choose interesting color combinations. No comments necessary here.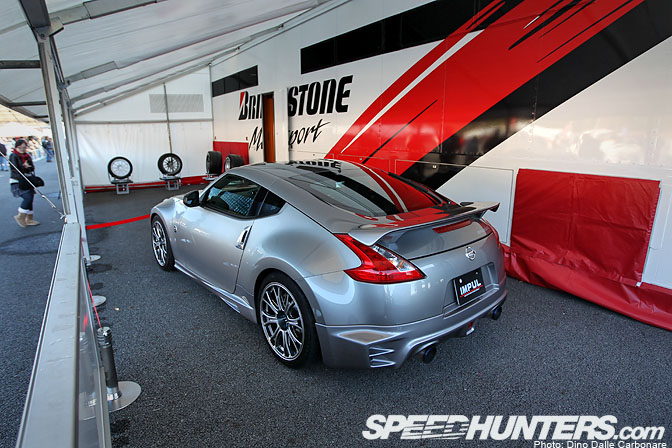 I run across this Impul tuned Z34 in the Bridgestone display area and just had to grab a shot.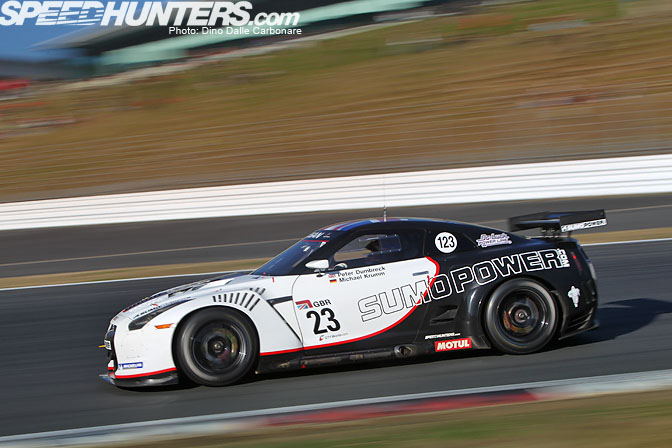 I'm going to continue sorting through the tons of pictures I took at Fuji so stay tuned for the next installment of shots from the 2010 Nismo Festival.
-Dino Dalle Carbonare